Shrimp Po-Boy is a New Orleans style sandwich piled high with light golden brown crispy fried shrimp dressed with shredded lettuce, tomatoes, pickles, and lots of mayo.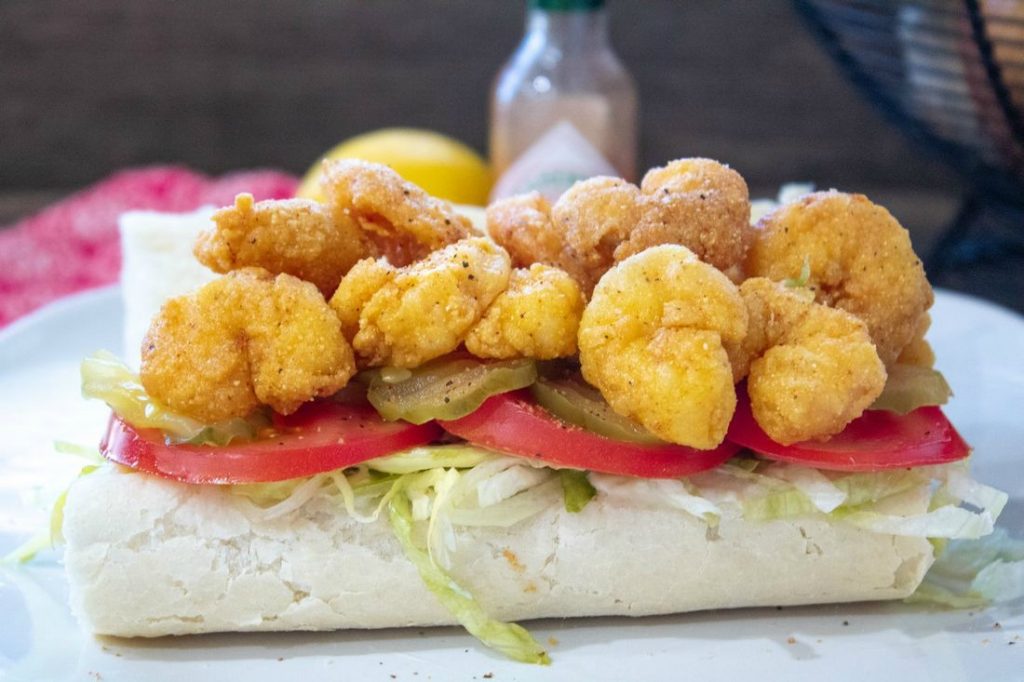 When ordering a Po Boy from a restaurant in Louisiana most people know to order their sandwich dressed.
Which means they want lettuce, tomatoes, pickles, and mayo on their sandwich.
Of course, some folks might prefer remoulade sauce instead of mayo. And, don't forget the Tabasco Sauce.

What is a Po Boy?
A Po Boy sandwich typically consists of meat which includes ham or roast beef.
And, fried seafood like shrimp, oysters, crawfish, and soft-shell crabs. Though I have seen other types of Po Boy sandwiches.
Where I live in South, Louisiana there's a little Cajun restaurant on the Bayou that serves the best Hamburger Po'Boys and Andouille Sausage Po Boys.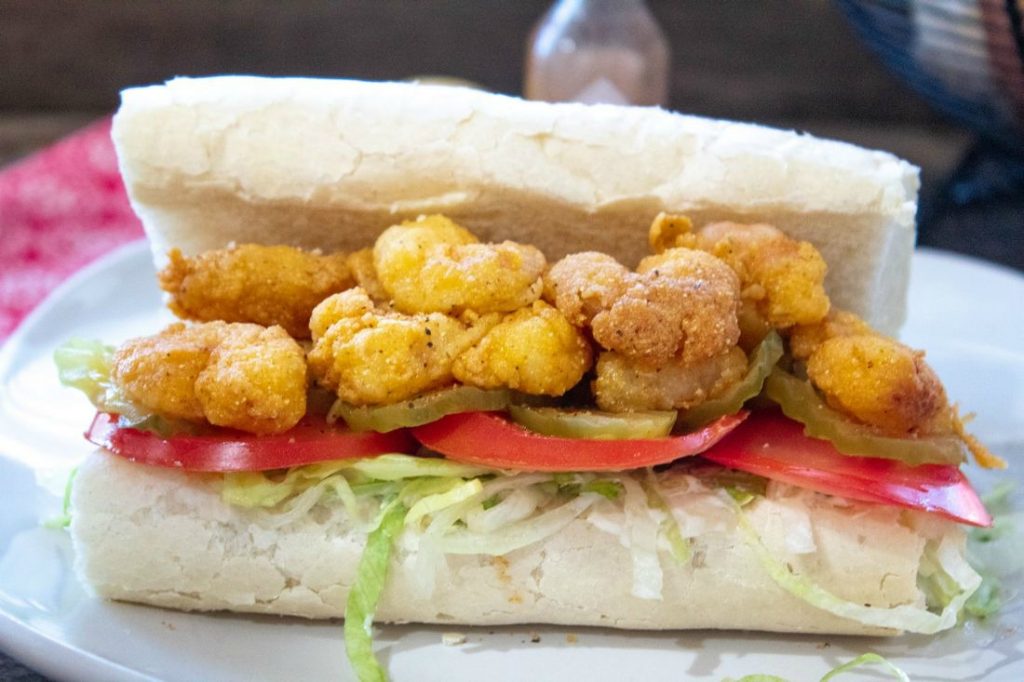 This Classic Shrimp Po-Boy sandwich recipe that I'm sharing today is relatively easy to make.
Instead of going to a restaurant you can enjoy a New Orleans style Po boy in the comfort of your home.
Just be sure to pick up a good loaf of French Bread. Ideally, you want to use french baguette bread.
Usually, I use Reising's Poor Boy French Bread that comes in a 3-foot long loaf. I like my french bread to have a crunchy outside with a soft inside.
Also, be sure to select the freshest shrimp from the seafood market and choose a big red Creole tomato for your Po Boy if they're available where you live.
As for the lettuce, you can purchase prepackaged shredded lettuce from the grocery store.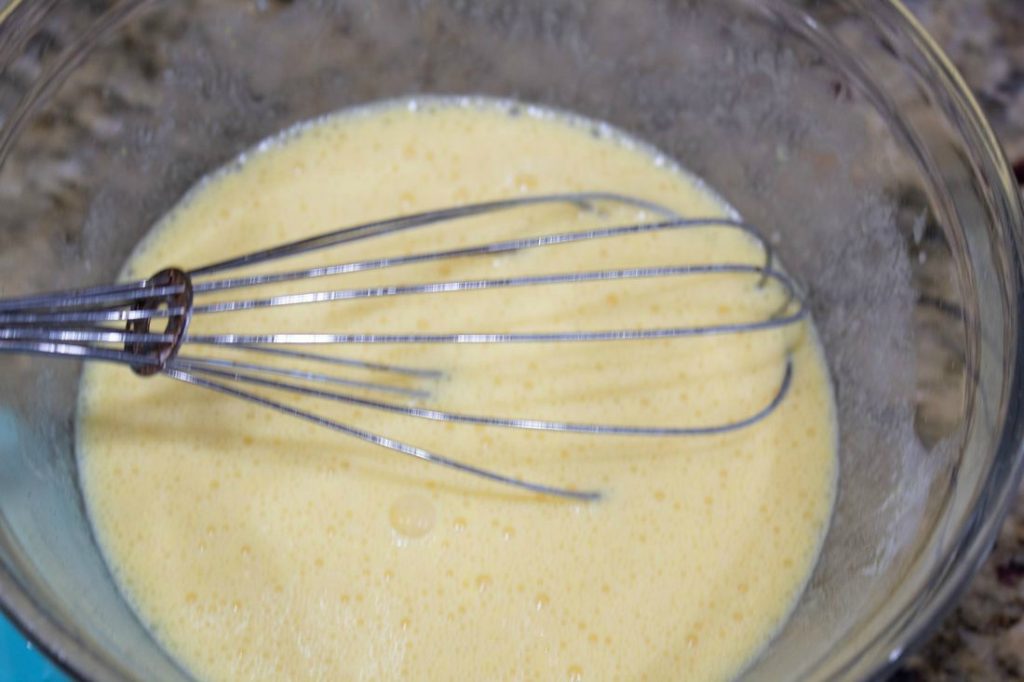 How to Make a Shrimp Po-Boy
First, if you using frozen shrimp make sure the shrimp is thawed. Next, peel and deveined the shrimp.
Second, make a milk bath to dip the shrimp into using eggs, mustard, and milk.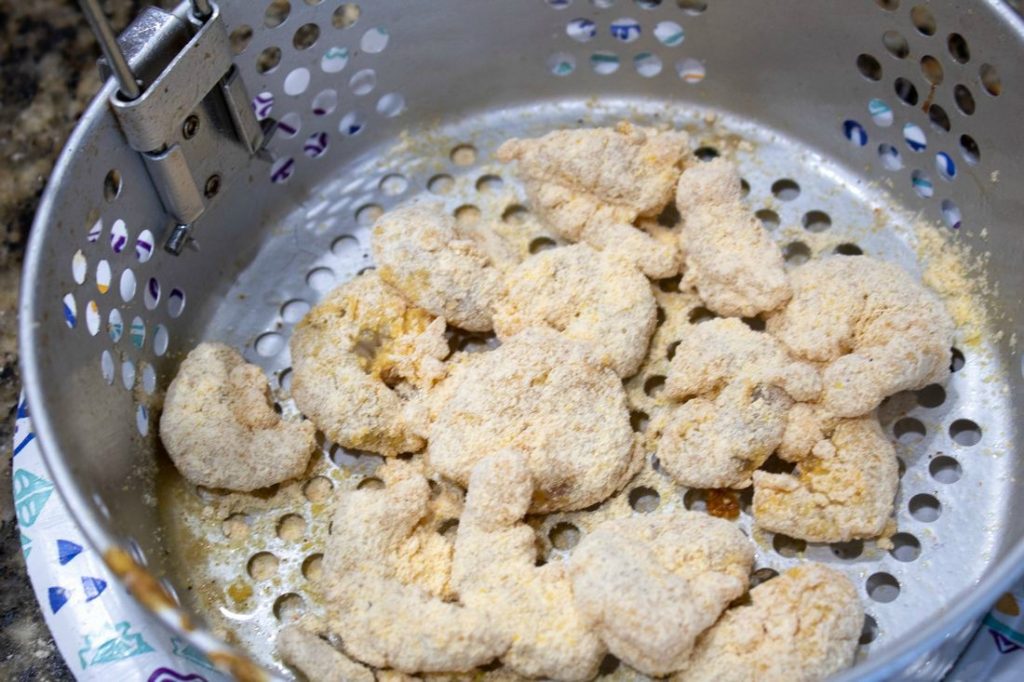 Third, coat all the shrimp with a mixture using flour and your favorite fish fry. We used Slap Ya Mama Fish Fry.
Next, dip each shrimp back into the milk bath then coat each shrimp again with the flour mixture.
Fourth, heat oil in a deep fryer (like this one) until it reaches 350 degrees.
Additionally, you can use peanut oil or vegetable oil whichever one you prefer. Fry the shrimp in batches, flip occasionally.
Fry the shrimp until golden brown, about 4-5 minutes. Then transfer the fried shrimp to a wire rack.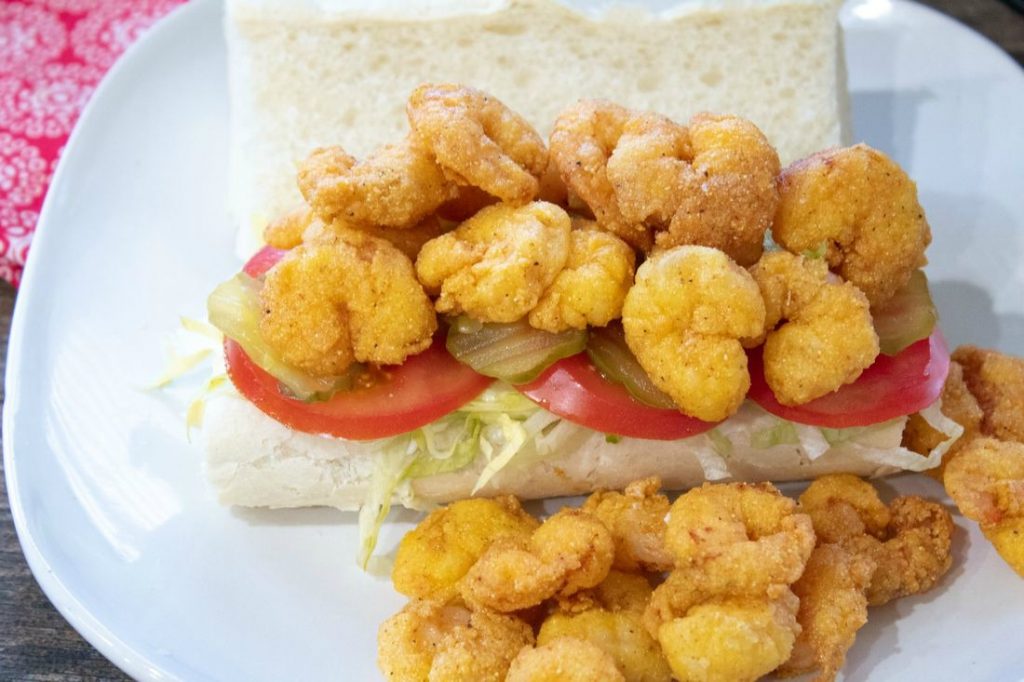 Last, cut the french bread into 6′ long sandwiches. If using Riesling French Bread, I usually can get six 6′ long pieces or three 1 ft. long pieces.
Next, dress your french bread with mayo, tomatoes, lettuce, and pickles, and top with the fried shrimp.
Make sure to keep the top and bottom of the French Bread hinged together.
And, before squishing the top of the Po Boy sandwich down add some Cajun seasoning, hot sauce, or remoulade sauce over your fried shrimp if you want.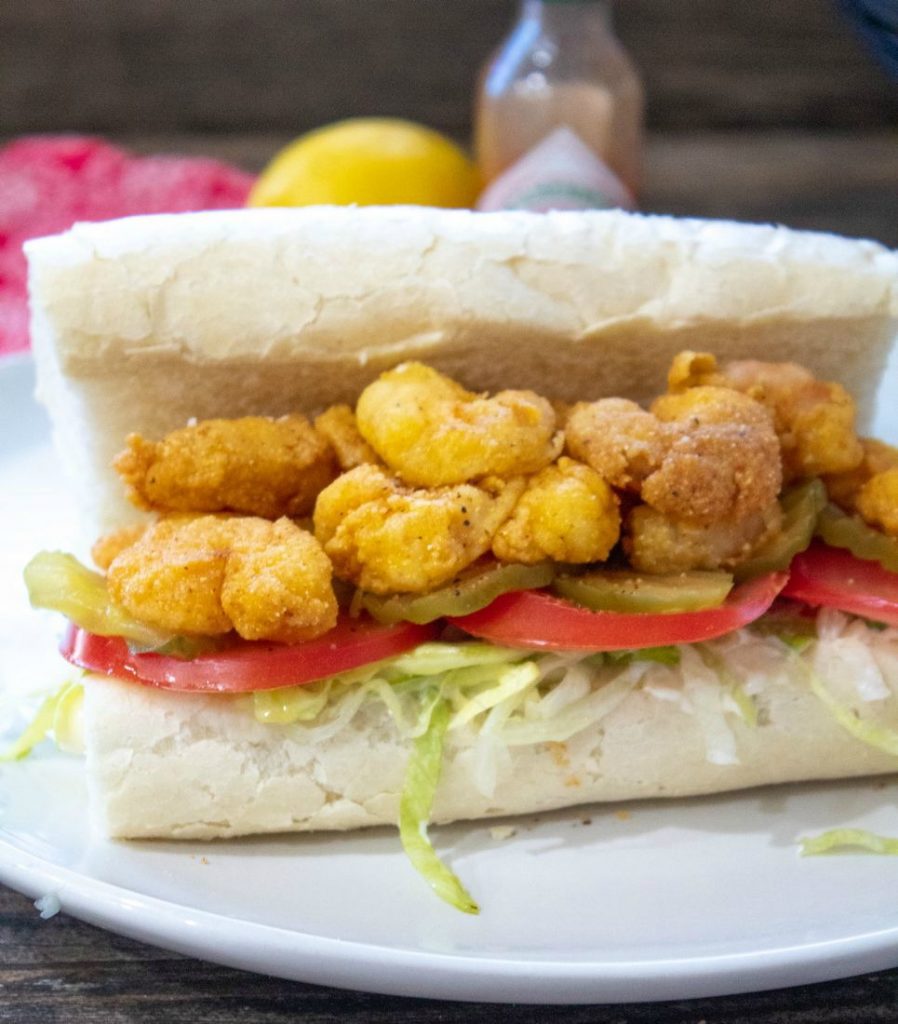 Doesn't this Shrimp Po Boy sandwich look delicious? Now that you know how to make this iconic sandwich what will you put on yours?
You can serve the Po Boys with french fries, potato salad, or a side of coleslaw like my Homemade Creamy Coleslaw .
If you love fried seafood check out my Fried Soft Shell Crabs recipe and my Fried Soft Shell Crabs With Crawfish Sauce recipe.
Additionally, these recipes are perfect to serve anytime especially during Mardi Gras, Lenten season, and summertime.

More Seafood Recipes for you
Are you team Duke Mayo or team Blue Plate? I know a lot of Louisiana folks love their Blue Plate Mayonnaise.
However, I gave up Blue Plate when I discovered Dukes.
Fun Fact:
Blue Plate was one of the first commercially prepared mayonnaise brands in the country.
Additionally, Blue Plate was originally produced in a warehouse in Gretna, Louisiana, across the Mississippi River from New Orleans.
Then in 1941, it expanded to a new factory building in New Orleans.
PIN ME: