Shrimp Stuffed Mirlitons is a delicious dish popular in Louisiana for the holidays. Mirlitons also known as Chayote or vegetable pear.
The pear-like vegetable is actually a type of squash. During the holidays you can find Mirlitons in every neighborhood store throughout the state of Louisiana.
If you're lucky you might even spot a Mirliton plant climbing up a trellis in the backyard of a home while driving up and down the roads in Louisiana.
Be careful if you decide to get a closer look and touch a Mirliton vine they can be prickly!
One of the fondest memories I have as a child was going to my Uncle Luke's home in New Orleans for the holidays.
I use to love visiting my granny and helping her and my uncle pick Mirlitons off the vines. Afterward, we would cook Shrimp Stuffed Mirlitons as a side dish for our holiday dinner.
We usually made my granny's Mirliton recipe for Thanksgiving and Christmas.
Of course, the dinner table never looked complete if granny's famous Mirlitons were missing from the menu.
Granny's Mirlitons were the best! Sometimes she would stuff the Mirlitons with crabmeat, crawfish, and shrimp.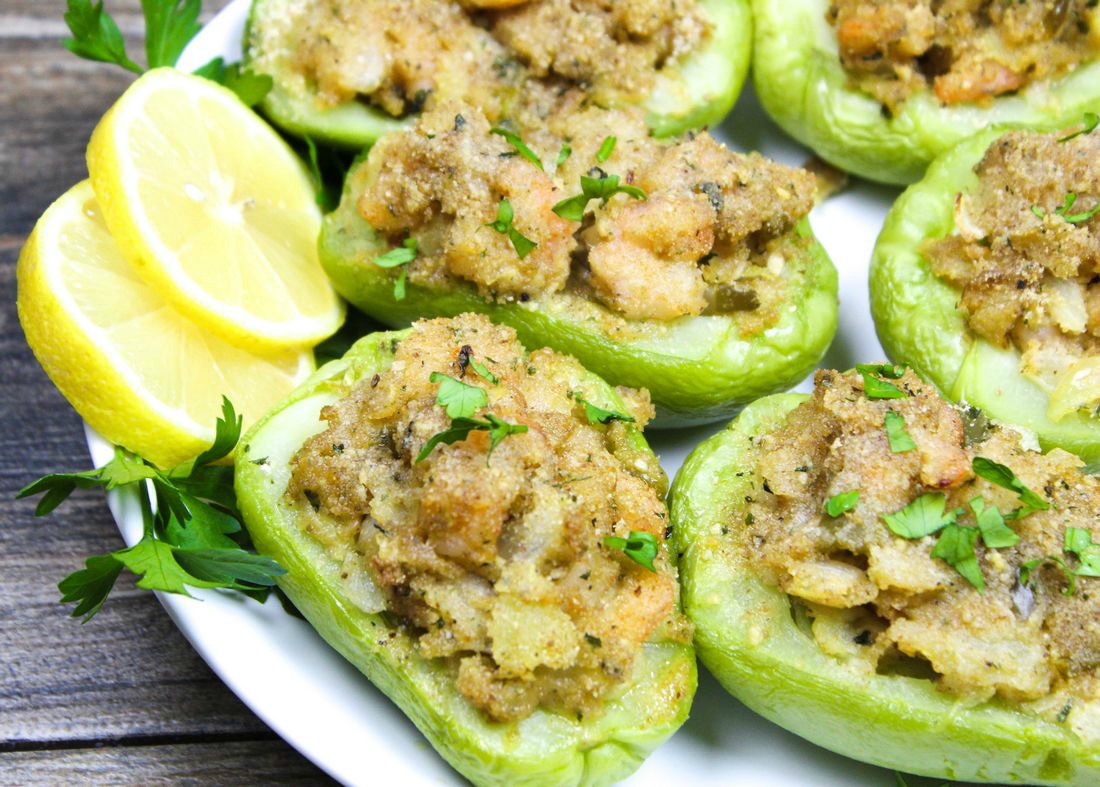 Sadly, my granny passed away without writing down her Mirliton recipe. Therefore, I had to try recalling the ingredients she used in her recipe.
Unfortunately, I couldn't remember some of the ingredients she used. Though, it was fun reminiscing and coming up with new ingredients for the Shrimp Stuffed Mirlitons.
One of the ingredients I added to the recipe was Cajun seasoning. I love spicy food like this Oven Roasted Cajun Turkey recipe I made.
Stuffed mirlitons, oyster dressing, green beans, sweet potato casserole, cornbread, and cranberry sauce are all perfect side dishes to go with a roasted turkey or ham for Thanksgiving and Christmas.
What side dishes do you make for your family's Thanksgiving or Christmas dinner?

Prepping the Mirlitons
Prepping the Mirlitons for the recipe was fairly simple. First, we parboiled the pear-shaped squash by placing them into a pot filled with water, liquid crab boil, and salt.
We let the mirlitons parboil until we could pierce the skins with a fork.
Second, we removed the mirlitons from the pot and placed them into an ice bath.
Third, when the mirlitons were cool to touch we cut each one lengthwise removing the seeds and saving the pulp.
Last, we placed the mirliton halves on a cookie sheet and set them aside while we cooked the pulp, veggies, and the shrimp.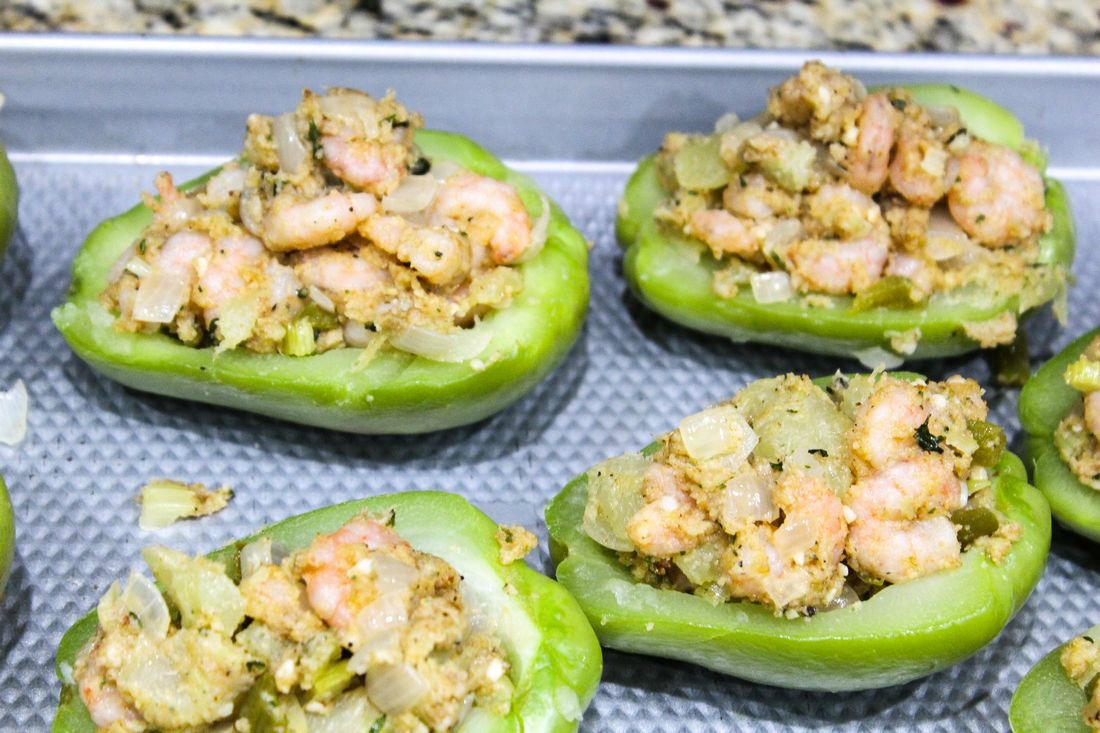 Stuffing the Mirlitons
Before baking the mirlitons shells I stuffed them with the pulp mixture, shrimp, and Italian breadcrumbs.
The vegetables I added to the pulp consisted of celery, bell peppers, and onions. In New Orleans, we call those three vegetables the holy trinity!
Almost every kitchen in New Orleans when cooking a traditional recipe uses those three vegetables.
I also include garlic in my recipes. Furthermore, after all the mirlitons were stuffed I sprinkled breadcrumbs on top of them and topped each with a pat of butter.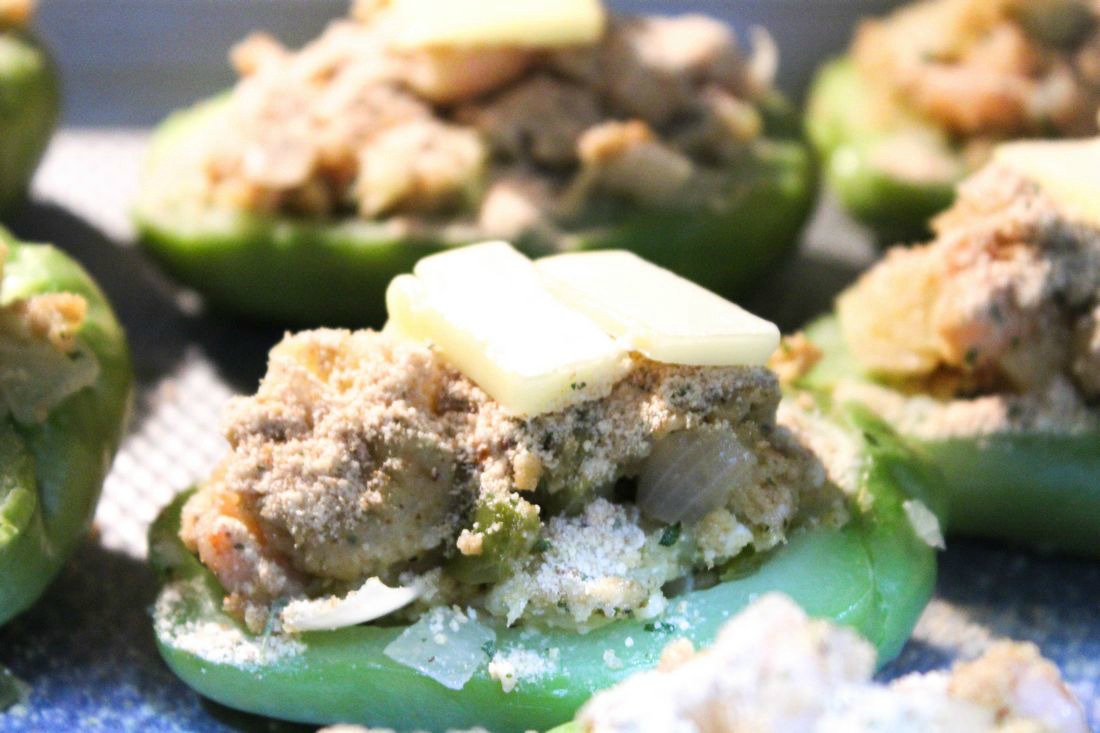 These deliciously stuffed mirlitons will sure to become a favorite addition to your holiday menu.
Do you have a favorite mirliton recipe?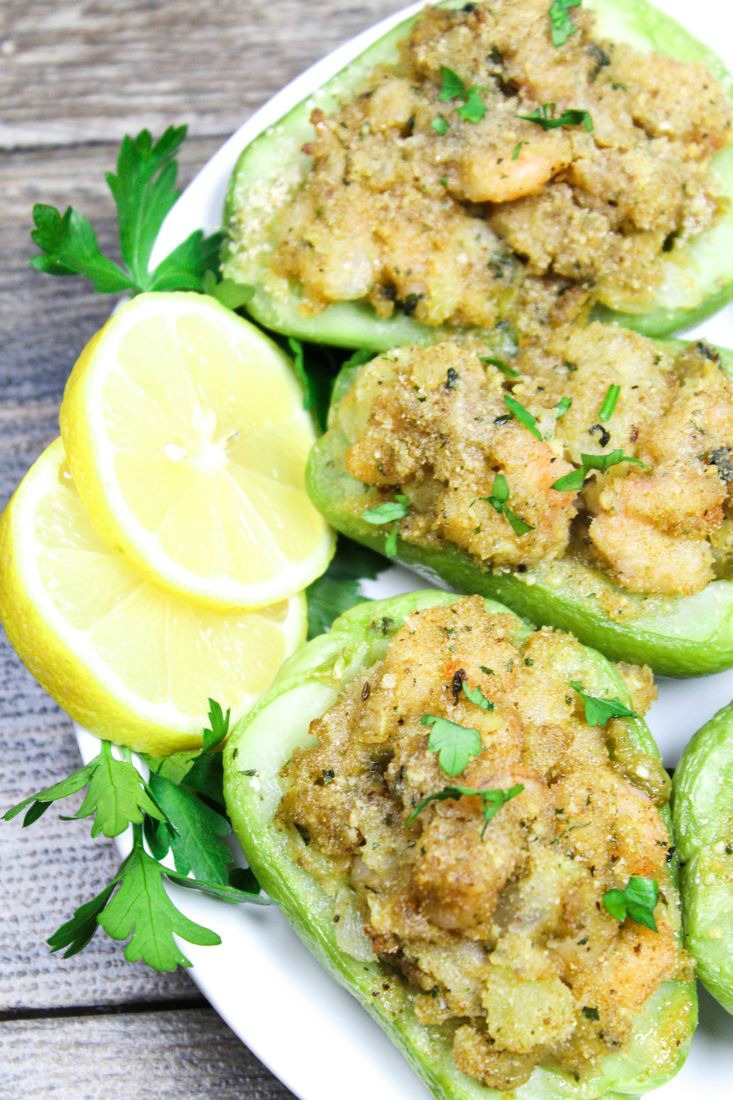 A fun fact: Mirlitons are so popular in New Orleans, Louisiana they have a festival in a neighborhood in the Bywater celebrating these pear-shaped squash.
More Shrimp Recipes
PIN Shrimp Stuffed Mirlitons or SHARE WITH A FRIEND