Shrimp Stuffed Mirlitons is a delicious dish popular in Louisiana for the holidays. Mirlitons also known as Chayote or vegetable pear.
The pear-like vegetable is actually a type of squash. During the holidays you can find Mirlitons in every neighborhood store throughout the state of Louisiana.
If you're lucky you might even spot a Mirliton plant climbing up a trellis in the backyard of a home while driving up and down the roads in Louisiana.
Be careful if you decide to get a closer look and touch a Mirliton vine they can be prickly!
One of the fondest memories I have as a child was going to my Uncle Luke's home in New Orleans for the holidays.
I use to love visiting my granny and helping her and my uncle pick Mirlitons off the vines. Afterward, we would cook Shrimp Stuffed Mirlitons as a side dish for our holiday dinner.
We usually made my granny's Mirliton recipe for Thanksgiving and Christmas.
Of course, the dinner table never looked complete if granny's famous Mirlitons were missing from the menu.
Granny's Mirlitons were the best! Sometimes she would stuff the Mirlitons with crabmeat, crawfish, and shrimp.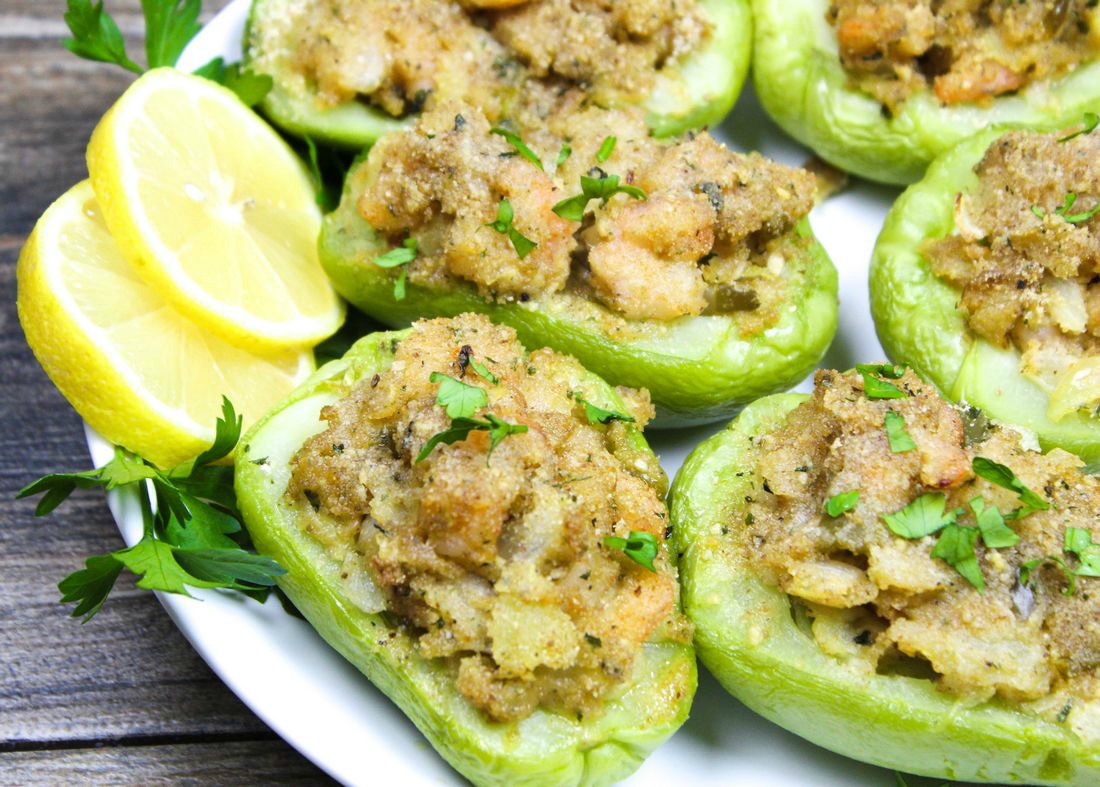 Sadly, my granny passed away without writing down her Mirliton recipe. Therefore, I had to try recalling the ingredients she used in her recipe.
Unfortunately, I couldn't remember some of the ingredients she used. Though, it was fun reminiscing and coming up with new ingredients for the Shrimp Stuffed Mirlitons.
One of the ingredients I added to the recipe was cajun seasoning. I love spicy food like this Oven Roasted Cajun Turkey recipe I made.
Stuffed mirlitons, oyster dressing, green beans, sweet potato casserole, cornbread, and cranberry sauce are all perfect side dishes to go with a roasted turkey for Thanksgiving.
What side dishes do you make for your family's Thanksgiving dinner?

Prepping the Mirlitons
Prepping the Mirlitons for the recipe was fairly simple. First, we parboiled the pear-shaped squash by placing them into a pot filled with water, liquid crab boil, and salt.
We let the mirlitons parboil until we could pierce the skins with a fork.
Second, we removed the mirlitons from the pot and placed them into an ice bath.
Third, when the mirlitons were cool to touch we cut each one lengthwise removing the seeds and saving the pulp.
Last, we placed the mirliton halves on a cookie sheet and set them aside while we cooked the pulp, veggies, and the shrimp.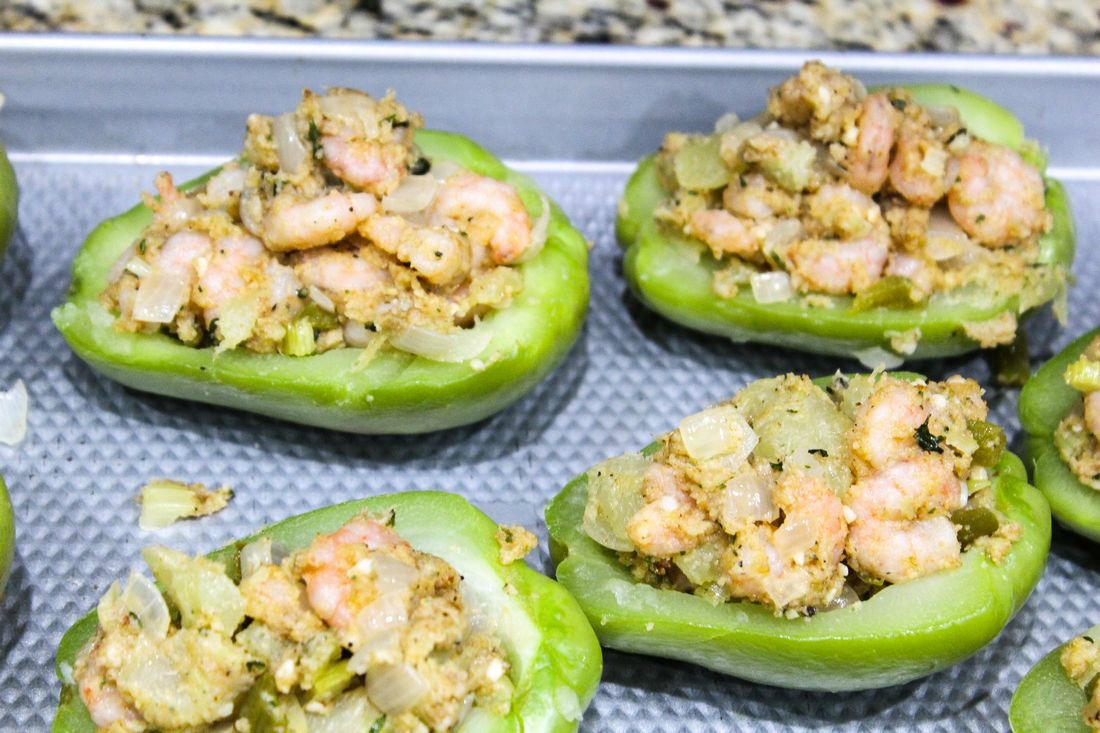 Stuffing the Mirlitons
Before baking the mirlitons shells I stuffed them with the pulp mixture, shrimp, and Italian breadcrumbs.
The vegetables I added to the pulp consisted of celery, bell peppers, and onions. In New Orleans, we call those three vegetables the holy trinity!
Almost every kitchen in New Orleans when cooking a traditional recipe uses those three vegetables.
I also include garlic in my recipes. Furthermore, after all the mirlitons were stuffed I sprinkled breadcrumbs on top of them and topped each with a pat of butter.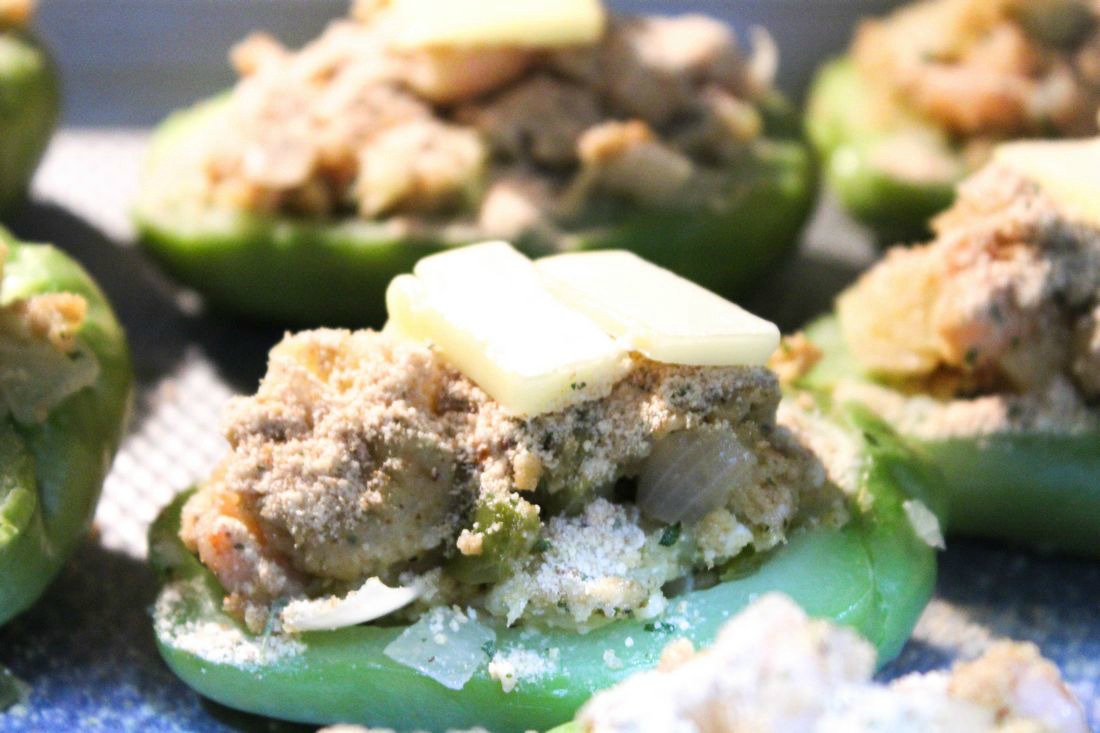 These deliciously stuffed mirlitons will sure to become a favorite addition to your holiday menu.
Do you have a favorite mirliton recipe?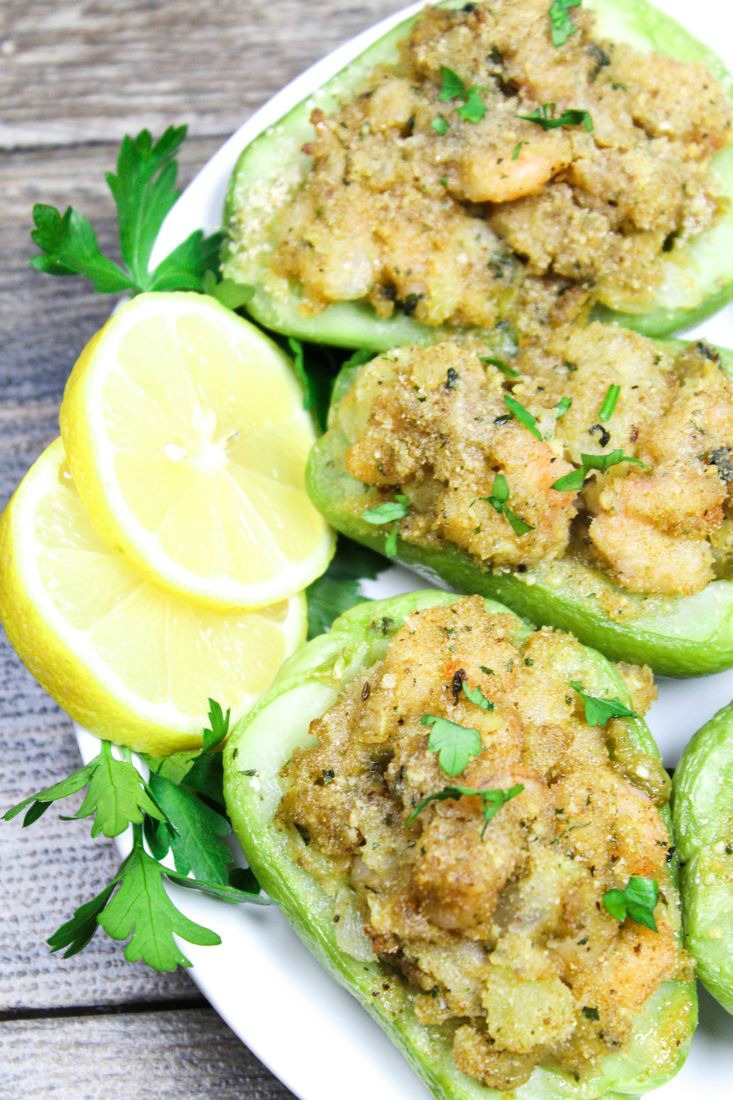 A fun fact: Mirlitons are so popular in New Orleans, Louisiana they have a festival in a neighborhood in the Bywater celebrating these pear-shaped squash.
Print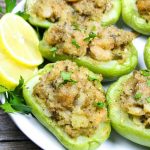 Shrimp Stuffed Mirlitons
---
Author:

Kim Seghers

Prep Time:

45 Minutes -1 Hour

Cook Time:

1 Hour

Total Time:

1 Hour 45 Minutes- 2 Hours

Yield:

24

Mirliton Halves

1

x
Description
These Shrimp Stuffed Mirlitons is overflowing with shrimp and other mouth-watering ingredients.
---
Scale
Ingredients
12

Mirlitons (Chayote Squash)

3

pounds peeled and deveined shrimp

1

stick butter
medium onion, chopped finely

1

medium green bell pepper, chopped

2 1/2 cup

Italian Bread Crumbs
Additional bread crumbs to top each mirliton

1 tablespoon

minced garlic

24

pats butter

1 cup

diced celery

1/4 cup

Louisiana Shrimp & Crab Boil (liquid)
salt, pepper, Cajun seasoning
optional: parsley for garnishing
---
Instructions
Pour water covering the mirlitons. Add the crab boil. Parboil mirlitons until you can pierce mirlitons with a fork.
Once mirlitons are done place mirlitons in an ice water bath and let set for 15 minutes or until cool.
Melt 1/2 stick butter in saucepan and cook shrimp until pink and firm, set aside. Season shrimp with Cajun season if you want more spice.
Sauté all the vegetables using remaining 1/2 stick of butter until tender, while the mirlitons are in the ice bath. Place vegetables in a glass bowl and set aside.
Remove mirlitons from ice bath and carefully slice each mirliton lengthwise. Using a teaspoon, remove seeds.
Gently scoop all pulp (mirliton meat) out of each shell being careful not to tear the shells and place pulp from mirlitons into a medium size pot.
Place empty shells onto a cookie sheet.
Cook pulp from mirlitons on medium heat. Use spoon to chop mirliton pulp and cook 30 minutes, stirring occasionally until most of the liquid is evaporated. Add veggies, shrimp, and all of your seasoning. Stir well.
Take saucepan from heat stir in 2 1/2 cups of Italian breadcrumbs. Note- add more breadcrumbs if needed.
Preheat oven to 350 degrees.
Divide mixture into 24 equal portions and stuff into hollowed-out mirliton shells.
Sprinkle tops with remaining bread crumbs and place on baking sheet and top each mirliton with a pat of butter.
Bake 30 minutes or until golden brown. Garnish with parsley. Enjoy!
Category:

Main Course

Method:

Bake

Cuisine:

Cajun
Keywords: cajun recipe, mirlitons, chayote squash, shrimp, Thanksgiving, Christmas, Louisiana recipe, stuffed mirlitons,
PIN ME or SHARE WITH A FRIEND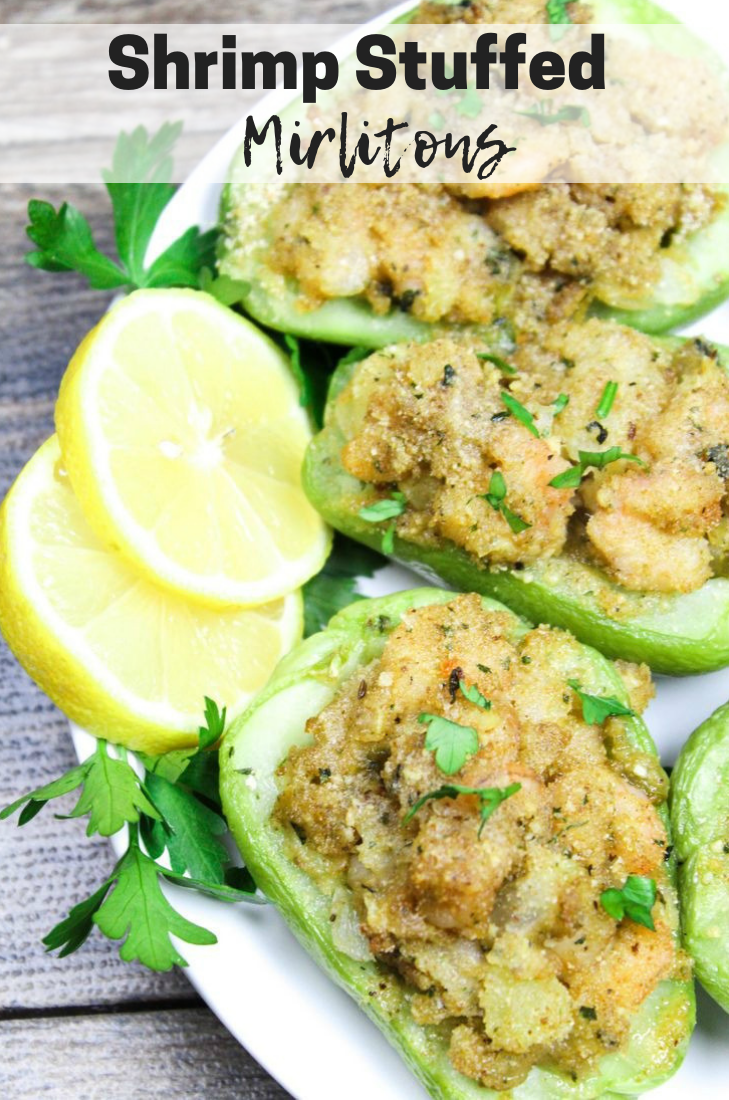 Some more shrimp recipes for you:
Grilled Buffalo Shrimp Skewers