I am sharing my Cajun Creamy Shrimp Pasta recipe that my son helped me cook.
I have learned that my son will eat and try new foods if he helps with the preparation.
While my child and I were preparing the creamy shrimp pasta, he asked if he could add bacon, I was for the idea as long as he knew I would include mushrooms and bell peppers.
After we had cooked the food, we sat down for dinner.
I was pleasantly surprised when my son devoured all the food on his plate, even the mushrooms and bell peppers!
This creamy, delicious Cajun shrimp pasta has become a family favorite.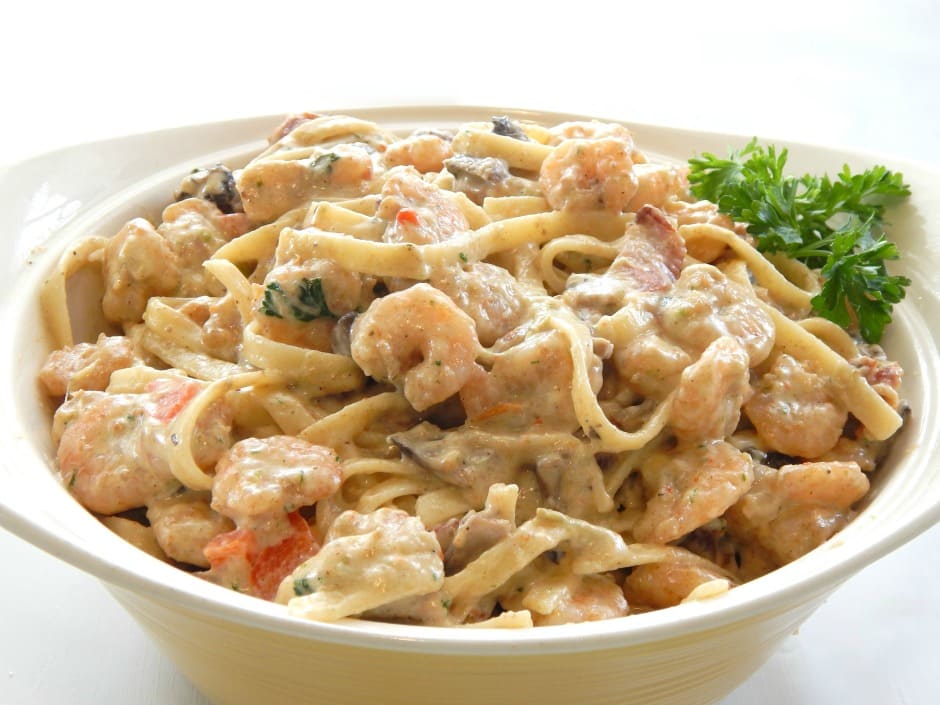 I think if you try my Cajun Creamy Shrimp Pasta, you will be impressed.
The pasta dish turned out flavorful, vibrant, and creamy with an incredible taste of parmesan from the melted cheese.
It's the perfect recipe for any seafood lover!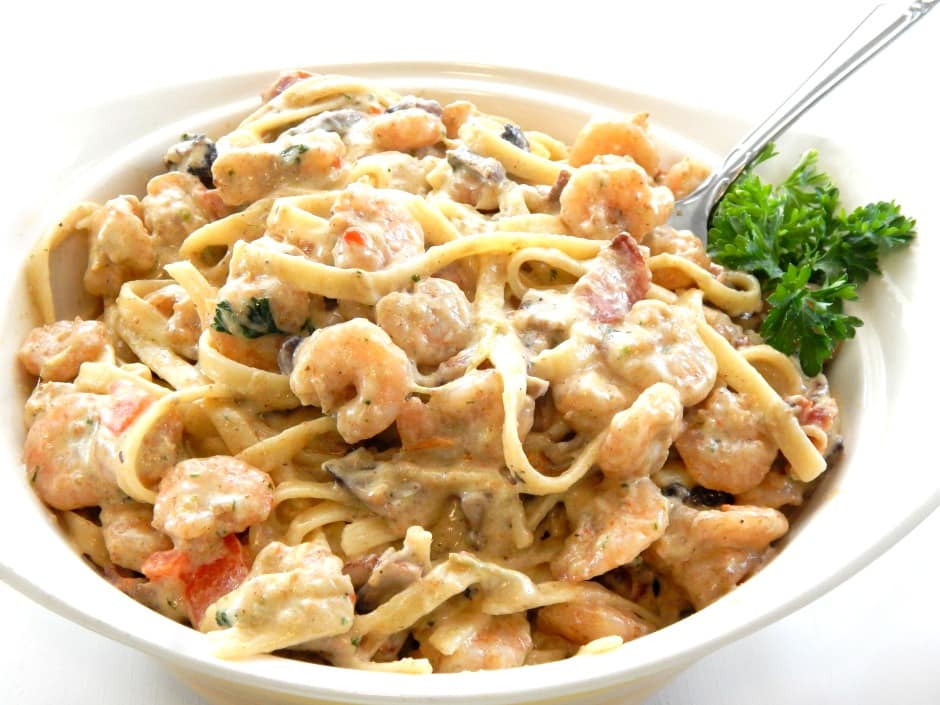 You could serve the pasta with a side salad and bread.
My son enjoys just eating the shrimp pasta without a side salad or bread.
And, my husband prefers buttered french bread with his meal.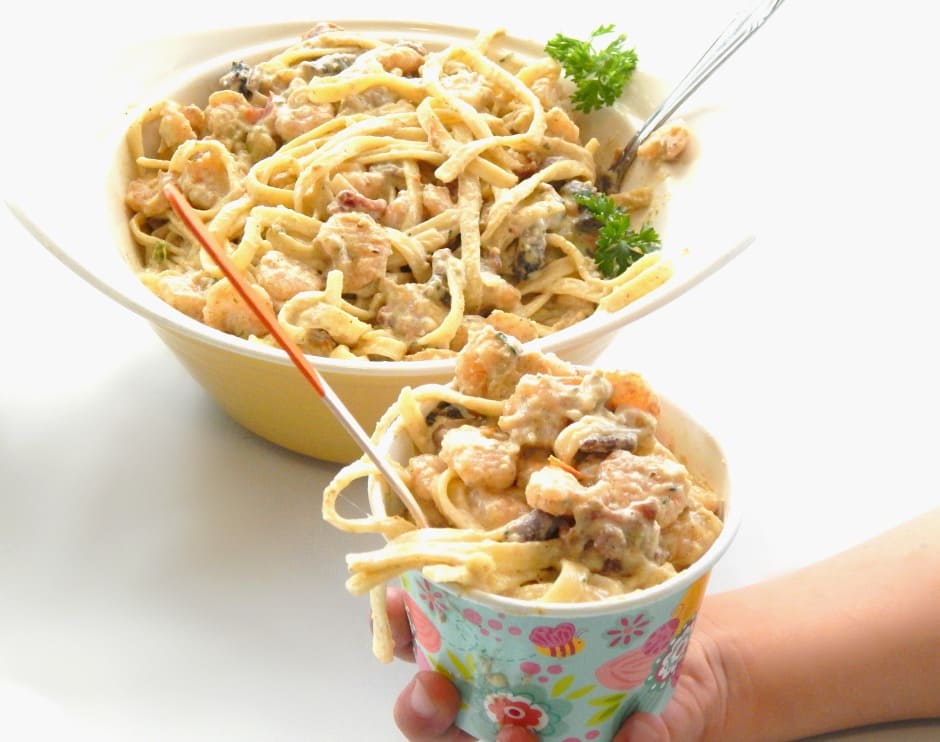 The Cajun Creamy Shrimp Pasta serves 4-6 people, and you will want to eat it while it's hot.
I find the pasta tastes better warm than it does cold. If you need to refrigerate any leftover pasta, place it in an airtight covered dish.
The pasta can be heated in the microwave when needed.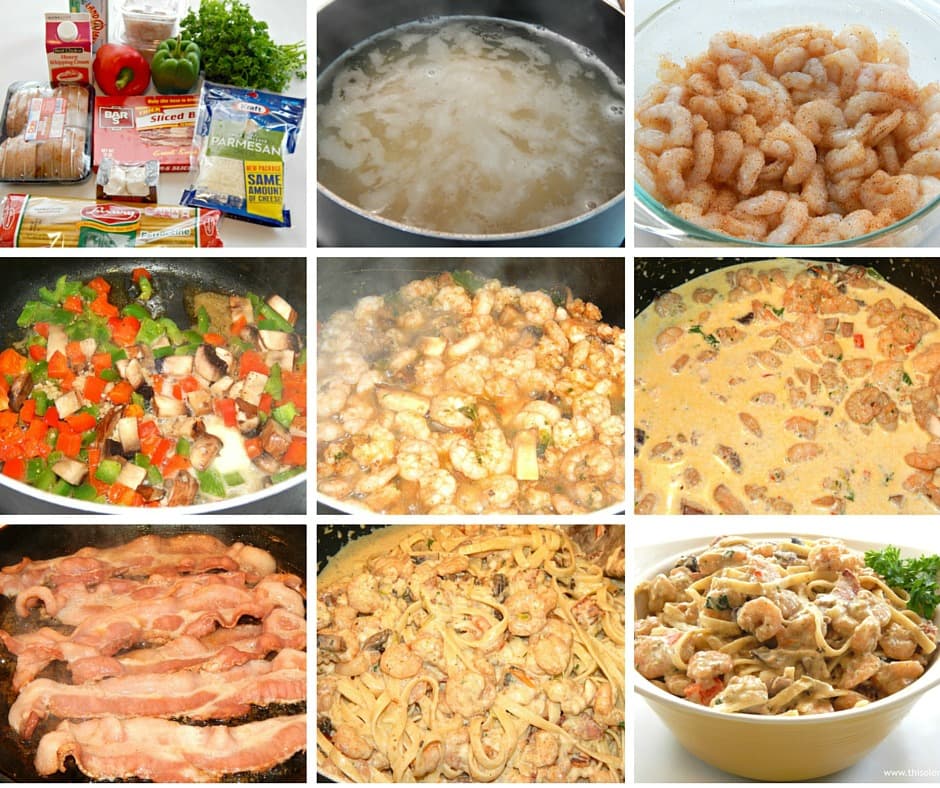 what's in Cajun Creamy Shrimp Pasta
1- 1 1/2 lb. medium shrimp peeled & deveined ( if using frozen shrimp make sure it's thawed)
12 oz. cooked and drained fettuccine pasta
1  3/4 heavy cream
1/2 cup diced red bell pepper
1/2 cup diced green bell pepper
1 tablespoon chopped fresh parsley
6 slices fried and crumbled bacon
1 cup diced portobello mushrooms
4 tablespoon unsalted butter
1/2 teaspoon crushed garlic
2 tablespoon Louisiana Cajun Seasoning
1 bag shredded Parmesan Cheese
salt and pepper to your liking
How to make Cajun Creamy Shrimp Pasta
1. Cook the fettuccine pasta according to the package, drain and set aside.
 2. Season the shrimp with the Cajun seasoning, salt, and pepper. Cover the shrimp and place in the refrigerator until needed.
3. In a large saucepan over medium heat melt two tablespoons butter, add the vegetables and saute until tender.
4. Remove the shrimp from the fridge and add to the vegetables with the remaining butter, cook over medium heat until the shrimp cook thoroughly. Strain any liquid from the pan.
5. Add the heavy cream to the shrimp mixture. Stir and cook over medium heat until it comes to a low boil.
6. Toss the fettuccine with the cream mixture and shrimp.
7. Add the crumbled bacon and parmesan cheese.
8. Stir the pasta until the cheese melts completely. Remove the pasta from the stove and garnish with parsley. Serve hot with a side salad and bread.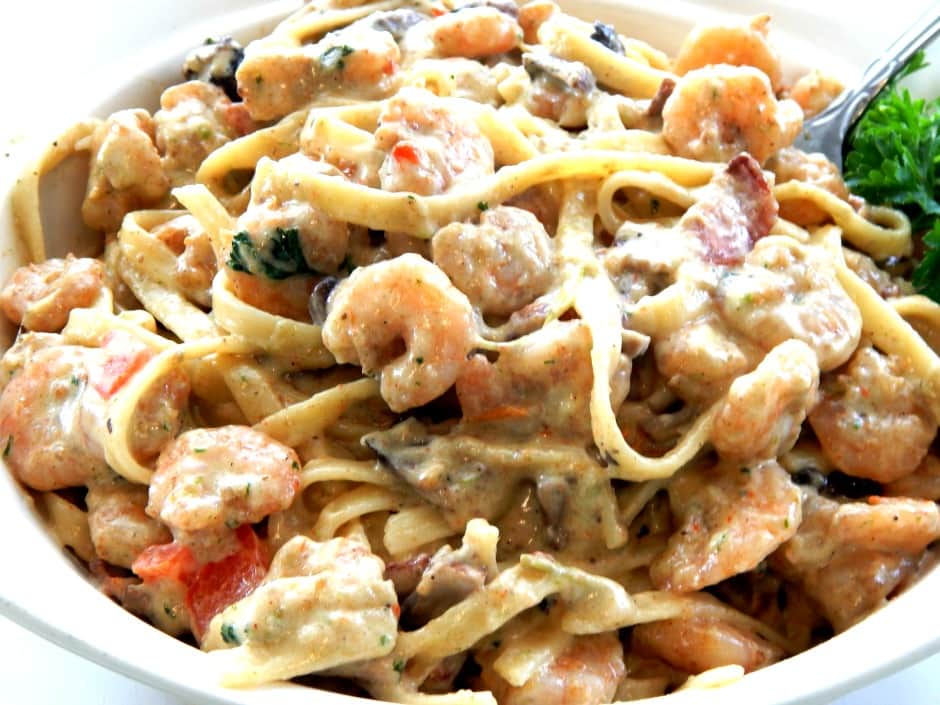 I hope you have a chance to try this recipe. It's the perfect recipe for seafood lovers! 
Pin Me: