This Baked Spaghetti Casserole With Sausage is an easy and delicious dinner recipe that's full of meat and cheesy goodness, also it's super simple to make.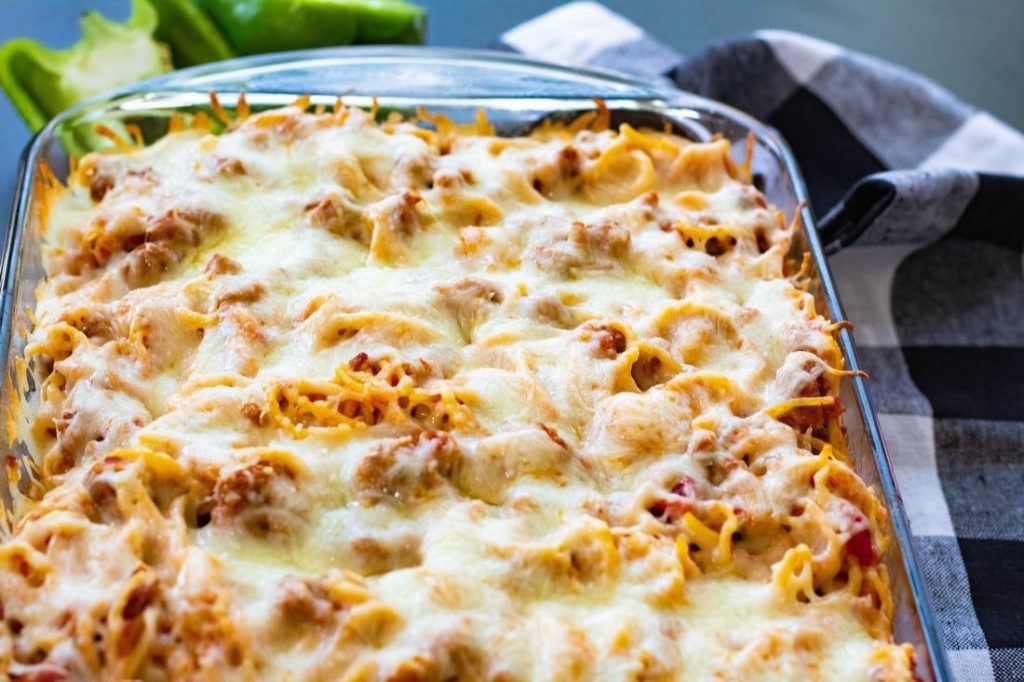 If you need a quick and comforting meal to fix for dinner, look no further!
This cheesy baked spaghetti is perfect for any night of the week.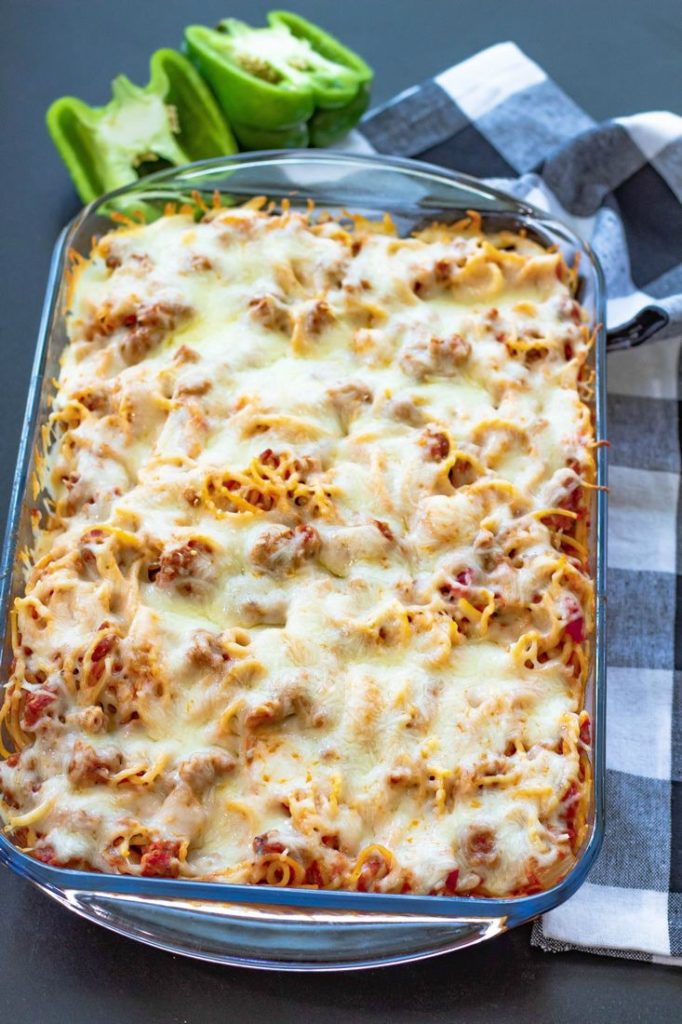 This baked spaghetti with sausage is a twist on the classic meatball and spaghetti recipe that everyone loves.
Unfortunately, my family eats spaghetti at least once or twice a week, which I get tired of eating.
Though, recently we decided to mix things up and make our spaghetti in a casserole dish.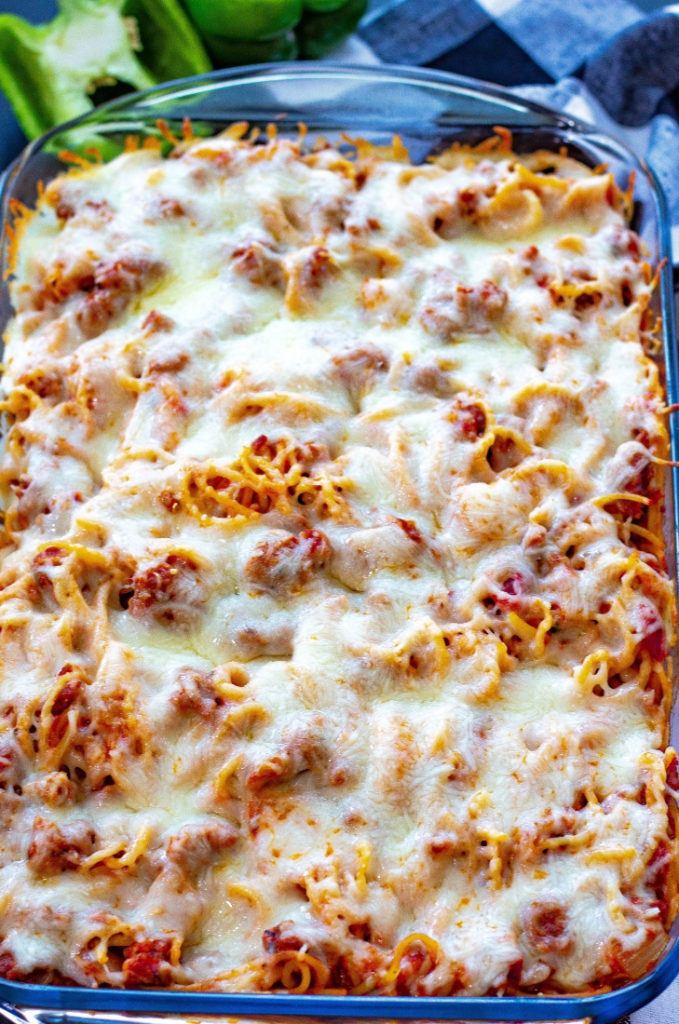 Of course, it had layers of parmesan and mozzarella cheese and Johnsonville Italian Mild Sausage.
I'm happy to report the spaghetti casserole was a huge hit with my entire family and we had enough leftovers for lunch the next day!
Personally, cheesy baked spaghetti is now my NEW favorite way to eat spaghetti.
If you rather use ground meat, pepperoni, or mini meatballs instead of the sausage you can.
What side DISHES go with baked SPAGHETTI?
corn salad
green salad
green beans
garlic bread
green peas
brussels sprouts
spinach salad
broccoli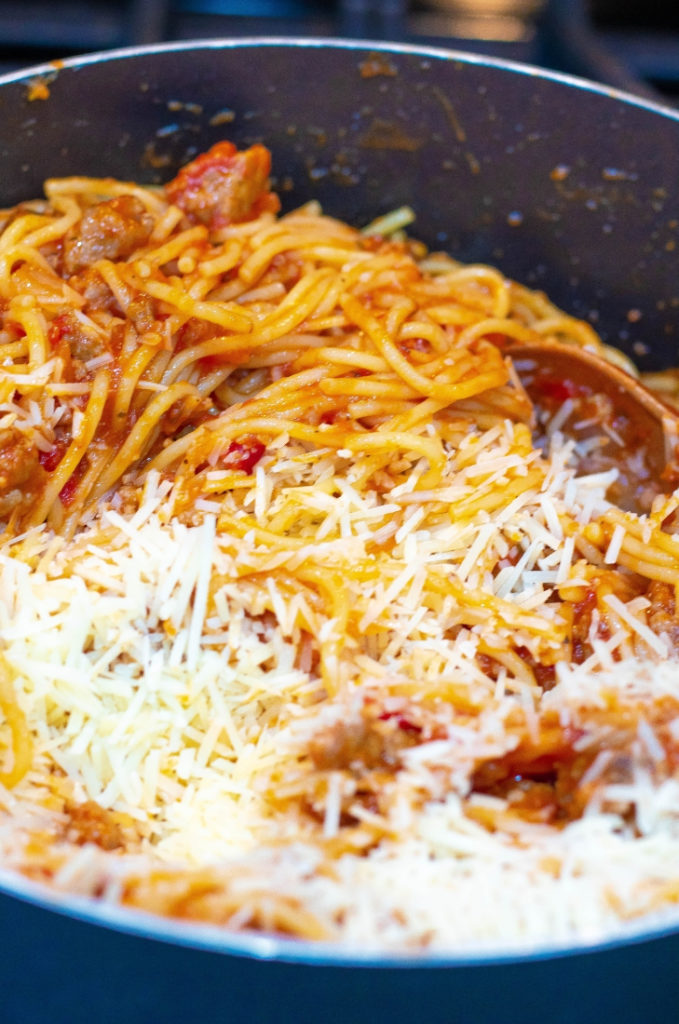 What is in Baked Spaghetti Casserole With Sausage
Spaghetti Sauce
Italian Sausage
Diced Onions
Minced Garlic
Spaghetti Noodles
Salt & Pepper
Garlic Powder
Butter
Cheese
How to make Baked SPAGHETTI with Sausage
Cook the spaghetti noodles according to the package. Drain and set aside.
Brown the sausage.Drain the grease.
Melt butter in a skillet. Next, saute the onions and minced garlic until tender.
In a large pot mix together the spaghetti noodles, the sausage, minced garlic, diced onions, and spaghetti sauce.
Season the spaghetti mixture with salt, pepper, and garlic powder to your liking.
Stir in one (1) cup of cheese. We use Kraft Italian Five Cheese Blend Shredded Cheese.
Last, pour the pasta mixture evenly into a 9×13 glass baking dish. Cover the spaghetti mixture with the remaining cheese. Bake in a 350 degree preheated oven for 25-30 minutes or until the cheese is hot and bubbly.
Serve with your favorite side dish, a salad, and a dessert for a complete meal.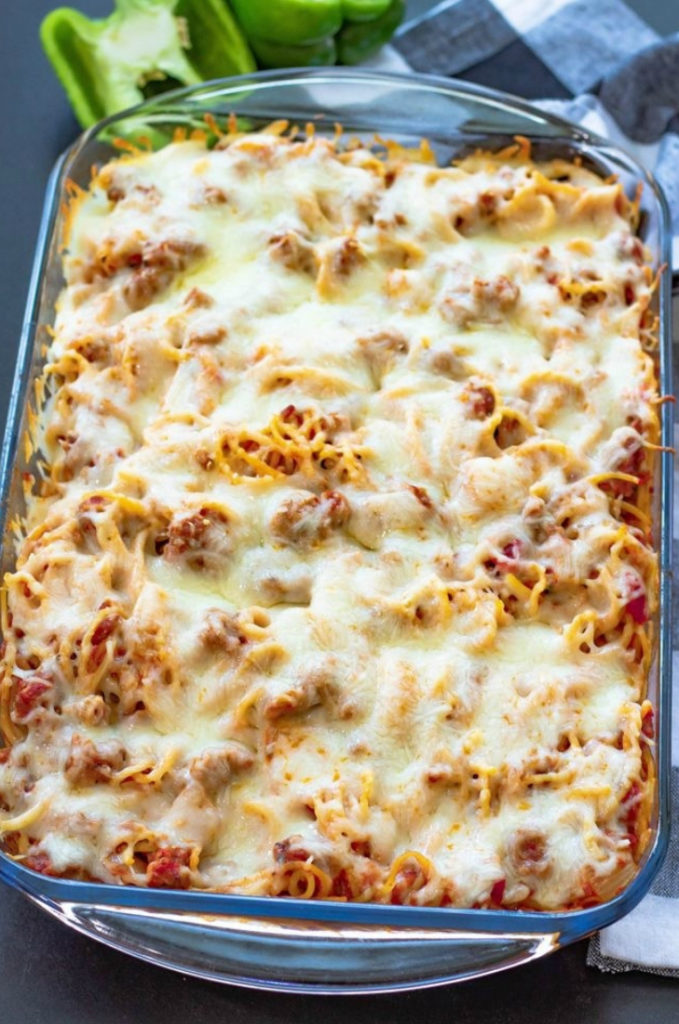 Doesn't the cheesy spaghetti casserole look delicious?
It such a quick and easy dinner option the entire family will love.
Also, your family may love my other easy pasta dinner recipes listed below:
Pin Me