This Cajun Chicken and Sausage Pasta is chock full of smoked sausage and chicken in a creamy, cheesy cajun sauce. It's the perfect quick and easy, dinner recipe for busy weeknights!
Creamy Chicken pasta recipes with smoked sausage or andouille has been a staple in my family's home as long as I can remember.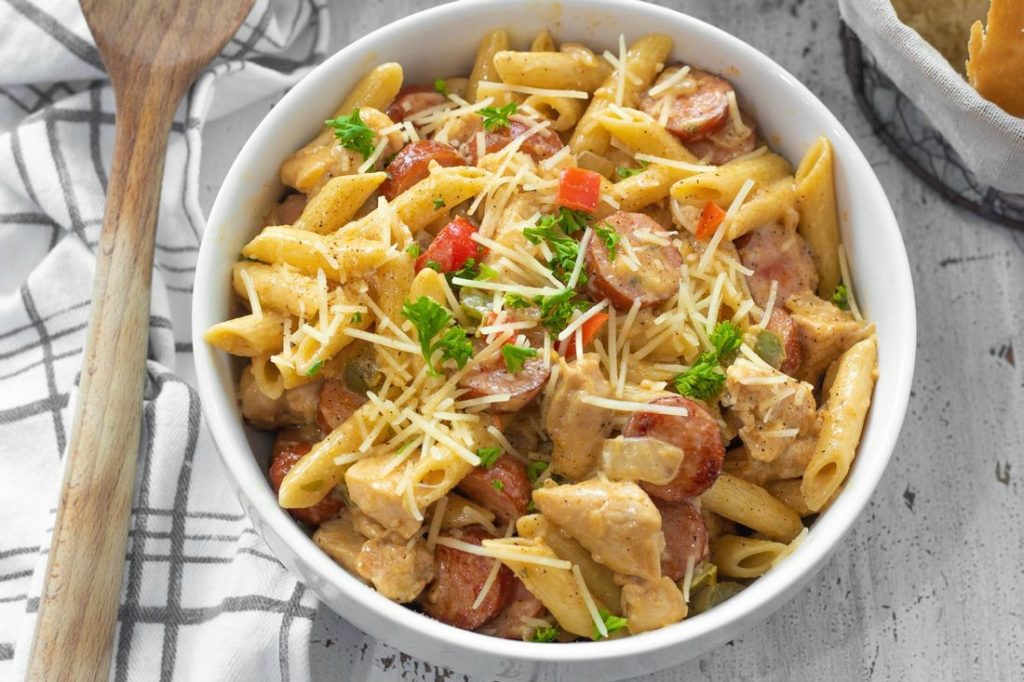 Both of my grandmothers and my mamma taught me how to cook delicious cajun and creole food. Of course, now I put my own personal touch on some of their beloved recipes.
My family is a bunch of food-loving Cajuns, from Louisiana. And my grandparents' first language was cajun french.
When I was little, I use to love when my grandmothers got together to cook.
I was always mesmerized by the language they spoke, and the way they made cooking look like an art form.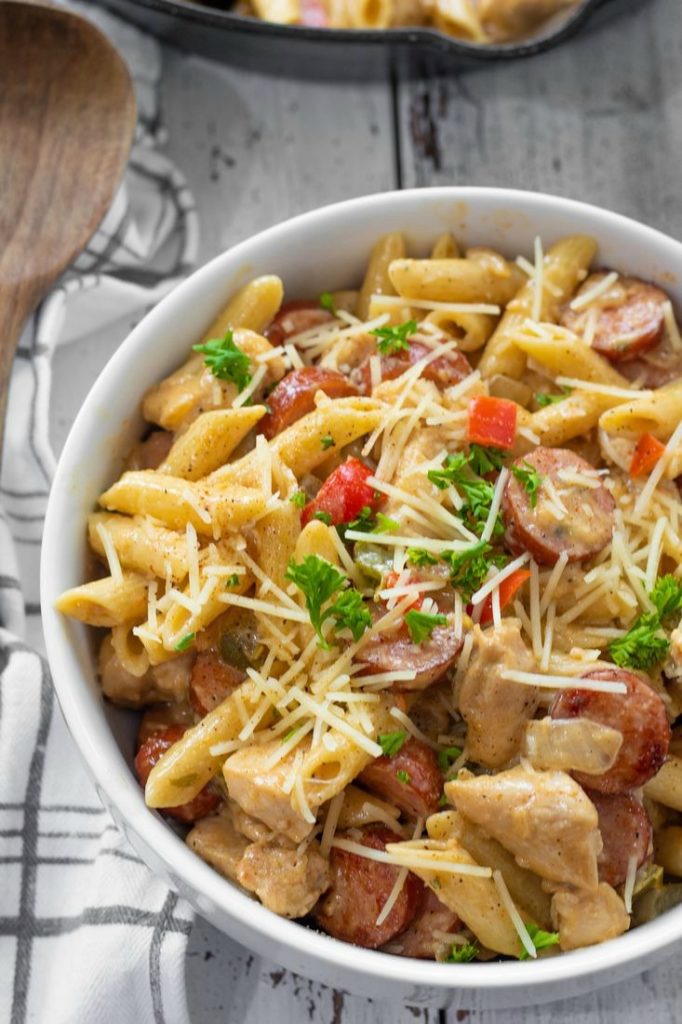 Often they would put me on a stool next to them while they stirred the pots and prepared all the ingredients.
Sometimes my grandmother's would speak to me in French, though I never understood them.
My paw-paw even tried teaching me how to speak french. Sadly, my grandpa passed away before I learned the language.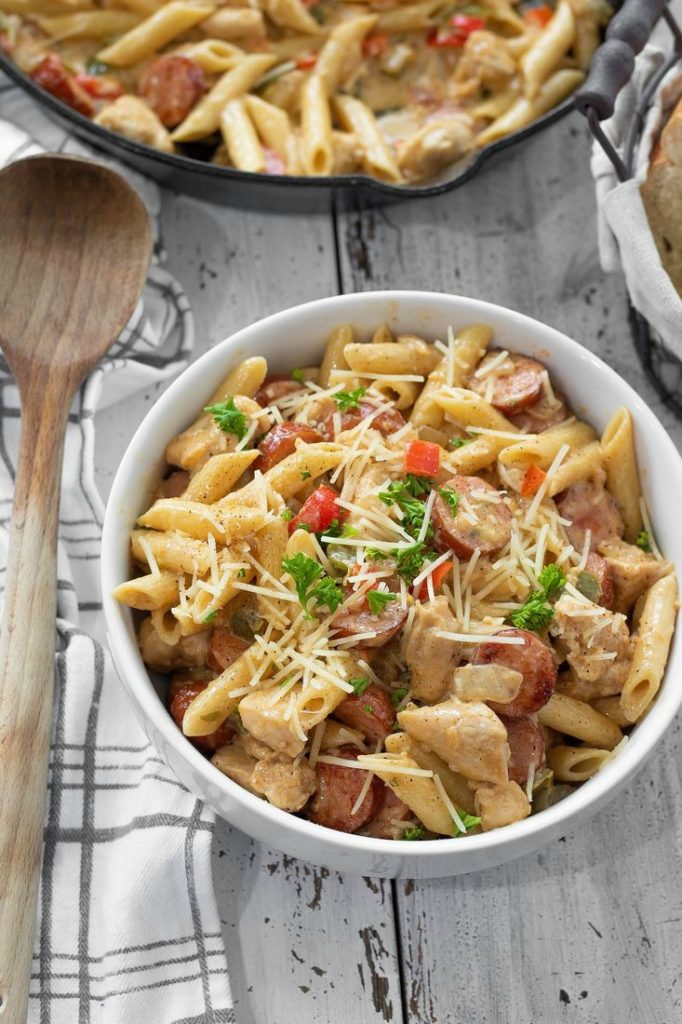 It drove me crazy when my family would visit our relatives in the country, and they all spoke cajun french except my siblings and me.
It was probably because my mom could only understand the language but, never was able to speak it fluently.
But, that never stopped my maw-maw from speaking to my mom in her dialect.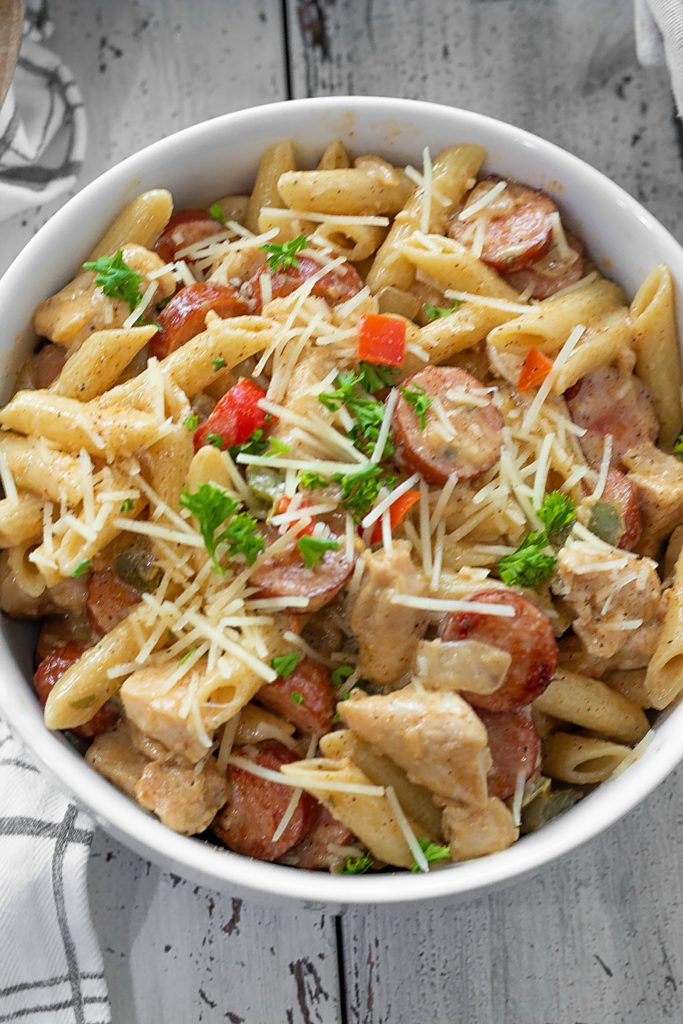 No matter the language barriers between my family and our relatives the one thing that we all shared in common was our love for good ole Cajun food!
What INGREDIENTS are in The Cajun Pasta Recipe
Smoke Sausage
Chicken
Penne Pasta
Parmesan Cheese
Green Bell Pepper
Red Bell Pepper
Onion
Unsalted Butter
Olive Oil
Whipping Cream
Fresh Garlic
Garlic Powder
Cajun Seasoning
Parsley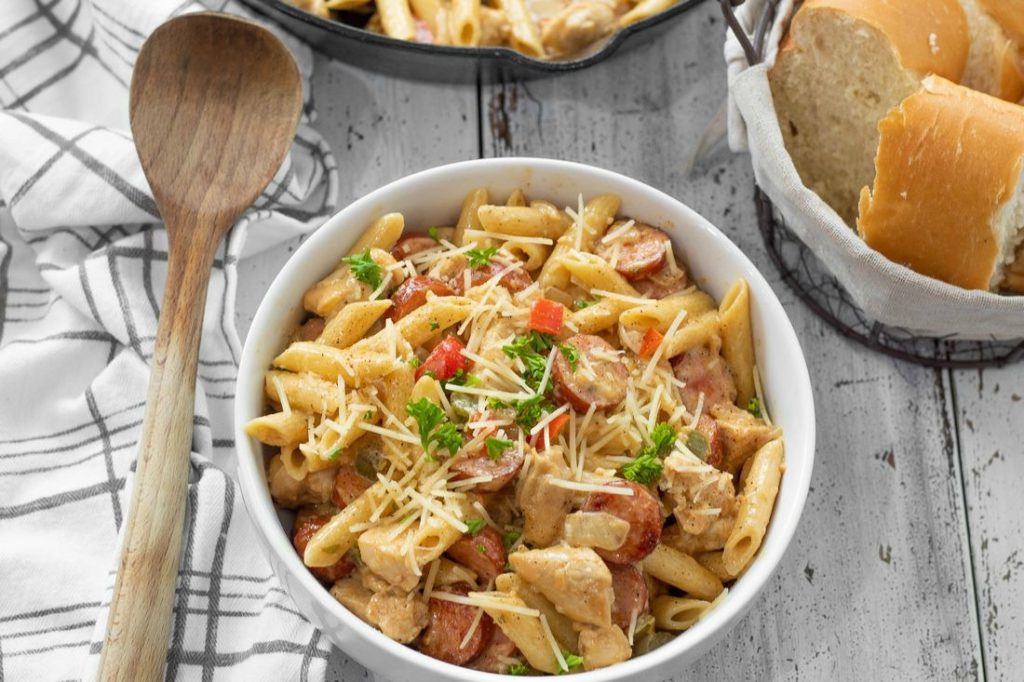 How to Make Cajun Chicken and Sausage Pasta
Cook the pasta according to the directions on the package and drain the water when done.
Slice the sausage into 1/2 inch circles and cube the chicken.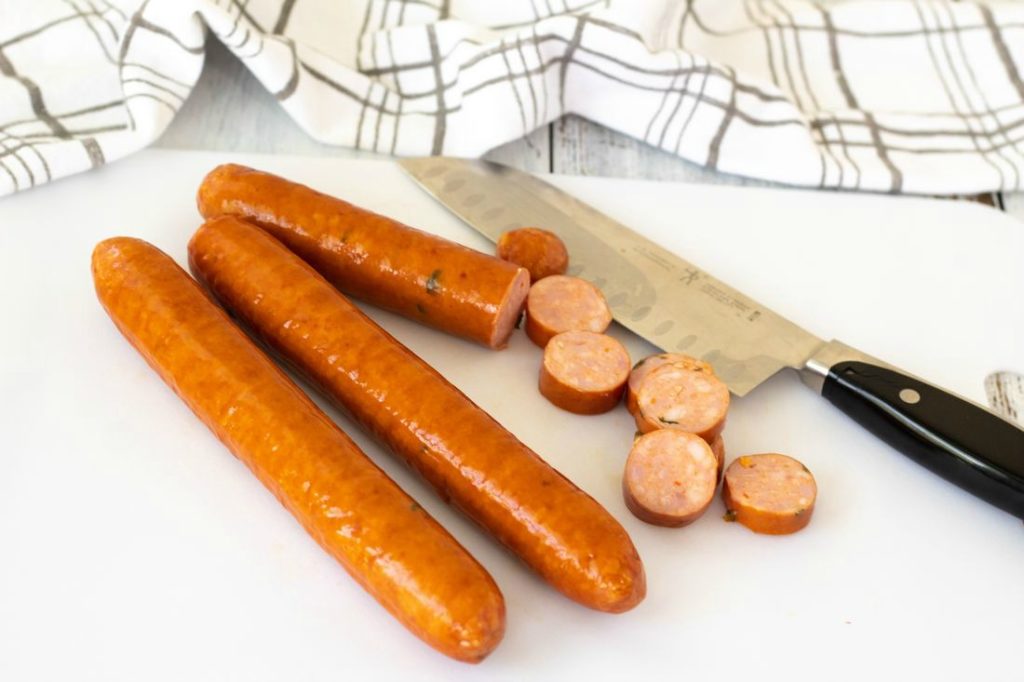 Place olive oil in a skillet. Once skillet is heated cook the sausage and chicken.
Stir in a little bit of cajun seasoning and garlic powder with the meat.Empty the sausage and chicken into a bowl and set aside.
Dice the bell peppers, onions, and chop the garlic. Melt one tablespoons of butter in the skillet. Add the the vegetables and saute on low heat until tender. Drain any liquid.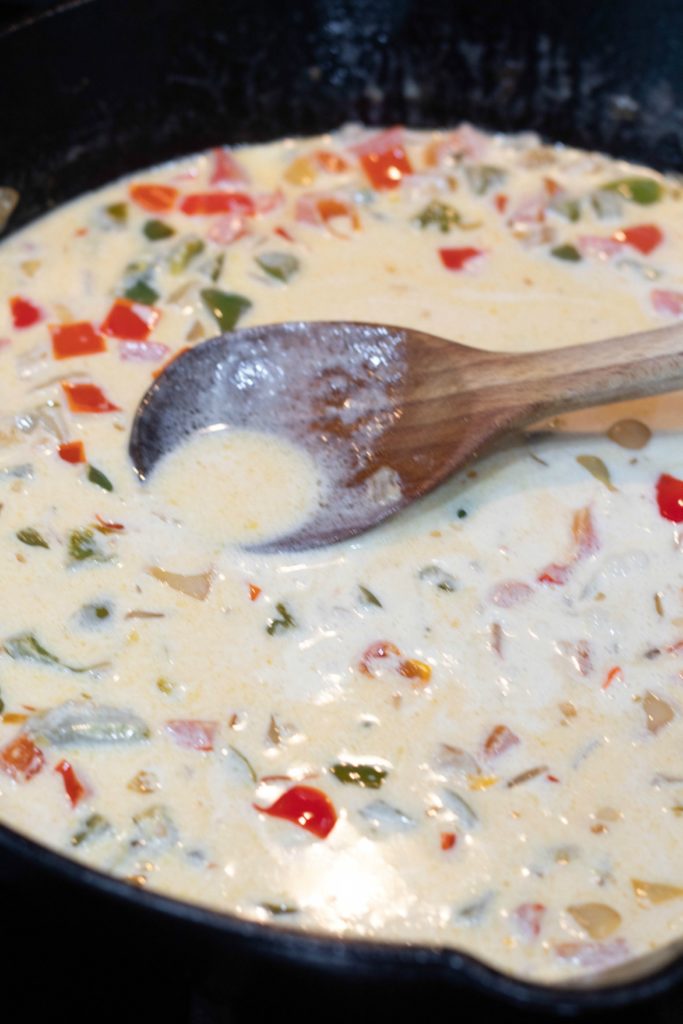 Melt half stick of butter in the skillet and slowly add a cup of whipping cream, a little bit at a time. Stir in one tablespoon of cajun seasoning and 1/2 cup of shredded parmesan cheese. Stir until the sauce thickens.
Next, mix in the chicken and sausage. Then toss in the pasta. Don't forget to top the pasta with the remaining 1/2 cup of parmesan cheese.
Also, sprinkle a little bit of cajun seasoning over the pasta dish and top with chopped parsley. Serve while hot.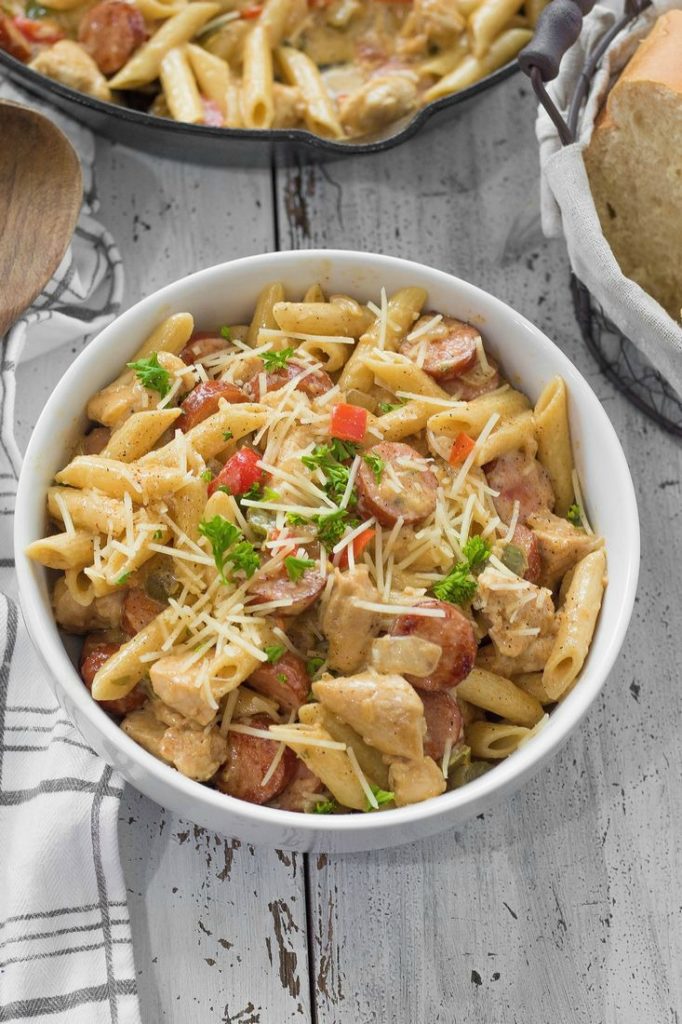 The cajun chicken pasta with smoked sausage goes perfectly with buttered french bread and a side salad. It's the perfect meal for busy weeknights and it's budget-friendly.
Also, I think it's one of the best creamy chicken pasta recipes I ever made. Eventually, I'll have to try making cajun shrimp pasta.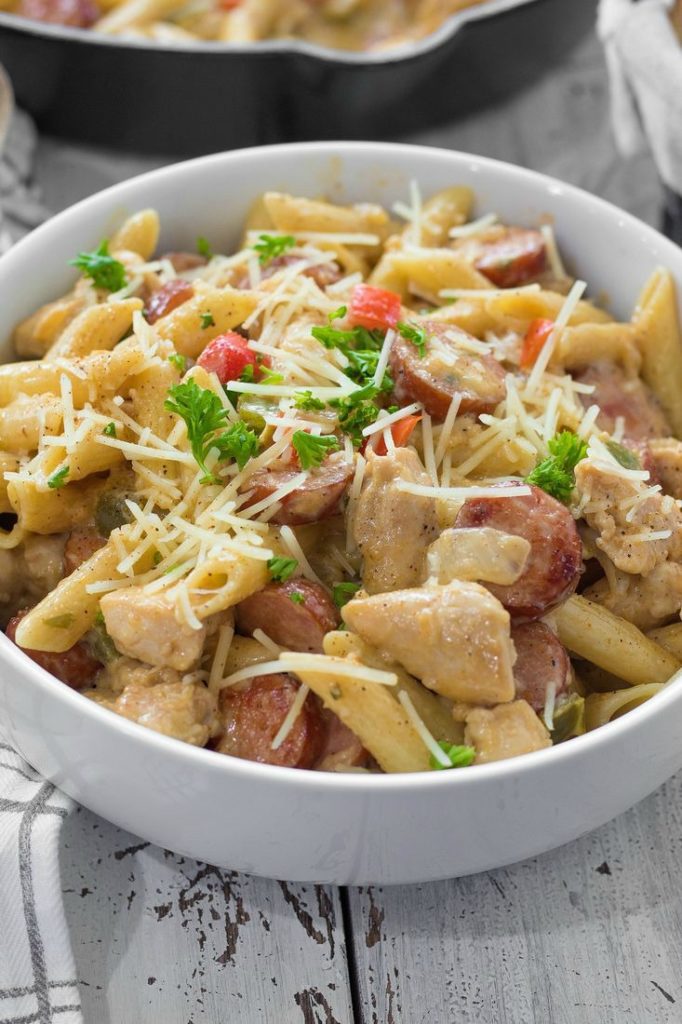 My Other Cajun Recipes YOU Might Like:
These are a few of my favorite cajun recipes.
PiN Me