These easy and delicious pumpkin yogurt bites are a fun and healthy frozen treat. It's the perfect snack to serve during fall and Halloween season.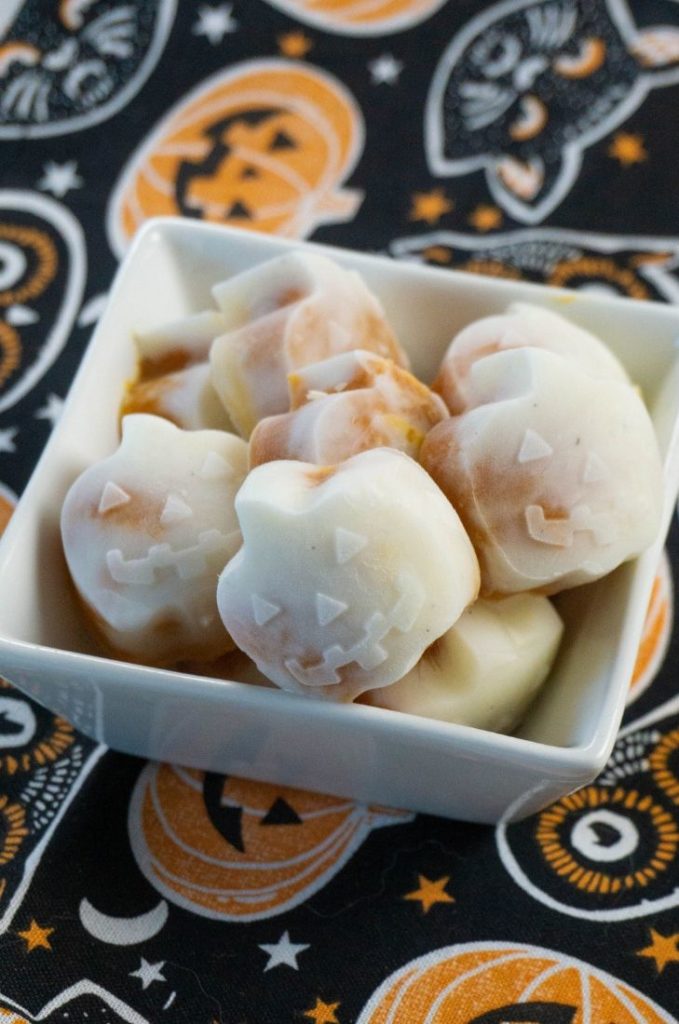 If you're looking for an easy and simple snack that's perfect for kids these frozen yogurt bites are full of protein and lots of yummy goodness. And, only uses four ingredients!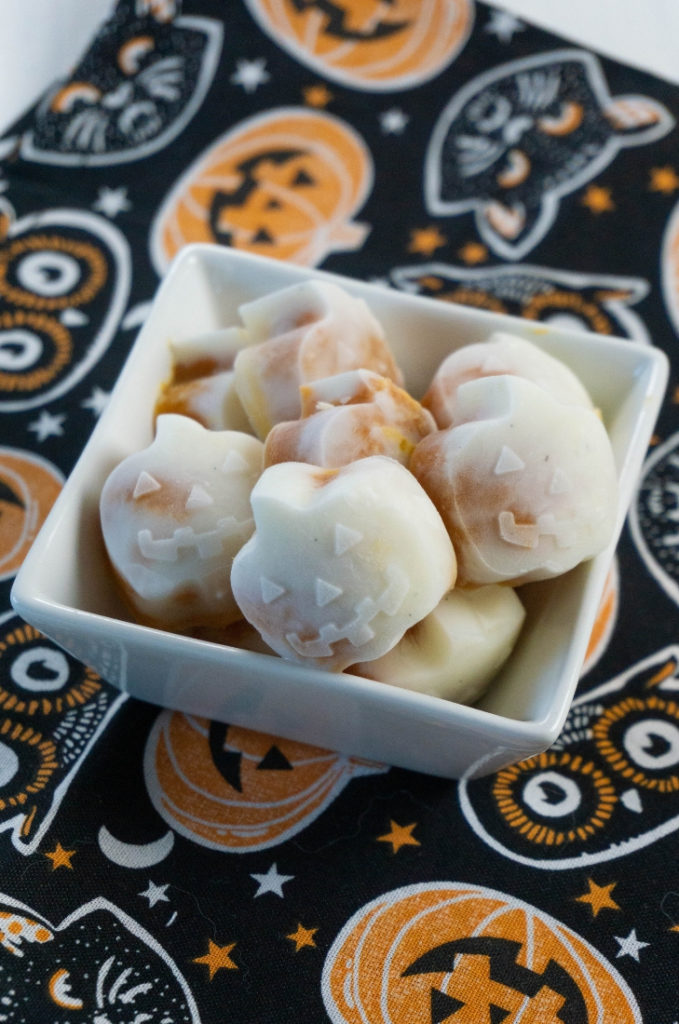 During the fall season, I'm always looking for fun and festive recipes to use canned pumpkin puree because pumpkin is one of my favorite ingredient to use in recipes.
Like this Pumpkin Pie Boozy Punch for adults. But, of course you could leave out the alcohol so, kids could enjoy the punch too.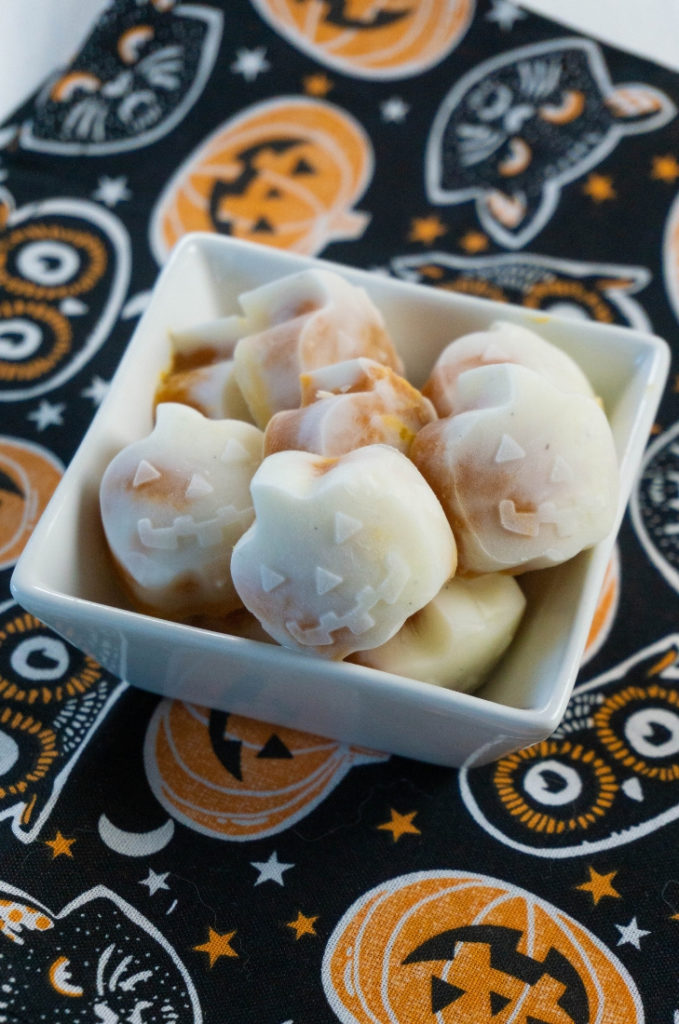 In case you're wondering where to find canned pumpkin, it can be easily found at Walmart, Publix, Kroger, and online at Amazon.
We used Libby's 100% canned pumpkin puree in our recipe.
Honestly, I think you can find canned pumpkin at most grocery stores. I have even seen organic canned pumpkin on the grocery store shelves.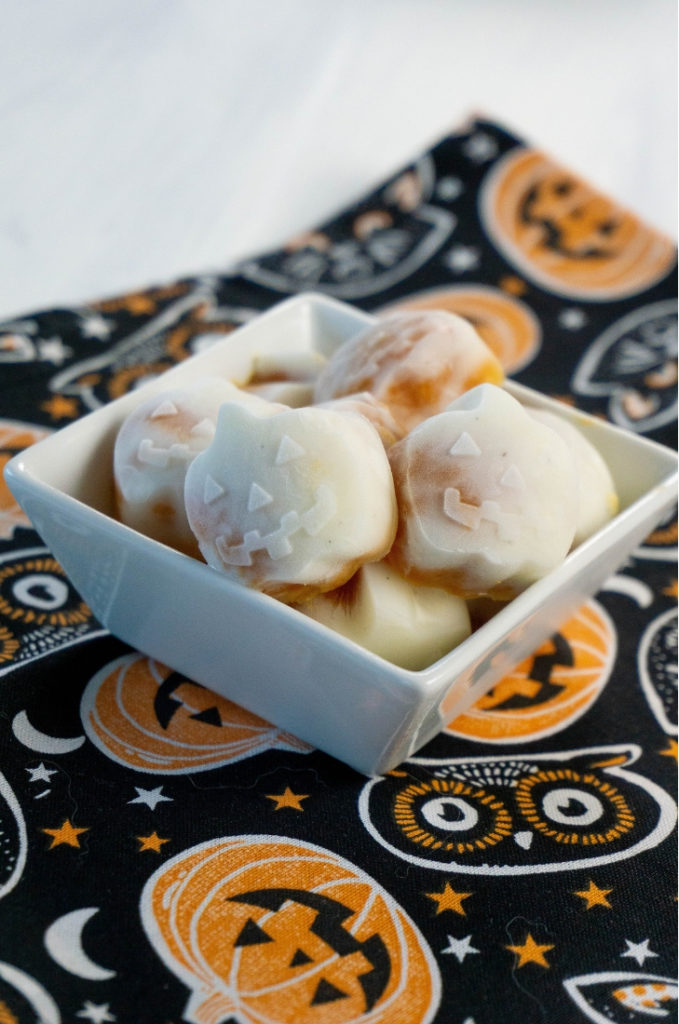 What is in Pumpkin Yogurt Bites
Canned Pumpkin Puree
Cinnamon
Vanilla Yogurt
Sweetener of Choice
Of course, if you wanted you could add some pumpkin spice to this recipe and use non-fat yogurt or greek yogurt.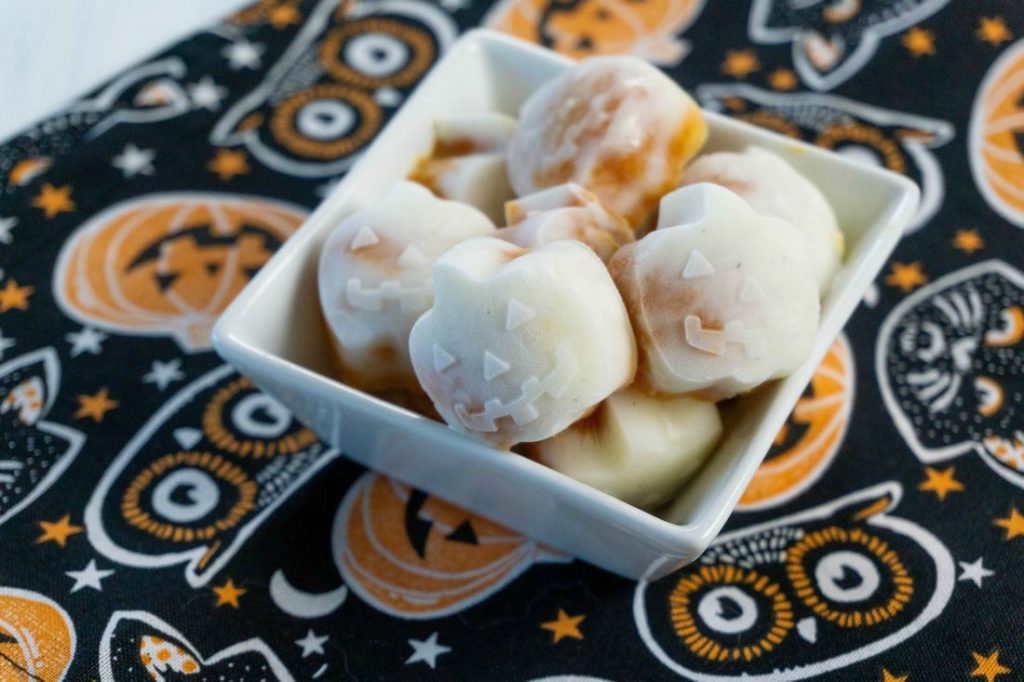 How to make Frozen Pumpkin Bites
First you need to add the pumpkin puree to a bowl. Next, add in your sweetener of choice (we used stevia) and the cinnamon. Stir well.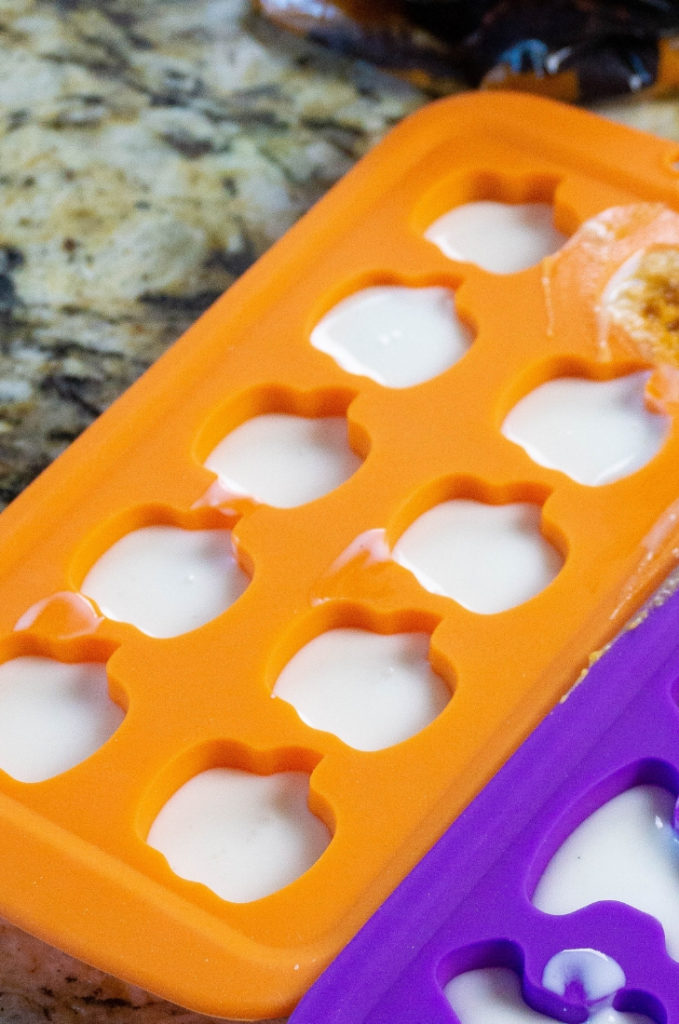 Second, using a pumpkin mold fill it half way with the vanilla yogurt. We used siggi's vanilla yogurt. Next, drop a half of a teaspoon full of the pumpkin mixture into each pumpkin.
Third, swirl the pumpkin yogurt mixture if you would like. Next, place pumpkin mold in the freezer and freeze for at least 3 hours or until the pumpkin bites or frozen solid..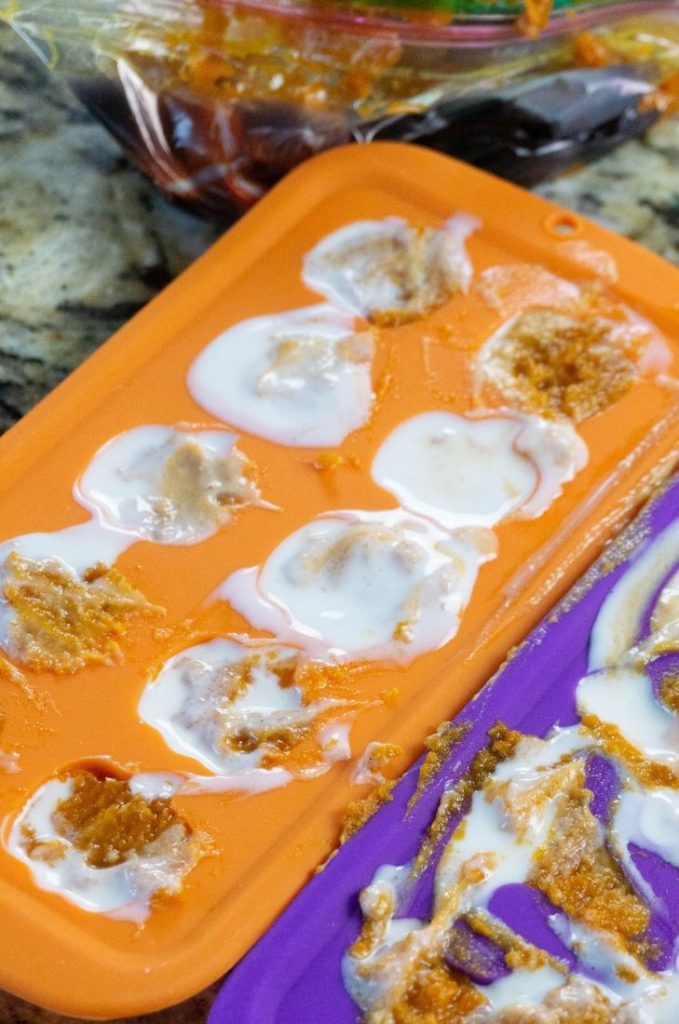 Aren't the frozen pumpkins cute? They make such a great seasonal snack! And, perfect recipe for kids to help make.
Kids and adults alike will love this delicious pumpkin frozen dessert.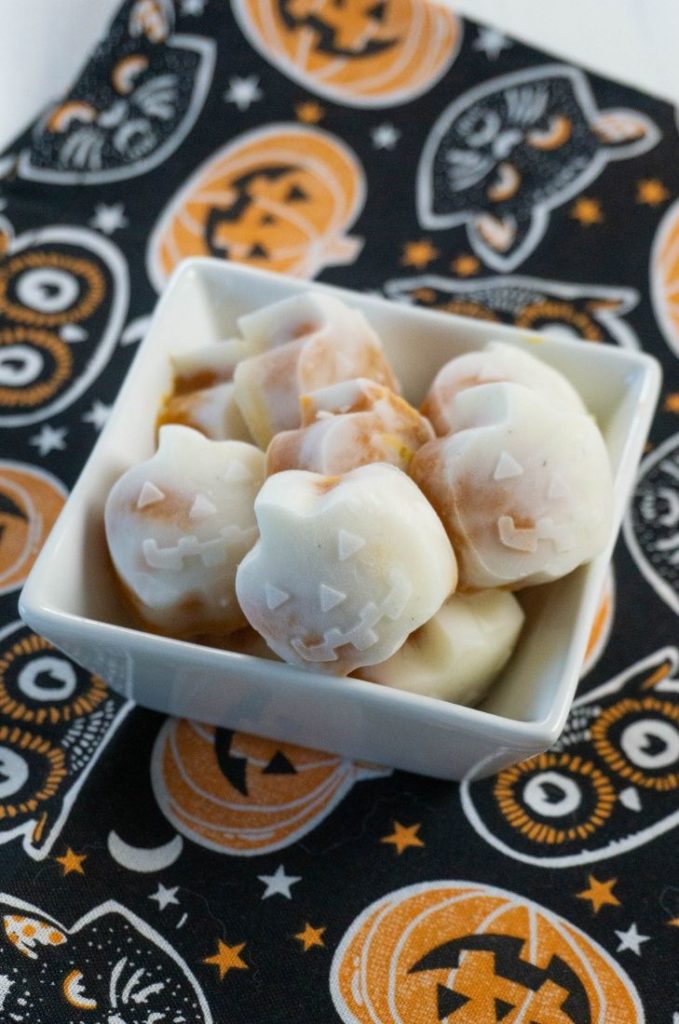 Is Canned Pumpkin Good for you?
Yes it is! Usually, fresh pumpkin is better for you but, if you cannot get a fresh pumpkin or if canned pumpkin is more convenient, then use canned pumpkin.
Canned pumpkin is still good for you. It's packed with antioxidants, protein, nutrients, fiber, potassium, iron, and more.
You might like my Pumpkin Shaped Pizza using tortillas or these 10 Halloween kid-friendly Dinner recipes.
pin Me: