This Cheesy Broccoli Sausage Pasta Skillet is the perfect one-pan dinner option for when you need an easy meal on the dinner table quick.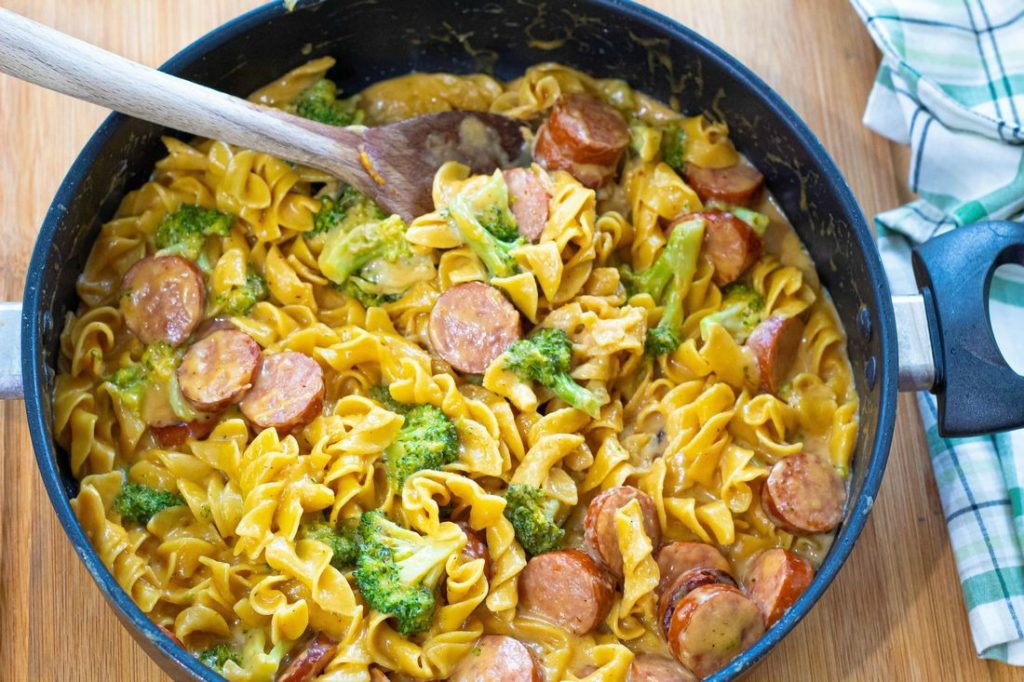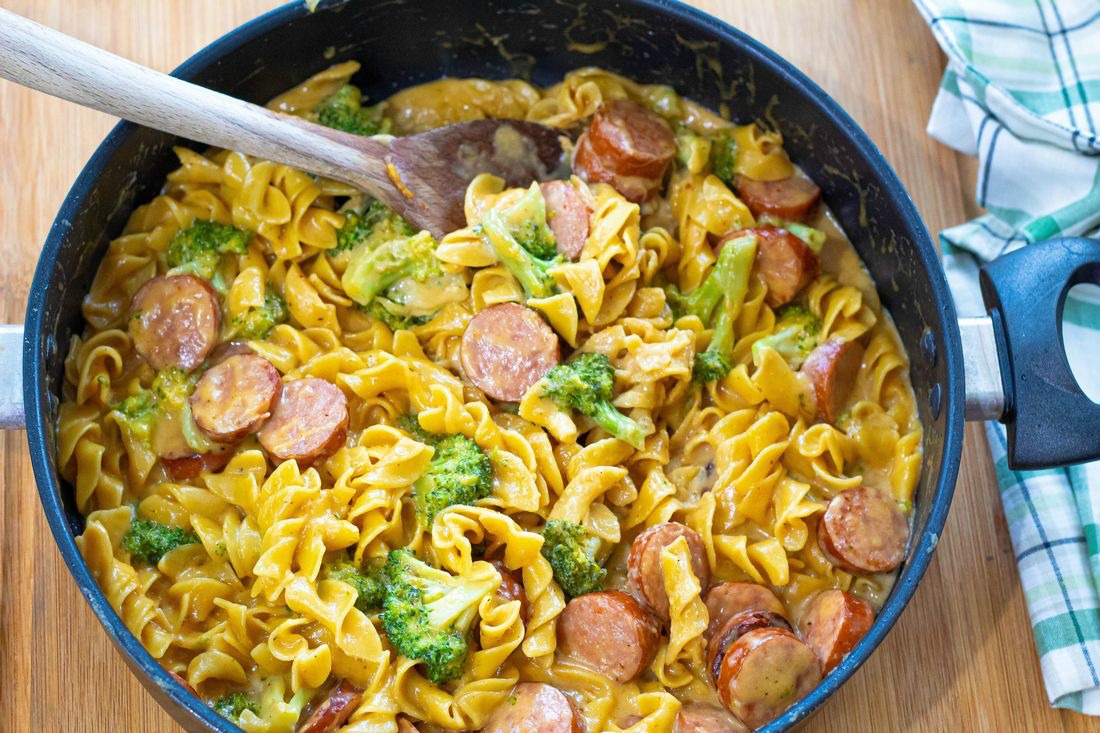 Weeknights are hectic in my house, so I try to cook simple but, tasty meals for my family. Often I find myself cooking a lot of smoked sausage recipes.
I'm lucky though that my son will devour pasta with sausage and broccoli.
It's not often I can get him to eat food with vegetables.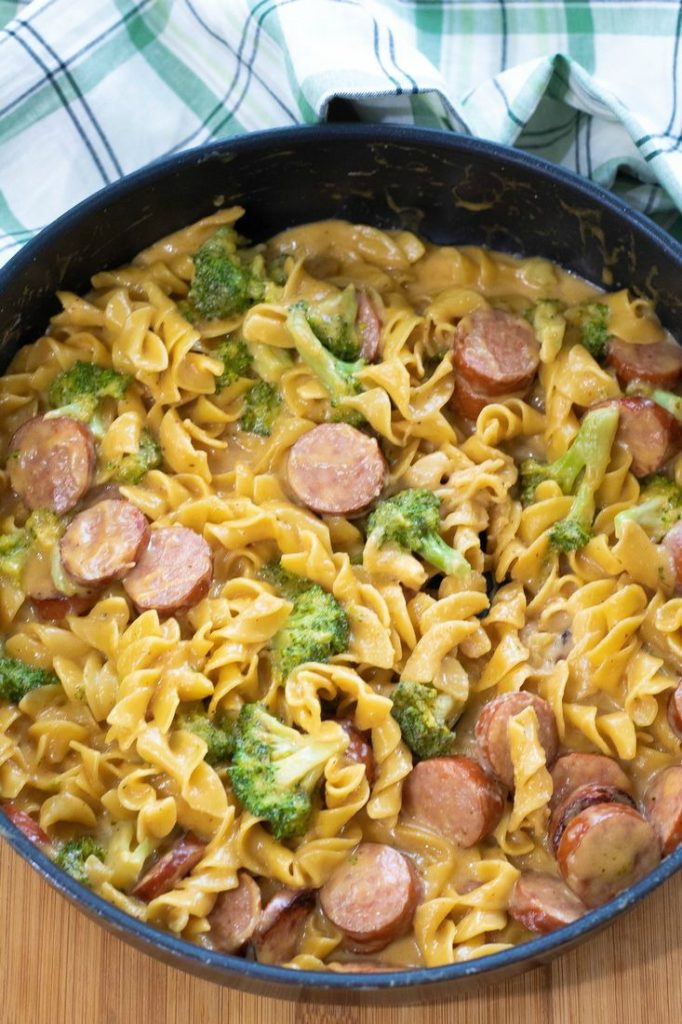 Also, it helps that I make Hillshire Farms smoked sausage and pasta recipes.
It seems my son loves Hillshire Farm smoked sausage the best.
Though sometimes I will use Manda sausage instead and he'll eat that sausage too.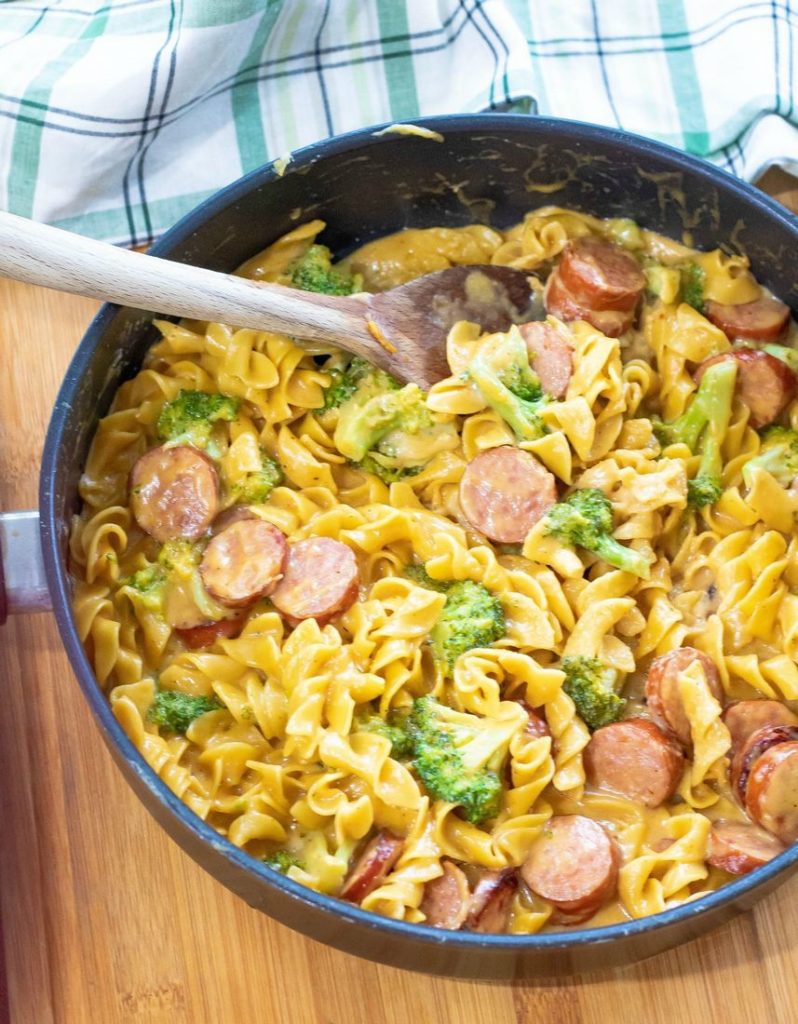 Due to the fact, my son is a very picky eater, which often drives me crazy; I try to make recipes he will eat.
I knew he would enjoy this smoked sausage and egg noodle recipe because of all the cheese I added to it.
My son also likes when I make Cheesy Rigatoni Bake.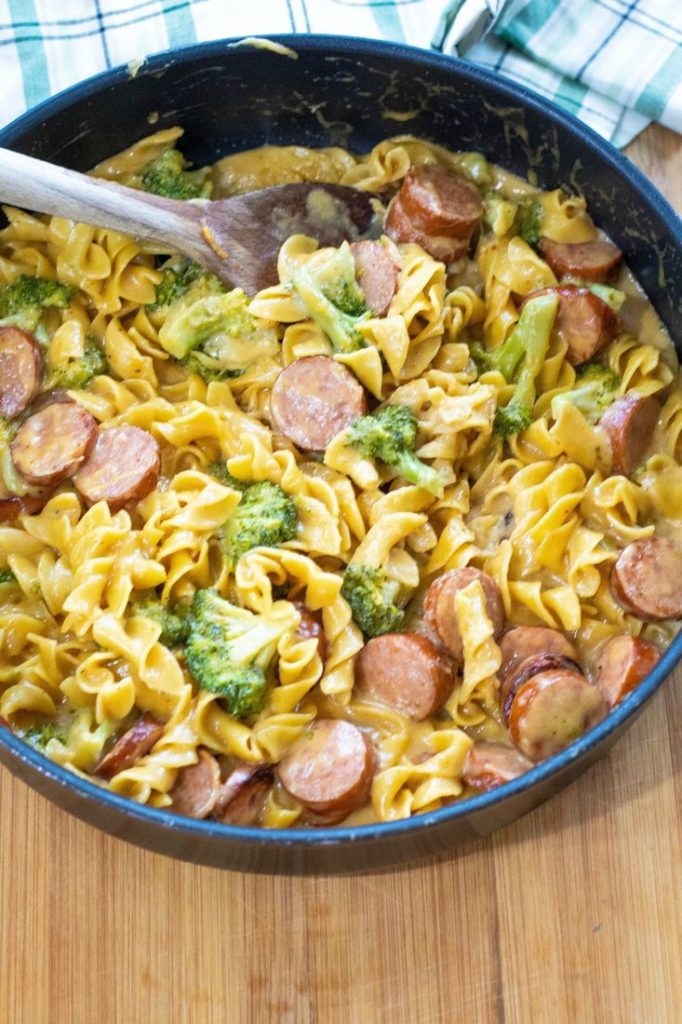 The best part about this easy pasta recipe besides my son eating it is that it only takes 20 minutes to whip up!
And, since you only need one-pan to cook this pasta dish cleaning up after dinner is a BREEZE!
Which means I have more time to help my son with his homework after dinner, and I can get him to karate practice on time.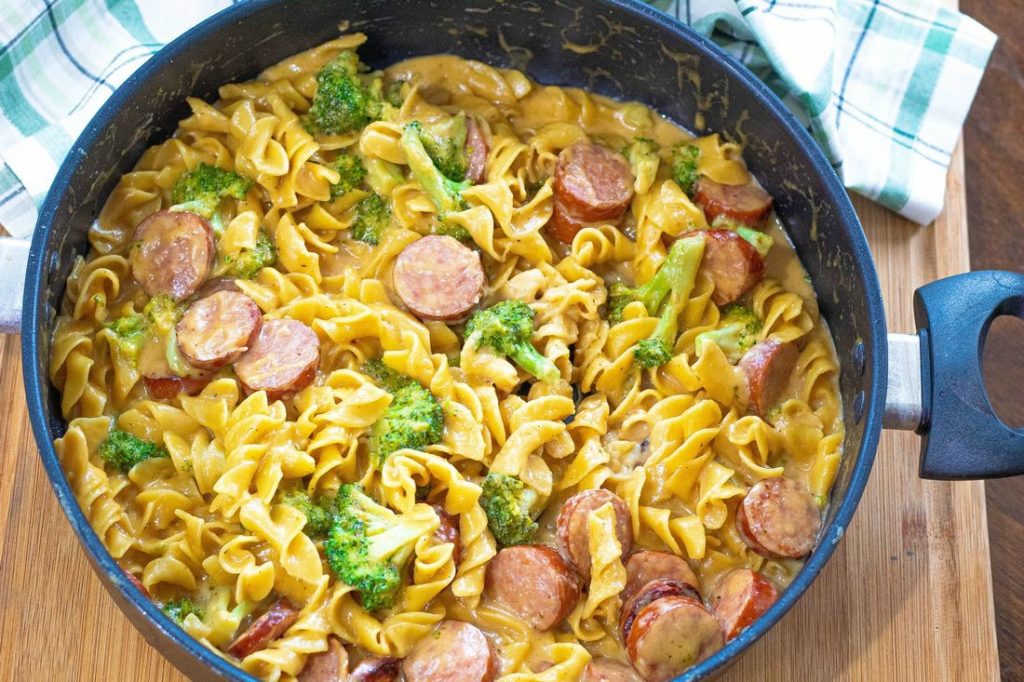 What Is In Cheesy Broccoli Sausage Pasta Skillet
Kraft Triple Cheddar Cheese
Broccoli
Smoked Sausage
Olive Oil
Beef Broth
Heavy whipping Cream
Extra Wide Egg Noodles
Garlic Powder
Onion Powder
Salt & Pepper
Optional: Cajun Seasoning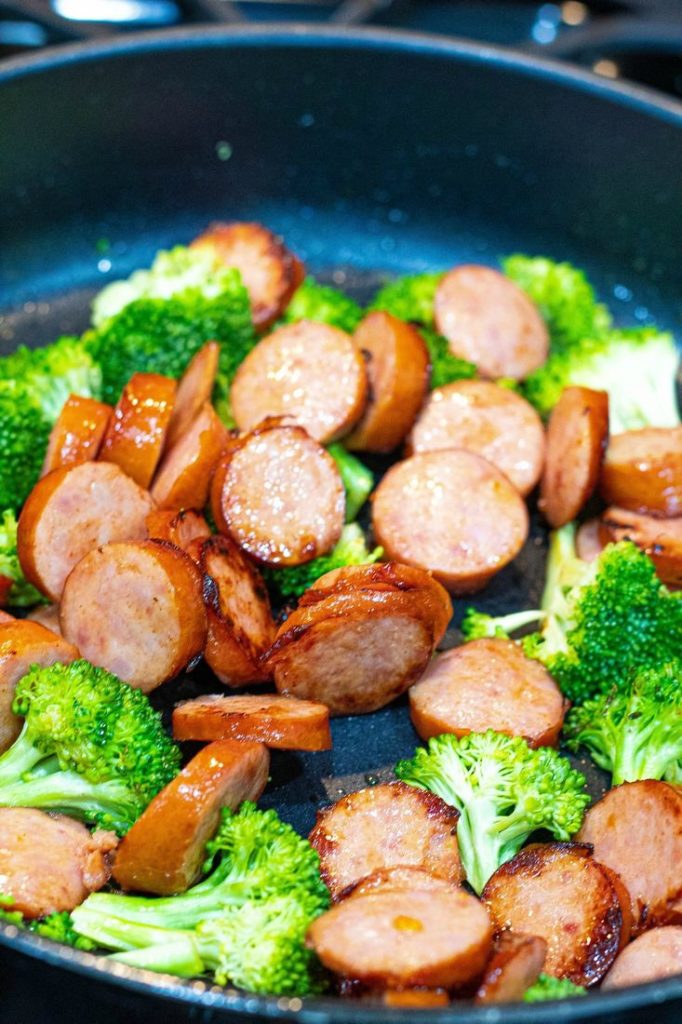 How to Make Smoked Sausage Pasta
Pour olive oil into a

deep skillet.

Next, cut the sausage into 1/2 thick rounds. Cook the sausage in the skillet with the olive oil on low heat until the sausage is lightly browned.
Remove the smoked sausage from the skillet. Cut one small head of broccoli and saute in the pan for 3-4 minutes. You want the broccoli tender but, still crisp.
Add the smoked sausage, uncooked pasta, beef broth, garlic powder, onion powder, salt, pepper to the skillet with the broccoli. Stir and cover. Cook 5 minutes.
Pour in the heavy whipping cream. Stir and push the broccoli down into the sauce with your spoon. Cover and cook for 12 minutes more. .
Remove the lid and add 2-3 cups of shredded cheese. Stir the cheese to mix it together with the pasta, sausage, and the broccoli. Simmer for 3 minutes on low heat or until the cheese is melted.
Taste and add more seasoning if needed. We added Cajun seasoning to our pasta.
If you wanted you could substitute the smoked sausage with ground Italian Sausage.
Also you could use different veggies instead of the broccoli like, spinach or asparagus.
Maybe even minced garlic and diced onions instead the powder seasoning.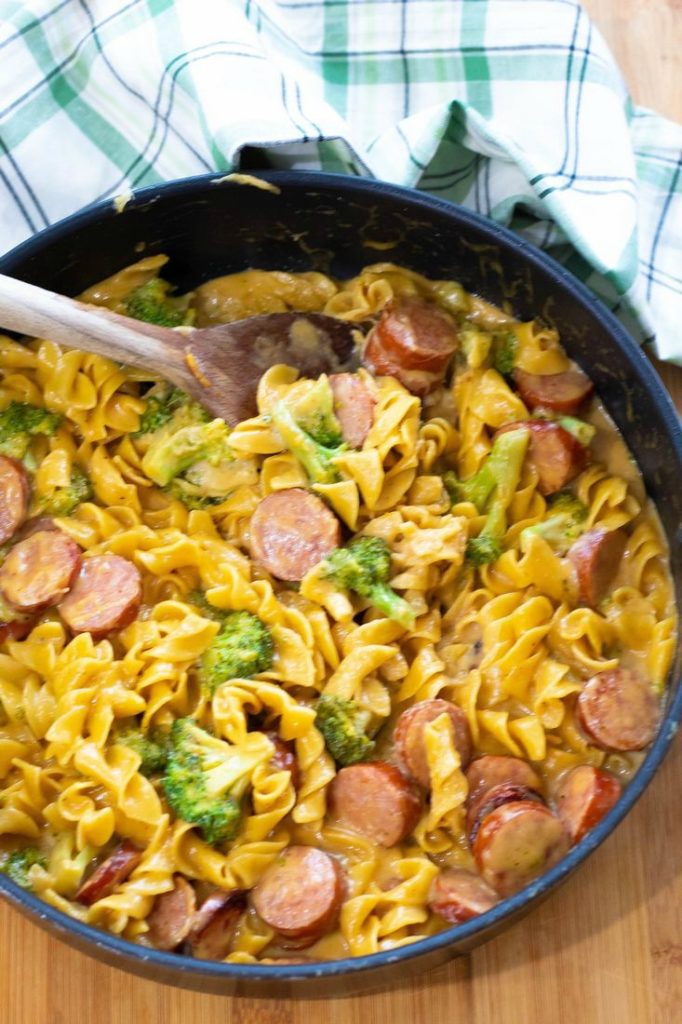 This sausage and broccoli pasta recipe is such a wonderful recipe for busy weekdays.
I hope your family enjoys it as much as my family!
More recipes for you :
Pin Me: