Southern Fried Cabbage With Sausage and Ham is an easy and tasty cabbage recipe that, when served over rice, makes a delicious and hearty meal.
Have you ever eaten cabbage over rice? I was born and raised in New Orleans, Louisiana and, my family has always eaten their fried cabbage over rice.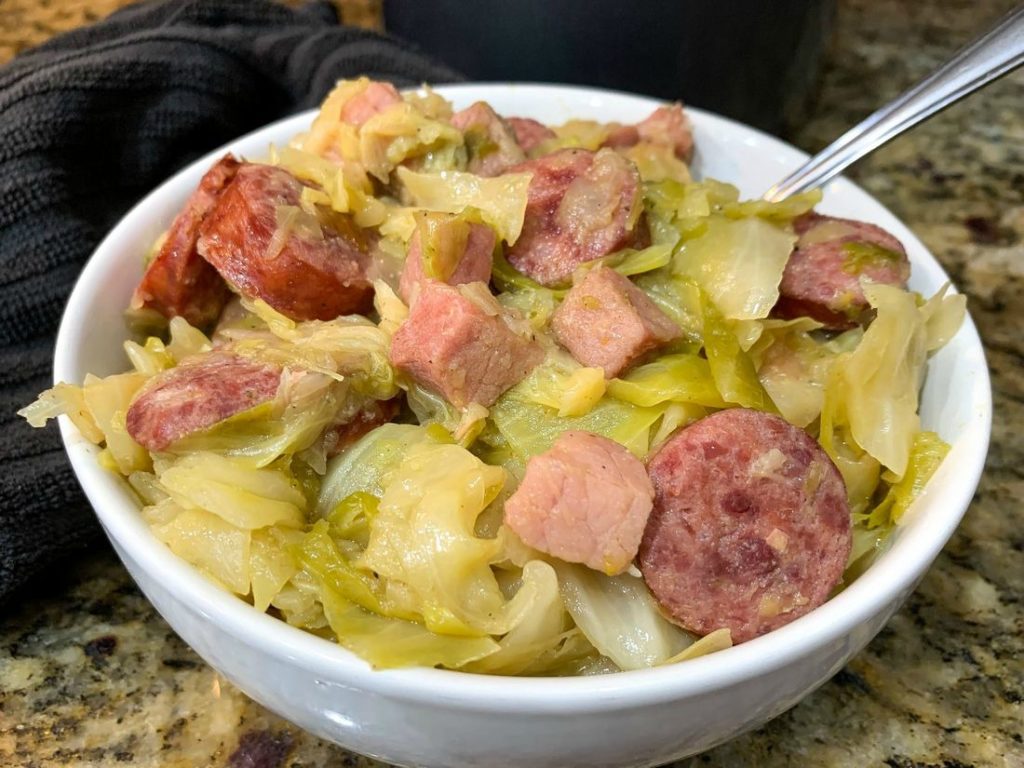 Sometimes we even add bacon to our cabbage or ham hocks it depends what we have in the fridge.
But, we always cook our fried cabbage in bacon grease and some butter.
Every Southern home usually has bacon grease in their fridge, I know we keep a jar in ours.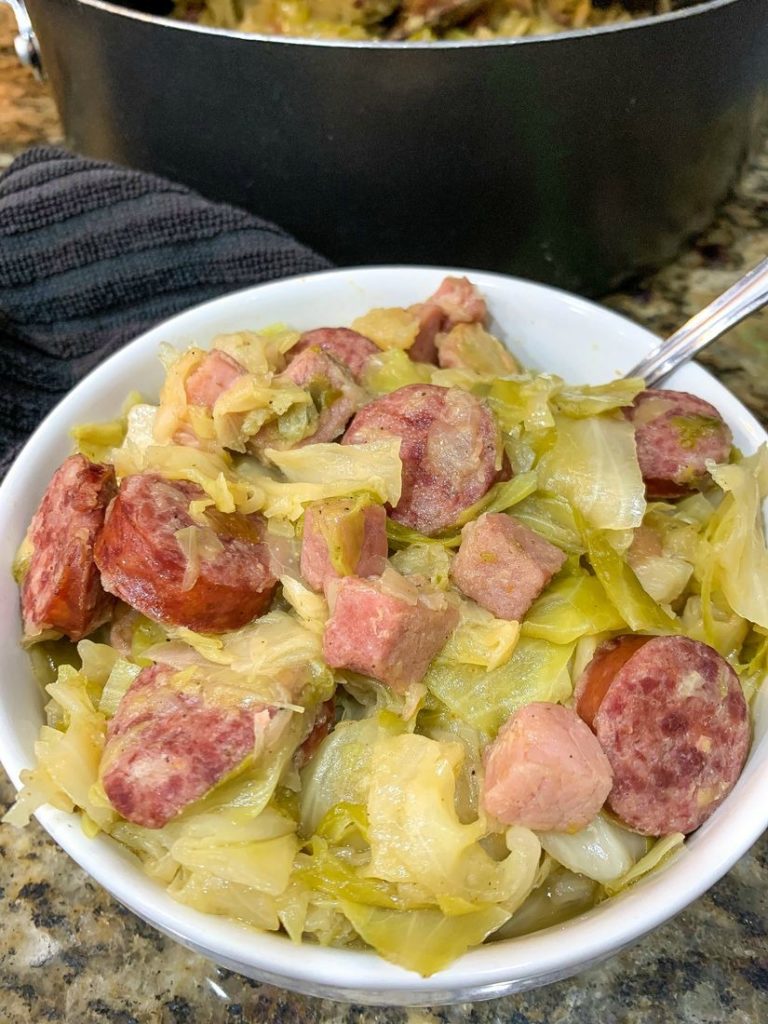 If you don't like rice, the fried cabbage tastes great by itself. I'll be honest sometimes I eat a big bowl of cabbage with sausage and add a few drops of tabasco in it.
Talk about delicious and ADDICTING! I even cook cornbread and serve the cabbage with smothered pig feet and some black eye peas! YUM! YUM!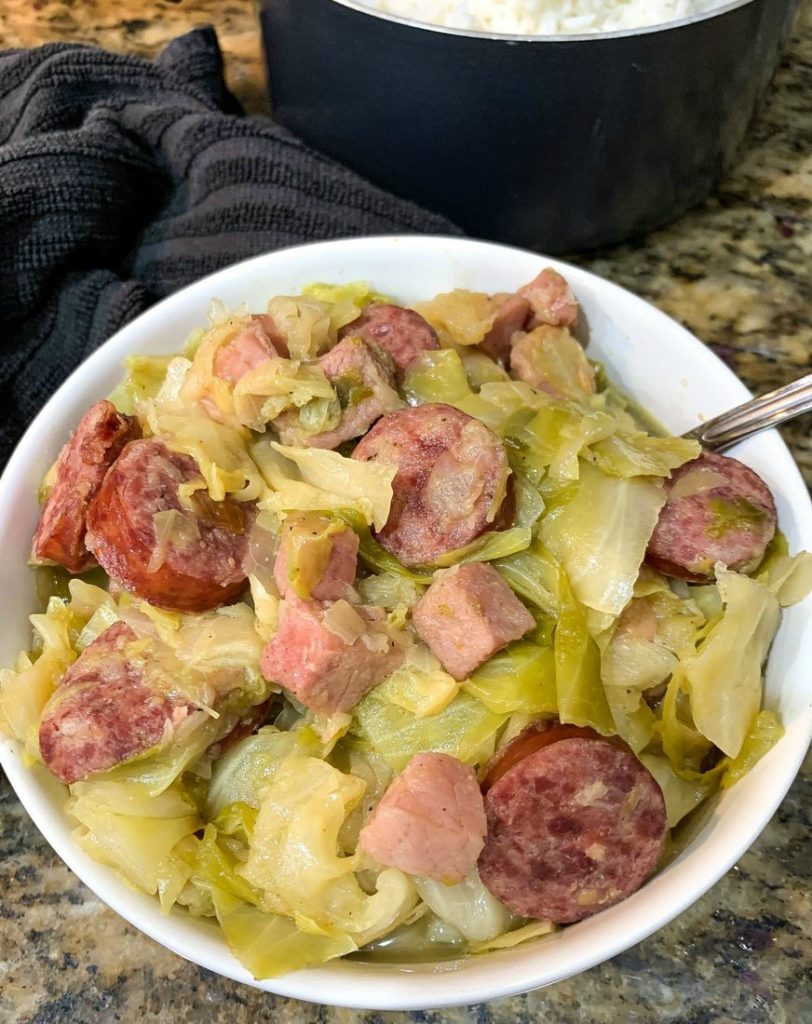 My maw-maw would even put turkey necks in her fried cabbage. She could cook the best Southern and Cajun food ever!
I sure miss my grandmother and her cooking. It was always an adventure to visit my grandparents. You never knew what food would be cooking on the stove!
Goodness, I remember the first time my maw-maw cooked me cow's tongue. EEK!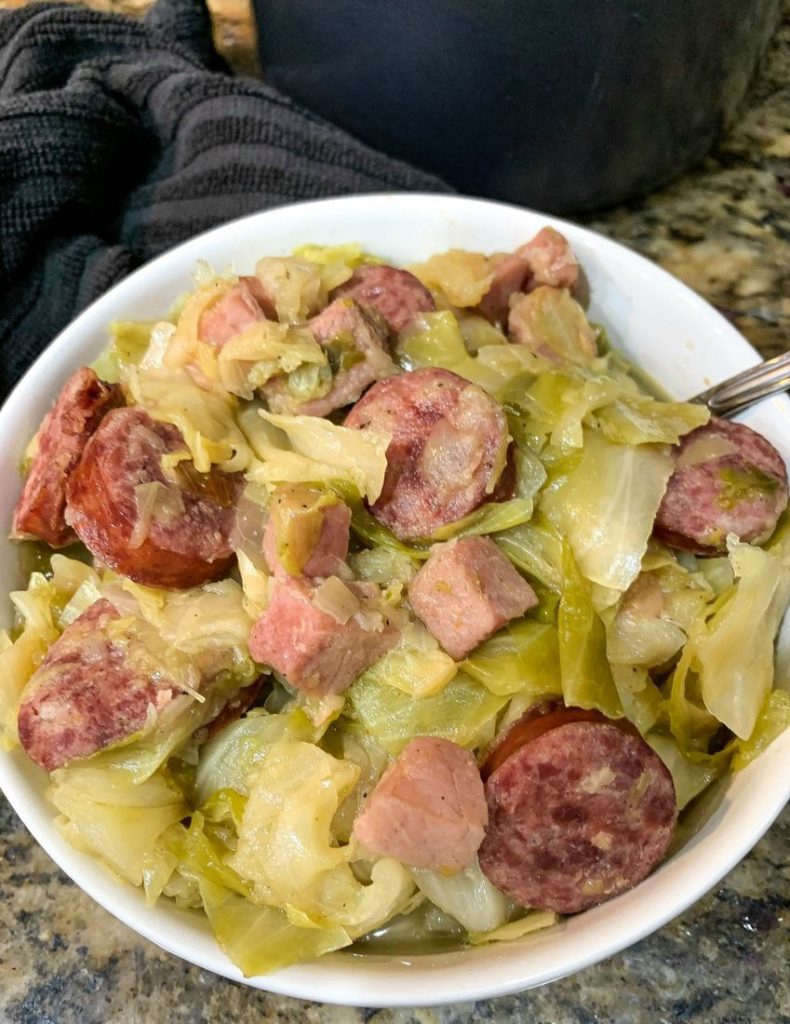 Honestly, I'm fortunate I had grandparents that grew that own vegetables and raised their food. And taught me how to cook!
My husband and I even grow vegetables. We also have cabbage growing except for this winter; our cabbage plants aren't doing too well.
Anyways, I hope you love our Southern Fried Cabbage with Sausage recipe.
Remember, you can use bacon in this recipe instead of sausage and ham.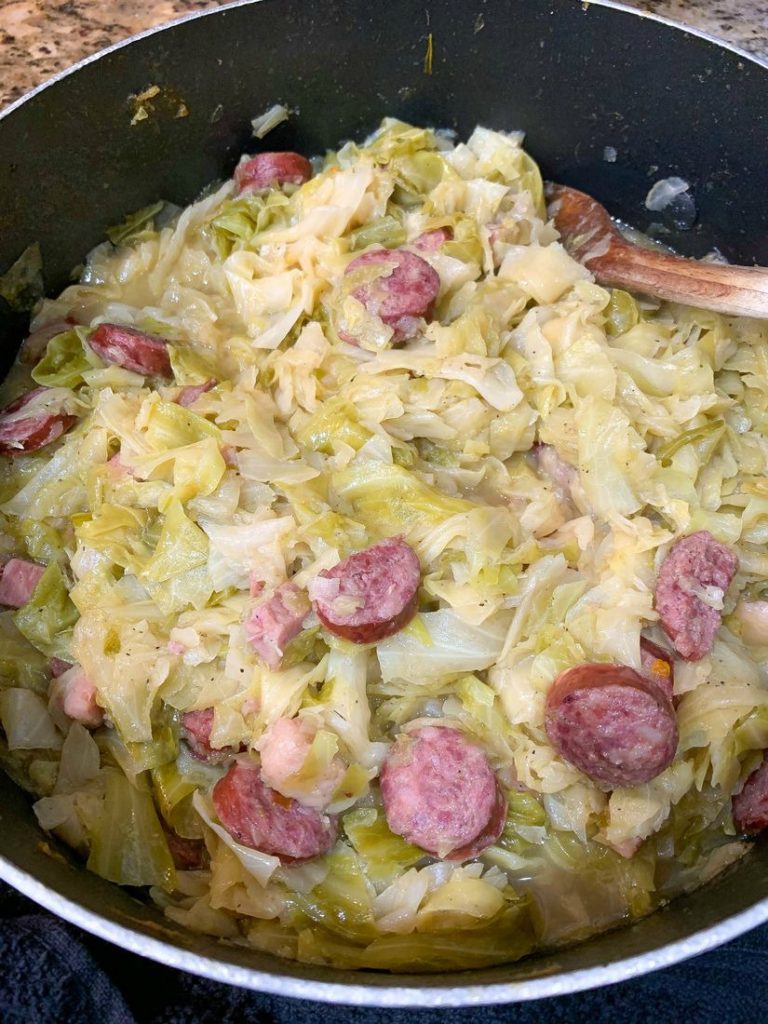 WHAT'S IN Southern Fried cabbage with sausage
2 heads of cabbage medium to large size, cored and sliced
1 lb. (16 oz.) smoked sausage, cut into 1/4″ thick slices
diced ham, 1 lb.
Large yellow onion, diced
Medium green bell pepper, chopped
3 garlic cloves, minced
garlic powder, to your liking
salt, to your liking
pepper to your, liking
2 tbsp. bacon grease
1 tbsp. butter
Optional: Cajun seasoning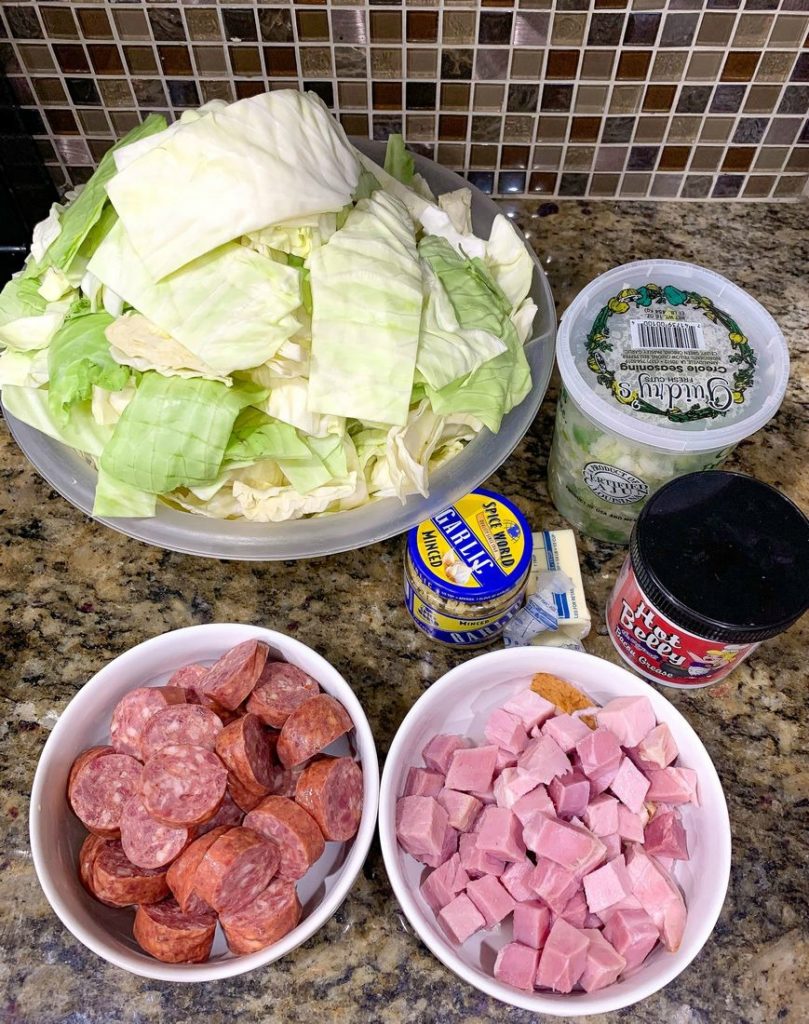 how to cook Fried Cabbage
First , add bacon grease to a large deep skillet. If you don't have bacon grease, you can buy a jar.
We sometimes have to buy rendered bacon grease if we aren't planning to cook bacon for our cabbage recipe.
Second, add the sliced sausage and cook the sausage on medium heat until it's lightly browned.
Then add in the diced onions, chopped bell peppers, and the minced garlic. Cook the veggies until tender.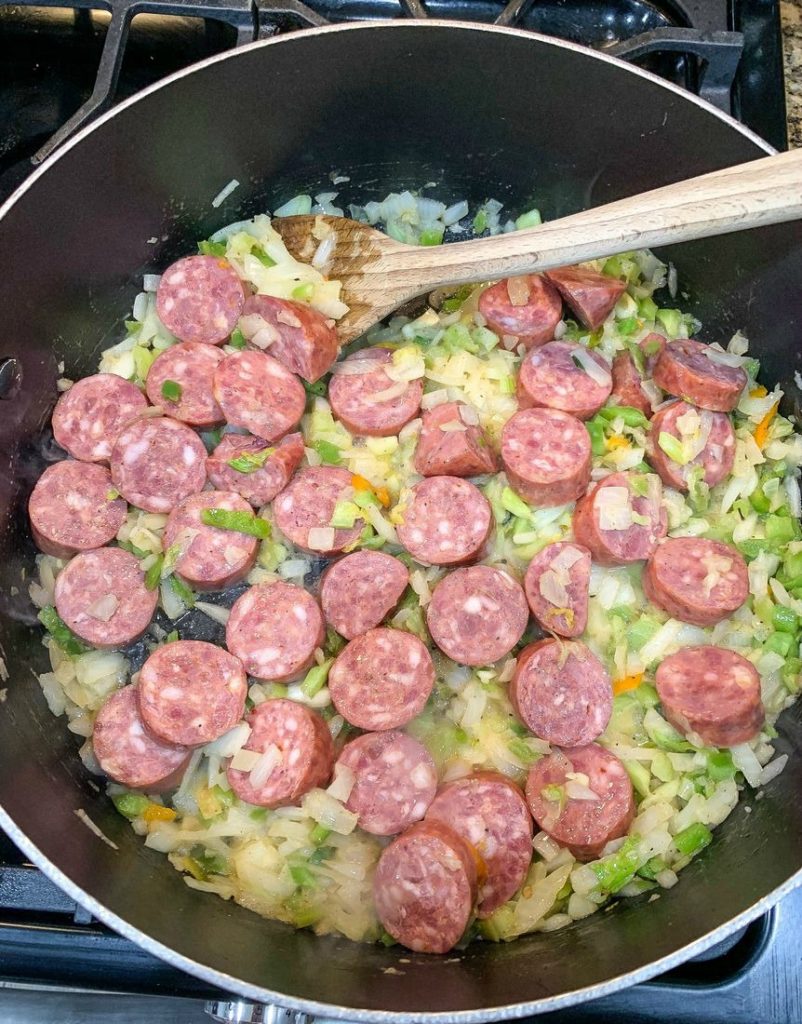 Third, toss in the ham and a little bit of the cabbage at a time. The cabbage will shrink as it cooks, and all the cabbage will eventually fit into the skillet.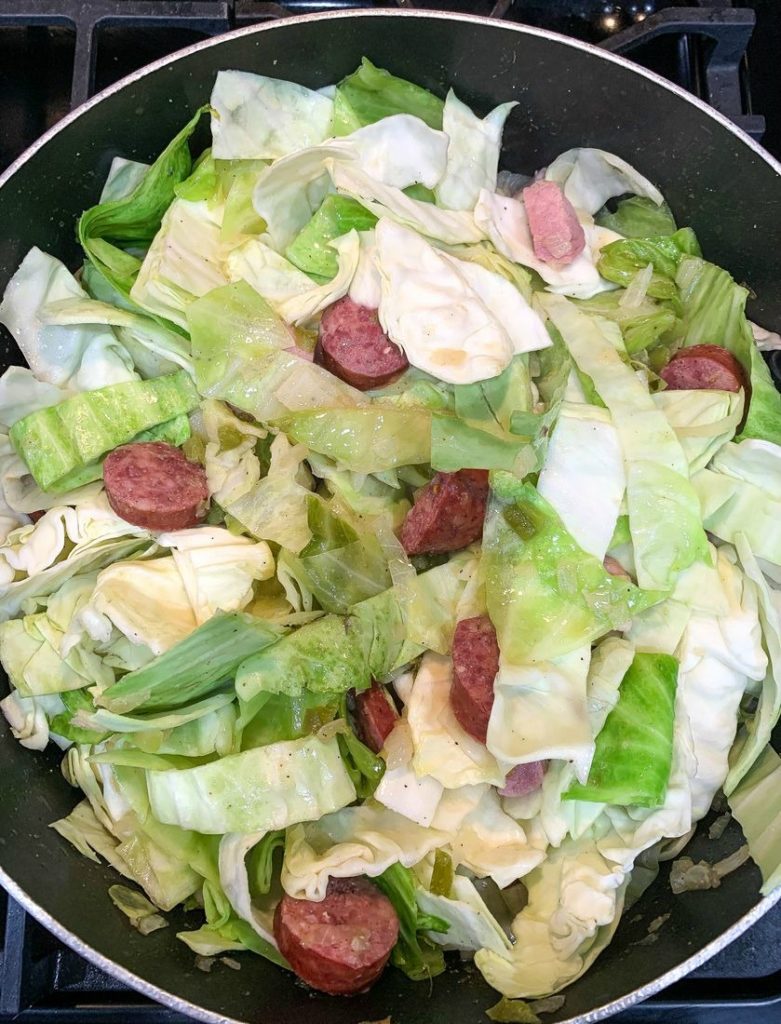 Fourth, as the cabbage starts to wilt and get tender add in the butter, stir until the butter melts. Sprinkle in the garlic powder, salt, and pepper.
Reduce the heat and continue cooking the cabbage on a low simmer 20-30 minutes, until the cabbage reaches the desired consistency.
Make sure to stir the cabbage periodically. To keep it from sticking to the pot.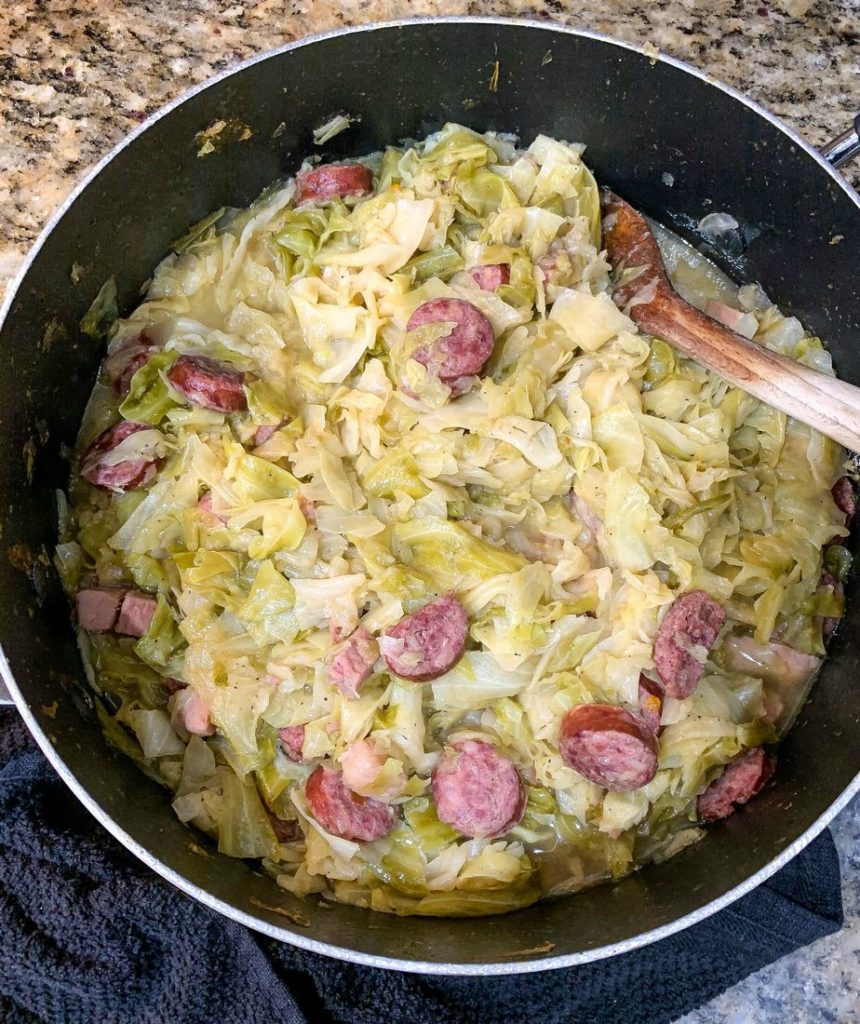 Last, sprinkle in some Cajun seasoning and stir. Additionally, if you want you could add in red pepper flakes.
I choose not to use red pepper flakes because it triggers my migraines.
Serve this delicious comfort food with rice if you like and with some cornbread on the side for a complete meal.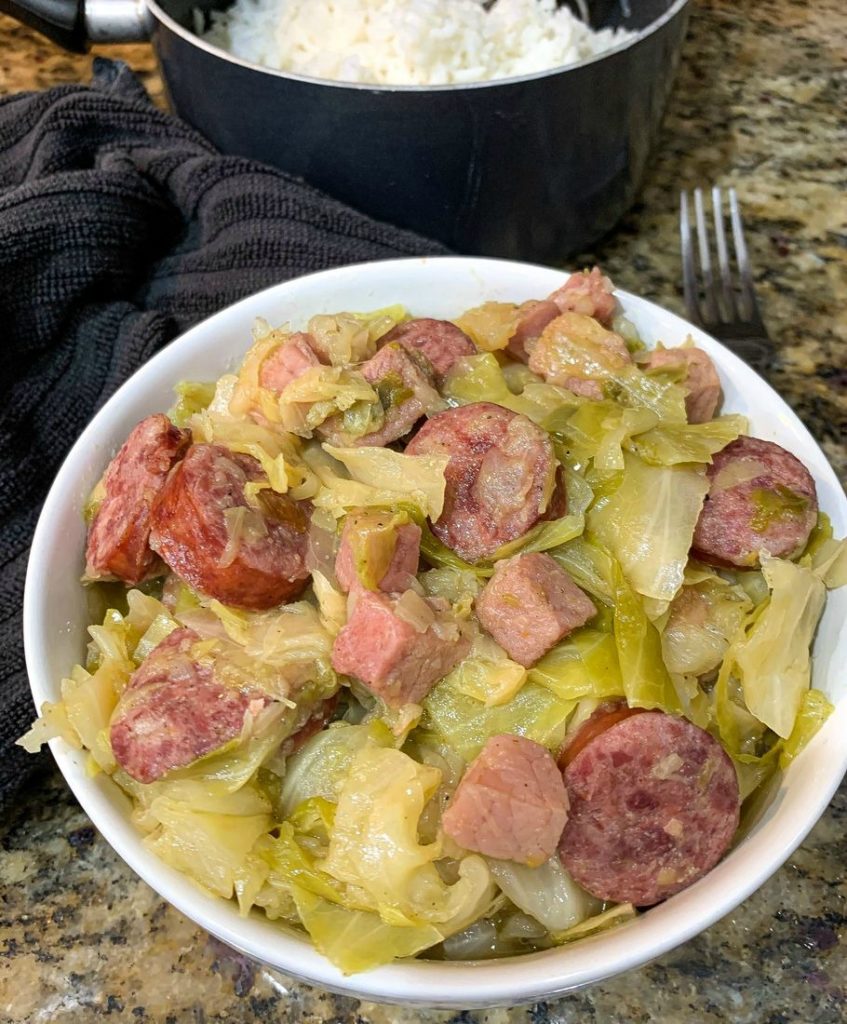 Other Variations:
My family doesn't add sugar or vinegar to our fried cabbage.
Though, I have seen recipes where white sugar or brown sugar was added to the cabbage, along with a bit of vinegar.
How do eat your cabbage? Do you like cabbage in a stir- fry or a cabbage soup?
More recipes for you
Pin me