Learn how to cook easy and delicious Southern Style Green Beans, which are cooked on a low simmer for a few hours until they're tender and mouth-watering good.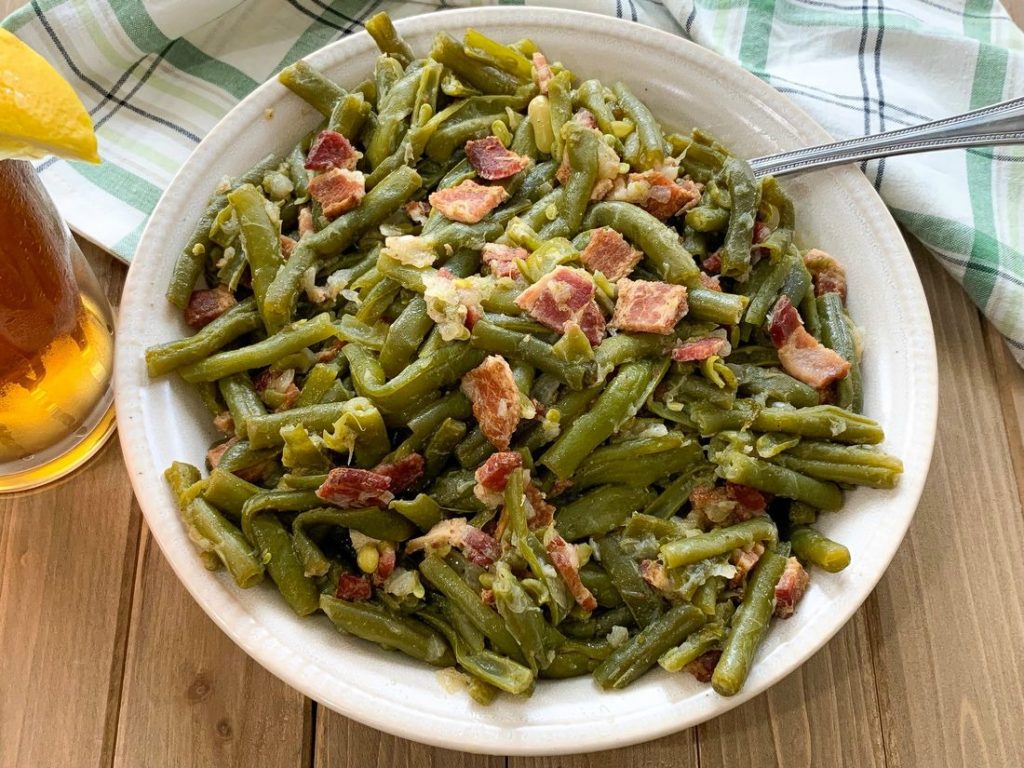 Southern Style Green Beans was a staple in my home when I was growing up, especially around the holidays.
Also, Thanksgiving and Christmas dinner always consisted of my Mama's Southern Style Green Beans, Stuffed Mirlitons, Sweet Potato Casserole, Dirty Rice, and a BIG OLE Turkey! Of course, cornbread and cranberry sauce, too.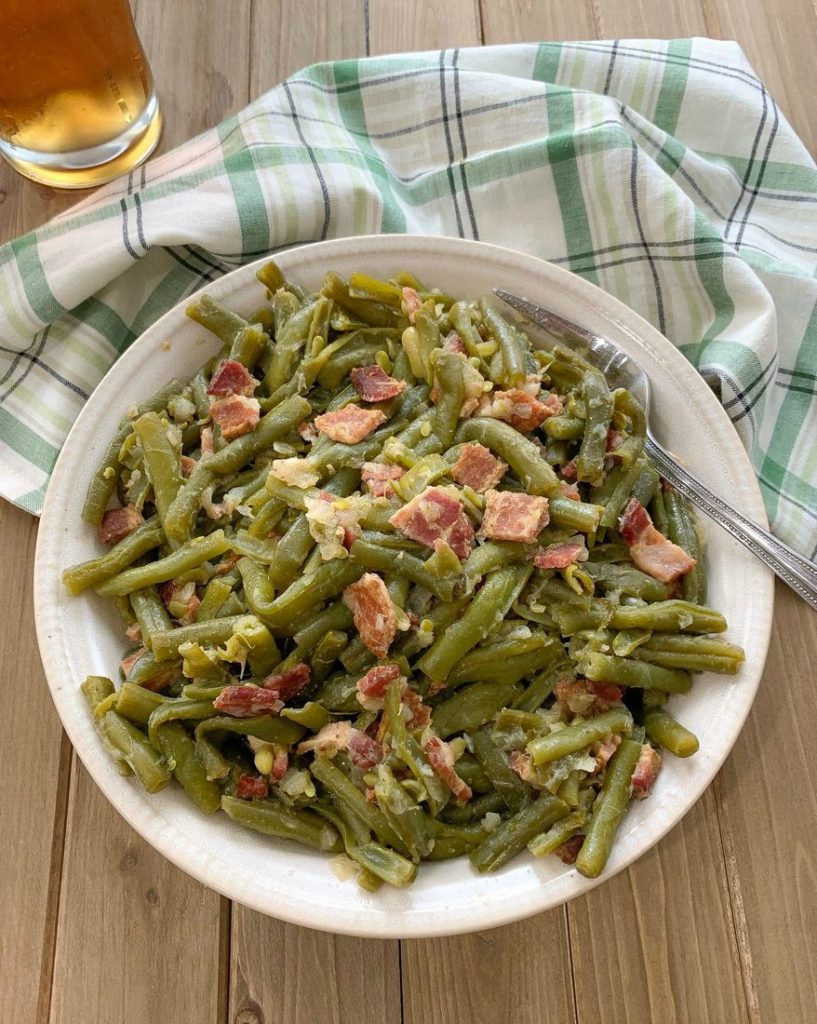 Usually, my mama would cook fresh green beans in a broth with bacon, onions, and garlic. Sometimes she would use ham hock instead of bacon.
There are so many ways to fix this popular southern recipe.
My maw-maw would cook green beans with sausage, ham, and potatoes. She always served it over rice.
And, there was always a bottle of hot sauce sitting on her kitchen table.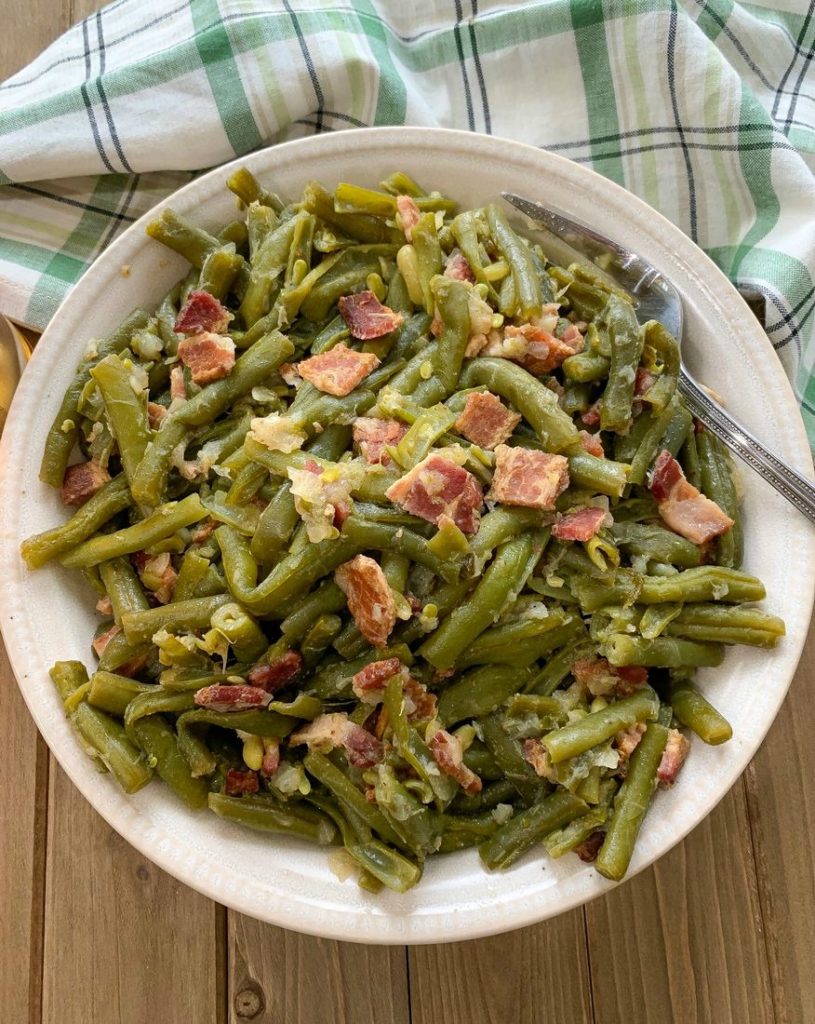 Personally, I prefer to season my green bean recipe with Cajun seasoning. If you follow my blog and read my recipes, you'll know I'm fond of Cajun seasoning and liquid crab boil.
No matter how you decide to season this recipe I guarantee it will become your favorite recipe.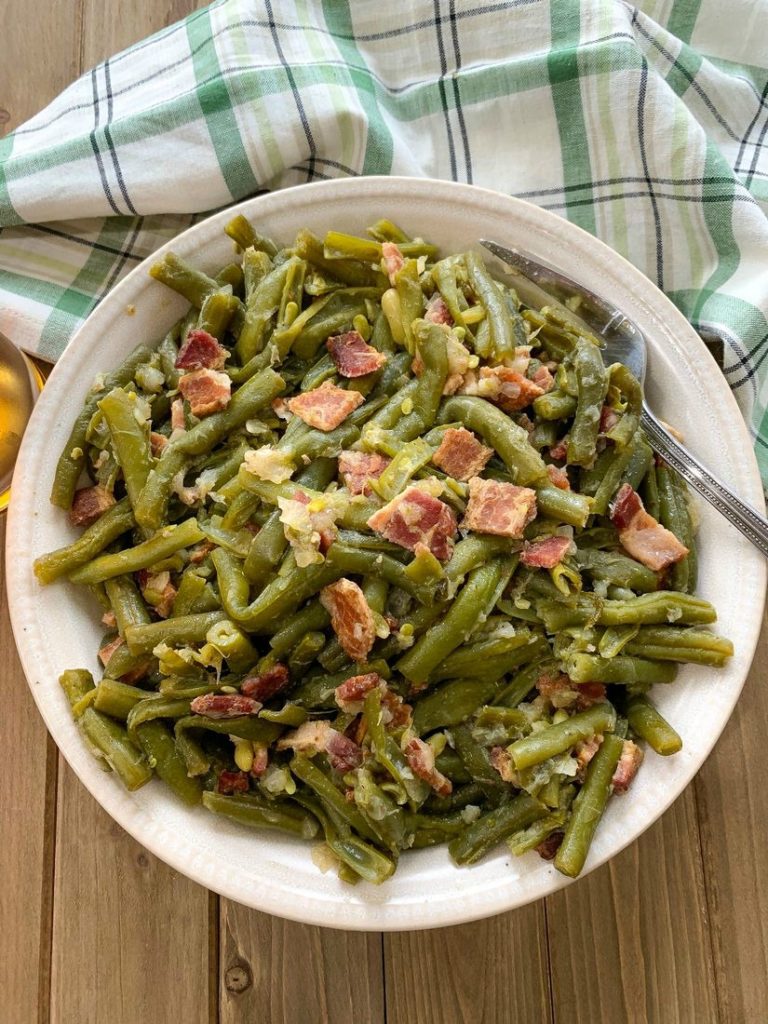 How do you clean Fresh Green Beans
Rinse the green beans under cool tap water using a strainer or sieve. Make sure to rinse the beans several times, to remove any dirt.
Snap each end off. I find it easier to use kitchen shears.
What's In southern green beans
16 oz. Container of Chicken Broth
2 lbs. Fresh Green Beans
1 lb.Package of Bacon
Grease from Bacon
Large Onion, diced
Garlic Cloves, minced
Garlic Powder
Butter
Salt
Cajun Seasoning, optional
How to Cook Southern Style Green Beans
First, clean and snap off the ends of the green beans. Next, cook the bacon in a skillet, and save the bacon grease.
Second, remove the bacon from the skillet and cook the onions and garlic in the skillet, with the bacon grease until tender.
Third, crumble the bacon and place it in a stockpot with the green beans, onions, and garlic.
Fourth, add the broth to cover the beans. Bring beans to a boil, then place lid on the pot. Place beans on a low simmer.Let cook for 2-3 hours, or until the green beans are tender.
Fifth, drain the broth from the beans, then toss with butter. Season the green beans with salt and Cajun seasoning. Or your favorite seasoning.
How to warm the Green Beans
If you have leftover green beans or decide to make the recipe a day ahead, you can place the green beans in a pot with a little broth or butter to warm them up.
Make sure to cook the beans on low heat until warm.
what to serve with Southern Style Green Beans
Do you serve green beans with bacon and onions? Or do you rather green bean casserole? My family loves green bean casserole but, I'm not a fan of it. I prefer this recipe instead.
Honestly, I think this Green Bean recipe is the best side dish for anytime of the year!
Heck! We even serve these for New Years too. It reminds me of Cracker Barrel Country Green Beans … YUM! YUM!
More Side Dishes
Also you might like my friend Jenne's Instant Pot Bacon Green Beans, they make the perfect side dish.
PIN Southern Style Green Beans