This Strawberry Rosemary Moonshine is the perfect refreshing summer adult boozy drink to sip on while enjoying the warm weather outdoors.
If you love you some MOONSHINE, you'll love this strawberry infused moonshine recipe!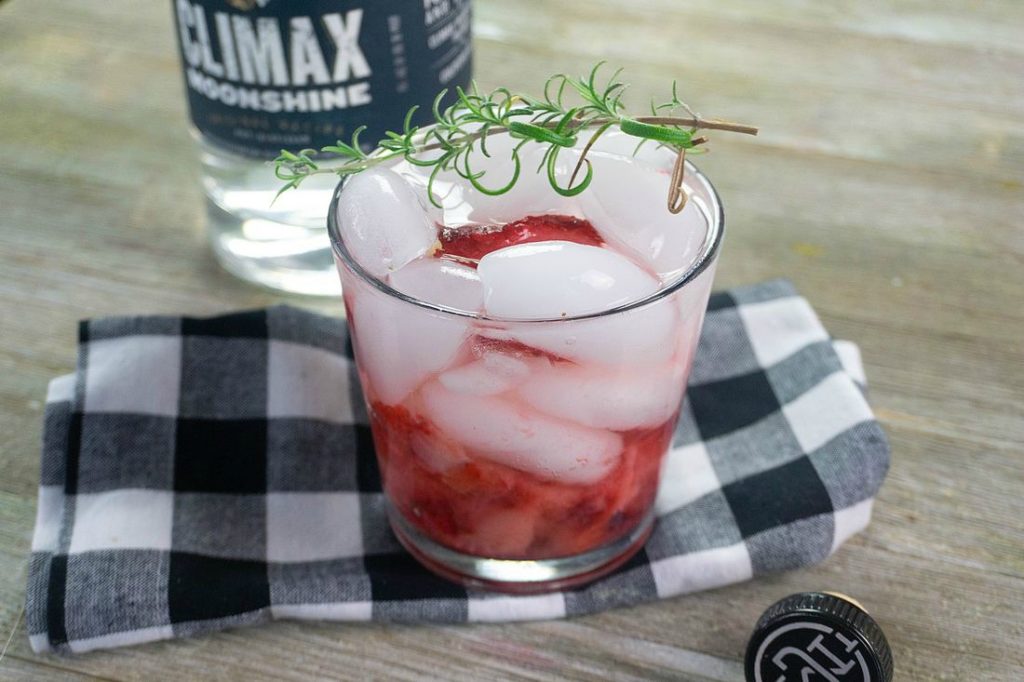 Whether you're sitting on your back porch by yourself or enjoying the company of friends, this strawberry moonshine will sure become one of your favorite summer cocktails.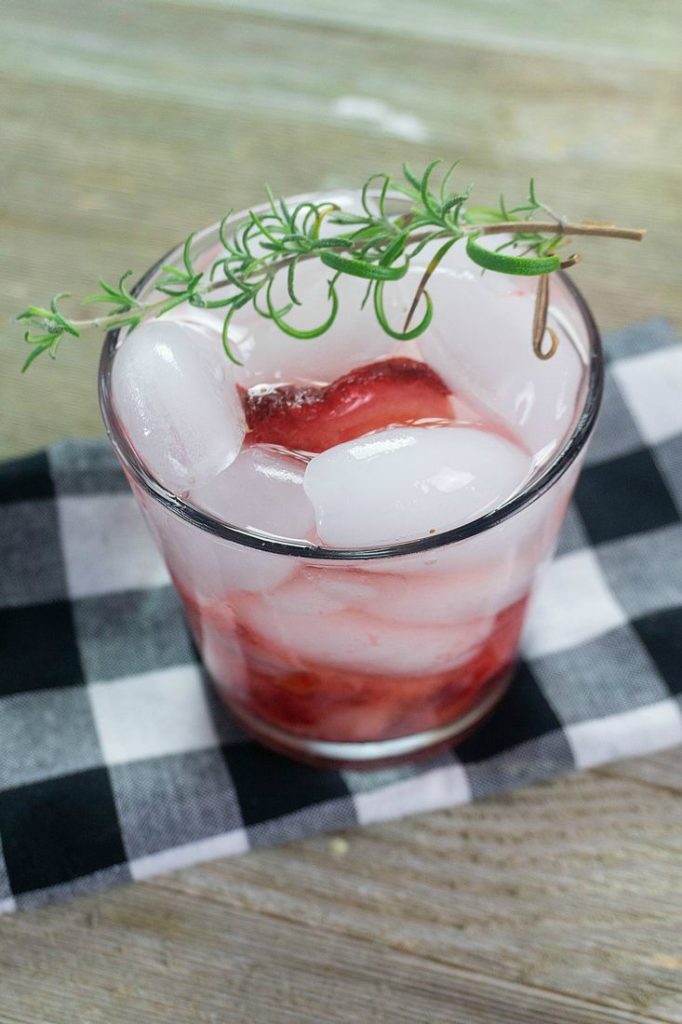 If you're a fan of Discovery Channels series "Moonshiners" then you heard of Tim Smith! Yes, he's the guy that wears blue jean overalls usually shirtless.
He's a third generation moonshiner and also known for his Tim Smith's Original Climax Moonshine.
Tim's Climax Moonshine original recipe is one of my husband's favorite moonshine to buy besides the Cinnamon Spice Moonshine.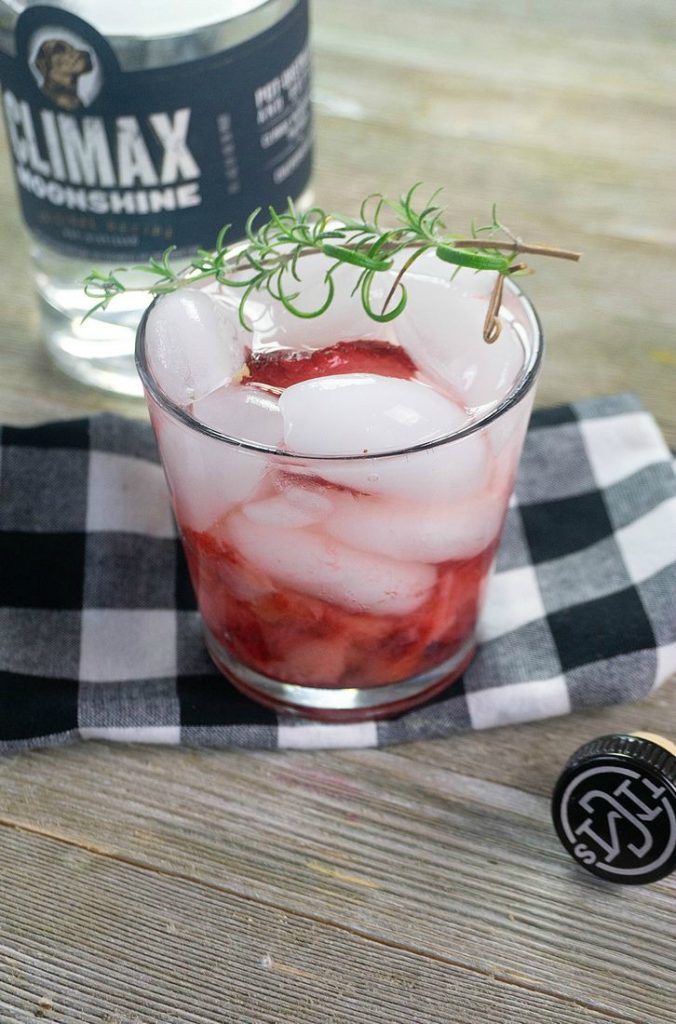 I'm not a massive fan of hard liquor, but every once in awhile, I'll enjoy a fruit-infused cocktail made with Tim's Smith original moonshine.
Usually, I find moonshine too potent to drink, but adding fruit like strawberries makes the moonshine more flavorful.
Plus, the moonshine gives the strawberries a kick! I love picking the moonshine soaked berries out of my glass and eating them. YUM!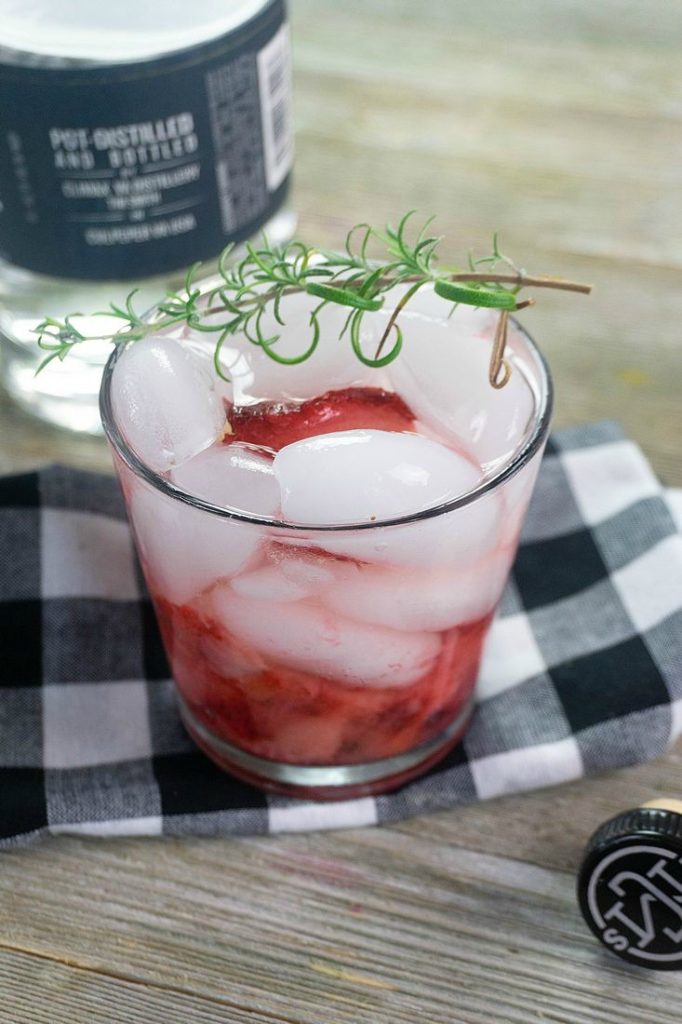 What fruit can you Put in Moonshine?
Strawberries
Blueberries
Raspberries
Peaches
Blackberries
Apples
Watermelon
what's in Strawberry Rosemary Moonshine
Strawberries
Moonshine
Ice
Water
Vanilla Simple Syrup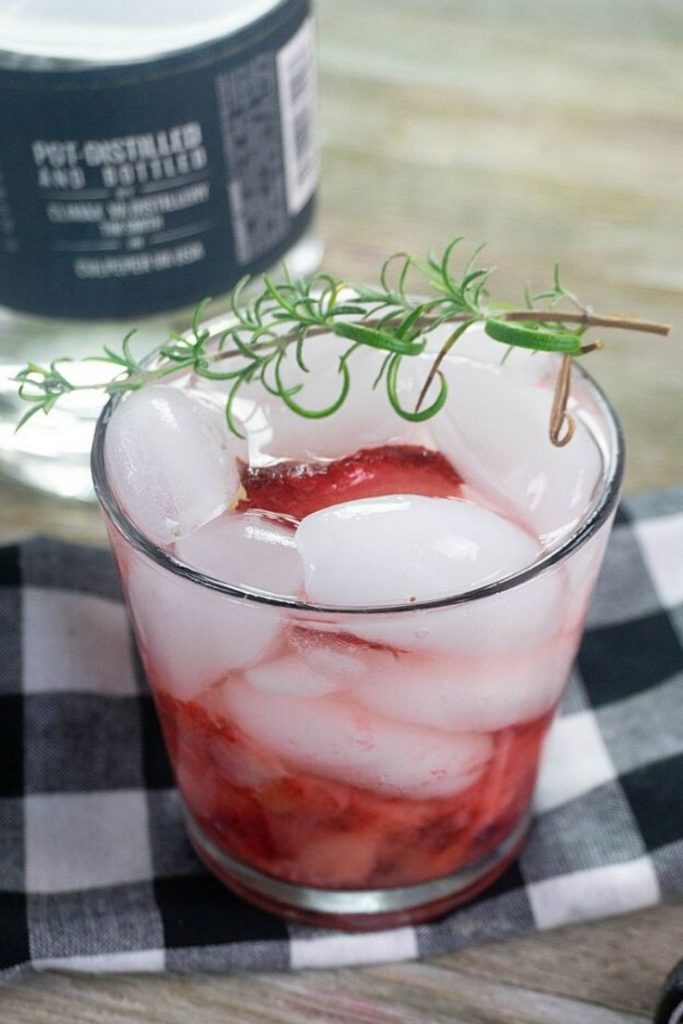 How to make Strawberry Rosemary Moonshine
First, to make the strawberry rosemary moonshine slice the strawberries. Next put the sliced strawberries in a pestle and smash them.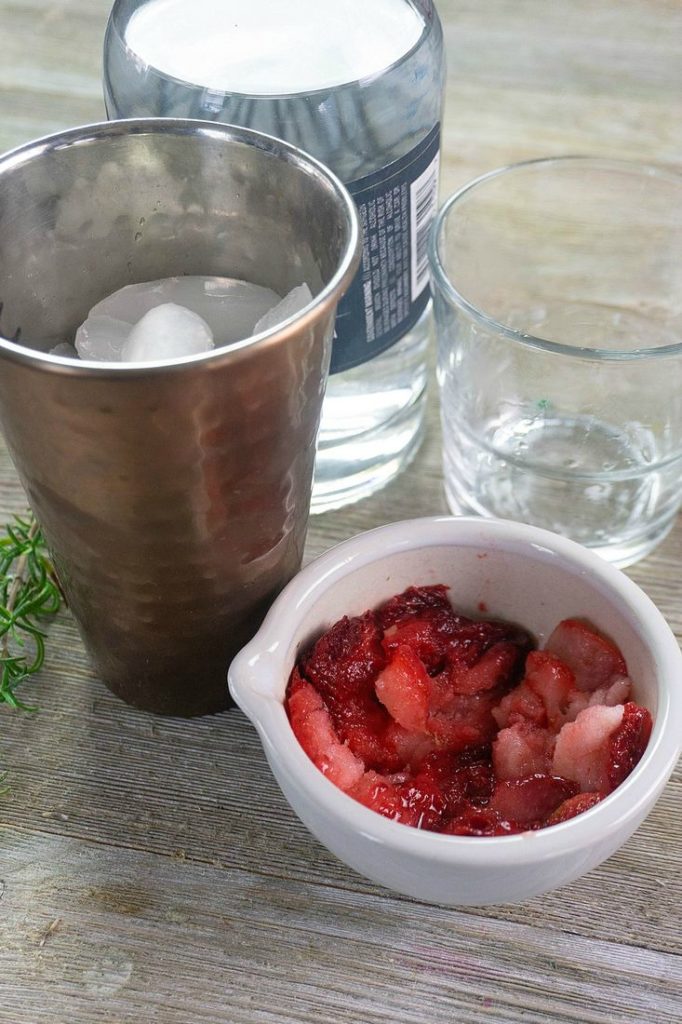 Second add the strawberries to the shaker with the ice, water, and moonshine. Make sure to shake the shaker well.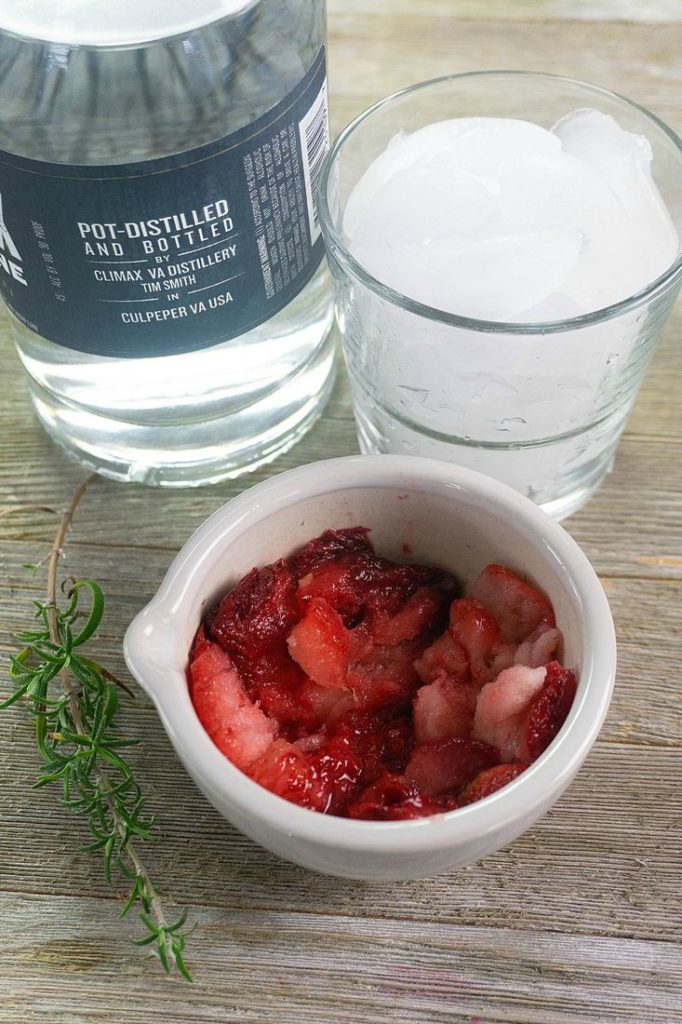 Third add in the simple syrup and shake well. Next, pour the ingredients into a glass and top off with a sprig of fresh rosemary and enjoy.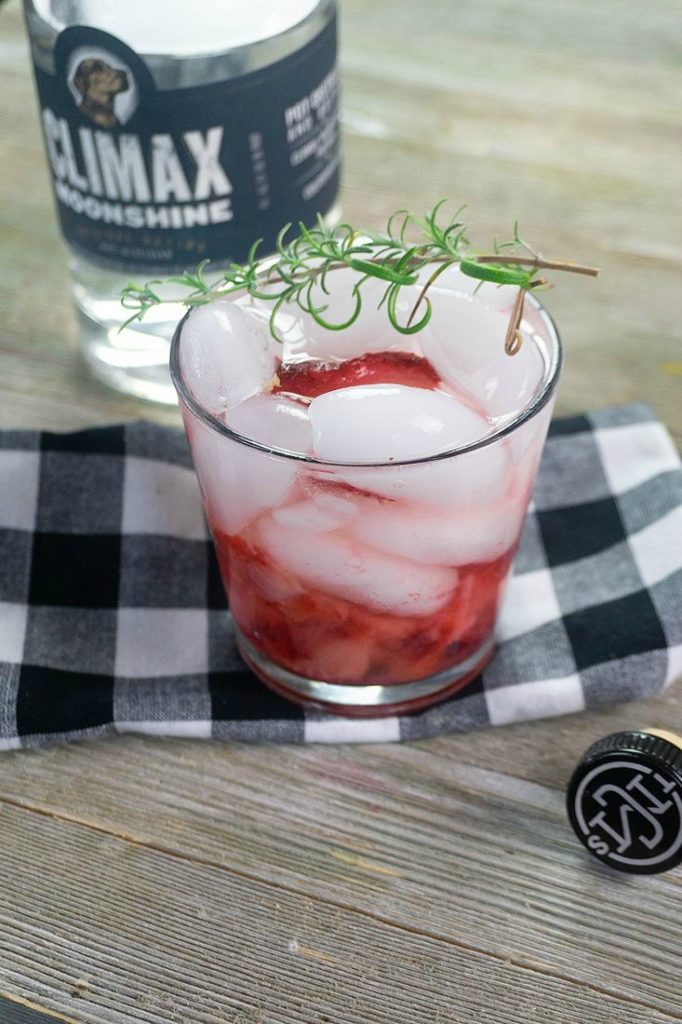 Doesn't this strawberry moonshine look delicious and refreshing?
It's the perfect adult beverage to sip on by the pool or while enjoying a backyard barbecue for Memorial Day or for the Fourth of July.
If you can't find Tim Smith Spirits CLIMAX Moonshine Original Recipe, you can use any brand of unflavored moonshine. PLEASE ONLY USE LEGAL MOONSHINE!!!
Please don't drink & drive! Drink responsibly!
More Adult Beverages
Don't drink & drive! Drink responsibly!
pin me