This Kids I Spy Camping Printable is a fun activity to get kids excited about an upcoming camping trip.
Also, it's a great printable for kids to do during their camping trip, especially when it's raining outside.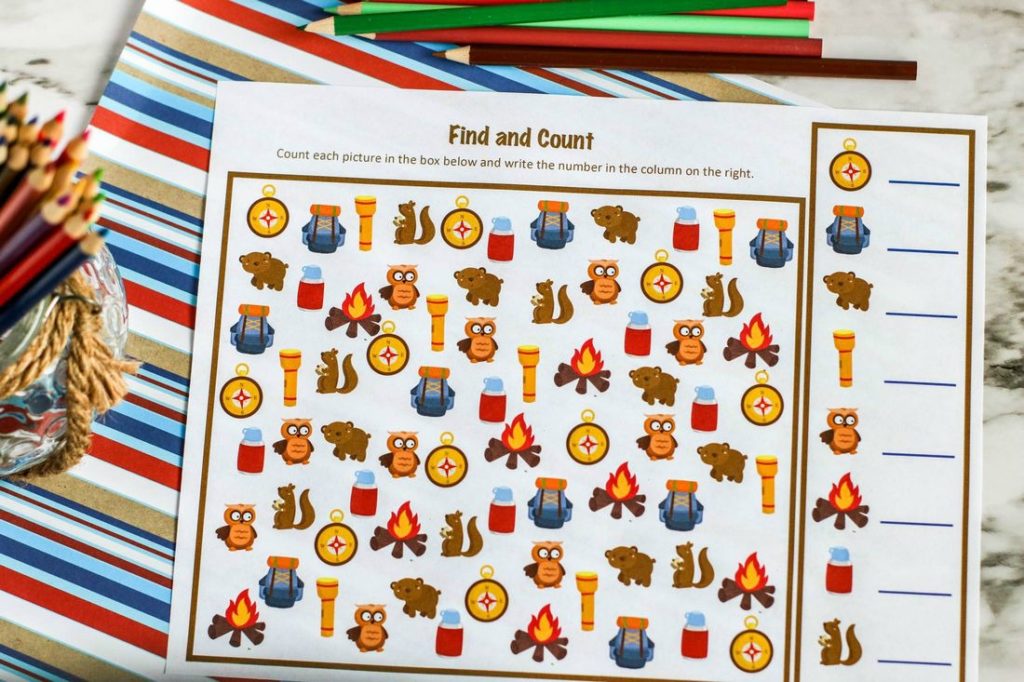 Are you going on a camping trip soon? Print out these I Spy printable pages for your kids.
Kids will have fun trying to find and count each of the items on the activity page.
Also, the FREE camping printable is perfect for keeping the kids occupied while the adults are setting up the camping site.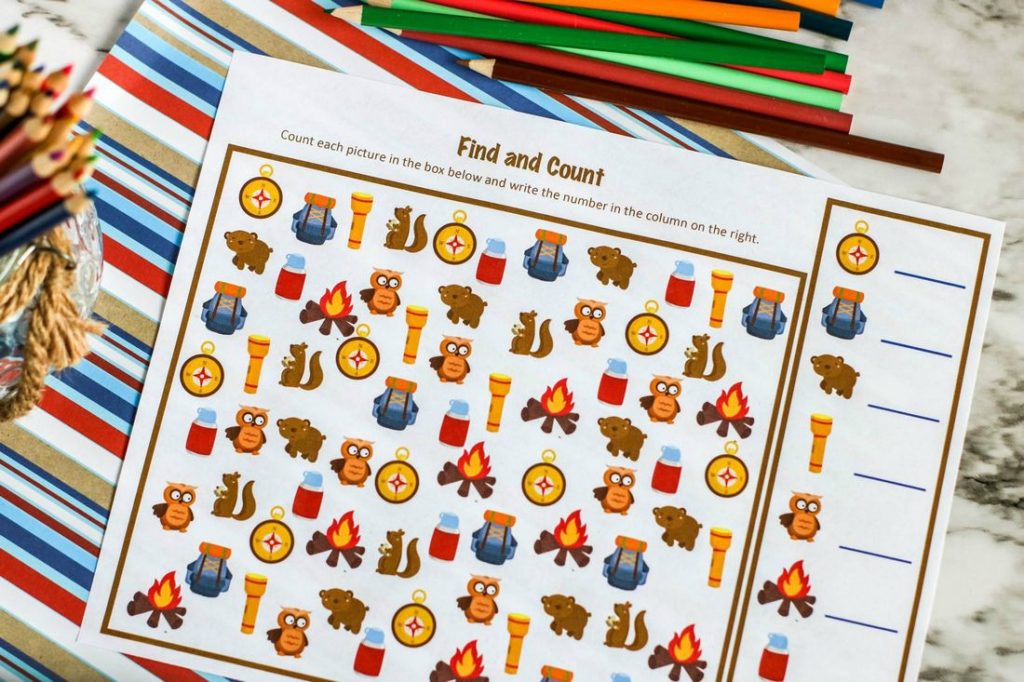 Aren't the printables cute? You can't go wrong printing these I Spy activity pages.
They're an excellent way to entertain the kids.
My family always packs a few camping printables and games with us when we go on camping trips.
We always pack the printables in a plastic container with a clipboard and colored pencils.
Using a container keeps the printables from getting torn and easy for kids to find.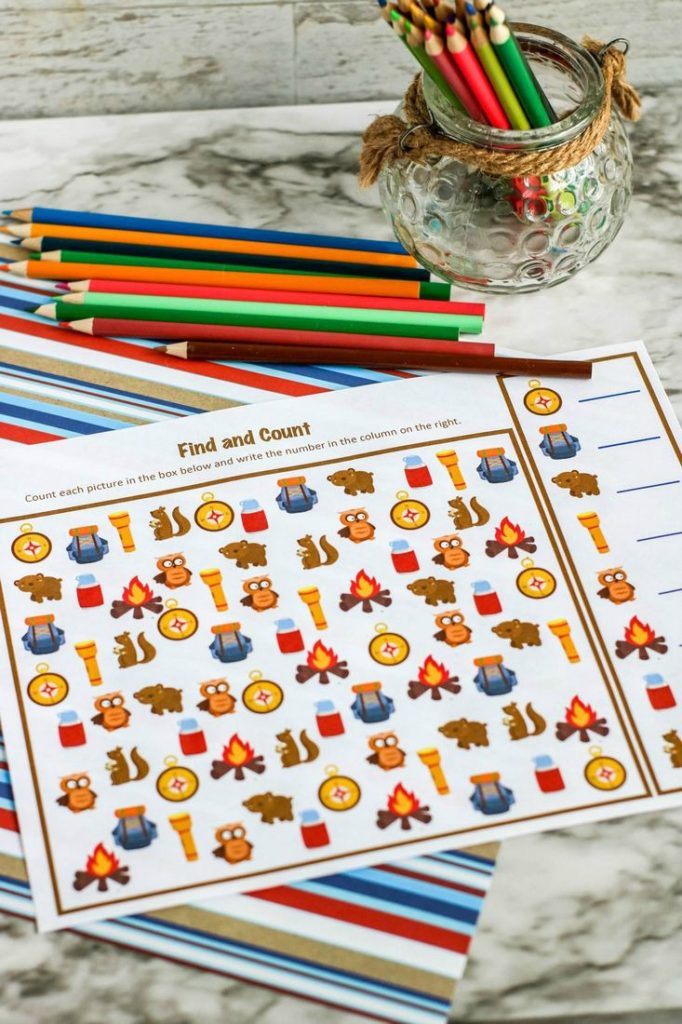 My son always takes colored pencils to use with his I Spy game. He likes to use different colors for each item he finds and counts.
Also, he likes to draw pictures on the back of the printable. Using the backside of the page is a great way to recycle the paper.
Whether your child uses colored pencils, markers, pencils, or an ink pen for their activity sheet, I'm sure they will have fun counting and finding all the items.
You might even hear your kids scream "I SPY WITH MY LITTLE EYES" bears, squirrels, owls, flashlights, compasses, thermoses, and campfires! LOL!!!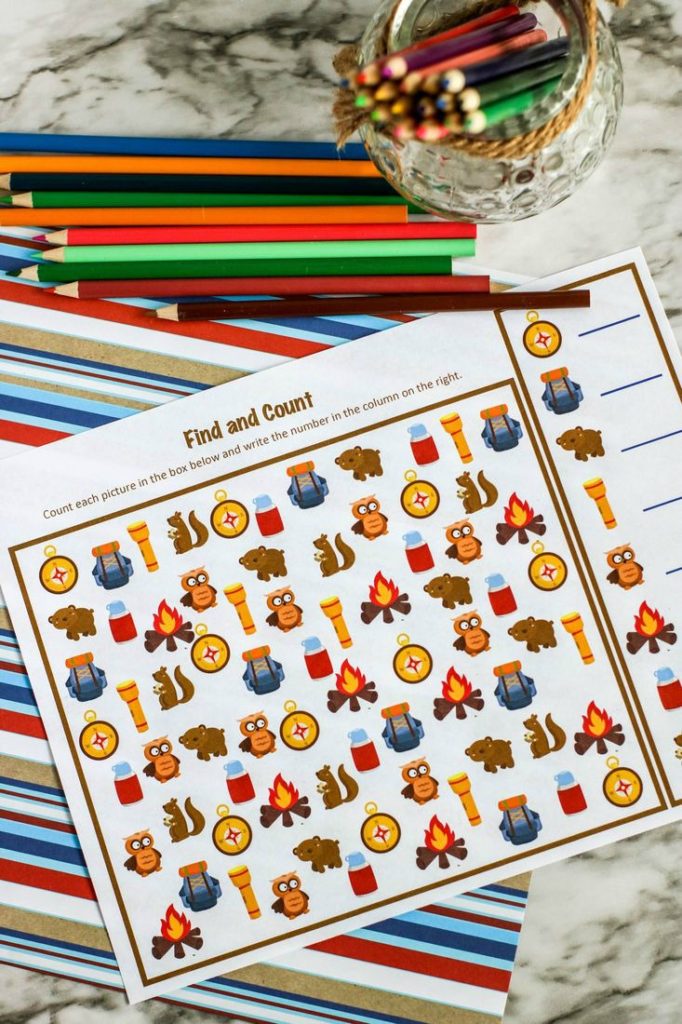 HOW TO PRINT THE KIDS I SPY CAMPING PRINTABLE
Use white printing paper.
Print out the FREE printable either in color or black and white.
Get the 

Kids I Spy Camping Printable

 and let your kids count and find each item.
Adults may need to help preschool-age children count the items on the I Spy printable.
Also if you like FREE Printables check out my other printables.
This post contains affiliate links and as an Amazon Associate I earn from qualifying purchases.
Ideas for Indoor Camping Games
A few games we take camping to play while it's raining or too hot outside.
If you have some favorite games your family brings on camping trip share them below in the comments.
PIN I Spy Camping Printable: