These Butterfinger Pudding Shots are the most delicious and sweet boozy adult treats ever!
Perfect for serving at adult events and of course, mom's night out with the gals.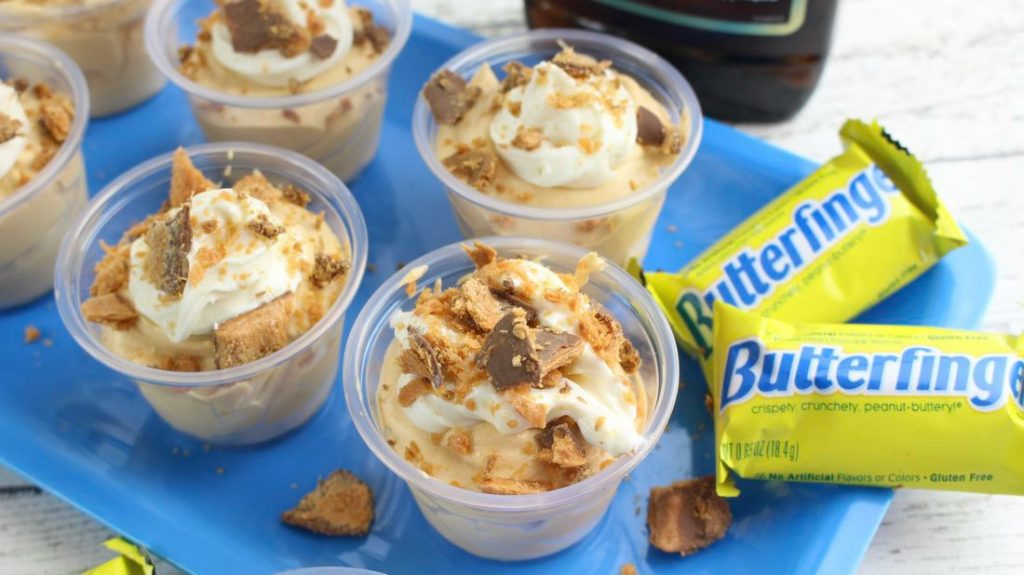 Move over jello shots there's a new favorite mini adult treat in town.
These Butterfinger Pudding Shots will sure to become your new favorite boozy treat to share with your friends. Or maybe not!! LOL!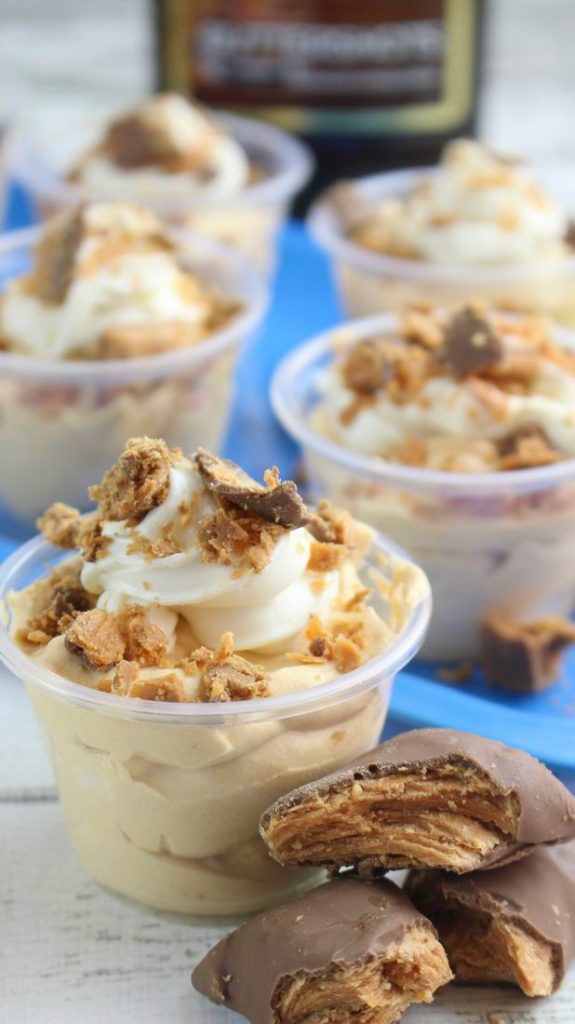 Warning! Proceed with caution when consuming these pudding shots!
They look like an innocent dessert filled with lots of sweet goodness but, there's alcohol in those souffle cups.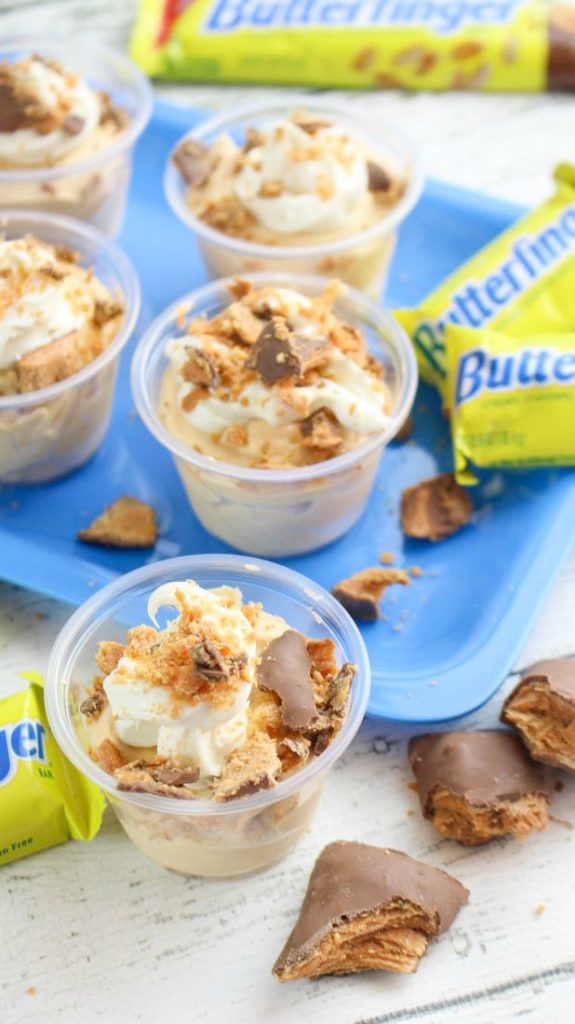 Especially if you love sweets like myself, I have to put a limit on how many of these candy-filled concoctions I consume.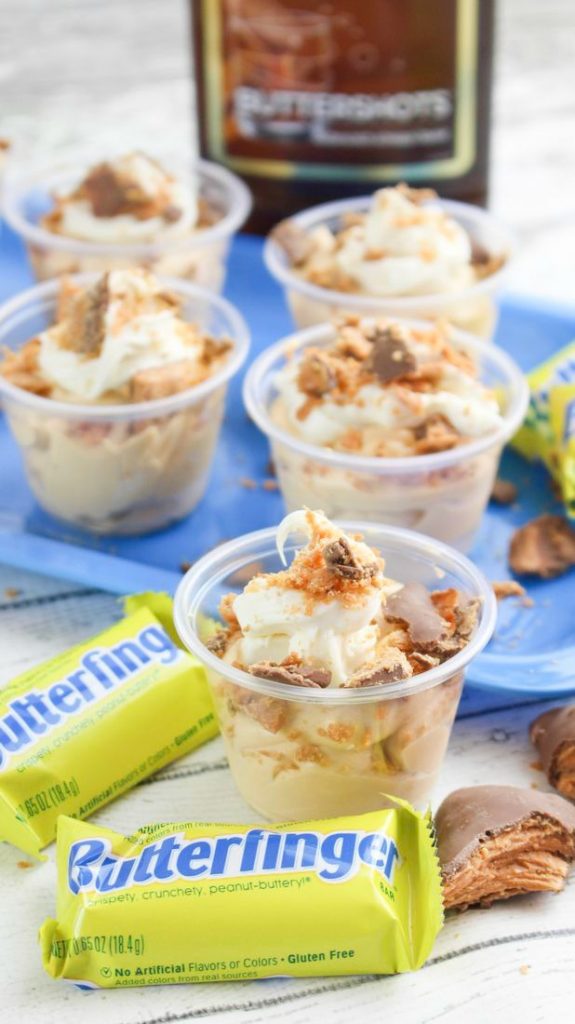 Also, I have to hide these Buttershots Schnapps liqueur filled pudding shots from my kids.
The whipped cream, Butterfinger candy bars, and the butterscotch pudding will entice the kiddos.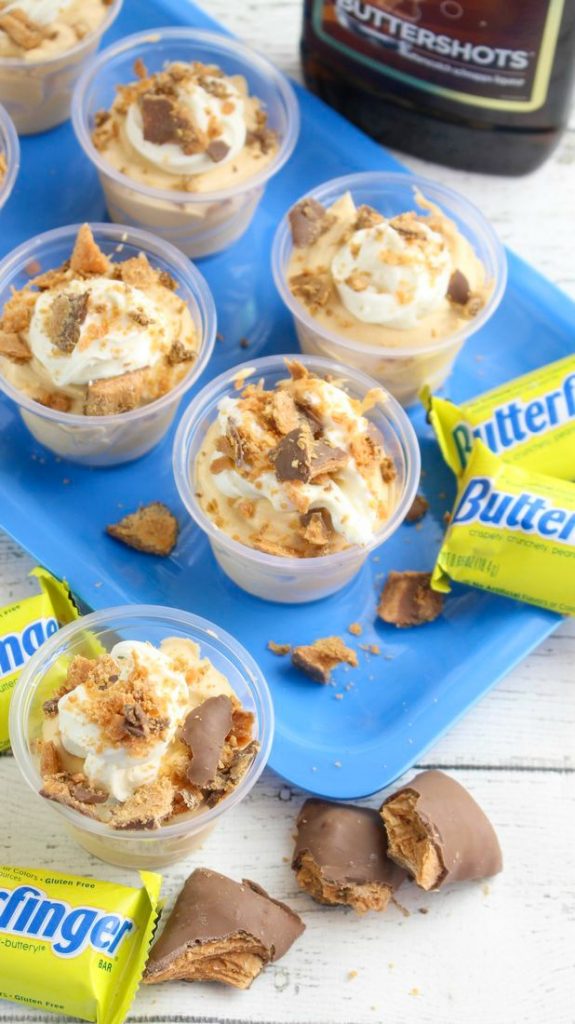 Sorry Kiddos these are for Mama. No touching my Butterfinger shots!
How to Make Butterfinger Pudding Shots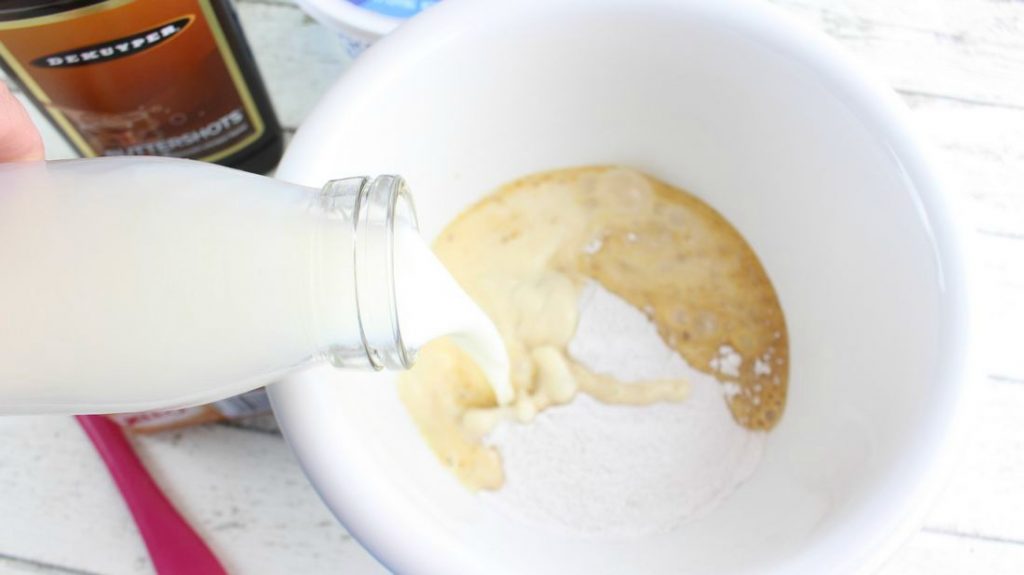 First of all to make the butterfinger pudding shots, place the plastic cups on a serving tray and set aside.
Second, pour the butterscotch pudding into a medium mixing bowl and whisk in the cold milk.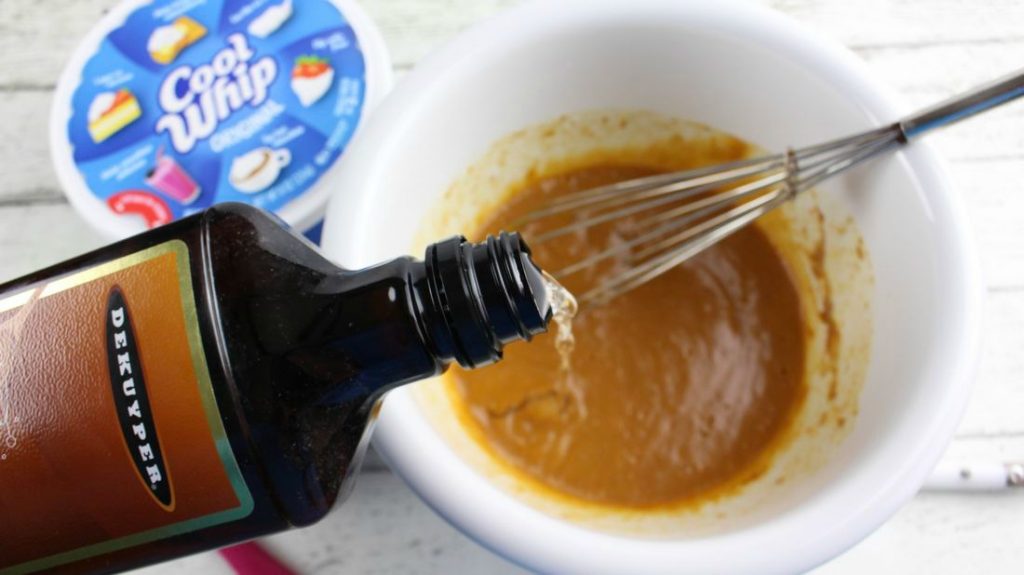 Third, add the butterscotch schnapps and stir until it thickens.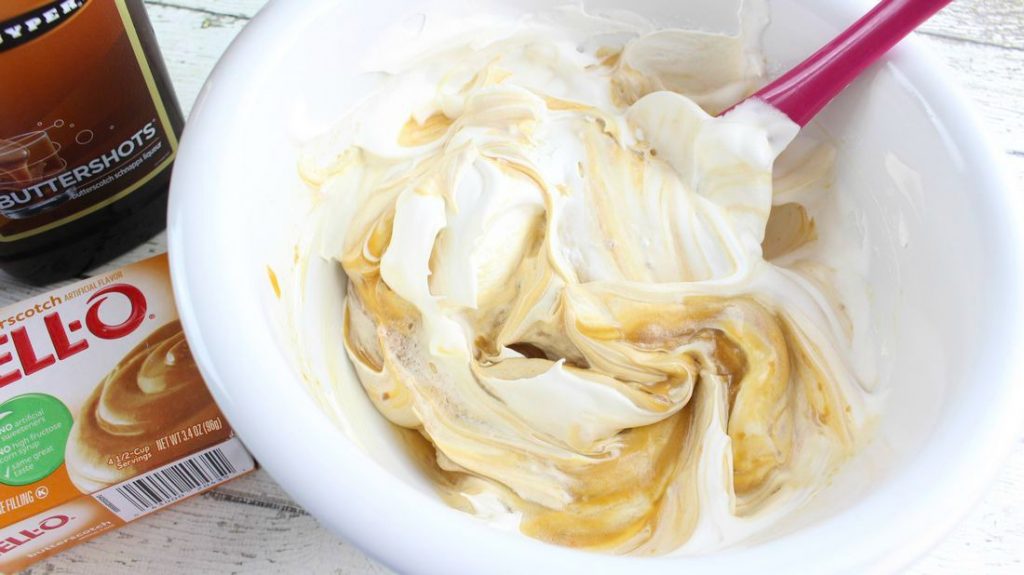 Fourth, gently fold in the whipped cream until there are no visible streaks.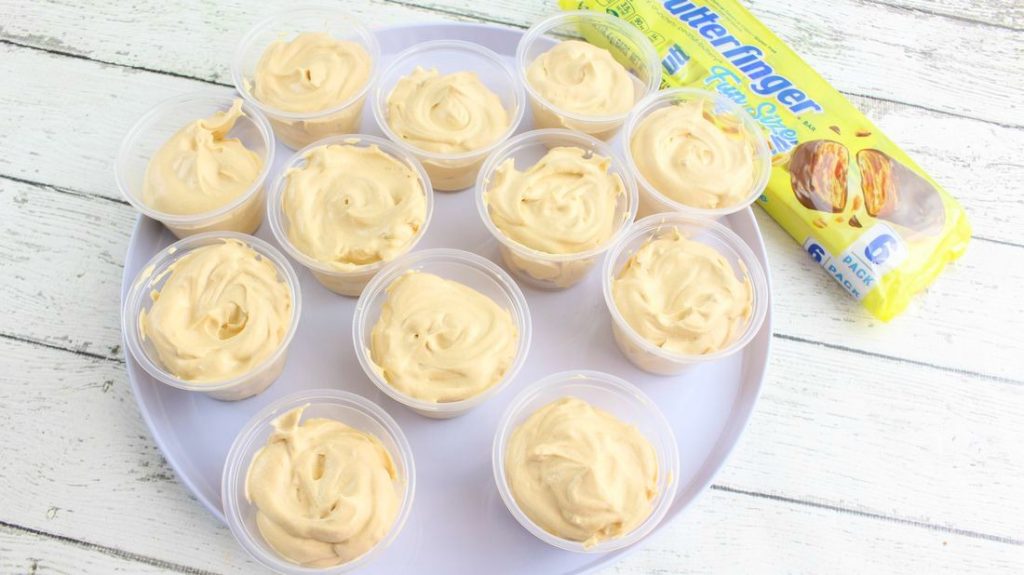 Fifth, transfer the pudding mixture into the plastic souffle cups filling each cup up to the rim.
Place the butterscotch pudding shots in the fridge overnight or for at least 4 hours.
After 4 hours you can place the lids on the cups if you're not serving them right away.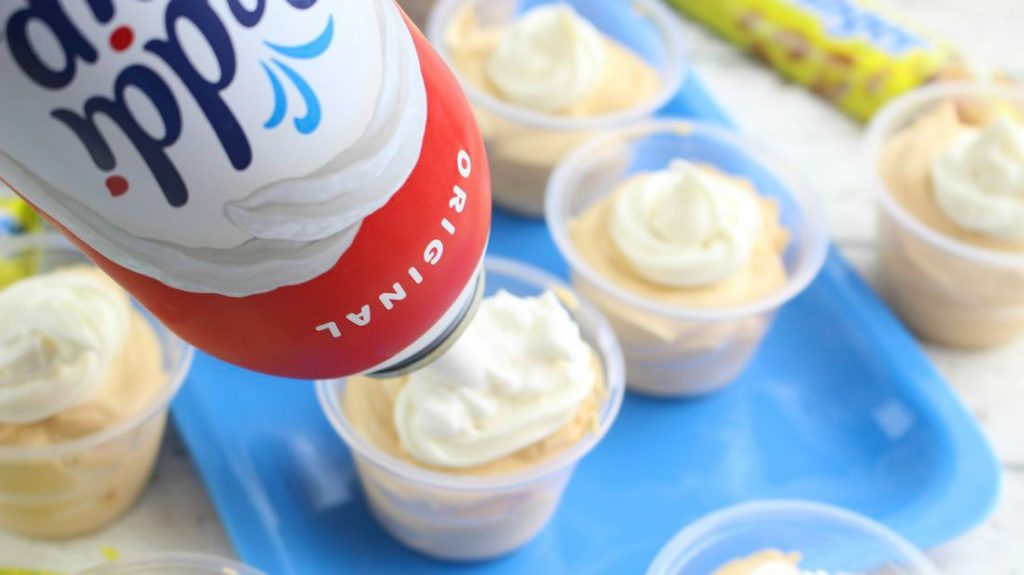 Serving the Pudding Shots
Additionally, before serving add a generous dollop of whipped cream on top of each pudding shot.
Garnish each pudding shot with crushed Butterfinger candy bars.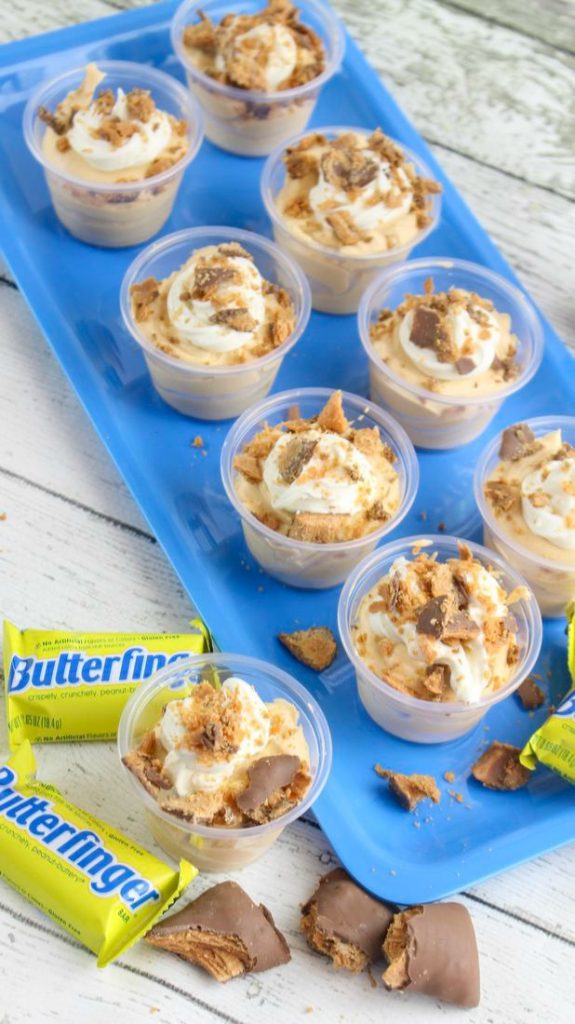 Don't these butterfinger shots look AMAZING? Perfect for serving at summer pool parties, a special brunch, or any adult gathering.
Also, you could sneak your kid's butterfingers from their Halloween bag and use them for this boozy treat.
Hey! It's also a great way to use leftover Halloween, Valentine, and Easter candy too.
And, great for football tailgating parties, Super Bowl parties, Valentine's Day, St. Patrick's Day, Fourth of July, Memorial Day, Labor Day, Summertime pool parties, too.
Heck! really good any time! LOL! But, for ADULTS ONLY ( 21 and over)!!!
More Adult Beverages
Please don't drink & drive! Drink responsibly!
PIN Butterfinger Pudding Shots