If you love pizza or pasta, you're going to love this delicious gooey-cheesy Pizza Pasta Skillet Casserole. This hearty and filling pasta recipe will surely become one of your family's favorite comfort foods!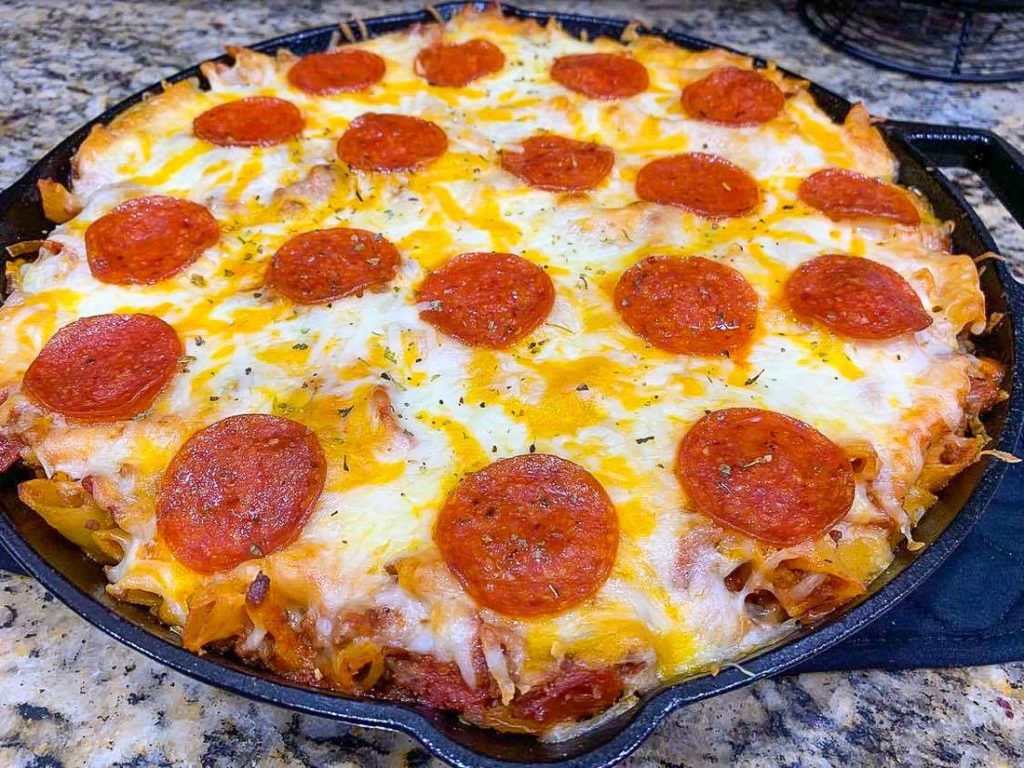 This AMAZING tasting pizza pasta casserole is one of my son's favorite recipes that he loves to help me cook for dinner often.
If my son could eat this pizza casserole every day, he would! LOL!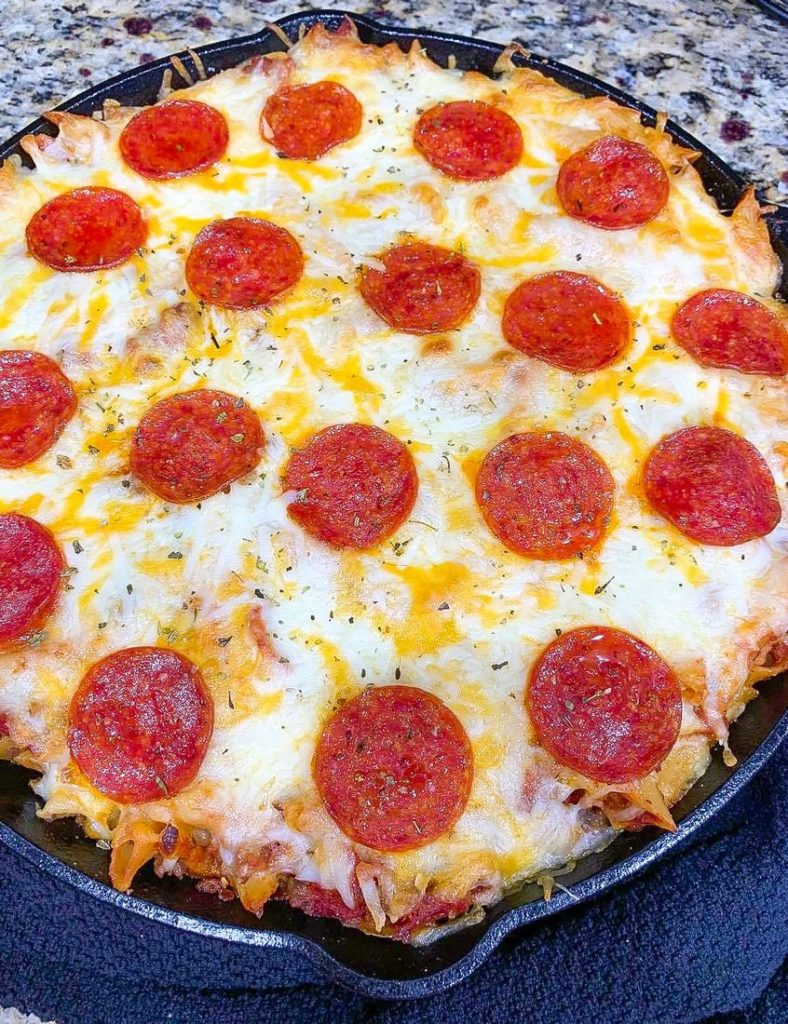 This budget-friendly recipe is perfect if you're looking for something different to cook your family for dinner or bring it to a potluck or fix ahead of time and bring camping.
You can add as many ingredients as you like, just like your favorite pizza toppings, and it also tastes great eaten as leftovers.
I know your family will love this recipe. What's not to love about this pizza pasta skillet?!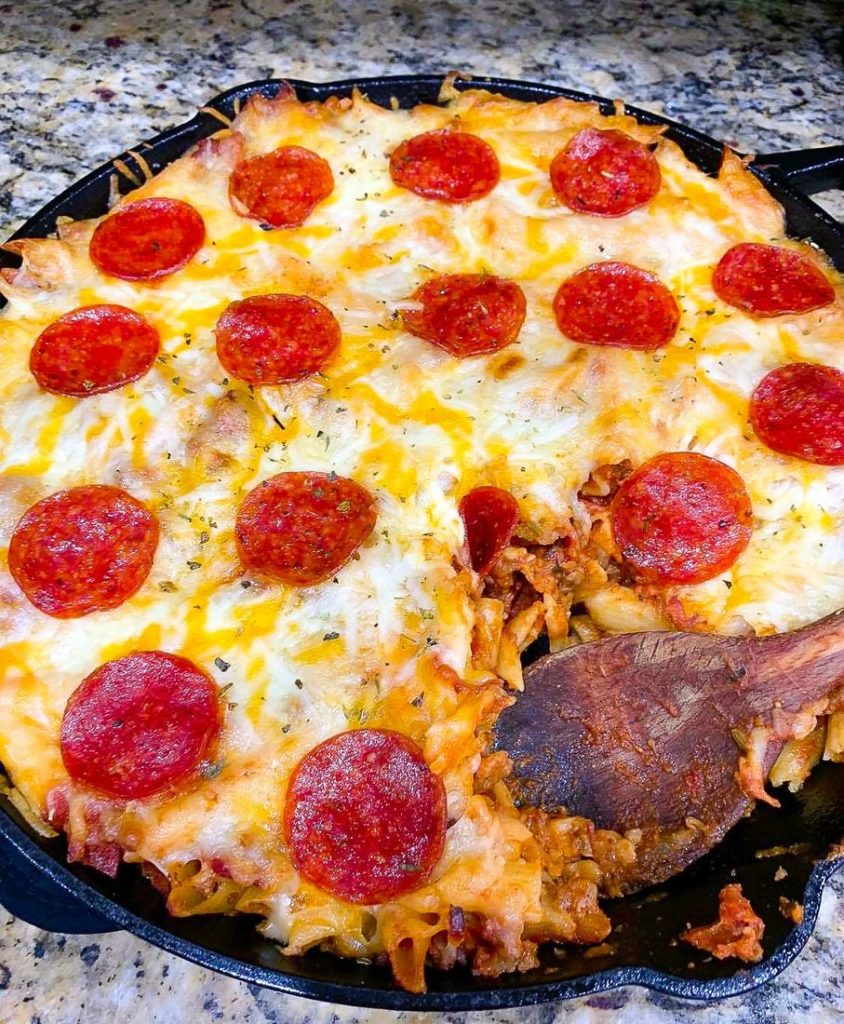 What's in the Pizza Pasta Skillet Casserole
Italian Sausage
Pepperoni
Penne Pasta
Shredded Cheese (Pizza Blend)
Diced Onions
Diced Bell Peppers
Pizza Sauce
Spaghetti Sauce
Salt
Pepper
Garlic Powder
Onion Powder
Italian Seasoning
You could also omit any of the seasonings I listed. Also, you could top the pasta with mushrooms, black olives, red onions if you desire.
It's really up to your liking how you make the pizza pasta!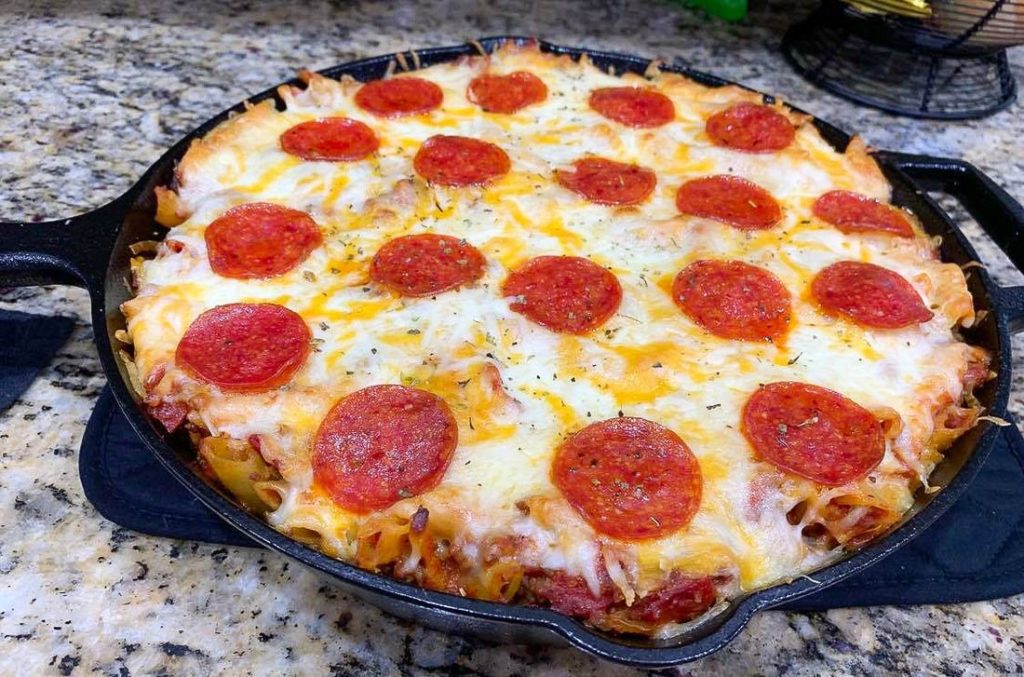 Making the Pizza Casserole
First of all I had to preheat the oven to 350 degrees. Next, I boiled the pasta according to the packaging. Then once the pasta was cooked I drained the water.
Second, I browned the Italian Sausage and removed the grease. Then I cut some of the pepperoni in fourths, adding them and the diced veggies to the pot.
I continue cooking the meat and vegetables until the veggies were tender.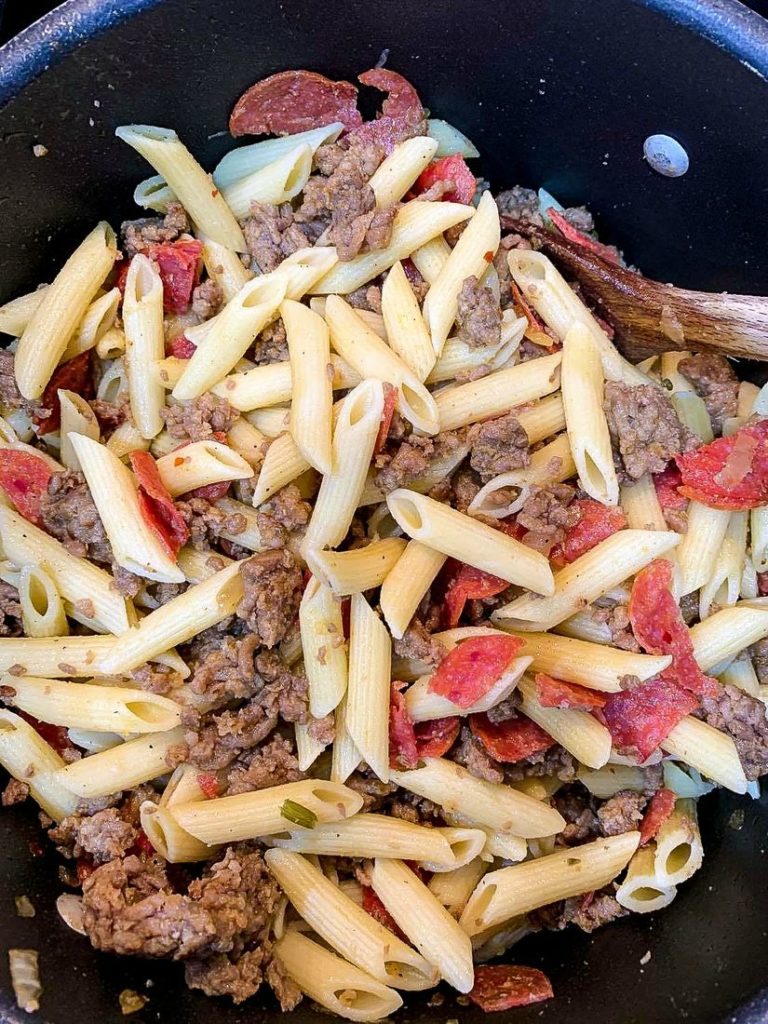 Third, I added the penne pasta to the pot with the meat, bell peppers, and the onions.
Next, I added the spaghetti sauce, pizza sauce, and the seasoning. Then I stirred in a cup of the cheese.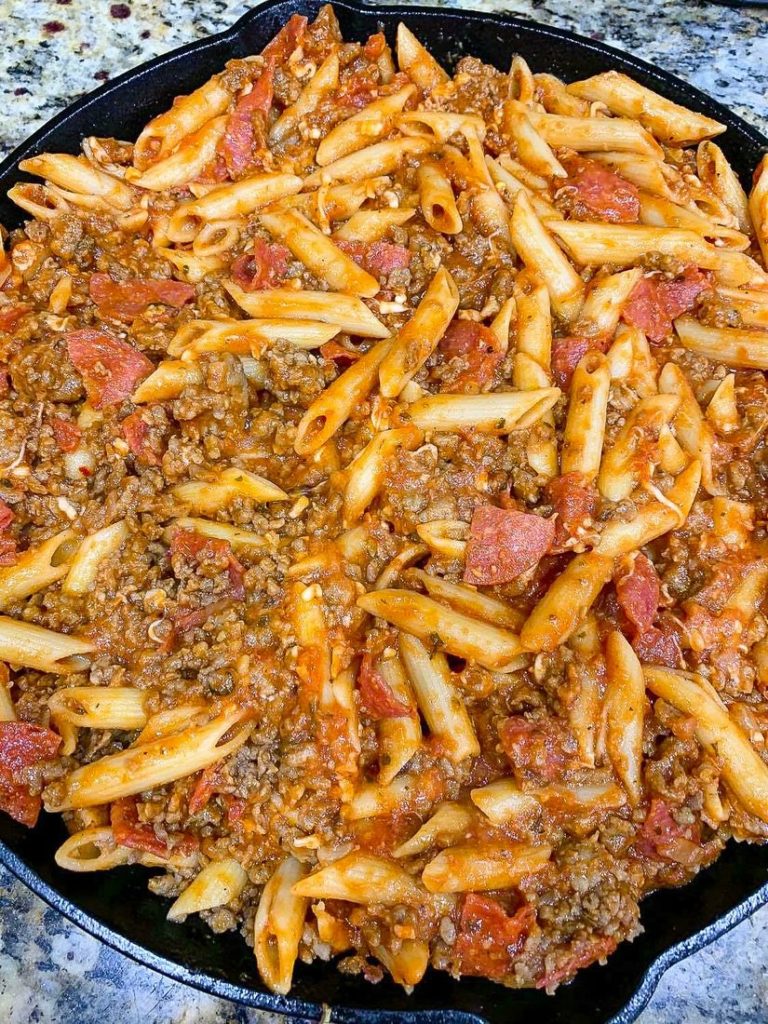 Fourth, I sprayed some olive oil spray in the bottom of my lodge cast-iron skillet then poured all the ingredients into the skillet evenly. Afterwards, I topped the pasta mixture with cheese, pepperoni, and Italian seasoning.
Lastly, I baked the pizza pasta casserole until hot and bubbly, about 20 minutes.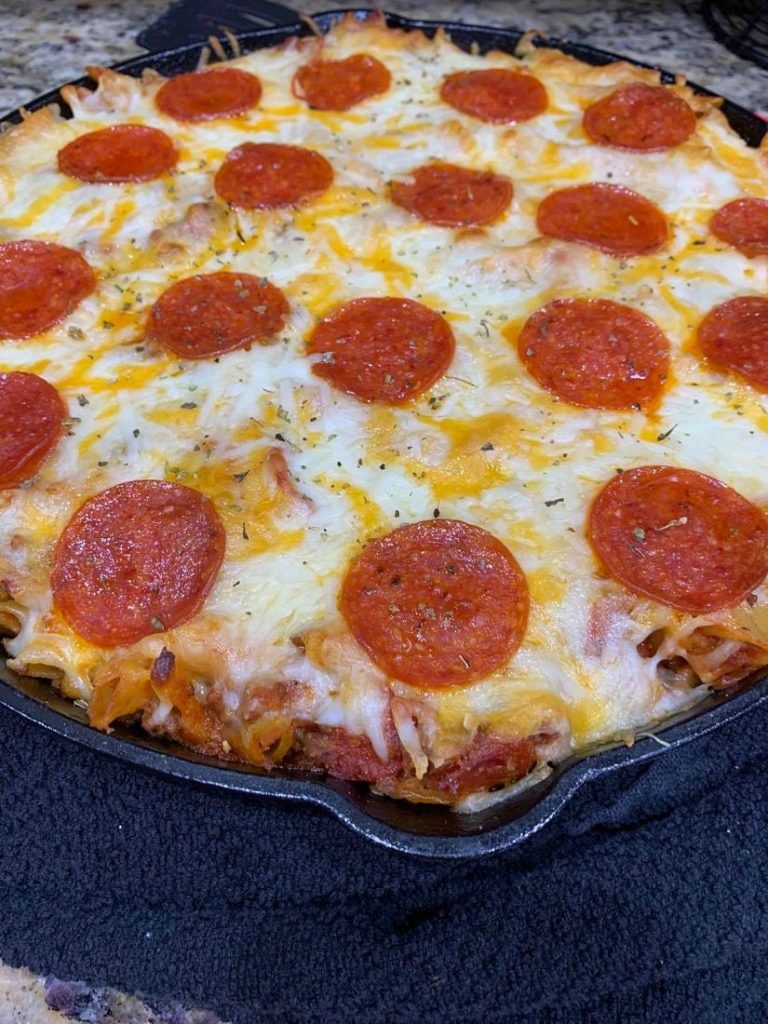 Doesn't the pizza pasta casserole look delicious? It makes an excellent dinner option paired with french bread and a side salad or your favorite vegetable.
Also, your family may love my other pasta recipes listed below.
More Excellent Pasta Recipes
Pin this Pizza Pasta Casserole