If you love spooky and fun, we have a cocktail for you! This Black Magic (Gris-Gris) Halloween Cocktail is a fun, festive drink for adults to sip on for Halloween.
Whether you're staying home celebrating Halloween in front of the boob-tube with your family or celebrating October 31st with a few close friends, this Halloween Cocktail will sure to put a spell on you!!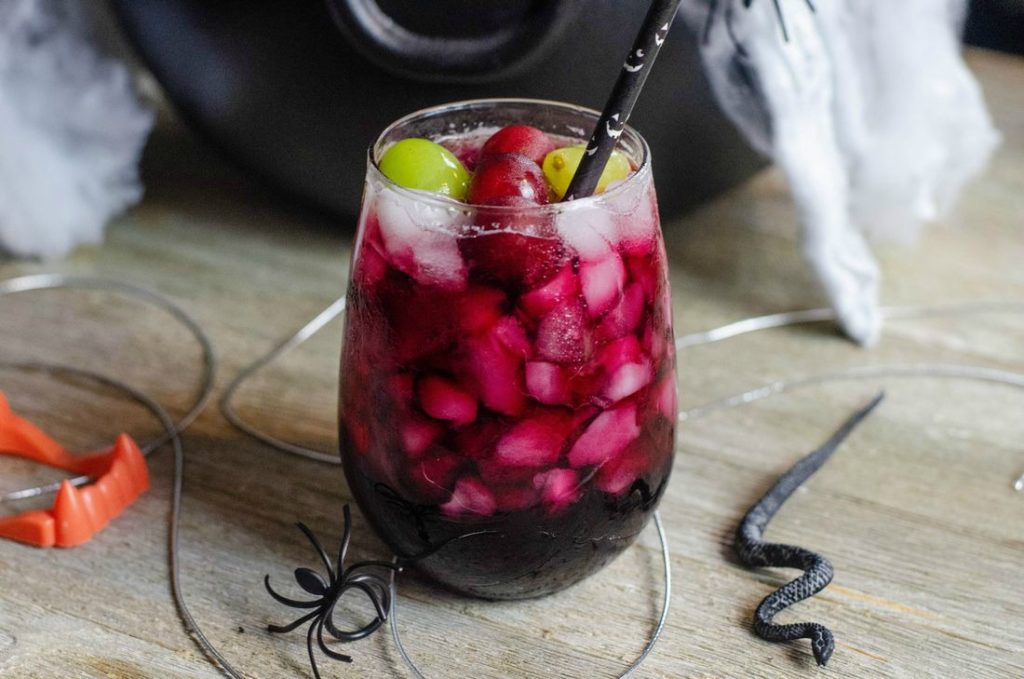 This deliciously creepy Halloween Cocktail contains Sweet Retreat vanilla liqueur, dark purple grape juice, and huge vibrant green and red grapes.
The cocktail reminds me of a potion because the grapes remind me of eyes that you may see in pot cooking over a fire in a Halloween movie.
Especially, when someone is casting a gris-gris or hex.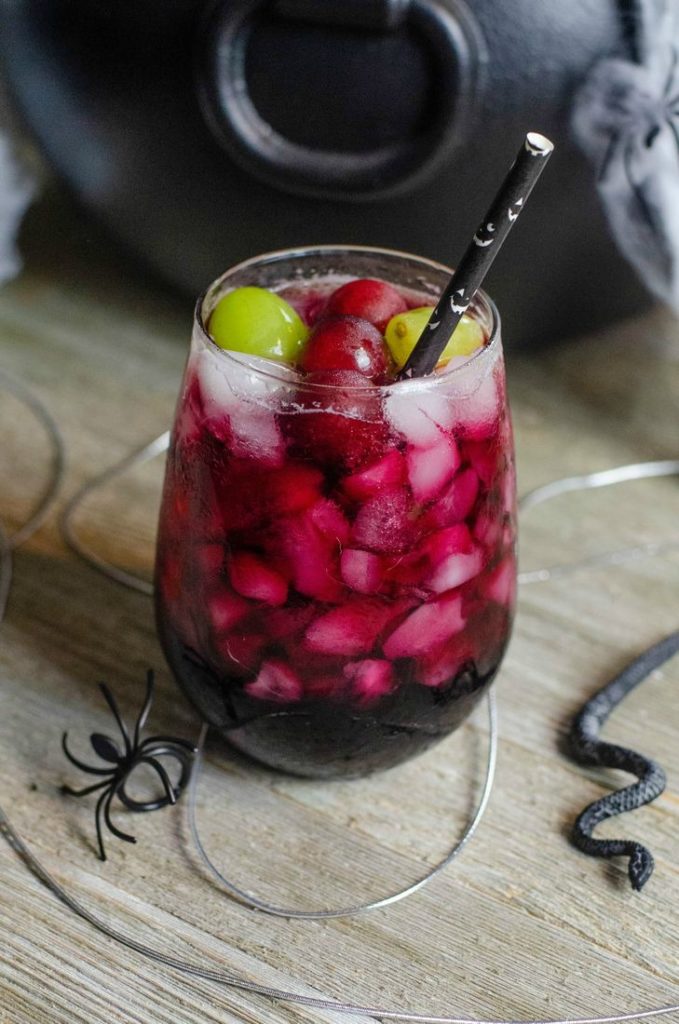 Just to let you know, this tasty Black Magic Cocktail recipe is for only one cocktail. Of course, if you wanted, it could easily be doubled or tripled.
We usually make a few of these cocktails because we enjoy sharing with friends.
Unfortunately, this year Halloween might look a little different!
Host a Cocktail Zoom Party
First of all, it might be an excellent idea to make a few gift baskets for your friends with a tumbler and the ingredients to make this Halloween cocktail.
Secondly, drop the basket off on their doorstep with a note telling them to meet you online for a Halloween Zoom party.
Thirdly, your friends can use the contents from the basket you dropped off on their doorsteps.
Fourthly, if one of your friends is in quarantine, you could still enjoy a Halloween cocktail with them.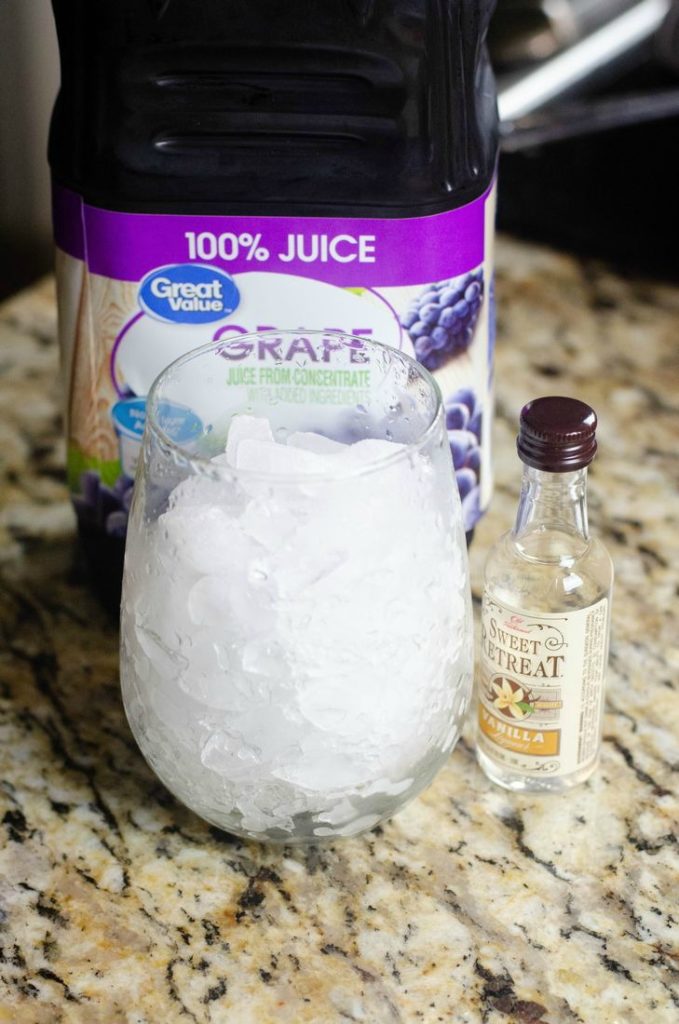 What's in the Black magic (Gris-Gris) Halloween Cocktail
Sweet Retreat Vanilla Liqueur
Grape Juice
Red Grapes
Green Grapes
Crushed Ice
How to make the Gris Gris Halloween Cocktail
Place crushed ice into a tumbler or cocktail glass.
Next, pour in the vanilla liqueur.
Pour in the grape juice.
Stir well and top the cocktail off with green and red grapes.
Put a Halloween paper straw in the glass.
Decorate the glass with a fake plastic spider for a festive touch.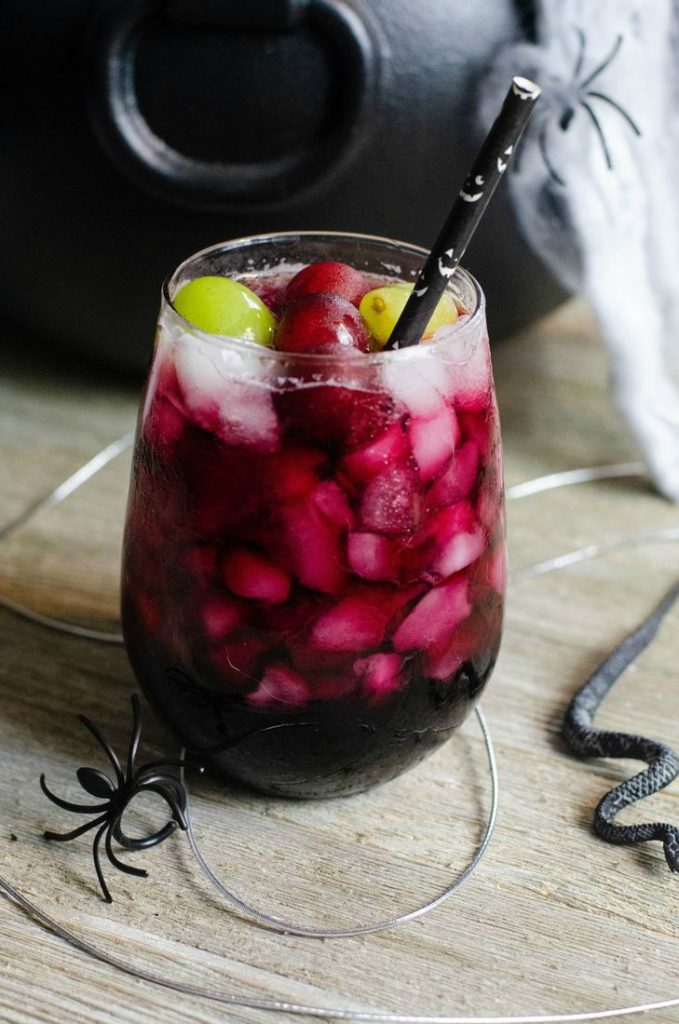 Doesn't this spooky cocktail look magical? It's really a great cocktail to enjoy on Halloween night.
Moreover, if you're staying home for Halloween, maybe buy a few movies on Amazon like Harry Potter, Casper the Ghost, or Hocus Pocus to watch with the kiddos!
Here's a few kid-friendly Halloween drinks
What does Gris-Gris mean?
Gris Gris is pronounced gree-gree and in the Voodoo World it means to put a magic spell or hex on someone.
Apparently, the Gris-Gris could be used for good or to do evil. It was used by people in New Orleans that practice Voodoo for religion magical practices.
Pin the Halloween Cocktail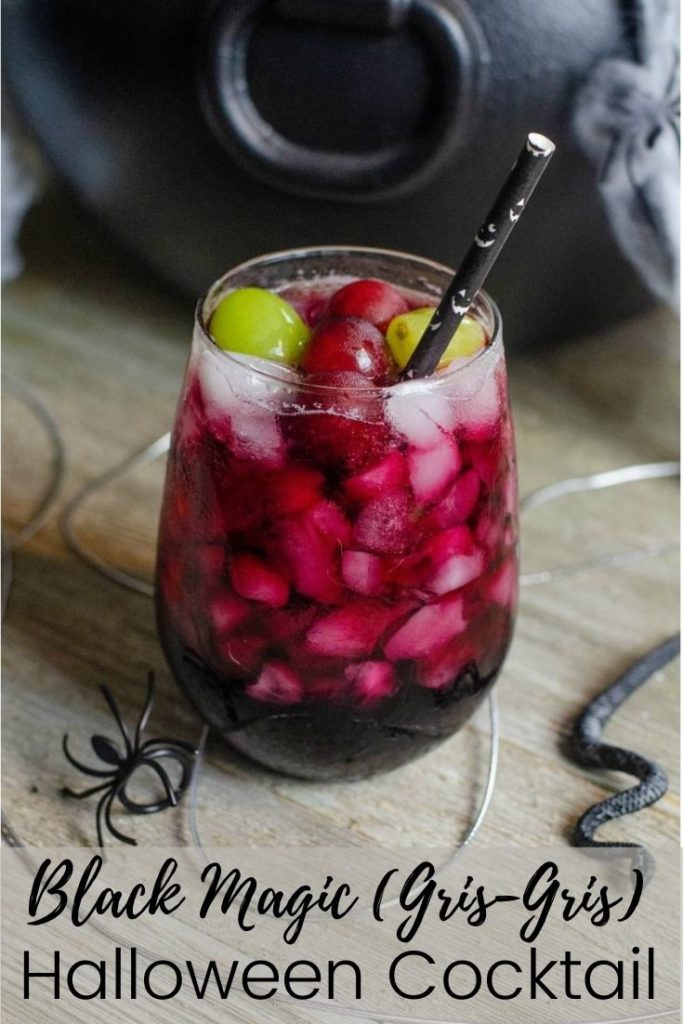 Please drink responsibly and Don't drive & drink!!