Learn how to make authentic Louisiana Chicken and Andouille Sausage Gumbo! There's nothing better than a big bowl of Gumbo!
Especially when the weather is chilly and drab outside.This is my family's favorite Chicken and Sausage Andouille Gumbo recipe!
How about some Chicken and Andouille Sausage Gumbo? Packed with tons of flavor this Louisiana gumbo recipe will hit the spot.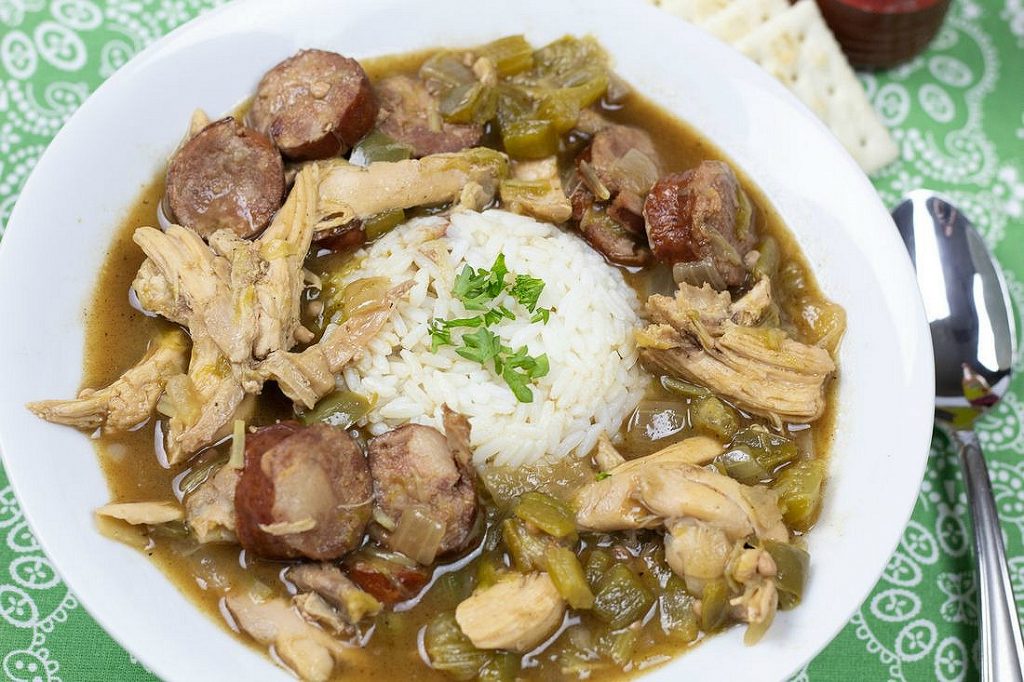 When I made this pot of gumbo, you can see I used a shallow bowl to show all the meat and veggies.
This is for a better visual experience. Usually, when I make a bowl of gumbo, it will have a lot of juice. Sometimes I add pickle juice to my bowl … LOL! Have you ever done that?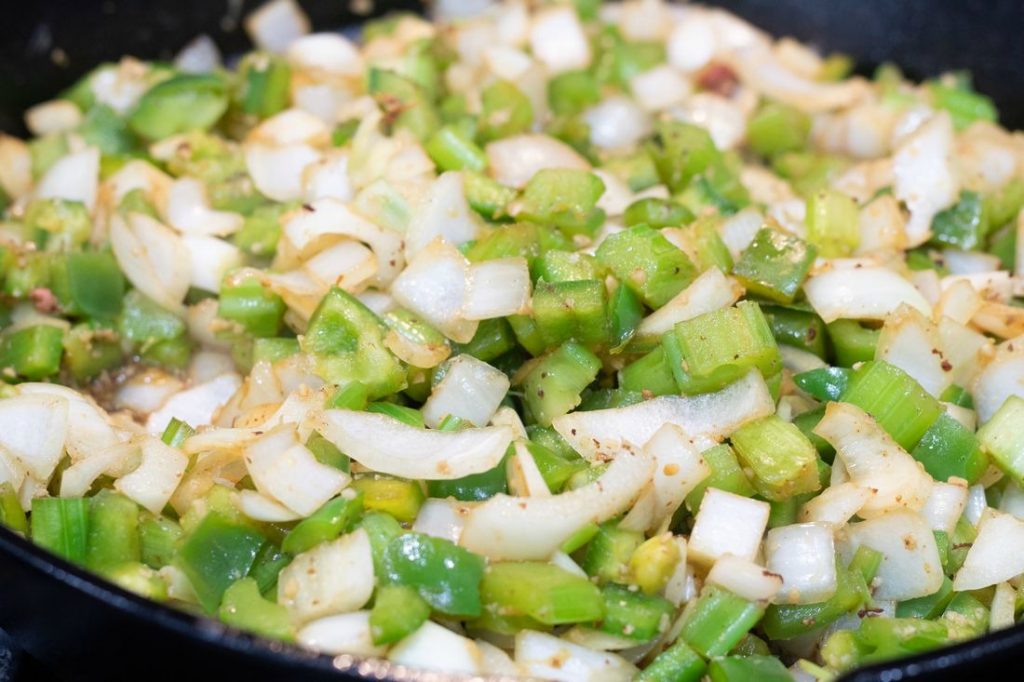 The Art of Gumbo
Cajun chefs use the Holy Trinity in their gumbo which is bell pepper, onion, and celery. This is key to an authentic gumbo recipe.
Additionally, I add garlic and bay leaves. I know some cajuns say they don't put garlic in their Gumbo but, I love garlic in everything.
Don't forget the gumbo filé powder! Some people use it on their Gumbo after it's plated. However, I put some in the Gumbo while it's cooking.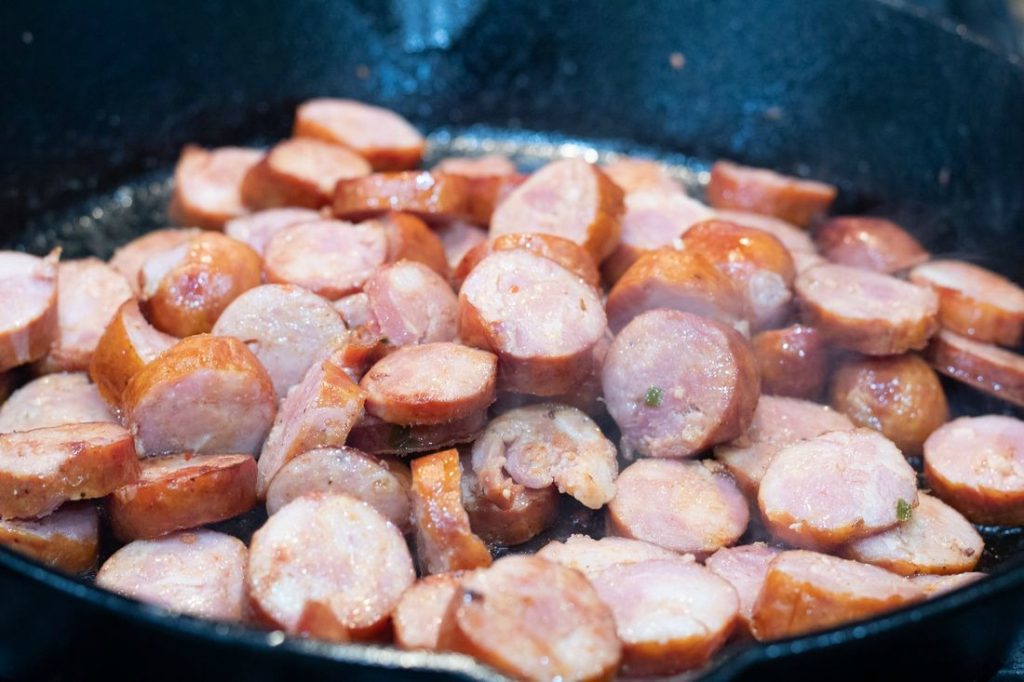 Furthermore, I shredded the chicken for my gumbo. However, when growing up my dad and maw-maw always used legs and thighs; and left them whole. My daddy even puts chicken gizzards in his gumbo.
Also, you could use leftover chicken from a store bought rotisserie chicken or chicken you picked from the bone from last night's dinner.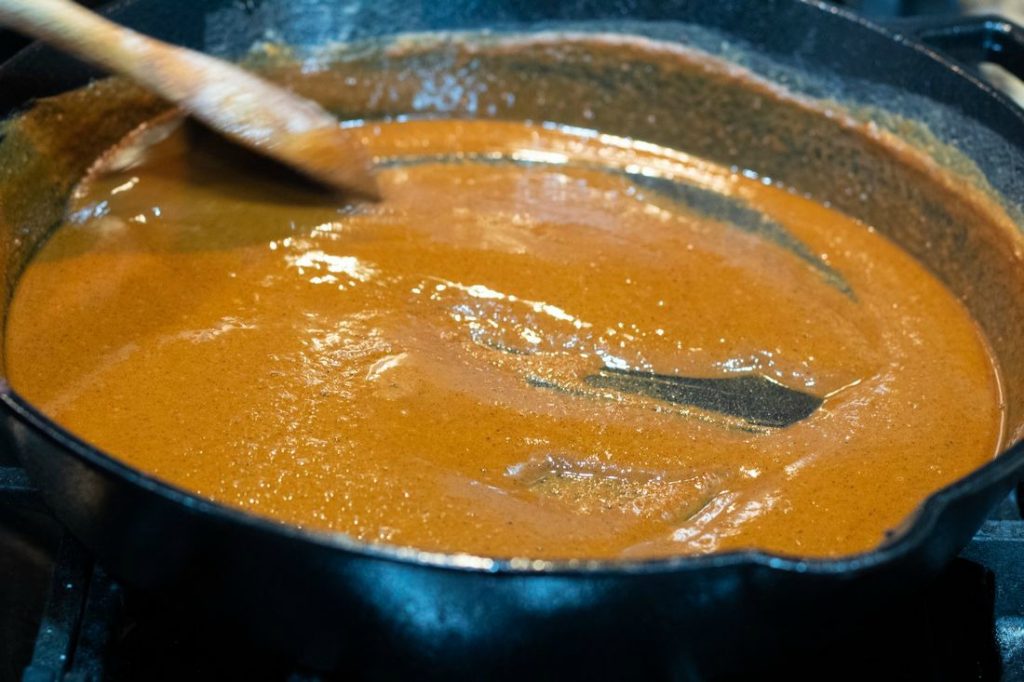 My grandmother always made a big pot of Gumbo. And, when she would go to the hen house we knew she would come back with a chicken for us to pluck and clean!
Then she would make that big ole pot of gumbo. This chicken gumbo with okra was always one of my favorite recipes.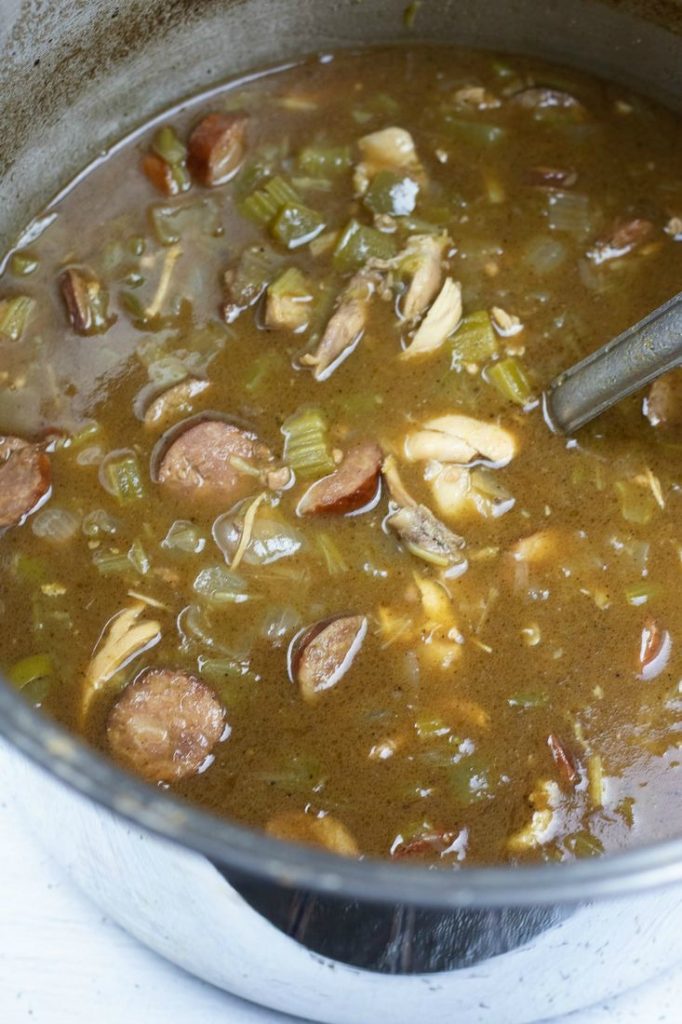 To this day we like to make this easy gumbo recipe to enjoy. We especially love making it when it is rainy and cold outside.
Gumbo is all about the roux. Get that right and you have the best bowl of gumbo.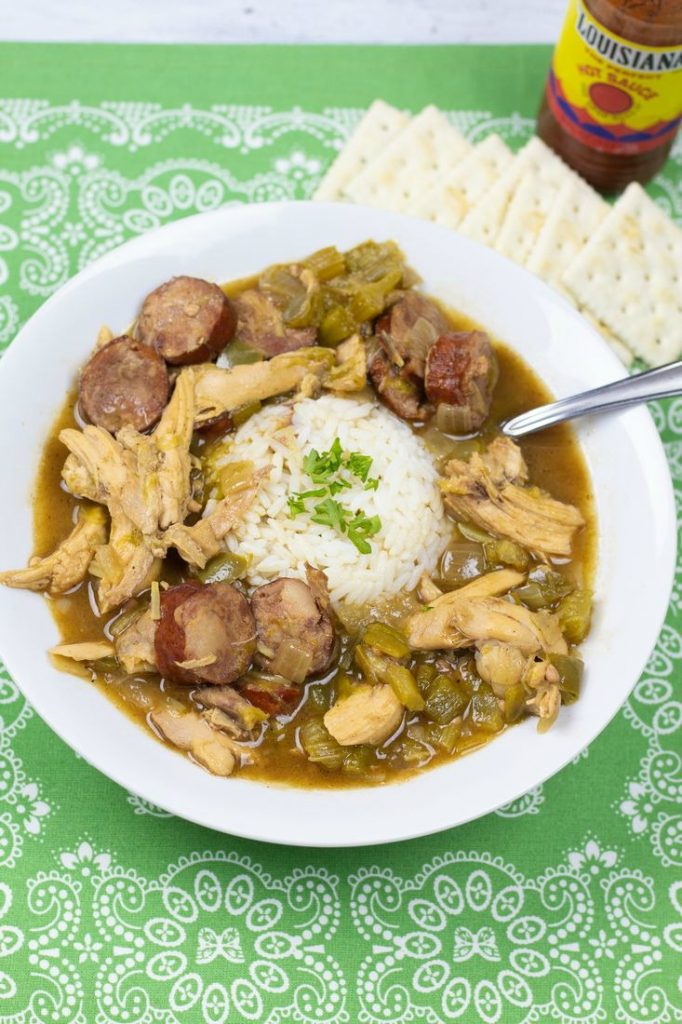 As you can see Louisiana Hot Sauce is a must to accompany this gumbo.
While there is plenty of different styles of gumbo out there we like the Chicken and Andouille Sausage Gumbo. The andouille sausage is a name sake to Louisiana!
You may Also like these cajun recipes
Print
Chicken and Andouille Sausage Gumbo
---
Author:

Kim Seghers

Prep Time:

30 minutes

Cook Time:

2 hours 35 minutes

Total Time:

3 hours 5 minutes
Description
Chicken and Andouille Sausage Gumbo topped over rice.
---
Ingredients
1 cup vegetable oil 

 

1 cup flour (more if needed) 

 

4-5 pound chicken boiled ( shredded & deboned) 

 

2 quarts store bought chicken stock 

 

4 quarts homemade chicken stock (from boiled chicken)

 

2 medium onions chopped

 

2 green bell peppers  ( seeded & finely chopped)

 

4 ribs celery finely chopped 

 

2 tablespoons minced garlic 

 

cajun seasoning to taste or cayenne pepper

 

2 cups frozen okra 

 

2 pounds Andouille sausage (two 16 oz packs) cut into 1/2 inch slices 

 

3 bay leaves 

 

1 tablespoon salt plus salt to taste

 

pepper to taste 

 

1 tablespoon Gumbo 

Filé 

powder 

 

cooked rice for serving

 

Louisiana Hot Sauce for serving

 

Serve with crackers or french bread 

parsley for garnishing
---
Instructions
For Chicken:
Remove neck, gizzard, heart, etc from chicken. Place into a stock pot with water covering chicken. Add 1 tablespoon salt and a little cajun seasoning.Cook on stovetop. Bring to a boil, reduce heat and cook for a least 1 hour. Turn off  pot and let cool. Chicken should easily come off the bones. 
Once chicken is cool remove from stockpot and pull chicken from the bones. Set aside. Strain  4 quarts of the liquid from stockpot to use in Gumbo. You can store and freeze any remaining stock in freezer.
Next brown the Andouille in a cast iron skillet or heavy pot. Remove Andouille using a slotted spoon. Add your veggies (  onions, celery, bell peppers, minced garlic)  to the skillet and cooked until tender. I love to cook the veggies in the same pot as the Andouille was cooked for the flavor. Then make the roux. Follow the directions for the roux below. 
For the Roux: 
Put oil in a cast iron pot with flour. Stir constantly over medium-low heat with a wooden spoon. Continuously stir until the roux turns the color of peanut butter for a lighter roux or my preference dark like caramel for a darker roux.




Once roux is cooked. Place into large stockpot . Add the veggies and Andouille Sausage and stir. Next, add the store bought stock and the four quarts of homemade stock.  Add the Filé powder bay leaves , cajun seasoning, salt, and pepper to taste.

Stir and bring to a boil. Then cook on simmer for 2-3 hours. Next add shredded chicken and okra . Cover with lid and simmer for 35 minutes longer. Be careful not to stir too much so you don't break up the okra and chicken. 




Gumbo will thickening up a bit once it cools. Remove Bay leaves. Serve over rice. Serve with a side of potato salad and some crackers or French Bread for dipping. Don't forget the hot sauce. 
Notes
Can use rotisserie chicken instead just add 4 quarts store bought chicken stock and 2 quarts water. 
Category:

Dinner

Method:

Stove Top

Cuisine:

Cajun
Keywords: Gumbo, Chicken, Andouille
Pin Me: