If you're looking for an easy meal to make for busy school nights, this Chicken Taco Pasta is it! This simple and delicious, Southwestern-style pasta recipe is a quick and hearty meal that the whole family will love.
With tender pieces of chicken, pasta, beans, avocados, diced tomatoes, onions, and cheese, even the kids will ask for seconds of this pasta.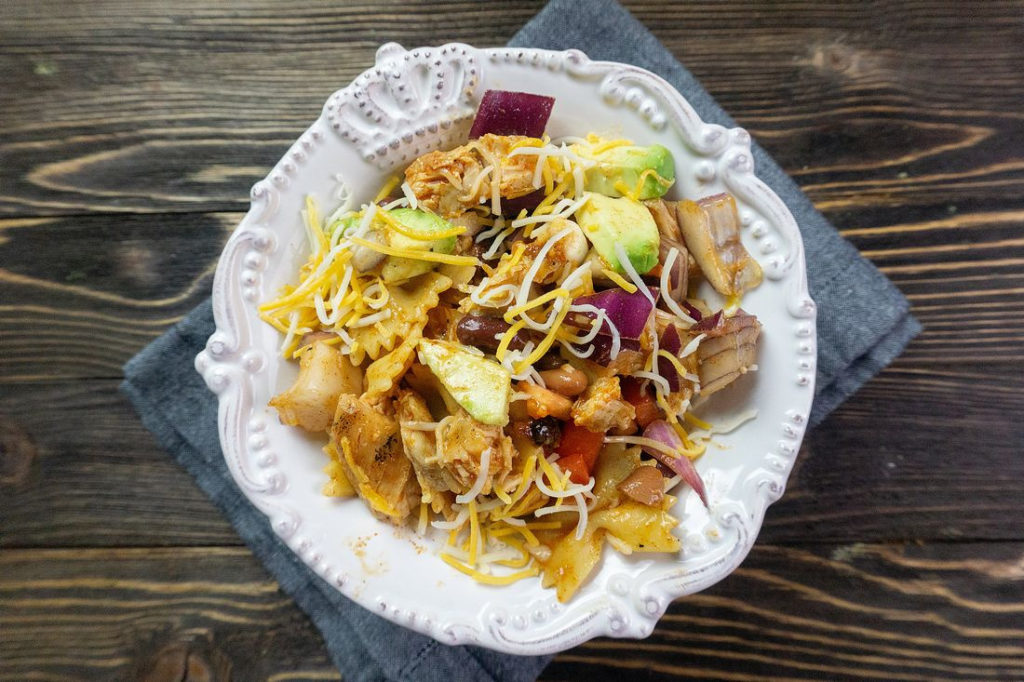 Of course, who wouldn't want a heaping bowl of this yummy comfort food after a long day at work or school?!
My family loves this taco pasta recipe. Sometimes when I make this dinner recipe, I add a can of fiesta corn and substitute the chili beans with black beans.
Honestly, there are many different ingredients you could add to this chicken taco recipe.
Though, it's personally up to your taste buds how you would like to make it.
Heck! You could even use leftover over rotisserie chicken instead of cooking boneless chicken tenders in the skillet.
What other ingredients would you add to this taco pasta recipe? Would you add garlic and cilantro? Would you use kidney beans or black beans?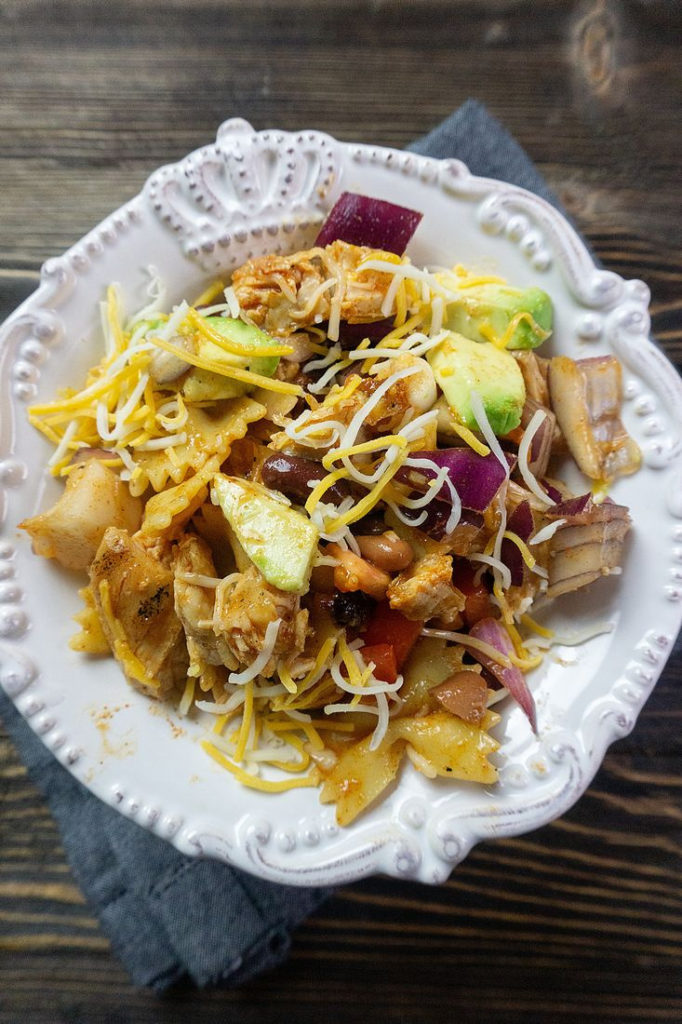 How to make Chicken Taco Pasta
First of all, to make this pasta recipe, you need to cook the chicken in a cast-iron skillet.
You could also use leftover chicken, store-bought rotisserie chicken, or a few pieces of boneless chicken tenders grilled or cooked your favorite way.
Second, cook 16 ounces of bow-tie pasta according to the directions on the package and drain. Don't cook the pasta too long, or it will become mushy.
Next, place the pasta in a large bowl with the chicken.
Third, dice the red onions, tomatoes, and avocados.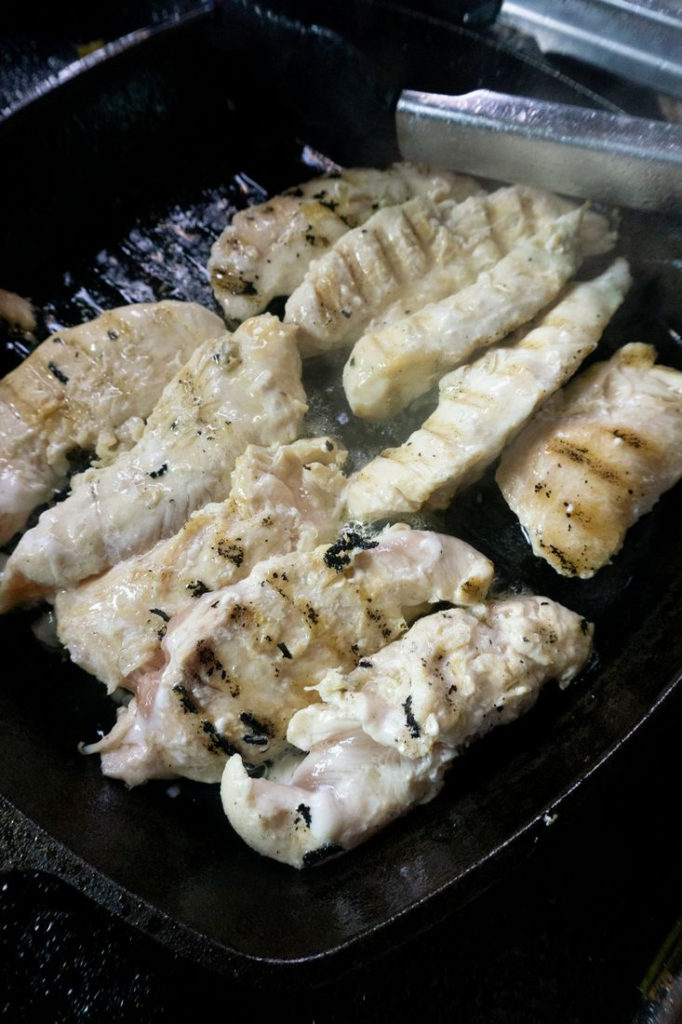 Fourth, add the beans to the bowl with pasta and diced chicken but, do not drain the beans.
Next, add in the tomatoes and onions. Don't forget to shake the taco seasoning over the top and mix the entire mixture well.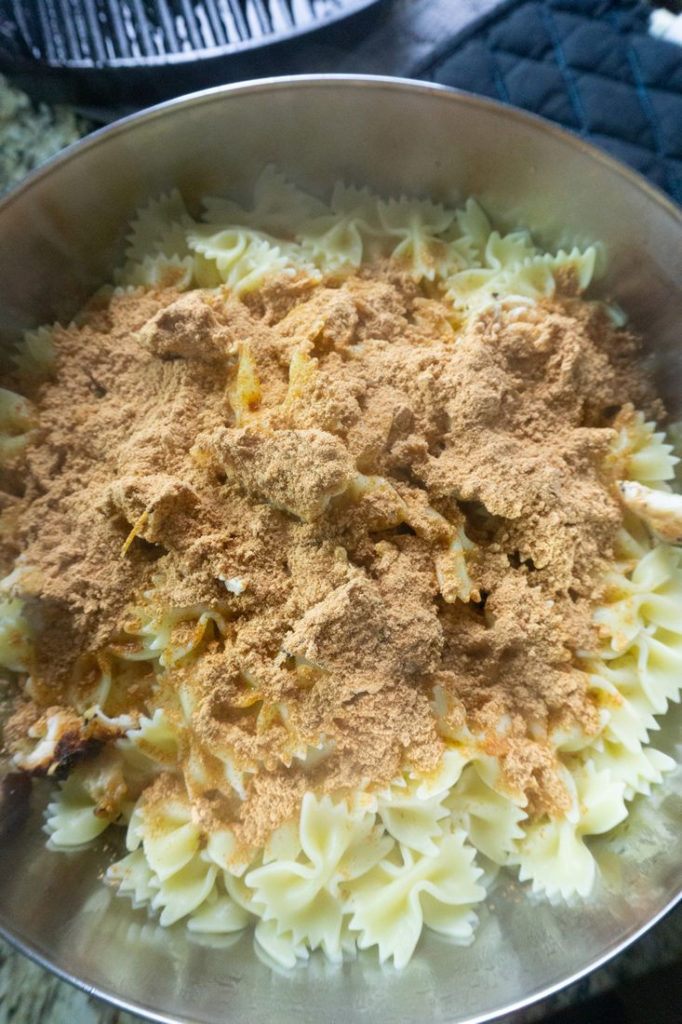 Last, add in the avocados and the cheese. Make sure to toss lightly!
what to serve with this Southwestern Style pasta
You could serve almost anything with this pasta recipe. Below you will find a few suggestions.
Tortillas
Southwestern Cornbread
Salad
Spicy Cornbread Muffins
Crackers
Mexican Fiesta Bread
Bolillo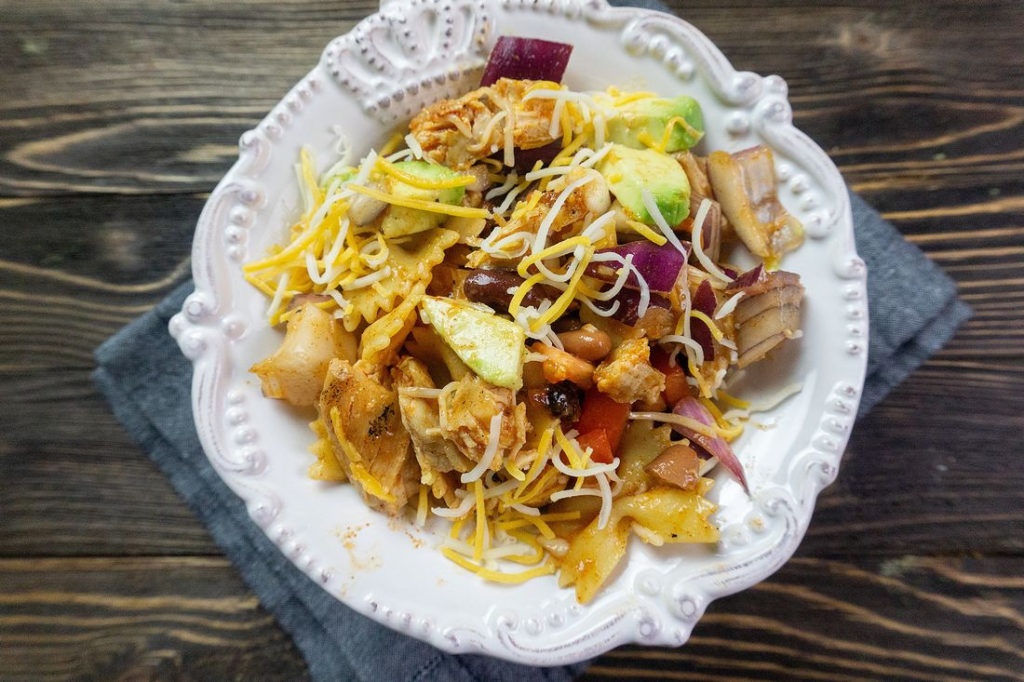 We hope you love this cheesy taco pasta as much as our family does!
It's the perfect comfort food to make for dinner, to bring to potlucks, and enjoy on a cool fall evening.
More pasta recipes for you
Pin this Chicken Taco Pasta Recipe