Whip up these easy and fun St. Patrick's Day Shamrock Pancake Kabobs in minutes. The fruit and pancake kabobs make the perfect St.Patrick's Day breakfast.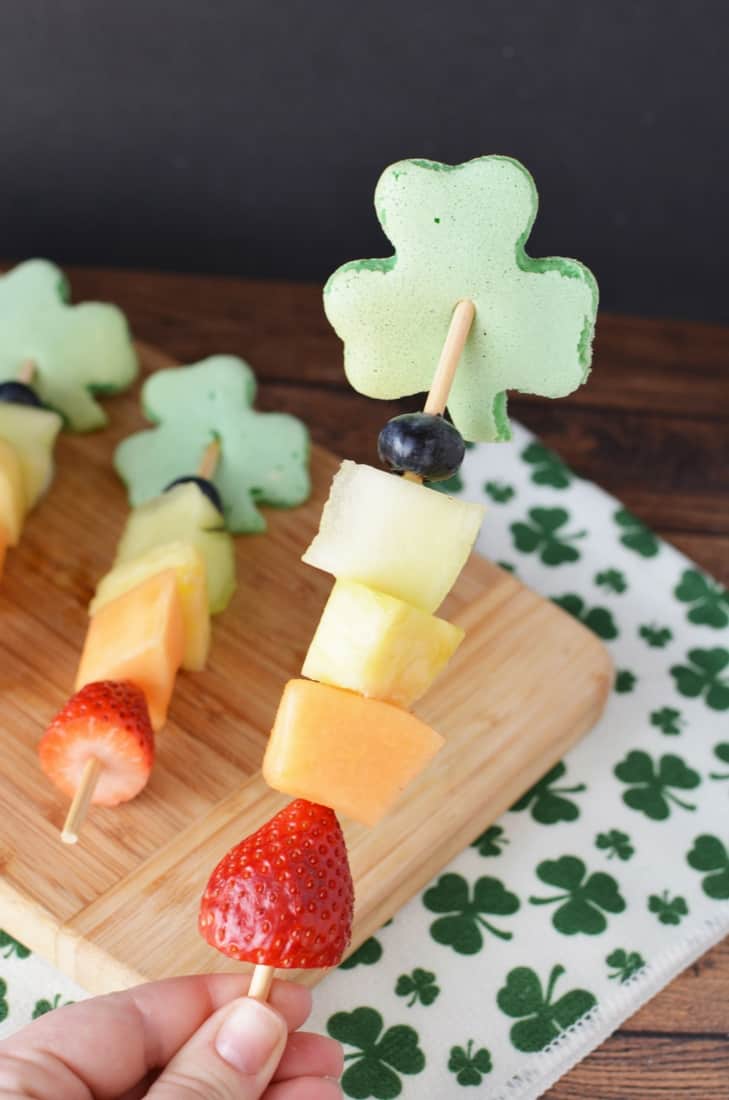 Perfect Fruit and Pancake Breakfast Kabobs
These pancake kabobs have juicy strawberries, honeydew melon, pineapple chunks, cantaloupe, and blueberries threaded onto the skewers.
They make a delicious breakfast or snack. Children eight years old or older can make these shamrock kabobs by themselves.
Additionally, younger children will need adult supervision when making these St. Patrick's Day Shamrock Pancake Kabobs with fruit.
Due to the pointed end of the wooden skewers.Please watch little ones carefully or cut off the pointed ends.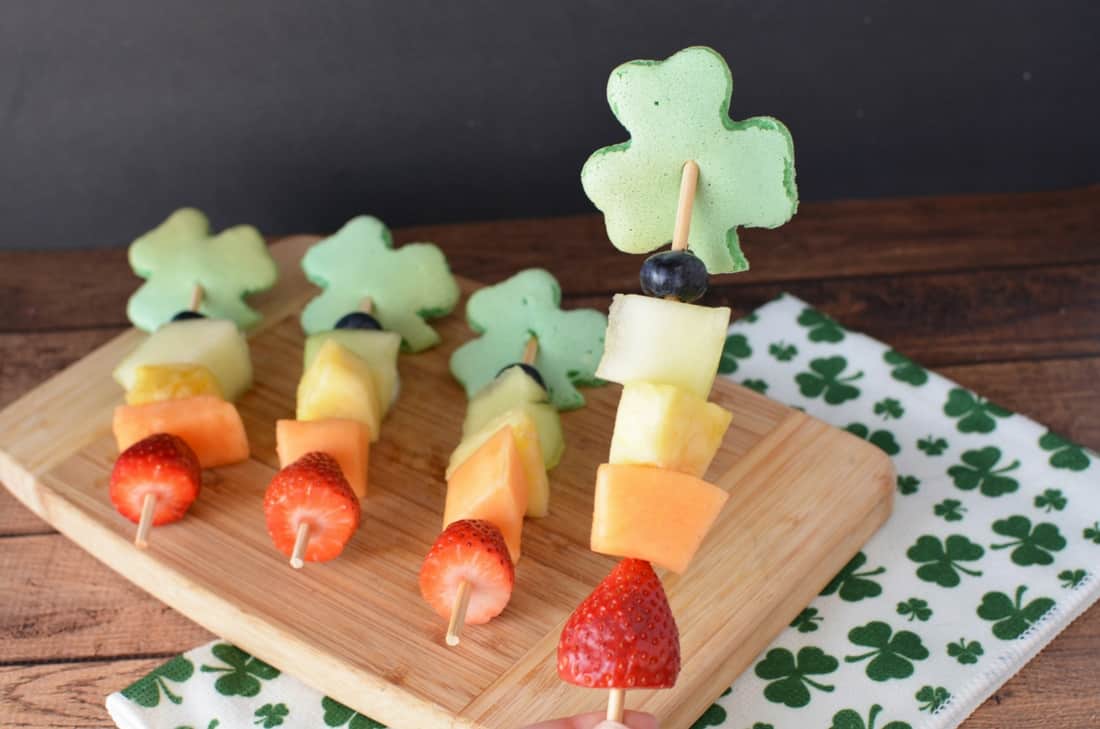 The pancake kabobs are simple to make and look festive with all the rainbow colors from the fruit.
My kids devour them not even realizing they're eating healthy fruit for breakfast, which puts a smile on my face!
HOW TO MAKE St. Patrick's Day Shamrock Pancake Kabobs
To make the St. Patrick's Day Shamrock Pancake Kabobs, you'll need pancakes, food coloring, fruit, and wooden skewers (#aff.). That's it!
The first step is to make your pancake mix and add the green food coloring. Then in a hot nonstick skillet, you will cook your pancakes and let cool.
After the pancakes cool, you will use a clover shaped cookie cutter to cut out your shamrock pancakes.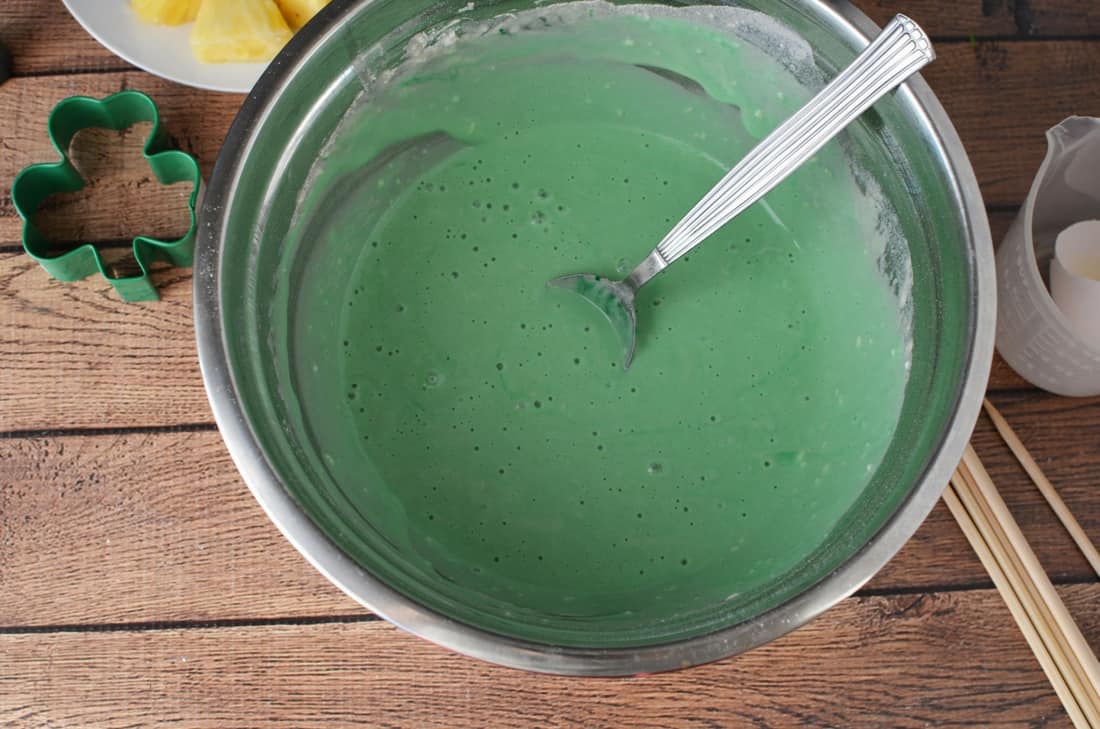 The next step is to prep and cut your fruit then thread them and place one shamrock shaped pancake onto each skewer.
You can find in the grilling section at your local grocery store or at Bed, Bath and Beyond Stores.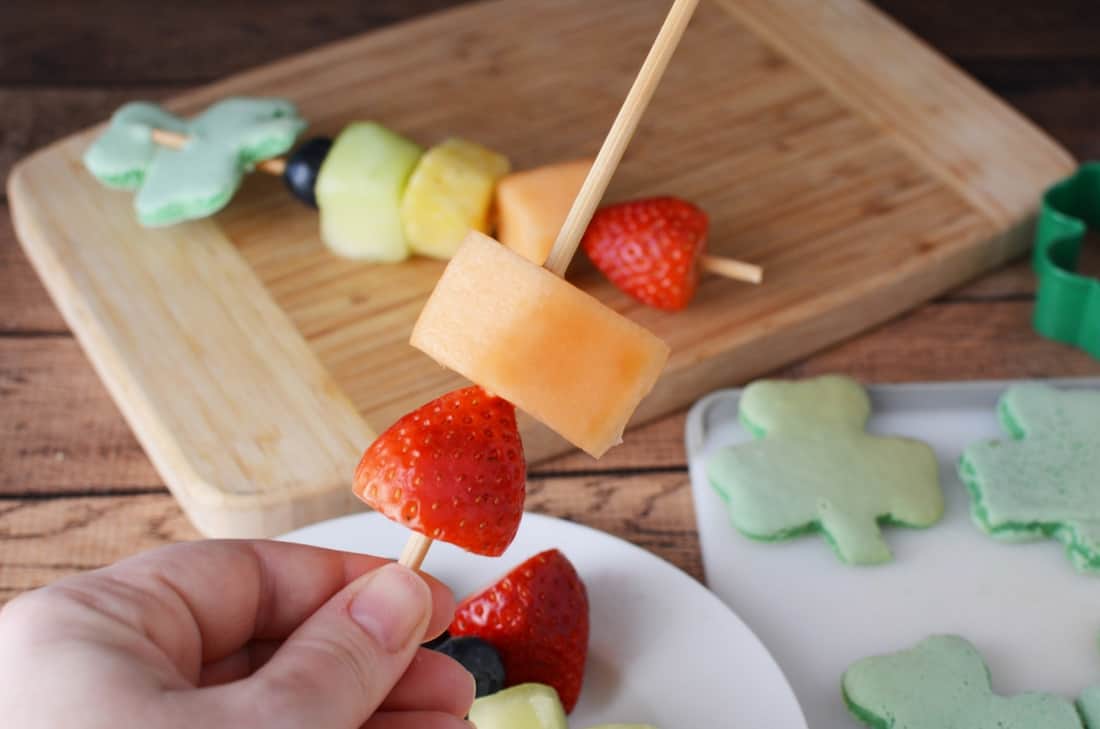 These St. Patrick's Day Shamrock Pancake Kabobs are totally amazing and the best way to celebrate Saint Patrick's Day.
Kids will love them for breakfast or for a fun festive snack.
More Kabob Recipes
Aren't these St. Patty's Day fruit and pancake kabobs adorable? Kids and adults alike will enjoy these kabobs! The perfect breakfast food on a stick!
Pin St. Patrick's Day Breakfast Kabobs