These adorable Valentine's Day Cupid Arrow Pancake Kabobs made using fresh fruit, and heart-shaped pancakes would make the perfect Valentine breakfast.
Additionally, you can whip up a few of these fun and tasty kabobs in minutes.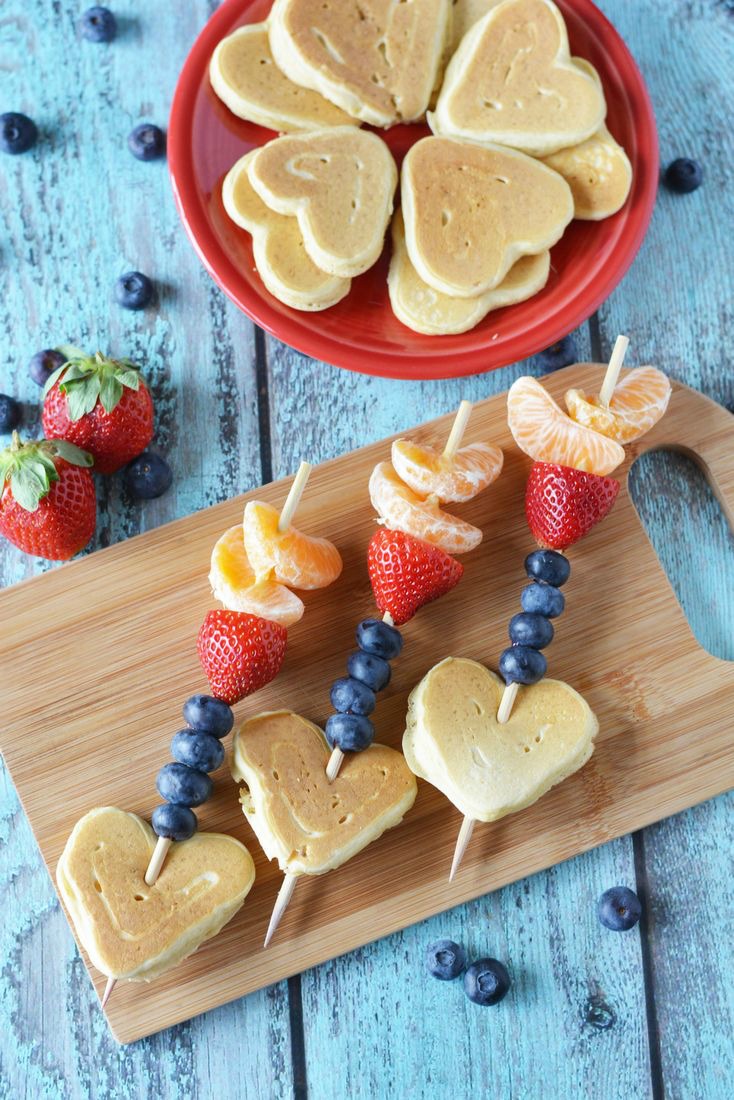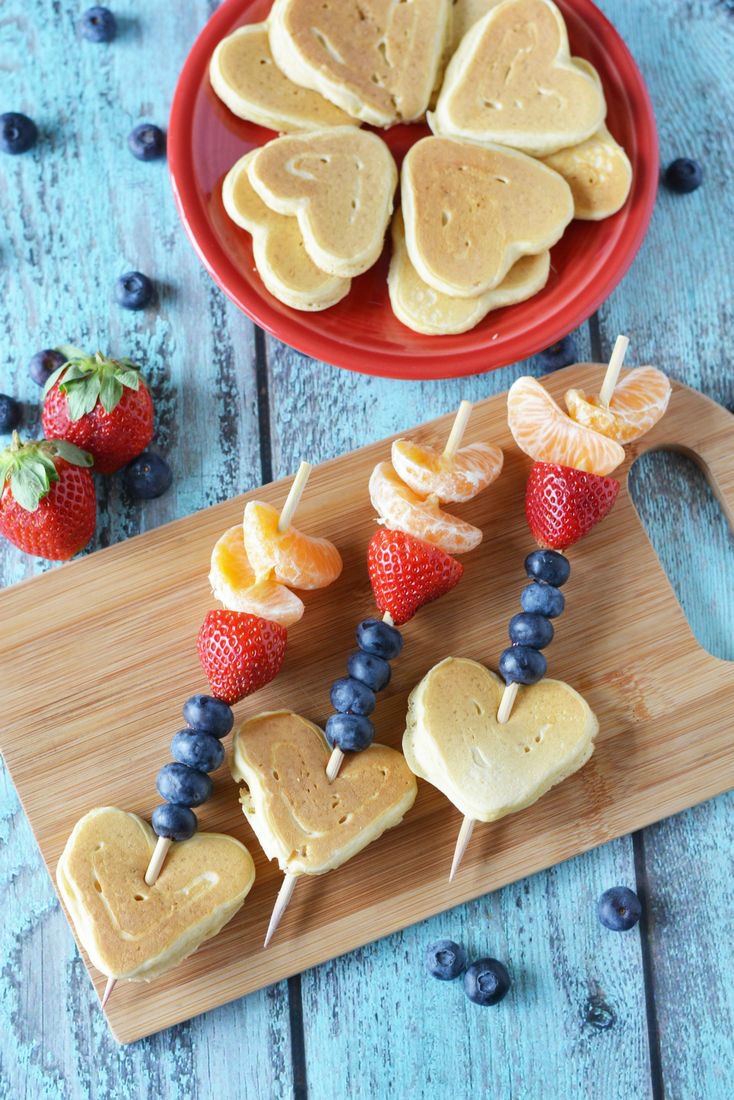 You could let your older kids make their kabobs.
I recommend supervising children seven years or younger, due to the pointed end of the wooden skewers.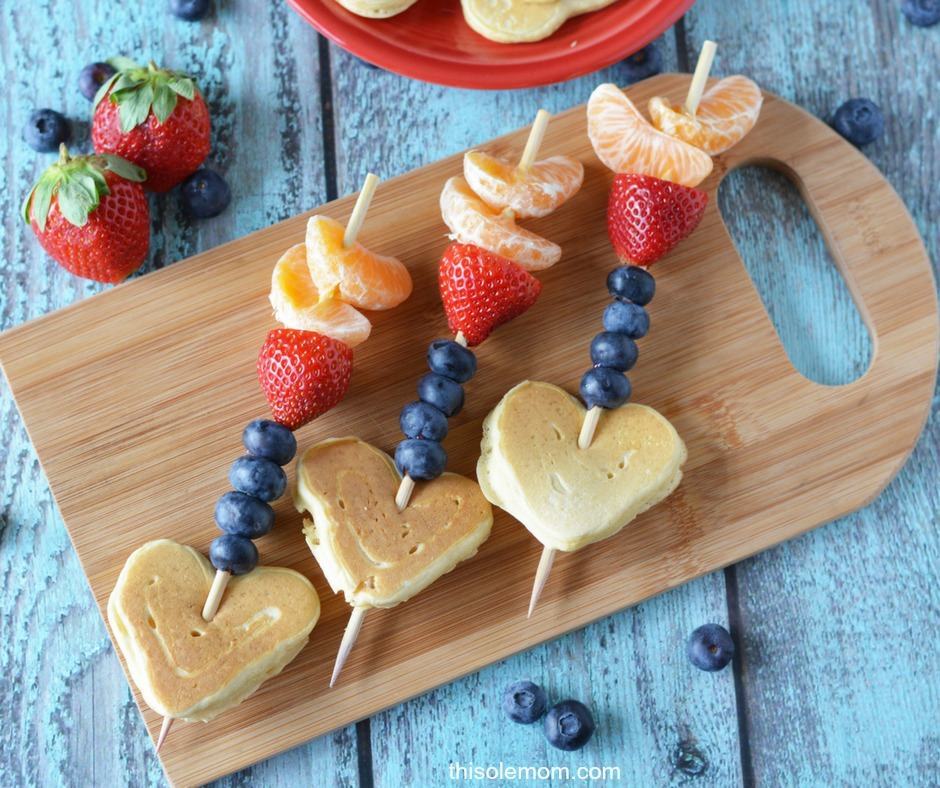 I also think the Valentine's Day Cupid Arrow Pancake Kabobs would make a great snack to enjoy any time of the year!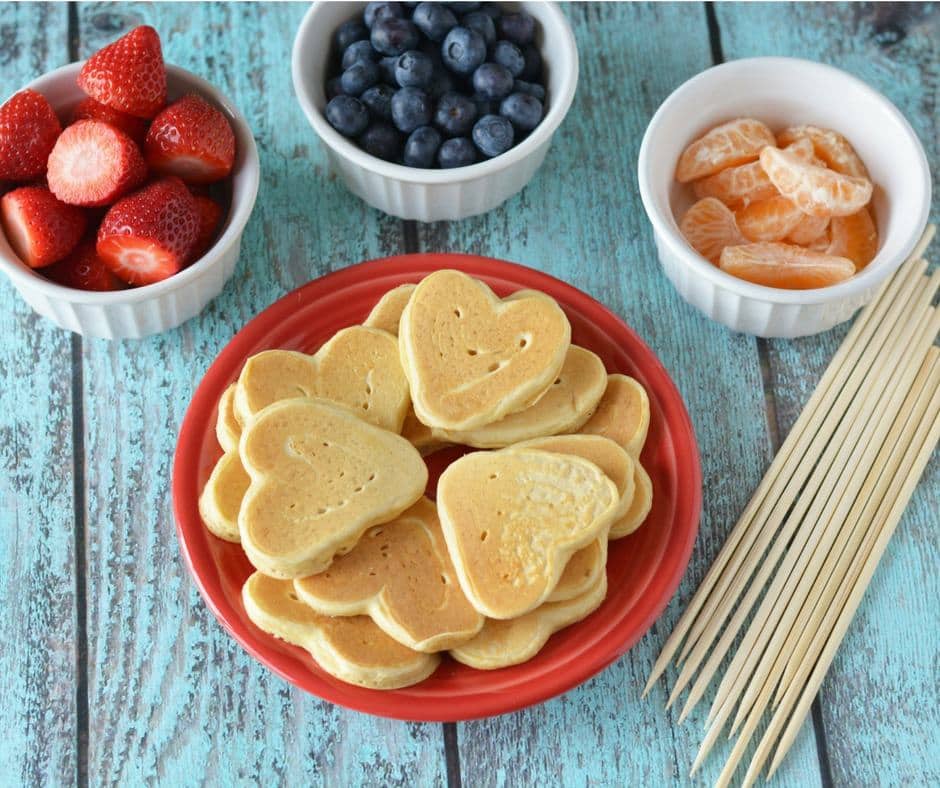 What's In the Valentines Day Cupid Arrow Pancake Kabobs
Pancake Recipe
( from the Better Homes & Gardens Cookbook)
1 cup flour ( or white whole wheat flour)
1 tablespoon sugar
2 teaspoons baking powder
1/4 teaspoon baking soda
1/4 teaspoon salt
1 egg
1 cup milk
    Fruit
whole strawberries washed with stems removed
blueberries washed and dried
clementine or mandarin oranges peeled and broken into segments
bamboo skewers (mine were 8″ long)
squeeze bottle (condiment container)
How to Make Valentines Pancake and fruit Kabobs
Mix flour, sugar, baking powder, baking soda, and salt in a bowl. Make a well in the center of the dry ingredients and add the egg and milk.
Stir until moistened. Stir a little bit more to remove additional lumps. Spoon or pour batter into condiment container.
On a hot, lightly greased skillet, draw heart pancakes using the batter in the condiment container.
My heart pancakes are 2.5-3″ in size. Cook for 2 minutes on each side or until lightly brown. Let cool.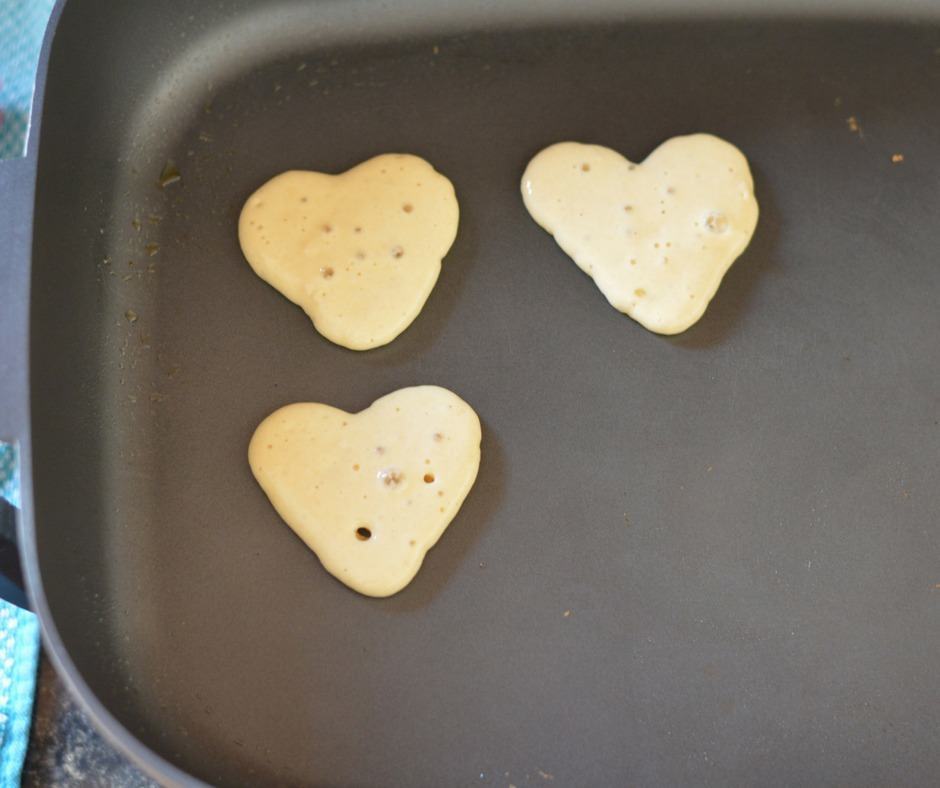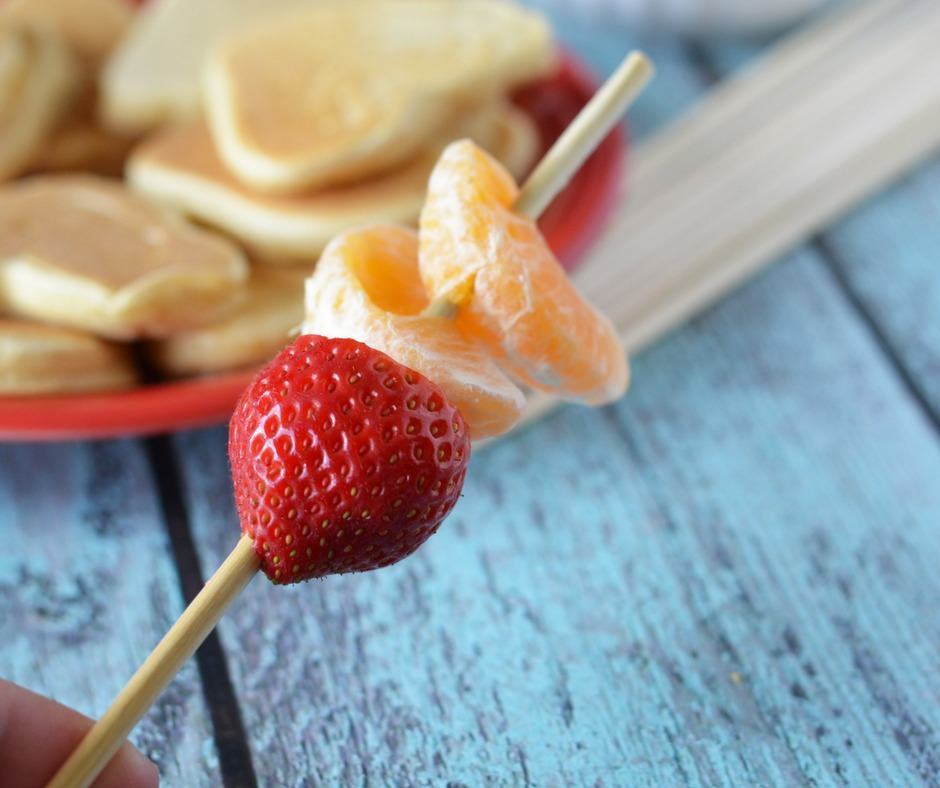 Thread two oranges slices, one strawberry, and blueberries onto a bamboo skewer.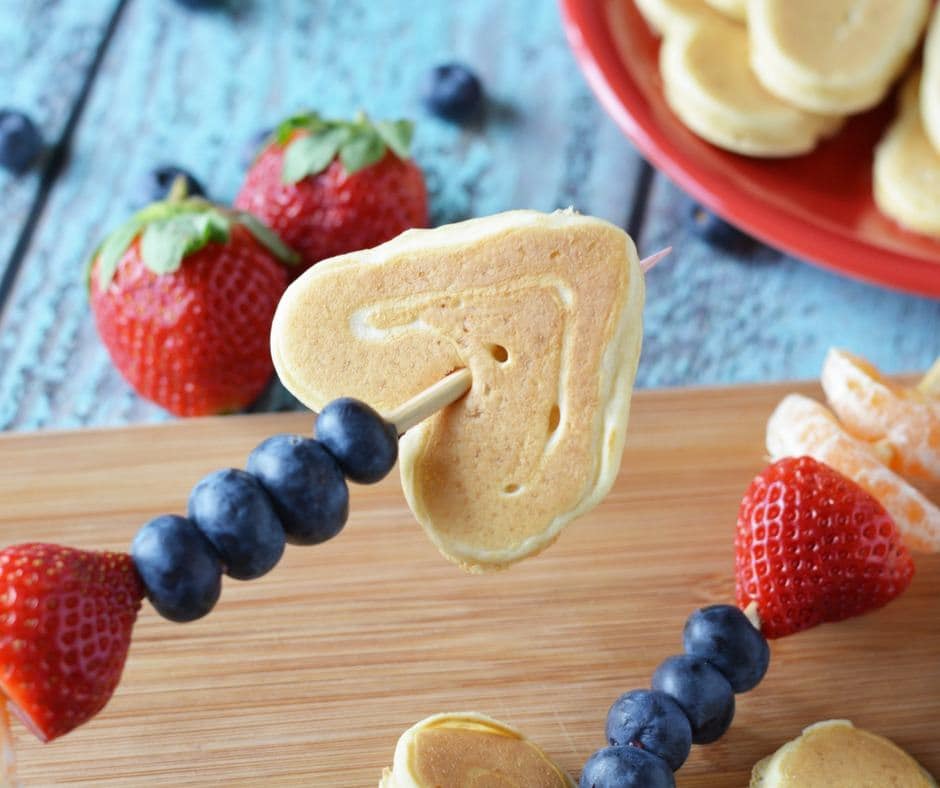 Add pancake heart. Repeat until you have the desired number of pancake kabobs.
Makes 12-15 kabobs.
Kim's note-  Once you place your fruit and pancake onto the skewers, you could use scissors to remove the pointed ends.
If you would like serve syrup for dipping the pancakes.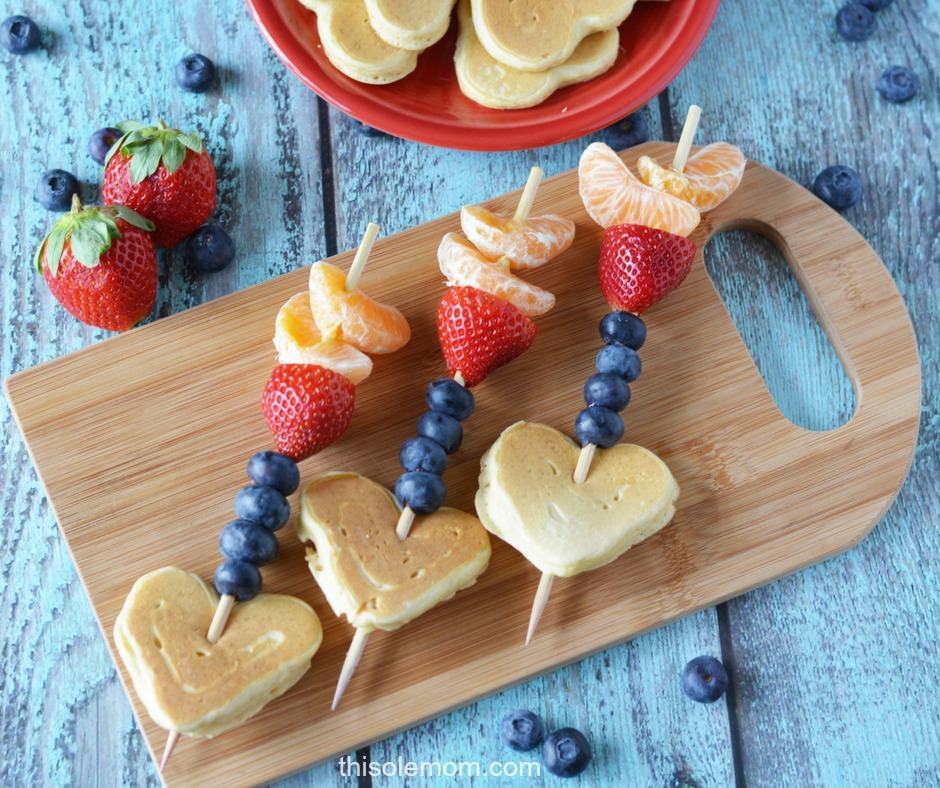 I think the kabobs turned out super cute! Don't you?
You could also omit  the pancakes and make fruit kabobs.
Furthermore, children love eating foods off sticks and it's less messier.
I hope you get to make a few of these Valentine's Day Cupid Arrow Pancake Kabobs.
More For Valentine's Day
Pin Me