These simple and delicious Brownie Truffles with Snowflake Sprinkles are the perfect sweet treat to serve during the holidays.
A matter of fact, these little balls of goodness are made from a brownie mix! Of course nobody would know if you didn't tell them.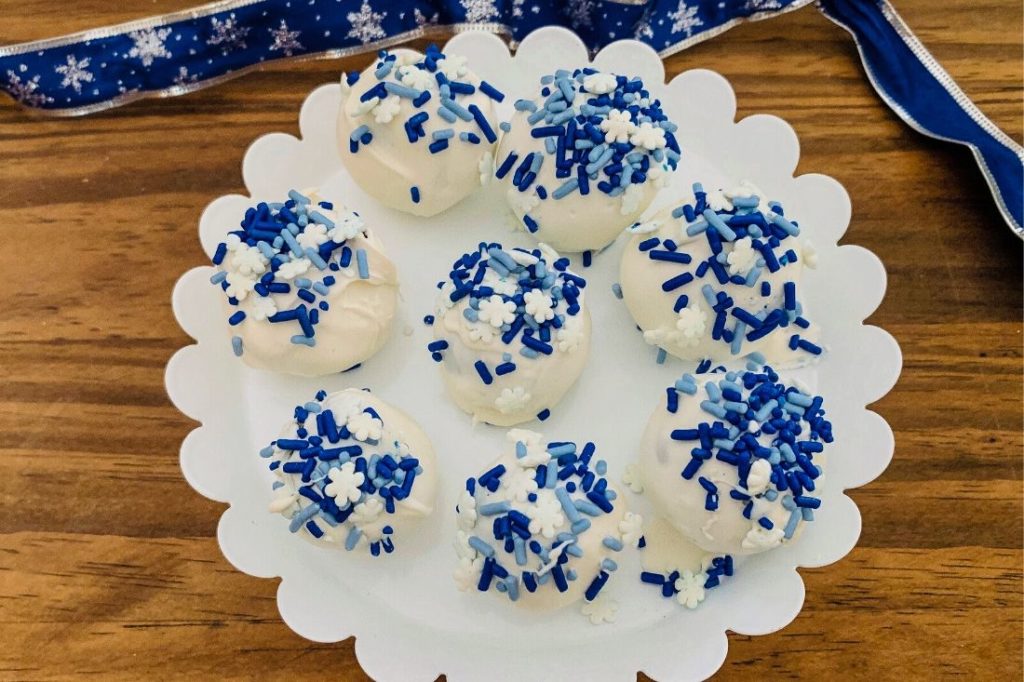 I think the brownie balls taste like a holiday confection one would buy from a cupcake shop or fancy bakery.
Who knew you could make brownie truffles from box mix taste so delicious.
These little fudgy balls with cream cheese frosting are dipped in melted white chocolate, then sprinkled with candy snowflakes and different shades of blue sprinkles.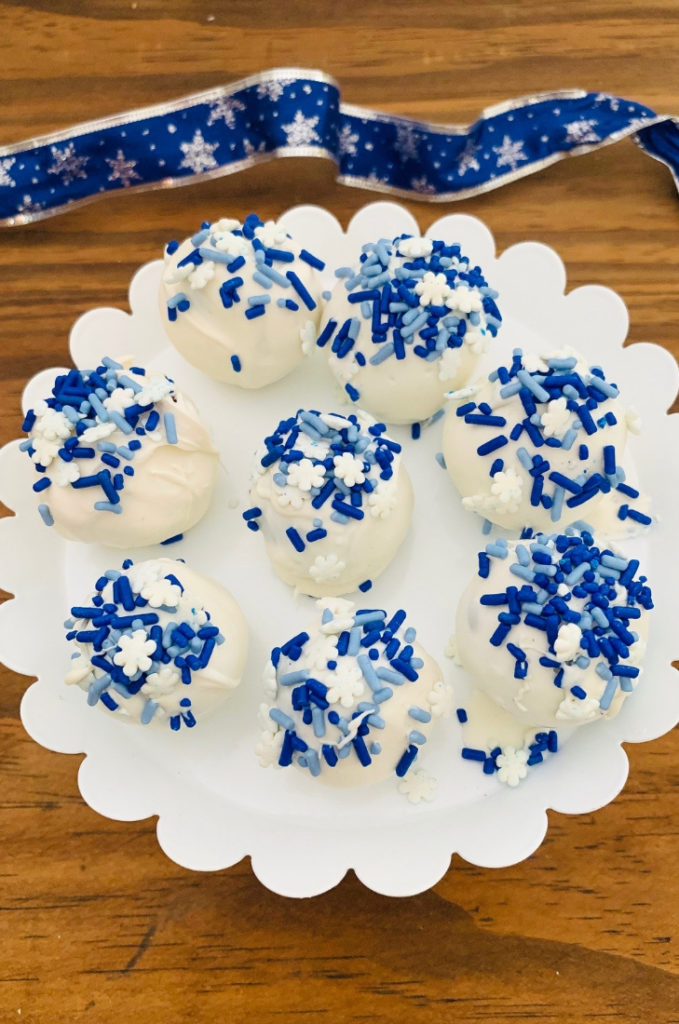 It always good to have a few dozen treats on hand during the holidays. You never know when guest will drop over for an unexpected visit.
We also make a few batches of cake balls and brownie truffles during the holidays to bring to Christmas celebrations and give as edible gifts.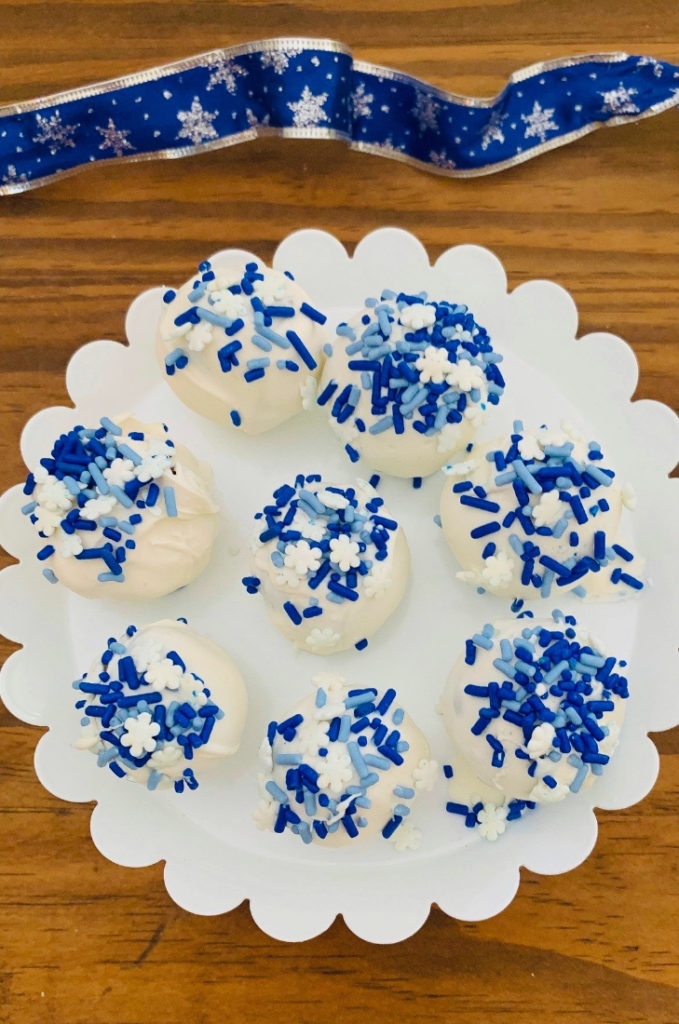 Additionally, this holiday brownie recipe only uses a few ingredients which most people have in their pantry.
If you don't have candy sprinkles at home you can use another kind of topping to sprinkle over the Christmas chocolate truffles.
Types of toppings for Brownie Truffles
Sprinkles
Crushed Pecans
Walnuts
Crushed Candy
Oreos
Caramel
Drizzled Chocolate
Cookie Crumbs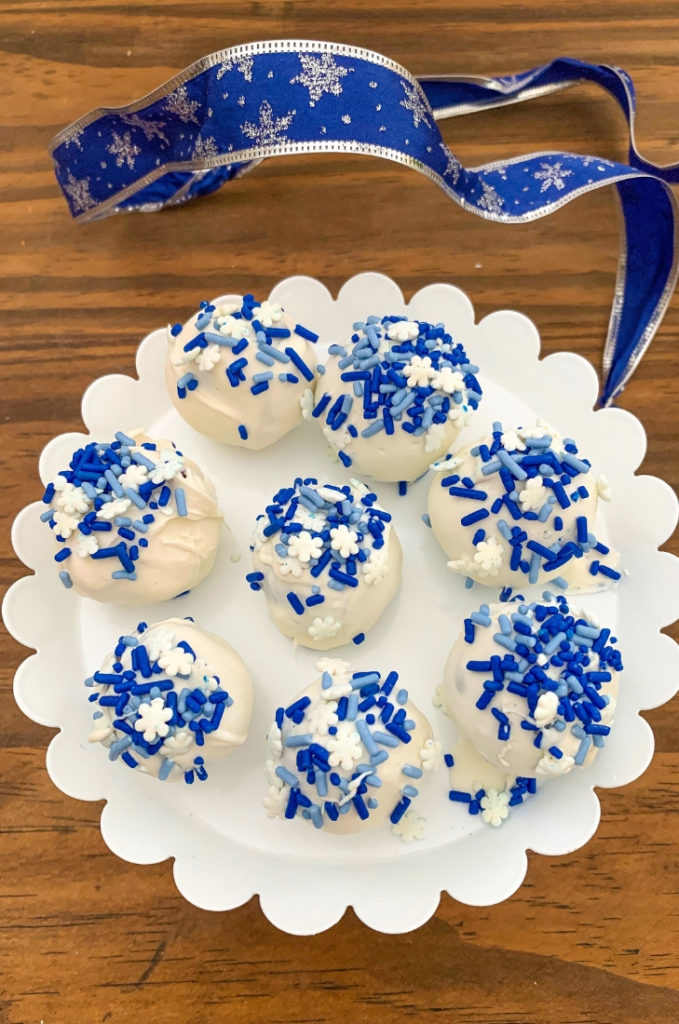 What's In Brownie Truffles
Brownie Mix
Cream Cheese Frosting
White Chocolate Candy Melts
Crisco Shortening Stick
Snowflake Christmas Mix Sprinkles
How to make Brownie Truffles with Snowflake Sprinkles
First make brownies according to the box directions.
Second, cool and trim edges away. Crumble the brownies into a large bowl.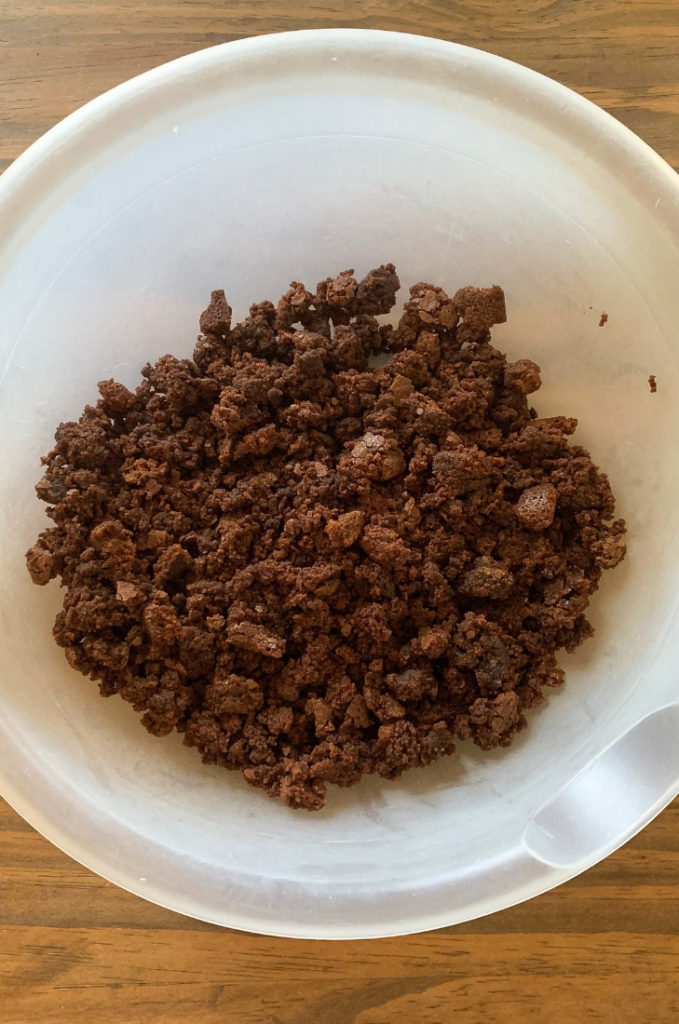 Third, add half can of cream cheese frosting to the bowl. Mix together the crumble brownies and frosting.
Fourth, use a cookie scoop or your hands to roll the brownie mixture into 30-36, 1-inch balls.
Next, place the brownie balls on a baking sheet lined with parchment paper and place in freezer for 15 minutes.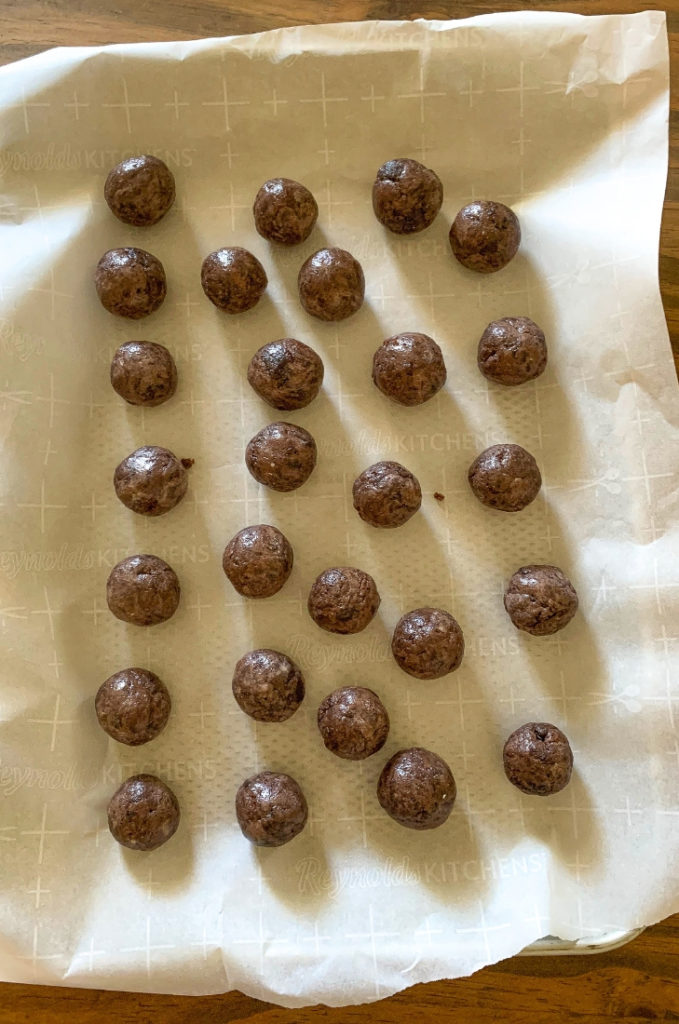 Fifth, melt white chocolate candy melts and a teaspoon or more of Crisco in a medium glass microwaveable bowl.
Melt chocolate 15-30 second intervals, until candy is melted and smooth. Stir chocolate between each interval.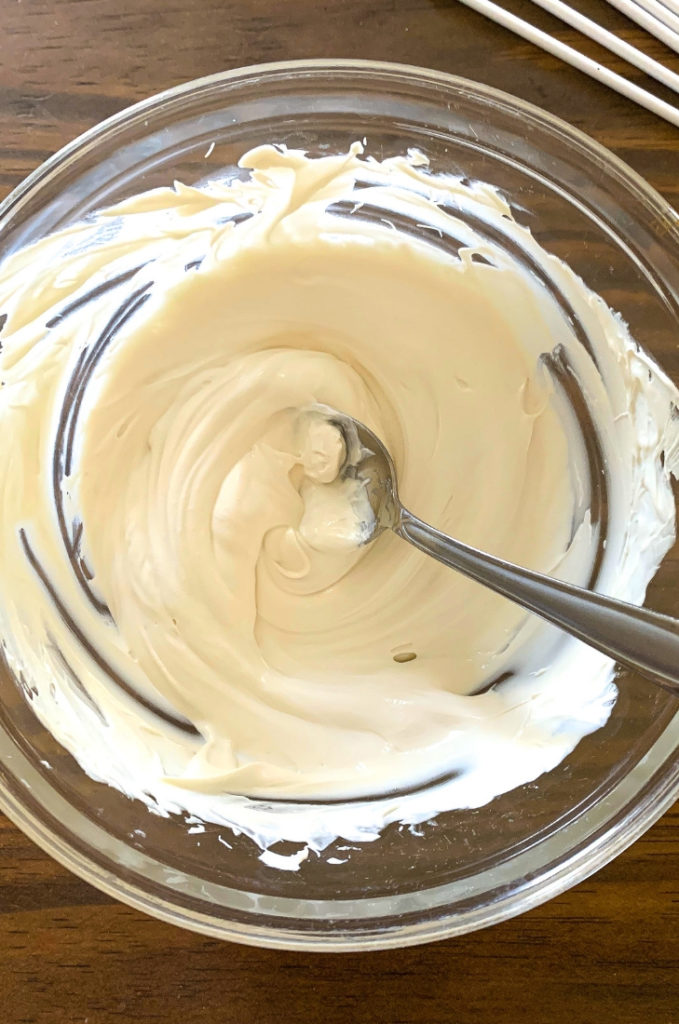 Sixth, remove the truffles out of the freezer and place in the fridge. Take 5-6 brownie balls out the fridge at a time.
Next, dip one brownie ball at a time into the white chocolate. Use a fork to remove the balls from the chocolate and allow excess chocolate to drip.
Place on a serving tray lined with parchment paper. Immediately top with sprinkles. Repeat with remaining brownie truffles.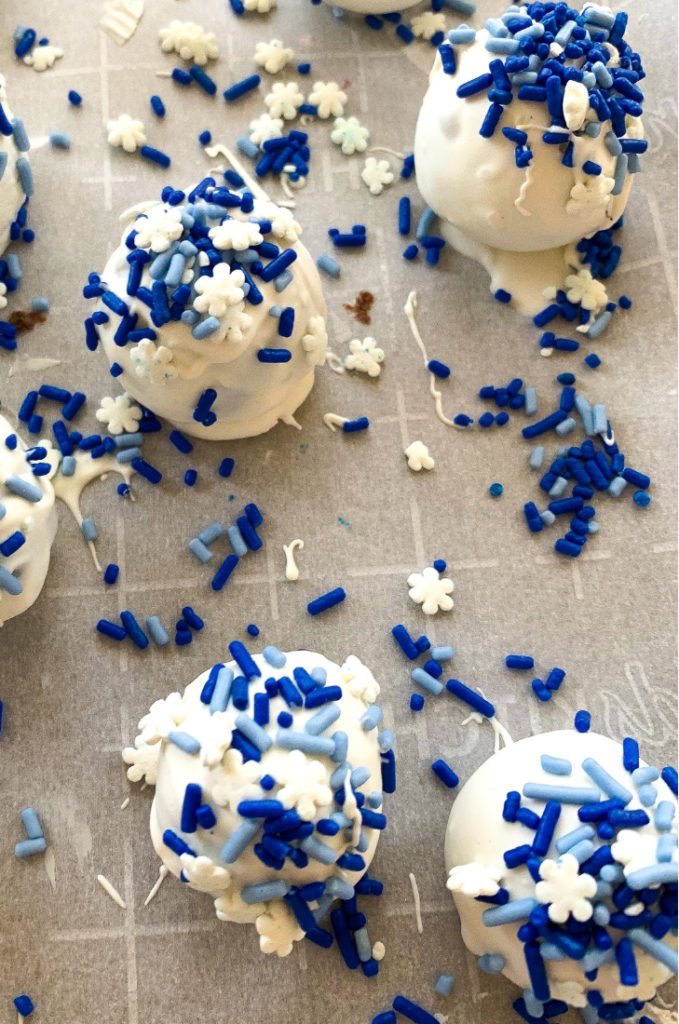 Store truffles in refrigerator in an airtight container with layers of parchment paper.
Make sure to place a piece of bread on top to absorb moisture and close container.
Additionally, you can keep the container of holiday brownie truffles in the fridge for up to 1 week.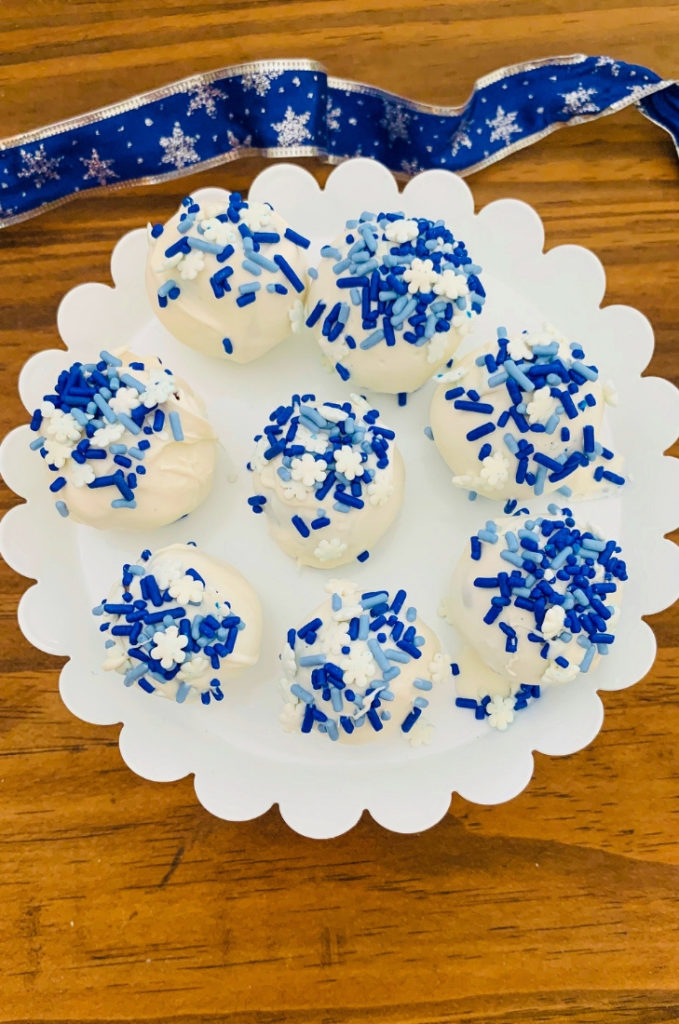 Doesn't the brownie truffles with snowflake sprinkles look festive?
They remind me a bit of Frosty from Frosty the Snowman. I don't know why! Maybe because they remind me of a Winter Wonderland and giant snowballs.
did you know
Did you know a snowflake has exactly six points? It sure does!
More Holiday Treats
Pin Me