These Christmas Gingerbread Bites is an excellent choice to make for the holidays. And, nothing makes the home feel more like Christmas then the sweet and spicy aroma of gingerbread baking in the oven.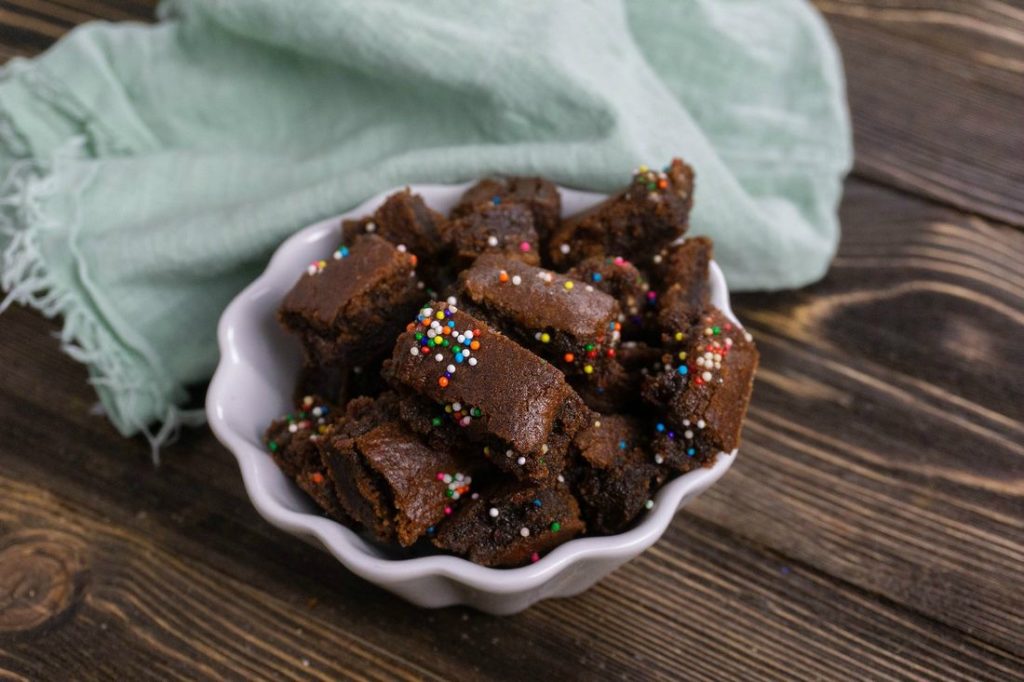 Of course, gingerbread is everyone's favorite. Who could resist a holiday confection filled with ginger, sugar, cinnamon, and molasses?!
I know this easy gingerbread recipe is one of my family's favorite treat to indulge in during the holidays.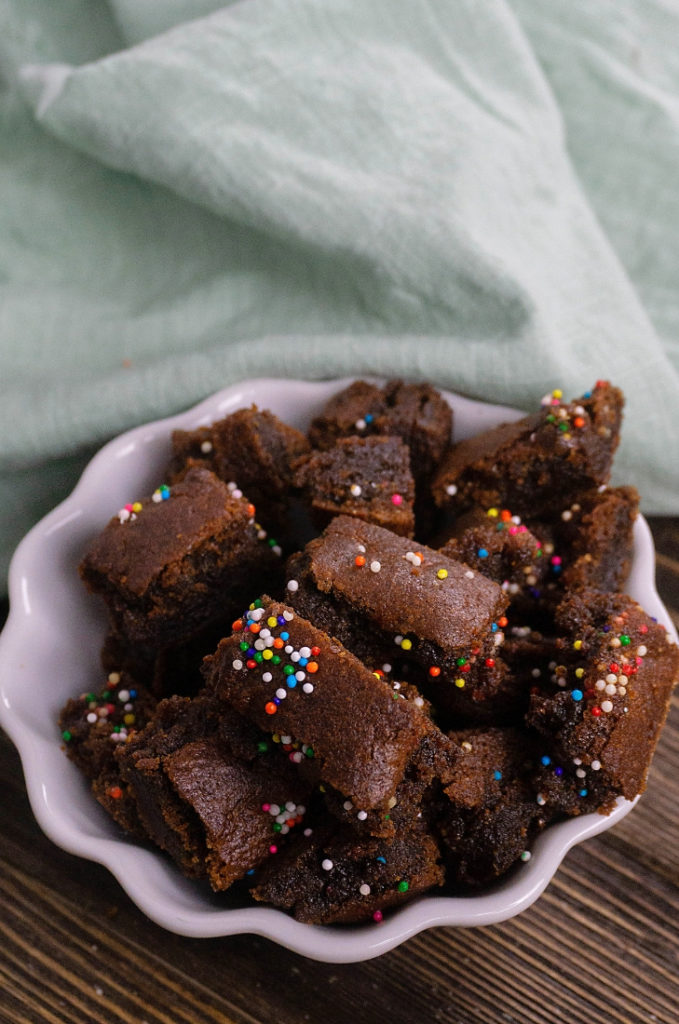 Usually, I bake a pan of Old-Fashioned Gingerbread and cut it into bite-size pieces for my family to eat. Also, this vintage gingerbread recipe is perfect for gift-giving, too.
When my son eats his gingerbread, he likes to top it with sprinkles. He thinks it makes his gingerbread cake look more festive.
Personally, I love frosting on my Christmas gingerbread bites. What do you like on yours?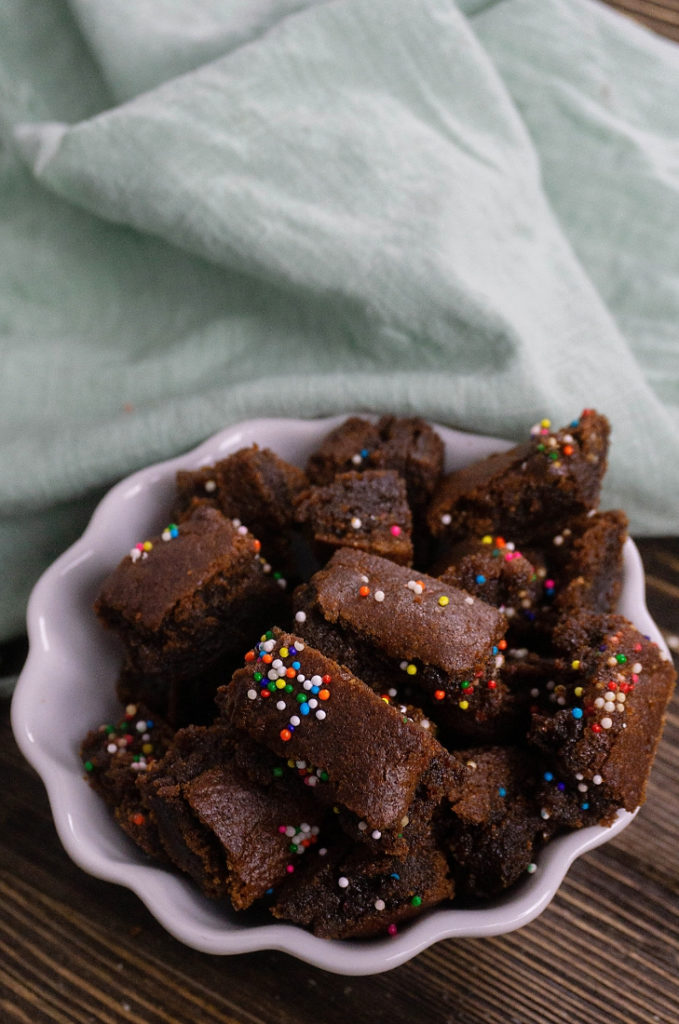 However, you prefer to eat your gingerbread with or without any toppings you should try this gingerbread recipe with molasses.
It's such a super moist gingerbread cake with lots of flavor, that tastes AMAZING!
And, it's the perfect holiday treat to keep on hand. You'll never know when unexpected guests will stop over for a visit.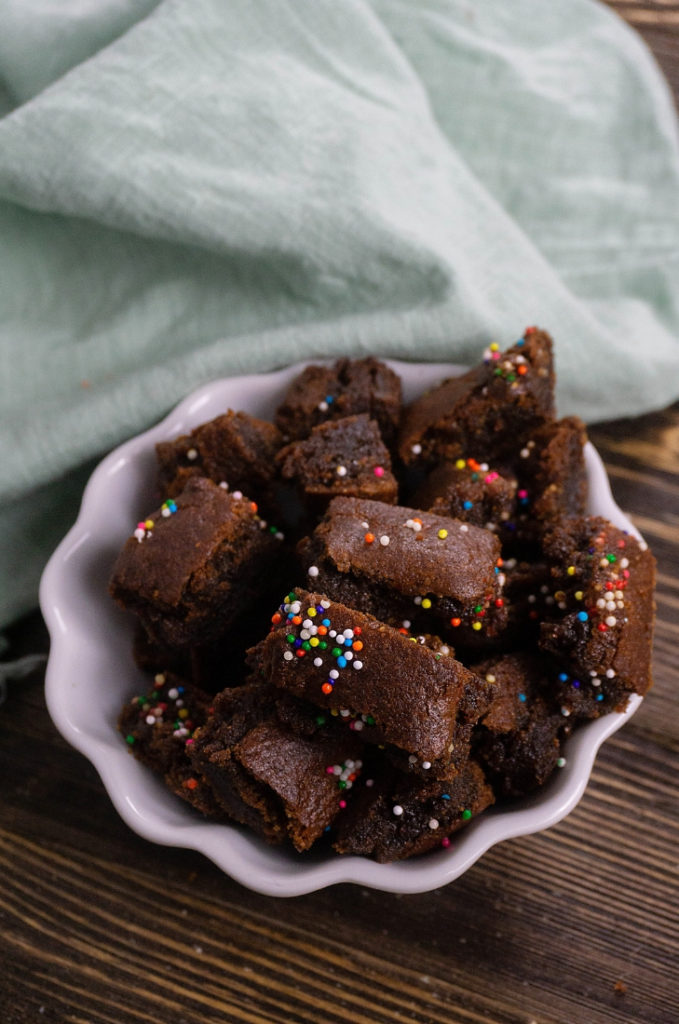 Can you SUBSTITUTE Ginger in the Recipe?
Yes, you can substitute ginger in the Christmas Gingerbread Bites.
If you're allergic to ginger or don't have any on hand, you could substitute equal amounts of cardamom, cinnamon, and nutmeg.
Remember though, subbing ingredients for the ginger will give your gingerbread a slightly different taste.
Does Gingerbread contain eggs?
Yes, my gingerbread recipe contains eggs. But, there are many eggless gingerbread recipes you can find online and on Pinterest.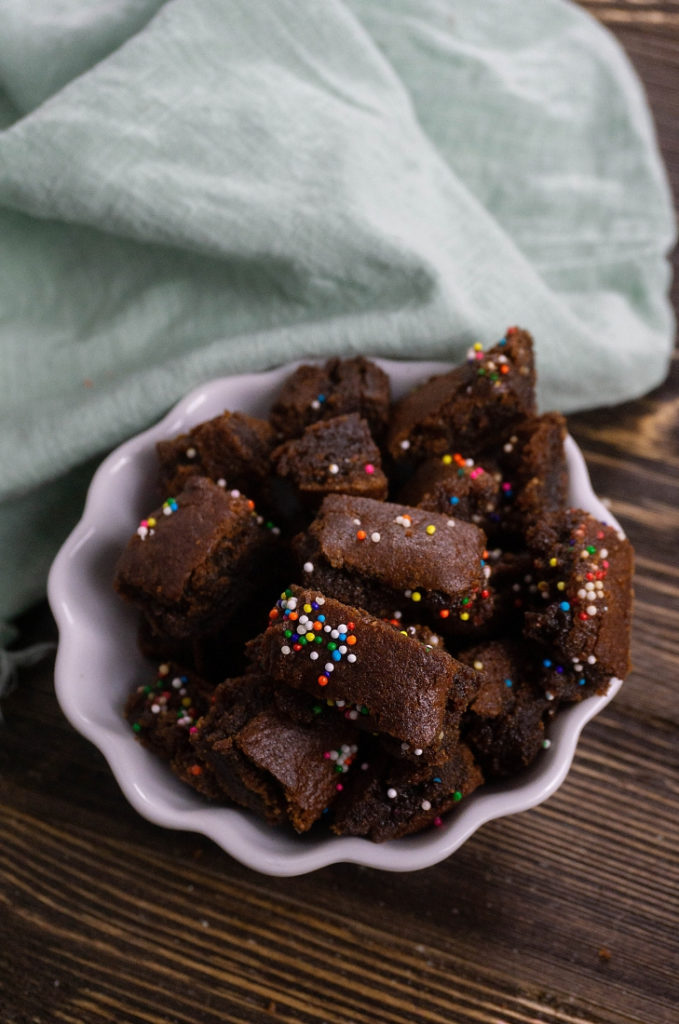 WHAT'S in CHRISTMAS Gingerbread Bites
Dark Brown Sugar
Molasses
Ginger
Cinnamon
Clove
Butter
Egg
Baking Soda
Flour
Olive Oil
Sprinkles for Topping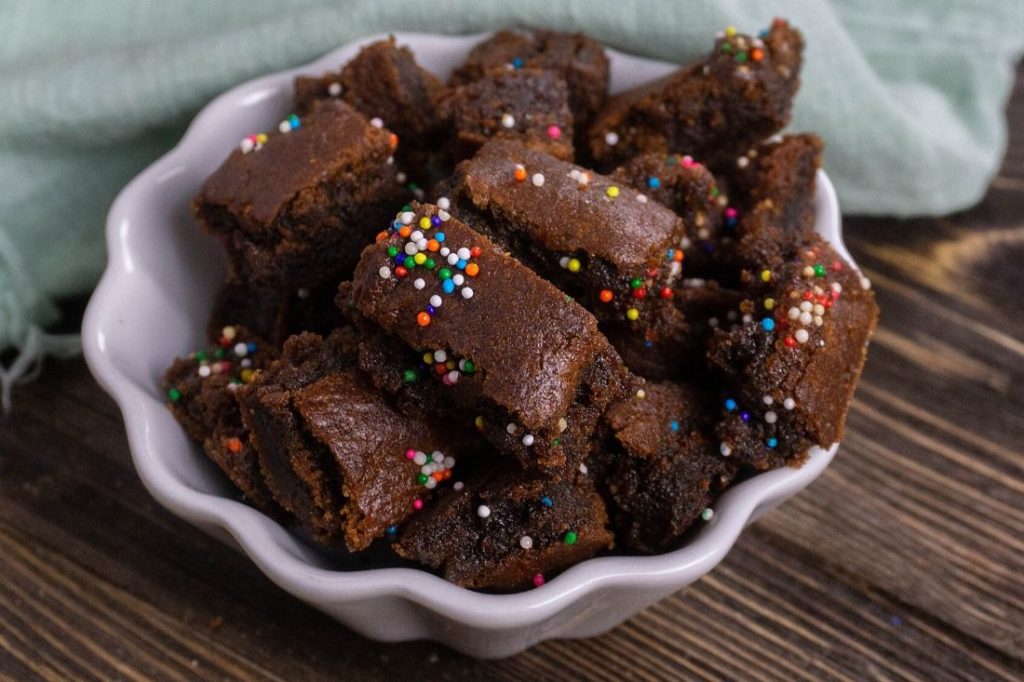 How to make Christmas Gingerbread Bites
First, mix molasses, dark brown sugar, and spices in a bowl of a kitchenaid mixer with the paddle attachment.
Next, add in a stick and a half of butter, mix for about 1 minute. Then add in flour and baking soda, while mixing add in an egg.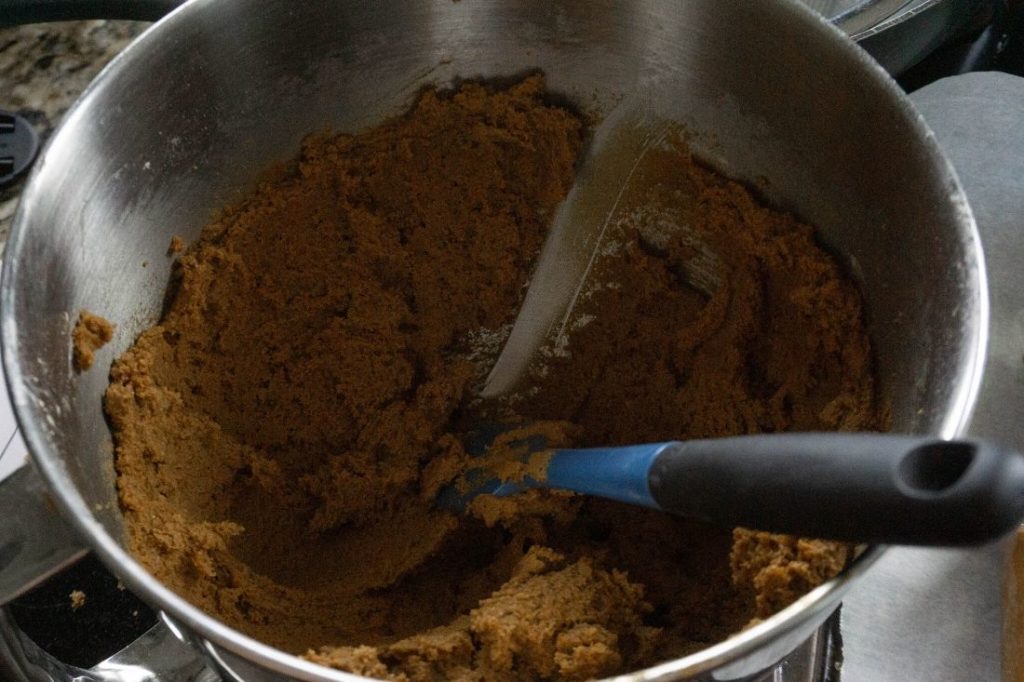 Second, oil a 9×9 pan and press dough into the pan with your hands evenly.
Next, preheat the oven to 425 degrees F. Bake for 15 to 17 minutes. Use a toothpick to see if the Christmas gingerbread cake is done. The toothpick should come out clean.
Last, sprinkle on your favorite sprinkles. Then let the gingerbread cool. Move from the pan and cut into bite size pieces.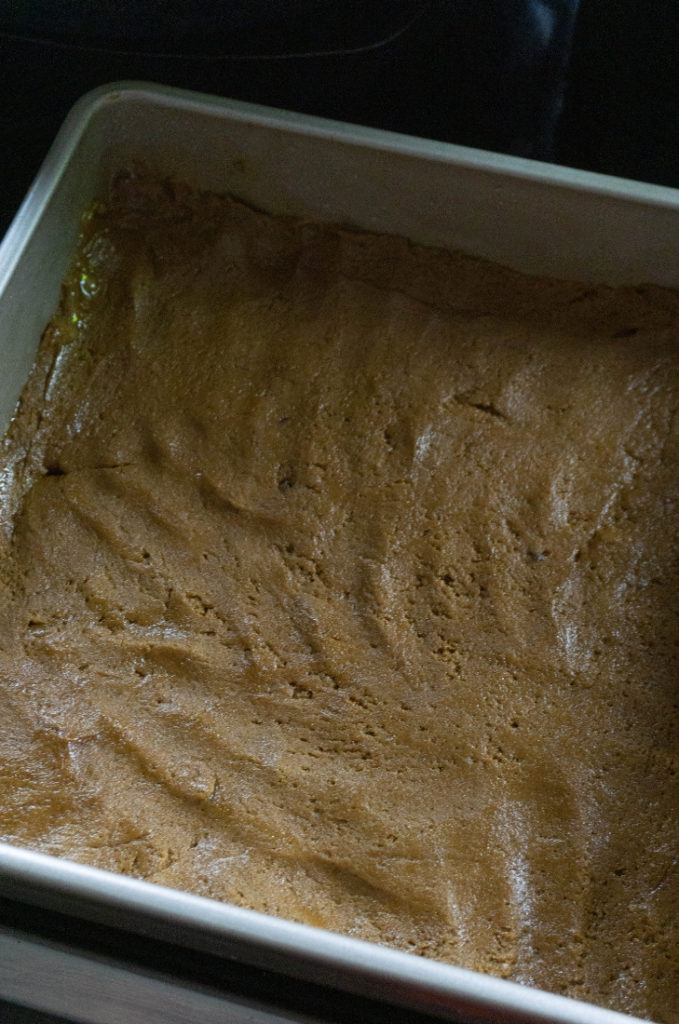 Doesn't the Christmas gingerbread cake look delicious? It's such a wonderful holiday recipe.
Plus, the gingerbread bites look perfect sitting on the dessert table along with all the other Christmas desserts.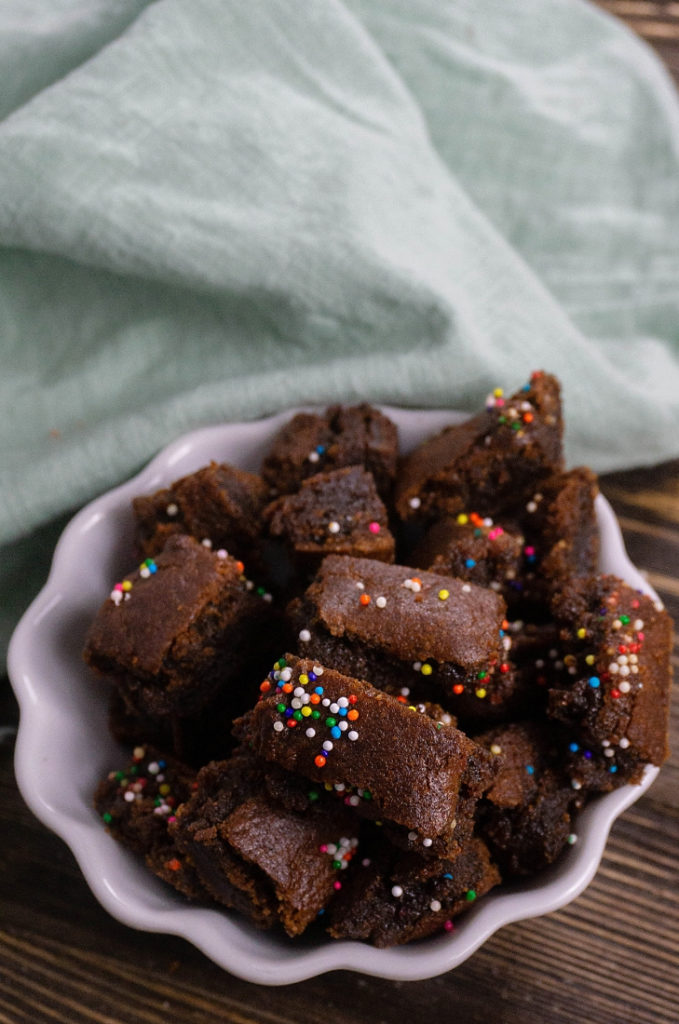 Don't forget these little morsels of goodness make an excellent edible Christmas gift packaged in an adorable, festive tin.
Perfect for giving to teachers, neighbors, and the mailman. Also, to the UPS drivers, that deliver all your Amazon packages.
More Holiday Confections
pin me