These No Bake Melting Snowman Cookies make a cute and simple treat or activity for kids. Kids can help decorate these snowmen along with frosting the cookies.
Additionally, this would make a great edible gift packed in a cookie box. It also makes an adorable dessert for kids classroom Christmas parties. Hence it's a great winter or snow day activity.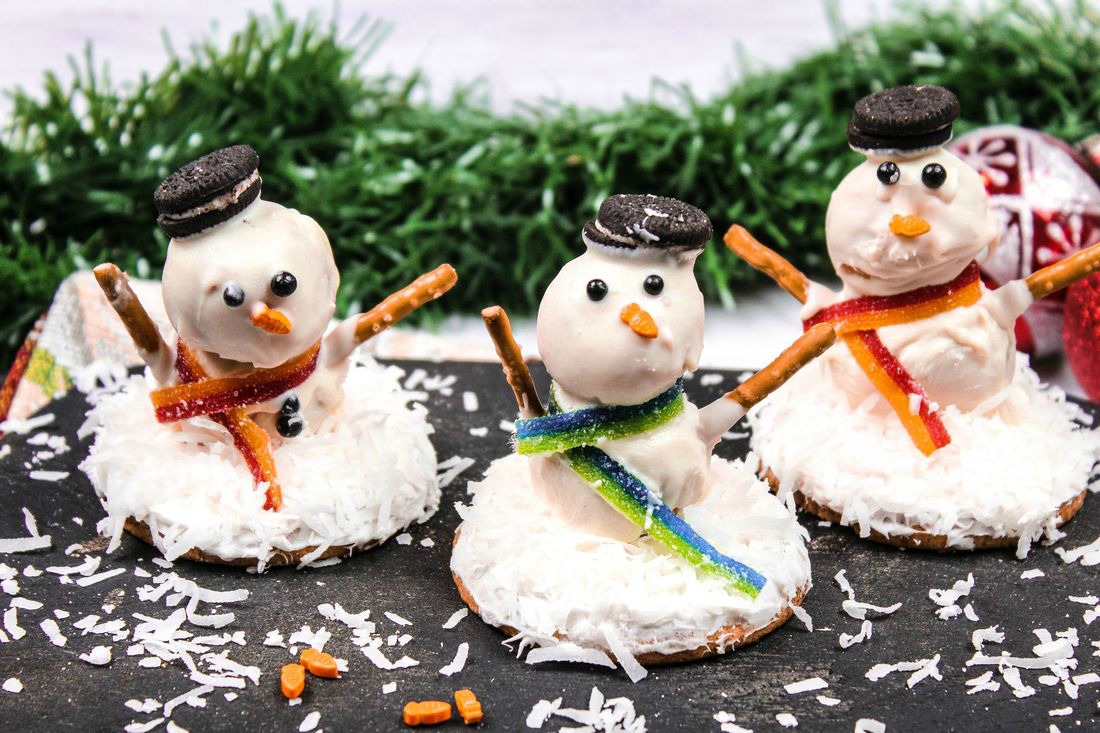 This is the perfect activity to keep kids busy when they're out of school for the holidays.
These are pretty easy to put together using Oreo cookies and donuts which makes this recipe a no bake recipe.
Additionally, these no bake cookies are made with white chocolate chips and frosting.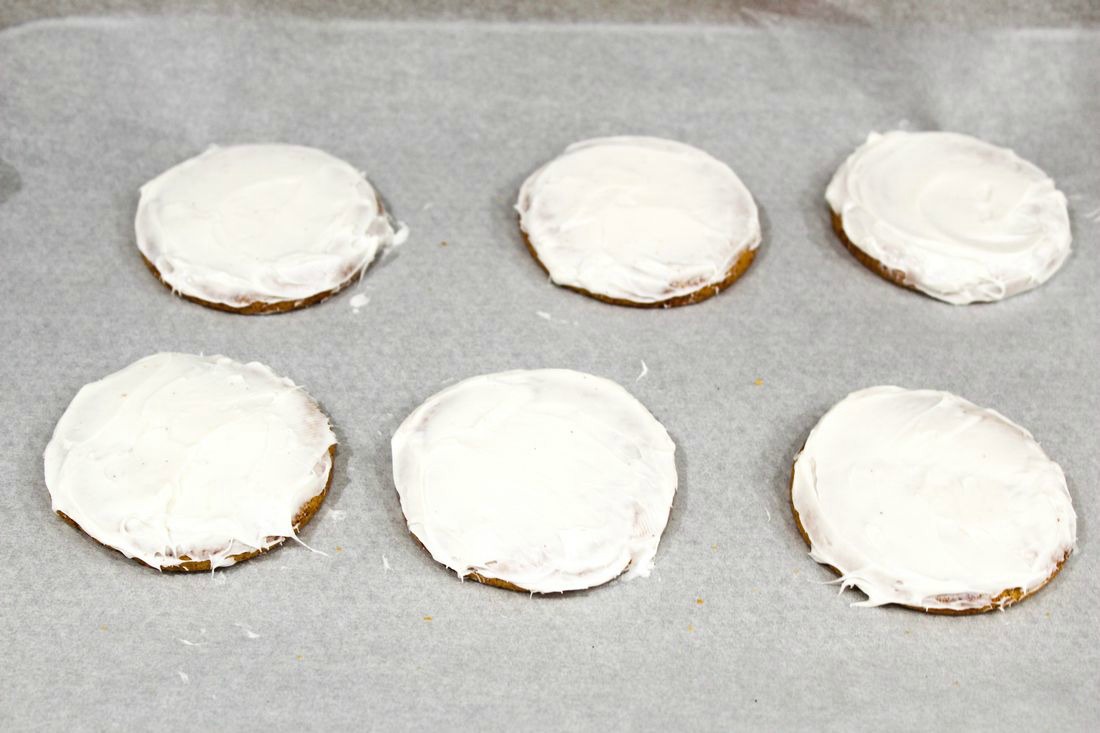 The addition of the coconut make the melting snowman look like he/she is set in snow.
To decorate the snowman we used airheads and sprinkles. For example, we used the airhead extremes to make an adorable scarf.
Therefore you can decorate your snowman however you would like.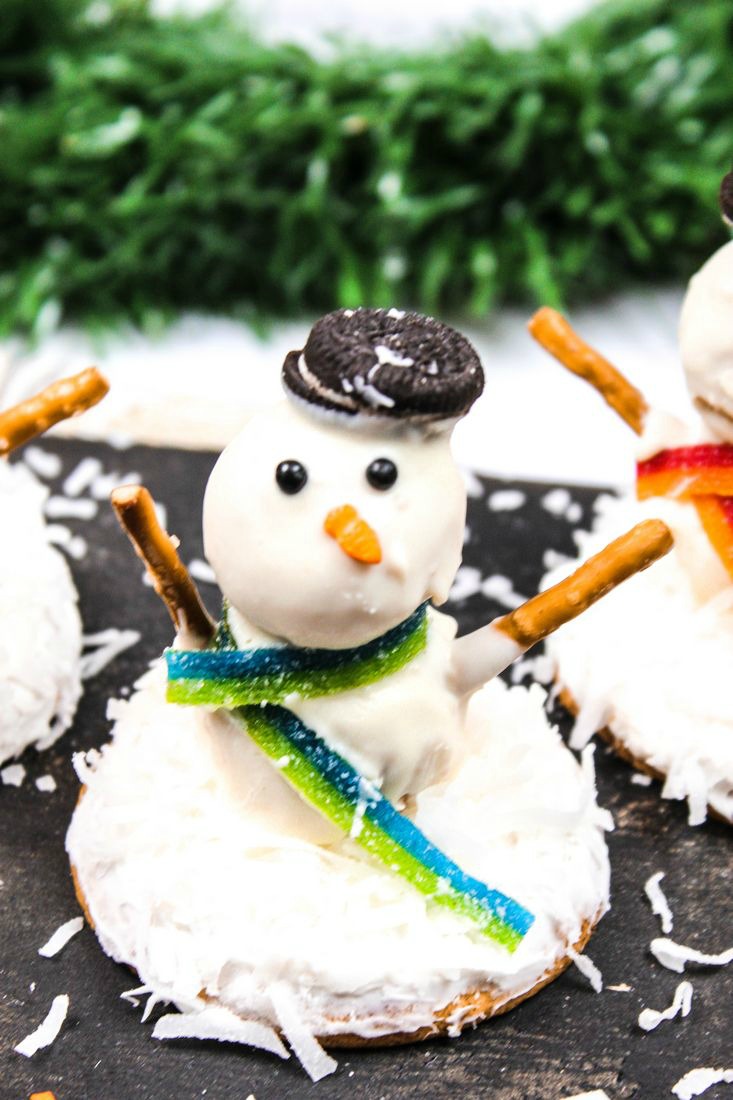 Hence, it's super easy to be as creative as you would like with these. The snowman were so cute we didn't want to eat them.
However, they are so sweet and tasty that you'll want to share them with friends and family.
Therefore, with a cookie box you can set these into it and top it with an adorable bow for an easy holiday gift.
We hope you love these No Bake Melting Snowman Cookies! They're super fun to decorate and kids love choosing how to decorate their own snow girl or snow boy.
You might also like my:
Print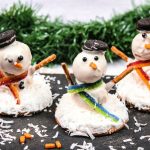 No Bake Melting Snowman Cookies
---
Author:

Kim Seghers

Prep Time:

20 Minutes

Total Time:

20 Minutes

Yield:

6 Cookies
Description
No Bake Melting Snowman Cookies are perfectly adorable for holiday treats.
---
Ingredients
12 donut holes

1 (12 oz. bag) classic white chocolate baking chips

6 pretzel sticks broken in half

Wilton cookie ball decoration for snowmen (found at Walmart)

6 mini oreo cookies

Airheads  Extremes candy (3 pieces cut into 6 long strips)

white frosting

6 round cookies ( I use snickerdoodle cookies)

sweetened Baker's Angel Flake coconut

cookie sheet lined with parchment paper
---
Instructions
1. Melt chocolate in glass microwaveable bowl on 30 second intervals until candy completely melts, stirring between each cook time. (takes about 60 seconds)
2. First step : dip a donut hole into the chocolate and set on the cookie sheet lined with parchment paper. Make sure to let access chocolate drip off into the bowl. Second step: repeat the first step but, this time place the second donut hole on top of the first donut hole covered in chocolate. Hold it in place until the chocolate hardens a little.
3. Wrap a piece of airheads around the snowman between the first and second donut hole to form a scarf. Do this while the chocolate is still a little wet.
4. Dip one side of the oreo cookie  into the white chocolate then place on the top donut hole for the Snowman's hat.
5. Dip one end of a wooden skewer into the white chocolate and put a dap chocolate on the eyes, then put them on the snowman. Repeat this step for the nose and buttons.
6. Roll a piece of aluminum foil into a ball. Next, dip a piece of pretzel into the white chocolate and place onto one side of the snowman to make his arm. Using the foil to prop up the pretzel arm. Repeat this step for the second arm. Place the snowman in the fridge to hardened. Remove foil once chocolate hardeneds and pretzel arms stay in place.
7. Repeat 1-6 until all the snowmen are decorated.
8. Once all the snowmen are decorated and the chocolate has hardened, frost the big round cookies and set a snowman on each. Sprinkle shredded coconut on each cookie around the bottom of the snowmen. Note- Eat immediately or place back into the fridge until ready to eat or serve. Please remove the small candies on the snowmen before giving to young children.
Category:

Cookies

Method:

No Bake

Cuisine:

American
Keywords: Cookies, Snowman
Pin Me: