Here are some fantastic tips for hosting a cookie exchange party. These tips will ensure that you'll host the holiday cookie party like a pro!
What could be better than baked homemade cookies during the festive season?
As much as I enjoy baking fresh batches of different cookies during this time of year, I equally love receiving cookies that my friends and family have made themselves.
I know a lot of people feel the same way, which is why cookie exchange parties have become a popular way of celebrating the holiday season.
The concept of a cookie exchange party is pretty simple.
You gather your friends on any given day leading up to Christmas, each having baked one type of cookie.
And yup, you guessed right…you exchange the cookies amongst each other.
By the time the party's over, you get to go home with a delicious assortment of cookies.
Which will hopefully see you in the new year! There's no judgment here if they don't.
Now, although hosting a cookie exchange party is reasonably straight forward. There are a few things that you should keep in mind.
Especially, to ensure that your party is a success and enjoyed by your friends.
Choose a Suitable Date
As the countdown to Christmas draws closer, it is going to get increasingly more challenging to secure a convenient date for most of your friends.
Realistically, we all lead pretty busy lives taking care of our families, so sending out that invitation as early as a month in advance is always advised.
The actual date you set will also need to be near enough to Christmas day.
This will ensure that the cookies exchanged remain fresh for enjoying over the holiday.
Be Mindful of the Amount of Friends You Invite
Tempting as it may be to invite hoards of people to your cookie exchange party, you will need to remember that you need to bake enough cookies for each person to take away with them.
Also, the same will go for your guests.
And because this party primarily revolves around the number of guests present, you will want to secure their attendance as soon as possible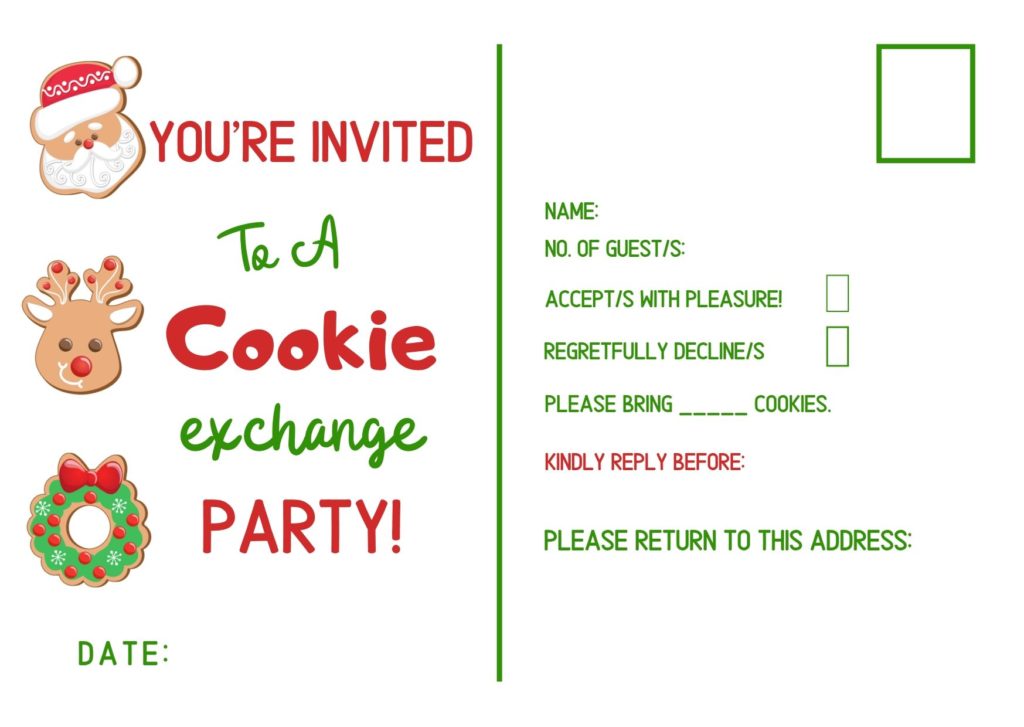 Download and print INVITE /RSVP Postcard on cardstock. Send to everyone you want to invite to your Christmas cookie swap. Find printable below.
Set Party Rules for a Christmas Cookie Swap
It can be quite disappointing if you have spent a considerable amount of effort on baking and decorating your homemade cookies.
Especially, if one of your guests brings a simple store-bought packet of cookies to the cookie swap.
If exchanging homemade cookies is what you are going for, then make sure to communicate this to your friends.
This way everyone knows how to reciprocate appropriately.
I always lean towards homemade cookies as it encourages originality and creativity!
Inform Your Guests How Many Cookies To Bring
Your event will involve sampling and enjoying cookies at the party, as well as taking enough home for each guest to share with their families.
Furthermore for this reason, it's essential that your guests know how many to bring.
For example, if you have 12 guests attending, then each guest should bring 13 or 14 dozen of one type of cookie.
This will ensure each guest can exchange 12 of their cookies with another guest.
Also, this allows an additional dozen cookies for people to eat at the party.
Pro Tip
It's always advisable to ask guests to avoid using nuts in their cookie recipes.
You never know who may be allergic, including their family members, that they will be sharing the cookies with when they get home from your party.
Prepare For The Cookie Exchange Party
Here are some things you can do to prepare for a fun and successful cookie exchange party:
Ask your guests for an electronic copy of their recipes beforehand.
Doing this will ensure that no one brings the same cookie as well as having delicious recipes that you can give to your guests for future use.
Prepare an area in your home with cookie packages so that your guests can easily take their cookies home.
If you feel creative, why not add some party favors that your guests can take with them, such as a cute cookie cutter.
Decorate a table where your guests can place their cookies for taking creative pictures if you have some festive backdrops for the occasion, even better!
Because you are going to be baking a considerable amount of cookies, try negotiating a bulk purchase of your ingredients from your local store at a discount.
Decide whether you want your guests to dress up for the occasion- this can be a lot of fun and add to the party ambiance.
If you prepare your cookies a few days before the party, store them in the freezer – specific cookie recipes allow for this.
Additionally, make sure that you defrost them the night before the party. That way, the cookies could be at room temperature when you need them.
Get into the Christmas spirit by asking guests to bring along items for a food bank or homeless shelter.
SErve Drinks
Adding drinks to your party is always a great idea. It could be as innocent as hot chocolate, coffee, eggnog, or cold milk.
If you are feeling a little more adventurous though then bring out the wine or cocktails.
Add Some Competition With Prizes
Having a "best cookie'' competition thrown into the party mix is a great way to encourage your guests to bring their A-game, which is ultimately a win for all involved.
You could come up with various judging criteria and provide voting ballots to your guests.
And, at the end of it, someone walks away with a prize such as a cookbook or cute baking accessories.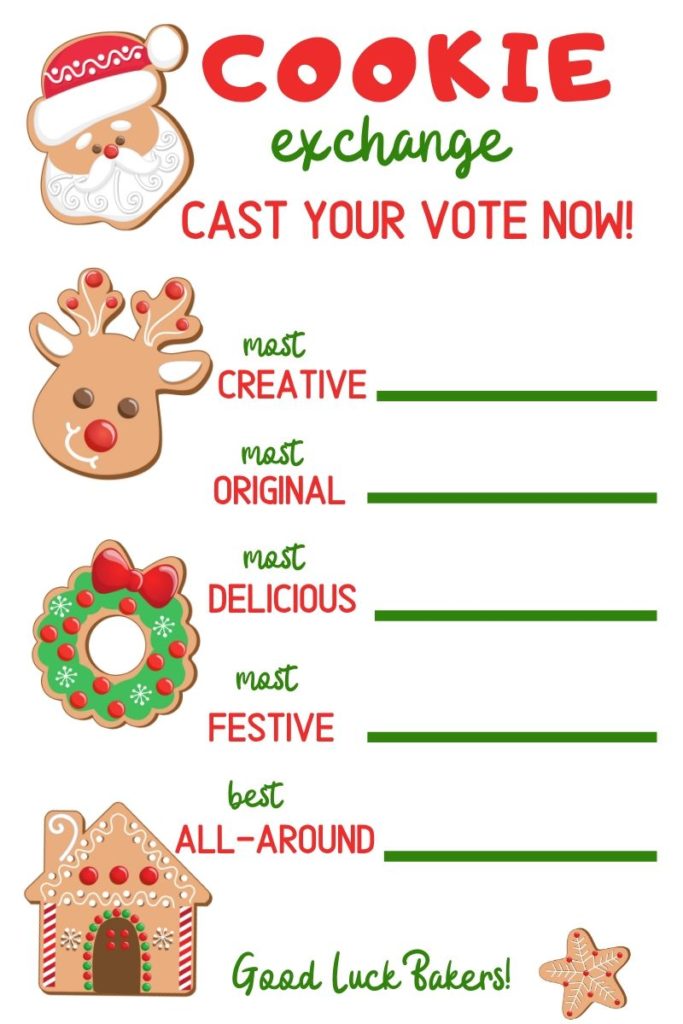 Download and print out many as the Cookie Exchange voting ballots you need for your cookie exchange party. FOR PERSONAL USE ONLY!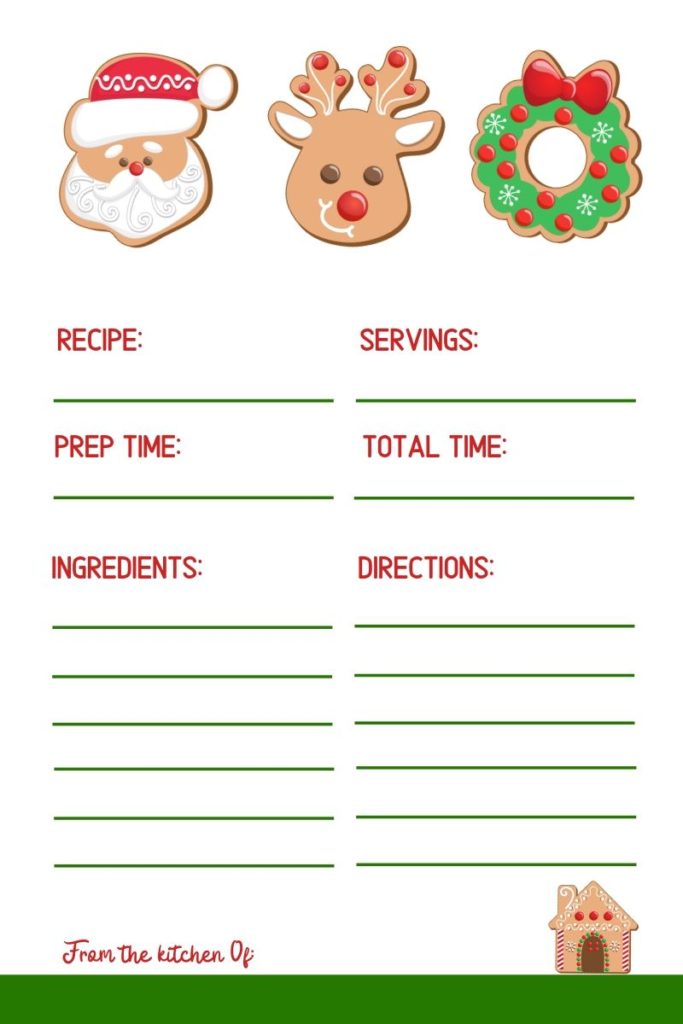 Download and print out as many of the recipe cards you need on cardstock. For Personal Use Only!
And, PRINT INVITE/RSVP Postcard. Best to use cardstock. FOR PERSONAL USE ONLY
A Recipe for A Scrumptious Cookie Exchange Party
I hope these Tips for Hosting a Cookie Exchange Party helps you host a fun and successful cookie swap party.
Most importantly is to make the party your own by adding in your creative style and preferences.
Build upon the tips that I've provided you.
And be sure to share any additional tips for hosting a cookie exchange party that you have from previous cookie exchange parties that you have hosted or attended.
Pin Me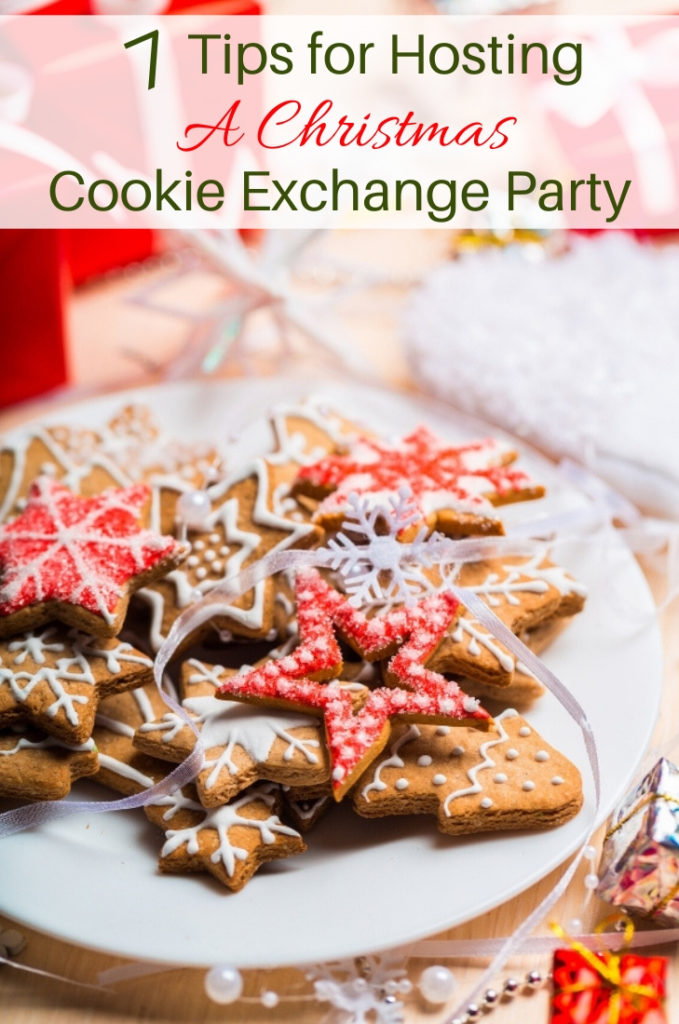 Also Check out these Christmas Cookies