Learn how to make the Best Potato Salad ever with this easy recipe. This popular potato salad is a staple in most Southern homes. It's just like the potato recipe my grandmother use to make. 
My grandma would cook all her food from scratch. I especially loved her potato salad dish. I use to stand on a step stool next to her while she peeled, diced, and boiled the potatoes.
Sometimes she would give me a few pieces of the potatoes sprinkled with salt to eat before she mixed all the ingredients in a bowl.
After my grandmother finished preparing the dish, she would place it on the kitchen table with the other food she had cooked, for us to eat.
Sadly, years ago my grandmother passed away. Fortunately, I learned how to make her potato salad.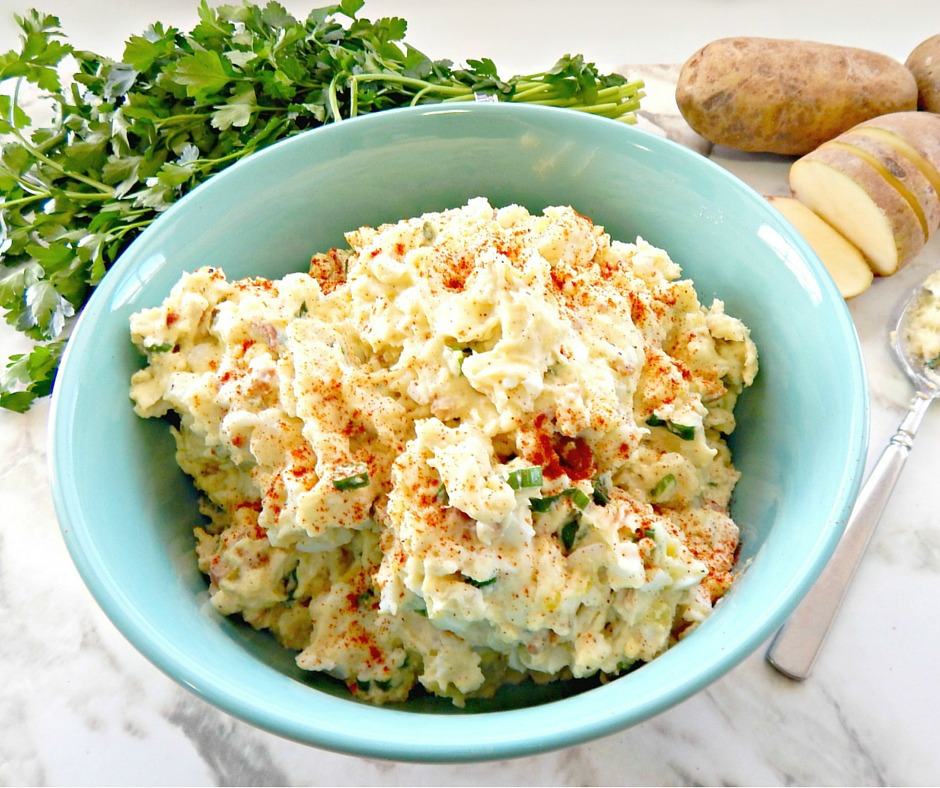 Usually, I make this side dish the night before I need it. I think the tater salad tastes better cold rather than room temperature.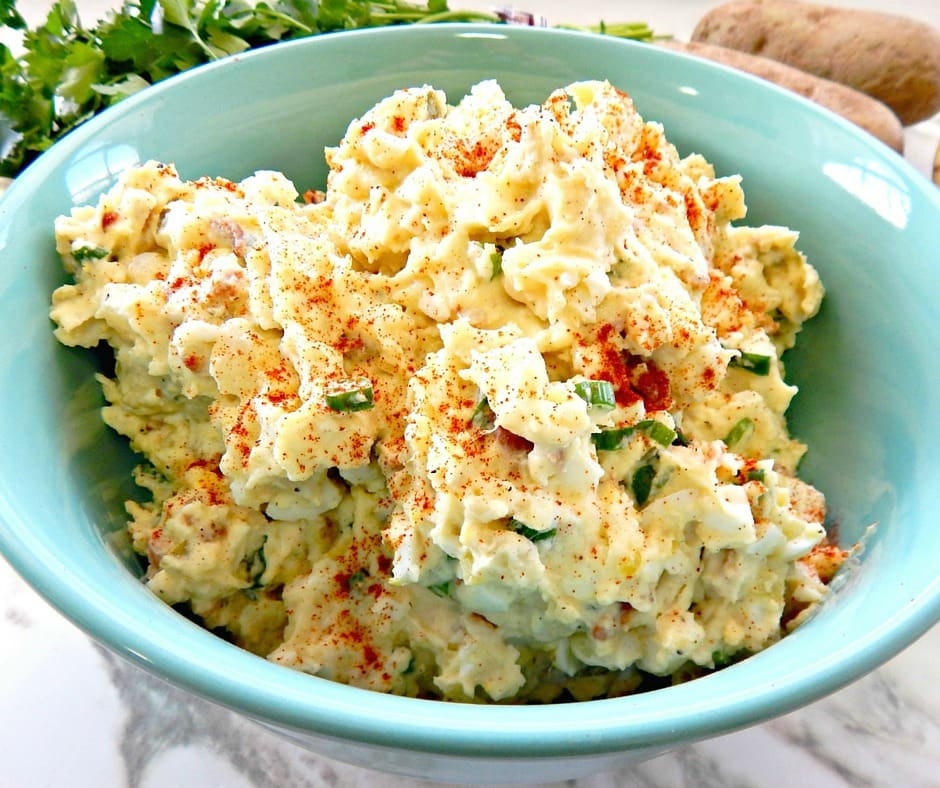 What do you need to make potato salad?
You need the following ingredients to make this favorite Southern side dish. 
4-5 russet potatoes
5 hard boiled eggs
3/4 cup mayonnaise
8 slices fried & crumbled bacon
1/2 cup diced green onions
1/2 cup dill relish
1 cap full liquid Louisiana Crawfish Crab & Shrimp Boil
smoked paprika
salt, pepper, and garlic powder
How to Make The Best Potato Salad
First, cut, peel, and dice potatoes into medium size pieces. In a medium saucepan place potatoes, cover the potatoes with water.
Second, generously put salt into the pot with the potatoes and add the cap full of liquid crab boil. Cook over medium heat until tender.
Once the potatoes cook, use a strainer to drain them.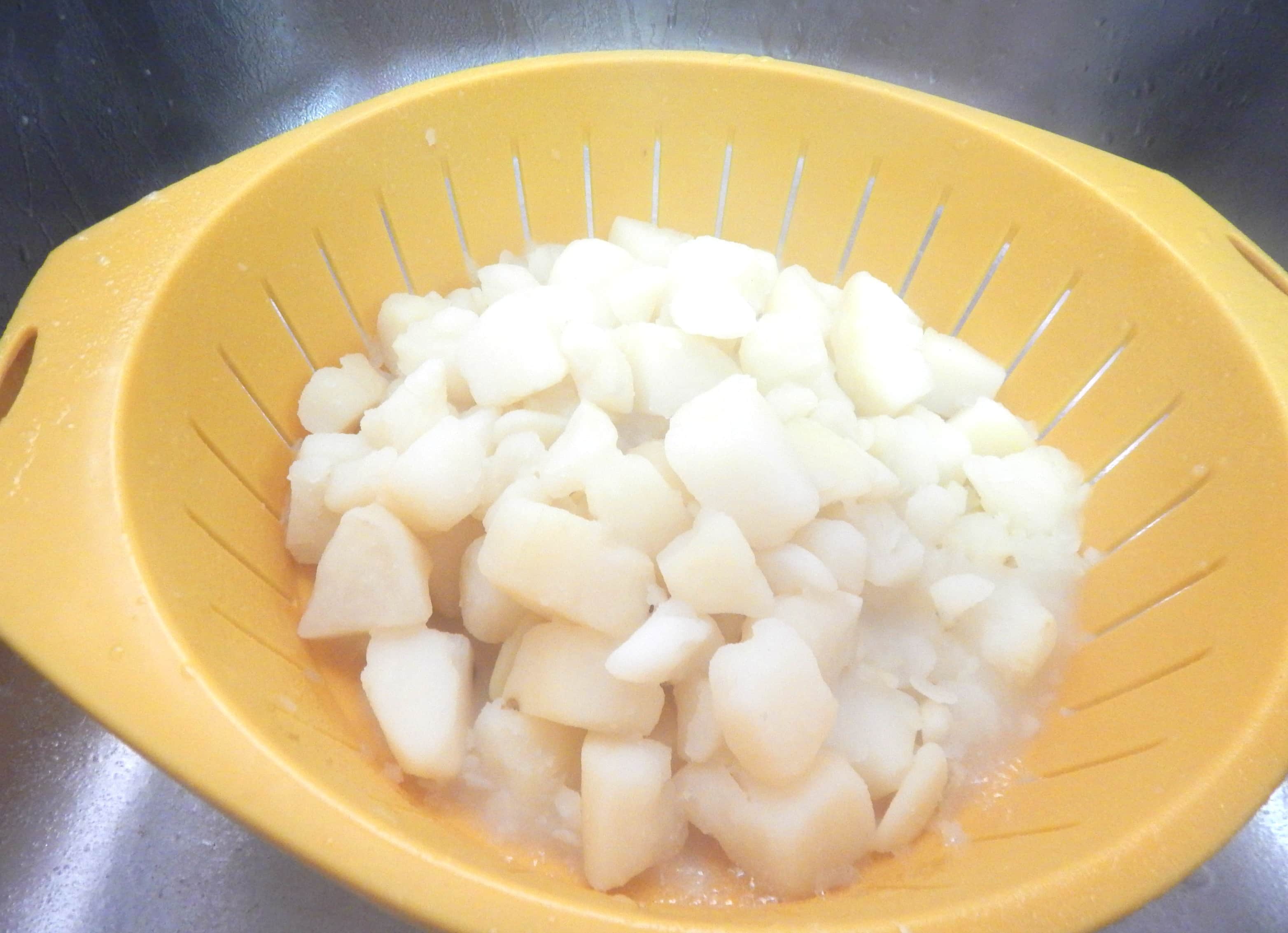 Third, in a large bowl cut and dice up the hard boiled eggs. Add the potatoes, crumbled bacon, green onions, dill relish, salt, pepper, garlic powder, and mayonnaise to the bowl with the diced eggs.
Fourth, mix all the ingredients together thoroughly.
*Kim's note- when adding the salt, pepper and garlic powder always add as much seasoning as you like.
Fifth, sprinkle as much smoked paprika you would like on top of the potato salad.
Last, place the yummy stuff in the refrigerator until you're ready to serve it.
What can you serve with the potato salad?
You could serve the potato salad as a side dish. It goes perfect with the following:
Pork
Fried Chicken
Barbeque Chicken
Fried Shrimp 
My family likes a scoop of potatoes with their gumbo.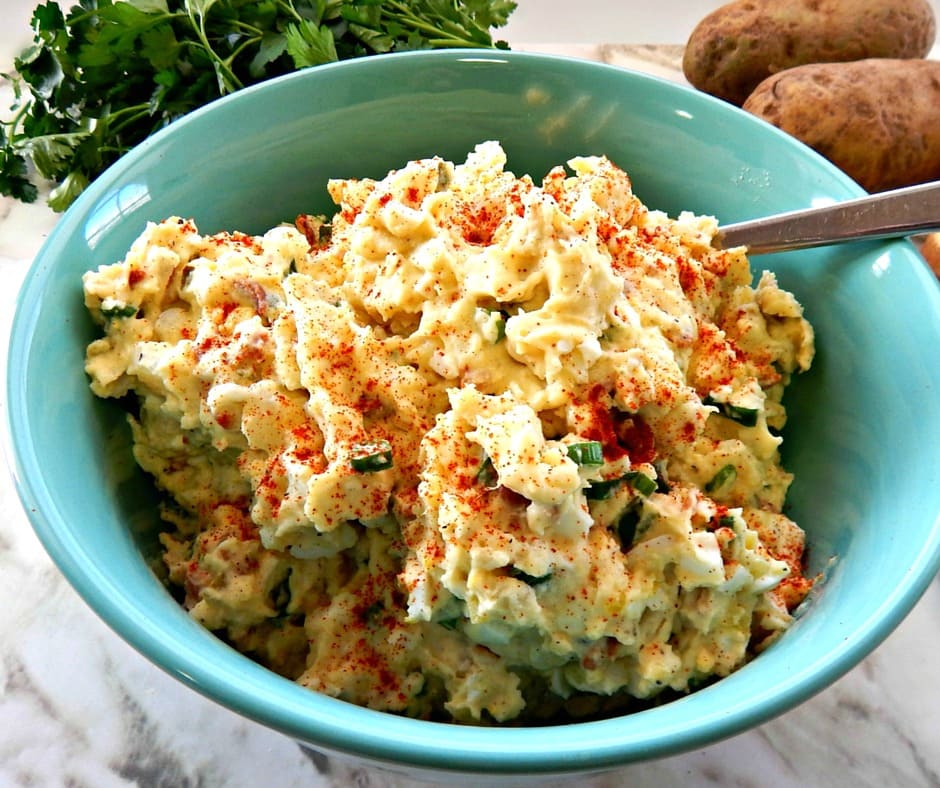 I hope you agree that this recipe is the BEST ever!
Pin