This Spicy Mango Salsa is easy to make and tastes simply delicious. It's perfect for dipping as a healthy snack or serving with your favorite fish or pork tacos.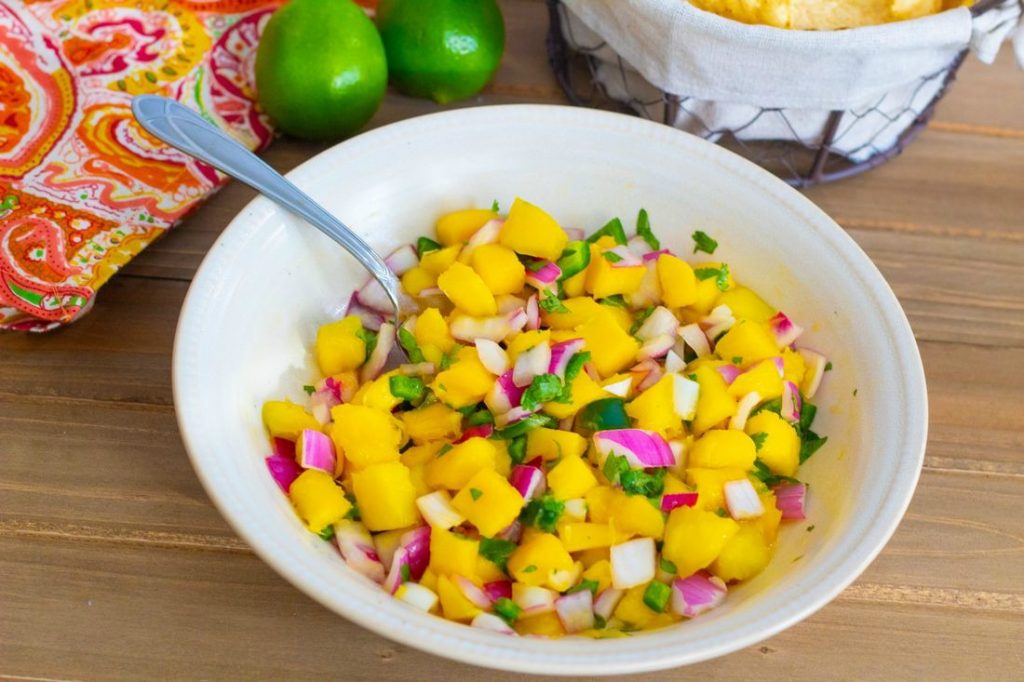 The mango salsa takes 15 minutes or less to make and only uses five ingredients. It's the perfect snack to throw together when you need something quick.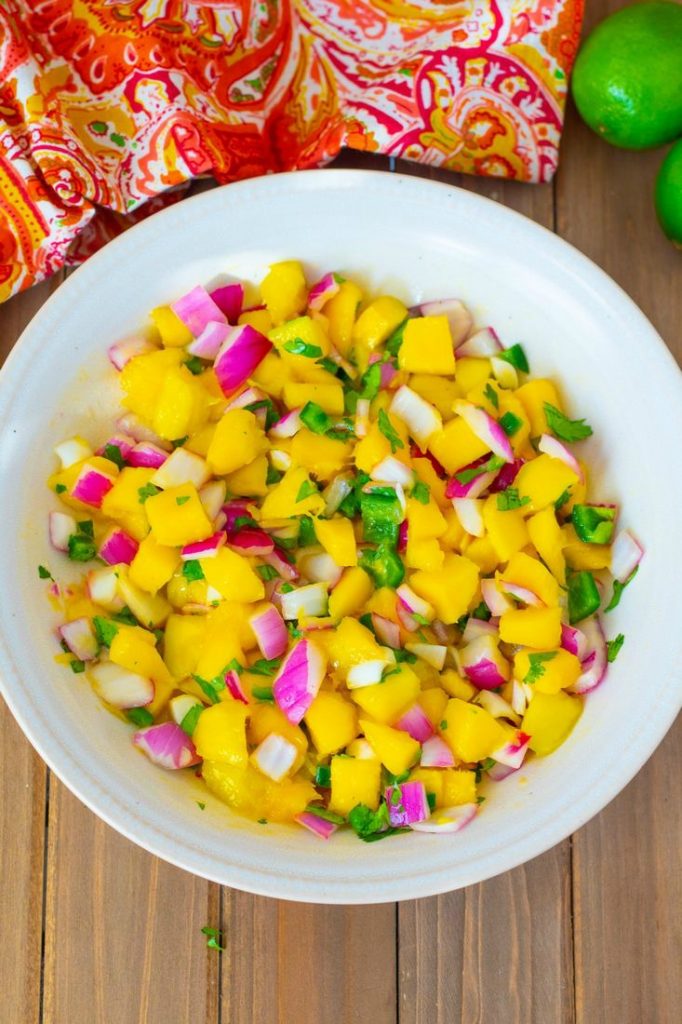 Also, the spicy mango salsa is great for serving with any kind of fish, especially Salmon for a little heat.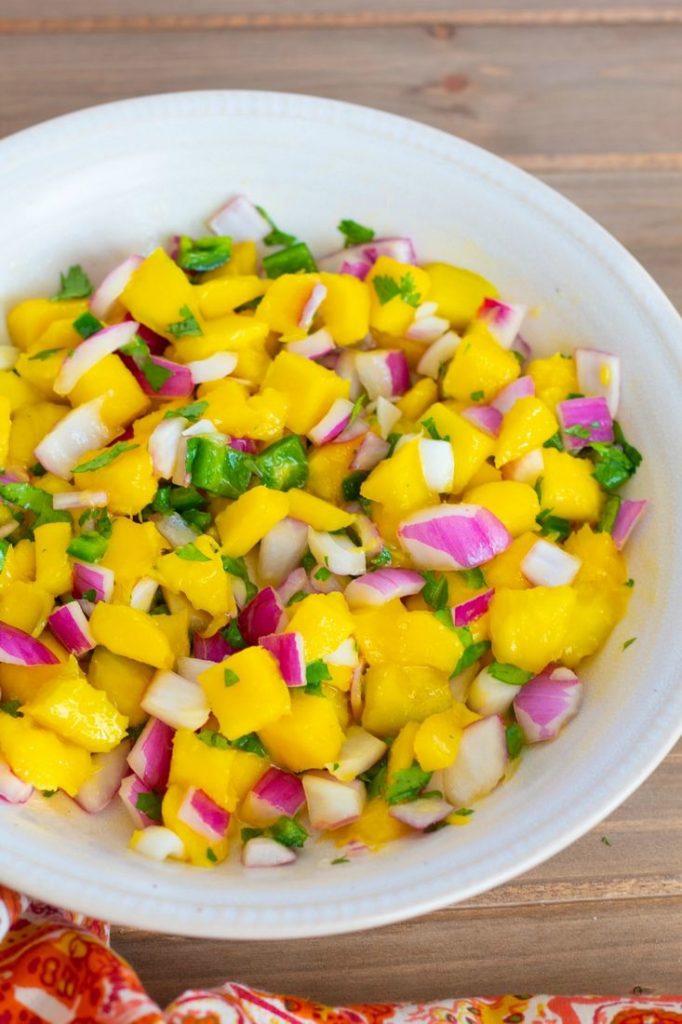 My family loves the fruity, spicy salsa with salmon or catfish tacos.
Sometimes we even add pineapples to the salsa to make it a Hawaiian mango salsa recipe.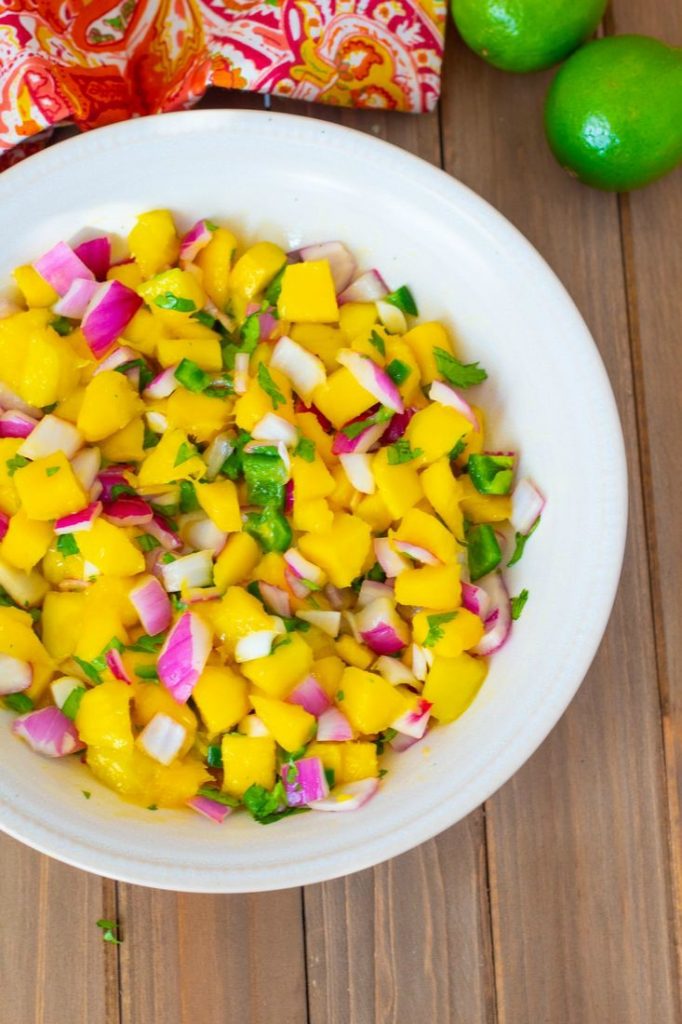 Additionally, this fresh mango salsa recipe uses ciltrano. Although there's cilantro in the salsa recipe, you can't taste it much.
All the other ingredients like the jalapeno peppers, purple onions, mango, and lime juice gives the Mango recipe such an excellent taste.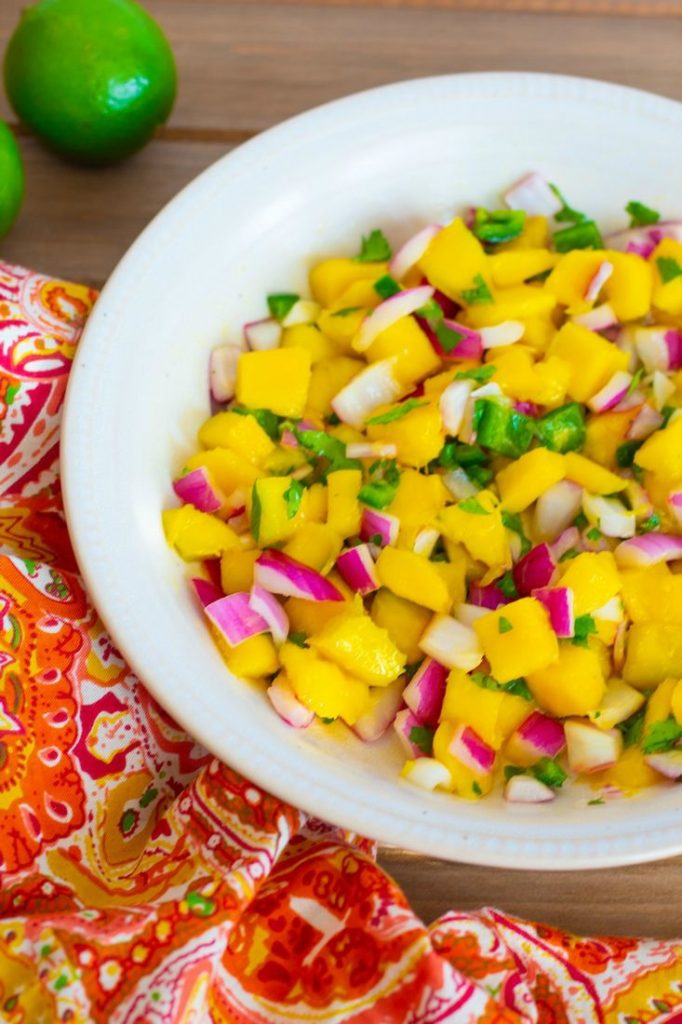 If your prefer not to use ciltrano you could use parsley instead.
You could change up this base recipe even more by adding avocados or chunks of watermelon to the recipe.
How to Make Mango Salsa
First, dice three juicy mangoes into bite size pieces and place them in a medium mixing bowl.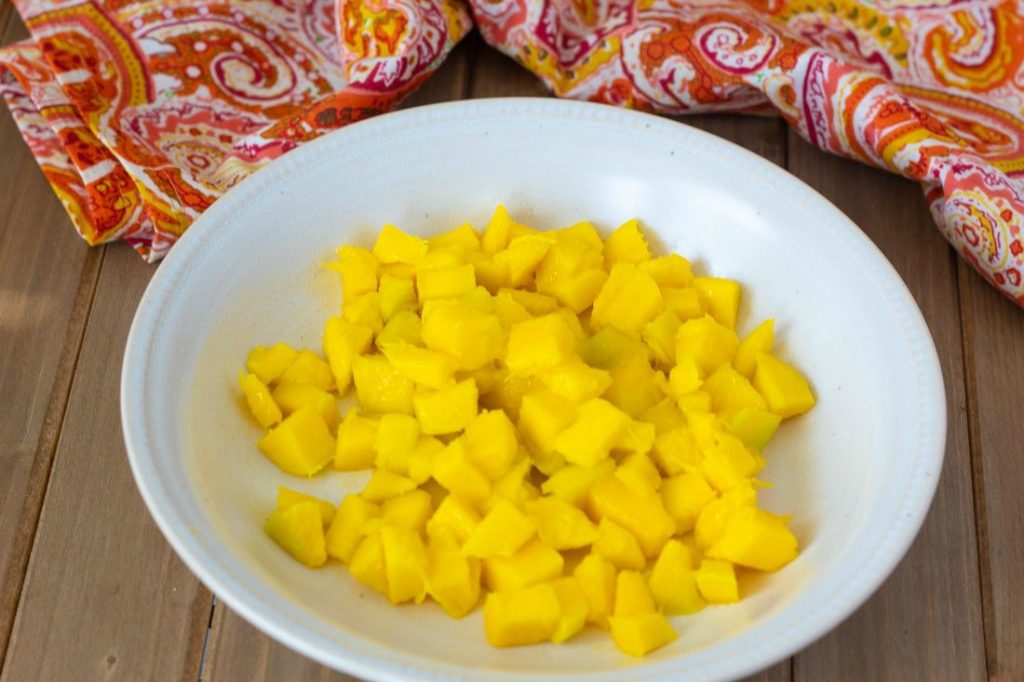 Second, diced one purple onion and place it in the bowl with the mangoes.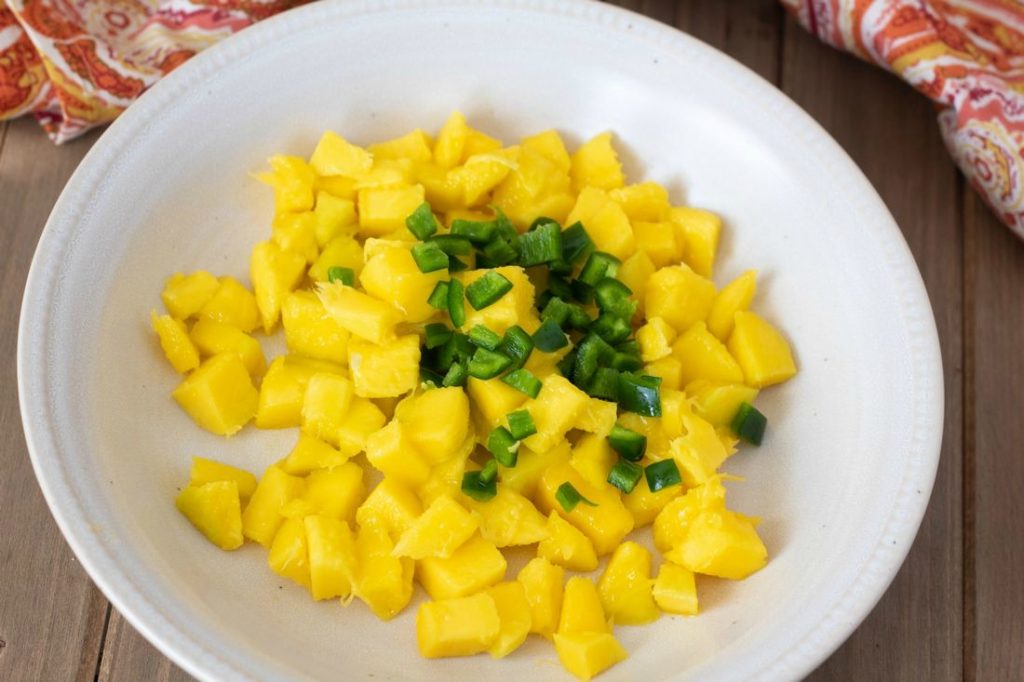 Third, chop up 1/3 cup of ciltrano and dice two jalapenos. Discard the seeds from the jalapeno peppers.
Next, add the ciltrano and diced jalapenos to the bowl with the mangoes and diced onions.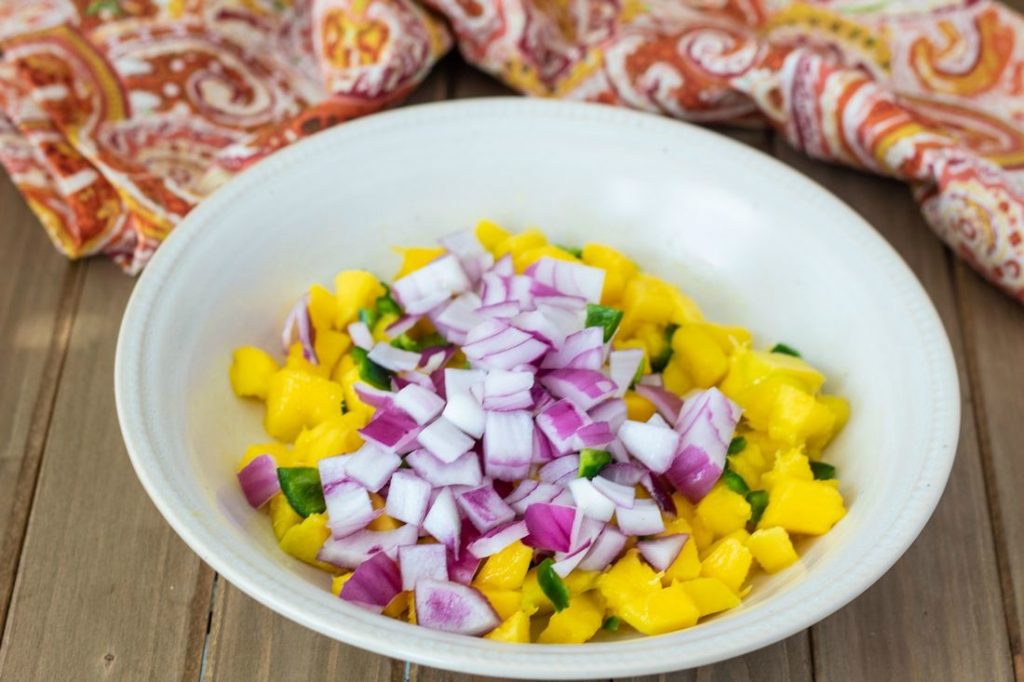 Fourth, juice two limes and drizzle the tart lime juice over the mango ingredients.
Stir the salsa and cover the bowl with saran wrap or use a bowl with a lid.
Fifth, chill the mango salsa in the fridge for at least 2-3 hours before serving.
You could also make the salsa the night before you plan on eating it.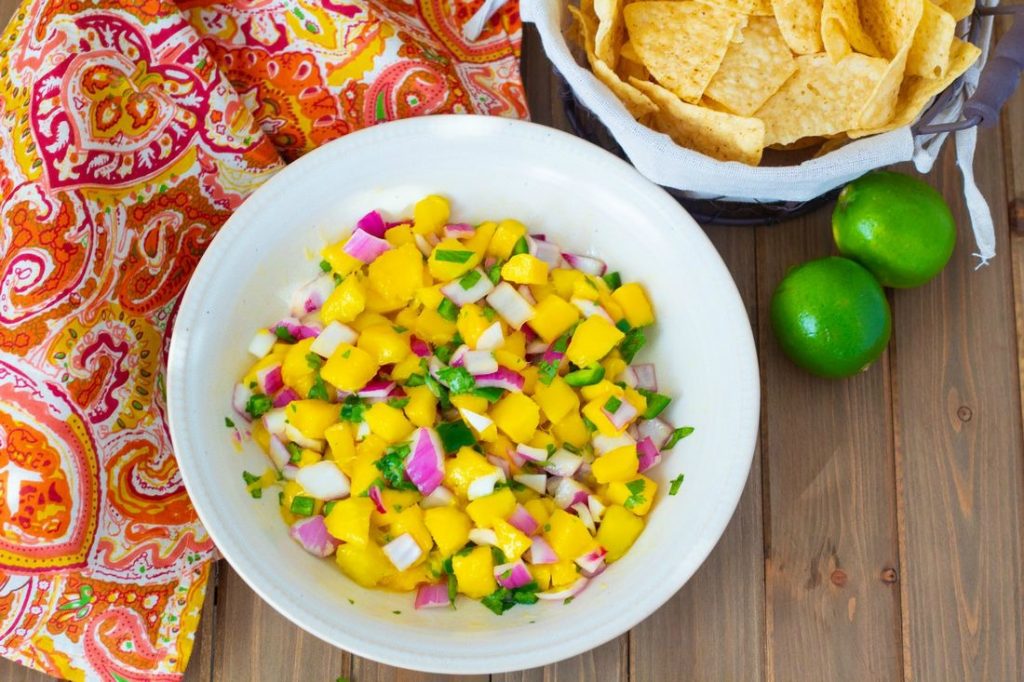 How to use Mango Salsa
You can use the mango salsa as a dipping salsa for a healthy snack or appetizer.
Also, you can use the salsa over fish or with your favorite meats as a condiment for a flavorful and spicy kick.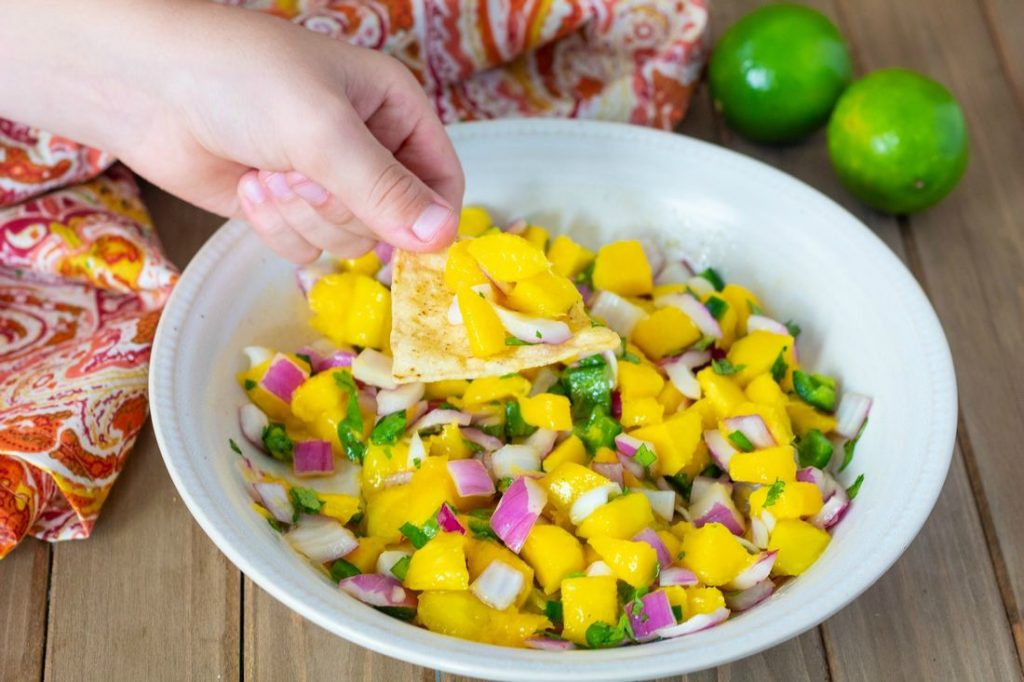 What to serve with Mango Salsa
Tortilla Chips
Pita Chips
Cinnamon Pita Chips
Pork
Salmon
Grilled Meats
Smoked Meats
Baked or Broiled Meats
Sweet Potatoes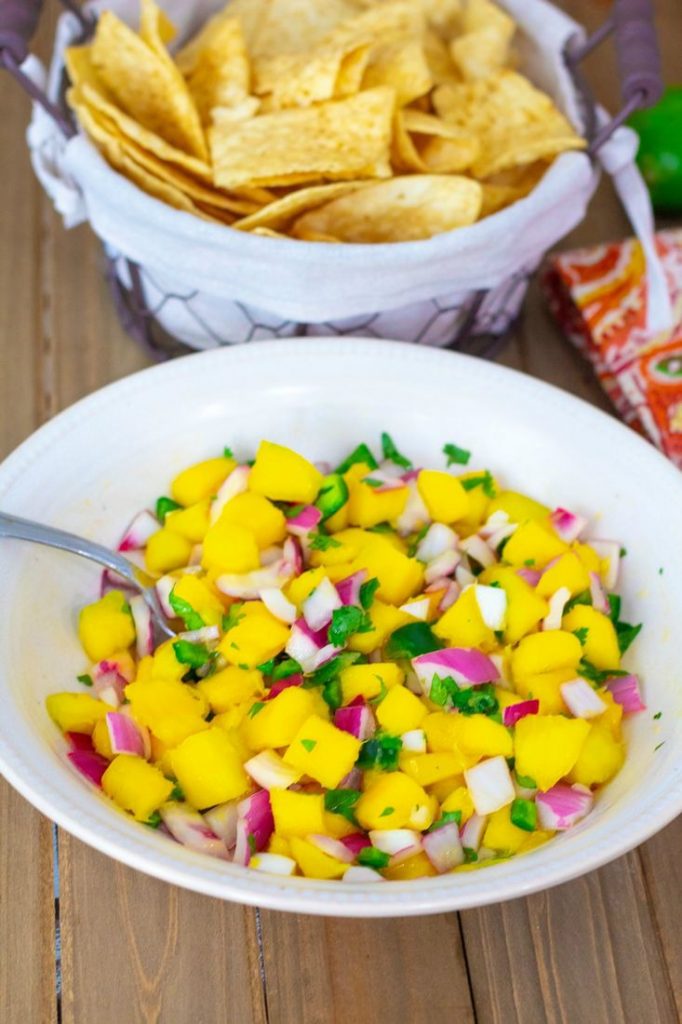 Additionally, this dip isn't just easy and delicious but, perfect for serving during the summer with your favorite cocktails by the pool.
Like my Dole Whip Margaritas or my Blue Curacao Shark Drink.
Also, check out my Homemade Tomato Salsa.
PIN ME