Here's a fun Mickey Mouse Lunch Idea Plus Free Printable for your next Disney vacation. Is your family planning a trip to Disney? Make this cute Mickey Mouse snack/lunch to take along for your kids to enjoy and print out the fun scavenger hunt.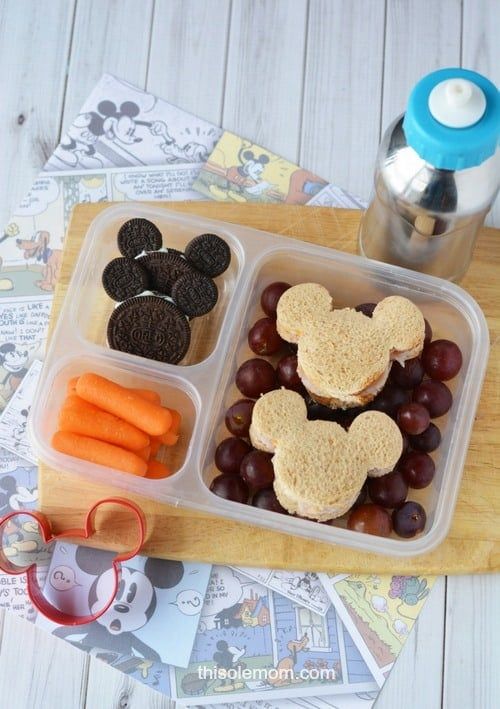 Pack your Mickey Mouse lunch in a divided food container and place it in a cooler. Your child can enjoy it for a snack in the car or while visiting the Disney Parks.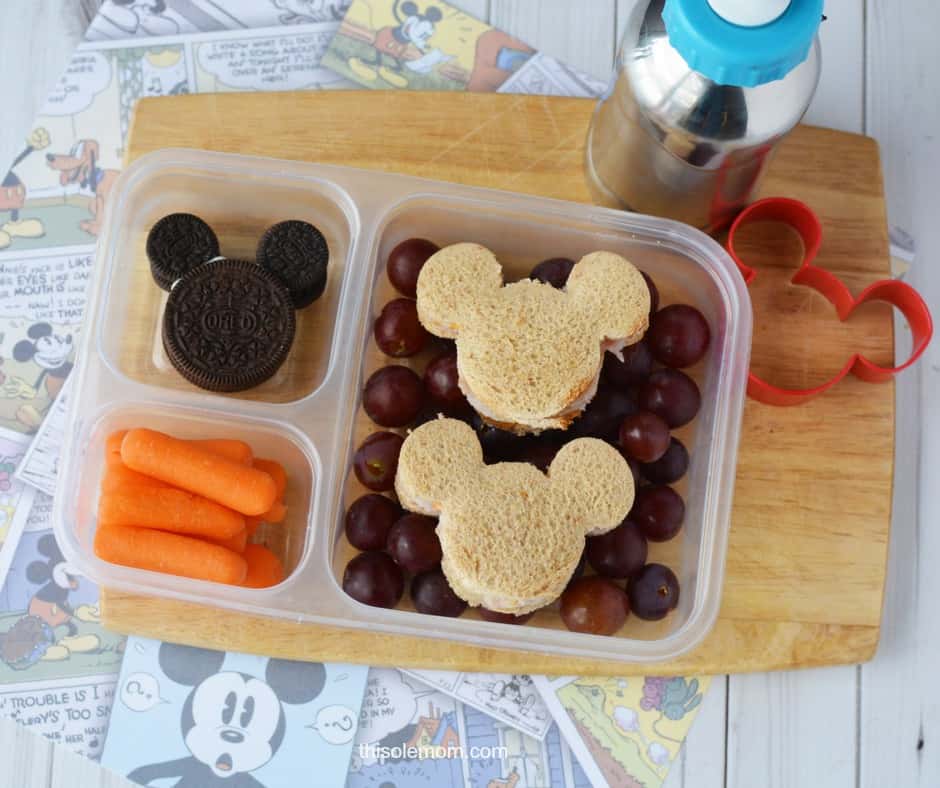 The Mickey shaped foods make lunchtime fun, and the scavenger hunt printable keep the kids entertained.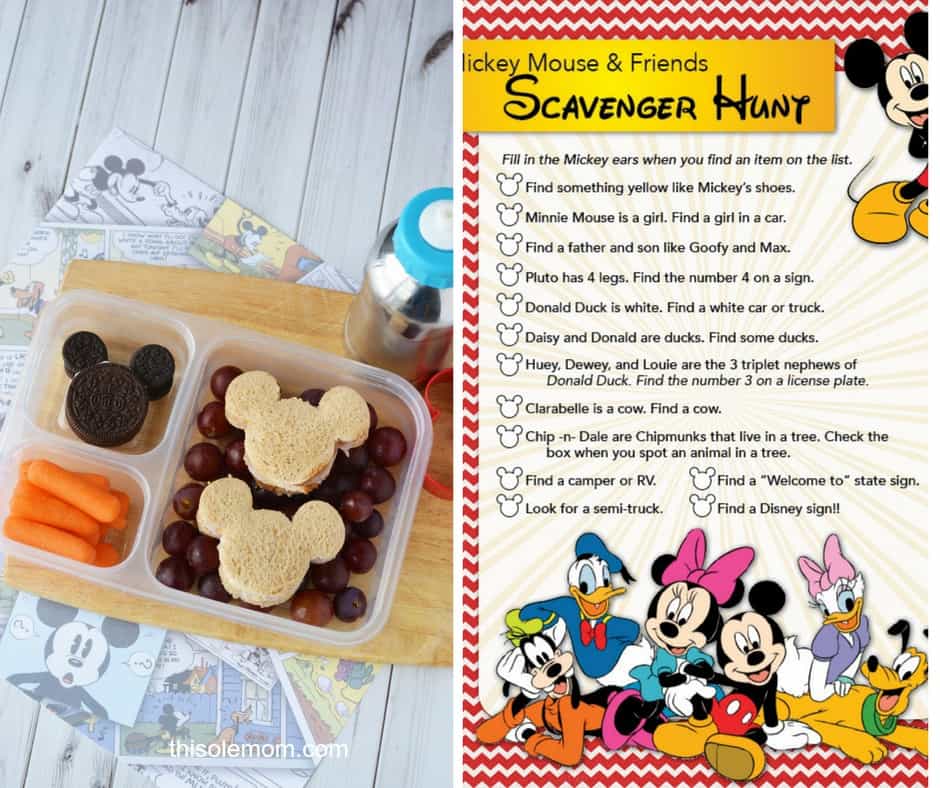 You can pack any food your children like with the Mickey sandwiches and cookies. My son enjoys grapes, carrots, and ranch for dipping his carrots.
How to make a Mickey Mouse Snack/Lunch Box
Ingredients:
*This makes one snack box
2 slices of bread
Mustard, Mayo, Ketchup, or other desired sandwich spread
Salami
Turkey or Ham
Sliced Cheese
2 large Oreos
2 small Oreos
1 tablespoons of white baking chips
Fresh Carrots
Fresh Grapes, stems removed and washed ( cut grapes in half for young children)
Mickey Mouse Cookie Cutter
Mine is metal and measures 4″ X 5″
Directions: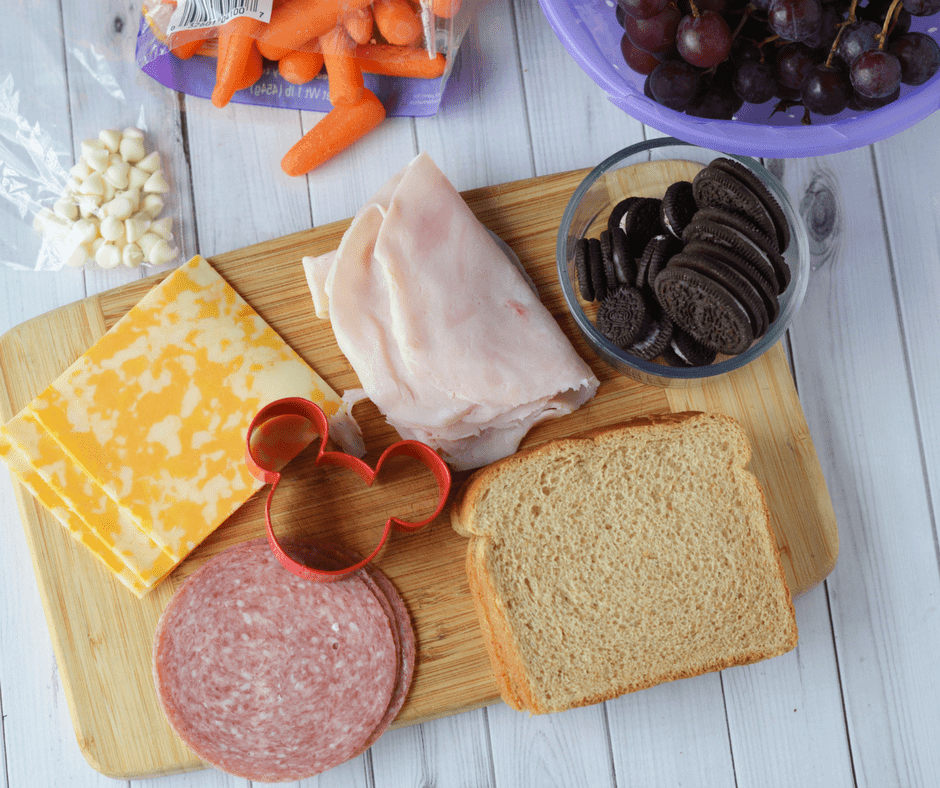 Make a sandwich with the bread, mustard, turkey, salami, and sliced cheese. Be sure to add your favorite sandwich spread as well.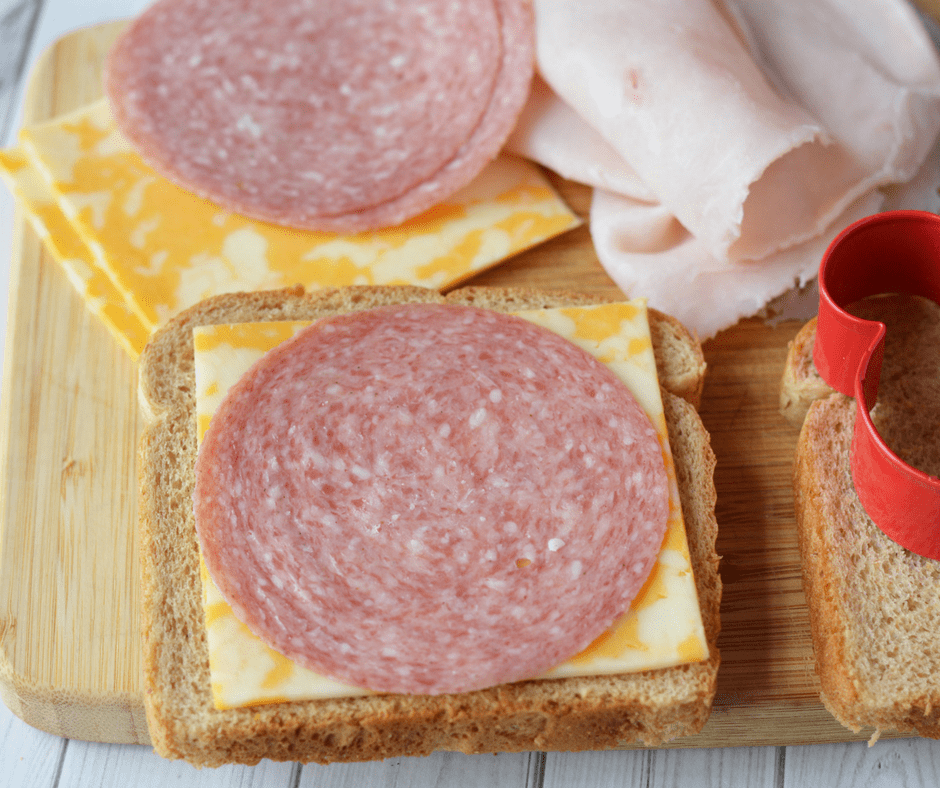 Use a cookie cutter to create two Mickey sandwiches.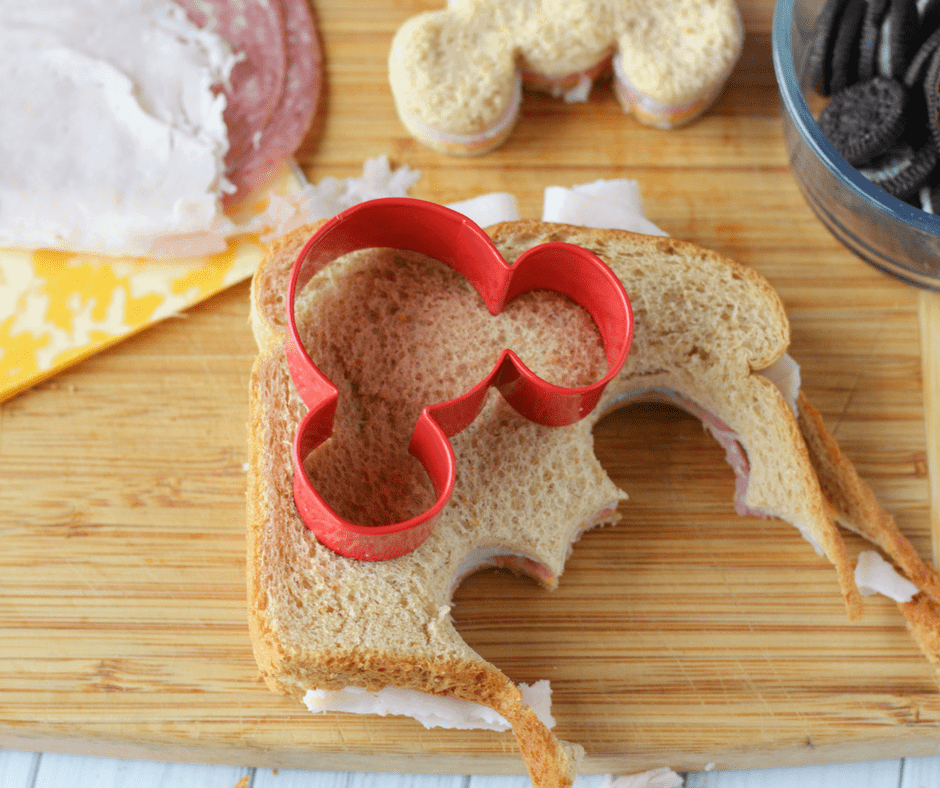 Twist apart the small Oreo cookie sandwich and remove the filling. Place baking chips into a resealable bag and microwave for 30 seconds.
Knead bag and return to the microwave for 10-15 second intervals until melted, kneading after each heating. Snip the end of the bag.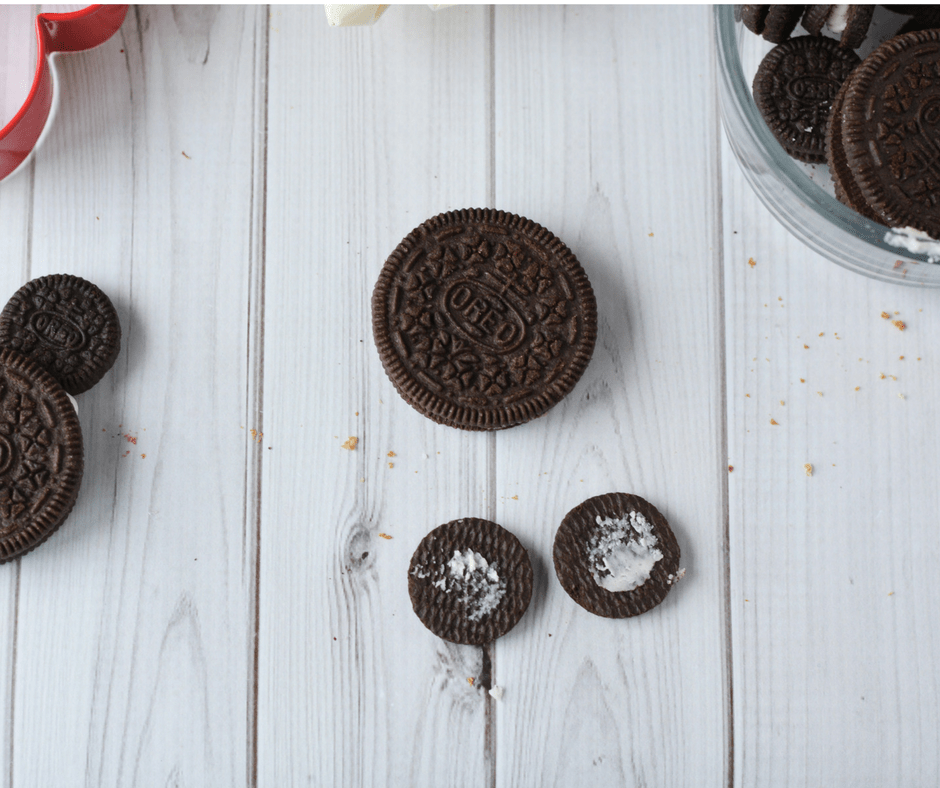 Gently squeeze white chocolate onto the large Oreo cookie and attach one mini Oreo for an ear. Repeat on the other side to create Mickey Mouse. Repeat until you have to cookies.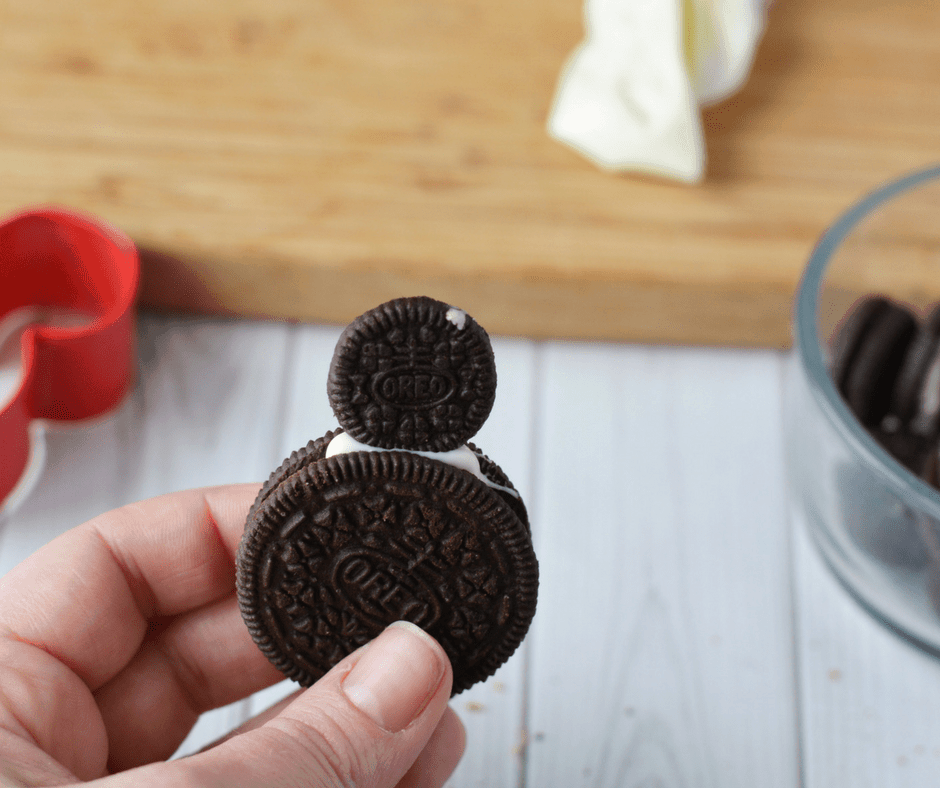 Place grapes into the bottom of the divided container and place the sandwiches on top.
Add carrots into one section and the two (2) Oreo Mickey cookies into another section.
Note – Please cut the grapes in small pieces for young children to prevent choking. And, always supervise kids when eating the grapes.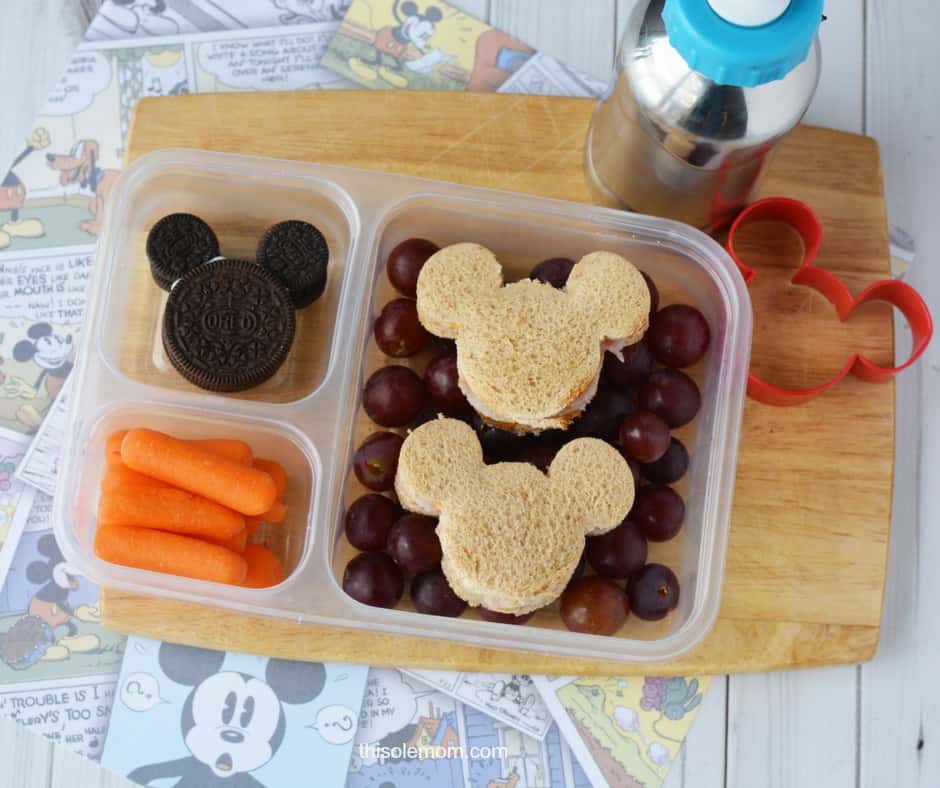 Serve the Mickey Mouse lunch/snack box with your child's favorite beverage or a bottle of water.
You can print the Mickey Mouse & Friends Scavenger Hunt below.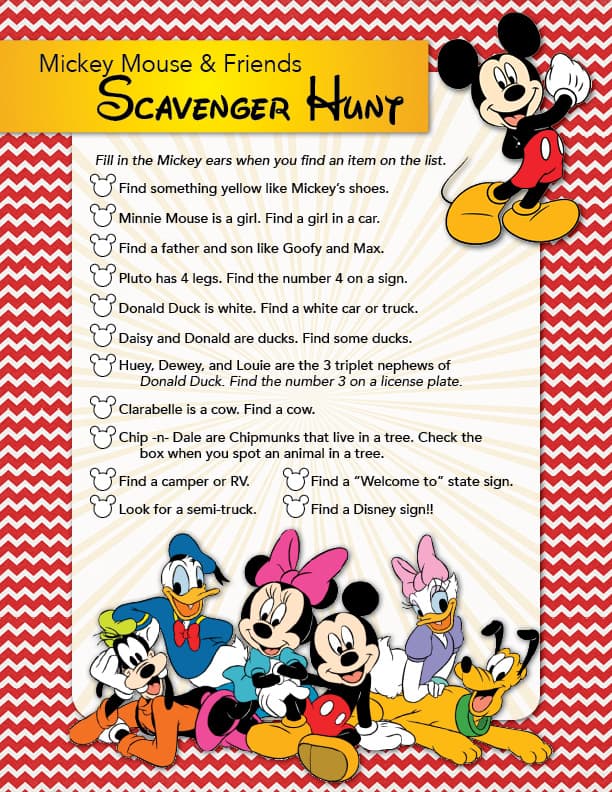 For Personal Use Only!
Print the Mickey Mouse Scavenger .
I hope your child enjoys the Mickey Mouse Lunch Idea and the Free Printable!
If you're traveling to Disney soon, have a safe trip and a great family vacation!
More Disney Stuff for you to Enjoy
Pin Mickey Mouse Lunch Idea Plus Free Printable