These Mickey Mouse Inspired Birthday Party Ideas are inspired by the iconic Disney Mickey Mouse. If your kids love Mickey Mouse you'll love these ideas to use for their next Mickey Mouse theme birthday party!
I figured I would throw my little boy a Mickey Mouse party for his birthday since he loves the Mickey Mouse and his pals.
Here're a few items I made for my son's Mickey themed birthday party. You could easily make them, too.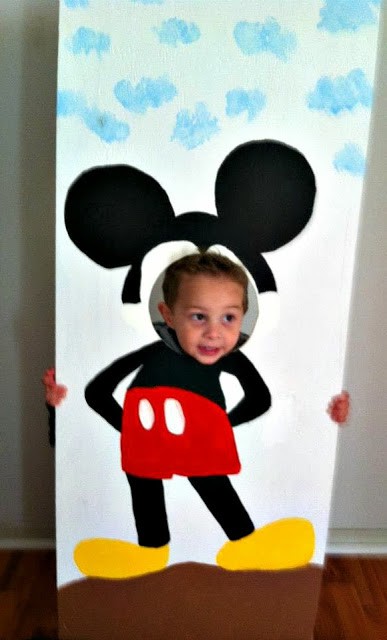 Ideas For A Mickey Mouse Inspired Birthday Party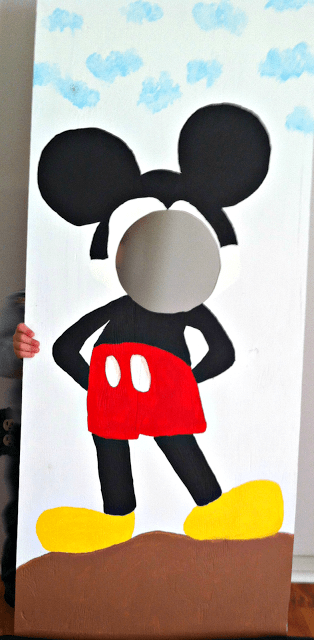 Mickey Mouse Photo Prop Wooden Cut-Out 
I used a half sheet of plywood that I cut in half with a jigsaw. Then I sanded the wood lightly with a piece of sandpaper.
Next, I drew Mickey Mouse on the wood using a pencil. I used a router to cut the hole where I wanted Mickey's face.
Also, I painted Mickey Mouse and the background using acrylic paints.
Kim's note –if you have a projector or if you can borrow one use it to trace Mickey on the wood.
I didn't use a projector. I made a stand for the wooden cut out with a small piece of 2×4 and two elbow brackets that I screwed on the bottom.
If you don't have wood, you could use a large cardboard box instead.
 No Sew Mickey Mouse DIY Birthday Shirt
I used material and felt to make this cute shirt. I don't know how to sew so; I made it a no -sew shirt by using fabric glue.
If you know how to sew, just sew on the number and Mickey Mouse instead of using fabric glue.
I used this awesome tutorial here to help me cut out my shapes and number.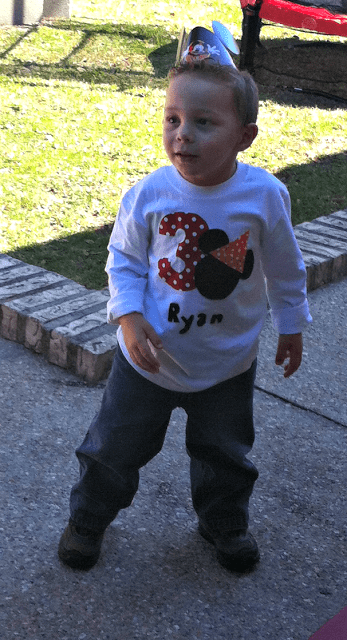 Mickey Mouse Number Decoration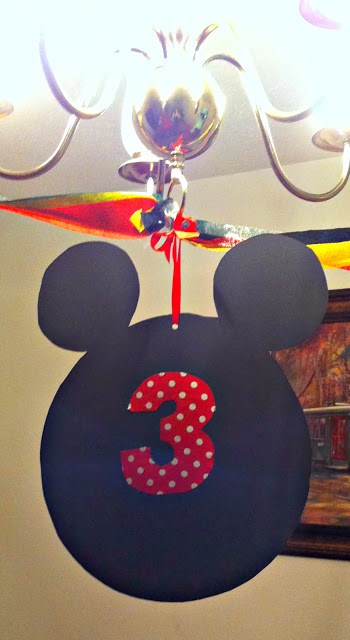 I used material from the shirt I made for the number and glued it on with glue. And, I hung it up with ribbon.
Mickey Mouse Homemade Birthday Cake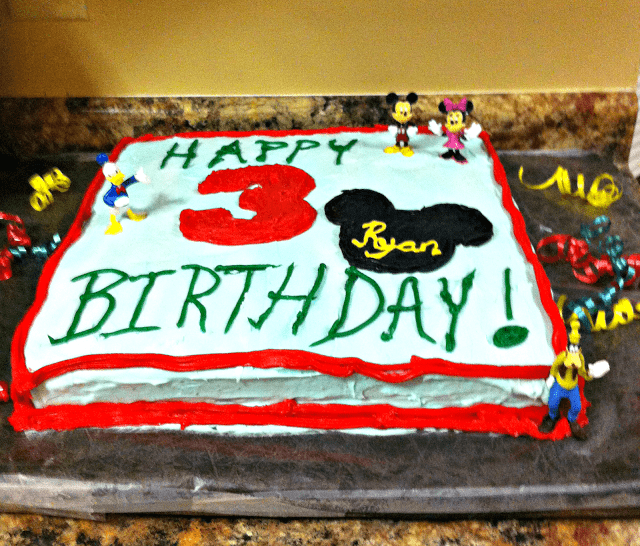 Birthday cakes can be very expensive to buy. I enjoy baking cakes for my children for their birthdays.  
I found the Mickey Mouse figure and his friends at The Dollar Tree.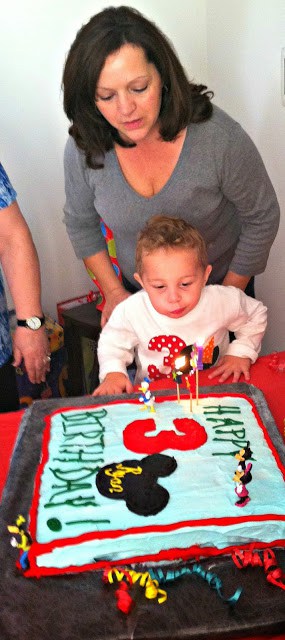 Do you buy or make your children's birthday cakes? I hope you enjoyed all my Mickey Mouse inspired Birthday Party Ideas.
More DIY Mickey Mouse Crafts