This Toilet Paper Snowman is an easy and fun winter craft to make with kids. The snowman is made out of toilet paper so, it's budget-friendly and won't melt!
Does your family have any holiday traditions? Making crafts is one of my family's holiday tradition.
This toilet paper snowman is a fun craft my family enjoys making during the holidays.
And, this adorable snowman is the perfect decoration for our bathroom to greet guest during the winter months.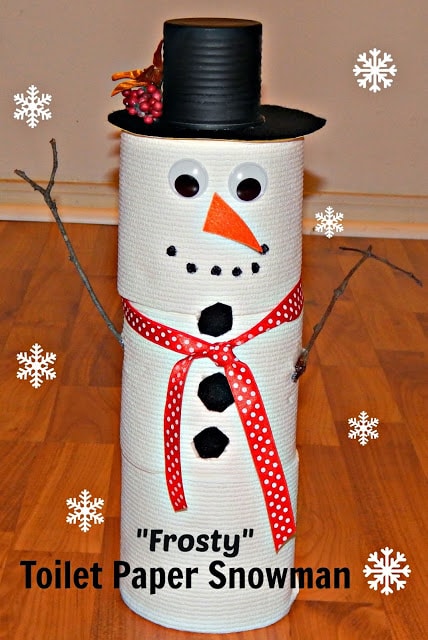 Also, the snowman could be used as a White Elephant gift at your next Christmas party. It's inexpensive to make and would make a memorable gift.
People will be talking about your creative snowman for many months after your party.
How Do You Make a Toilet Paper Snowman?
Making a toilet paper snowman is easy to make you'll need a few supplies.
Supplies:
3 rolls of  Cottonelle Toilet Paper
black and orange felt
black marker
1 small can
2 googly eyes
twigs for arms
small piece of cardboard
ribbon
floral pick
Directions: 
Stack three rolls of toilet paper on top of each other. I chose not to glue the rolls together.
On the top roll, glue on the googly eyes.
Made a nose from the orange felt and glue it on.
Draw a mouth using the black marker.
Tied a piece of ribbon around the first and second toilet paper roll.
Make felt circles for buttons and attach on the toilet paper snowman.
Attach the twigs to each side of the second roll of paper to make arms.

Spray the can with black paint while it's drying trace a large circle onto the piece of cardboard and felt. Cut out the circles and glue them together. Once, the can dries glue it to the circle. This will be the snowman's hat.

Last glue on the floral pick.
After your family finishes decorating and making their toilet tissue Snowman let the kids turn each other into a snowman or snow woman.
Get out a timer and have the kids race to see who can roll the fastest.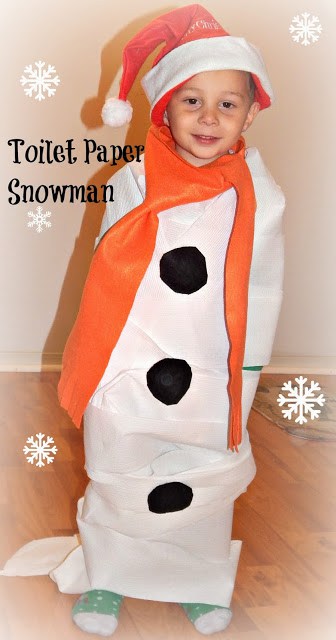 Make sure to use a roll of strong roll of toilet paper that way it doesn't rip easily.
Use tape and black felt circles for buttons. Don't forget a scarf ! Aren't these the cutest toilet paper ideas ever?!
Do you make crafts using toilet paper ?