Learn how to make fluffy, tender, and delicious Instant Pot Sweet Potatoes. If you love sweet potatoes, you must try making them in the Instant Pot. The sweet potatoes turn out AMAZING every time!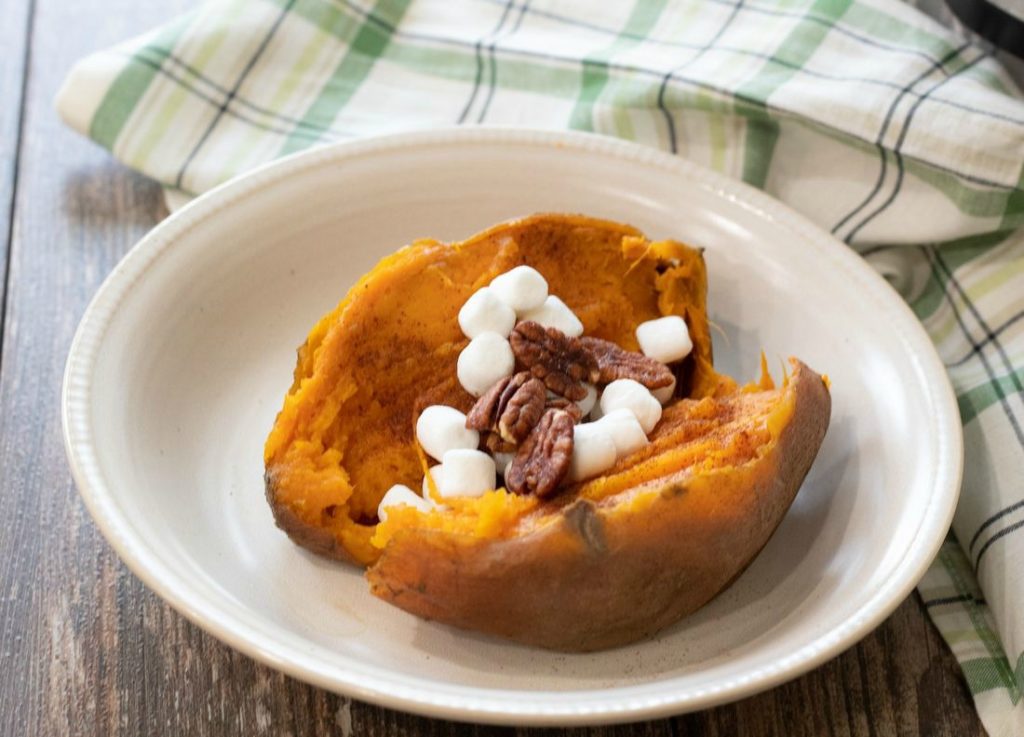 I love sweet potatoes so much. A matter of fact I prefer them over regular potatoes. You can get really creative with sweet potatoes too.
A lot of people don't realize you can eat sweet potatoes with a lot of different toppings, just like an Idaho baked potato.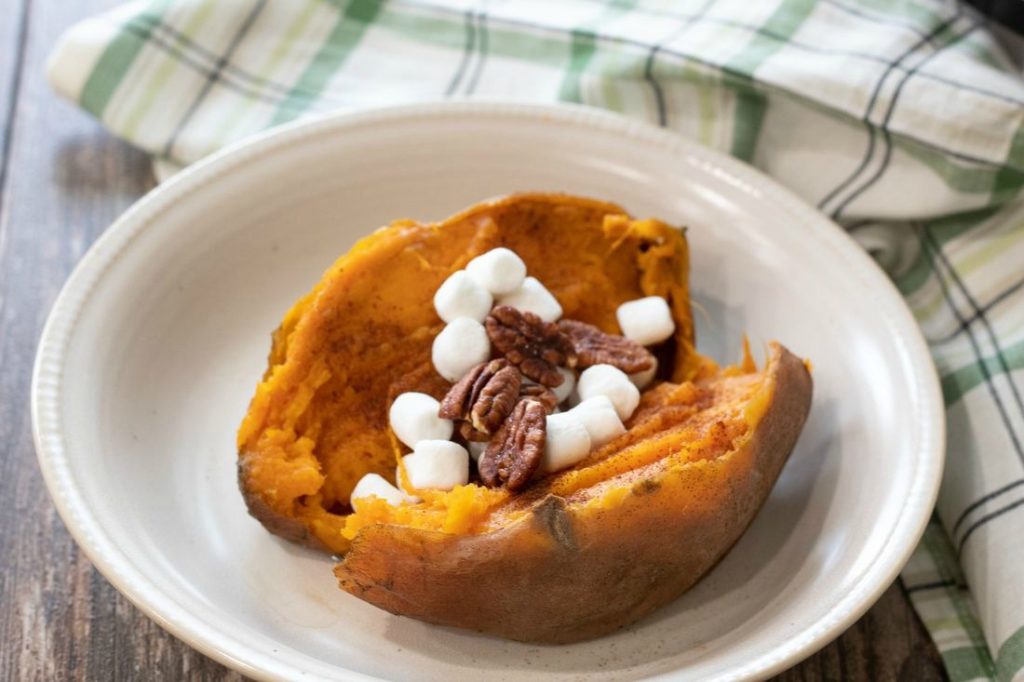 What toppings can you put on sweet Potatoes?
There's many different sweet potato toppings you could use and different combinations.
Butter
Salt and Pepper
Cinnamon
Brown Sugar
Marshmallows
Pineapples
Blueberries
Cranberries
Raisins
Granola
Pecans
Walnuts
Pulled Pork
Shredded Chicken
Turkey
Ground Beef
Beans
Corn
Chickpeas
Cheese
Avocados
Quinoa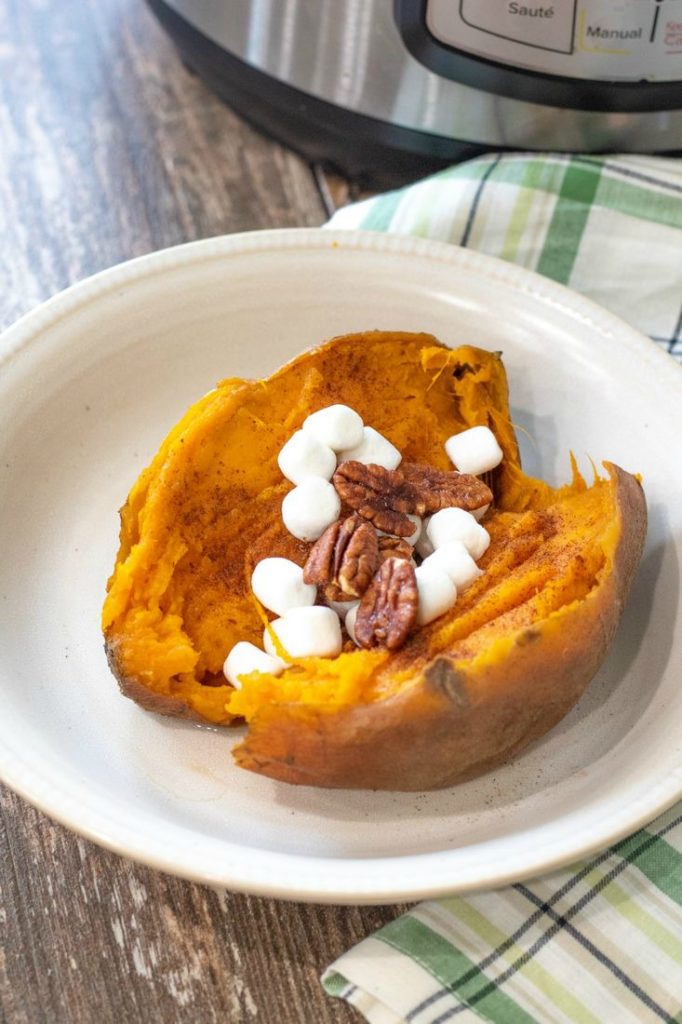 One of my favorite sweet potato toppings remind me of my sweet potato Thanksgiving casserole that I bake in my Pyrex baking dish.
When I'm craving something sweet instead of savory on my sweet potatoes, I top them with cinnamon, butter, marshmallows, pineapples, and pecans.
The sweet potato I made this time didn't have pineapples because I forgot to add them to the shopping list when my husband went grocery shopping for me.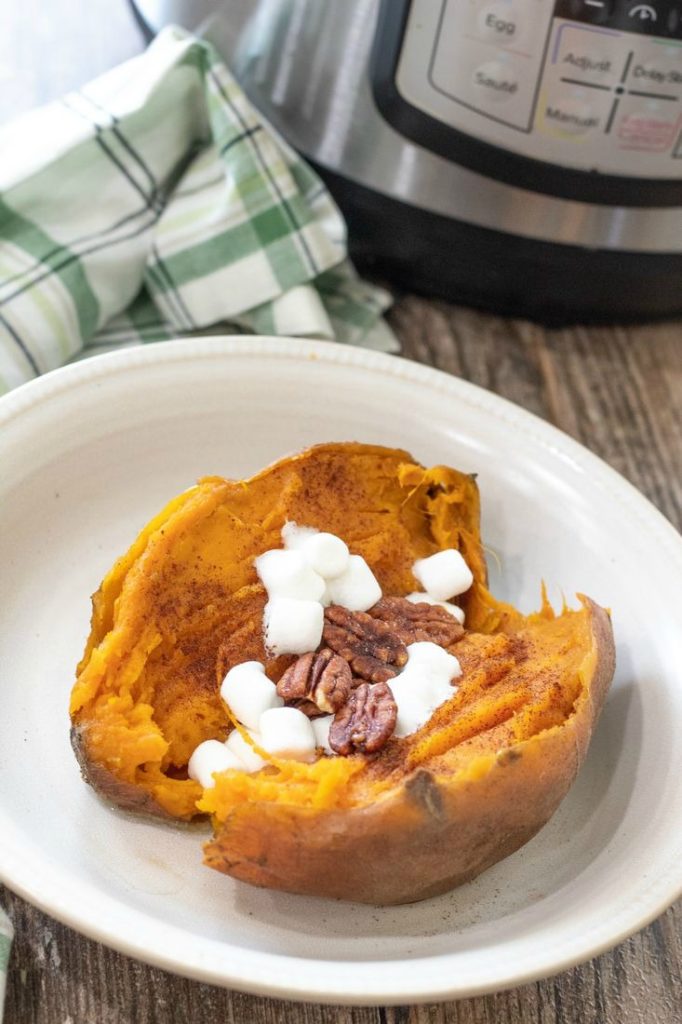 When I have more time, I think I'll try making more pressure cooker sweet potatoes.
I had planned on using two of the sweet potatoes to make other Instant Pot sweet potato recipes, like Instant Pot mashed sweet potatoes and a paleo sweet potato casserole but I ran out of time.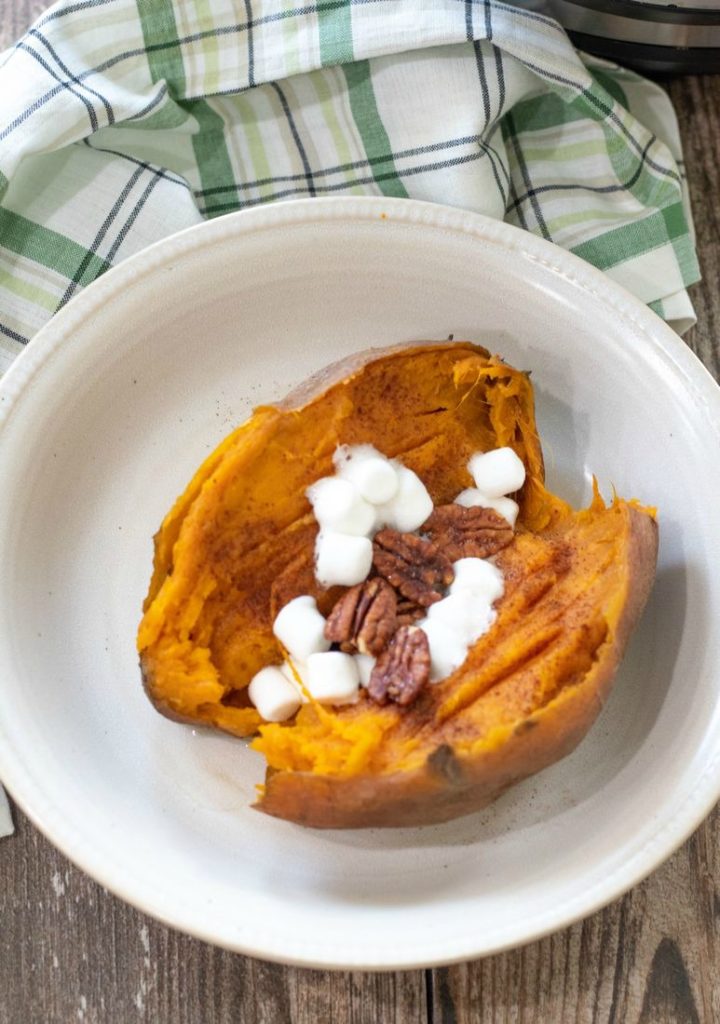 Are Sweet Potatoes good for you?
Yes! Sweet Potatoes are a good source of fiber and protein. As well as other vitamins and minerals including calcium, iron, selenium, magnesium, zinc, folate, potassium, phosphorus, B vitamins, vitamin C, and vitamin K.
Also, sweet potatoes are high in antioxidants known as beta-carotene. Additionally, sweet potatoes are known as the good carb and low in calorie.
Sweet Potatoes are also perfect for people doing Paleo and Whole30. And, sweet potatoes are diabetic-friendly when eaten in moderation.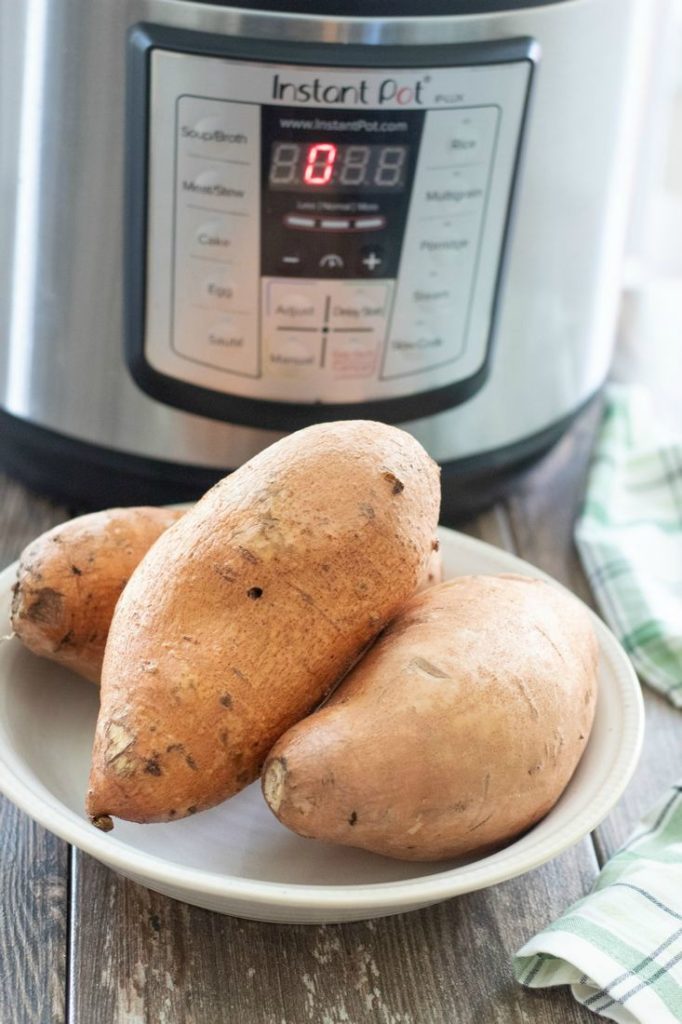 What do you need For The Sweet Potatoes?
To cook your sweet potatoes in the Instant Pot all you need is an Instant Pot or Pressure Cooker.
Also, you need 2-4 sweet potatoes. We used three large sweet potatoes. You will also need 1 cup of water for a 6 quart Instant Pot and 1 1/2 cups of water for an 8 quart Instant Pot.
Don't forget a steamer basket or the metal trivet that came with your Instant Pot. And, your favorite toppings.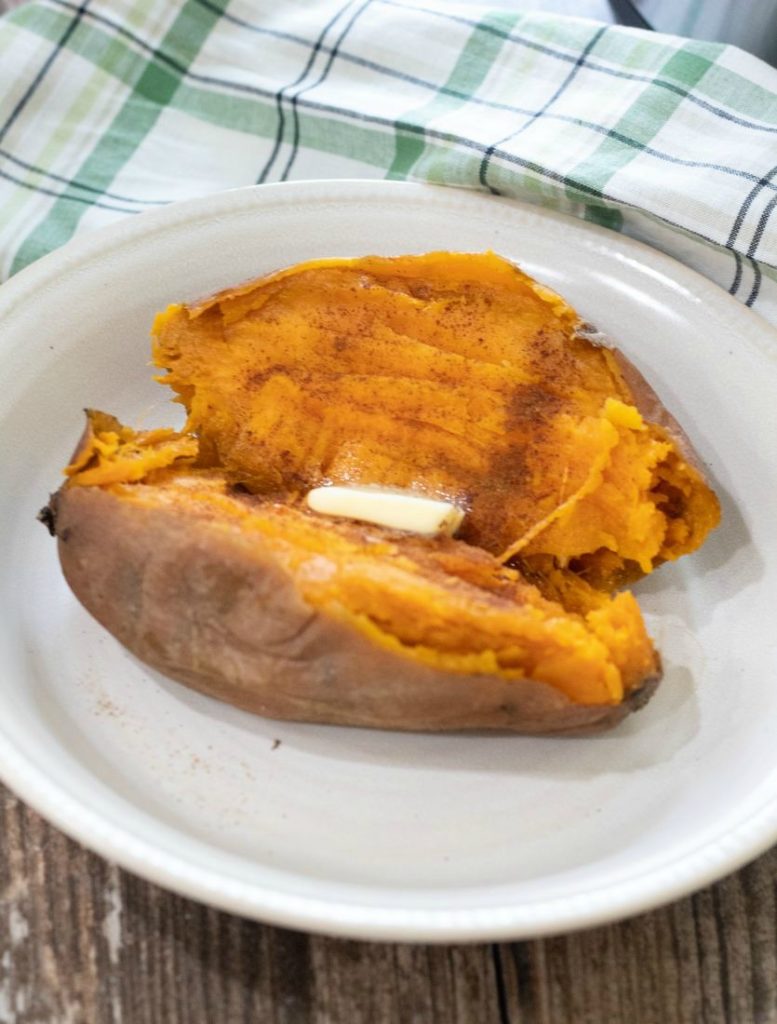 How to Cook Sweet Potatoes In the Instant Pot
First, rinse and scrub the sweet potatoes. Next, pour 1 cup of water into the inner pot for a 6 qt. or 1 1/2 cups of water for an 8 qt Instant Pot.
Next, set the trivet or steamer basket in the inner pot and arrange your sweet potatoes on top. YOU CAN PIERCE THE POTATOES WITH A FORK IF YOU WANT.
We have cooked sweet potatoes many times in the Instant Pot.
When I remember I do pierce them with a fork. But, they do turn out good either way.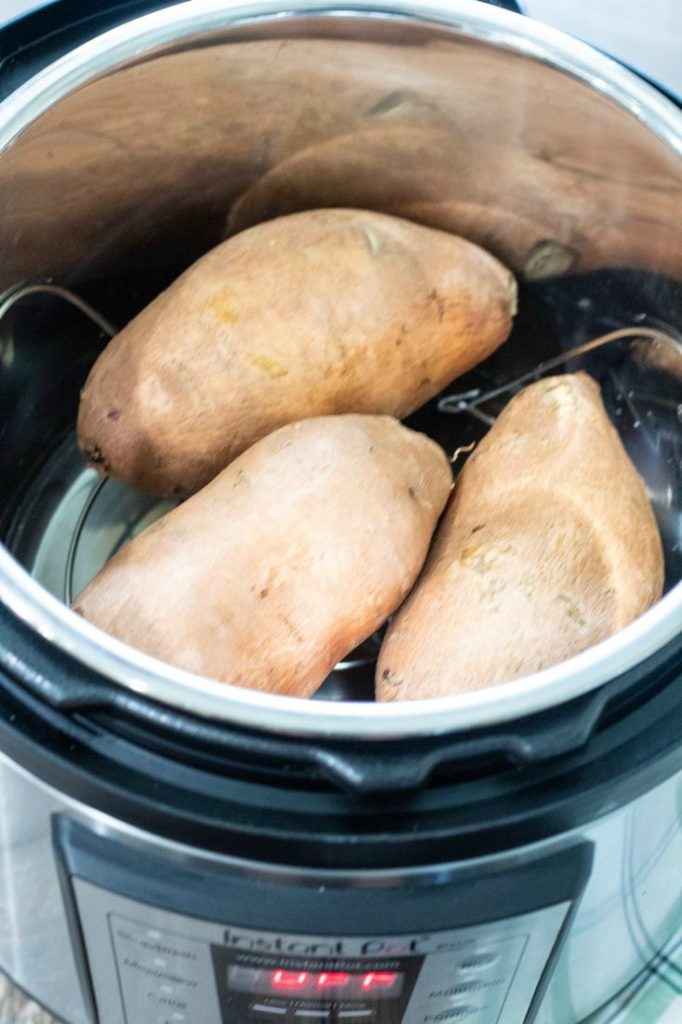 Second, place the lid on the instant and turn the knob to the sealing position. Then press the manual button and set for 20 minutes.
Once, cook time has elapsed let naturally release for 5 minutes then turn the knob to venting. After the valve goes down carefully open the lid and remove the sweet potatoes.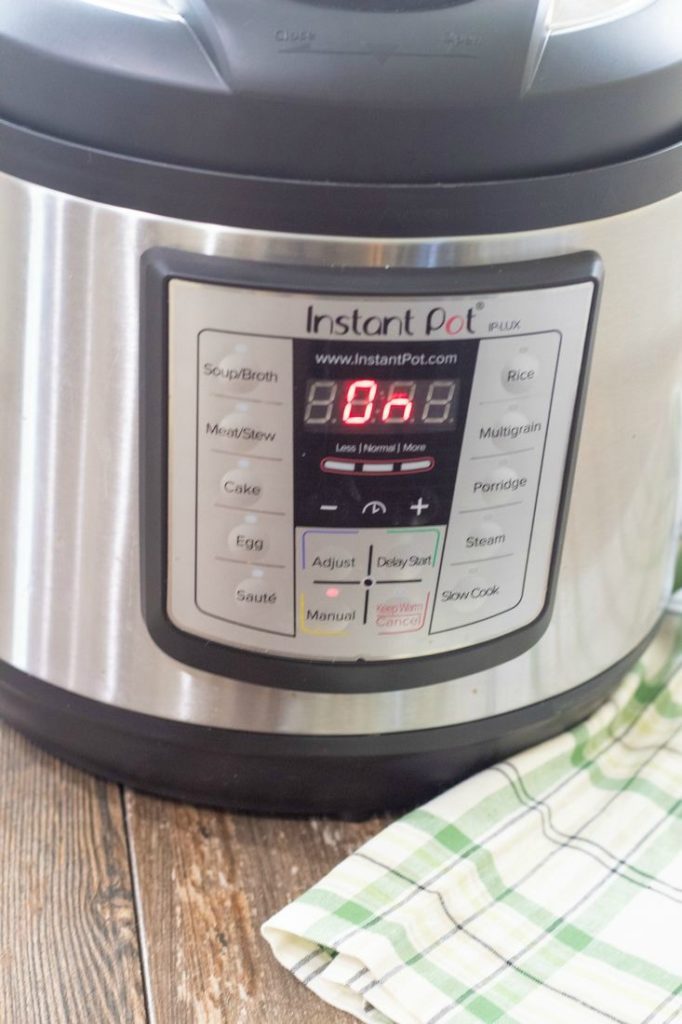 Third, carefully remove the sweet potatoes and add your favorite toppings.
Use my list from above for topping suggestions or add cinnamon, butter, marshmallows, and pecans like my sweet potato or just use cinnamon and butter … YUM! .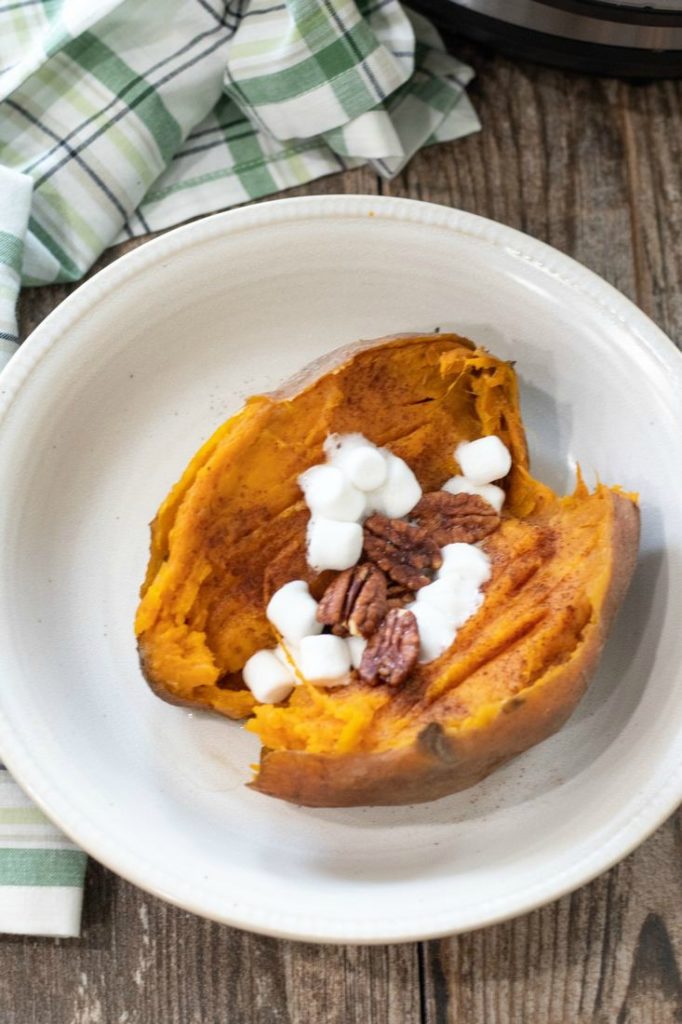 Doesn't the sweet potatoes look delicious? The sweet potatoes make a great main meal or side dish that the whole family will love.
They're even perfect to serve for Thanksgiving and Christmas. .
Using the Instant Pot is especially an excellent idea during the holidays, so you can have more room to bake desserts and casseroles. And my Oven Roasted Cajun Turkey.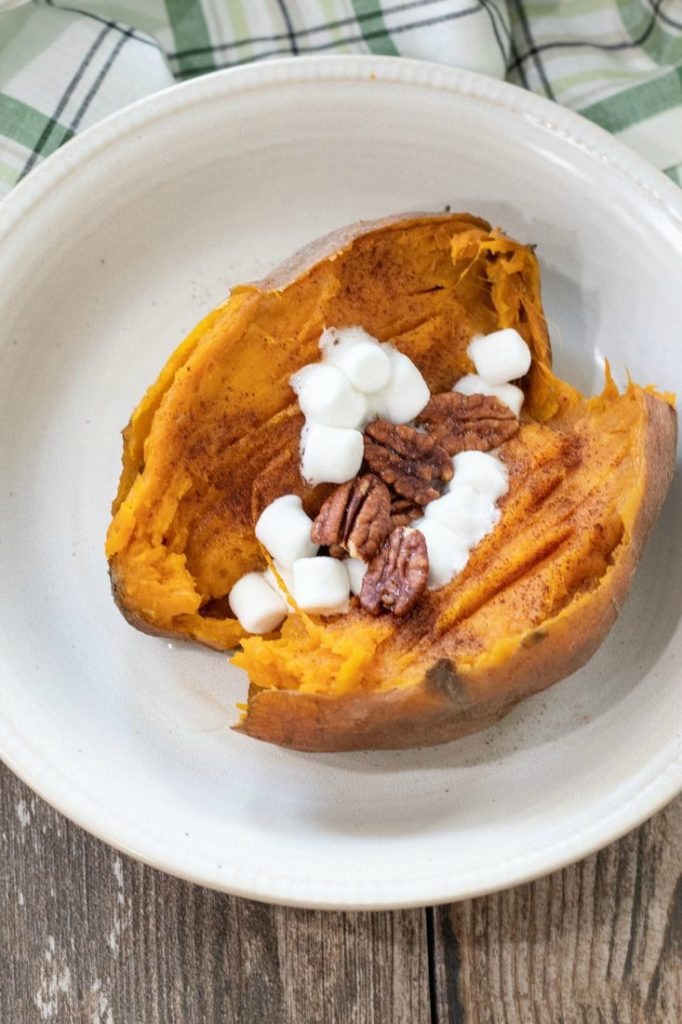 More Instant Pot Recipes
For Sweet Potato Casserole
To use the sweet potatoes for sweet potato casserole, once the sweet potatoes are cooked and cool peel the sweet potatoes and remove the insides. Then make your casserole according to your recipe.
Pin Me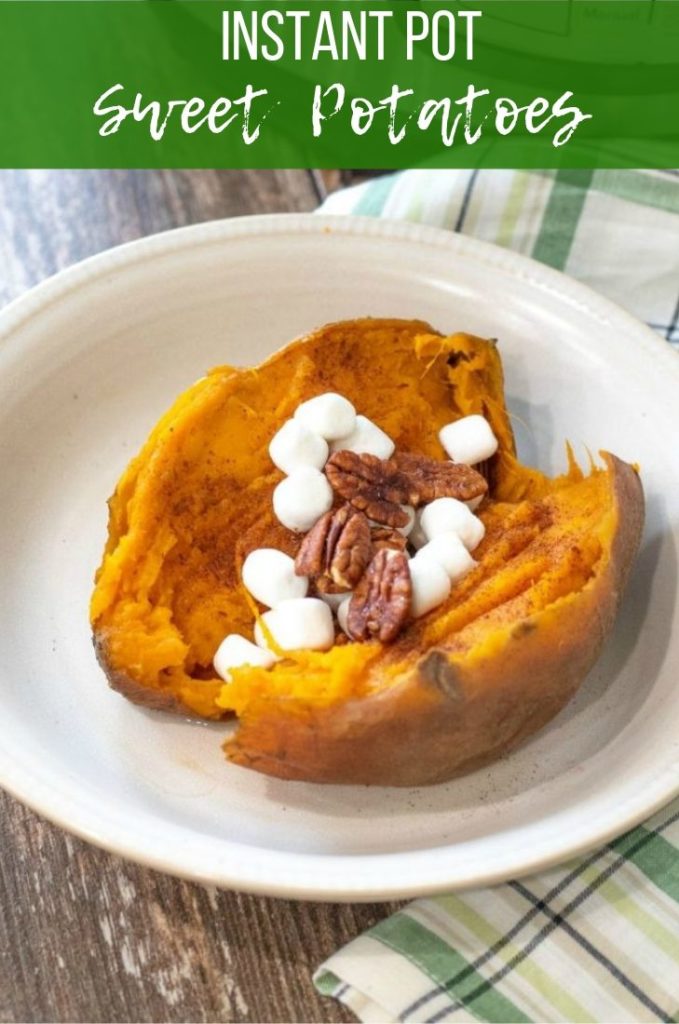 .