This recipe for Pumpkin Patch Oreo Bark is an easy four-ingredient treat. It's the perfect fall candy to serve at parties or package for gift giving.
Chocolate lovers will adore this quick and simple bark sprinkled with festive candies and covered with crushed Oreo cookies.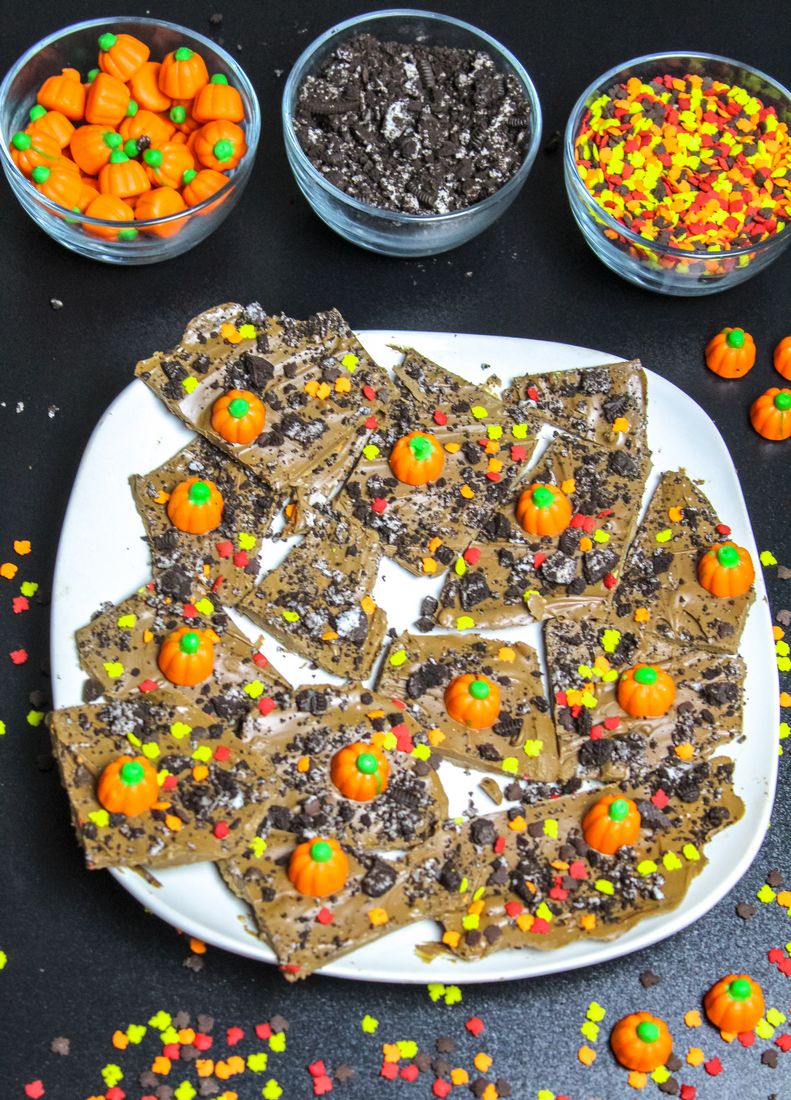 The colorful Pumpkin Patch Oreo Bark is merely the simplest treat to make and looks beautiful sitting on a dessert table.
Kids could help make the chocolate bark and package it to give as gifts to their classmates and teachers.
My son helps me make this candy bark every year. He enjoys decorating the chocolate bark with the bright orange mellocreme pumpkins and the festive candies.
Most of the time my son ends up eating all the candy bark before we packaged it to give as gifts.
You would think by now I would know better and make a double or triple batch. Especially since the chocolate bark is so easy to make.
Often I use Autumn leaves sprinkle mix to add color to the chocolate bark.
Unless my son decides he wants to use a few of his favorite candies such as M&Ms and Reese's Pieces instead of the sprinkle mix.
Using different candies instead of the Autumn leaves sprinkle mix with the crushed Oreo cookies gives the chocolate bark a different taste!
How Do You Make Pumpkin Patch Oreo Bark?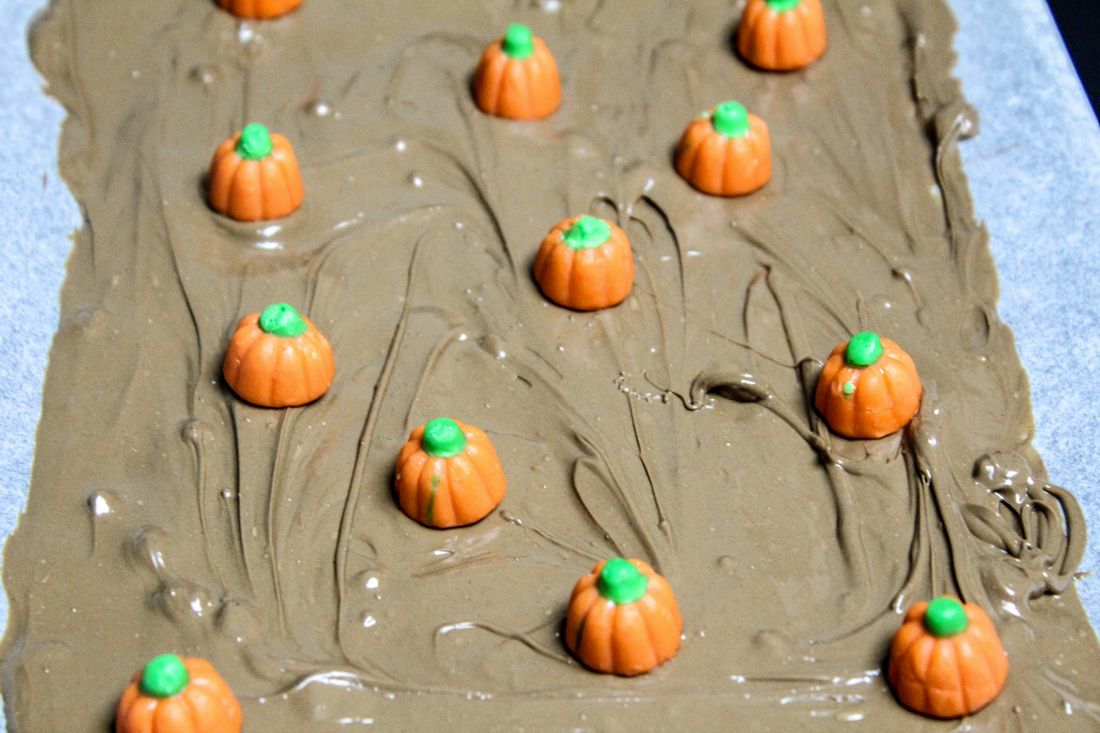 This Pumpkin Patch Oreo Bark is made using chocolate, mellowcreme pumpkins, crushed Oreo cookies, and Autumn leaves sprinkle mix.
Besides being perfect for gift giving this chocolate oreo bark is excellent for any Fall, Halloween, or Thanksgiving gathering.
You could have this delicious and festive treat whipped up before guest shows up to your home.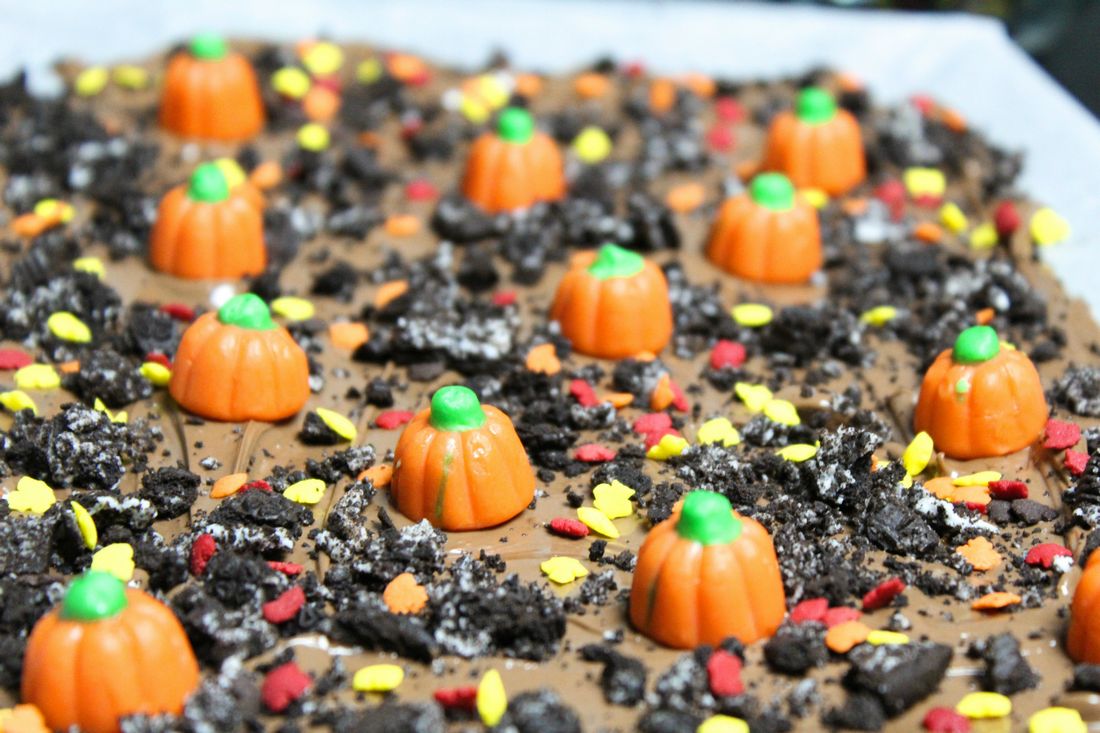 Just follow the easy recipe below for the Pumpkin Oreo Bark. Pop the cookie sheet containing the chocolate bark in the refrigerator.
Go get ready or prepare the other desserts and food before your guest arrives.
Take the cookie sheet out the fridge before the first guest rings the doorbell and break the candy into pieces and place on your favorite holiday tray. It's that easy!
What candy would you use for the Pumpkin Patch Oreo Bark? You might also like these Instant Pot Baked Apples and my Pumpkin Pie Boozy Punch.
PIN ME