This Good For You "Coconut Oil" Chocolate Bark will please your sweet tooth without leaving you feeling guilty even after you have devoured several pieces.
The chocolate bark does not contain refined sugars and dairy. It's also gluten-free and vegan-friendly.
It would make a perfect treat especially for those on special diets due to certain food restrictions.
If you haven't started cooking with coconut oil yet, this recipe would be an excellent way to start implementing this fantastic oil to your diet.
This coconut oil chocolate bark is pack with beneficial ingredients. Did you know that coconut oil helps boost brain function?  
I love knowing that I can enjoy a piece of this chocolate, and it's healthy for me.
This mouth-watering chocolate bark also has naturally unsweetened cocoa powder that contains antioxidants, walnuts that help reduce stress amongst many other great benefits, organic unsweetened coconut and sweetened with organic Agave in the Raw.
Agave in the Raw is 25 percent sweeter than sugar, and a little can go a long way.
You could also use Honey, Maple Syrup, or Stevia instead of the Agave. I prefer Agave in the Raw. If you decide to use Agave make sure to purchase Agave in the Raw.
Most Agave sweeteners are high in fructose. Please do your research before using a new product that's unfamiliar to you.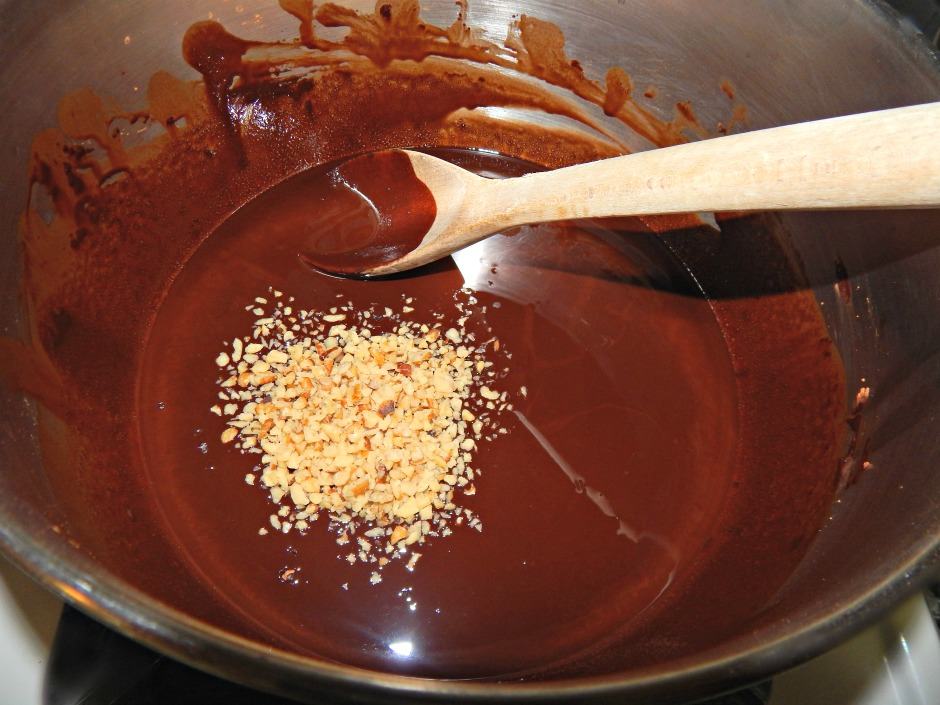 Usually, when I make a batch of this chocolate bark my little boy loves helping me make it. It's a simple recipe that doesn't take a lot of time to make.
You could add any nut (sunflower seeds, pecans, pine nuts, flax seeds, chia seeds, pumpkin seeds)  or fruit to this recipe. If you or another person that will be consuming the chocolate bark suffer from nut allergies, just eliminate the nuts from the recipe.
Kim's Note- I used Walnut Topping, which is chopped fine and ideal for small children and older adults.
My parents cannot chew the nuts left whole. You could always use a food processor or coffee grinder to grind the nuts into small pieces.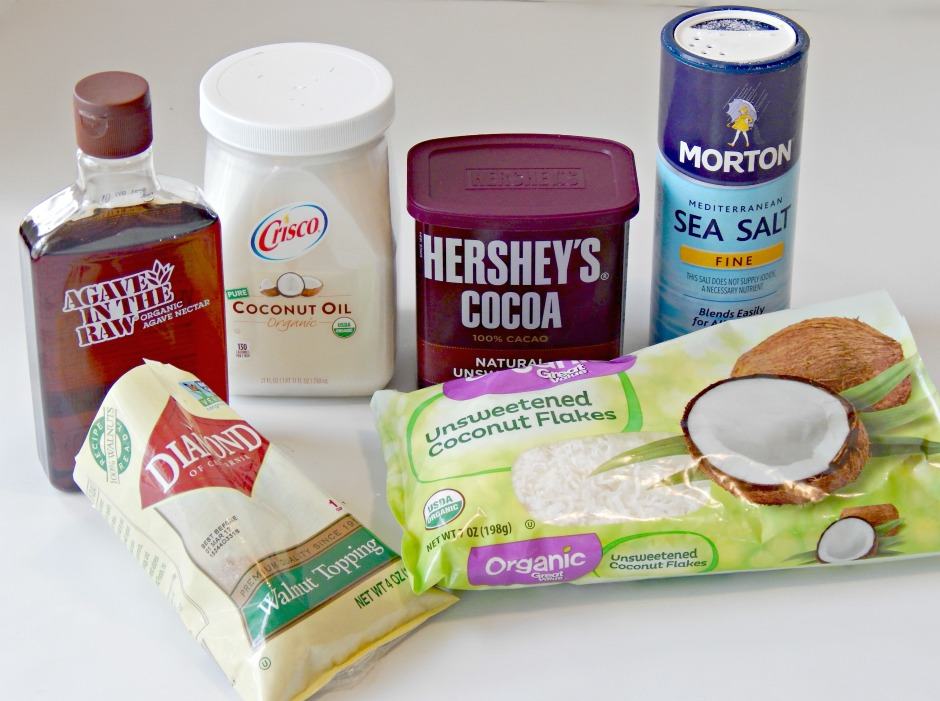 If you would like only to use sea salt on the bark, you could do that. I think this chocolate bark will become one of your favorite treats to make.
Also, I store my chocolate bark in the freezer to grab when I get a chocolate craving.
I love that this easy to make snack is healthy, and it's great if you need extra fiber in your diet. You may also like my recipe for Chocolate Coconut Energy Balls.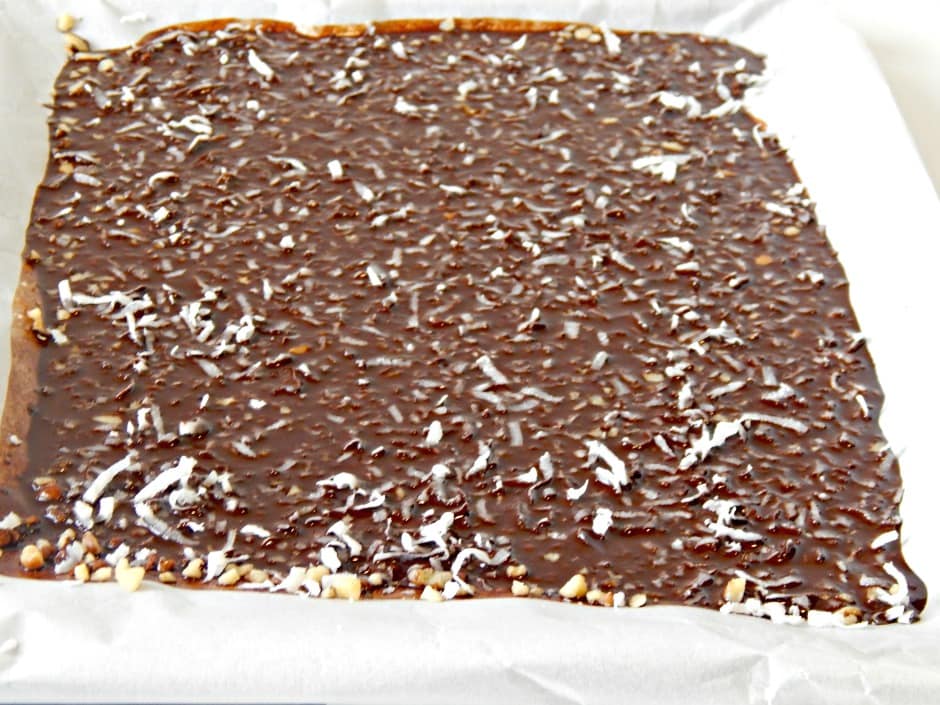 Make sure to keep this delicious  Good For You "Coconut Oil" Chocolate Bark stored in a covered container in the freezer, until needed.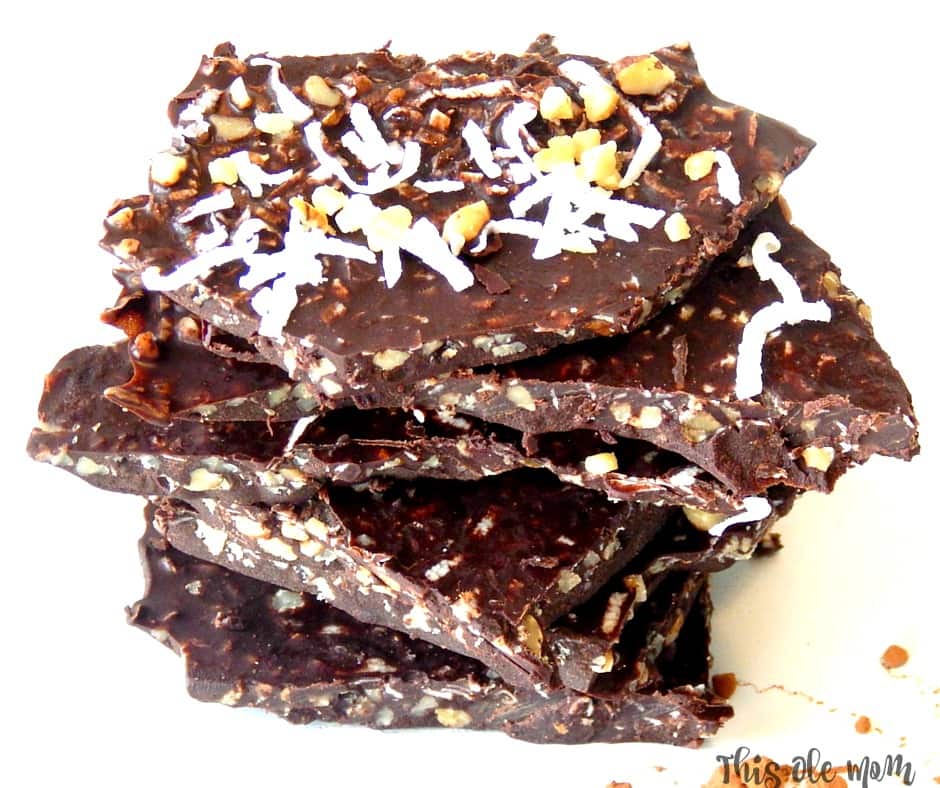 Do you use coconut oil in your recipes?
Pin Me: