Have your kids ever wondered how caterpillars turn into butterflies? Well, they don't have to wonder anymore! With this fun and educational Butterfly Life Cycle Kit, they can watch the amazing transformation of the caterpillar up close.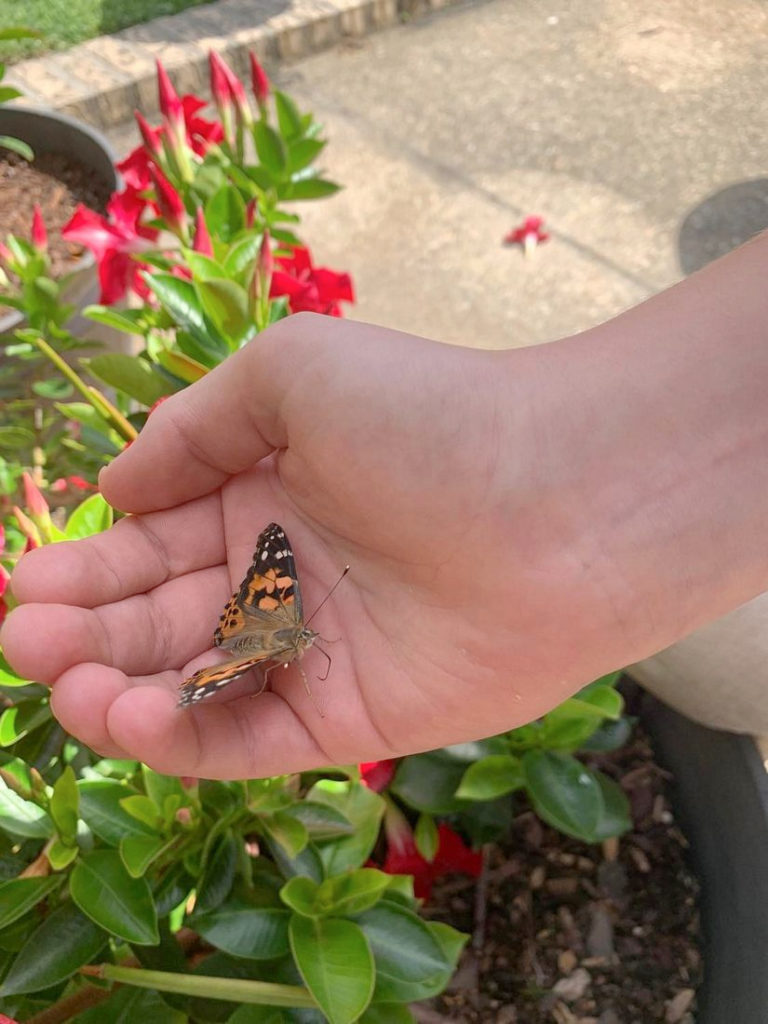 Kids will not only get to see the caterpillars transform into butterflies, but they will get to help with the different stages.
Recently, I bought a Butterfly Garden Kit. It made a great hands-on activity to teach my son about the life cycle of a butterfly.
As a homeschooling mom, I'm always looking for educational activities that my curious homeschooler will love! Especially anything science-related since he loves science.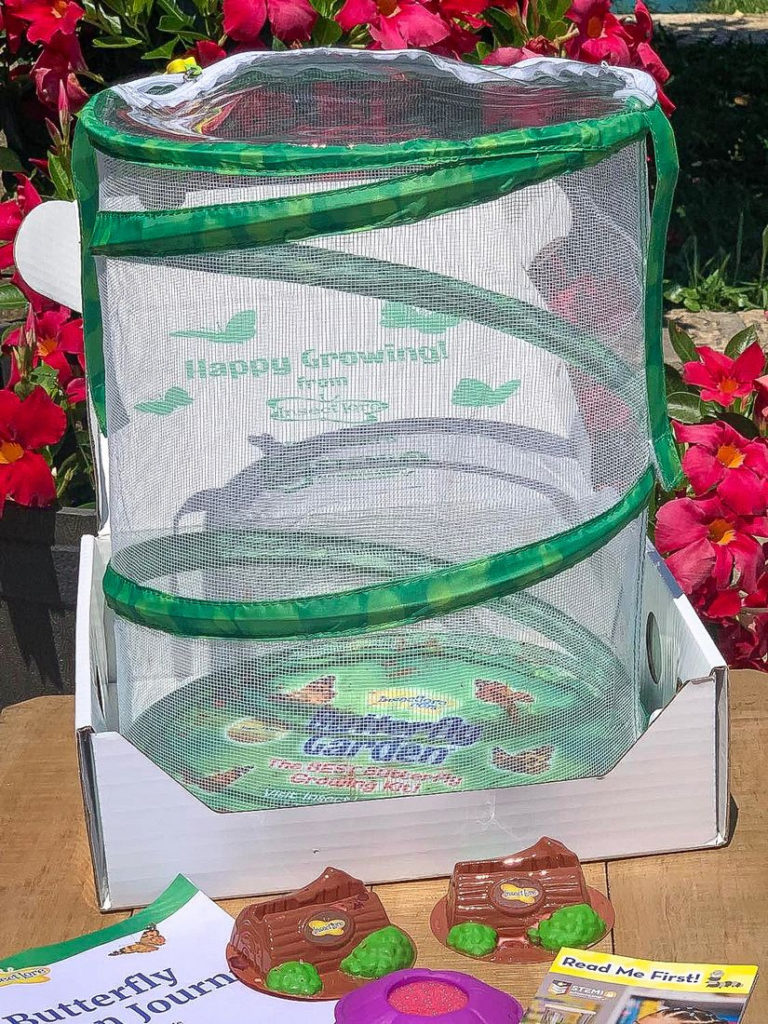 Of course, your kids don't have to be homeschoolers to enjoy raising butterflies. You could make it a fun summer activity to do with your kids regardless of their age.
I know I was excited about watching the caterpillars change into butterflies as much as my son.
The butterfly kit is excellent for everyone to learn about the life cycle of a butterfly. Also, the butterfly journal that comes with the kit is perfect for writing down all the different stages observed.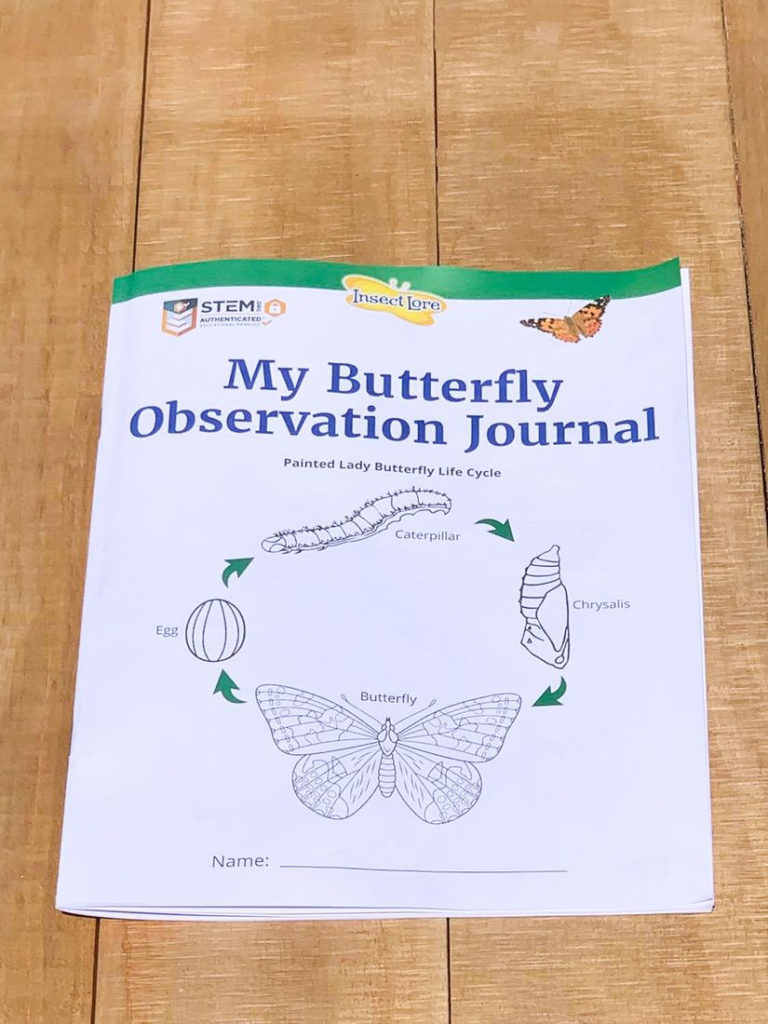 Growing Caterpillars with A Butterfly Life Cycle Kit
When we received our live caterpillars in the mail, they came in cups with their lids on. The food was at the bottom of the cups. The tops should stay on the cups, and kids shouldn't touch the caterpillars.
My son placed his cups of caterpillars on his desk away from the window and sunlight and left them alone. At first, the caterpillars weren't moving, but they were only inactive for 3 to 4 days until they got acclimated to their new surroundings.
It was neat to see the caterpillars grow before our eyes and shed their exoskeletons several times!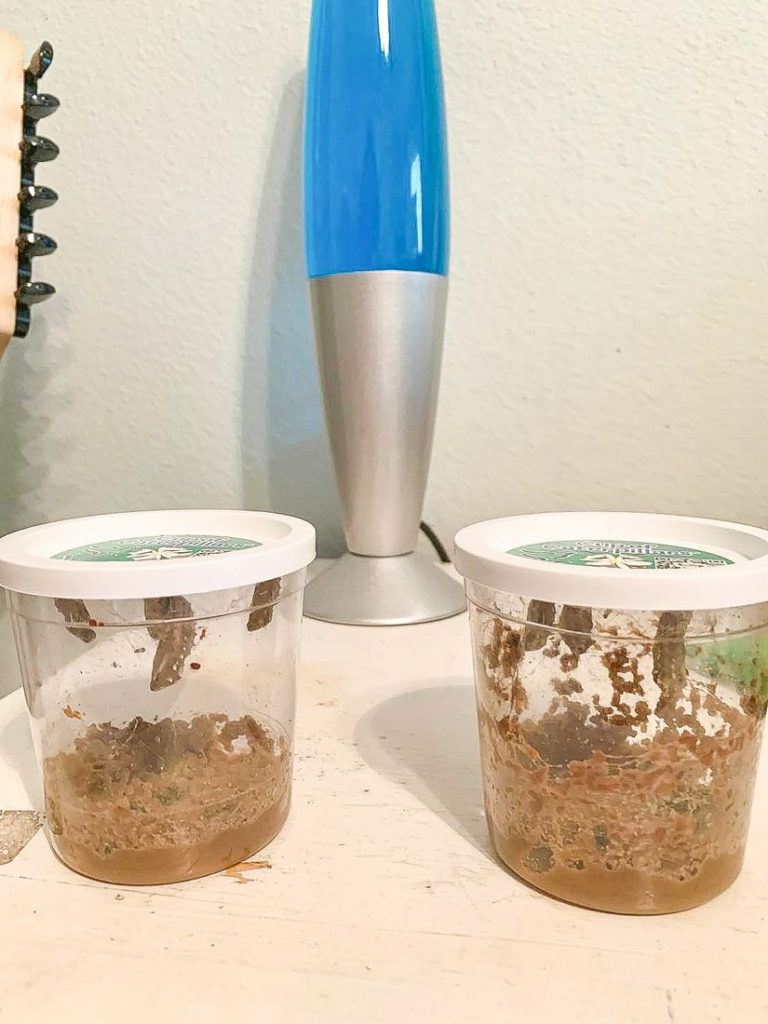 When A Caterpillar Becomes A Chrysalis
After 7 to 10 days, our caterpillars climbed to the top underside of the lid and attached themselves with their heads downward, forming a "J" shape. While they were hanging, they shed their exoskeleton (molten) one last time and then harden into chrysalides.
While the chrysalis was hanging and started to change, we noticed they turned brown with gold flecks. After 3-4 days, when the caterpillars fully hardened, we removed them to their butterfly habitat that came with our butterfly kit.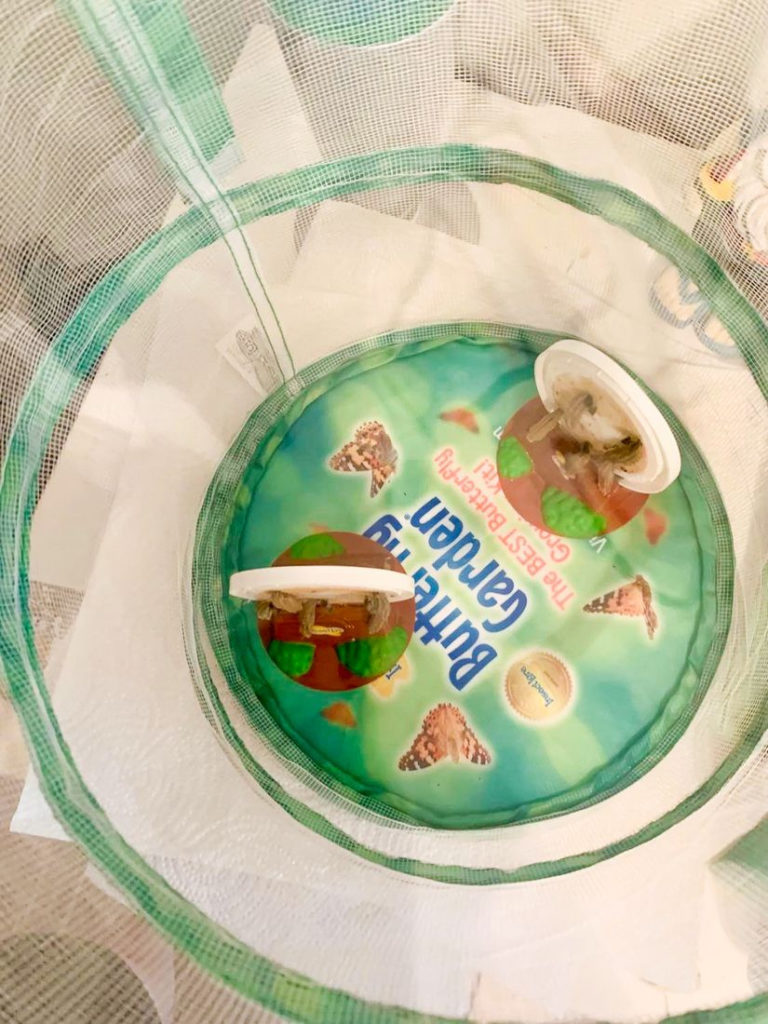 Moving the Chrysalides to the Butterfly Habitat
Removing the lids with the hanging chrysalides from the cups was tricky. My son held the lids with the chrysalides while I used cotton swabs to remove the webbing from each chrysalis.
The webbing was challenging because we were afraid we hurt a chrysalis, but it needed to get removed. If we didn't remove the webbing, a butterfly could get entangled while trying to emerge. Unfortunately, one of our butterflies had a hard time emerging and didn't make it.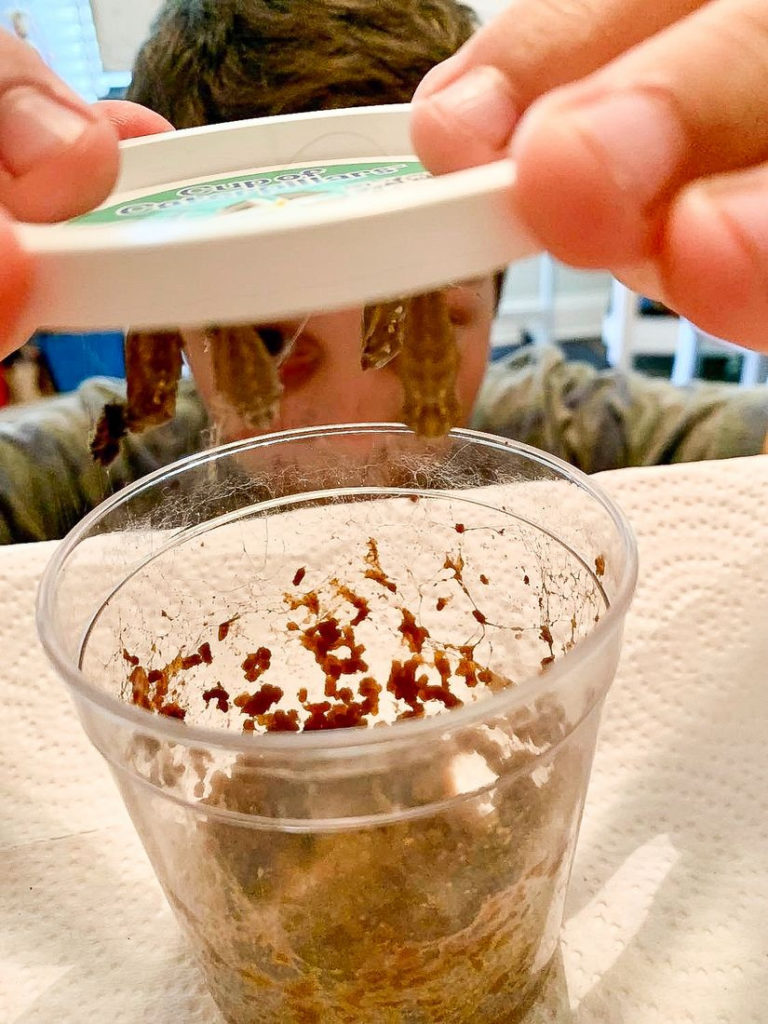 After removing the webbing, we placed the lids with the chrysalides sideways into the holding log that came with the kit. We put the holding logs and chrysalides on a table while we set up their mesh habitat, then we placed them into the habitant in a safe place in my son's bedroom.
While handling the lids with the chrysalides, they started making noises, shaking, and wiggling. I read that it's a reaction they do to ward off predators when they feel threatened.
Watching the Butterflies emerge
Of course, the most exciting part was watching a butterfly emerge from its chrysalis (pupa). We didn't see all the butterflies emerge since some emerge at different times. For the most part, it took 7-10 days for all the painted lady butterflies to emerge.
After a few butterflies emerged, we waited several hours for their wings to dry and harden before placing their feeder with some nectar into their habitat. Once all the butterflies emerged, we waited a week before releasing them outside.
Releasing the butterflies was hard for my son. He did not want to see his butterflies fly away.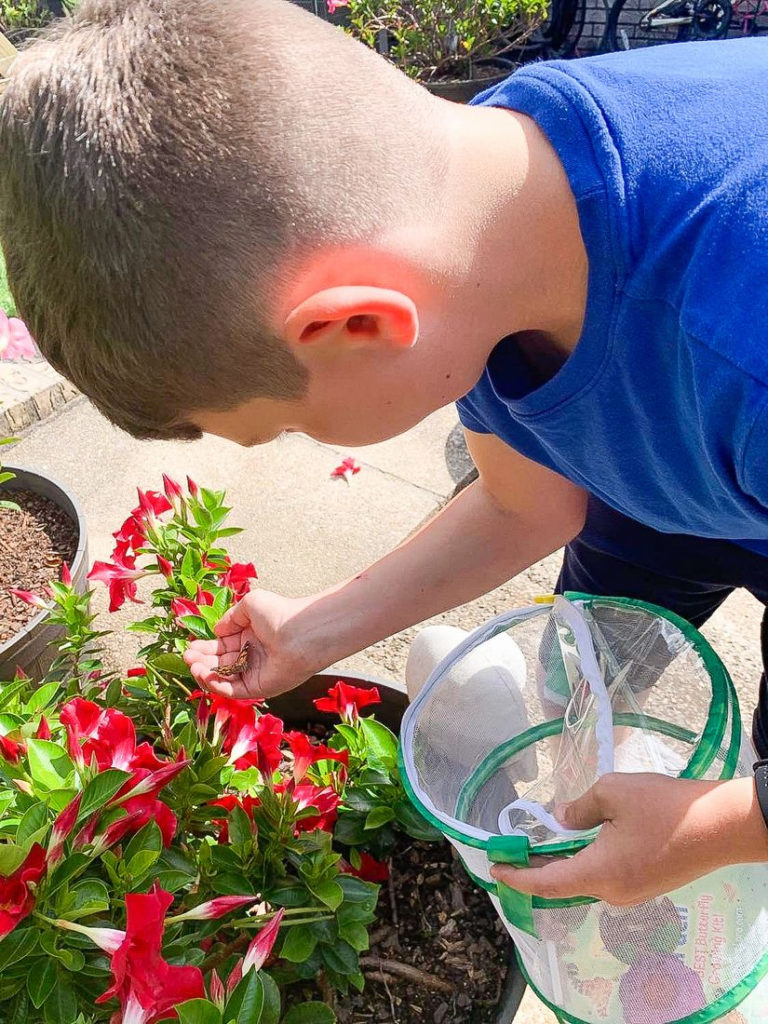 So after we released the butterflies, we researched how to grow a butterfly garden. Then I brought my son to a local nursery. He picked out some milkweed and hollyhock flowers.
Once we got home, my son planted the flowers in hopes he would attract the butterflies we released back into our yard or maybe some other butterflies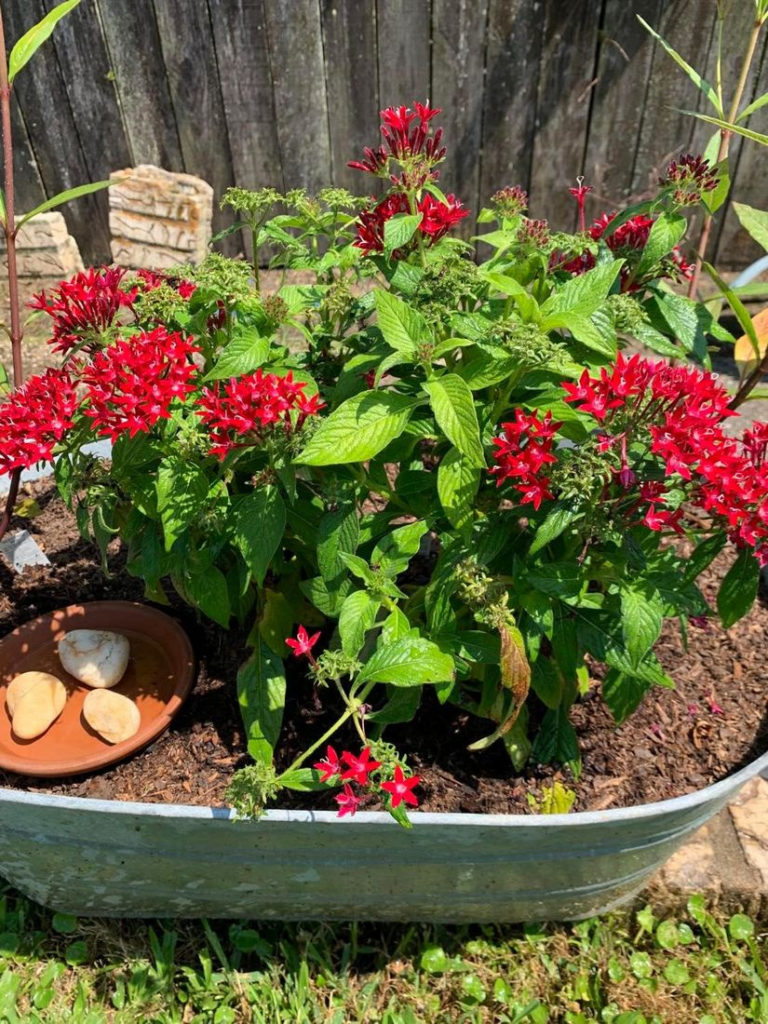 Have you ever watched the metamorphosis of a butterfly? It was amazing to see the caterpillar (larva) turn into a chrysalis (pupa), then an adult butterfly.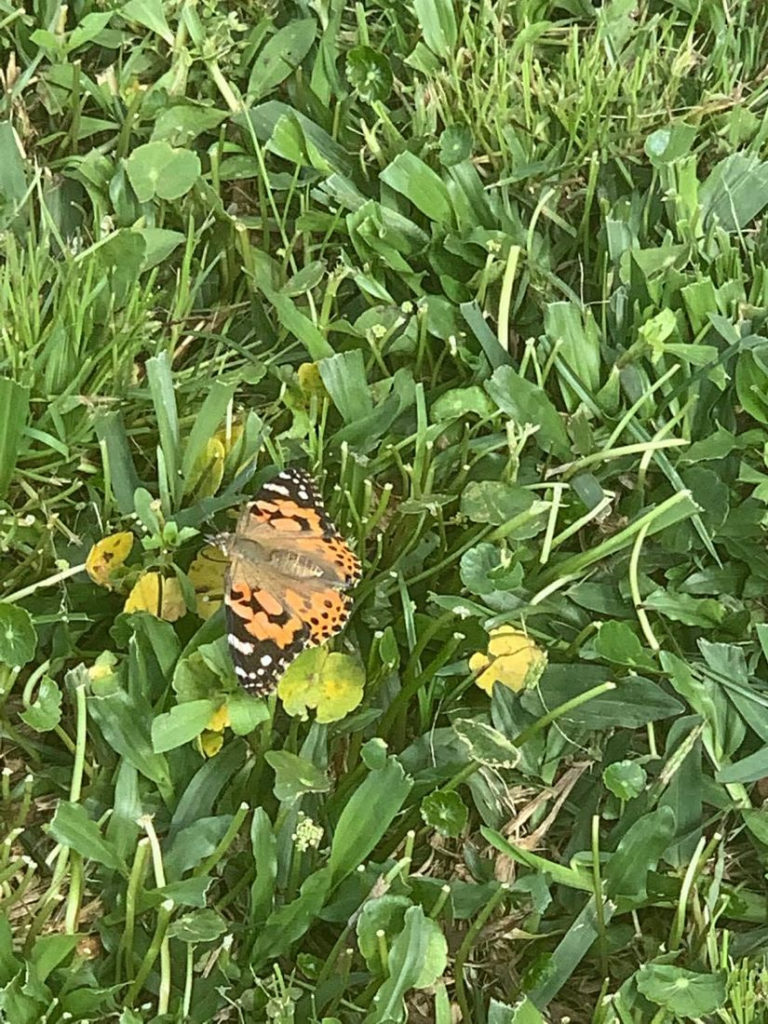 If you're interested in purchasing an Insect Lore Butterfly Garden to teach your kids about the life cycle of a butterfly or buy as gift for someone, I purchased mine on Amazon.
NOTE: The butterflies are Painted Lady Butterflies.
What came in the Butterfly Life Cycle Kit
10 live baby caterpillars (5 in each cup)
pop-up reusable mesh habitat
2 chrysalis station logs
flower shaped butterfly feeder
STEM butterfly journal with science and learning activities
sugar packets to make nectar
feeding dropper
instructions
Pin the Butterfly Life Cycle Kit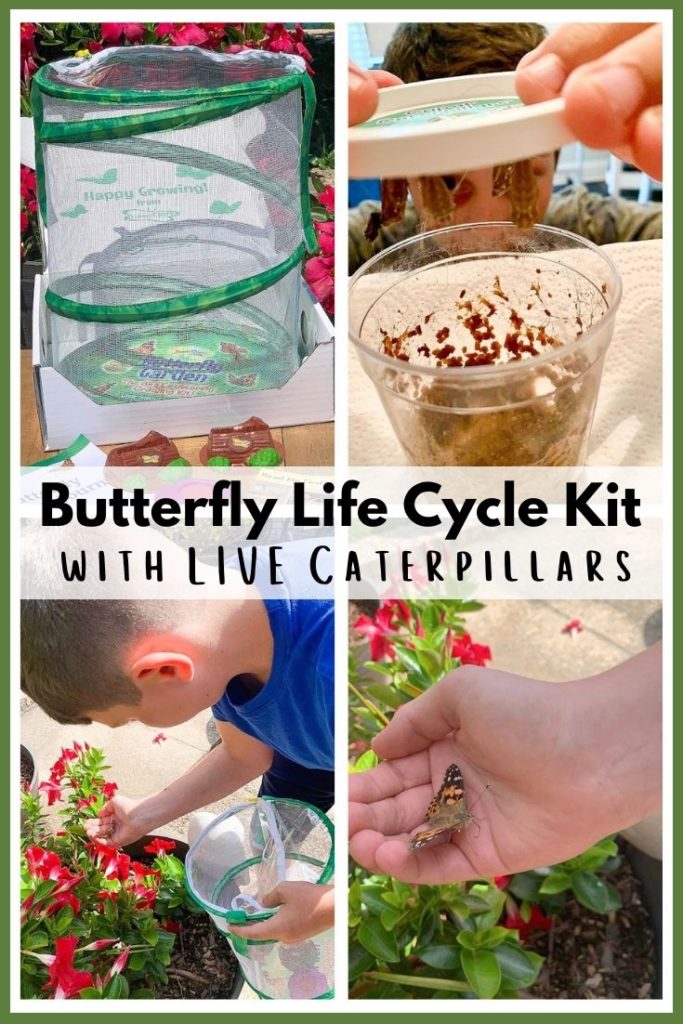 If you're looking for a fun project to make with your kids that goes with the Life Cycle of a Butterfly, check out my adorable butterfly suncatcher.