When your tummy is a little uneasy and feeling queasy, do you like the comfy of a good Hot Homemade Chicken Noodle Soup?
I don't know about you, but I sure do! Here's my recipe for the World's Best Chicken Noodle Soup.. well at least that's how my little boy feels about my homemade soup, and I hope you will too.
This Homemade Soup is quick and easy to make,  with a few ingredients you will have a hot soup that will taste unbelievable and will warm your tummy.
I use fresh homemade chicken stock, tender petite carrots, celery, onions, and other delicious ingredients that make this soup light and great for those days when you don't feel like eating anything too heavy or when you or your loved one's have the flu. 
I guess you can say I am lucky that Walmart Marketplace is around the corner from my house, which makes it easy for me to walk there to grab ingredients when I need to.
I was able to walk to Walmart and grab the stuff for my Chicken Noodle Soup and get back home in less than 20 minutes.
The World's Best Chicken Noodle Soup was ready for dinner when my son arrived home from school.
You can serve the soup with crackers and a side salad if you want.
I like that the Chicken Noodle Soup is easy and quick to make and clean up is hassle free.
Having a Homemade Meal that is comforting and delicious for my family makes me happy. 
And, not having to worry about spending a lot of time in the kitchen gives me more time to spend with my son when he comes home from school in the evenings.
Print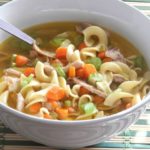 The World's Best Homemade Chicken Noodle Soup
---
Author:

Kim Seghers

Cook Time:

2 hours

Total Time:

2 hours

Yield:

14

Servings

1

x
Description
This Homemade Soup is quick and easy to make, with a few ingredients you will have a hot soup that will taste unbelievable and will warm your tummy.
---
Scale
Ingredients
1

3-4 lb. Whole Chicken boiled deboned and shredded (save broth from chicken should make

4 cup

s)

1

bag wide egg noodles

1 1/2 cup

celery,chopped coarsely

2 cup

s petite carrots,chopped coarsely

1

medium onion,diced

1

medium, chopped

2

garlic cloves,minced
garlic & onion powder to your liking

1

container low-sodium chicken broth (

2 cup

s)

4

–

5

chicken bullion cubes

2 cup

s water

1 tablespoon

olive oil
---
Instructions
For Chicken:
Boil chicken in enough water to cover chicken. Add chopped onion, garlic powder, and onion powder to the water. On medium heat bring broth to a boil, reduce heat to simmer cook chicken until meat is very tender (1 1/2 hours). Skim the surface every once in a while to remove scum.
Once the chicken is cooked and cool,remove the meat from bones and shred it. Reserve the chicken broth and set aside.
For Veggies:
In a skillet heat the olive oil and saute onions, garlic, carrots, and celery on low-medium heat until veggies are tender about 5-7 minutes.
Noodles:
In a large pot add half container of the store bought chicken broth (should be 2 cups) and add 2 cups of water, bring to a boil. Cook the noodles until they're almost tender. Drain and set aside.
For the Stock:
Take the broth from the chicken and strain it over a large stock pot, add the remaining of the store bought broth into the pot and mix the two broths together. Cook the broths on high until it comes to a boil then lower it to medium heat. Add 4-5 chicken bullion cubes into the broth stirring until they dissolve. Cook broth for 15-20 minutes.
For Soup:
In the stock pot with the broth and add chicken, carrots, veggies, and noodles. Cook the soup on low heat until the noodles are tender about 5 minutes.
Serve with saltine crackers or crackers of your choice.
---
Notes
The bullion cubes tend to be salty I do not add additional salt to my soup.
Category:

Soup

Method:

Stove Top

Cuisine:

American
Keywords: comforting, comforting foods, soup, chicken soup, chicken noodle soup, comforting soup
pin Me