Are you ready for some Football? Check out my Football Party – Simple Food & Decor with Free Printable. During Football season, my family's Sundays are spent gathered in front of the television with family and friends cheering on our favorite Football teams and eating lots of food.
This weekend with the start of the regular Football season I decided to host a small Football Theme Party. I wanted to decorate but, keep the food and decor simple.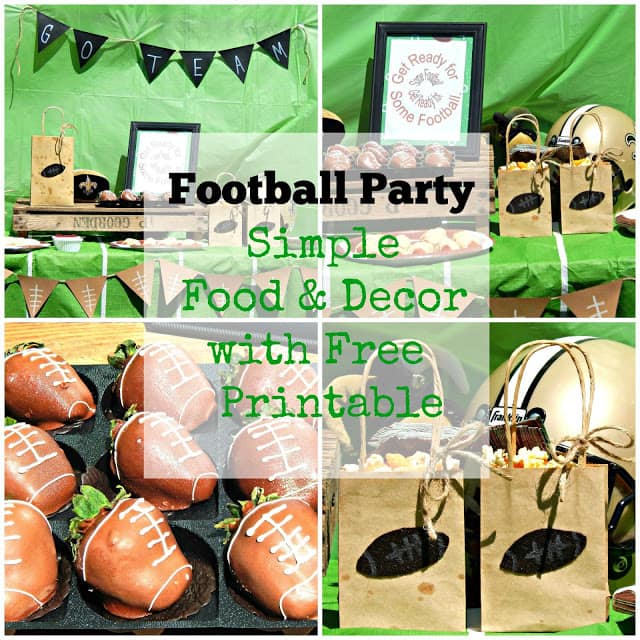 I decorated a table with a few finger foods and treats. I decided to place the beverages on a different table.
My little boy helped me come up with the ideas for the food. After the Football Party, I found treats that I forgot to put out on the table.
Football Party Food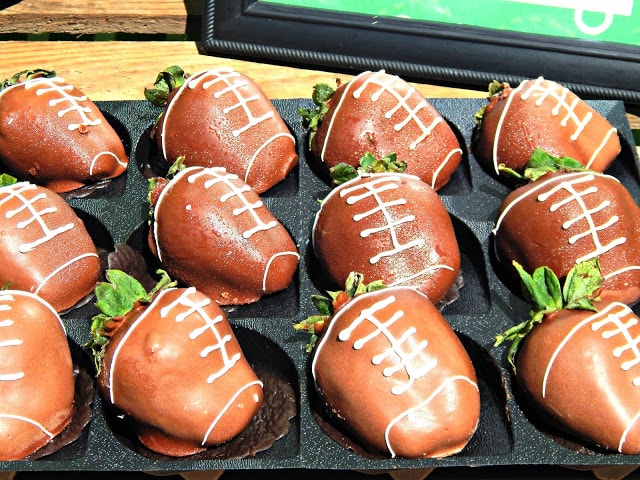 1. Chocolate Football Strawberries – Fun and delicious large size strawberries covered in milk chocolate made to look like footballs are from Shari's Berries.
These delicious strawberries offered a bit of sweetness for our guest and looked great with our football theme food and decor.
The strawberries were delivered on Friday two days before our party on Sunday. The dozen of strawberries arrived at my front door in a cooler box; I was surprised how fresh they tasted on Sunday.
I love that I can order dessert for a party that my guest can enjoy that I don't have to worry about taking the time to make or cleaning up a mess afterwards.
Note– If you are placing your strawberries outdoor for a party I suggest laying them on a bed of ice or freezer packs. If you would like to surprise your family and friends with some delicious chocolate dipped Strawberries from Shari's Berries you could use the discount codes here to save money on an order.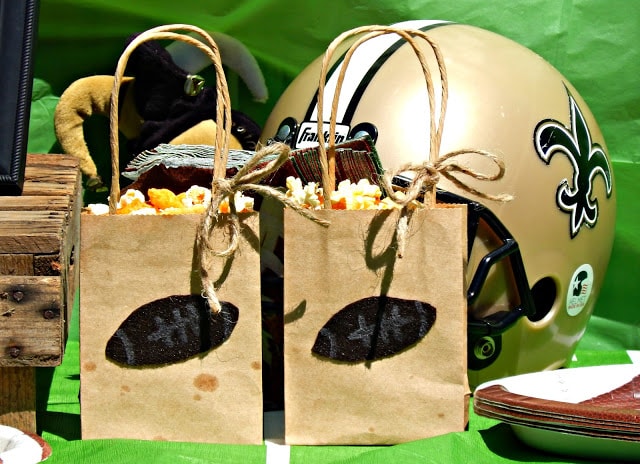 2. Easy to make Individual Popcorn Snack Mix – I popped one bag of butter flavored popcorn in the microwave according to the directions on the popcorn bag, then I poured the popcorn into a large bowl mixing in one (1)box of Cheez-It Snack Mix (10.5 oz).
This was the easiest and simplest snack I ever made. I poured the popcorn snack mix into little brown bags that I decorated.
Make the bags: The bags were simple to decorate. I purchased the brown bags with handles from Michael's. I drew and cut out football shapes on sticky back brown felt then peeled the backing off and stuck them on the bags.
I used a chalk marker to draw on the white lines. The guest loved having their own individual snack bags.
Kim's note- the only thing I wish I would have done differently is put some tissue paper inside the bags before pouring the snack mix into each bag, to keep the oils from absorbing through.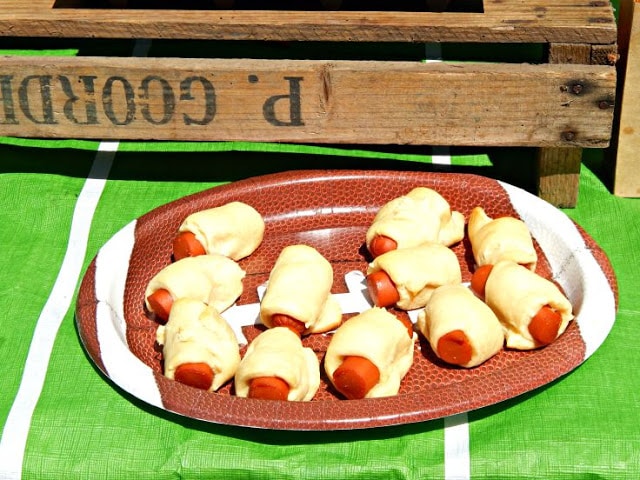 3. Pigs in the Blanket- This snack was my son's idea, and he kept sneaking and eating them. I used one can of Pillsbury Crescent rolls and one package of hotdogs.
I cut the hot dogs in half and cut each perforated raw dough in half, then rolled each hot dog half in a piece of the dough.
I placed the Pigs in the Blanket in a preheated oven to 350 degrees. I followed the directions on the Crescent Roll package for the time.
4. Potato Chips- I poured a bag of chips into a medium size brown bag with handles I purchased from Michael's. I decorated the bag with a felt football and brown twine. The guest scooped their chips out of the bag using a large plastic spoon.
5. Individual English Muffin Pizzas- I placed a tray of English Muffins that I separated on a tray with Mariana sauce, cheese, pepperoni, and bell peppers. Each guest made their own Individual pizza that was cooked in a toaster oven.
Football Party Decorations
1. Plates, napkins, cups, tablecloths were purchased from Walmart.
2. Get Ready for Some Football Free Printable. I love the way this printable turned out. I placed it in an 8×10 black frame that I already had; I think a brown or tan frame would have looked better.
You can download the printable free. Please do not sell the print for private use only.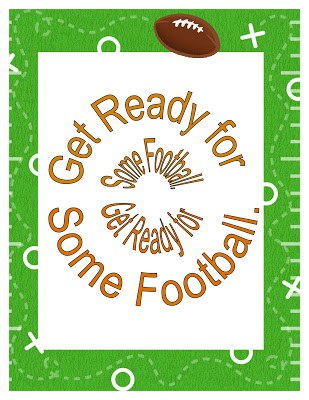 3. DIY Go Team Chalkboard Banner- I spray painted six cork board pennants that I had purchased from Michael's with black chalkboard spray paint.
After the pennants had been dried, I glued them onto brown twine using a hot glue gun. I used a chalkboard marker to write my message on the banner. I loved the way it turned out.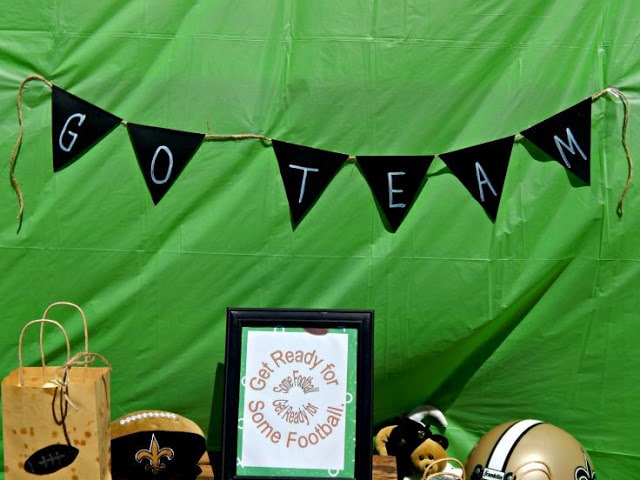 4. DIY Football Banner– I used 12 cork board pennants to make this easy Football Banner.
I used a white chalkboard marker to draw the lines on each pennant then I hot glued each piece onto brown twine. I think my banner turned out great. What do you think?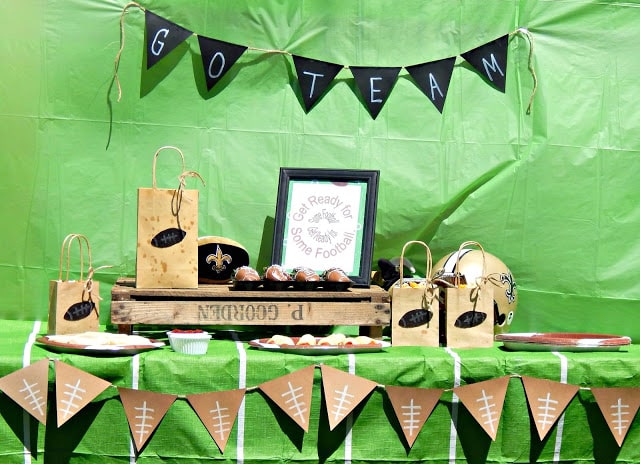 5. Miscellaneous Decorations- I used my son's New Orleans Saints Football Helmet and Football on the table as decorations since we already had them.
Also, I used an old wooden flower crate to add height to the decor and food on the table.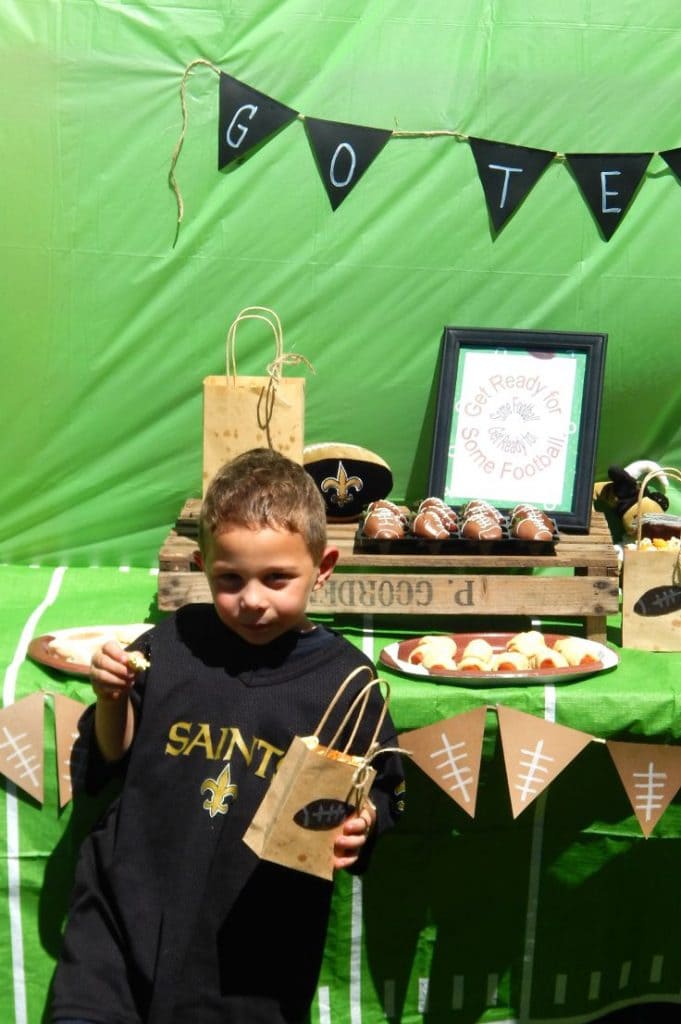 You can see it doesn't take a lot of food or decorations to throw a quick, simple, and fun Football theme party.
All the guest enjoyed the food and the company, even though the team we were cheering for lost the game!
I hope I have given you some great ideas to inspire you to host your own Football Theme Party.