Skippy Singles Peanut Butter Gluten-Free Halloween Treat Bags are the perfect gluten-free treat to hand out this Halloween.
Halloween is soon approaching, and all the little ghosts, goblins, and princesses will be knocking on doors for treats.
As your little ones collect their bags full of candy and skip off home anticipating eating their loot.
Some children that go trick or treating can't eat everything in their Halloween bags because they can't have gluten in their diets like my friend's daughter.
I decided to make Gluten-Free treat bags using Skippy Peanut Butter Singles.
When I saw the Skippy Singles Creamy Peanut Butter sitting on the shelf at the store. I knew they would be perfect to use in Halloween treat bags.
Skippy Creamy Peanut Butter is Gluten-Free, it's on the back of the container. You should always read labels on a product before purchasing it or giving it to a child or person with food allergies or food restrictions.
I paired the creamy sweet and delicious Skippy Singles Cups with Gluten-Free Crunchy Pretzel Crisps.
The Mini Pretzel Crisps are great for dunking into the Skippy Creamy Peanut Butter.
Skippy Singles is the perfect size to put in treat bags, and the cups have just the right amount of Peanut Butter for a snack.
I made cute gift tags to put on the Halloween Treat bags. The gift tags are a great way to let kids and their parents know the contents of the bag is Gluten-Free.
I love that I can offer an alternative and know that the treats inside the bags are delicious.
If you're anything like me, you'll just eat the Peanut Butter out of the cups with a spoon and not worry about the Pretzels.
You can download the printable free to use to make your Gluten-Free Treat bags.
Please note the gift tags have been updated. They do look different then the ones posted in the photograph for some odd reason that file has disappeared. 
Once you printed out the gift tags follow the line and cut it out, use a hole puncher to make a hole in the gift tag. Tie the gift tag to the treat bag using baker's twine.
Stand back and admire your Skippy Singles Peanut Butter Gluten-Free Halloween Treat Bags.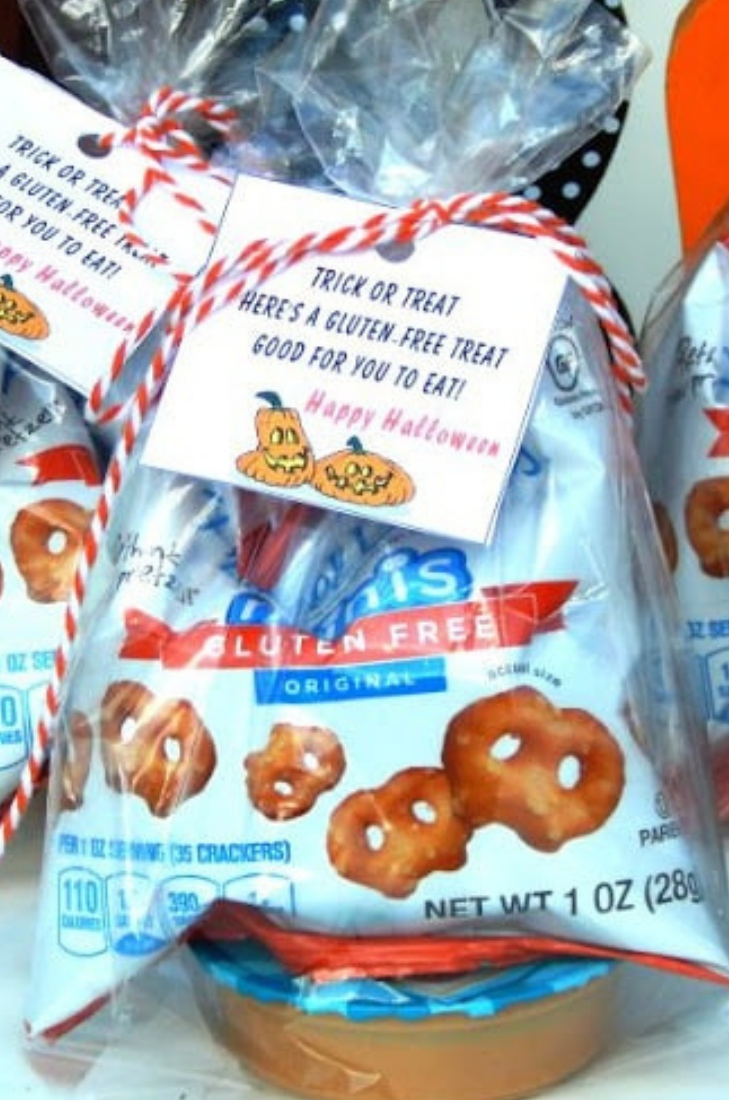 UPDATED 10/2/2019