This Smothered Eggplant Rice Dressing is a popular Southern Louisiana recipe. It's diced eggplant smothered with onions, garlic, pork, and rice.
This recipe is a favorite of mine from my childhood. I can remember being mesmerized as I watched my Maw-Maw stand over her big pot stirring the contents inside like she was making something magical.
I always loved the way her house smelled when she was cooking, especially when she made this Eggplant recipe.
Once my grandmother passed away, and I became an adult I started calling my Mom for the recipe.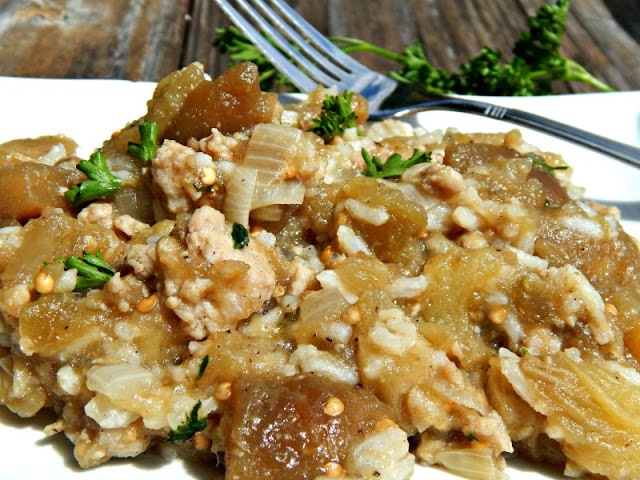 This recipe has become one of my family's favorite summertime meals. I use fresh Eggplants  from our Garden .
I have found even though the Smothered Eggplant Rice Dressing tastes great, it still doesn't taste like my Maw-Maw's.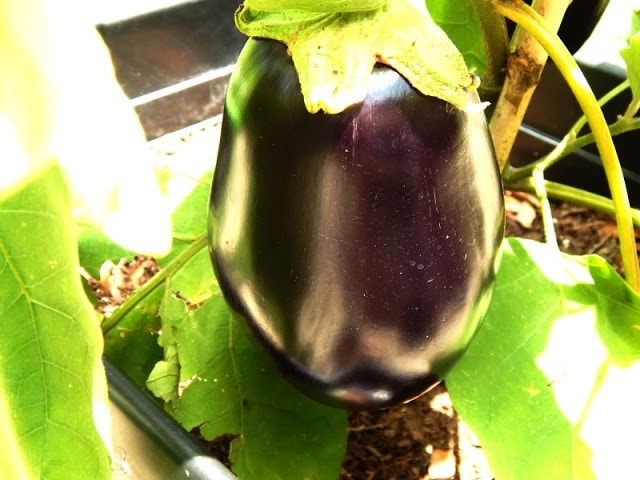 Ingredients for Smothered Eggplant Rice Dressing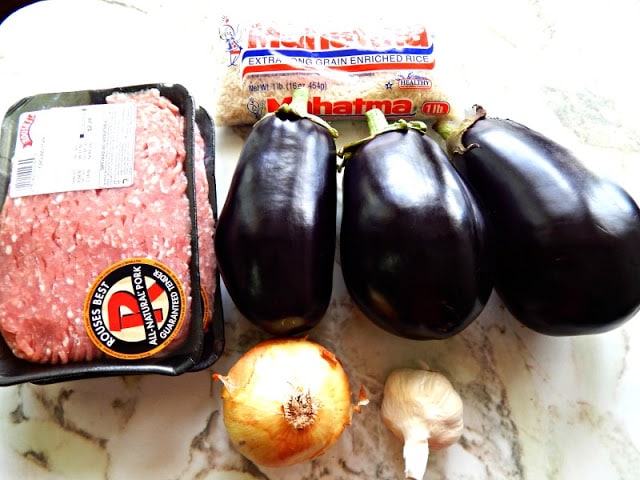 3- Large Eggplants, peeled and cut into cubes
2 lbs. Ground Pork  (can use Italian Sausage or Ground Meat)
1/2 Cup fresh parsley plus 1 tablespoon for garnish
3 tbsp. extra virgin olive oil
1 – Medium onion diced
2- Cloves garlic minced
1- Cup cooked rice
1/2 – Cup water
salt & pepper to taste
optional: Tony Chachere's Creole Seasoning (to your liking)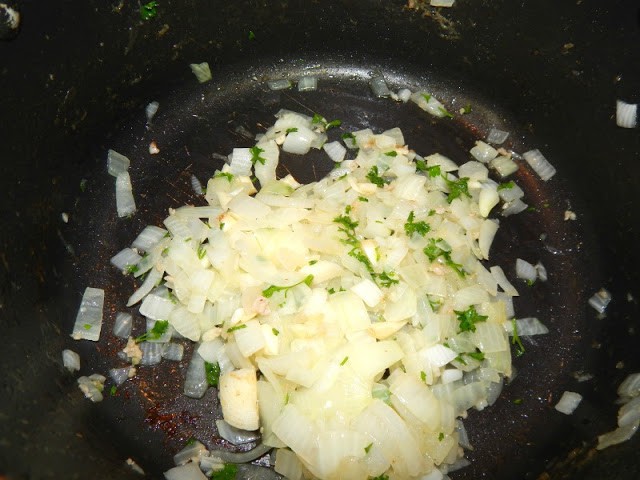 How to Make Smothered Eggplant Rice Dressing
1. Cook rice and set aside.
2. Brown ground pork in a large pot then pour meat into a bowl and let sit.
3. Add 1 tablespoon oil to pot, where you just removed ground pork, lightly saute 1/2 cup parsley, onions, and garlic.
Once cooked remove from the stove top and set aside.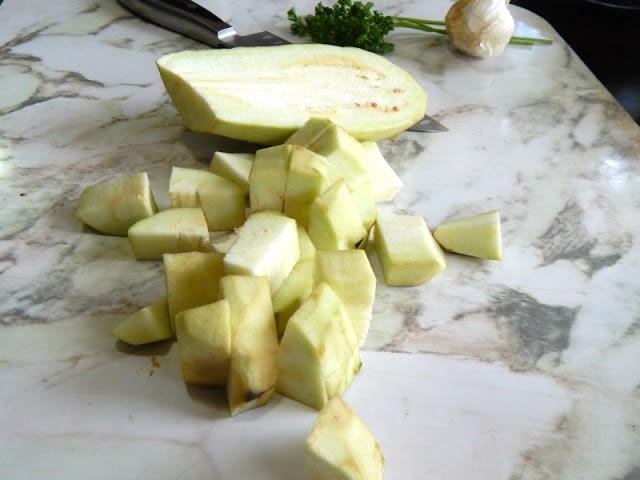 Peel and cube Eggplant. Add 1/2 cup water to a heavy bottom pot, add eggplant.
Kim's note – add a little more water while cooking the eggplant down if needed.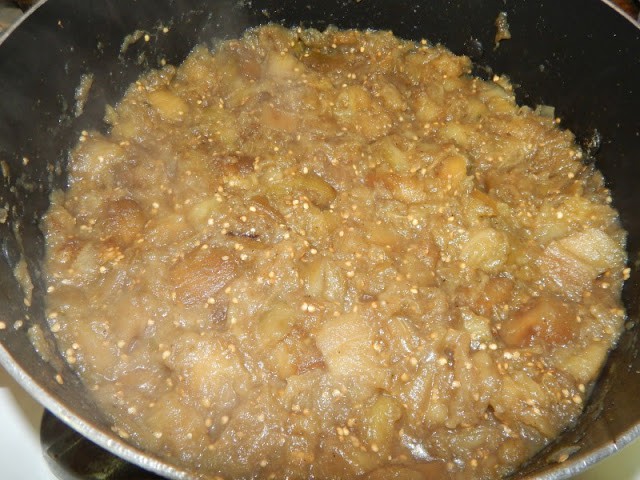 5. Stir eggplant often cooking all the water out. Smother it down, scrape off any that sticks to the bottom of the pot.
Once the water is cooked out add the remaining olive oil. Stir until the eggplant is completely mashed up.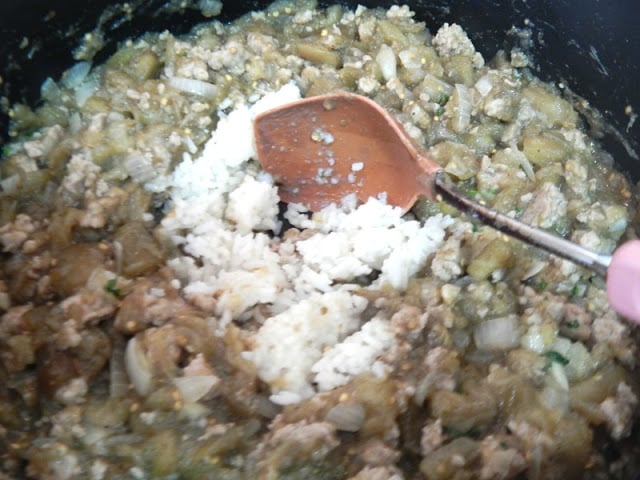 6. Add all the saute vegetables, meat, seasoning, and rice to the eggplant stirring until the food is completely mixed together.
Sprinkle with remaining parsley. Serve hot.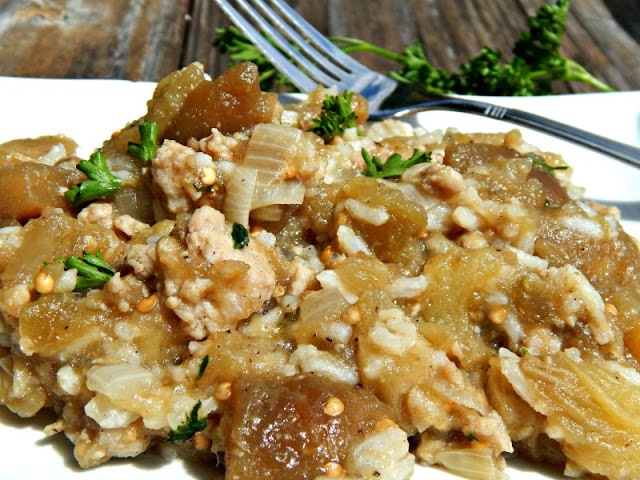 Serve with French Bread and Salad. Serves 4-6 people. Doesn't the eggplant dressing look delicious? Do you have a favorite recipe using eggplant?
PIN ME: