This delicious and easy to make Cheesy Garlic Caprese Bread recipe is perfect to serve for lunch or as a snack.
I love summer time; it's the one time of the year I have fresh vegetables growing in my backyard. This year I went overboard planting tomatoes.
Last summer I felt like I didn't have enough tomatoes for all the different recipes I wanted to make. Since I have a ton of fresh, delicious tomatoes, I decided to surprise my family with this Cheesy Garlic Caprese Bread.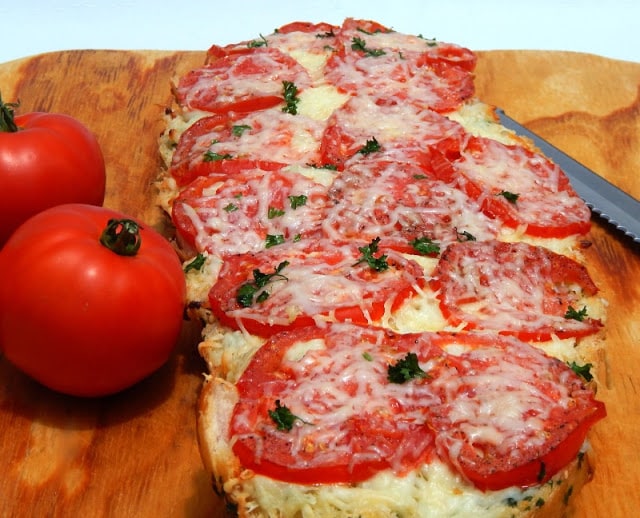 This recipe is simple to make and a great way to use your favorite store bought bread. I used French Bread from Rouses's Supermarket, it's one of my family's favorite breads.
Now just because I am using tomatoes, I am not going to lie to you and tell you this recipe is healthy. I can tell you it's pretty darn delicious!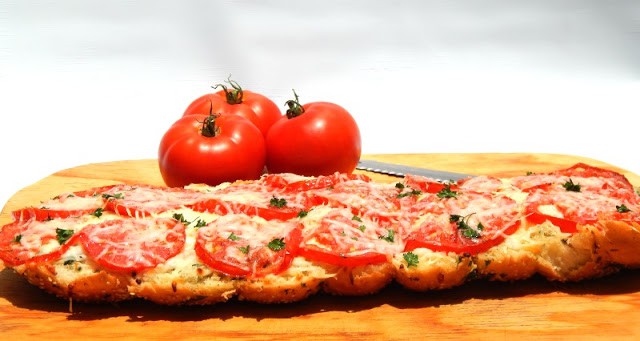 If you decide to make this recipe you may want to cut you a big Ol' slice before your family eats it all.
I am warning you the Caprese Bread is addicting; once you taste it you will want to devour the entire loaf. I had to hide the bread when it was finished cooking until I was ready to serve it!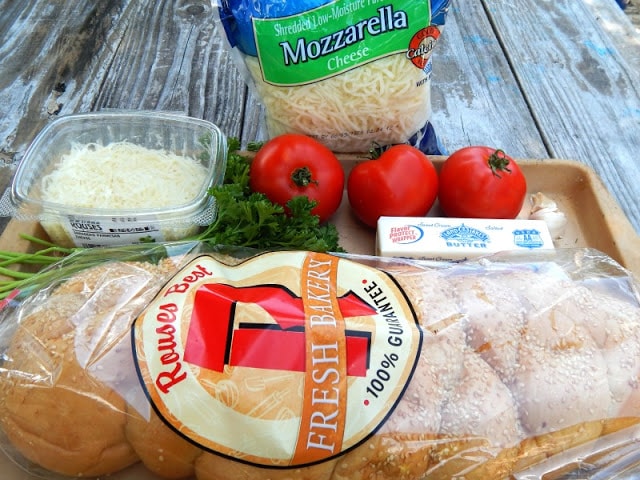 What's in Cheesy Garlic Caprese Bread
3- Medium tomatoes
1 Loaf  Braided French Bread (I only used half of it)
1/2  Stick Butter (I used Land of Lakes)
1- Clove Garlic
1/4 Cup Fresh Parsley plus 1- teaspoon Parsley
1 Cup Mozzarella Cheese
1 Cup Fresh Parmesan Cheese
2 tablespoon Extra Virgin Olive Oil
Salt & Pepper to taste
Note- Double the recipe if you want to use both halves of the loaf of bread.  
How to Make Caprese Bread
Preheat oven to 400 Degrees .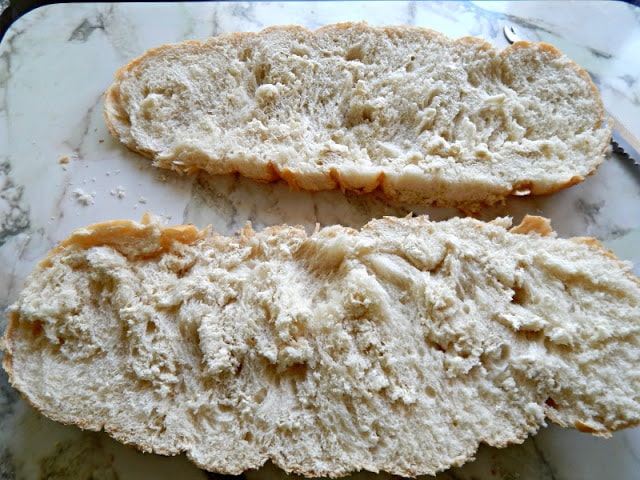 1. Slice the loaf of French Bread using a bread knife down the center like the above picture.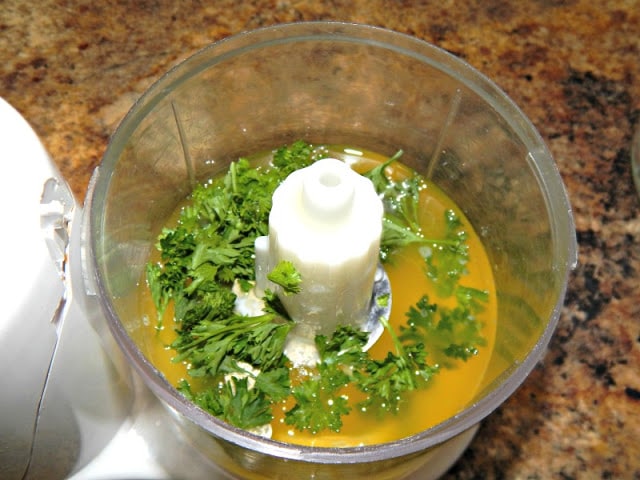 2. Melt butter in small bowl in microwave until fully melted. Remove butter from microwave, pour butter into a food processor (I used a small food chopper) add 1/4 cup fresh rinsed and dried parsley , peel garlic clove then add it to the butter.
Blend all the ingredients together until they're finely chopped and mixed together. Pour the butter mixture into a small bowl, using a basting brush carefully brush the top and bottom side of the bread.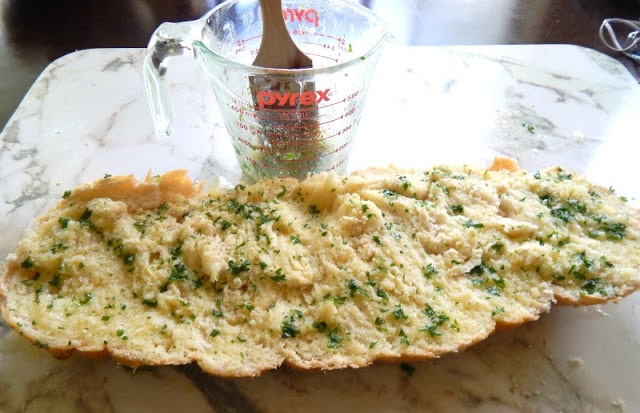 3. Place the bread cut side up onto a baking sheet. Sprinkle the Mozzarella cheese on top, then sprinkle half of the Parmesan cheese on top. Place the bread in the oven for 5 minutes.
4. While the bread is in the oven. Rinse, dry, and thinly slice the tomatoes (see below picture).
Once you slice your tomatoes lay them down on a plate. Drizzle one side of the tomatoes with the Olive Oil then sprinkle on salt and pepper to your liking.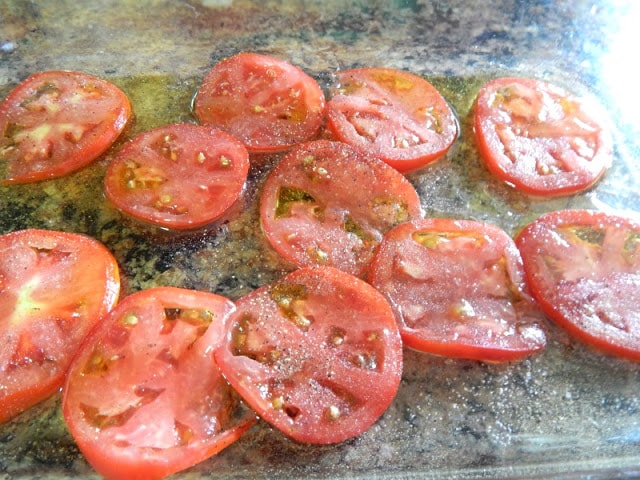 5. When the bread is finished baking carefully remove the baking pan from the oven and set down on a flat surface. (Leave oven on) Place the tomatoes on top of  the baked bread .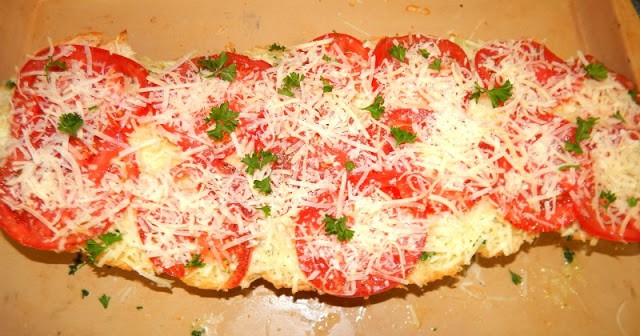 6. Sprinkle the remaining Parmesan Cheese on top of the tomatoes. Next, evenly spread the remaining parsley on top of the cheese and tomatoes.
Bake for 12-15 minutes in the oven on 400 degrees until cheese is melted and the tomatoes are cooked all the way through.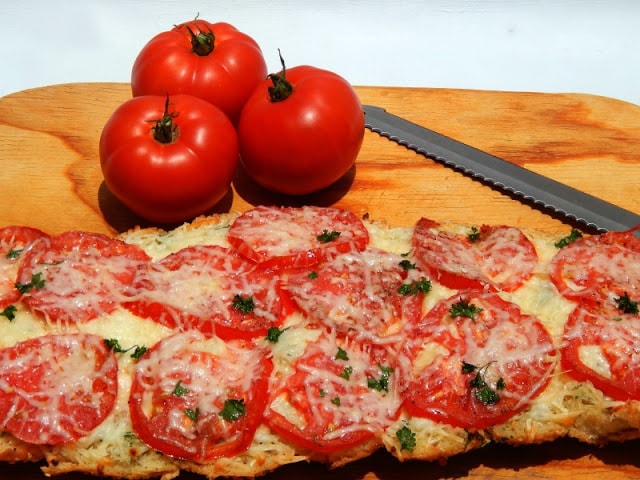 7. Remove the baking pan from the oven and let cool for 5 minutes. Slice and serve!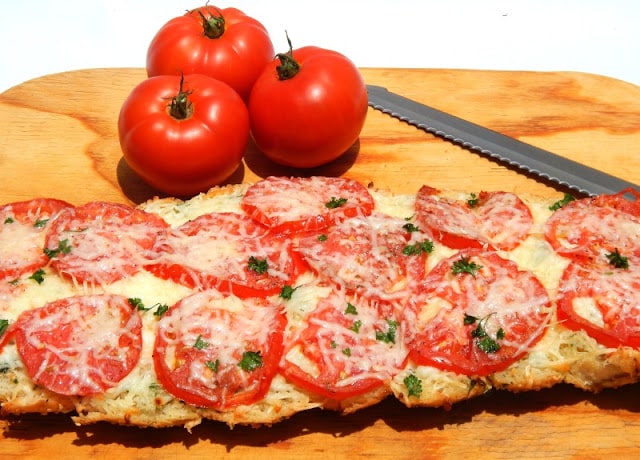 8. You can eat the Caprese Bread alone or serve it with your favorite meal.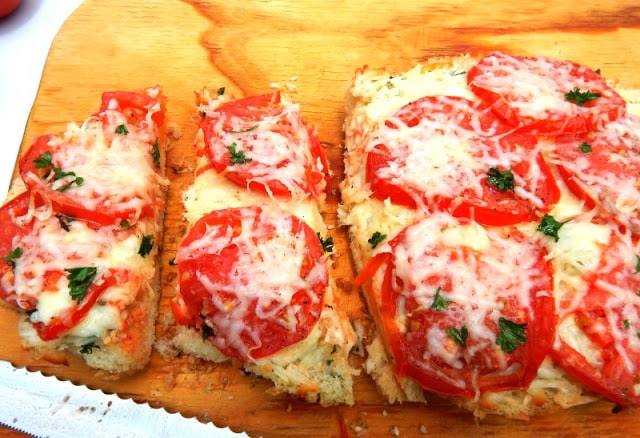 Do you have a favorite tomato recipe you would like to share?
I think this recipe will become one of my family's favorite. It was easy to make and it's absolutely delicious. I know you will want to try it. Warning: You make need to make more than one loaf!