This PEEPS®-tastic Easter Basket Idea & Printable make an Peeps-tastic Easter basket that will sure to please even the pickiest people.
PEEPS & COMPANY® has the cutest merchandise. They offer more besides the cute iconic "Yellow Marshmallow Bunnies" that we all love and associate with Easter.
They also have a variety of fun and non-edible treats.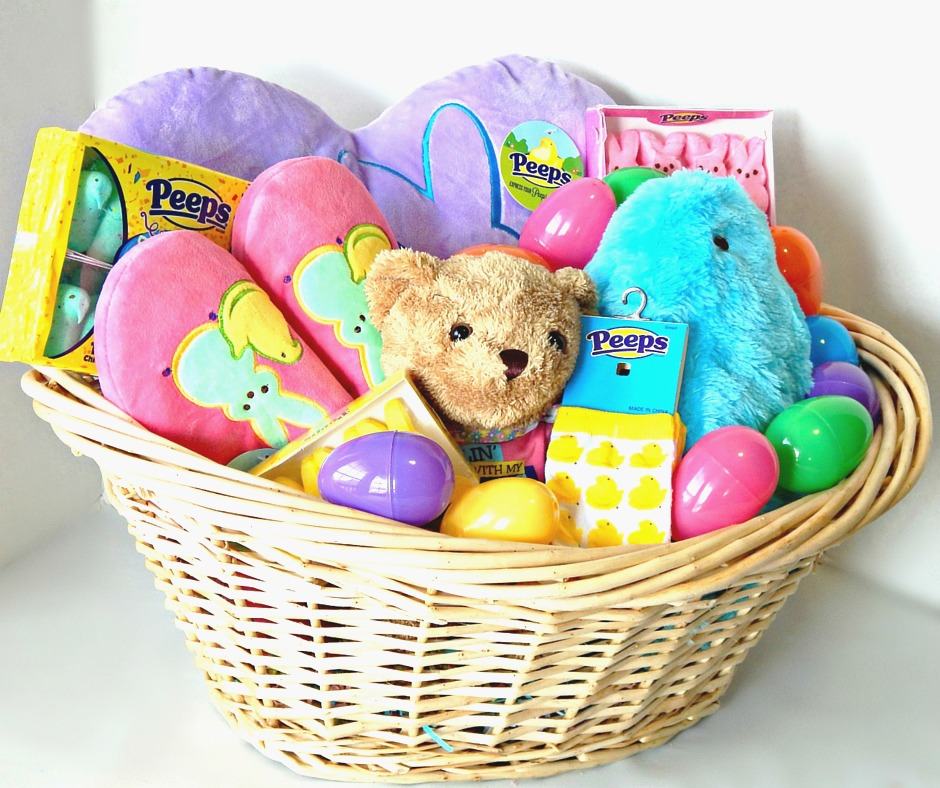 Disclaimer: PEEPS & COMPANY® provided me with information, samples and a discount code for me to facilitate this post. All opinions are my own and honest.
WHAT'S IN the basket
I was sent a PEEPS®  BFF Heart shaped pillow,  PEEPS®  adult BFF slippers,  PEEPS®  spring shaggy pillow,  PEEPS®  socks, the most adorable Chillin' with my PEEPS®  Teddy Bear, and a $15.00 gift certificate which I used to purchase PEEPS®  Marshmallow Bunnies.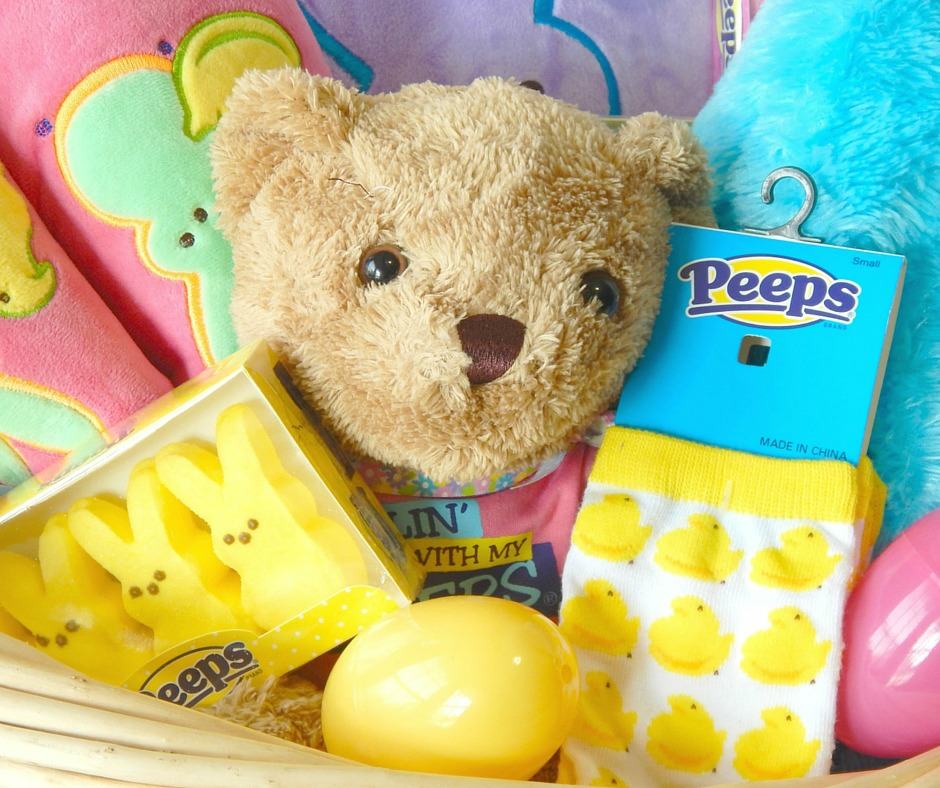 I think any child or adult would be happy to receive a basket filled with treats from PEEPS & COMPANY®.
All the items in the basket are adorable. I know my son and niece would be happy waking up to this basket on Easter morning.
I decided to use a large basket for the Easter treats I thought it would be perfect for storing the slippers or other items after the holiday.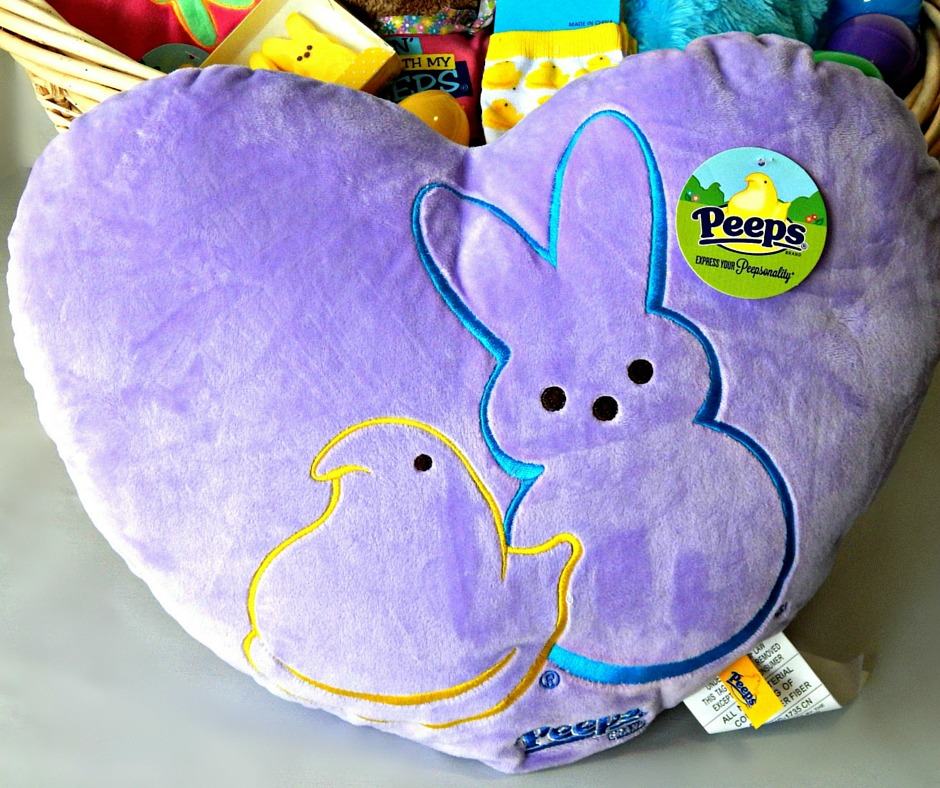 Here's a closer view of the BFF Heart shape pillow. I think any kid would be happy snuggling with this adorable pillow.
I also made some printable gift tags and bag toppers to make the gifts more personable.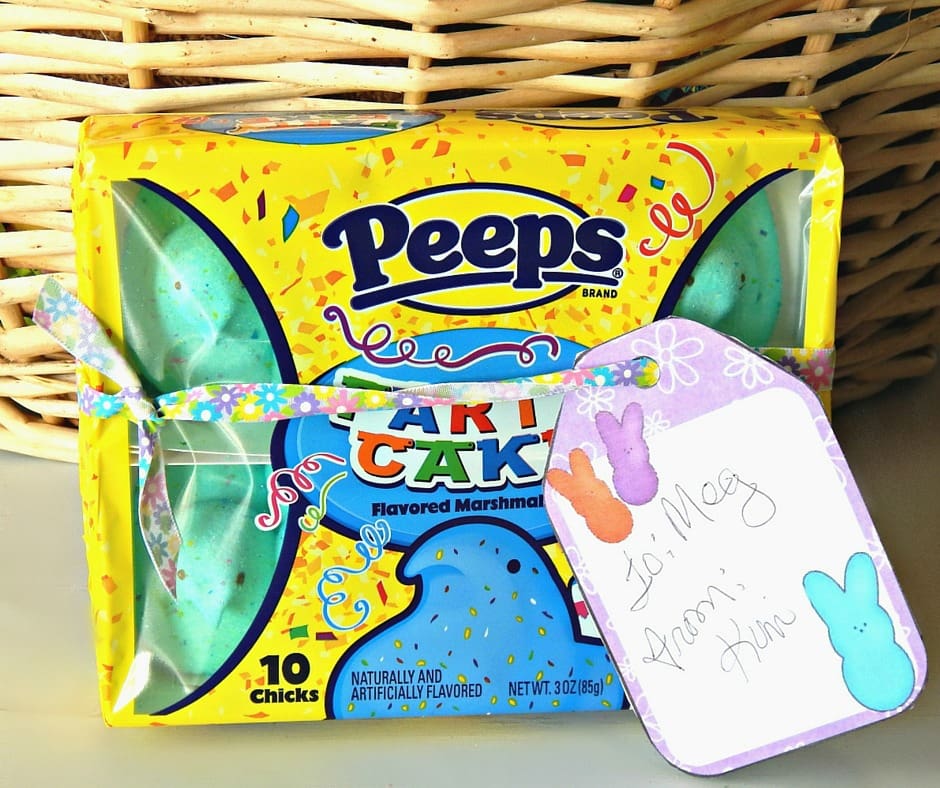 You could tie the printable luggage gift tags with a ribbon around the candy boxes and use them for the other gifts too.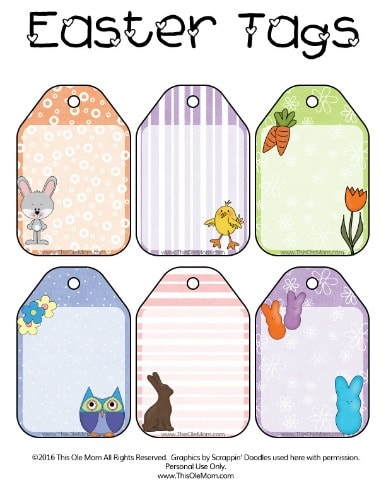 Print Easter Tags_ out on cardstock, cut out and use a hole puncher for the holes. (Personal use only.)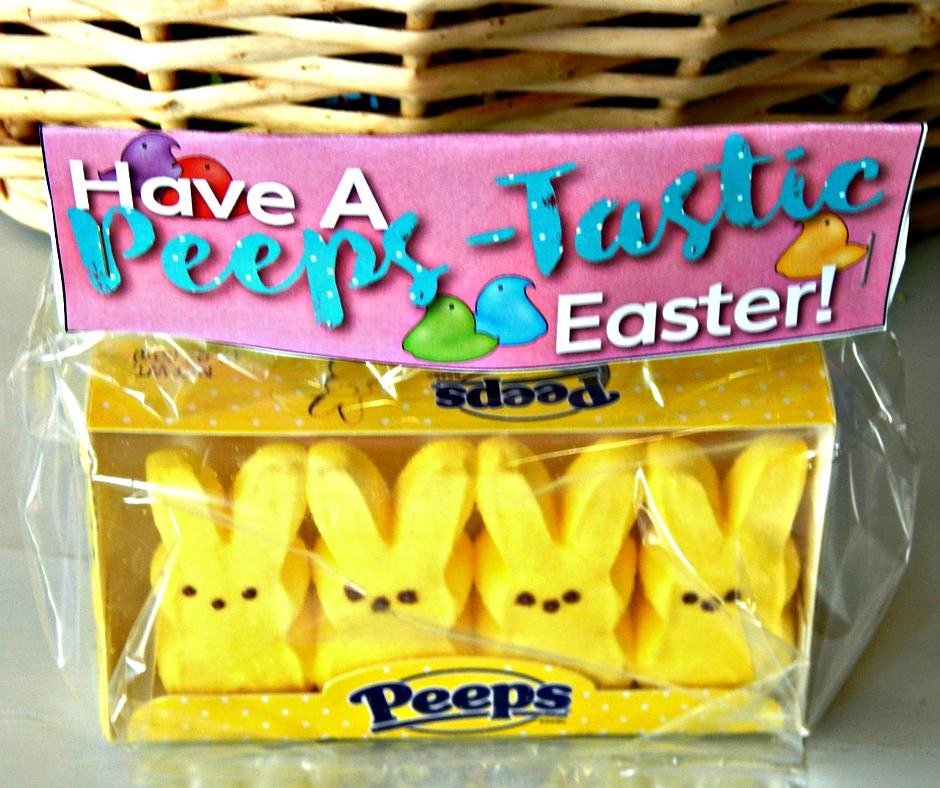 The Printable "Bag Toppers" are an excellent way to personalized gifts. I have several designs you could print out.
I used 5in. X 11in. Treat bags from Hobby Lobby. I cut the top of the treat bags down and stapled the toppers to the top of each bag.
You could also use the treat bags with the bag toppers for socks and other gifts.
Note– you could also use Ziploc bags instead of treat bags.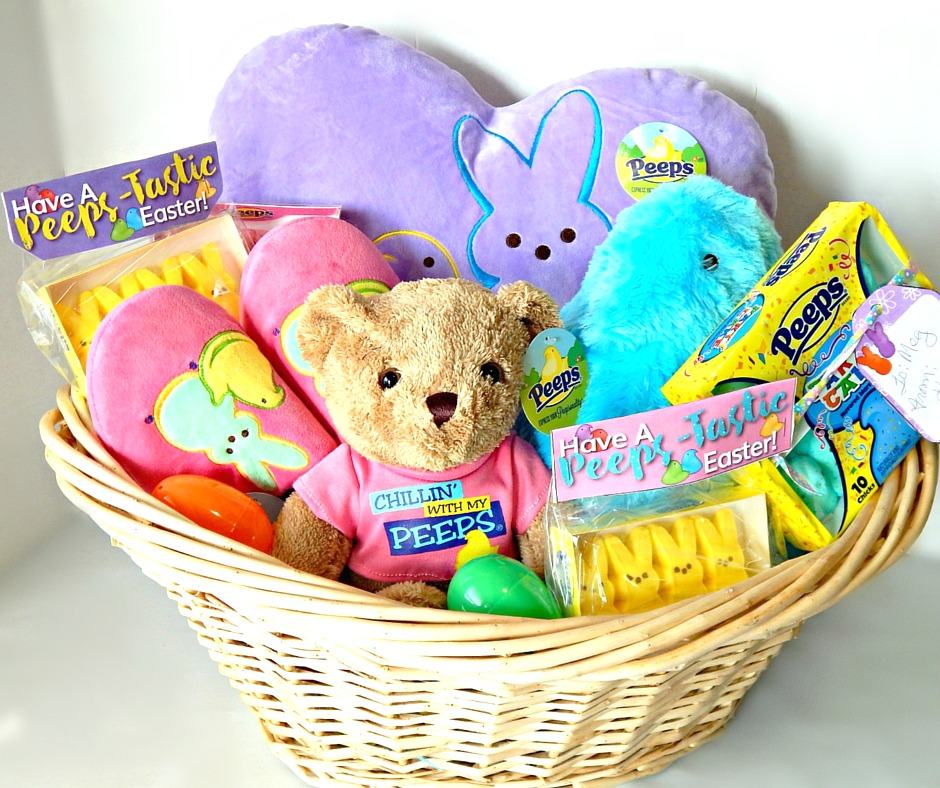 Download Bag Toppers
Download the bag toppers, print out on cardstock, fold and staple to the top of the bags. Each bag topper has a place for you to write a message or leave blank.
For personal use only. I have (2) two bag toppers on each sheet.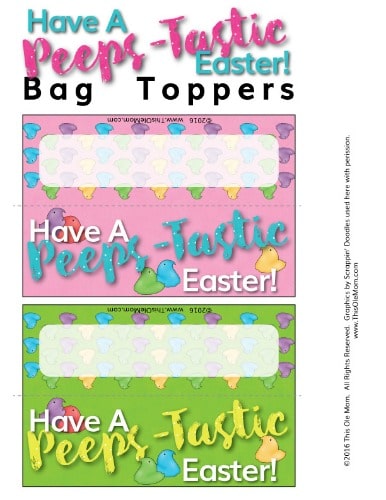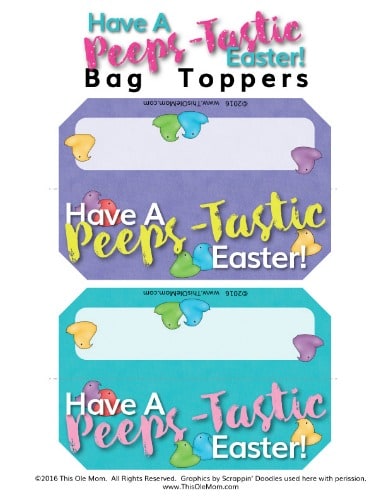 All About PEEPS
I love everything I received from PEEPS & COMPANY®! I hope you love the  PEEPS®-tastic Easter Basket Idea & Printable I put together.
Here's a list of the items sent to me that I have in my Easter basket.
·         PEEPS® BFF Heart Shaped Pillows – Perfect for sharing with your BFF or keeping for yourself, this adorable PEEPS® pillow features the BFF Chick and Bunny on the front!
·         PEEPS® Adult BFF Slippers – Slip into the comfortable and cute PEEPS® slippers! Perfect for a relaxing evening or an early morning, you can't help but smile when you slide into this PEEPTASTIC footwear!
·         PEEPS® Spring Shaggy Plush – Cuddle with this soft, marshmallow-scented PEEPS® Bunny! The sweet, familiar scent is tucked between the soft bunny ears, who is sure to put a smile on anyone's face!
·         PEEPS® Socks (Chick and Bunny): – Brighten someone's day and bring a smile to their face with a great pair of PEEPS® socks.  Available in Yellow, Pink, and Blue, you can be sure these socks will be adored by that sweet someone in your life… or you can tuck them away for yourself, too!
·         Chillin' with my PEEPS® Teddy Bear:  This soft, squeezable Teddy Bear is all decked out in a colorful Chillin' with my PEEPS® Tee!  This adorable bundle of cuteness is made and stuffed with all new materials and stands 9″ high. Available wearing green, blue and pink shirts. For ages 3 and up.
"The PEEPS & COMPANY® products, information, and additional gift pack have been provided by PEEPS & COMPANY®."