This Mardi Gras King Cake Milkshake is crazy big with crazy big flavors. Of course, you wouldn't expect anything less from a milkshake that has been named after a day like Fat Tuesday.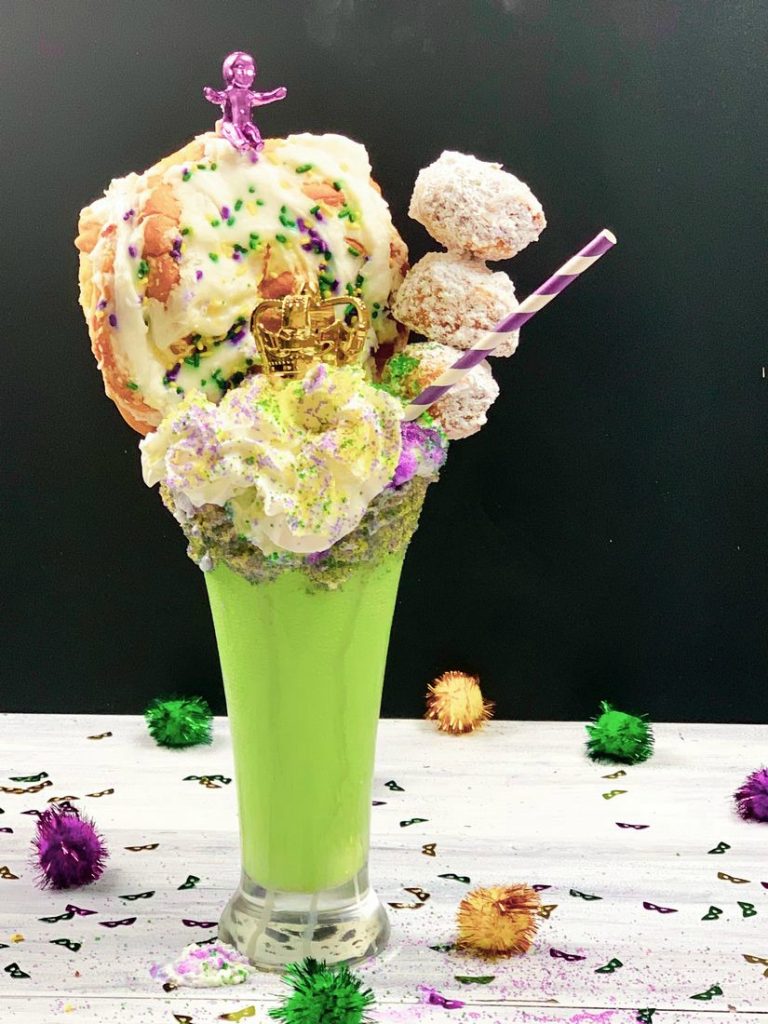 That's why I decided to create a Mardi Gras milkshake with my favorite sweets.
Hence, each yummy treat I used reminds me of carnival time in New Orleans in some way.
I know the milkshake looks fattening. Don't worry it's okay to indulge a bit during Mardi Gras.
It's supposed to be the time we have fun and feast before the 40 days of Lent began, which ends at Easter.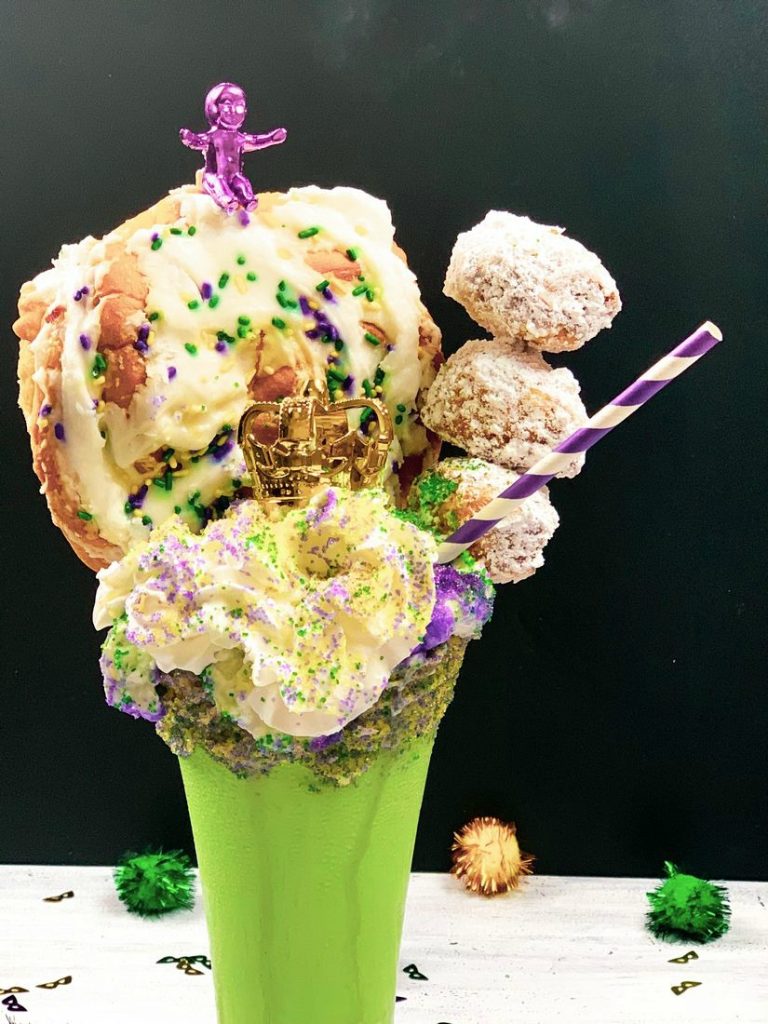 My Mardi Gras King Cake Milkshake is made using Blue Bell ice cream and topped with a mini King Cake from Randazzo's Bakery, beignets covered in powdered sugar, whip cream, and white chocolate with sprinkles.
And, of course, we had to use Blue Bell Mardi Gras King Cake ice cream.
It's cinnamon cake flavored ice cream with pastry pieces, colorful cream cheese swirl, and candy sprinkles. YUM!!!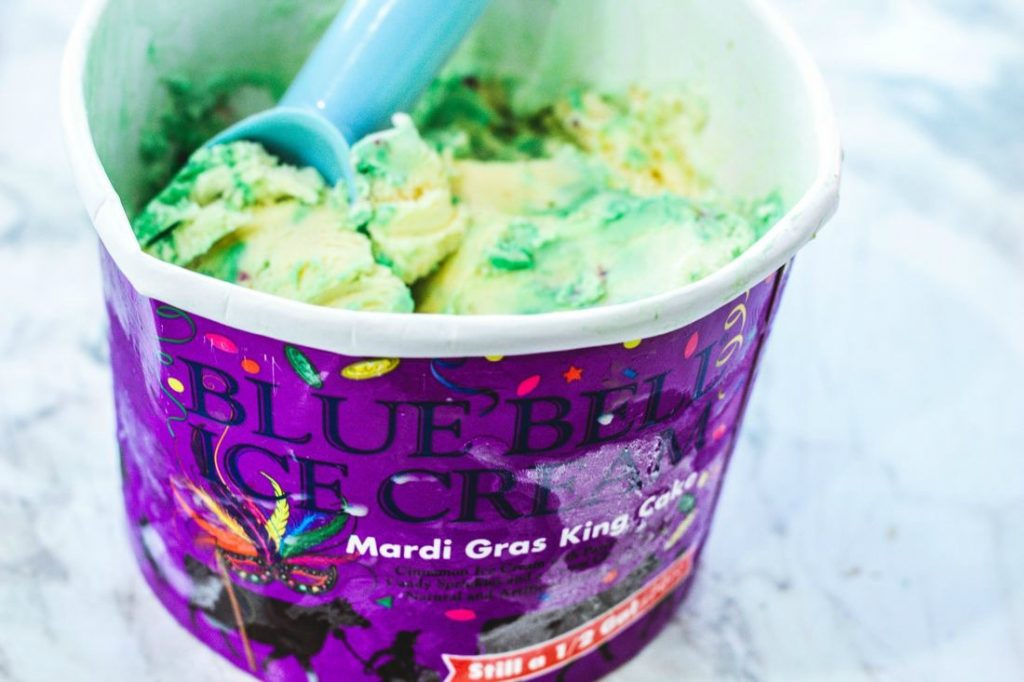 How to make a Mardi Gras King Cake Milkshake
To make a Mardi Gras King Cake Milkshake, you will need ice cream, milk, white melted chocolate chips, sprinkles, skewers, beignets, a mini King Cake, whip cream, and a glass.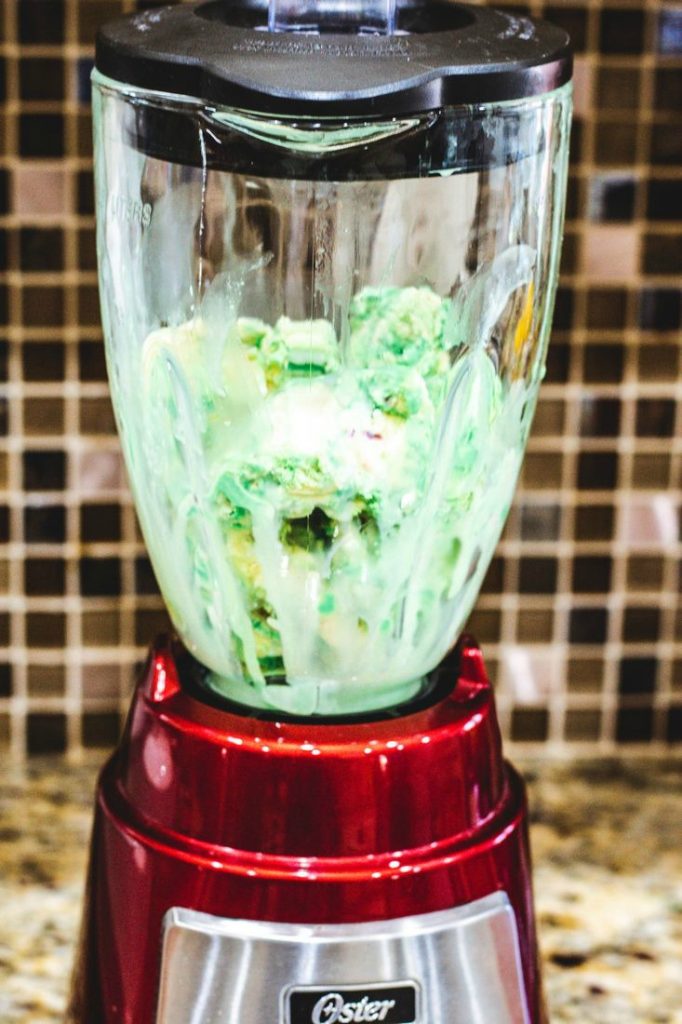 First, you'll need to blend the milk and ice cream together.
Second, melt white chocolate in the microwave. Dip the mouth of a glass into the melted white chocolate and cover with purple, green, and gold sprinkles.
Third, place your King Cake and beignets on skewers. Fourth, pour the milkshake into the glass.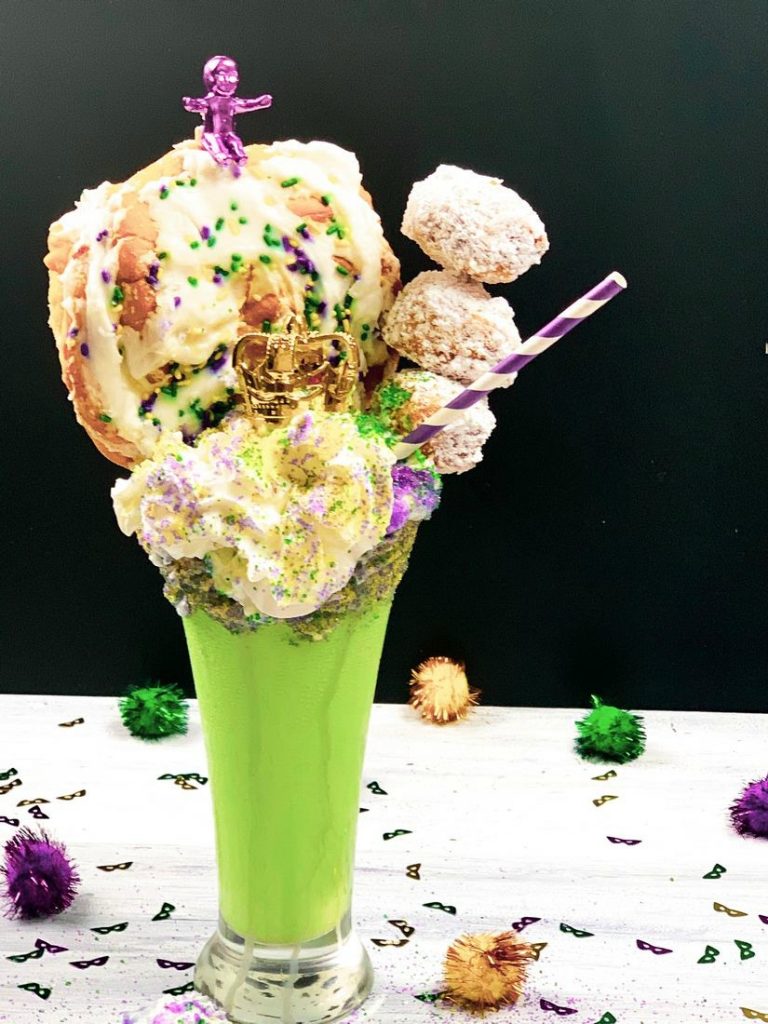 Last, stick the skewers with the King Cake and beignets into the milkshake.
Add whip cream and more sprinkles. Also, for a more festive look add a cute King Cake baby and a crown to your milkshake.
Additionally, you can use a cinnamon roll with sprinkles instead of a mini King Cake.
I used this recipe here for Easy Biscuit Beignets instead of beignets from a place like Cafe Du Monde.
I hope you get a chance to try this crazy delicious milkshake!
Have you been to a Mardi Gras parade in New Orleans?
Download and print out on cardstock the FREE Printable Mardi Gras Subway Art below.
Pin Me: