These Instant Pot Tie Dyed Eggs are easy to make and a creative way to dye eggs in the Instant Pot using Silk Ties.
And it takes only 5 minutes until you have beautiful dyed eggs. Both kids and adults alike will enjoy dying eggs using this simple method.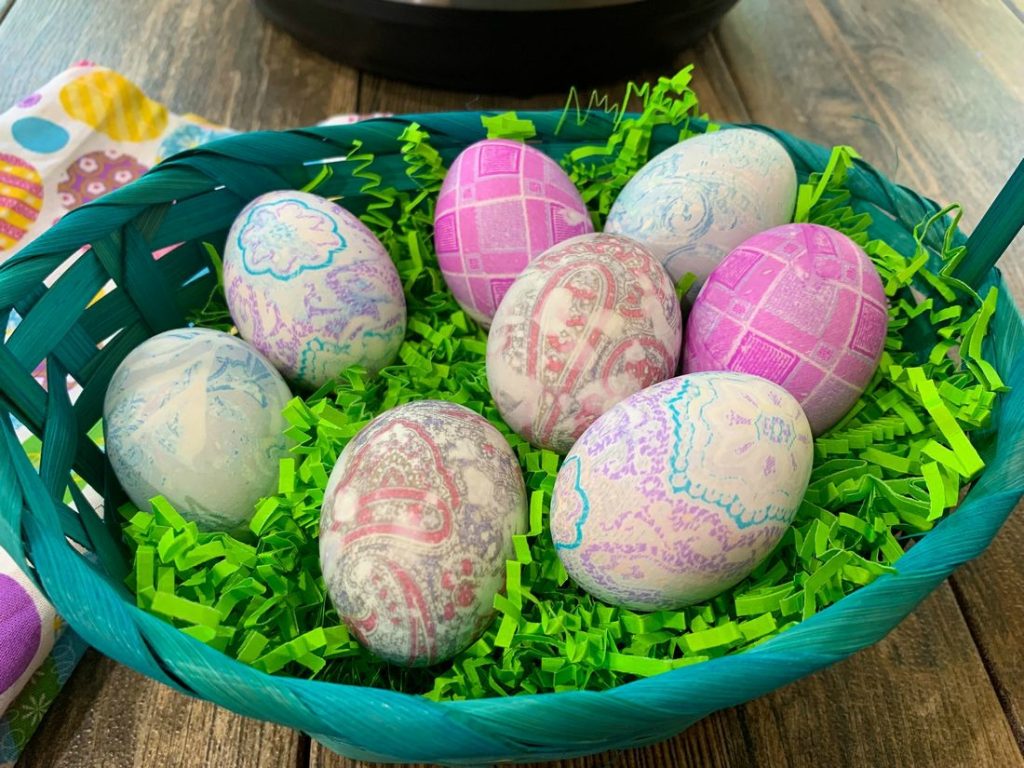 Dying eggs for Easter has always been a tradition for my family as long as I can remember.
My mom dyed eggs with my siblings and me every year for Easter when we were little. Sometimes dying eggs could be a messy task, especially with three children.
I have continued the Easter egg dying tradition with my kids except we tie dye eggs instead.
We have found this method fun and less messy. My kids are amazed when they unwrap their eggs and see the new masterpieces they each created.
NOTE – THESE EGGS ARE NOT EDIBLE MEANT FOR DECORATIVE PURPOSES ONLY!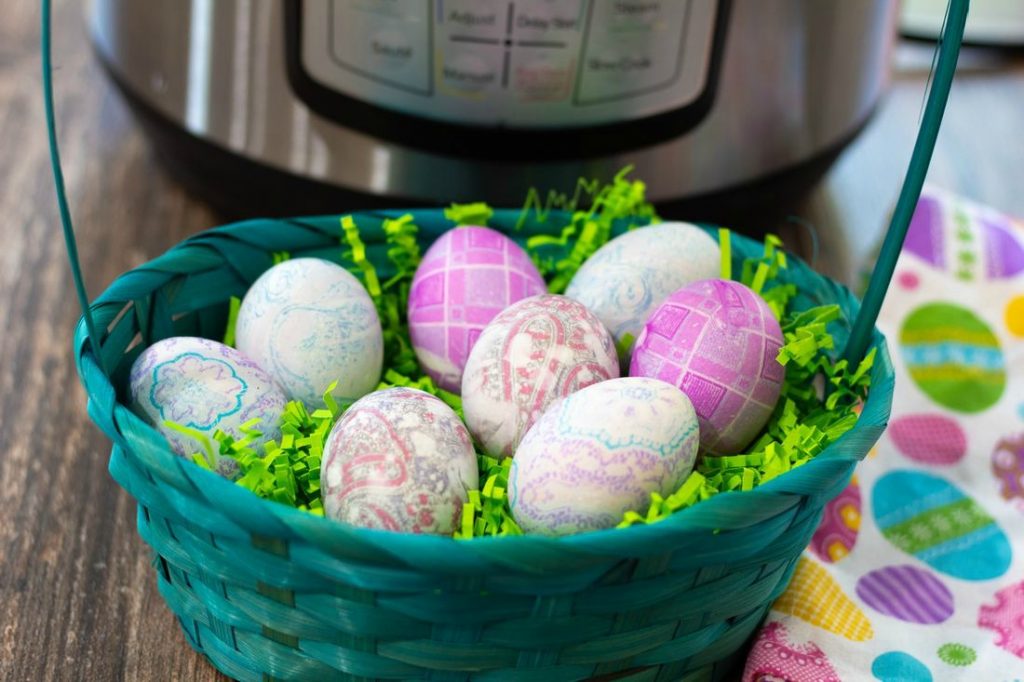 Not only has 100 % silk ties proven to be a creative way to achieve beautiful dyed Easter eggs.
It's also an excellent way to upcycle old ties you might have hanging around in the closet.
Don't worry if you don't have any silk ties they can be easily purchased from thrift stores or online at Amazon.
Additionally, using an Instant Pot to make the tie dyed eggs takes less time then the stove.
Making tie dye eggs on the stove can take up to 20 minutes or more.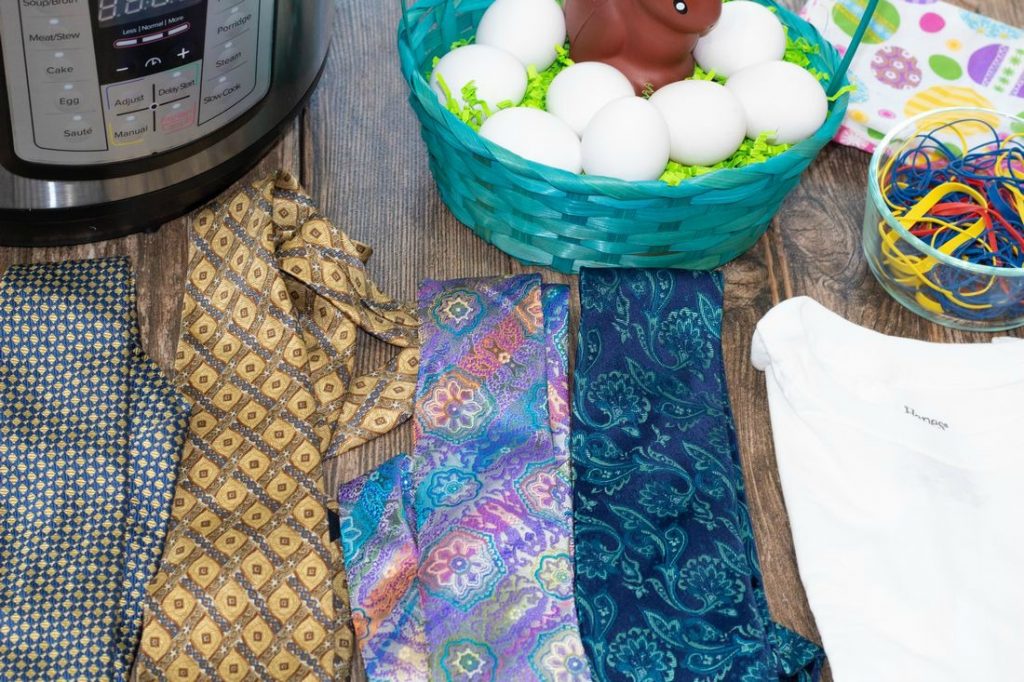 Items Needed:
Instant Pot
100 % Silk Ties with bright and fun Patterns, deconstructed and cut into squares
Old White or Gray t-shirts, cut into squares
water
1/2 cup vinegar
8 – 12 large raw eggs
rubber bands
cookie sheet
tongs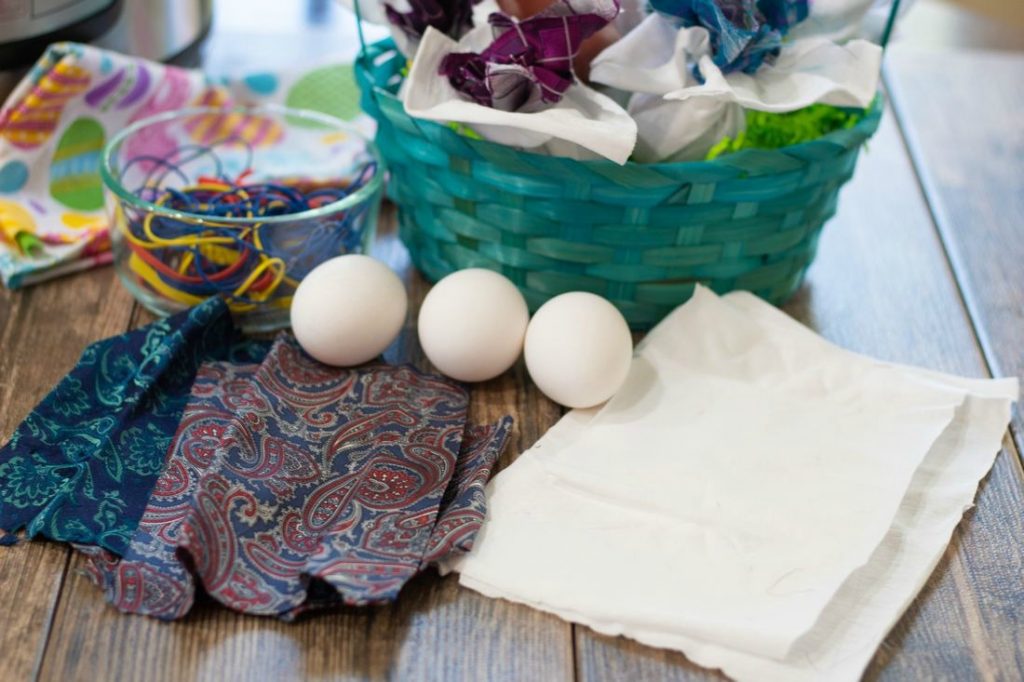 How to Make Instant Pot Tie Dyed Eggs
First of all, deconstruct each tie by cutting and removing the stitching and lining.
You should be left with just the silk fabric. Next, cut the silk fabric into square pieces making sure they will wrap entirely around an egg.
Second, wrap the silk fabric around an egg with the bright pattern side facing the egg.
Pull the fabric tightly making sure not to break the egg, then secure with a rubber band.
Third, cut the t-shirt fabric into squares making sure the material fits around an egg covered in the silk tie fabric.
Next, secure the t-shirt fabric with a rubber band.
Note – check thrift stores for old white or gray t-shirts. Goodwill or Salvation Army are two great places to look.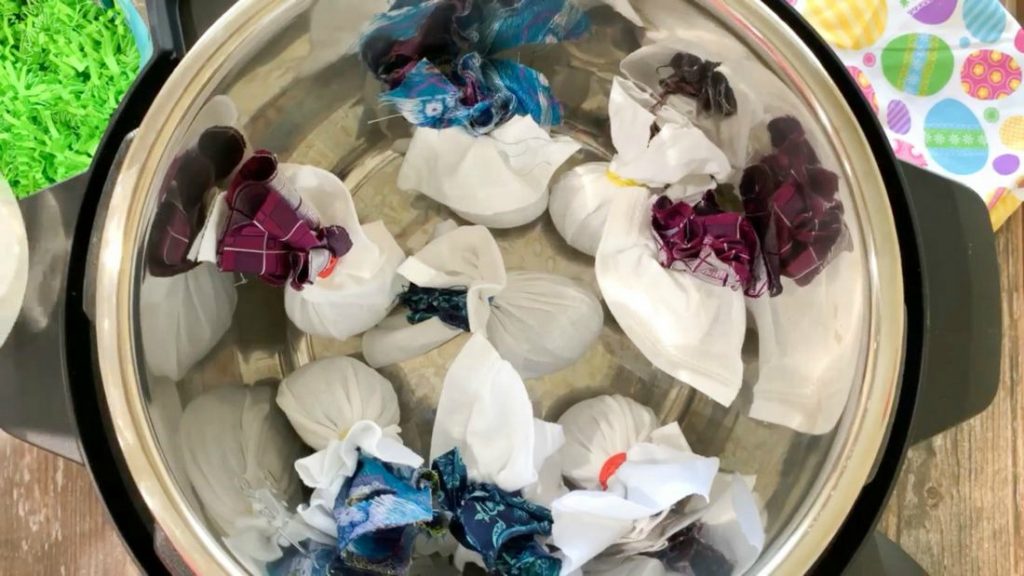 Fourth, place all the covered eggs into the Instant Pot. My Instant Pot is a LUX 80 ( 8 quart). Cover the eggs in water. Pour in 1/2 cup of vinegar.
Fifth, close and lock the lid. Turn knob to sealing position. Next, press the manual button and set for 5 minutes when the timer goes off quick release by turning the knob to venting.
After the valve goes down open the instant pot and carefully remove each egg after steam dissipates.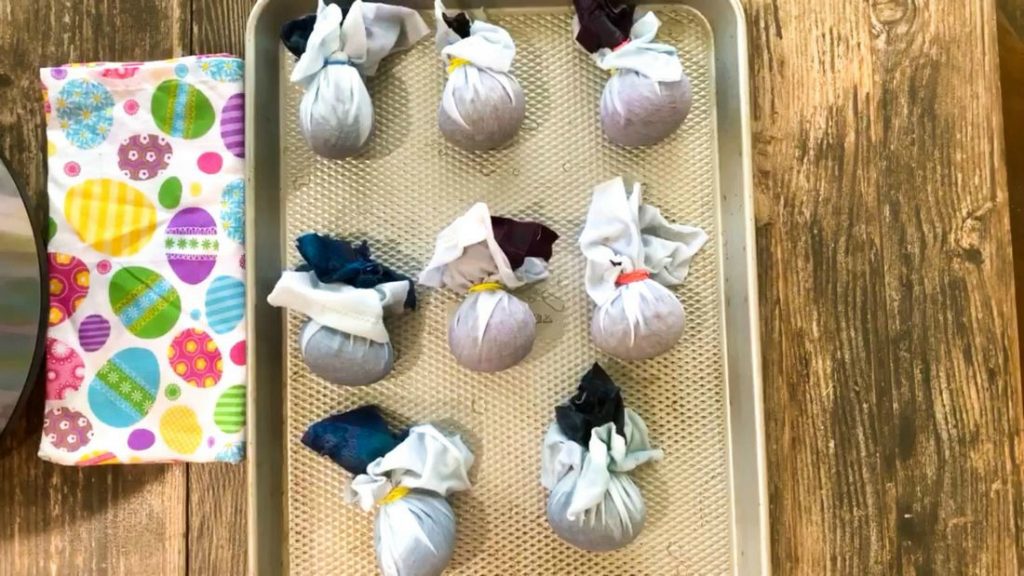 Last, remove all the eggs using tongs and place each egg onto a cookie sheet to cool down (Cool down at least 30 minutes or more).
Next, when the eggs are cooled completely cut the rubber bands and unwrap the eggs.
Lay the eggs on paper towels to air dry or place them in a basket with paper grass.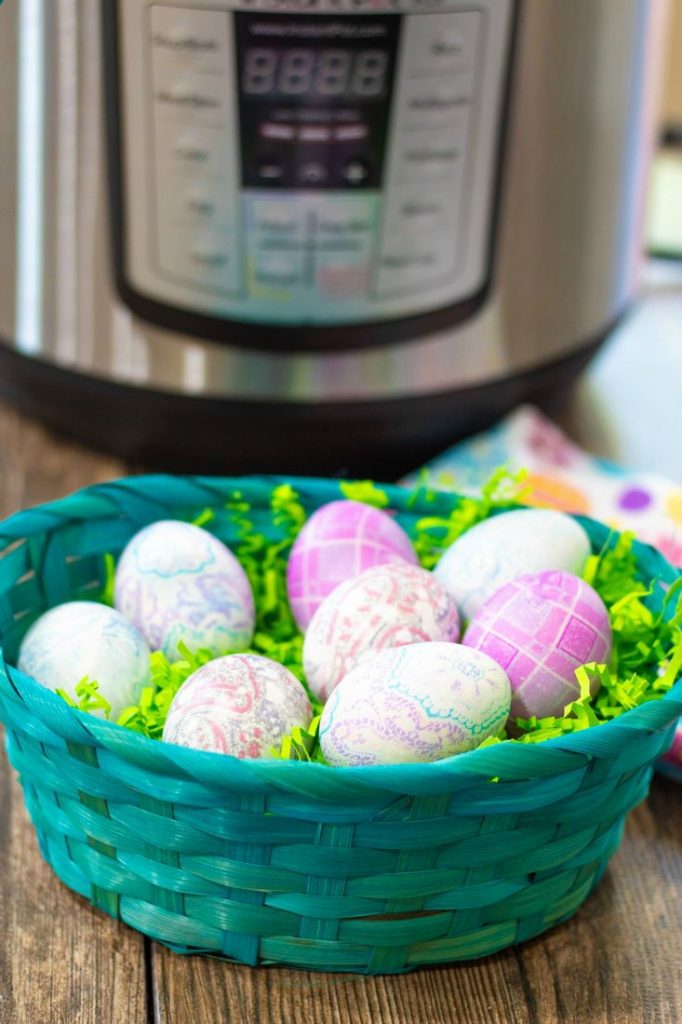 Aren't the silk tie dye eggs beautiful? Who knew tie dye eggs could look this eggcellent?!!
Can you eat Silk Tie Dyed Eggs?

NO don't eat these eggs only use for decorative purposes only!!! These eggs are not EDIBLE!

I would use these silk tie-dyed eggs as a fun science experiment to wow the kids or as decorative pieces like one would use Faberge eggs.
Of course, these hard boiled eggs don't cost an arm and a leg. You could also use these dyed eggs as conversation pieces on the dinner table for Easter then throw them away.
These eggs are beautiful to look at and will last in the fridge for up to one week.
Please clean your inner pot thoroughly after using it for these eggs.


PIN ME: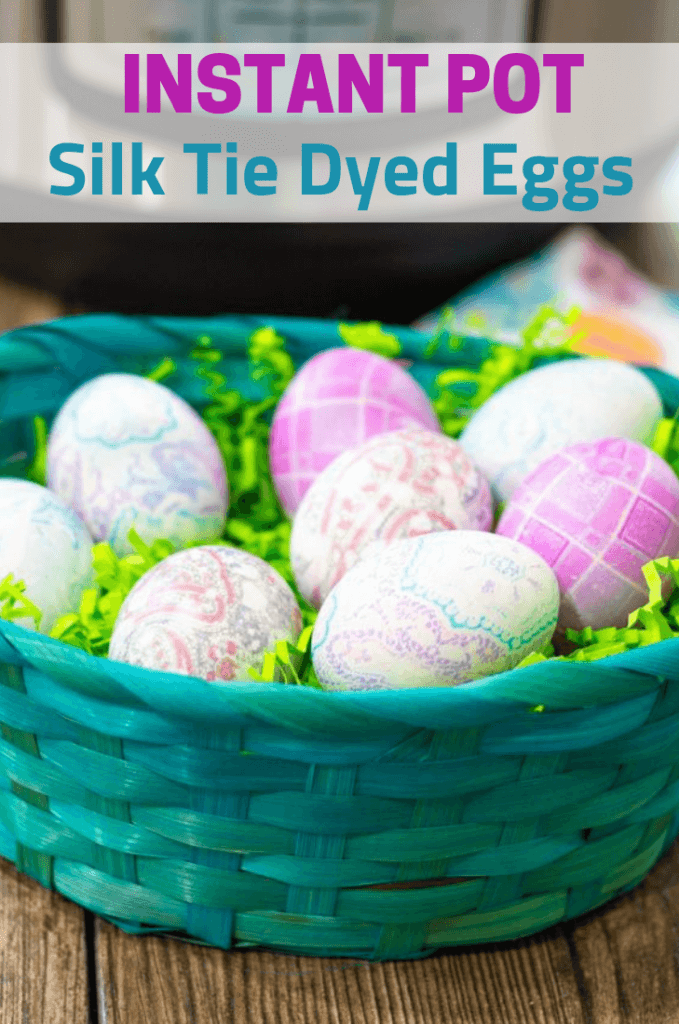 If you like hard boiled eggs to eat check out my Instant Pot Hard Boiled Eggs recipe.