My son loved the
pull-apart dessert
I made a few weeks ago so much, that he has been begging for me to make another one. I decided to let him pick out all the toppings for this dessert when we went shopping at Walmart. I wasn't surprised when he announced, "Let's Make A Halloween Dessert."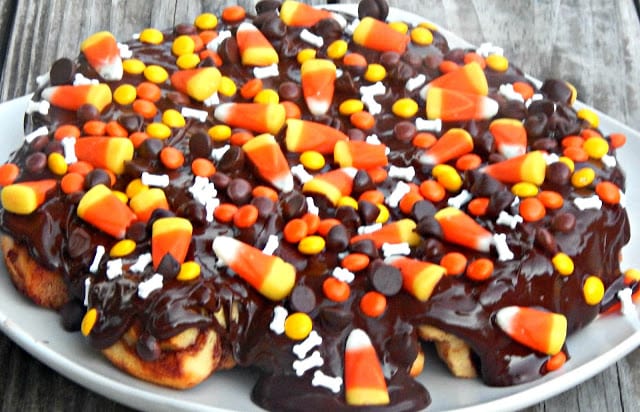 My son topped his Gooey Dark Chocolate Pull-Apart Dessert with Candy Corn, Reese's Pieces, Dark Chocolate Chips, and Candy Bones. If you love Candy Corn, this delicious treat is for you!
Here are the Ingredients needed: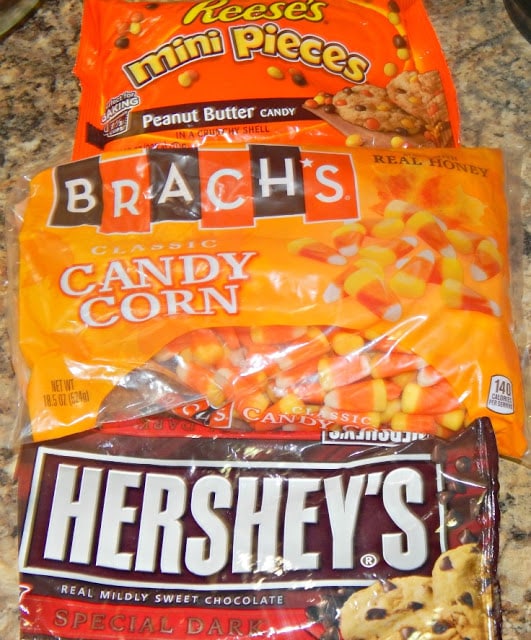 1 1/2 cup dark chocolate chips
1  cup Reese's Pieces
1 can (17.5) Pillsbury Grands! Cinnabon Cinnamon Rolls without Icing
 Candy Corn
Halloween Candy of your choice
2 tsp. Vegetable Shortening (from baking stick)
 Instructions:
1. Preheat oven to 350 degrees. Spray 9-inch round can pan with cooking spray.
2. Separate dough into 5 rolls, cut each into 4 pieces then place into pan. 3. Bake 23-28 minutes or until golden brown. 4. In a medium size microwavable bowl, microwave 1 cup dark chocolate chips uncovered on high 30 to 60 seconds then stir in the shortening continue to cook 10 seconds, stir until smooth. 5. Place a heatproof serving plate over the pan, wearing oven mitts turn plate and pan over. 6. Pour and spread the melted chocolate over the cinnamon rolls. 7. Immediately sprinkle with candy corn, Reese's pieces, Halloween candy, and remaining dark chocolate chips. Let cool 5 minutes. Serve warm.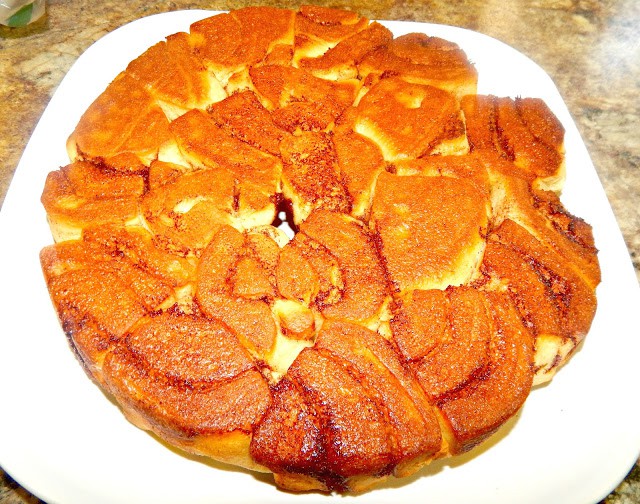 This is what the dessert looks like before you pour the chocolate over it.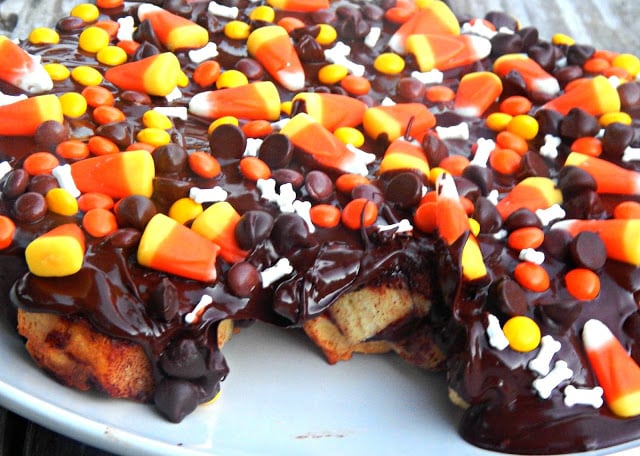 Serve this delicious gooey treat warm, make sure you have plenty of wet wipes handy. This dessert is extremely messy but, so good.

This Halloween Chocolate Pull-Apart Dessert would make a great treat to serve at your next Halloween Party or surprise your kids with this yummy treat when they get home from school. Hope you love this dessert as much as my family.