These cute and fun cupcakes made without candy corn; they look like those candies you see every year around Halloween time. So even if your not a fan of candy corn you still could enjoy one of the festive treats. You may want to put a few batches of these yummy cupcakes out on the treat table at your next Halloween Party.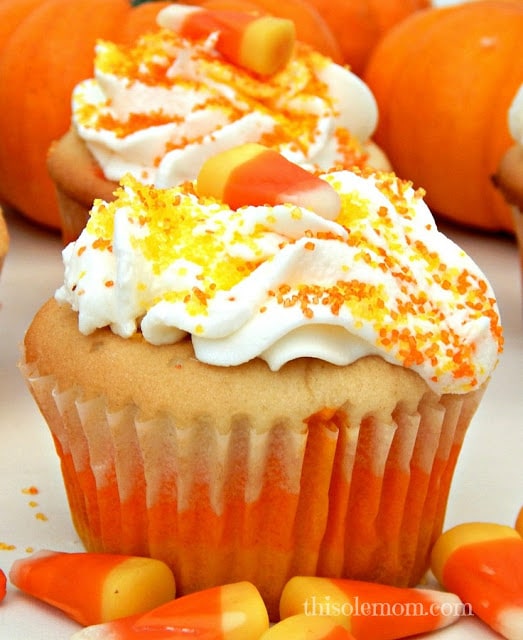 I made these mouth-watering Candy Corn cupcakes from scratch. I decided to make them myself instead of using a box mix. I think baking from scratch with fresh ingredients gives the treats you bake a better taste and flavor. Even though the cupcakes look like Candy Corn, the taste of these little cakes reminds me of Wedding Cake.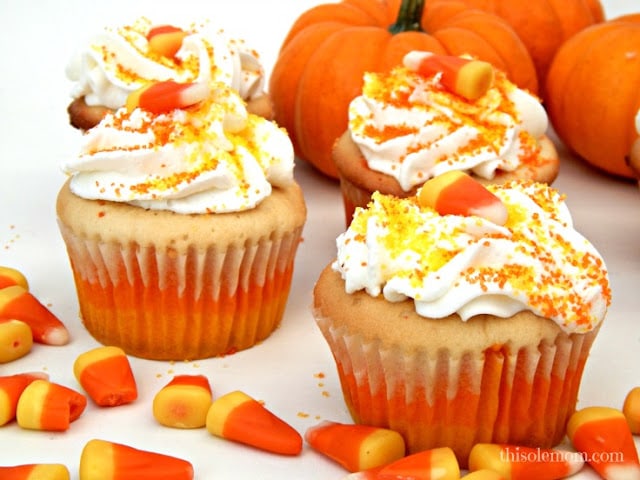 I used Pure Almond extract in the batter and the frosting. If you wanted, you could substitute Vanilla extract for the Almond. I love the way the Almond tastes in these little cakes.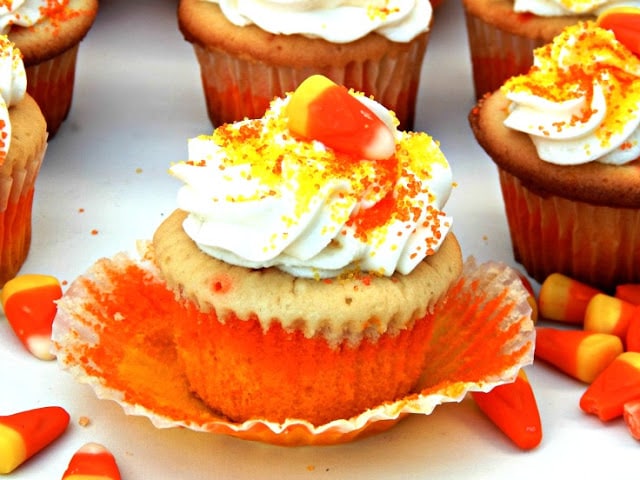 The picture doesn't do these bright and festive treats any justice. If you decide to follow my recipe you will see how beautiful these Candy Corn Cupcakes are in person. They also, taste so good and are very moist.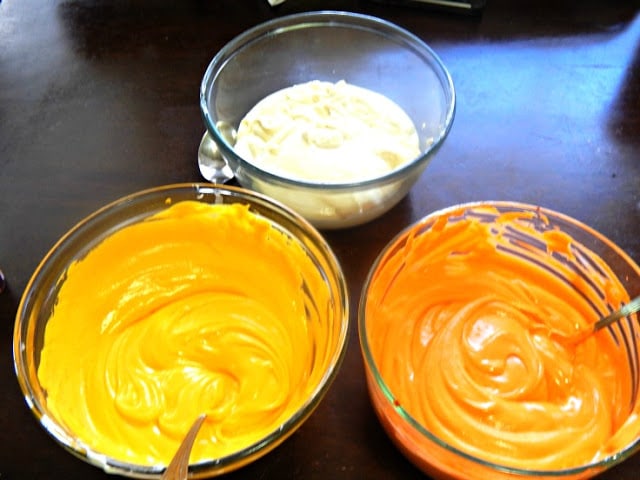 To get the bright colors for the frosting, I added a few drops of Icing color I bought from Michael's Craft Supply store. Of course, you will need to separate the frosting into three bowls. If you continue reading, I'll give you the recipe at the bottom of the page. I think the cupcakes taste great without the frosting, too.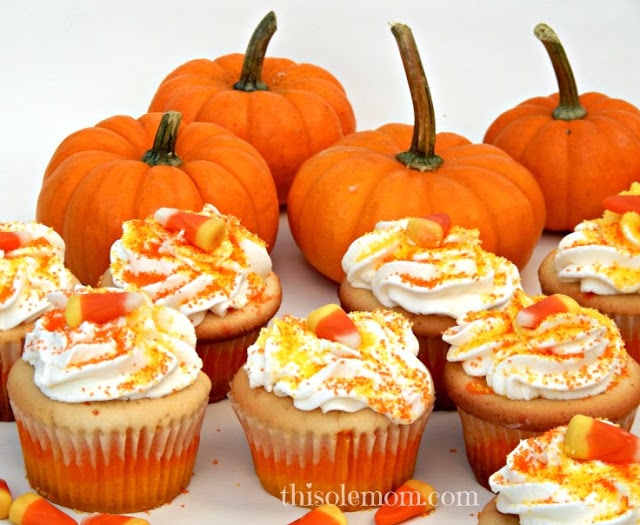 Here's the recipe the Ingredients for the Candy Corn Cupcakes:
3 cups all-purpose flour
1 1/2 cups sugar
2 sticks unsalted butter, at room temperature
1/2 cup (1 stick butter) softened
1 tablespoon baking powder
1/2 teaspoon salt
4 large eggs at room temperature
1 tablespoon plus 1 teaspoon Pure Almond Extract (I used Watkins it's clear )
3/4 heavy cream
4 cups sifted confectioner's sugar
1/2 cup solid vegetable shortening
3 tablespoons milk
1/2 cup water
yellow icing color
orange icing color
1- bag candy corn
orange sugar sprinkles
yellow sugar sprinkles
white cupcake liners
Directions for the Cupcakes:
Preheat oven to 350 degrees. Whisk 3 cups flour, baking powder, and salt until combined. Beat the 2 sticks of unsalted butter and the sugar in a large bowl with a mixer on high speed until fluffy. Reduce the mixer and add the eggs one at a time, scrape down the bowl as needed. Stir in the Almond extract.
Mix 1/2 cup water and the 3/4 cup of heavy cream in a bowl. Beat the flour mixture into the butter mixture in 2 batches, alternating the flour mixture and the cream mixture.
Divide the batter into 3 medium bowls about 2 cups in each. Stir in a few drops of yellow icing color into one bowl, stir in a few drops of orange icing color into the second bowl. Leave the remaining batter white. Place about 1 heaping teaspoon of each colored batter into each muffin cup. Start layering colors for the candy corn beginning with the yellow, orange, then white. Do not stir!!! Each muffin cup should be about three-fourths full.
Bake for 30-35 minutes until the toothpick inserted comes out clean. Remove from oven let cool for 5 minutes then place cupcakes on a cooling rack until completely cooled.
Directions for Frosting:
Beat together 1/2 cup solid vegetable shortening, 1/2 cup butter, and one teaspoon Almond extract together. Slowly beat in the sifted confectioner's sugar a little bit at a time, add the three tablespoons of milk alternating with the powder sugar until the frosting is fluffy. Spread frosting on the cupcakes or use a Dessert Decorator. Sprinkle with the sugar sprinkles and place one candy corn on top of each cupcake. Enjoy!

Do you like Candy Corn? I love it. Hope you enjoy this recipe.
Happy Halloween,
Kim 
I love comments or email me kseghers@rocketmail.com