Learn how your family can have some Family Fun at Little Black Creek Campground and Park.
If you're looking for a place to bring your family on vacation to make memories and enjoy the great outdoors, you should check out Little Black Creek Campground and Park located in Lumberton, Mississippi.
The picturesque campground is surrounded by a 640-acre lake.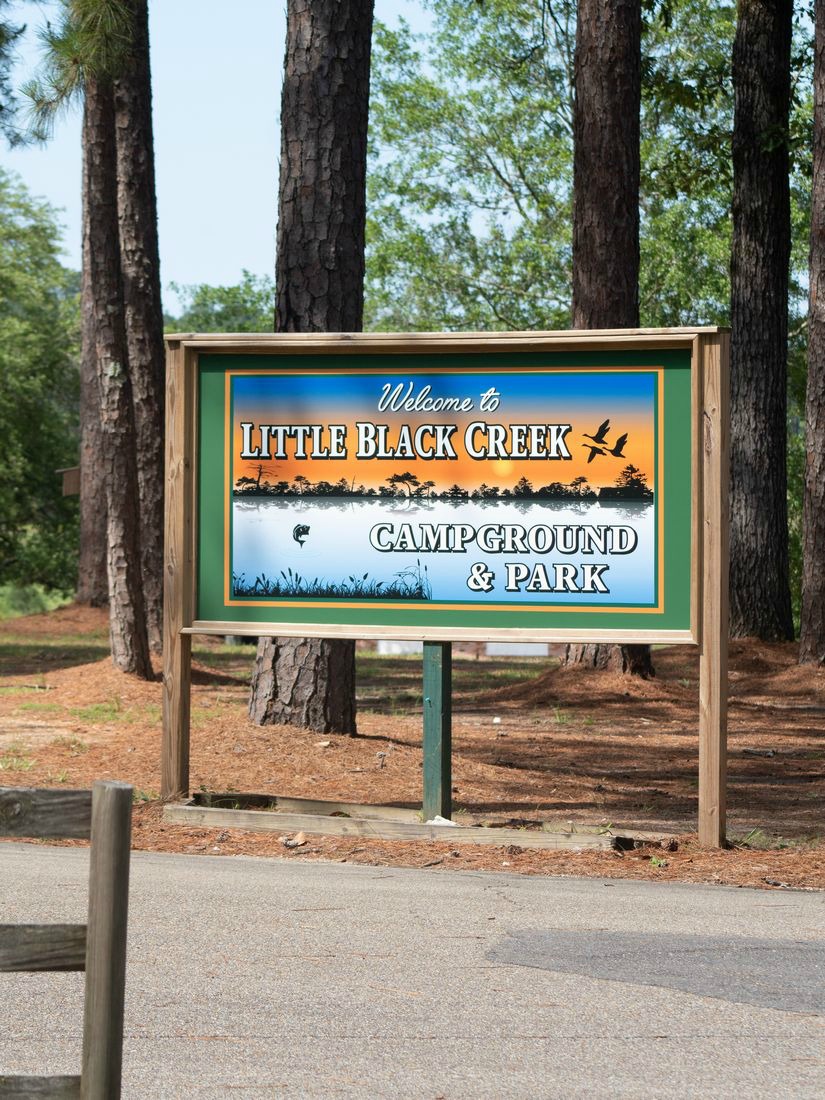 The Campground once owned by the State of Mississippi is now operated and owned by the Nettles Family.
The Campground provides great family atmosphere, affordable rates, and lots of activities.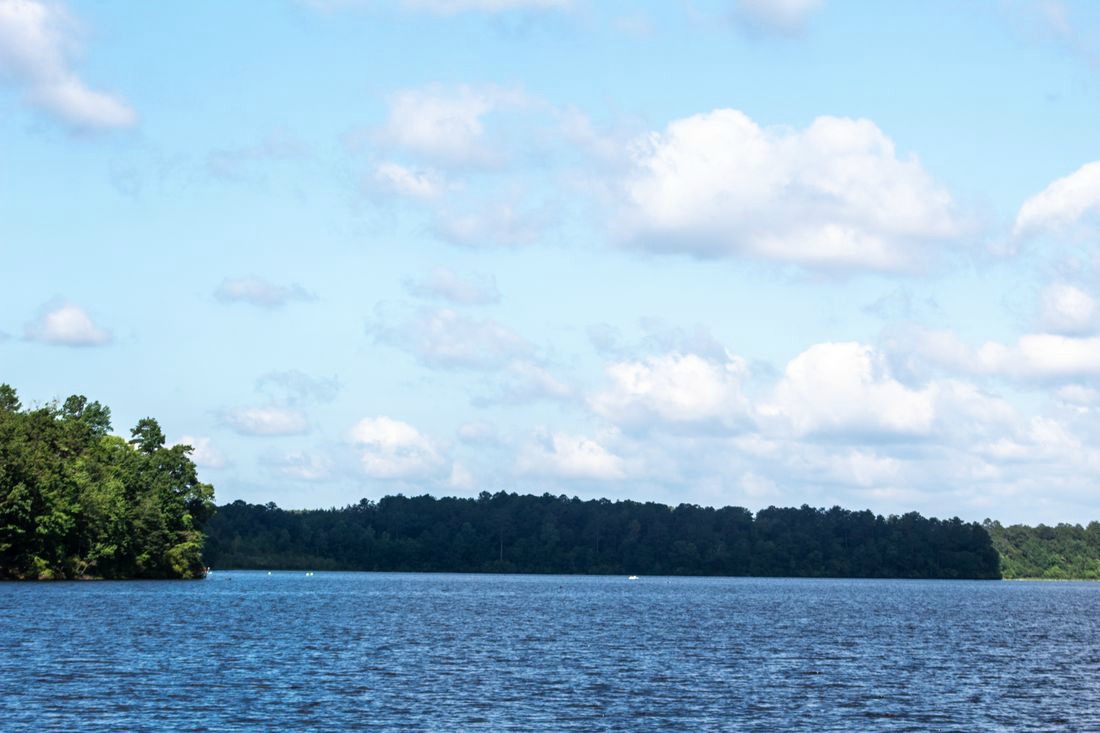 Not only is this park an excellent choice for families, but also for friends looking to get away for a relaxing weekend together, and for couples, and senior citizens.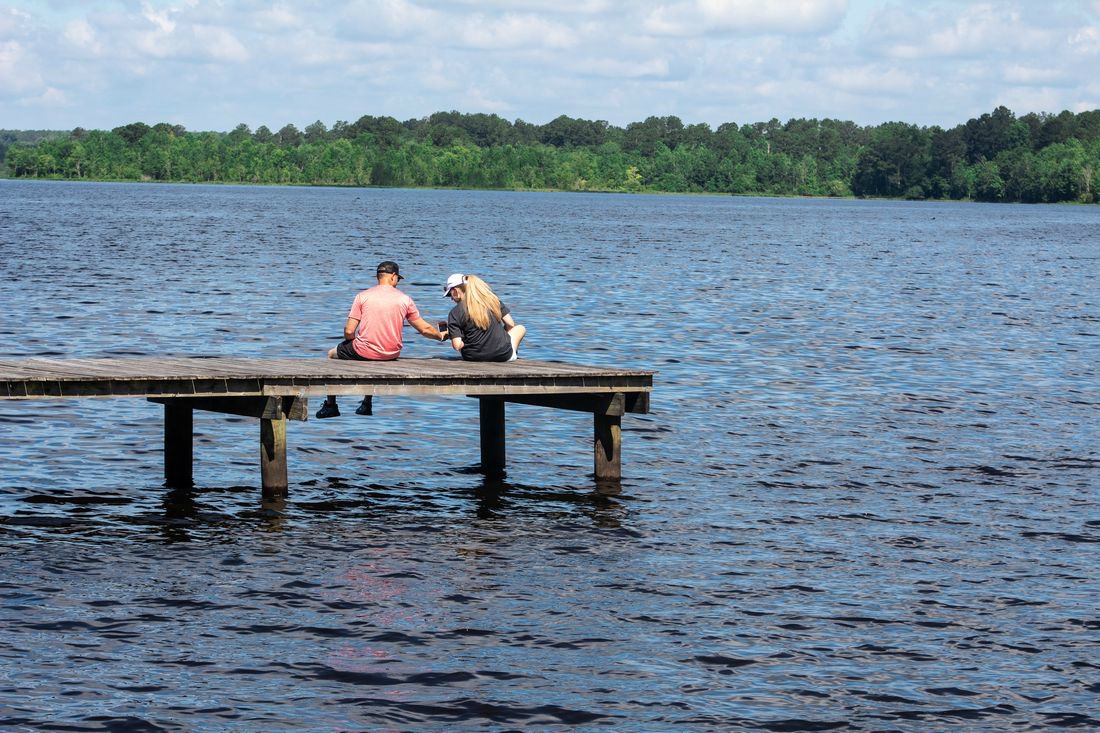 This beautiful campground offers a peaceful place to get away from the hustle and bustle of everyday life whether you live in the city or the country.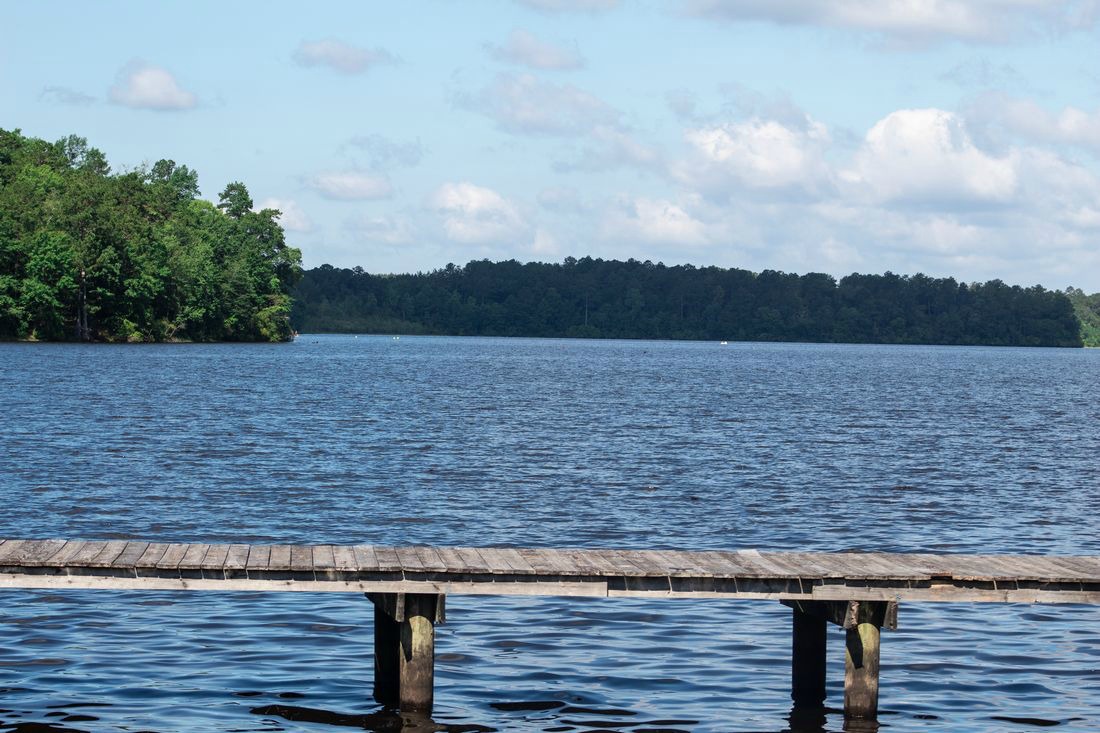 My family loves camping at this campground and park. It's never overcrowded or noisy like a lot of campgrounds we have stayed at in the past.
The staff does an excellent job keeping the park, restrooms, and the shower houses clean. All the camping areas, including the cabin sites, are kept clean and well maintained.
Also, the staff is super friendly and helpful. Everytime we call the park for reservations the staff is always kind and courteous.
When we stay at the park all the staff is very nice and treats us like family.
Where to Stay at Little Black Creek Campground and Park
Whether your family enjoys pitching a tent, staying in the comforts of a cabin or RV enthusiast they will enjoy their stay at Little Black Creek Campground and Park.
The Park offers waterfront cabins, bungalows, and inland cabins. All family friendly.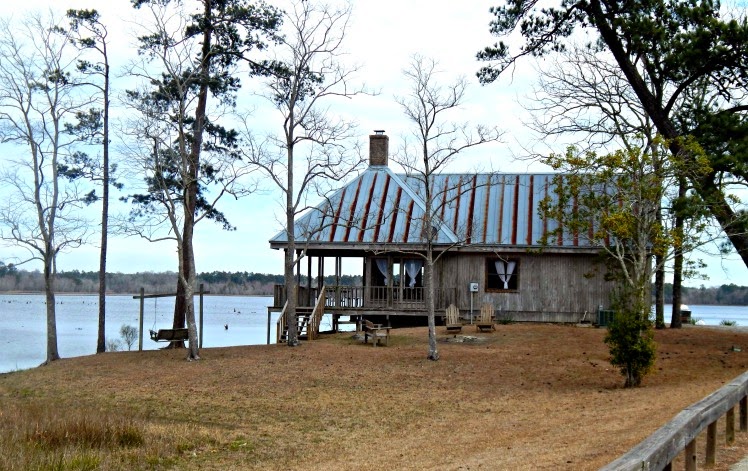 The photo above was taken during in the winter of 2017.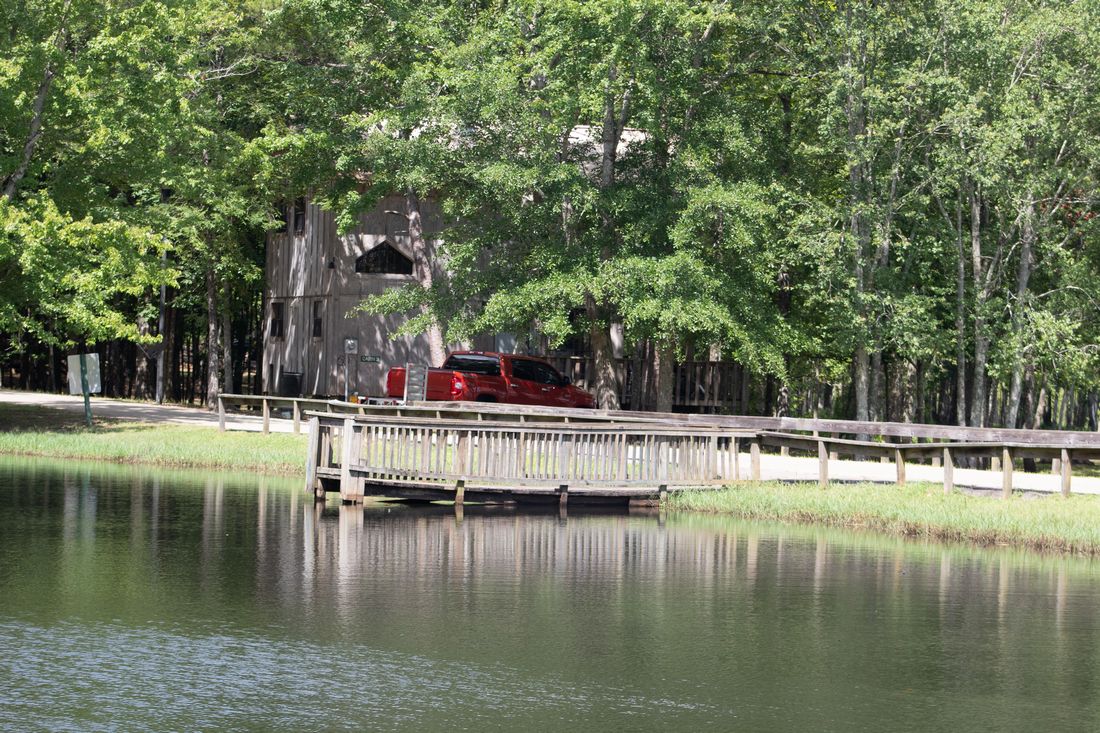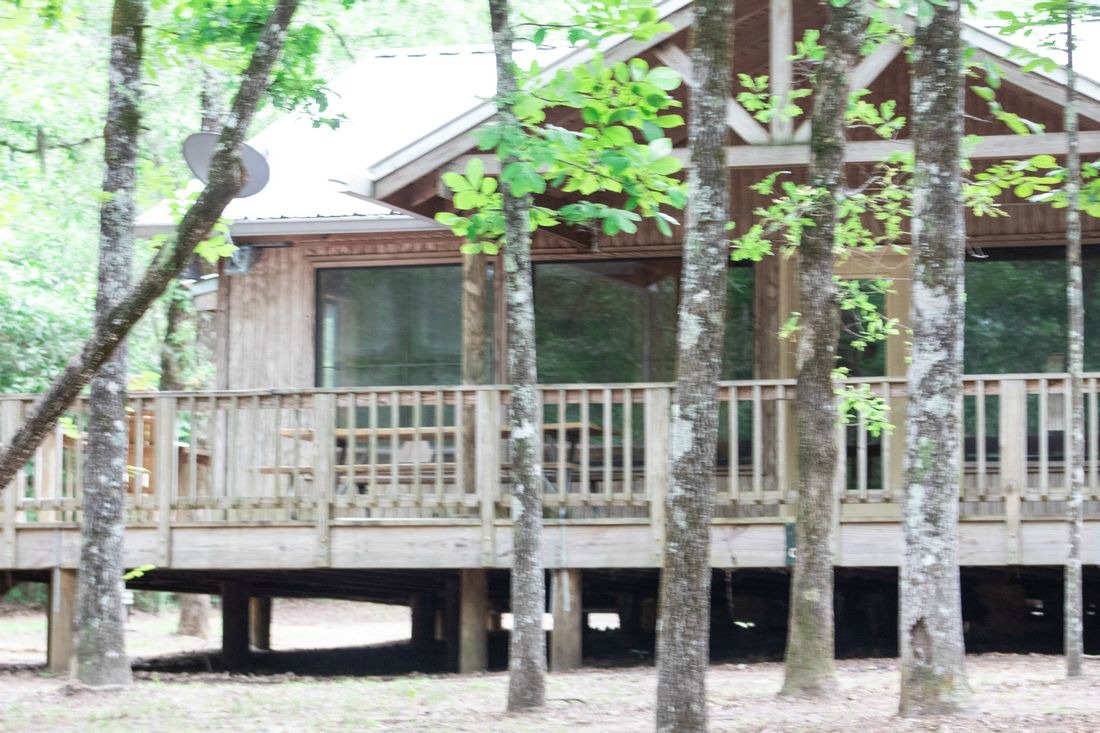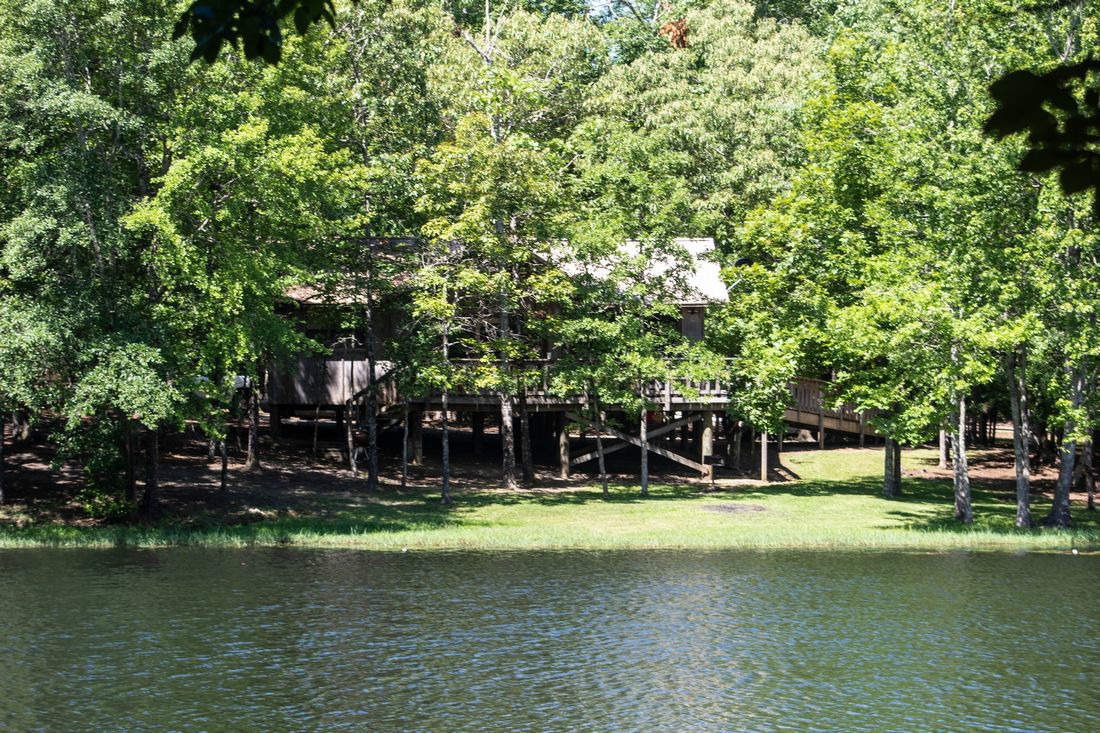 Photo above shows one the fishing ponds and you can see some of the cabins through the trees. There's approximately 20 family-friendly cabins at the campground.
Scroll down to the bottom of the page to see photos of in the inside of the cabins.
Also, there's over 100 RV sites with camping sites with full hookups, no sewer sites, and primitive sites.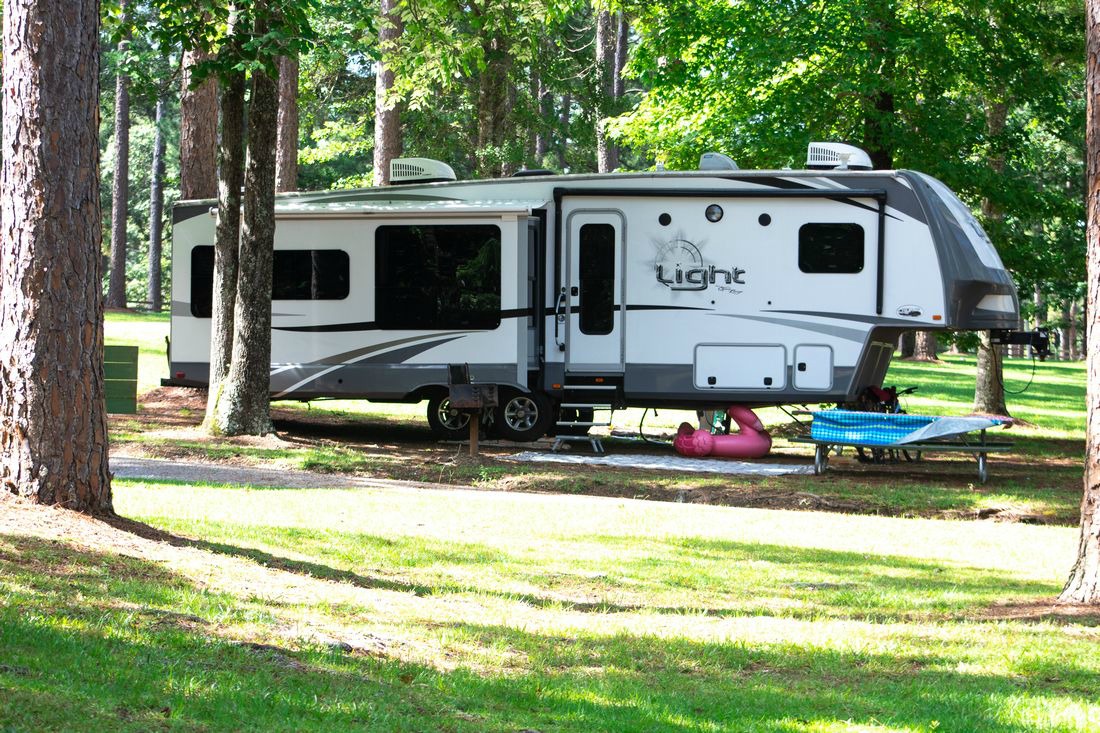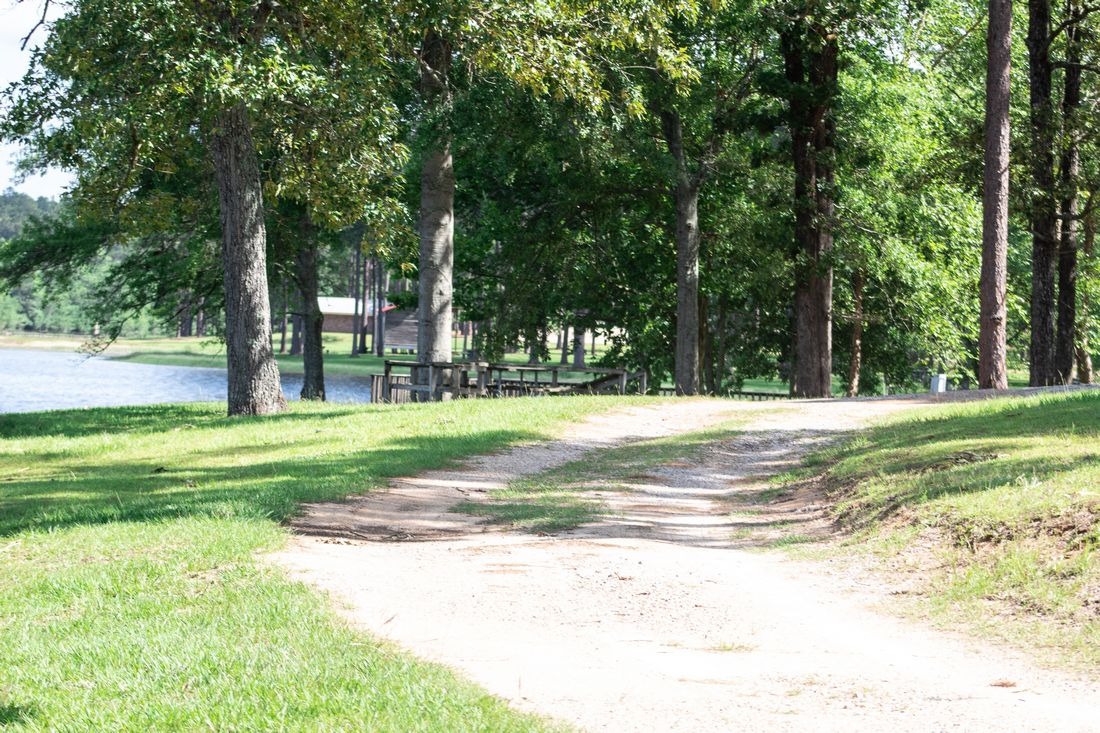 Activities & Family Fun at Little Black Creek Campground and Park
Here's some of the activities and things you can do at the Campground and Park.
Fishing
18 Disc Golf Course ($3 per person)
Swimming (2 beach areas)
Nature Watching
Hiking
Kayaking
Canoeing
Paddle Boarding
Golf Cart Rentals ($70 a day)
Boating (no water skiing allowed)
Horse Trails
Zip Lines ($20 per person)
Picnicking
Playgrounds
Jump House Rentals (call for rental info & prices)
Bike Riding
Pedal Boat Rental (ask for rental price at camp store)
Aluminum Boat Rentals (Jon Boat with trolling motor $40 a day)
Canoe & Kayak Rentals ($40 a day comes with life jackets and paddles)
FISHING At Little Black Creek Campground and Park
There's several piers, boat docks, and fishing areas located throughout the park.
There's even a fish cleaning station with running water near the entrance of the campground and park.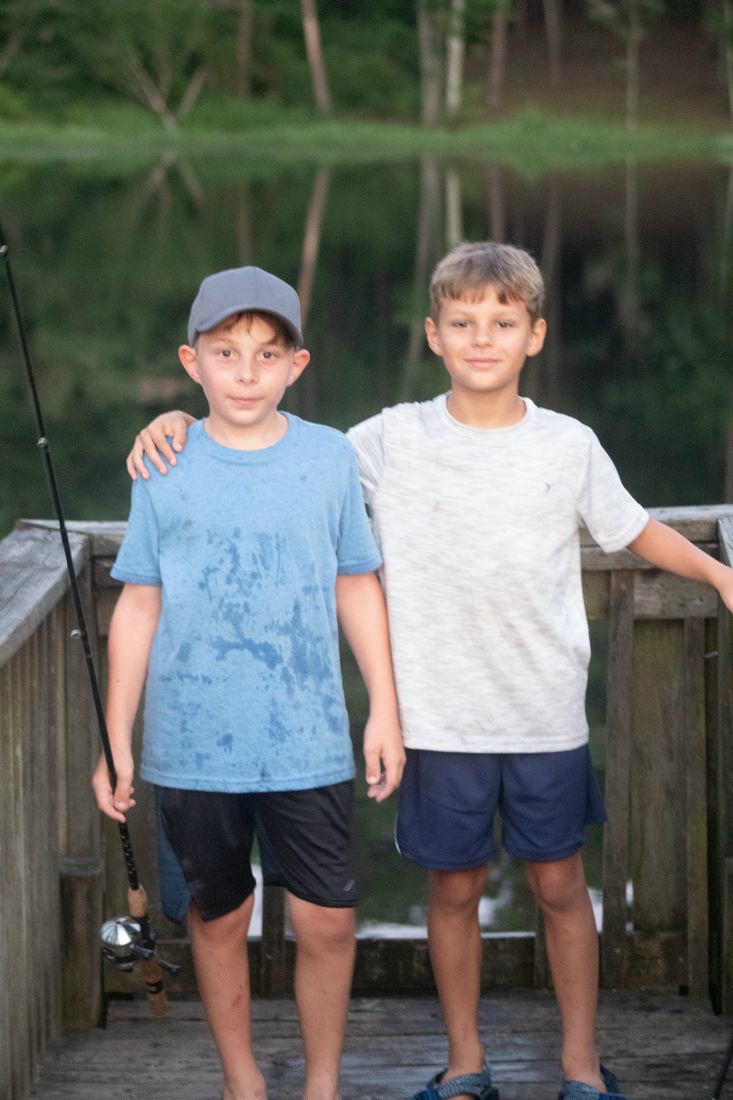 Fishing Pier near the cabins. Great place to fish and meet new friends.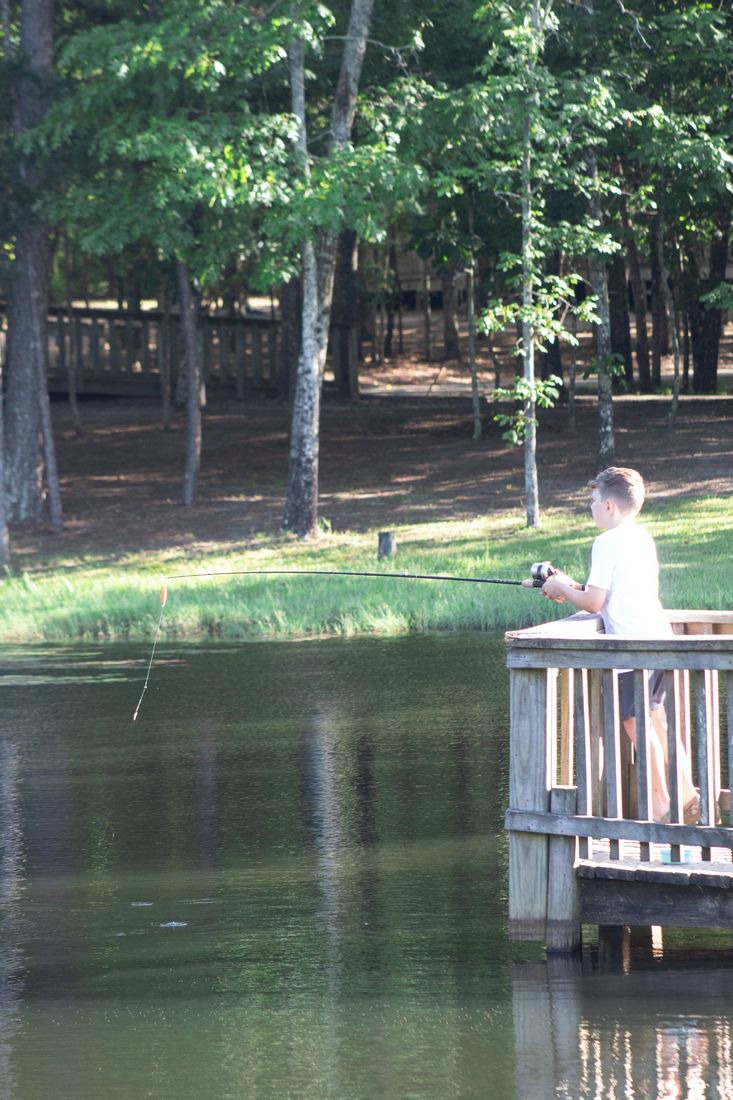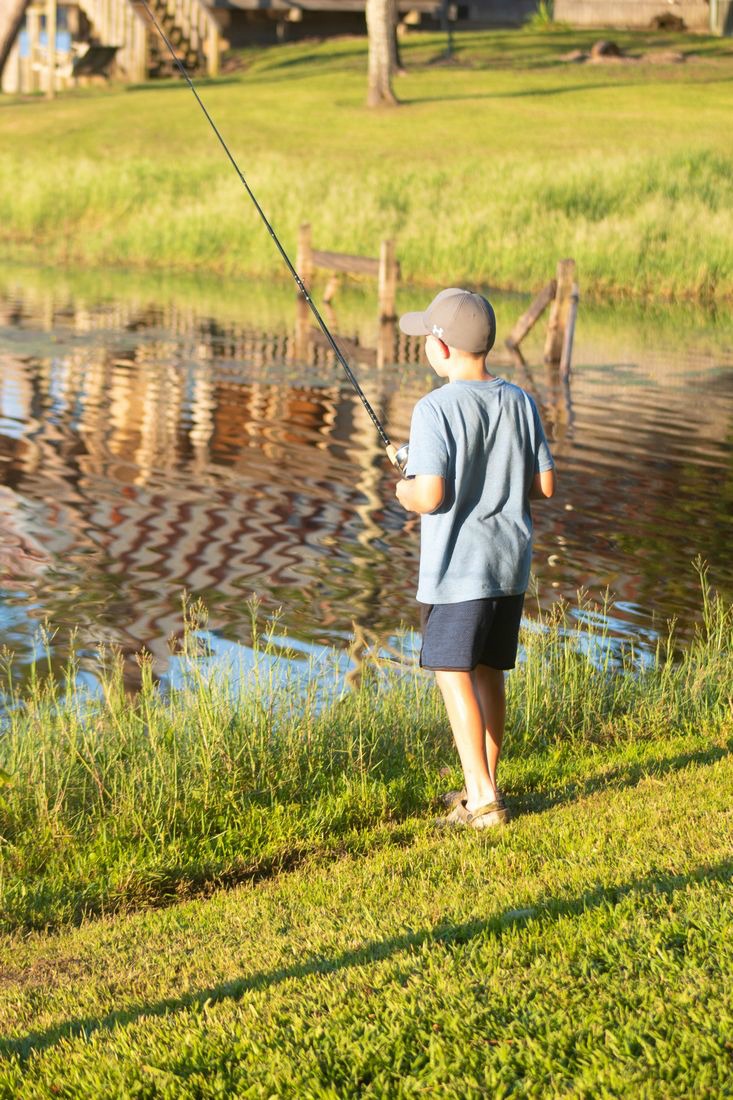 Fishing by the cabin in the afternoon.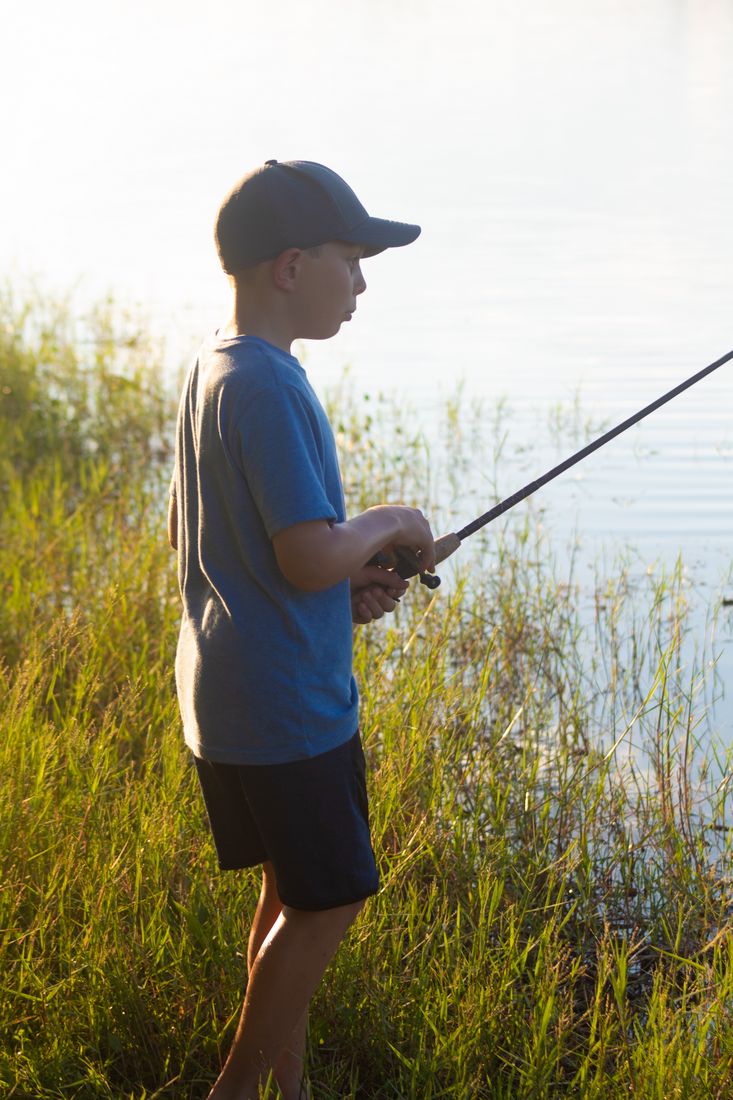 Fishing by the cabin in the evening.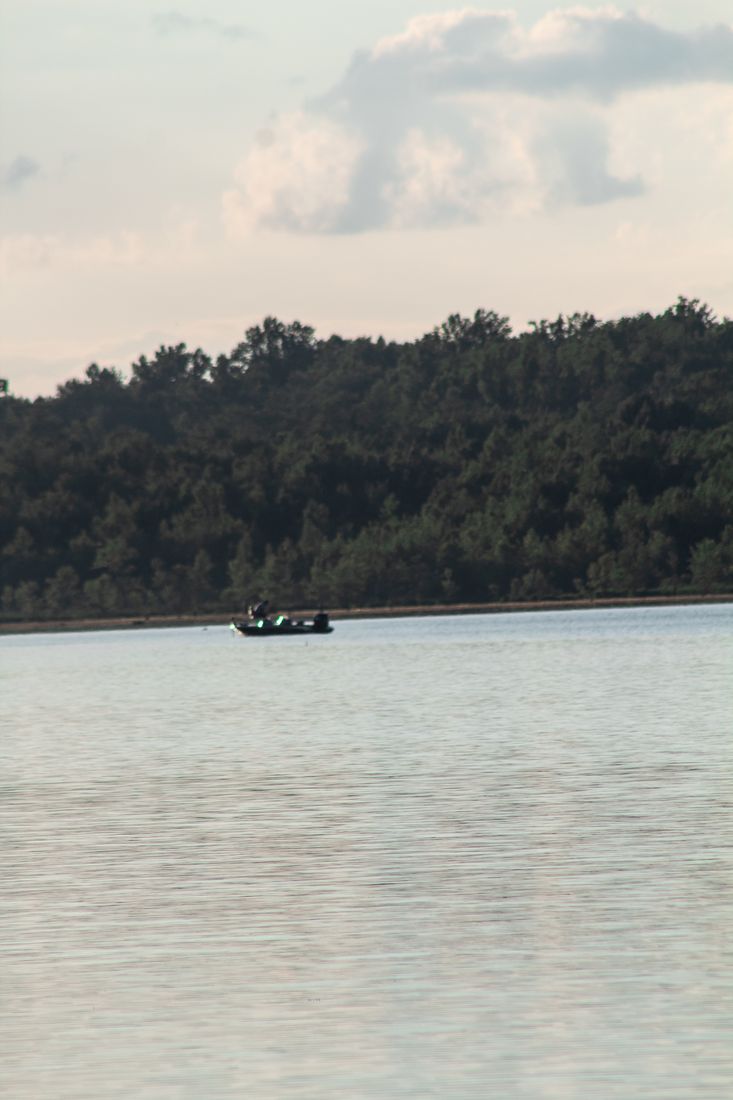 Fishing from a boat in the lake in the evening after 7pm.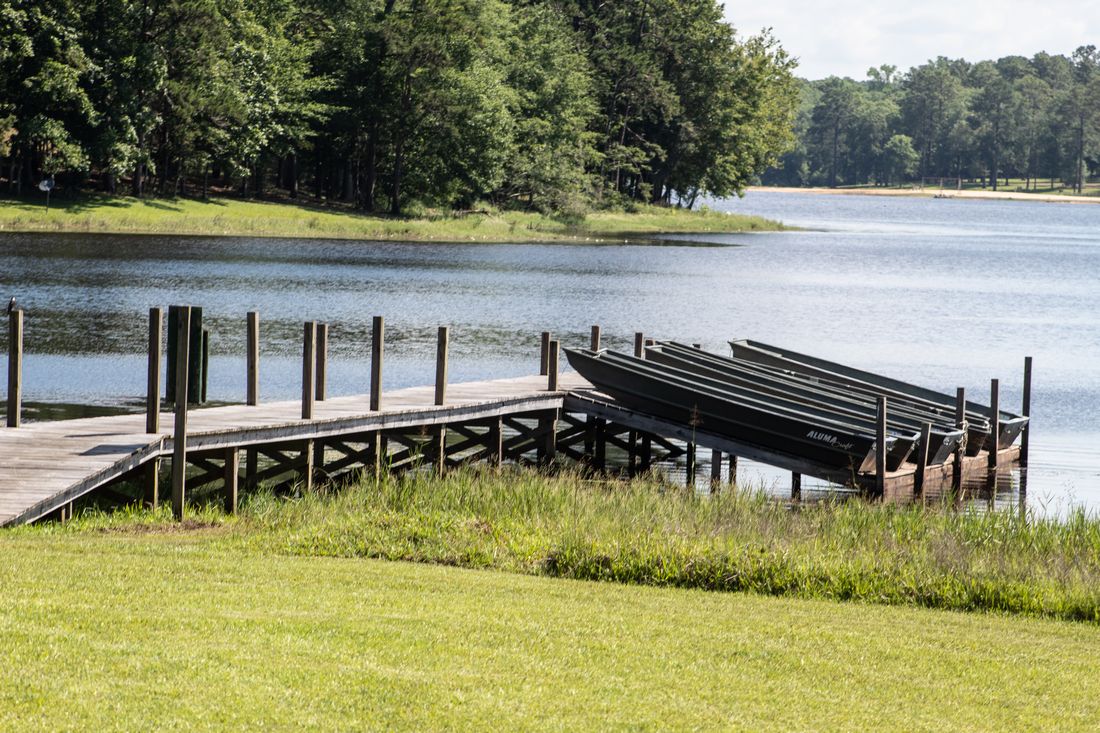 Pier across the street from camping store and some of the Aluminum Boats that you can rent.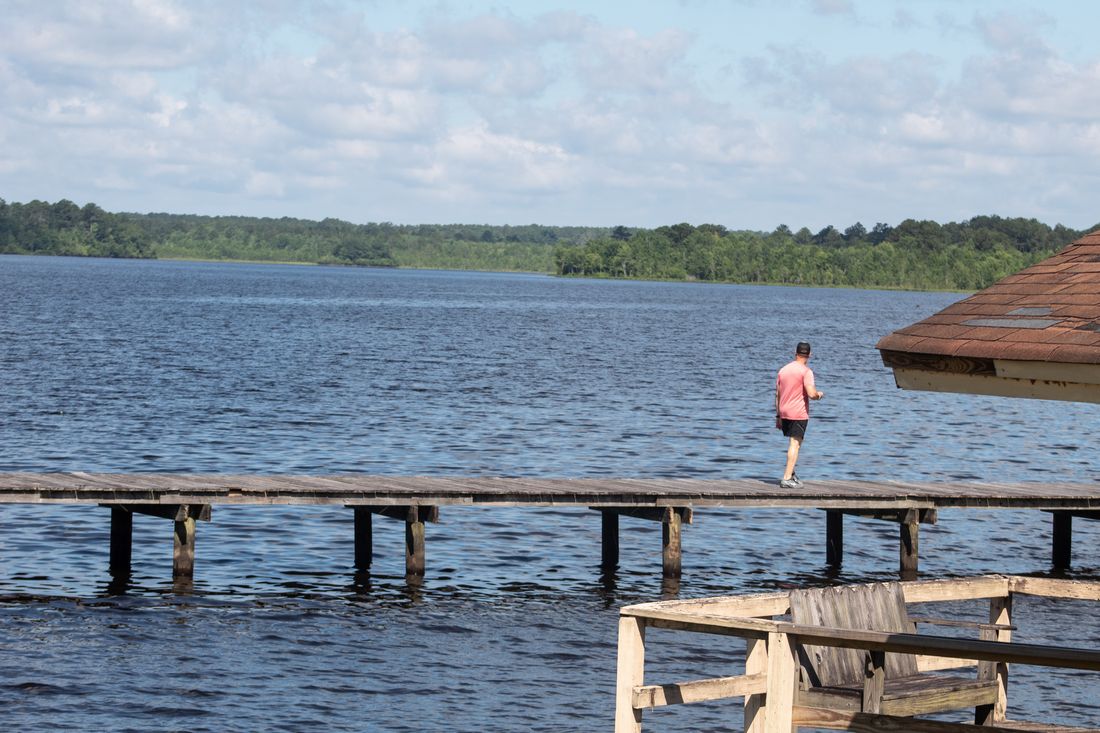 Pier by fish cleaning station and by one of the boat launches.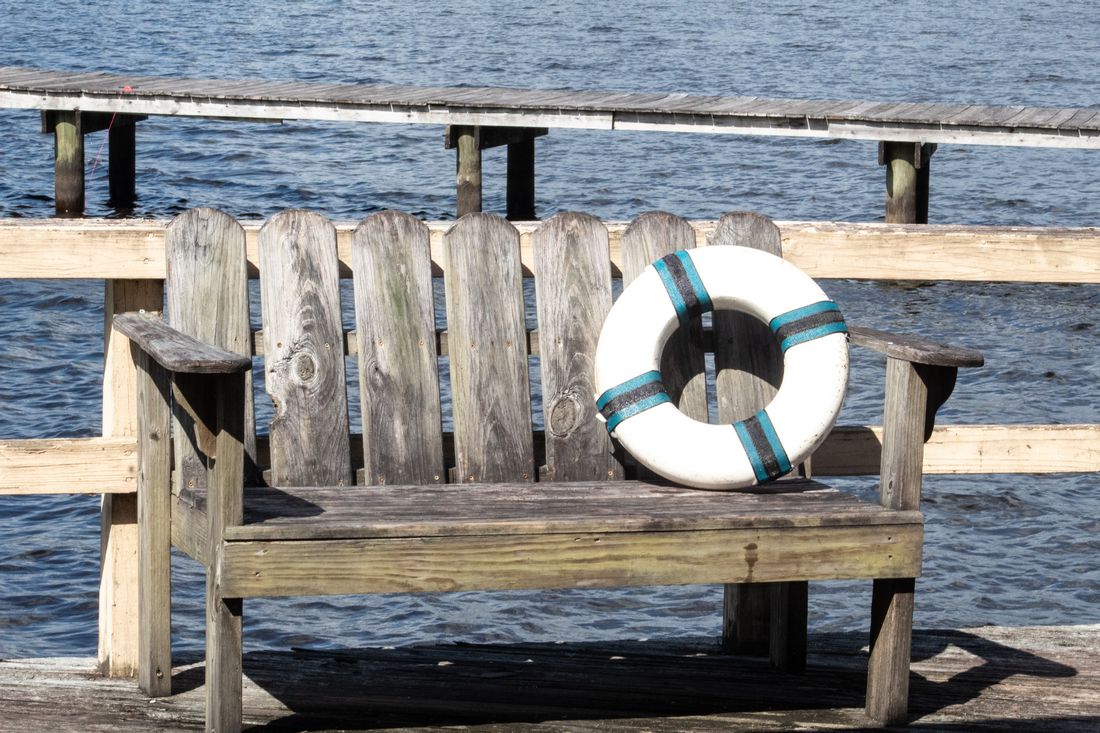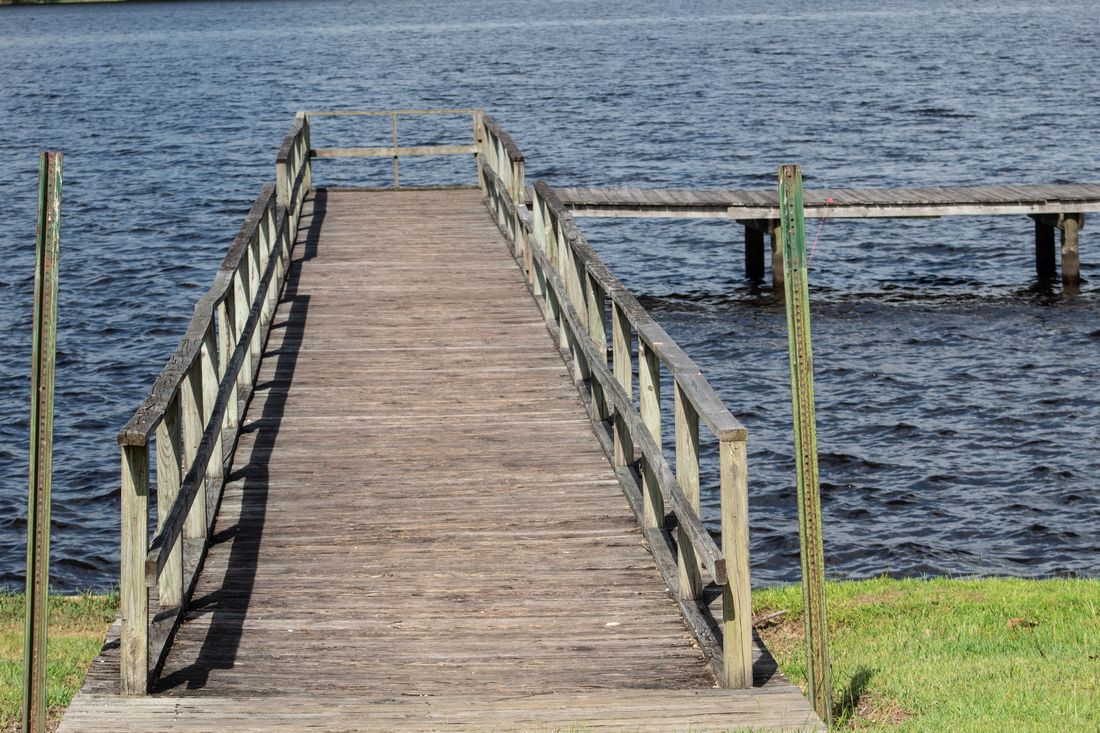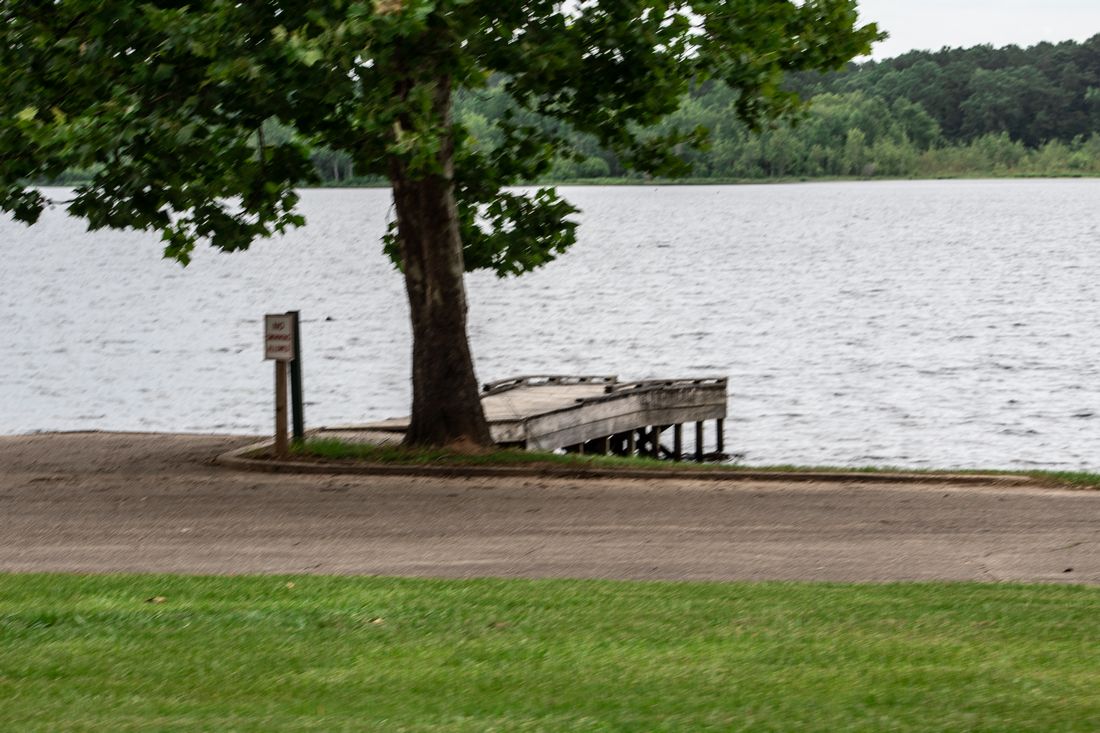 Another boat launch area.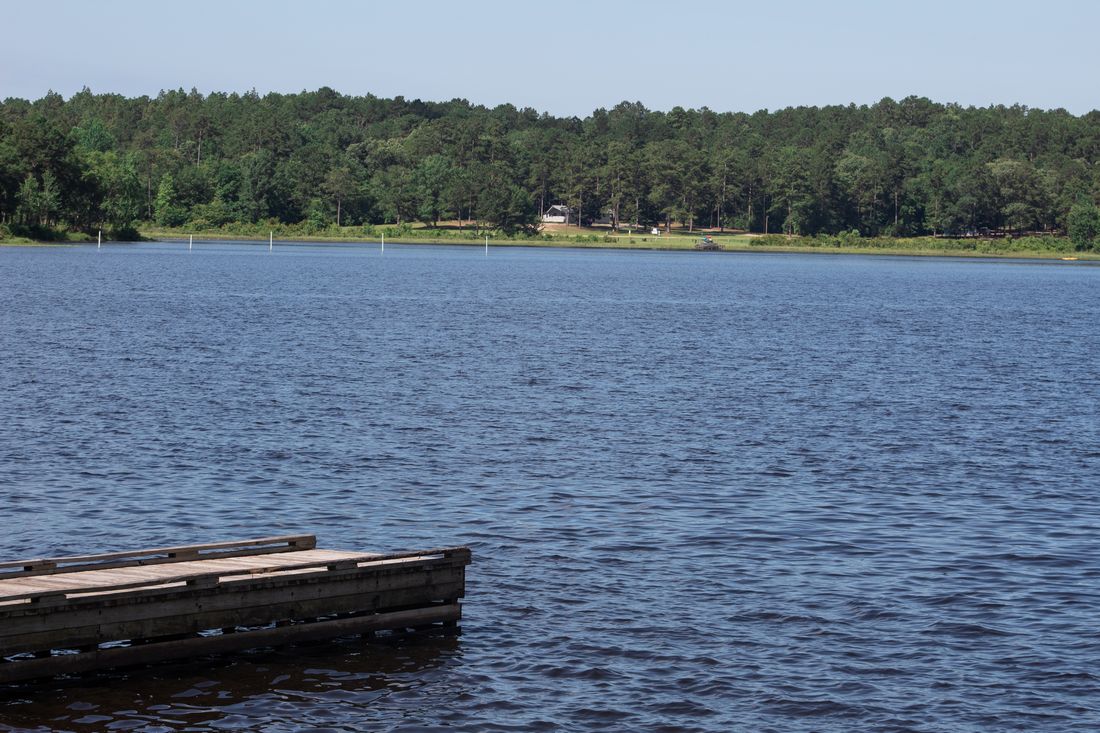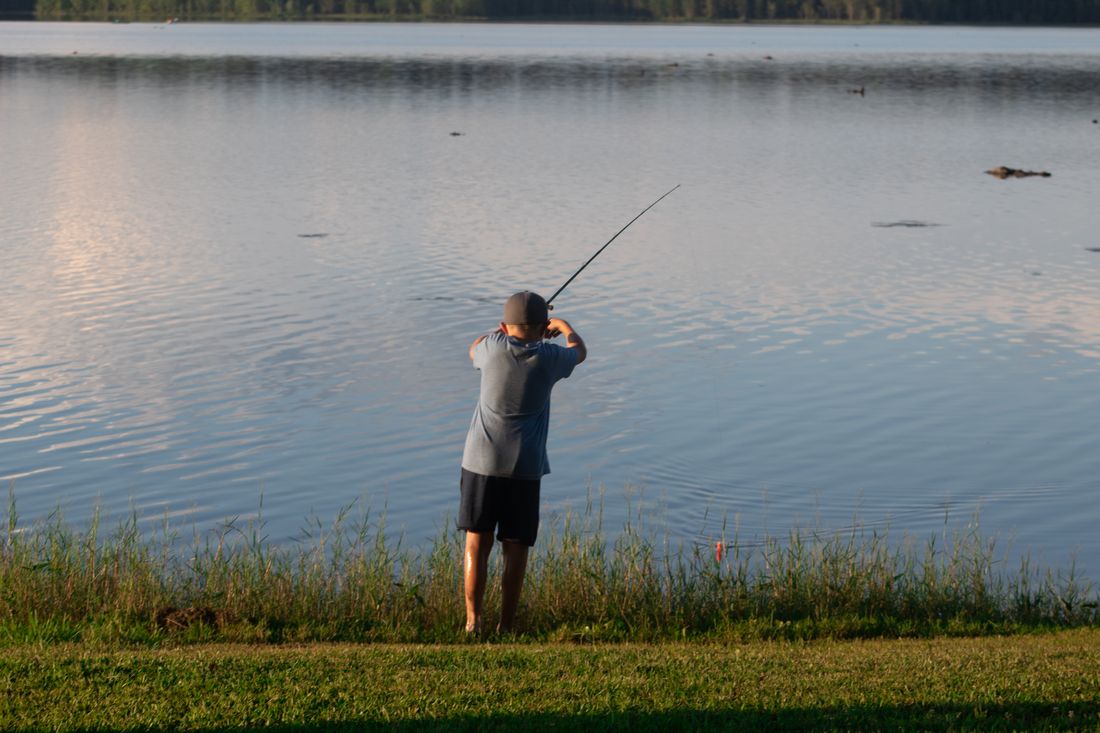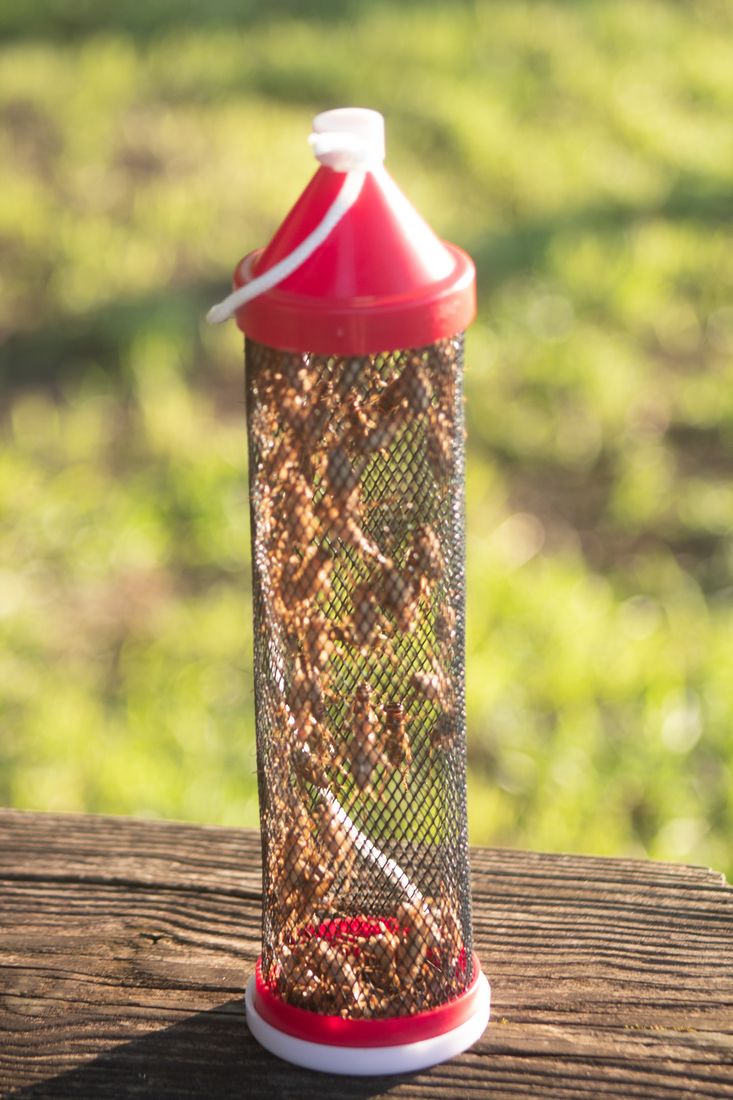 Having Family Fun at Little Black Creek Campground and Park
Boat Rentals
You can rent Aluminium boats, Pedal boats, kayaks, and Canoes from the camping store.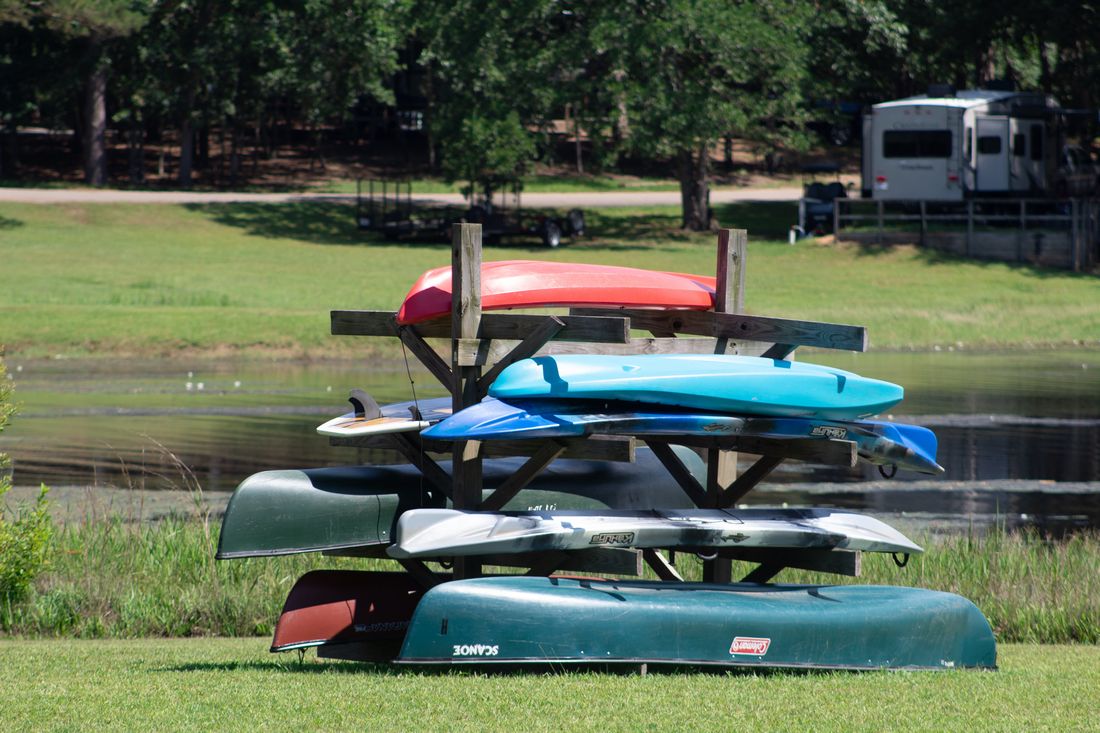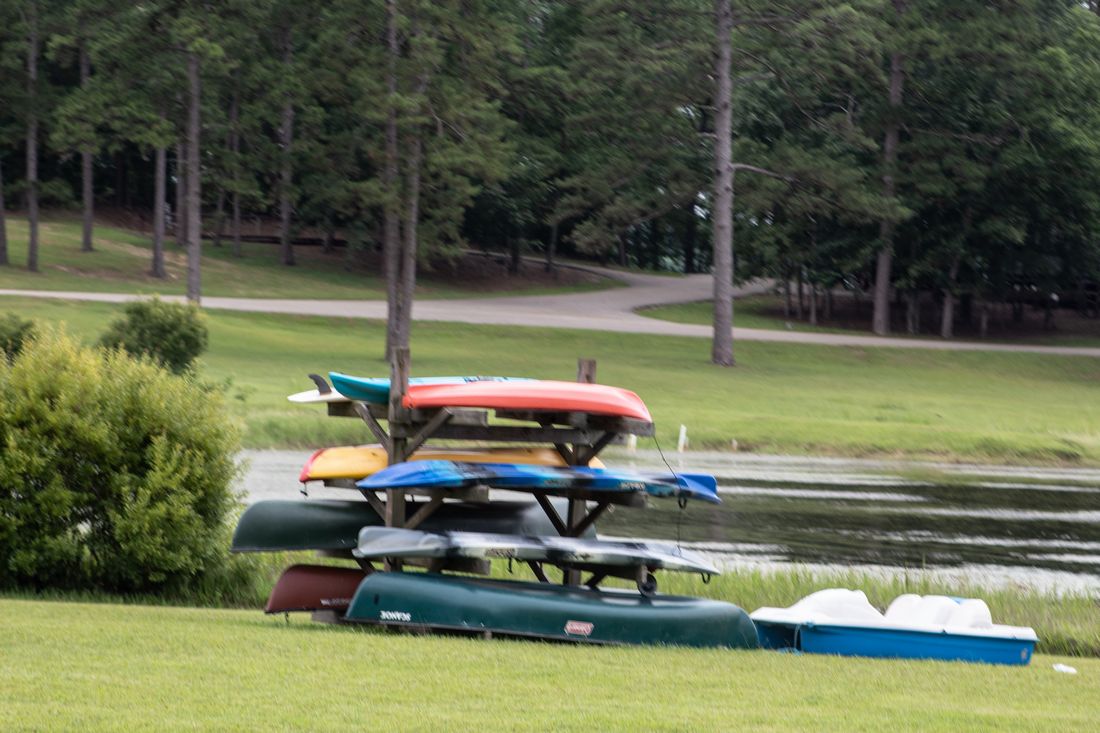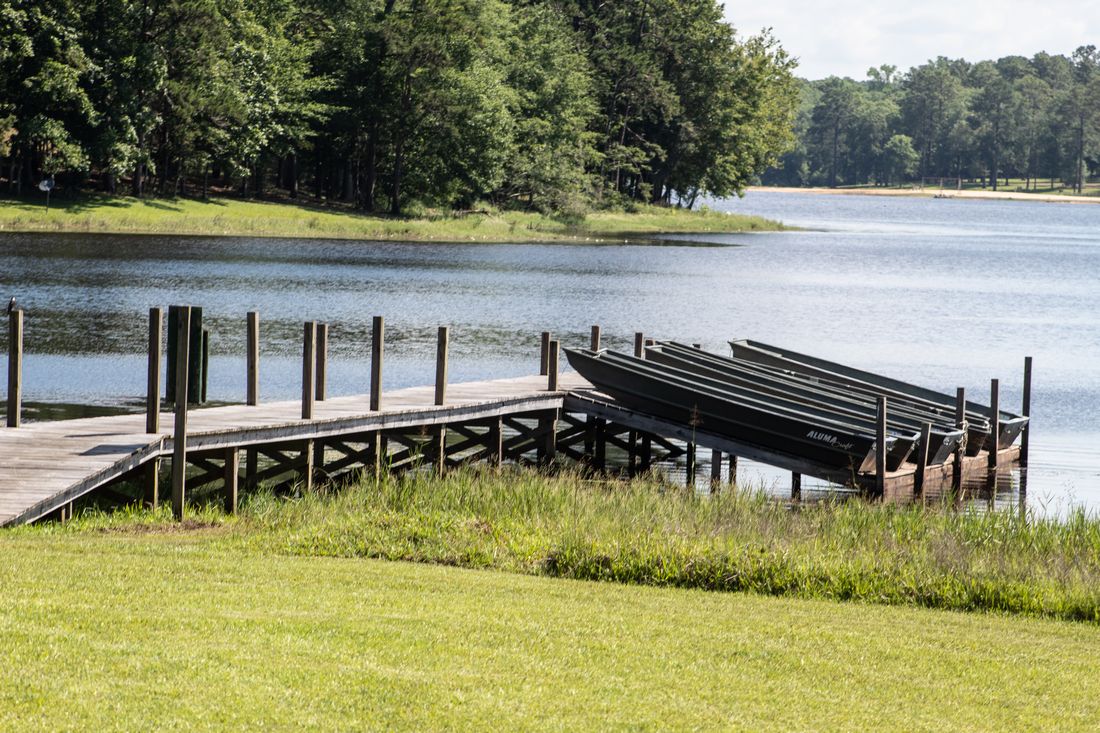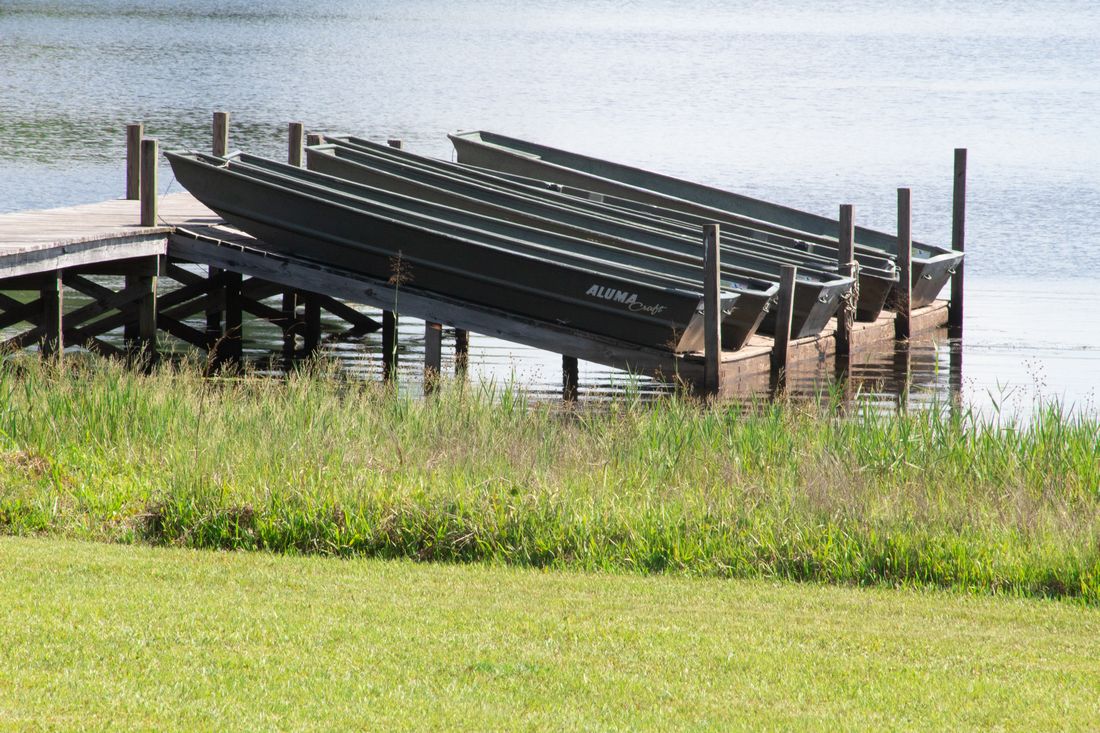 Also, Bass boats are allowed at the park. It's best to call the park office to find out the rules about the size motor and boats allowed at the park.
No skiing are jet skis allowed. But, you can bring your canoe, kayak, and paddle board.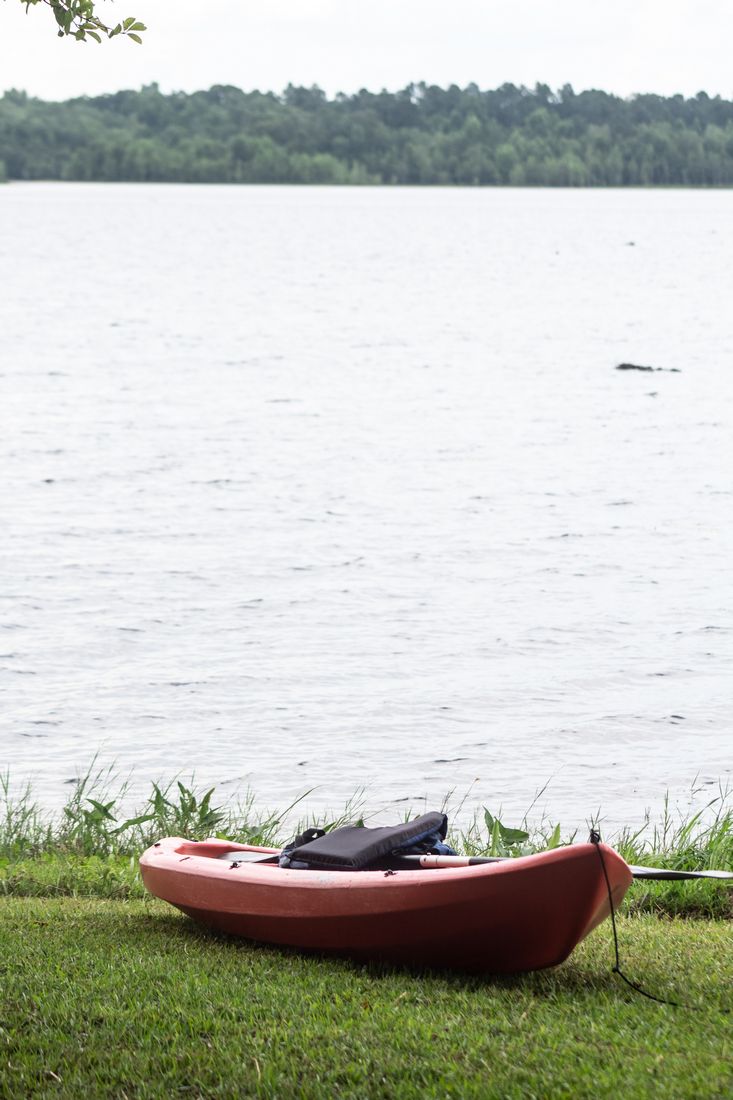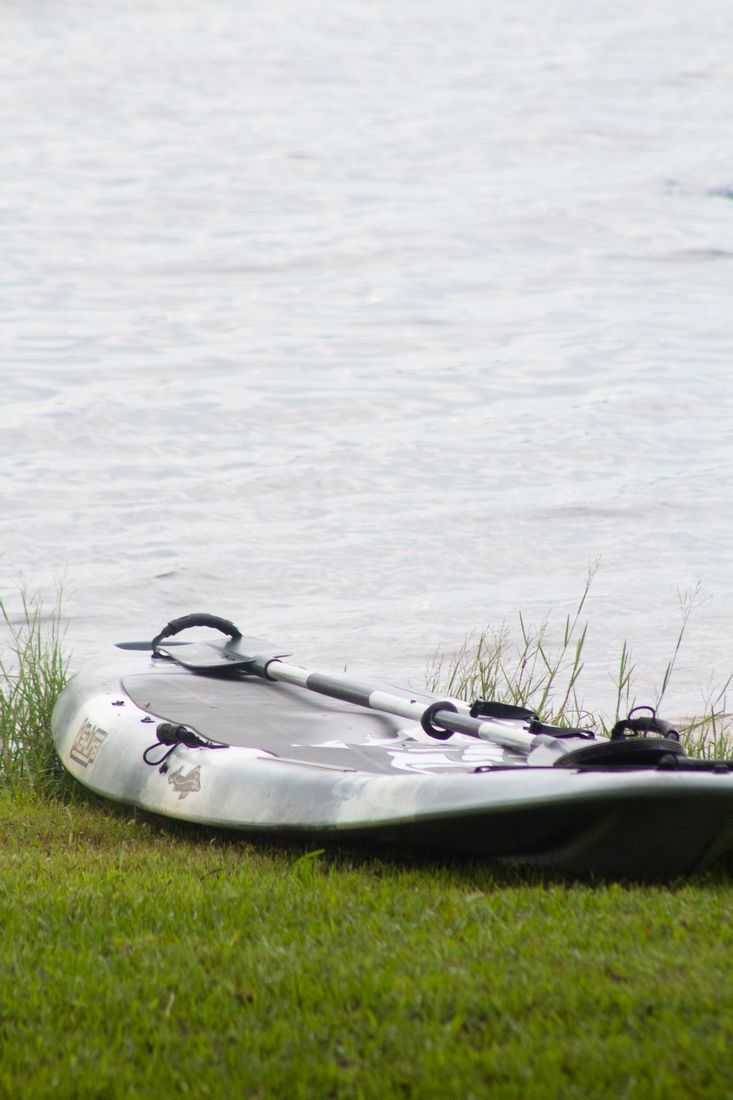 Golf Cart Rental
You can rent a Golf Cart for half day or full day by going to the camping store.
Camp Store opens at 8am every morning, and the golf carts are available on a first come, first served basis.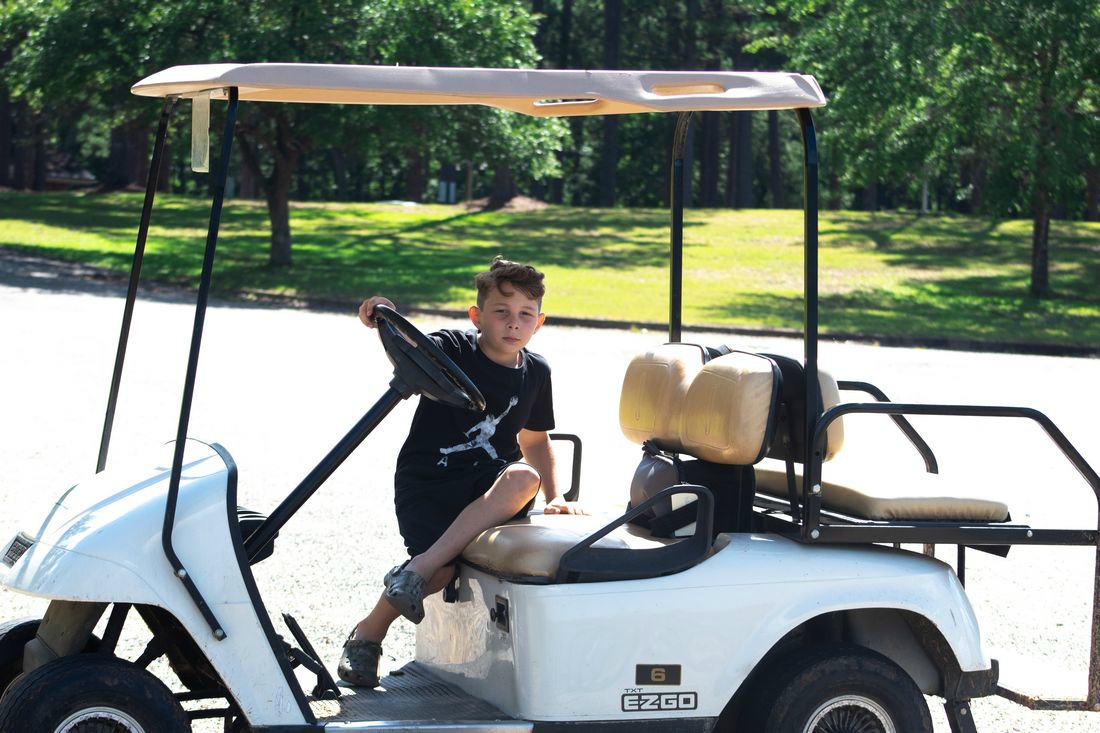 Full day Golf Cart rental is $70 and you must return it the same day. You may bring your own golf cart for $10 a day.
My family enjoys renting a golf cart we take it all over the park and explore.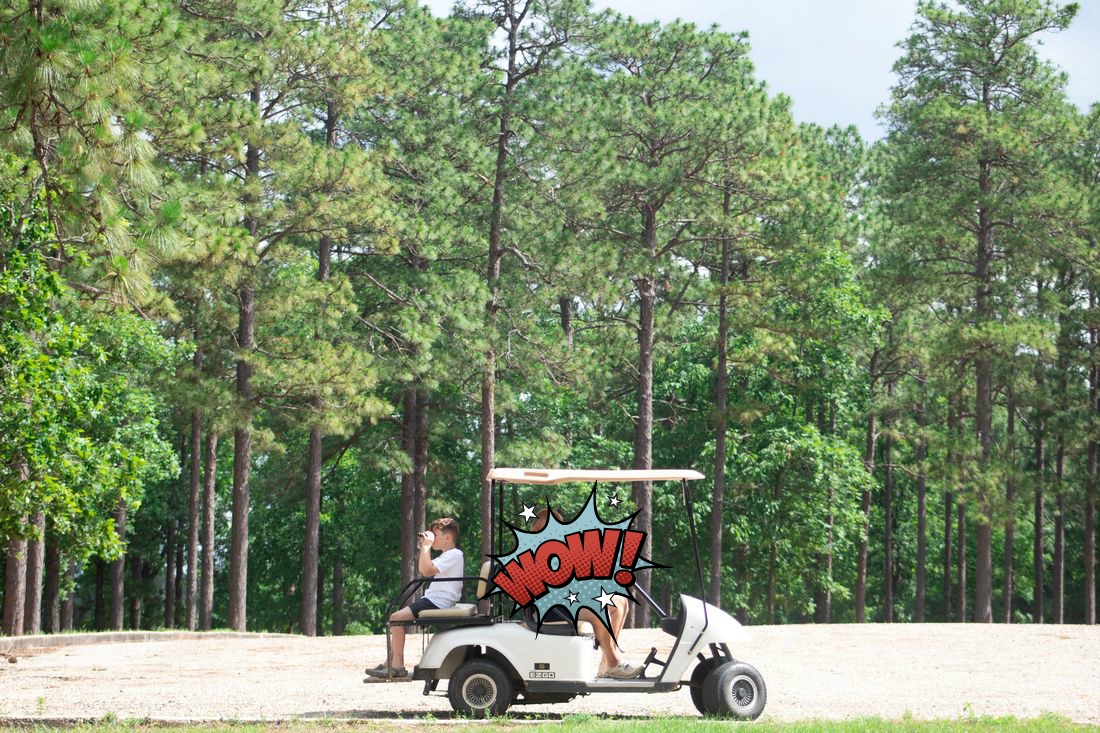 Swim Areas
There are two swim areas, and both do not have Lifeguards on duty. It's swim at your own risk. Both swim areas are near restrooms and play areas.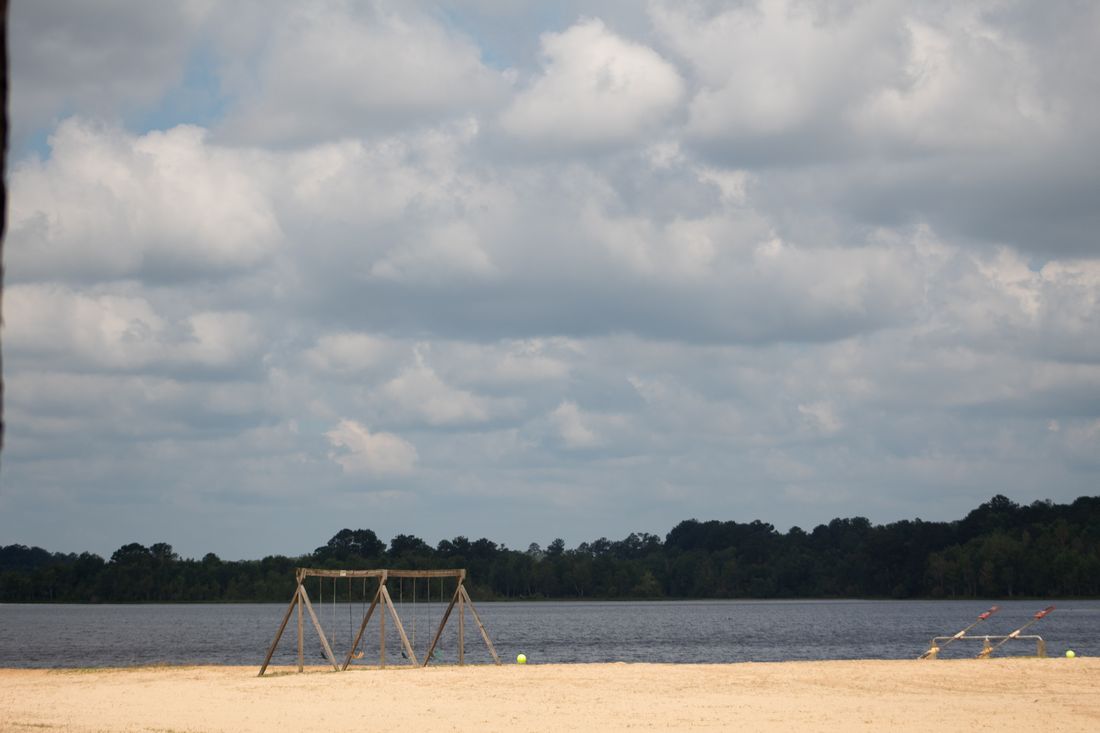 The swim area near the entrance and day use area has a parking lot. Also, it has lots of picnic areas with covered pavilions near it.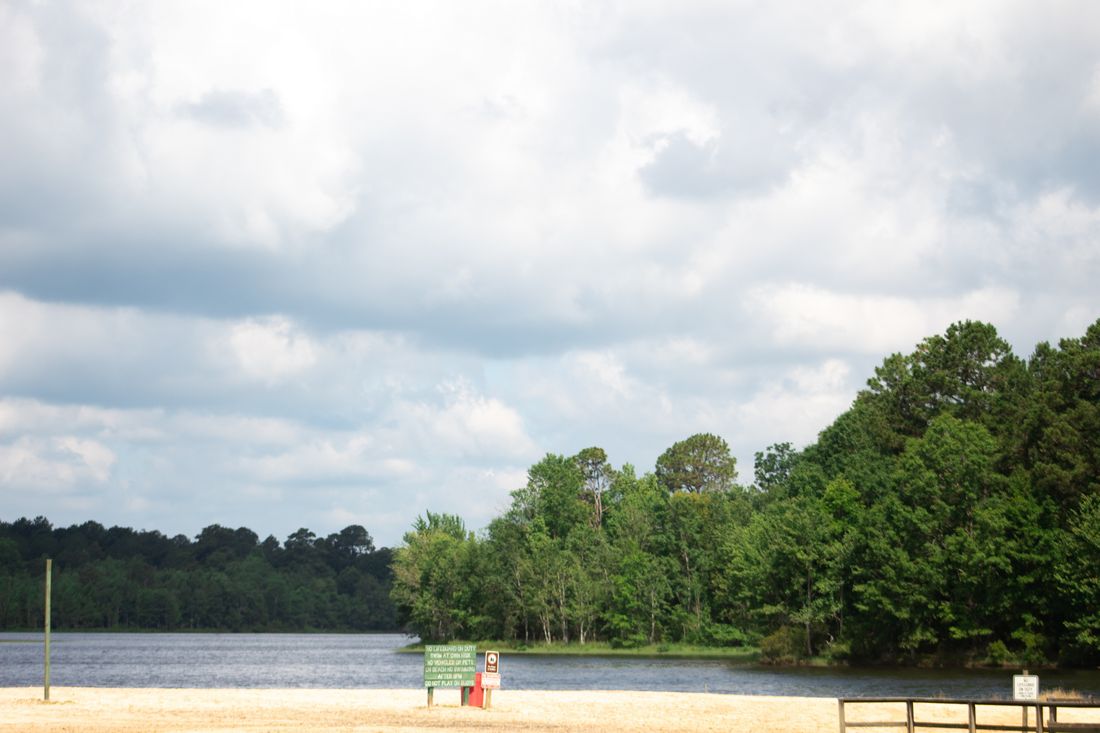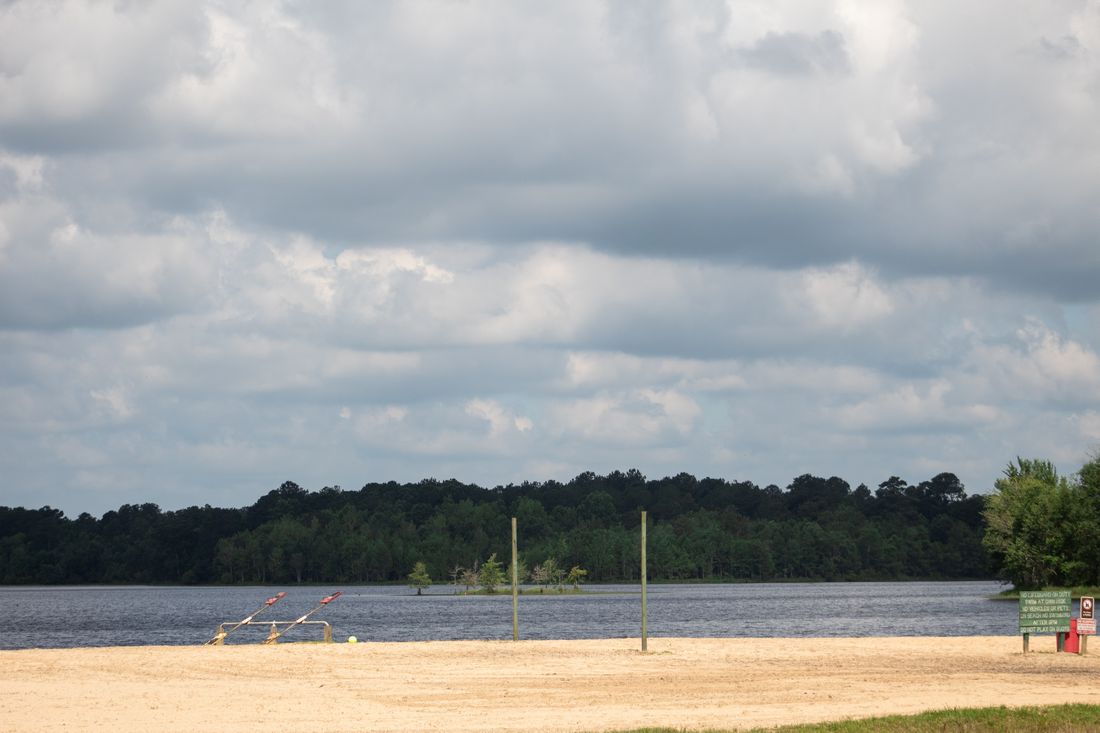 The RV camping site swim area doesn't have a parking lot.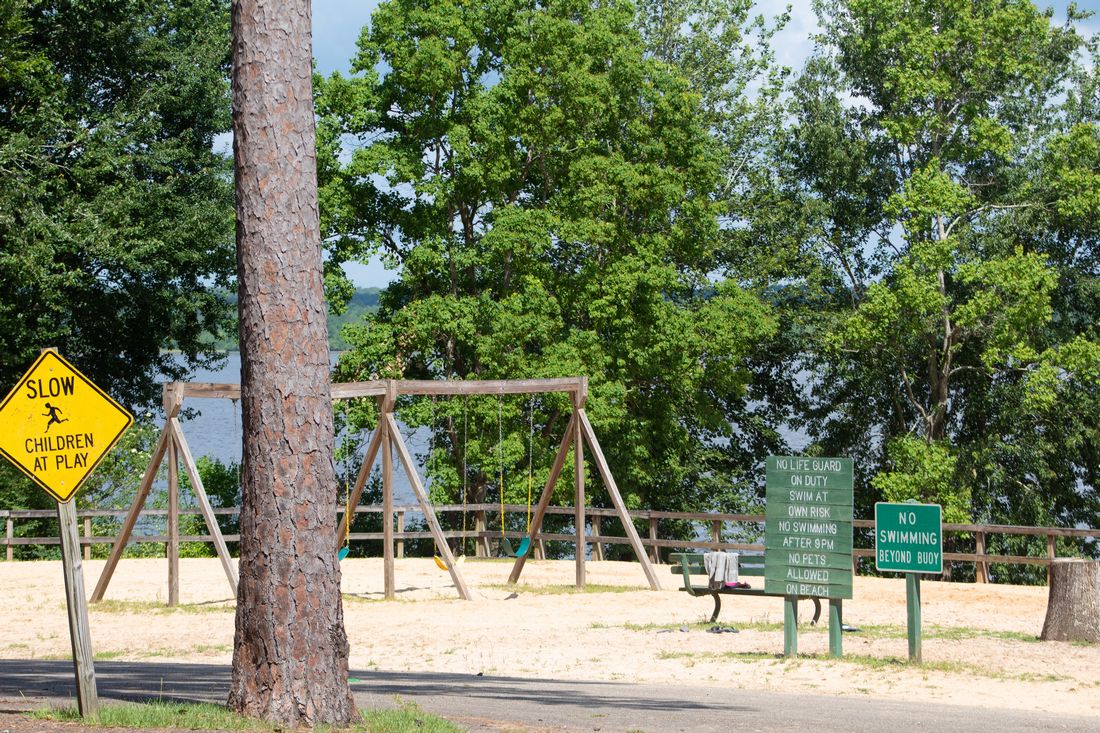 Jump House Rental
You can rent a jump house, small blow up water slide, or a large water slide with pool to be set up at the pavillion near the camp store or by the lodge.
The rental prices for the jump house is $100, slide with pool $165, and $200 for larger slide.
Pavillion rental is $50 a day and lodge is $100 a day. The lodge has a small kitchen with table and chairs.
Please call (601) 794 – 2957 to talk to someone at the park office for my info.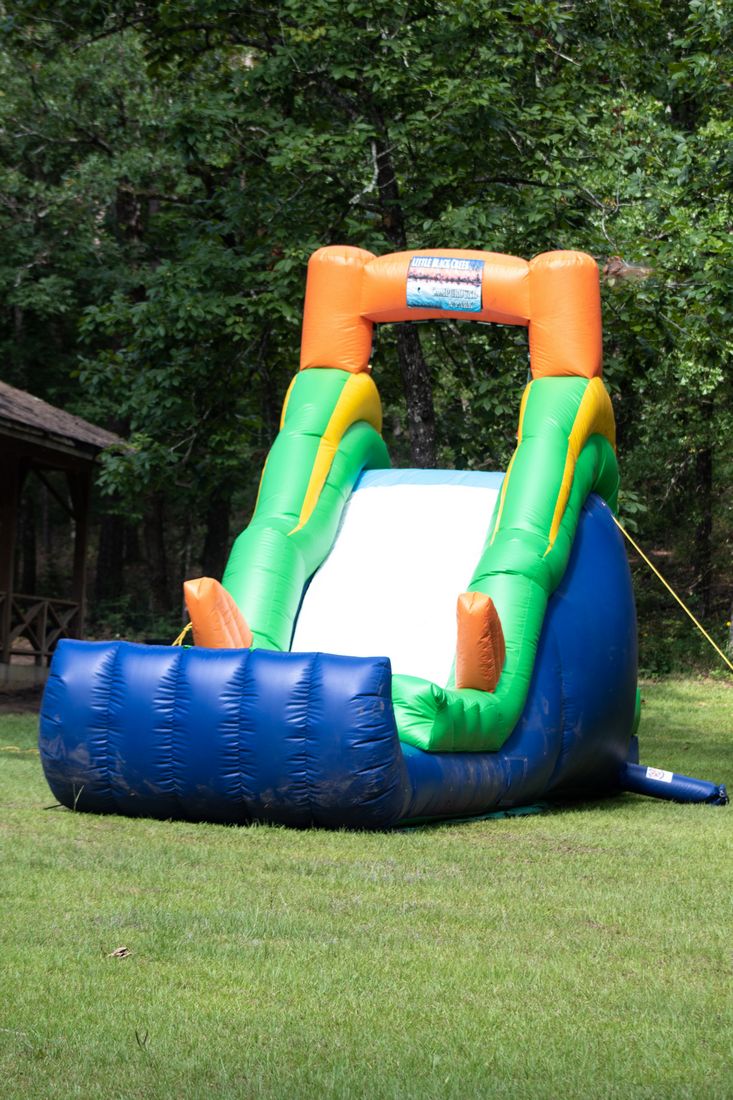 Photo above of small water slide.
Is there a Camp Store?
Yes, there is a camp store. It's where you go to rent the golf carts, kayaks, canoes, boats, and other rentals.
Also, you can buy propane, ice, snacks, sand toys, fishing supplies, and more.
When you go to the camp store, you'll most likely meet Sally. My family loves her. She's such a sweet and kind person.
Is there a Laundromat at the campground?
No, there isn't a laundromat at the campground.
Is there Wildlife at the park?
Yes, there's wildlife in the park. The park is perfect for bird watching, and there's plenty of animals to try to find while out hiking, walking, riding bikes, or driving around on a golf cart.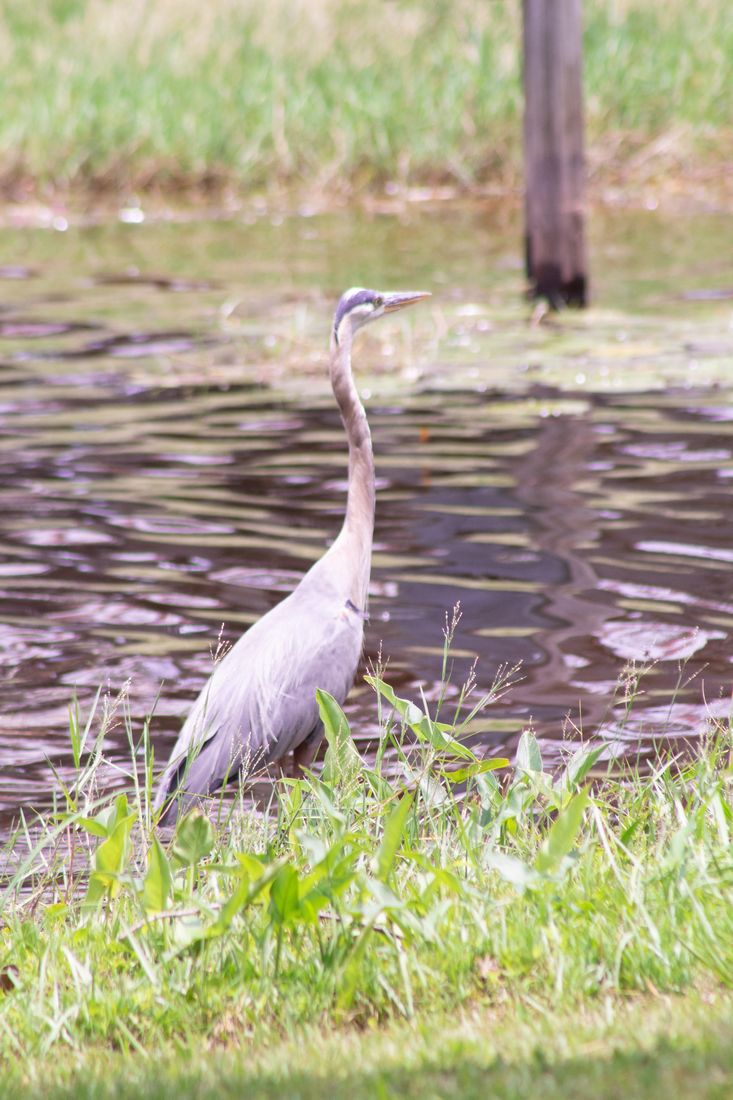 My family enjoys riding around the park in a golf cart with our binoculars and camera trying to spot different birds and other animals to photograph.
Here are a few photos I took either while riding around the park on the golf cart or taken from the porch of the cabin my family rented.
Photo of Blue Heron taken from the back porch of a cabin.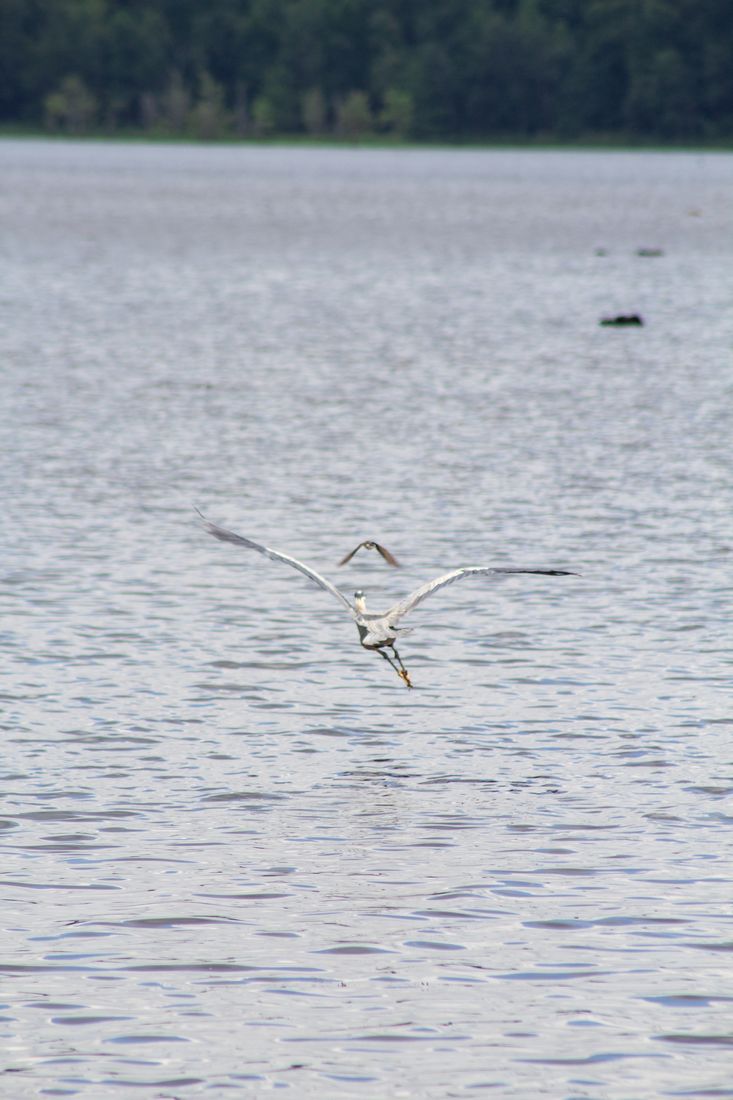 Photo of a bird chasing the Blue Heron.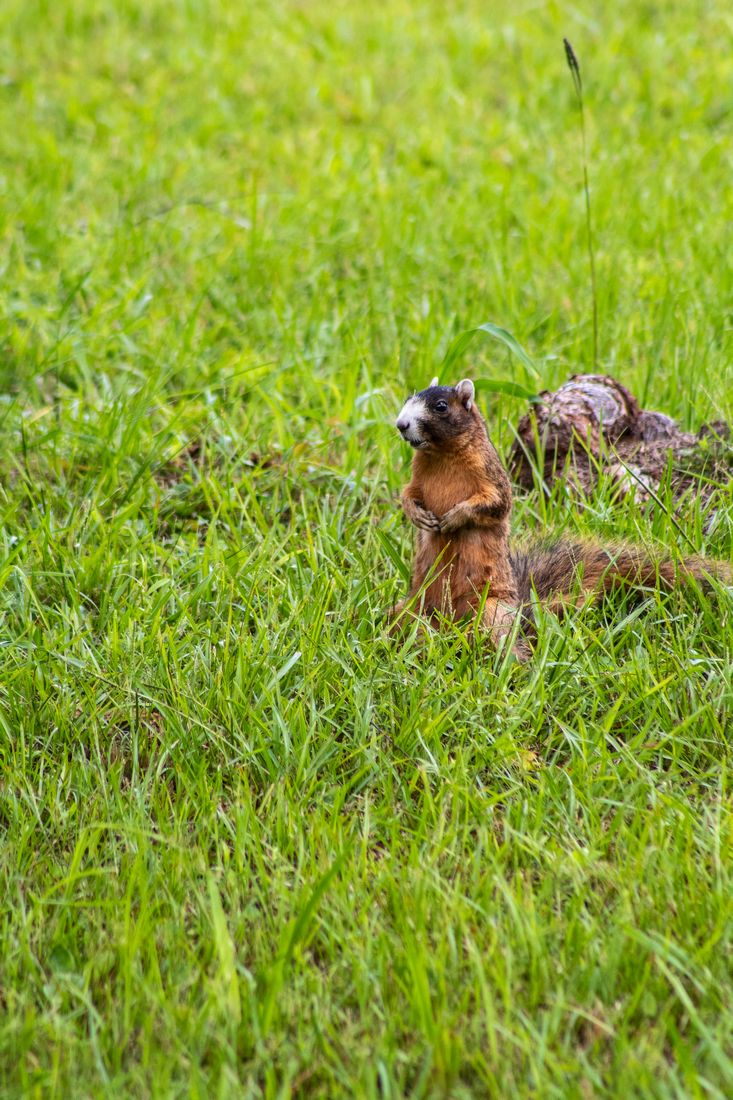 This Red Squirrel kept posing for photos.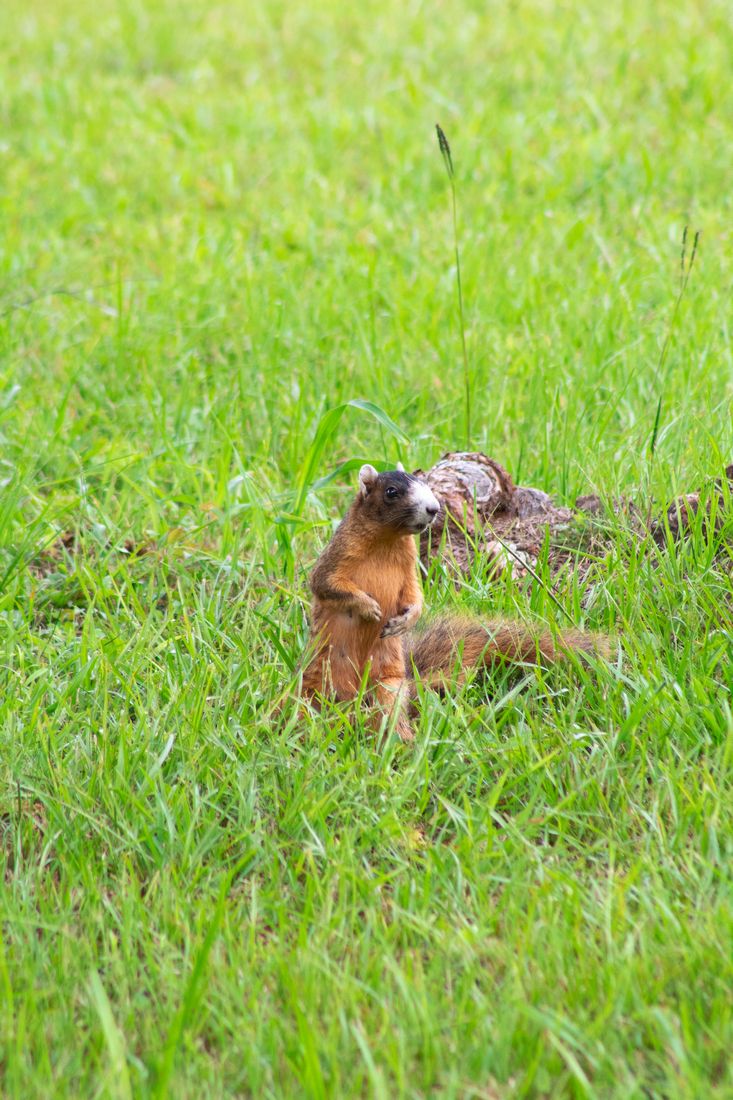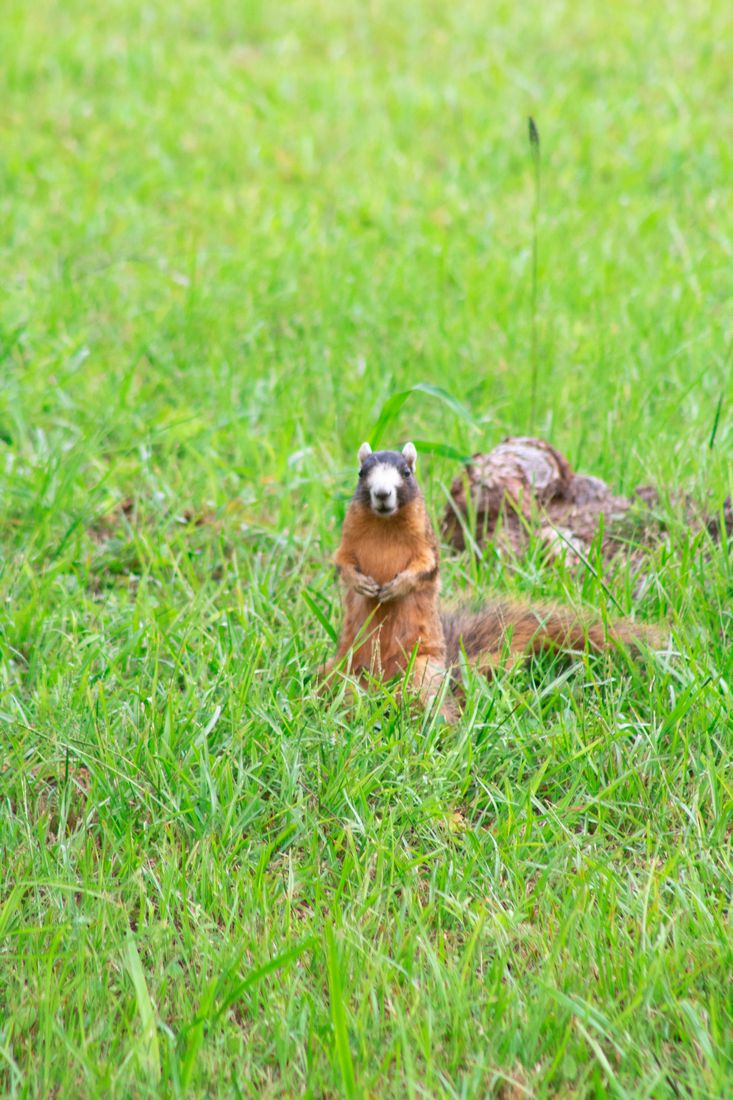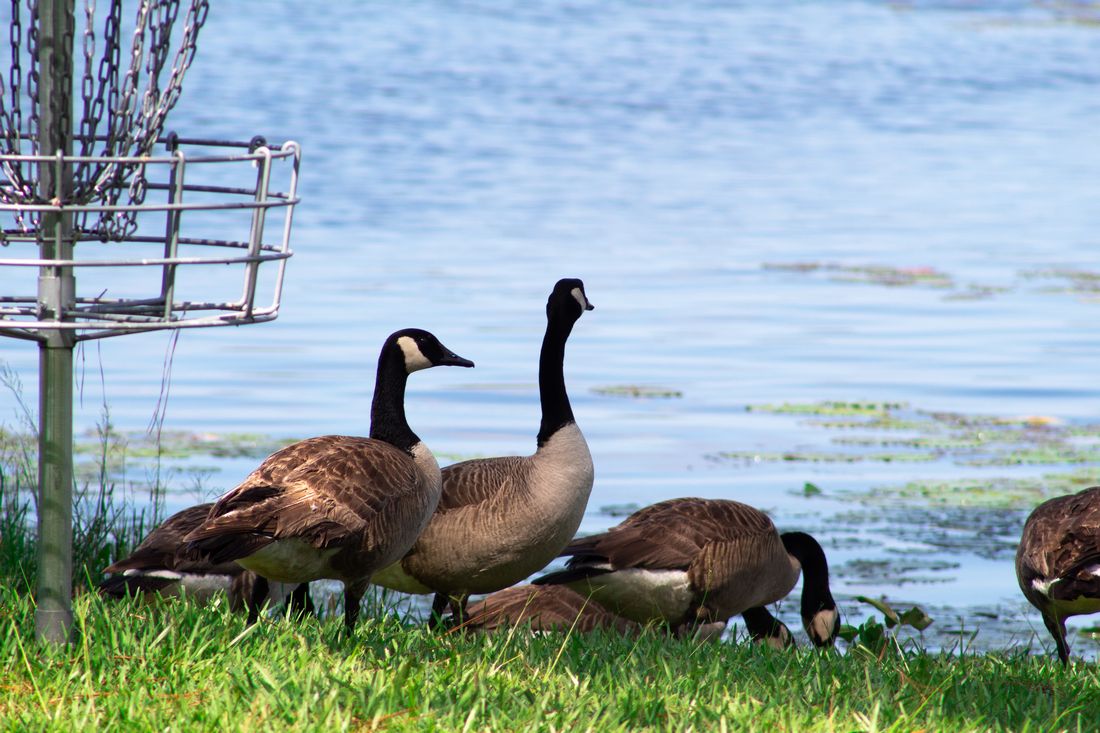 Photos of Geese taken by day use picnic area.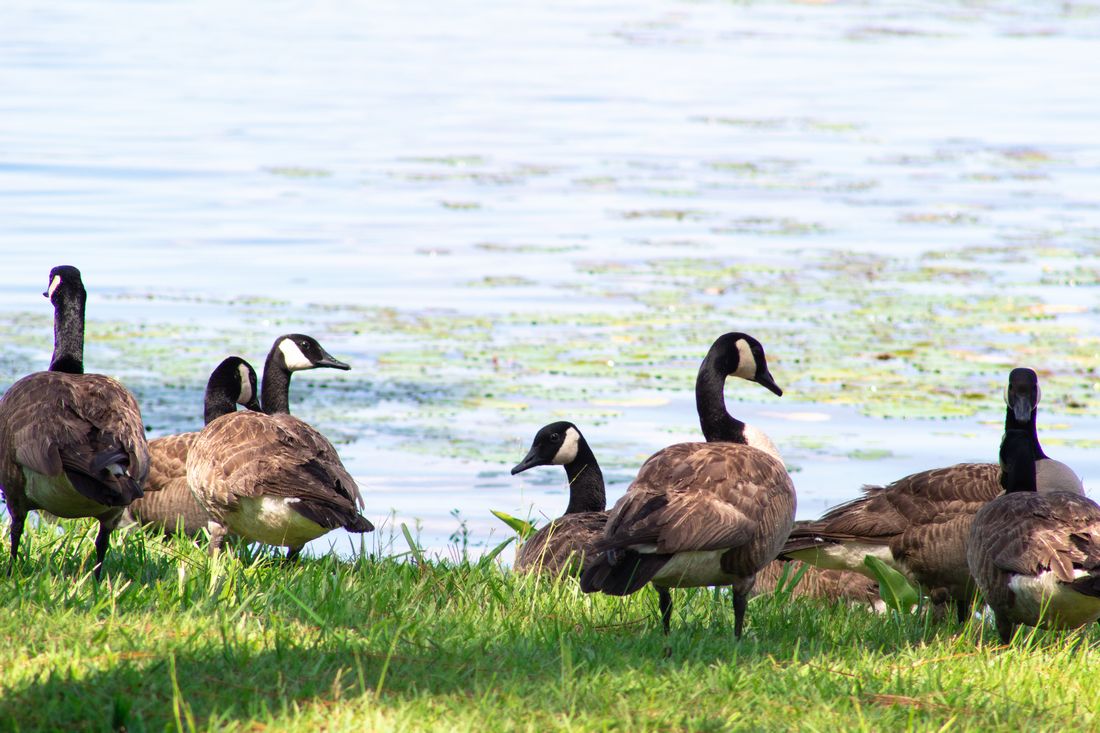 Photographed this beautiful girl by herself by the boat launch.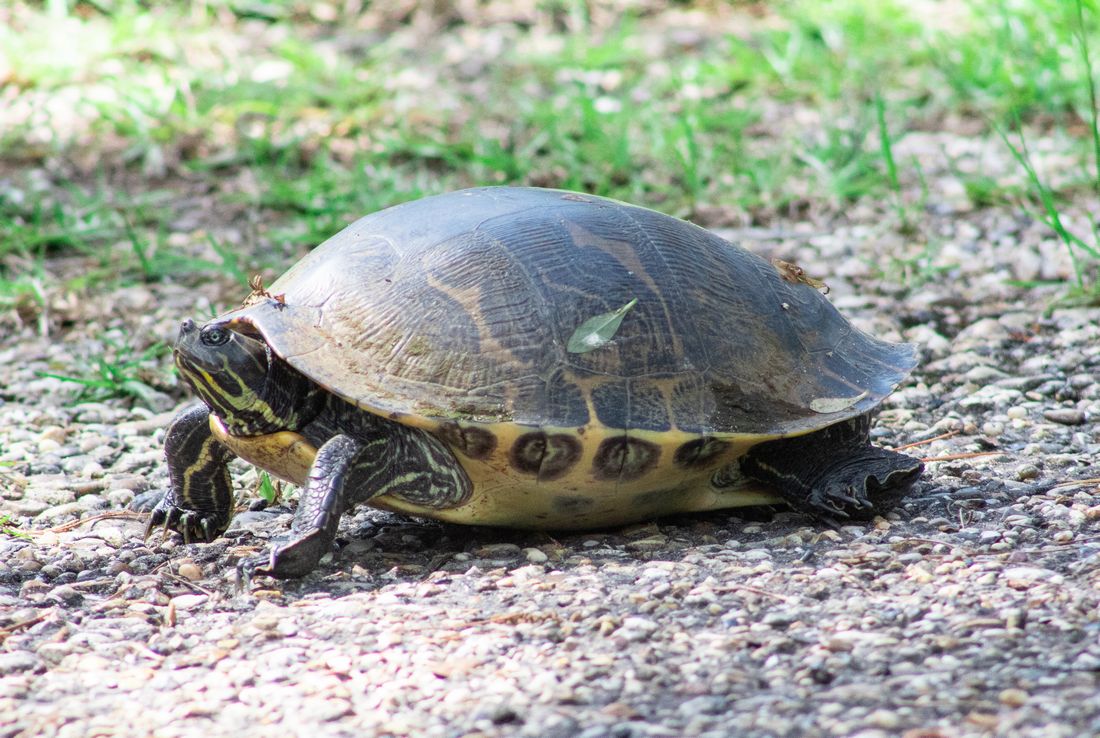 Saw this big guy on the road by the RV sites near the day use area.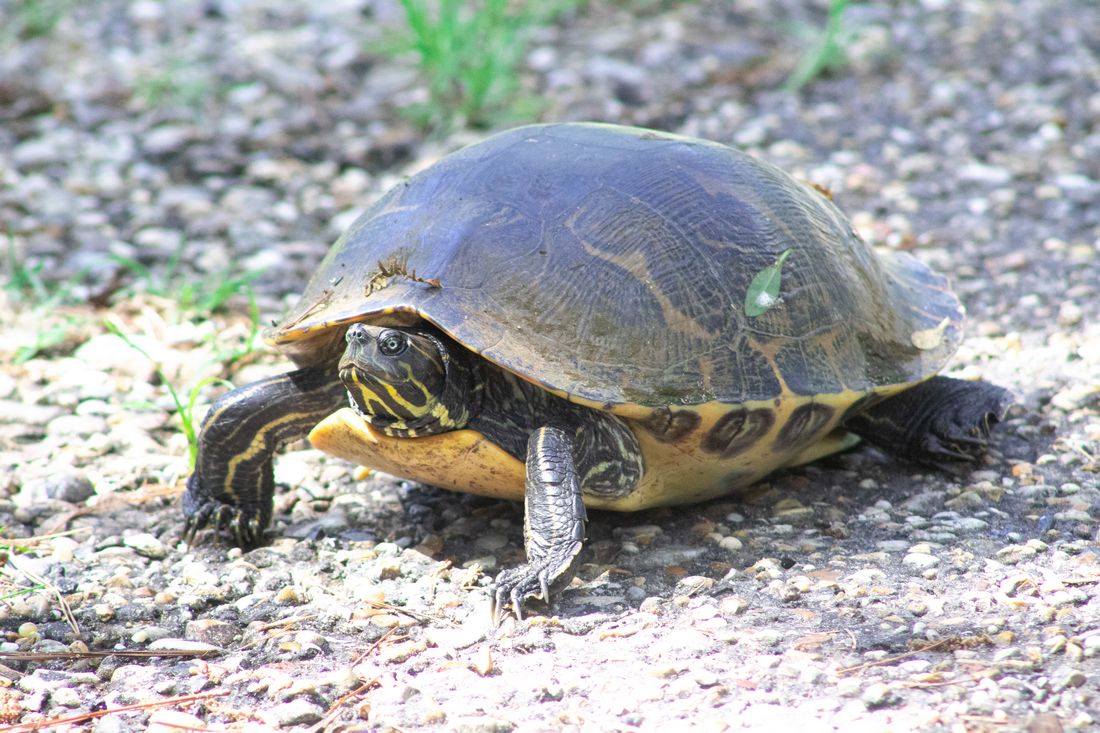 Photo of a squirrel on the picnic table by our cabin.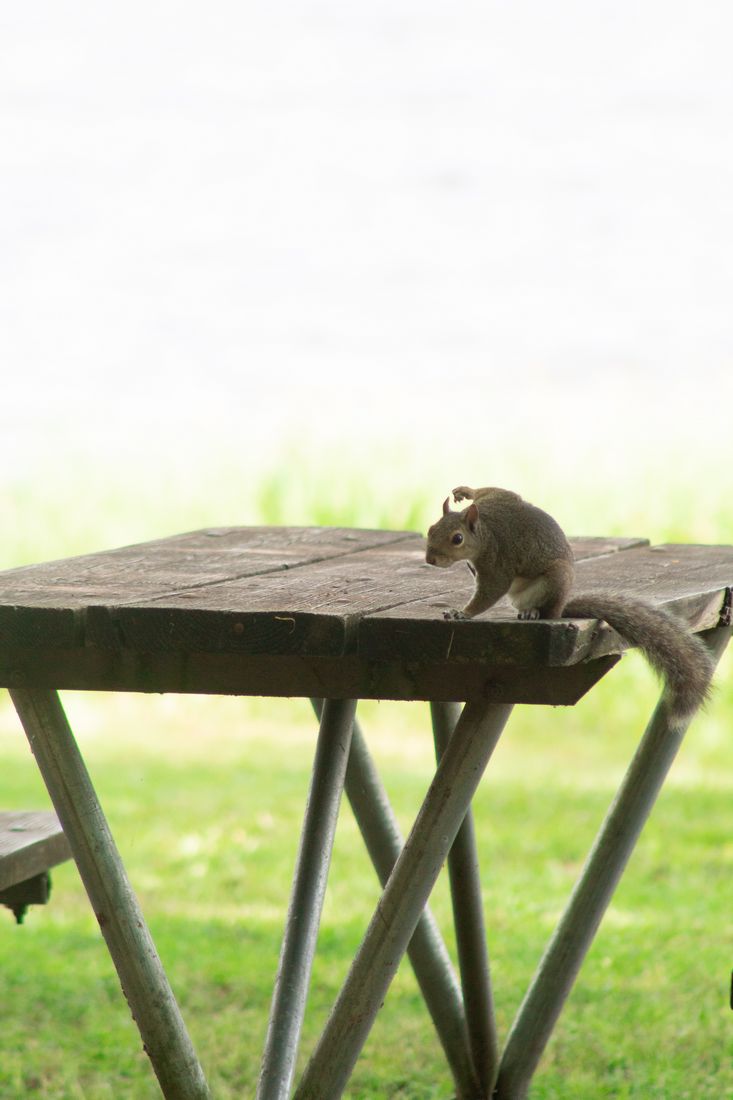 This squirrel was fun to watch.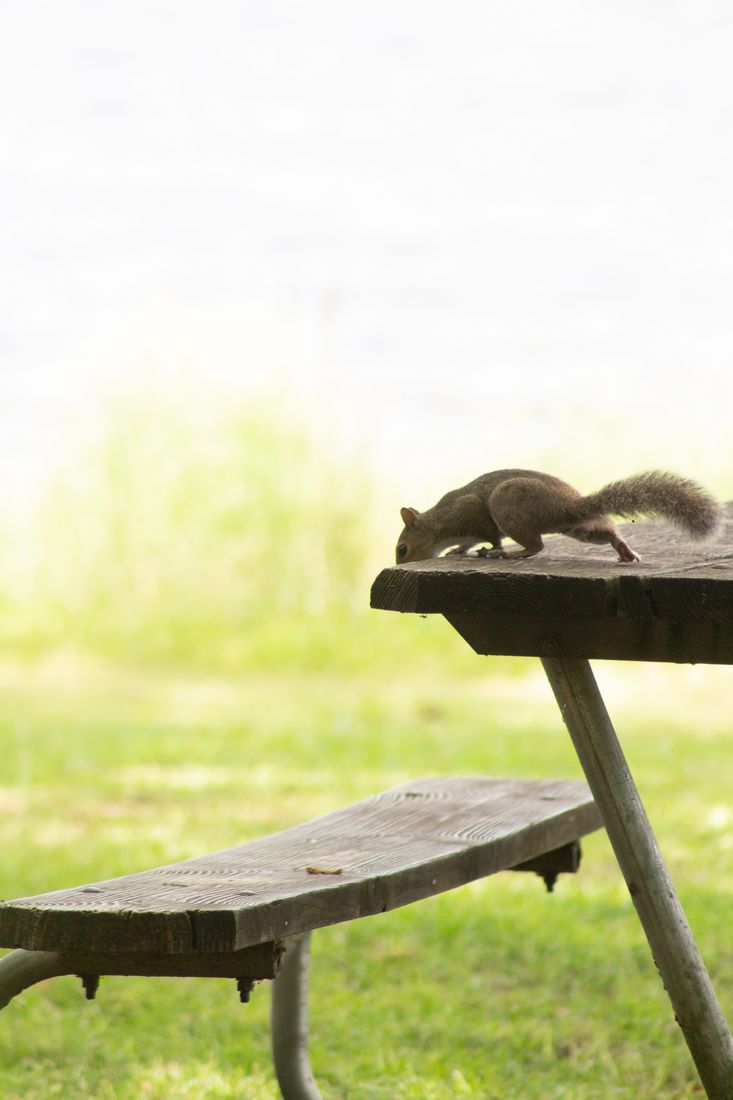 He reminded me of Scrat from the Ice Age Movie.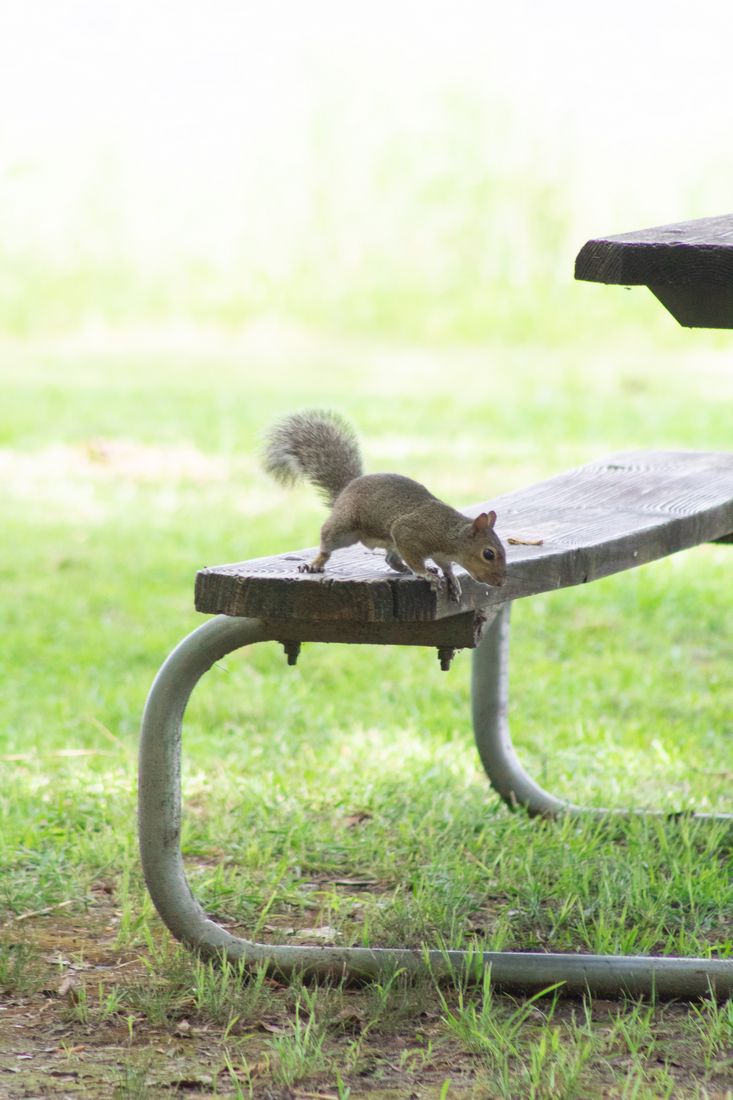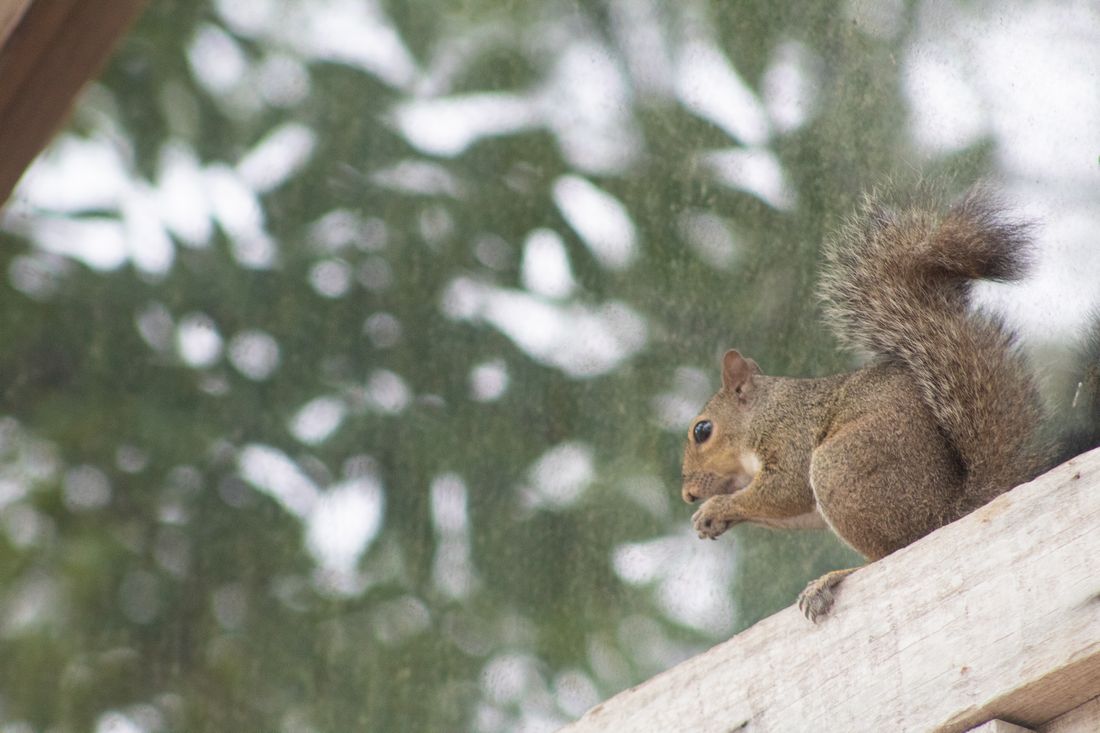 Photo of a different squirrel.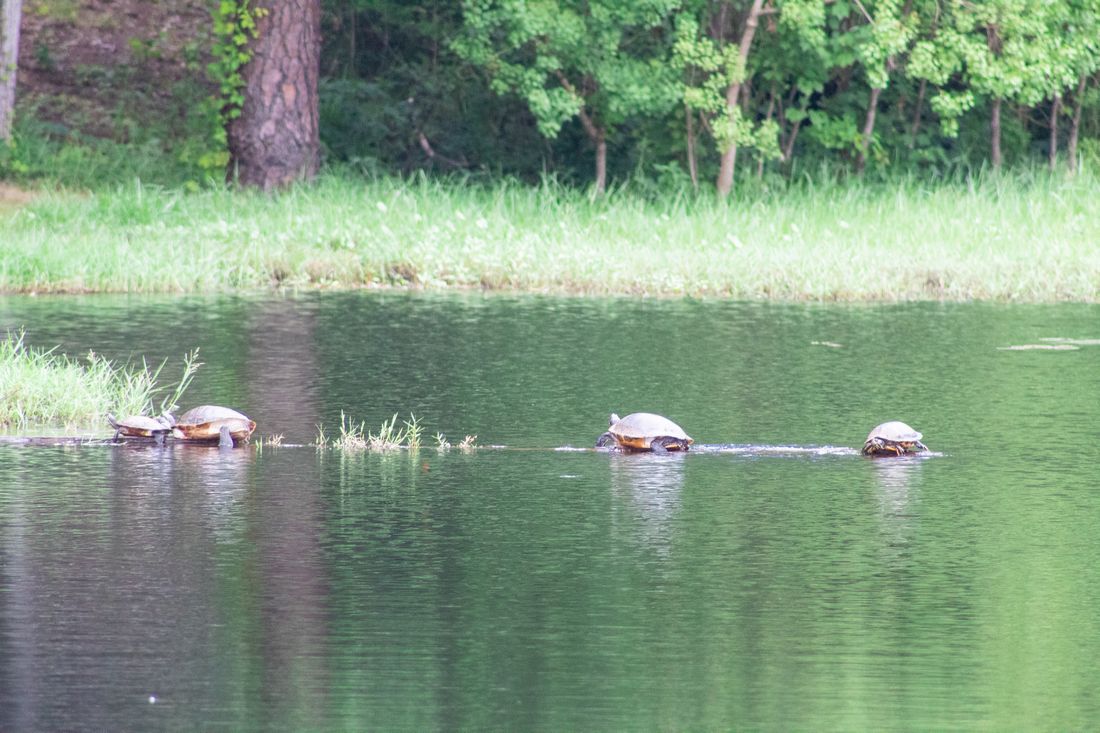 Photos of turtles sunbathing taken by fishing pond by cabin area.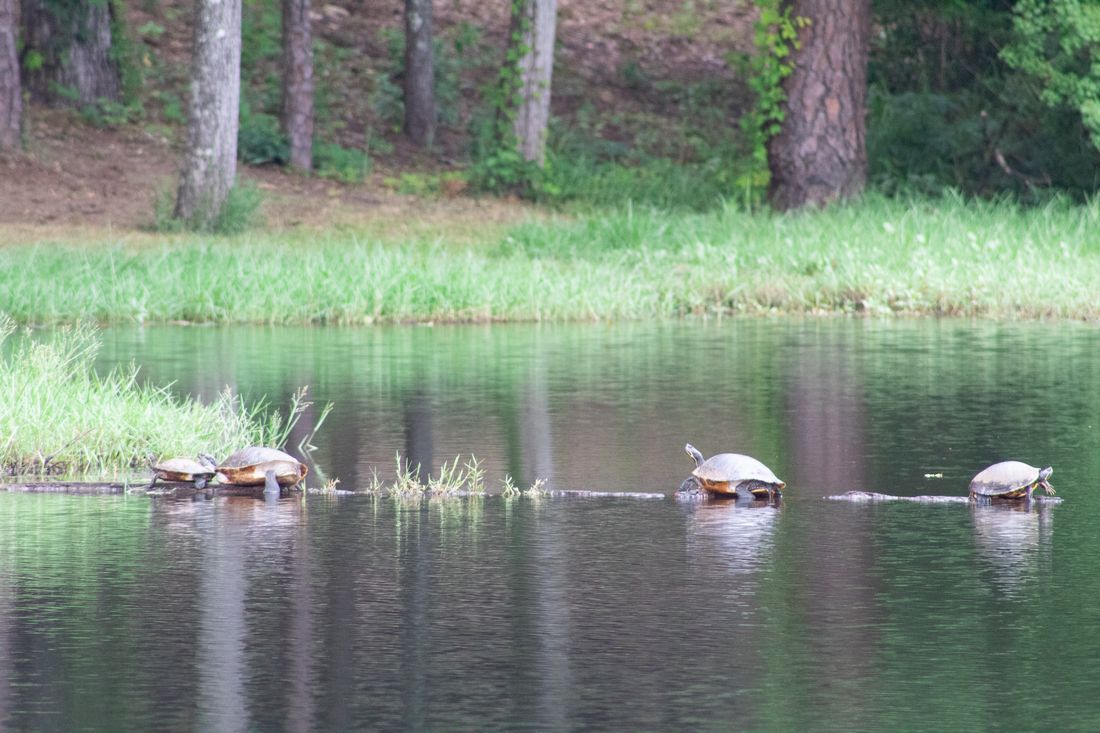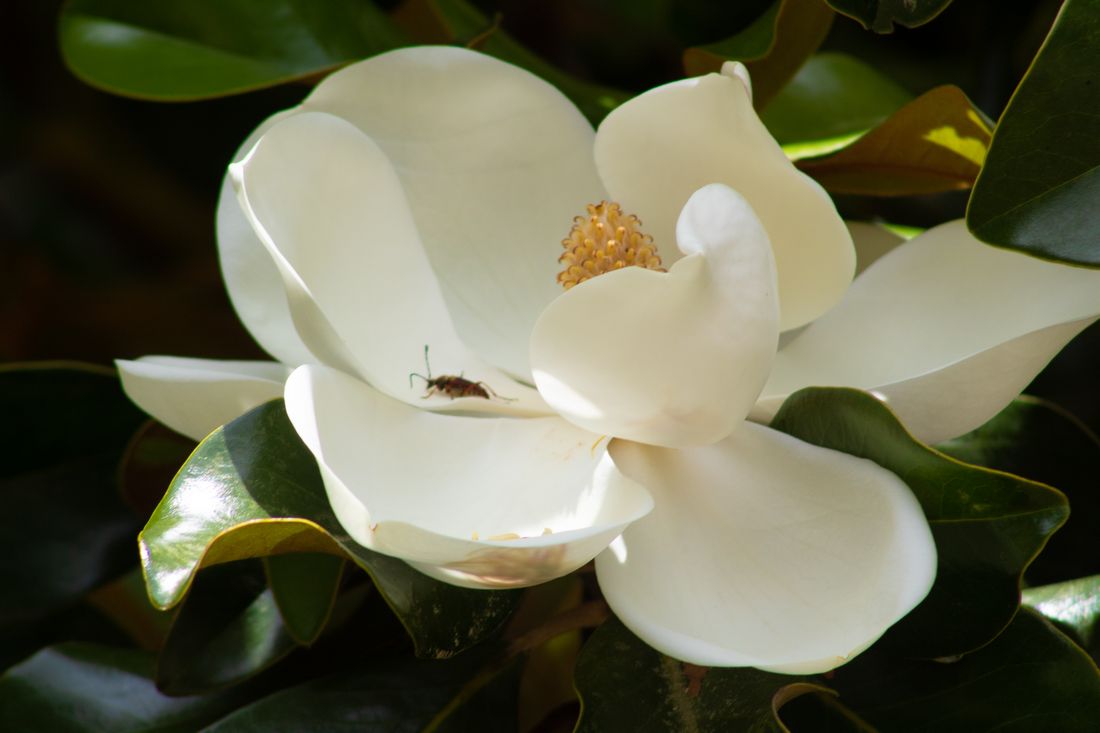 Photo of Magnolia flower with bug taken by fishing pond near cabin area.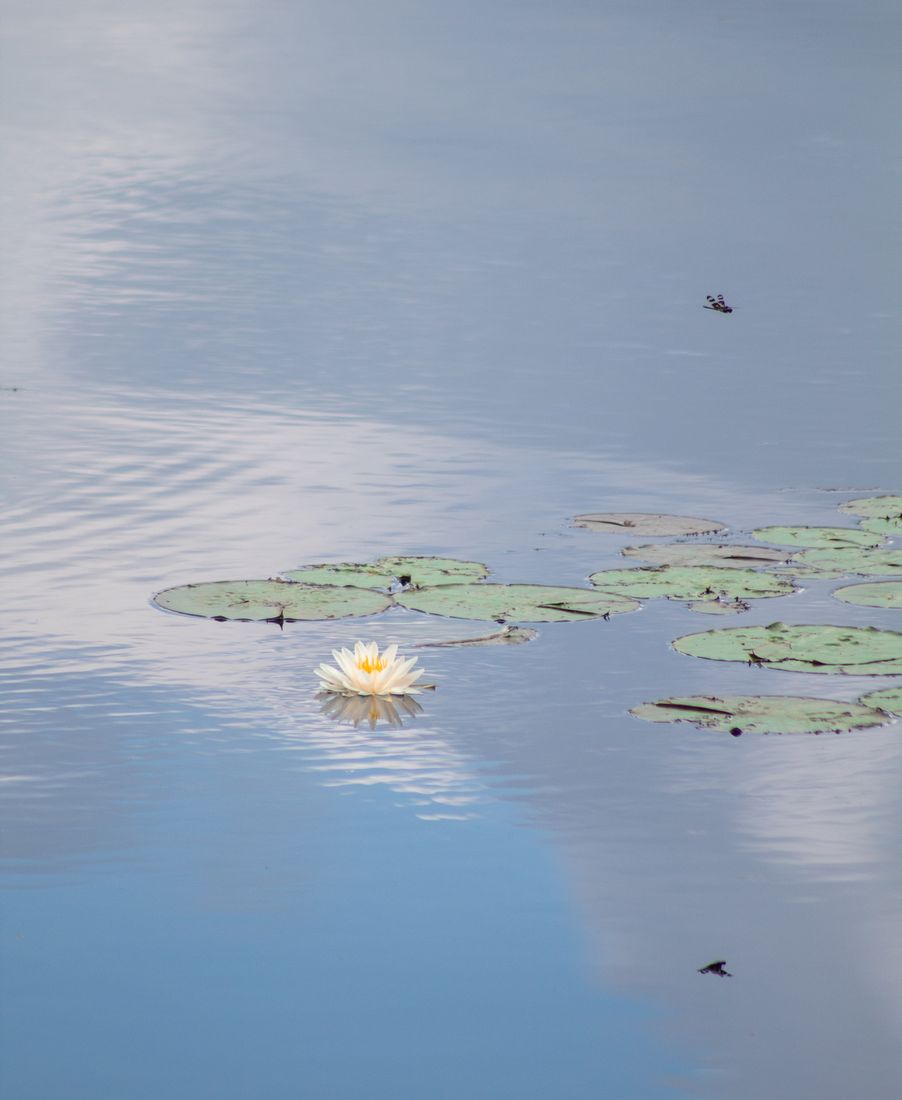 Dragonflies flying over Lily Flower. Photo taken by day use area. Love the colors of the photo must be the way the sunlight hit the water when I was taking the photo because the water doesn't look like that.
The only animals we haven't seen at the park yet is deer and rabbits. We have heard there are deer and rabbits at the park.
Also, snakes which I thankfully haven't EVER seen! And, don't want to see.
Riding Bikes
The park offers lots of space to ride bikes. Prepare for a workout with all the hills, though it's a bit of a workout going uphill going downhill can be fun.
The area around the day use beach and the camping sites upfront near the entrance of the park seems to be the flattest area of the park. Perfect for riding bikes with little ones. You may want to let children wear their bike helmets.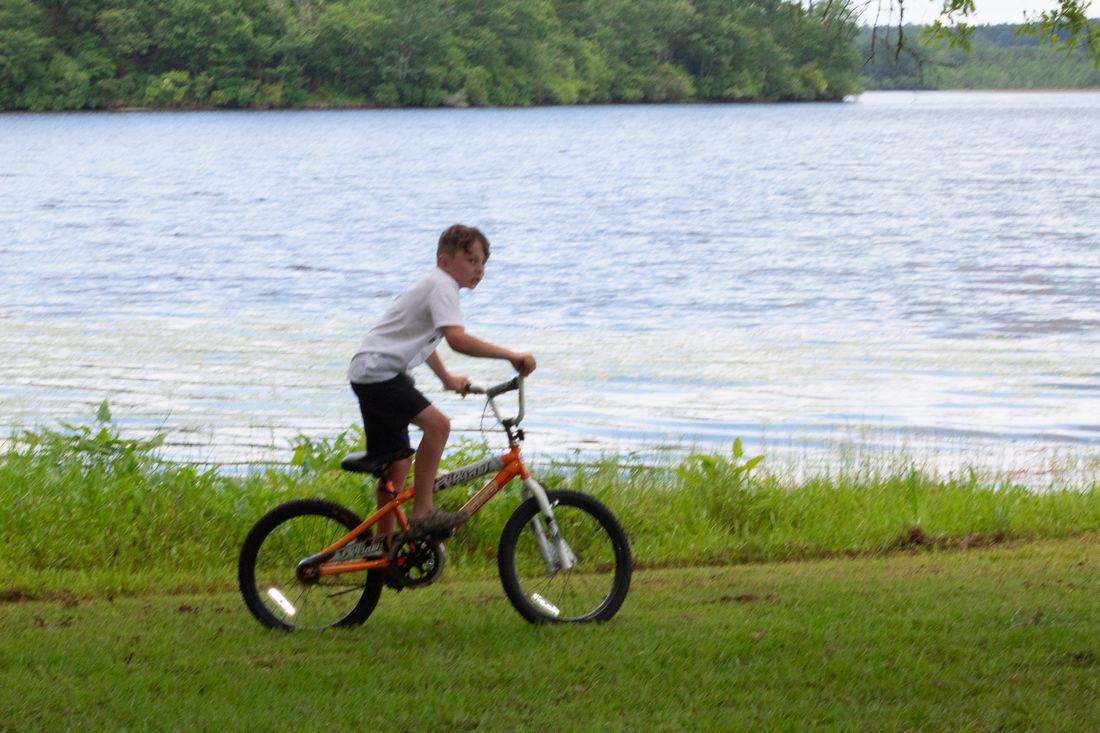 My son riding his bike in the grass at the cabin we rented for the weekend.
Enjoying Sunsets and Night While Having Family Fun at Little Black Creek Campground and Park
The sky at the park definitely doesn't disappoint. I suggest finding a place at the park whether it's at the cabin you're renting, a camping site, or grab a blanket and have an evening picnic.
But, you'll want to enjoy the beautiful sky and the way it looks over the water at least once.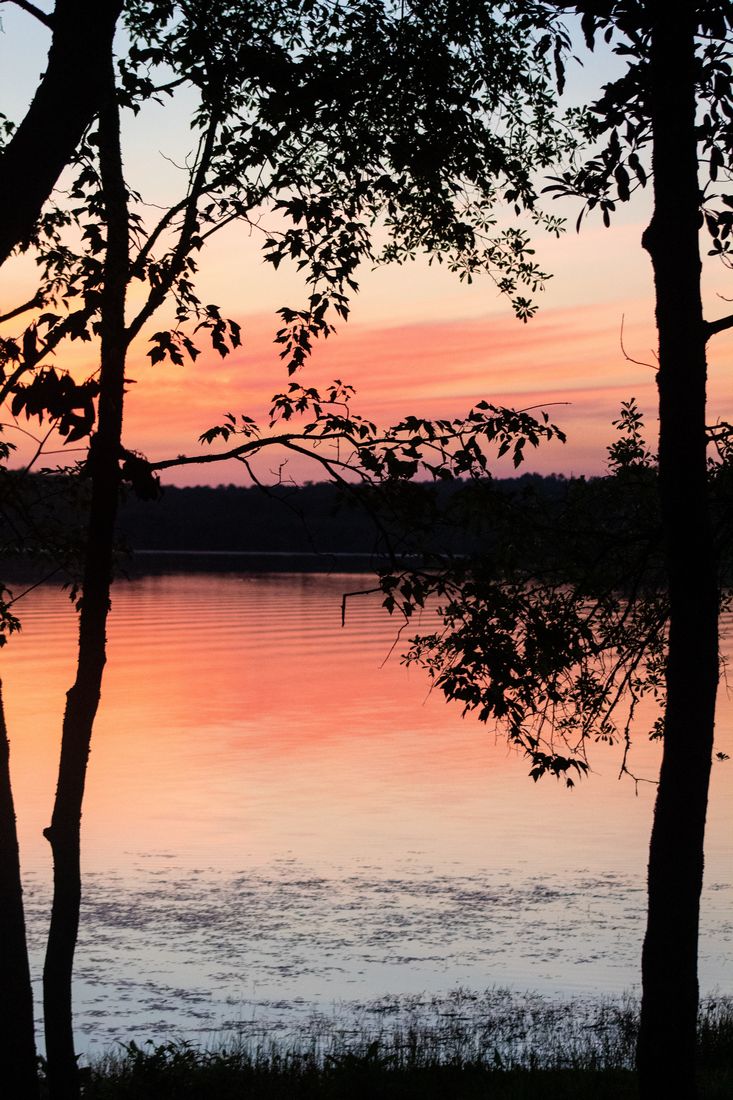 Photo taken from cabin porch. View of sky through the trees.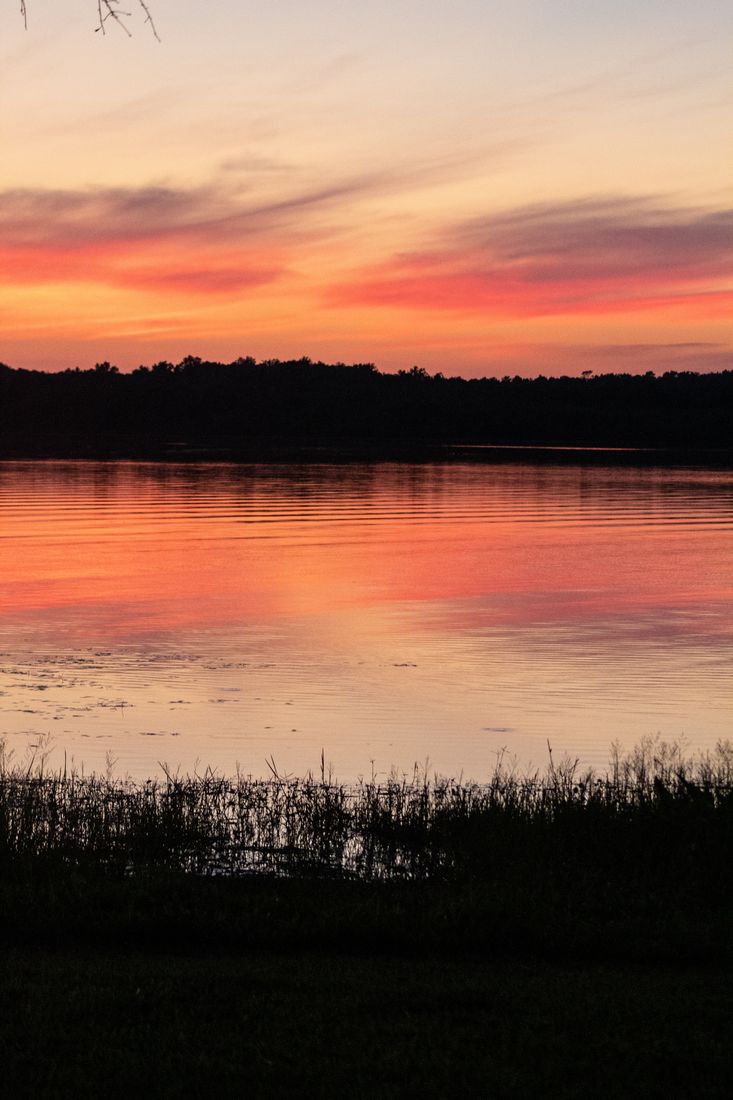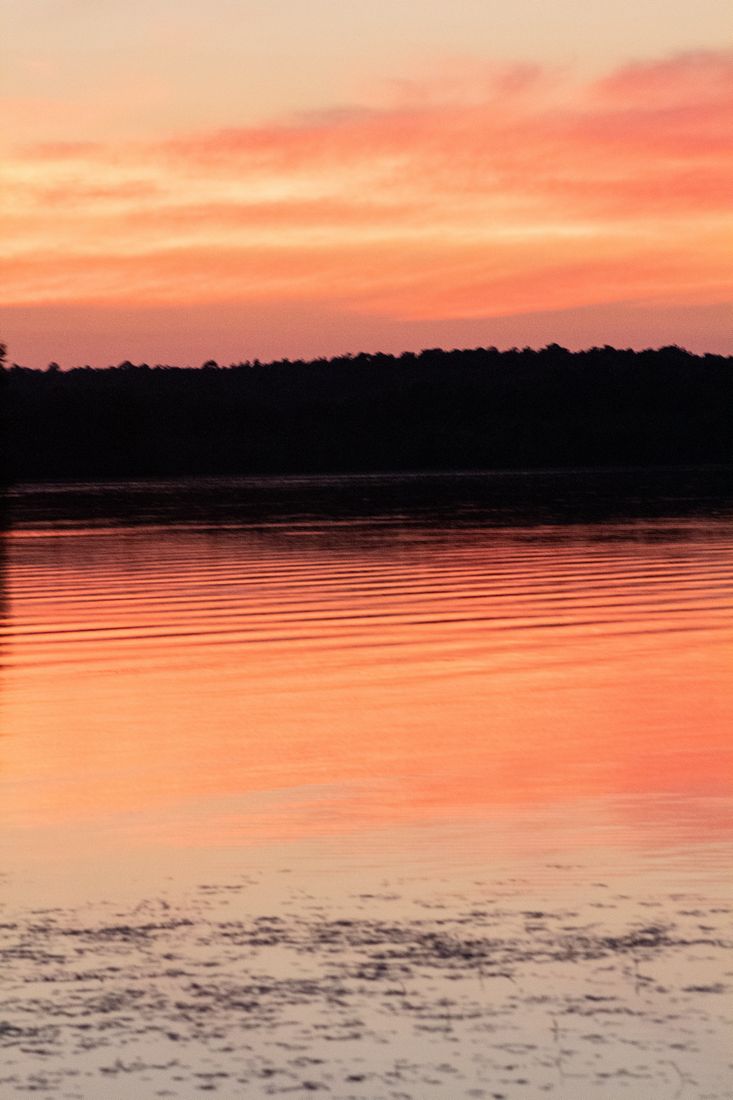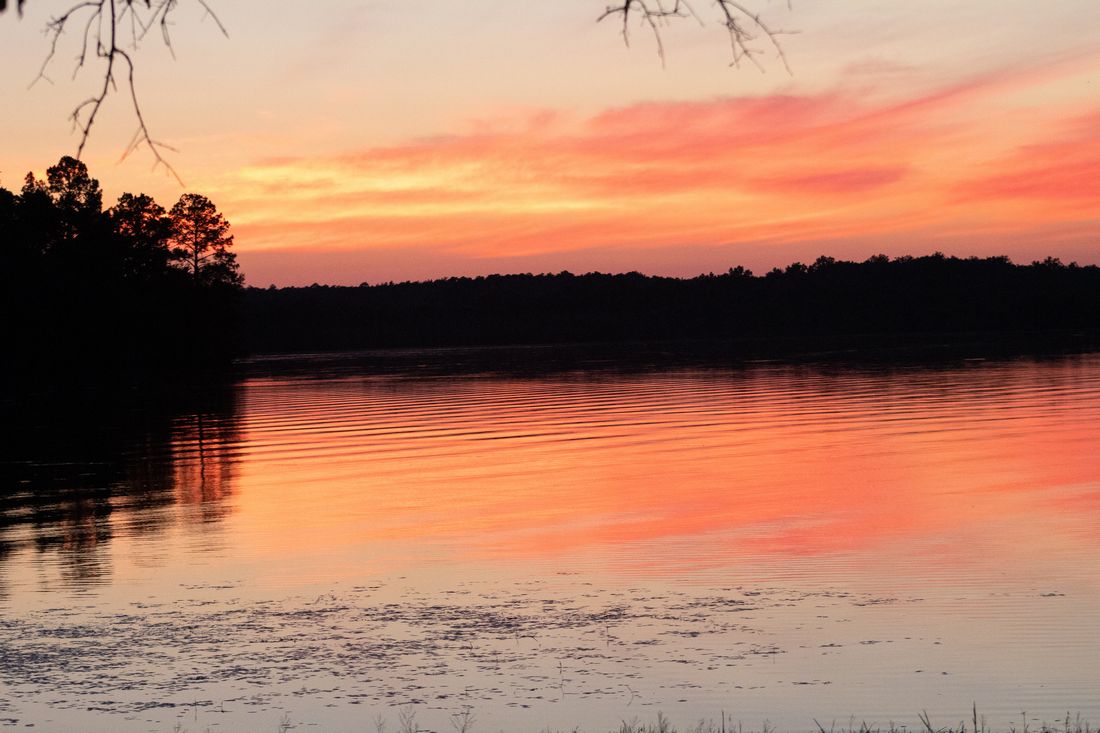 Isn't the sky beautiful? It reminds me of a painting.
As you can see, the park offers a lot of fun activities. And you can also create your own family fun.
Additionally, you could make s'mores and roast hotdogs on the fire pit like we did and make a craft with the kids like my popsicle stick tent craft.
Whether you like staying indoors playing cards and board games, or prefer enjoying the great outdoors Little Black Creek will not disappoint.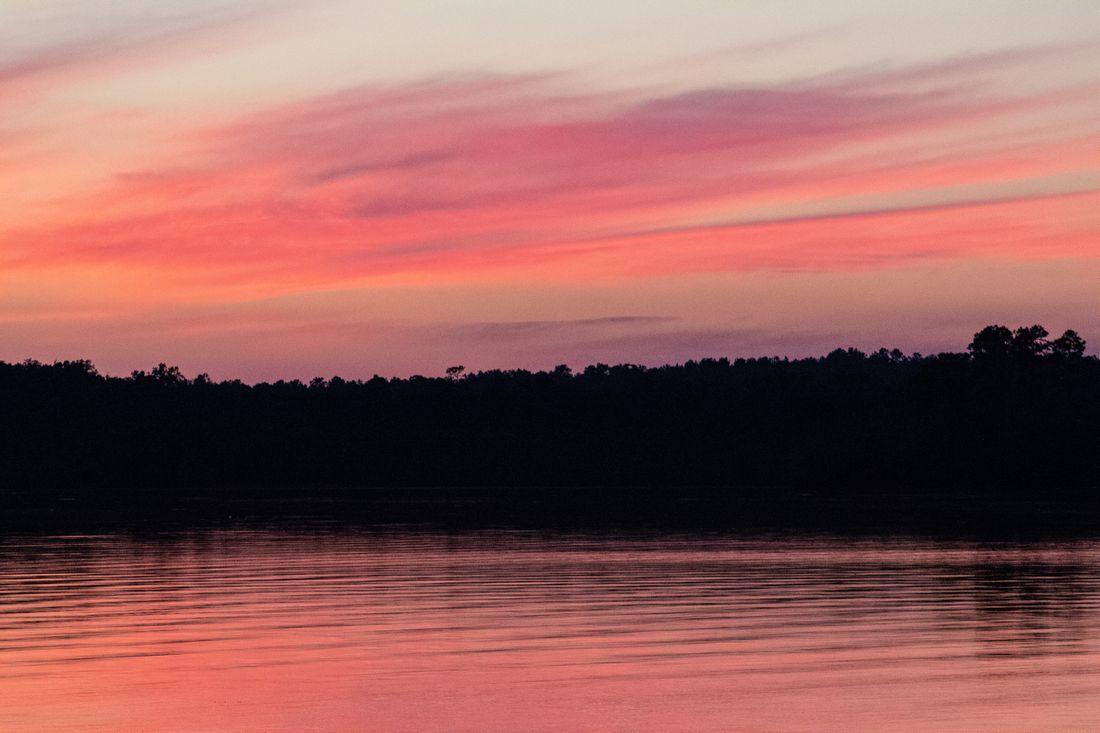 Photo taken on a different night then the above sky photographs.
So if you're lucky enough to get a reservation, or live near the park, or find yourself passing through Lumberton, Mississippi, you should stop even if it's for the day.
It's excellent for families or for anyone that's looking for a great place where people will treat you like family!
PIN ME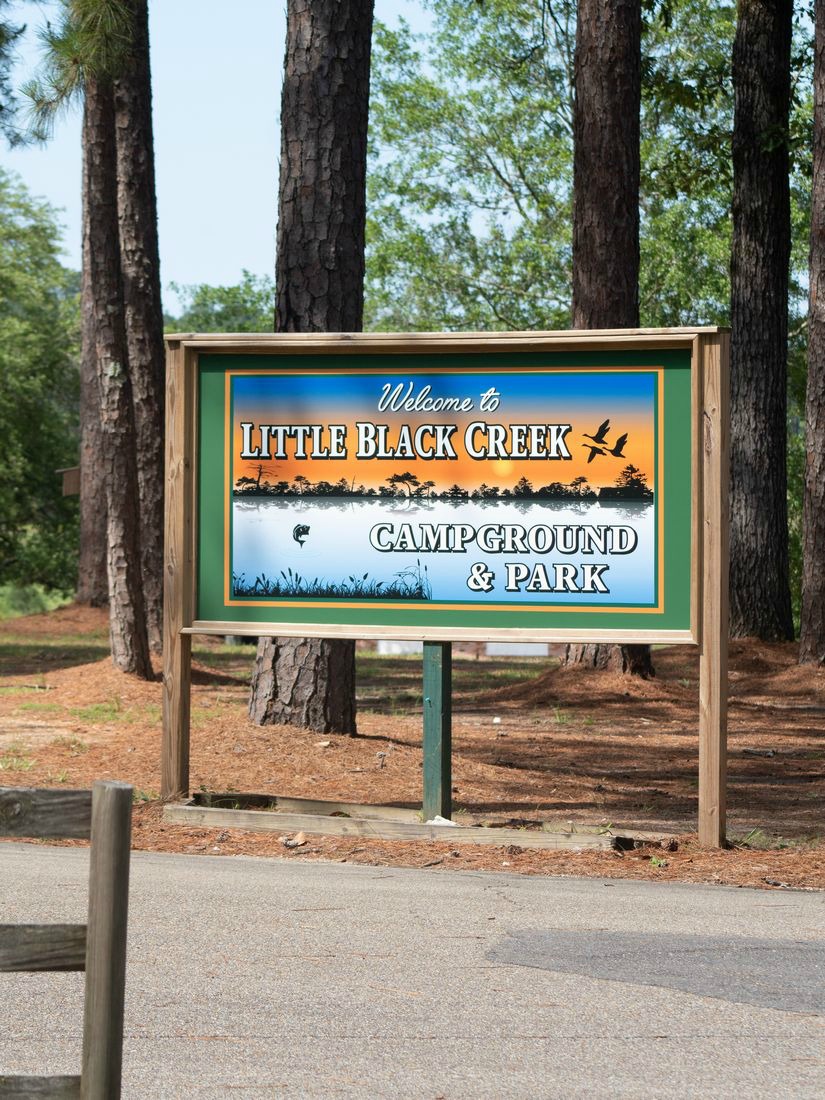 To learn more about cabin rates, campsite rates, day use rates, events, or availability at Little Black Creek Campground and Park call 601-794-2957 or check out their website. See the inside of the cabins.
Don't forget when booking a stay at the Campground and Park in the cabins make sure to ask what you'll need to bring.
Also, don't forget your camera, phone charger, bug spray, fishing poles, and sunscreen. And, be prepared for any type of weather.
Do you have a favorite camping place? Share it with us below.
This post was updated 6/2019 and all photos copyrighted. Do not use any of these photos without permission from Kim Seghers.
(This Ole Mom) www.thisolemom.com