This Easy Crawfish Boil is a sponsored post from the Boil Boss. Thank you for supporting the brands that help support and make This Ole Mom possible.
If you love crawfish, learn how you can have an Easy Crawfish Boil and achieve juicy, spicy, and fantastic tasting boiled crawfish with the BOIL BOSS.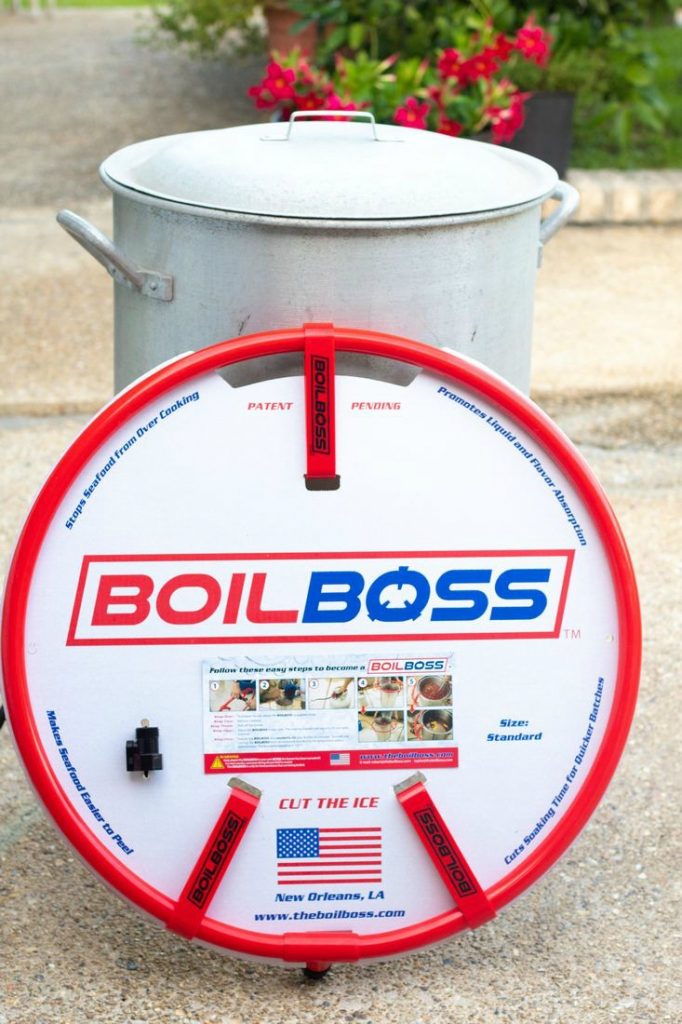 Have you ever wondered how to boil crawfish? Or if you know how to boil crawfish have you wondered how to get your crawfish to come out tasting AMAZING?
Well, I have the answer for you. And, it's easier than you think. I would love to tell you it's a secret, but it's not.
It's an excellent product that attaches to your seafood boiling pot called the incredible BOIL BOSS. Honestly, it's called the Boil Boss, but I think it's pretty darn incredible.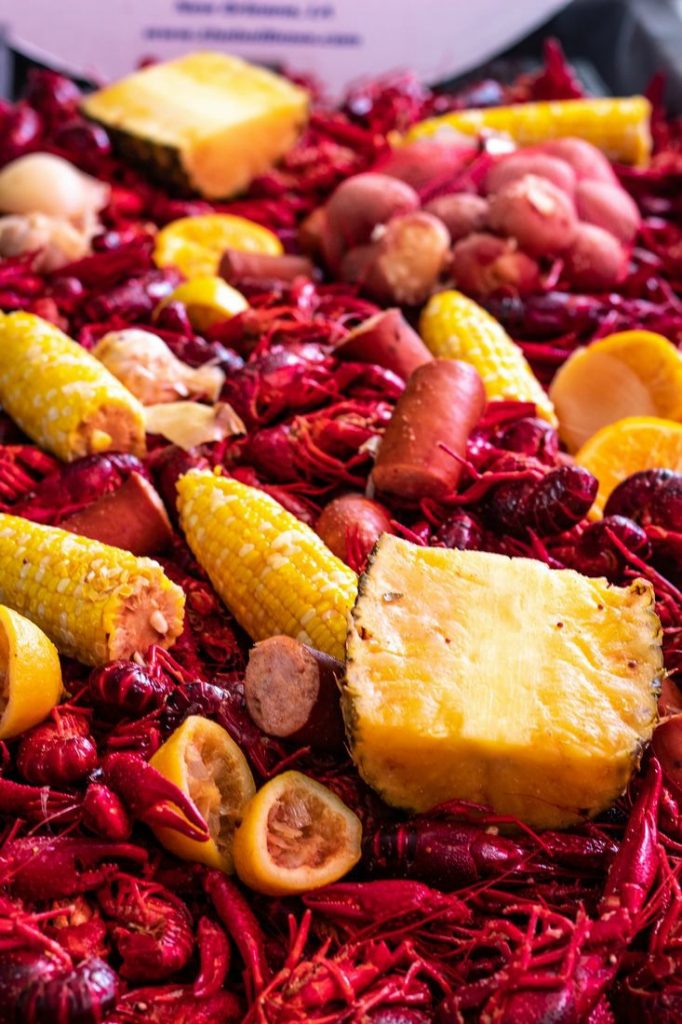 You see my husband loves to boil crawfish. I think boiling crawfish is his hobby, which is a very pricey hobby! Of course, I benefit from his expensive hobby …LOL!
When my husband decides to boil crawfish or have a crawfish boil party he has to purchase a sack or more of crawfish and all the ingredients.
Due to fact we love good spicy cajun crawfish we use a lot seasoning. Even more since my husband pours ice all over the crawfish towards the end of the boil. WHAT??!!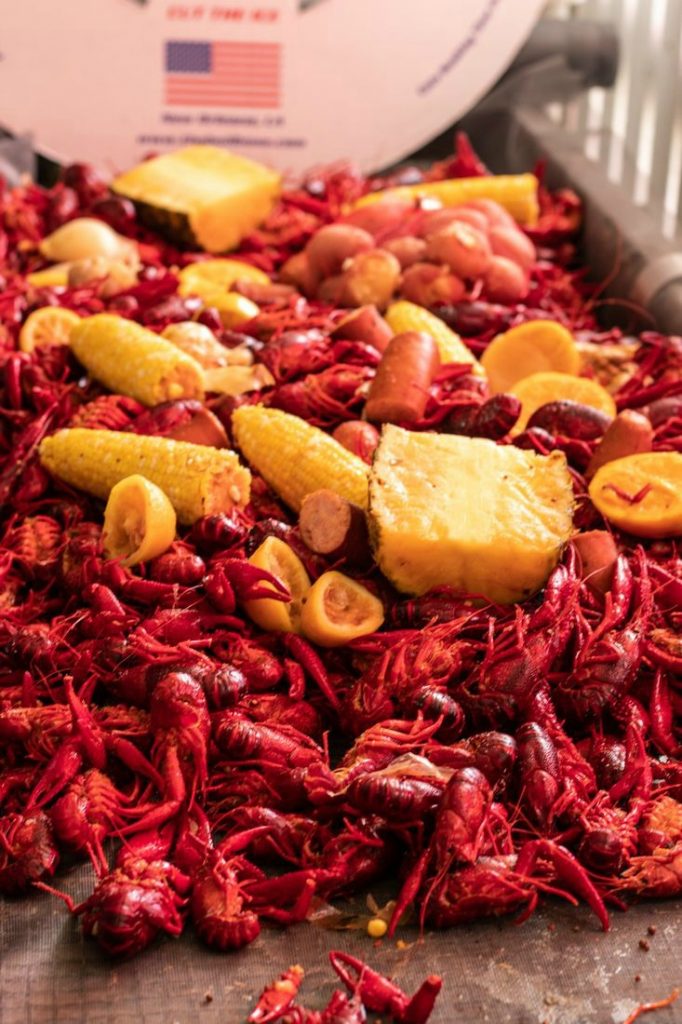 That's right! He pours ice over the crawfish that ends up diluting the water, which leads to soaking and soaking and more soaking the crawfish.
Because ice has very little cooling effect on the internal temperature of the water.
Can you guess what that does to the crawfish? It makes the crayfish overcooked, and MUSHY!
We usually end up with very spicy crawfish or mushy crawfish. And, this cajun girl can't take it when we have to throw out any seafood.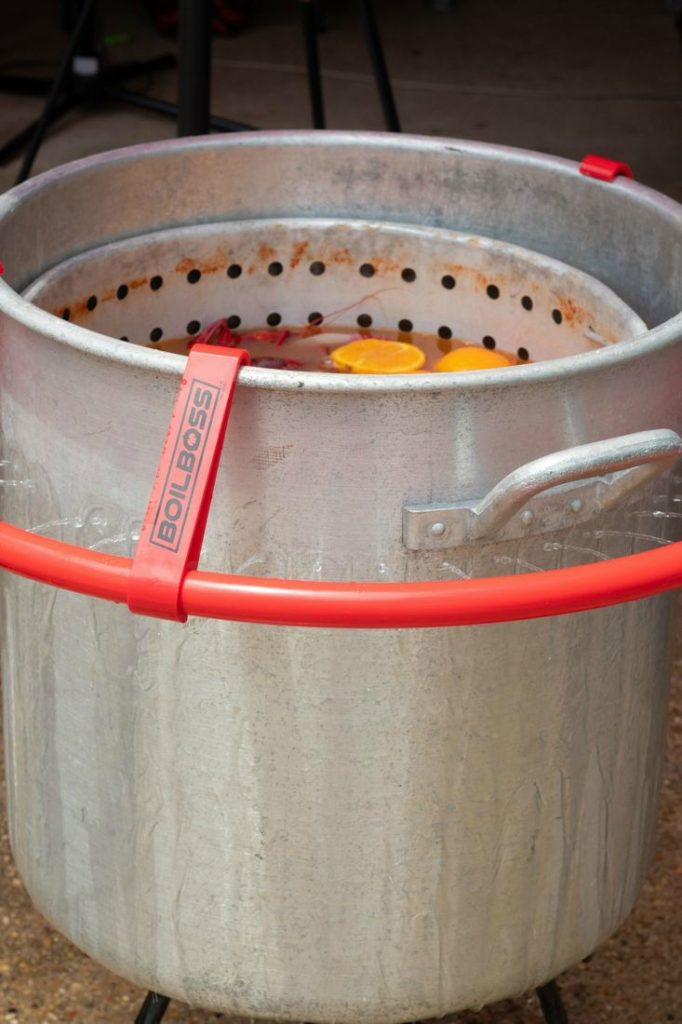 How much is a sack of Crawfish?
The cost of crawfish varies it depends on how many pounds of crawfish you buy.
You can expect to pay anywhere from $80 and up for a 25 – pound sack during crawfish season.
The larger the sack, the more you pay. So you don't want to be messing up your boil. You need to get the recipe and cook time PERFECT!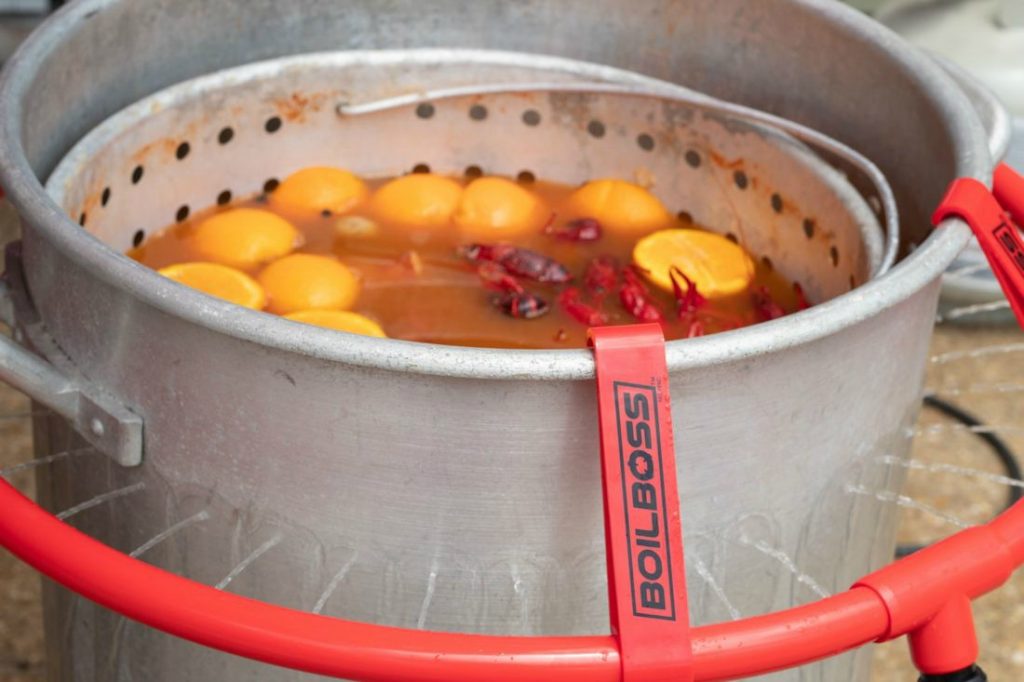 So when I discovered the BOIL BOSS and my family tried it out, I was happy to learn we NO longer needed to pour ice into our seafood boils or waste any of our seafood. Yes! This Momma did a happy dance LOL!
How does the Boil Boss work?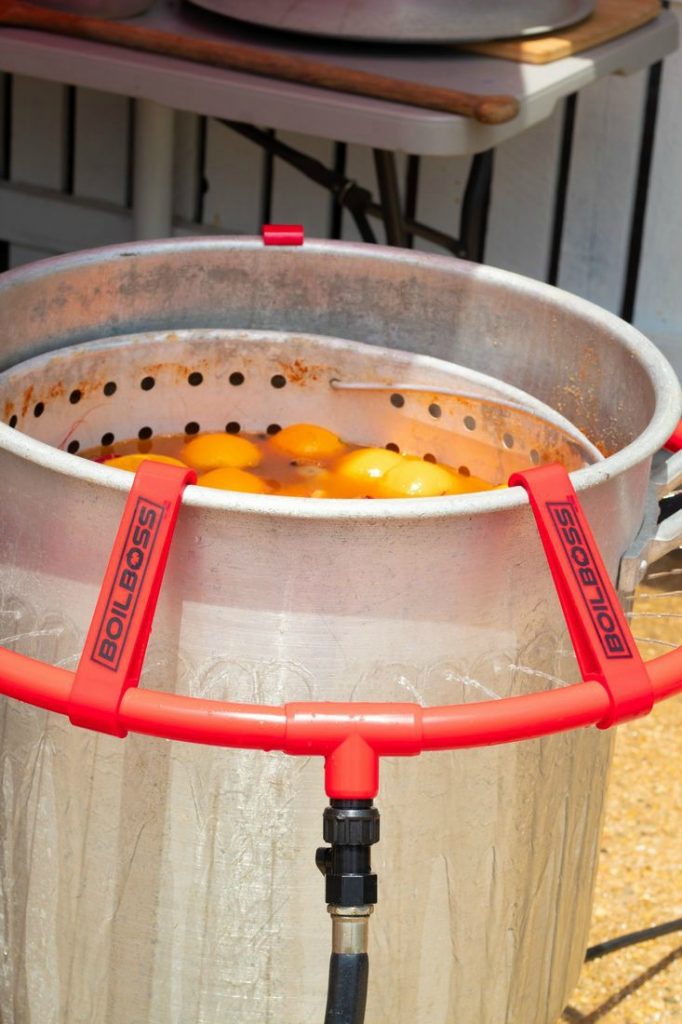 The Boil Boss works by eliminating the need for ICE. The Boil Boss is a revolutionary cooling system that's made from high quality polymers and attaches to wide range of boiling pot diameters.
It's designed to rapidly drop the temperature of your boil by connecting to any standard garden hose.
Then the Boil Boss showers the outside of your boiling pot with water that rapidly drops the temperature of the water to 150 degrees in 3-5 minutes.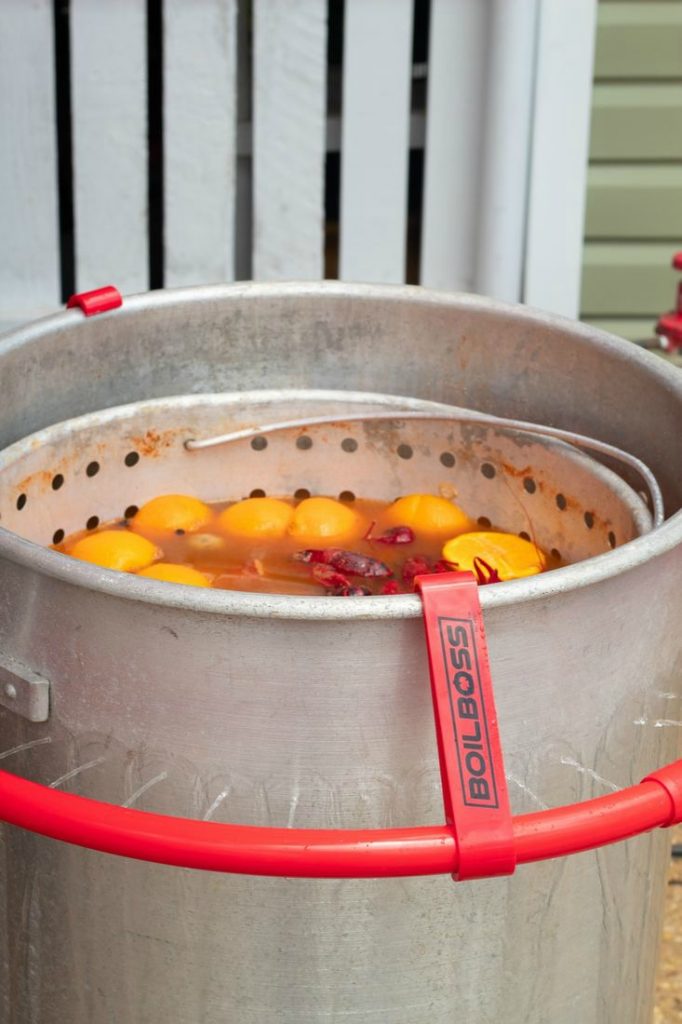 A rapid reduction in temperature is a crucial step in any seafood boil. It not only stops the cooking process but, shocks your crawfish.
When this happens it forces the crawfish to absorb as much juice as possible. Causing the crawfish to be juicy and delicious!
How to use the Boil Boss
First choose a place where water can run off , and not create a mess in the yard.
We choose to boil our crawfish in our backyard on our cement patio.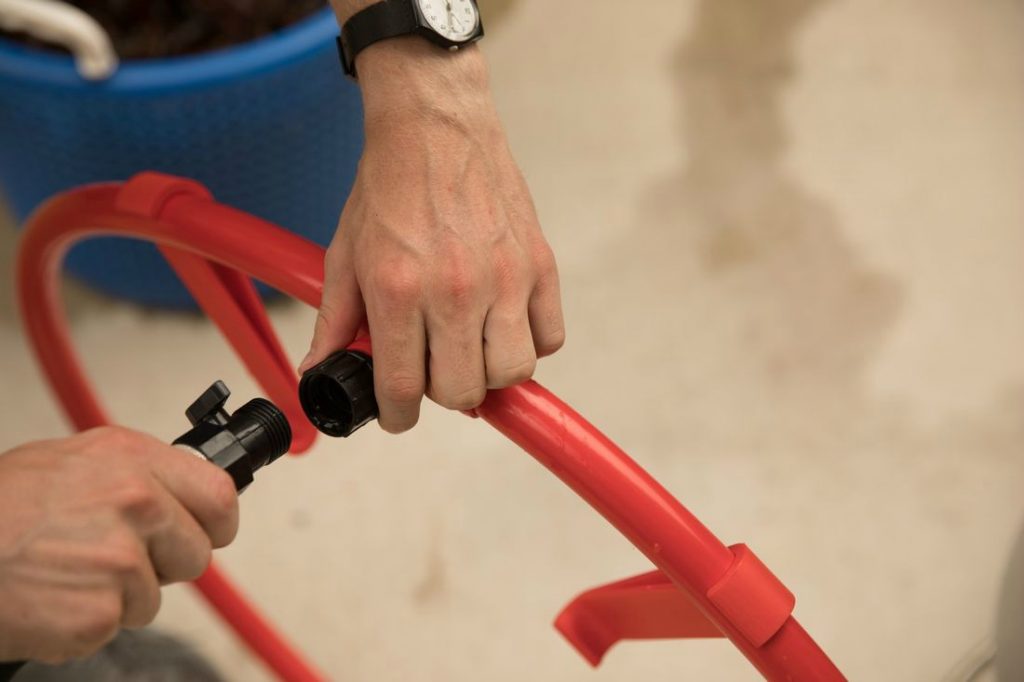 Second, prepare the Boil Boss for use. Use the attached ball valve to attach the product to any standard garden hose.
Set the Boil Boss aside close within your reach until after the crawfish are ready for you to cut the burner.
Third, boil your crawfish according to your favorite crawfish boil recipe or use my easy crawfish boil recipe below.
You can even use my Louisiana Crawfish Boil recipe if you like.
Once the crawfish comes to a rolling boil use a food thermometer and check the temp. When the temp reaches 212 degrees cut the burner and attach the Boil Boss.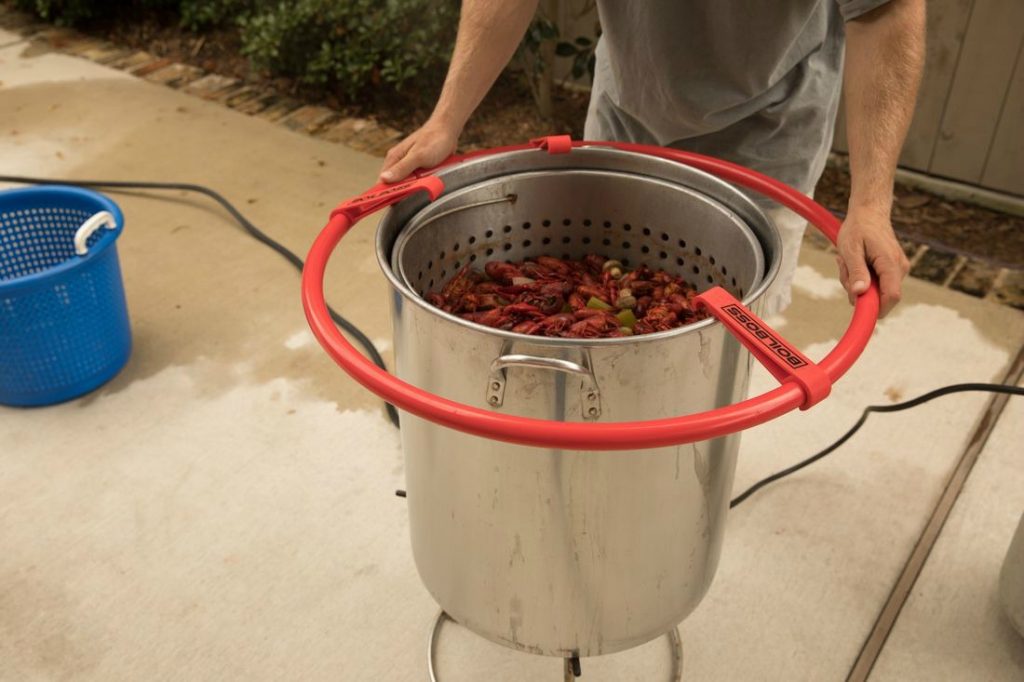 When attaching the Boil Boss to your pot after you cut your heat off, and go to cool your seafood down, make sure to keep the pivoting brackets flat.
Push your Boil Boss down onto the top, letting the brackets adjust themselves into place.
Don't try to pre-adjust the brackets. This will make it difficult to attach the Boil Boss to your boiling pot.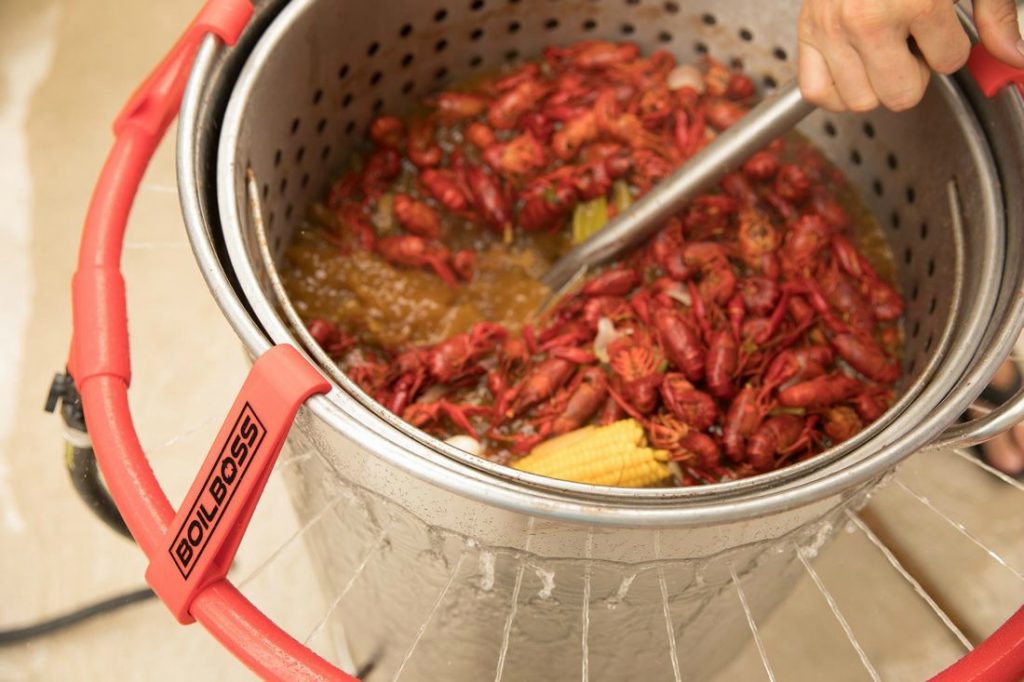 Fourth, open the valve to release a steady stream of water onto the side of the boiling pot.
Next, immediately begin stirring and moving the water and crawfish around with a paddle.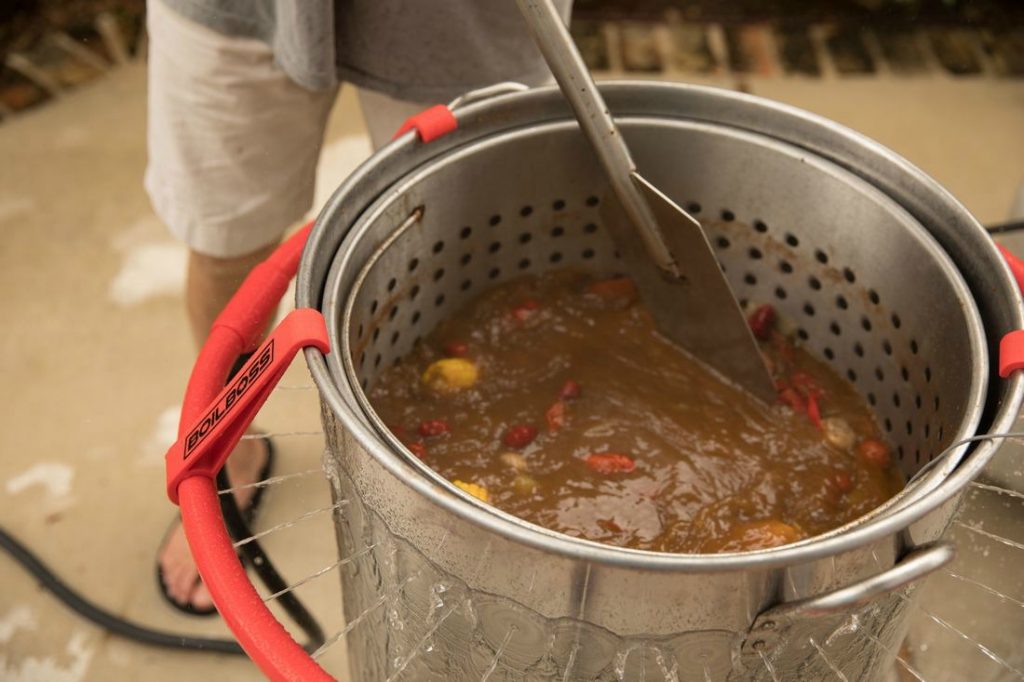 After the Boil Boss is on and spraying the pot, make sure to keep stirring the water!
This will ensure even cooling, and it's essential for the rapid cooling process. The more you stir the faster the boil cools.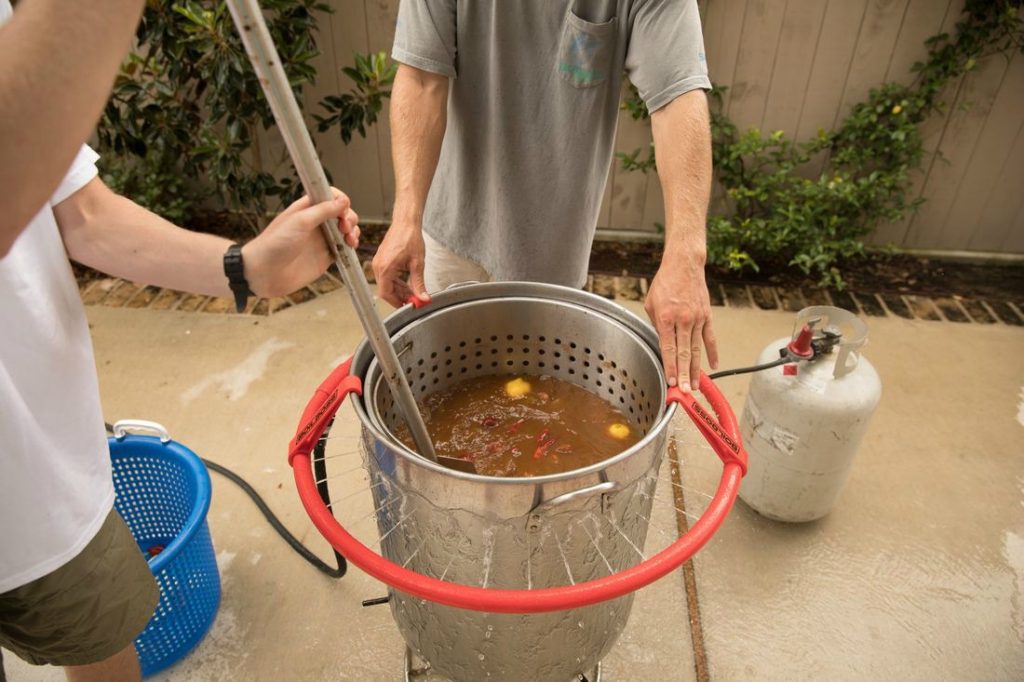 Use the thermometer you did earlier and check the water in the boiling pot periodically until the temp reaches 150 degrees.
Fifth, once the temperature reaches 150 degrees turn off the water and remove the Boil Boss. Remember 150 degrees is the perfect crawfish soak temperature.
Let your crawfish soak 15-20 minutes. We suggest tasting the crawfish every few minutes.
Due to the product cooling the water off quickly you might have to adjust your normal soak time.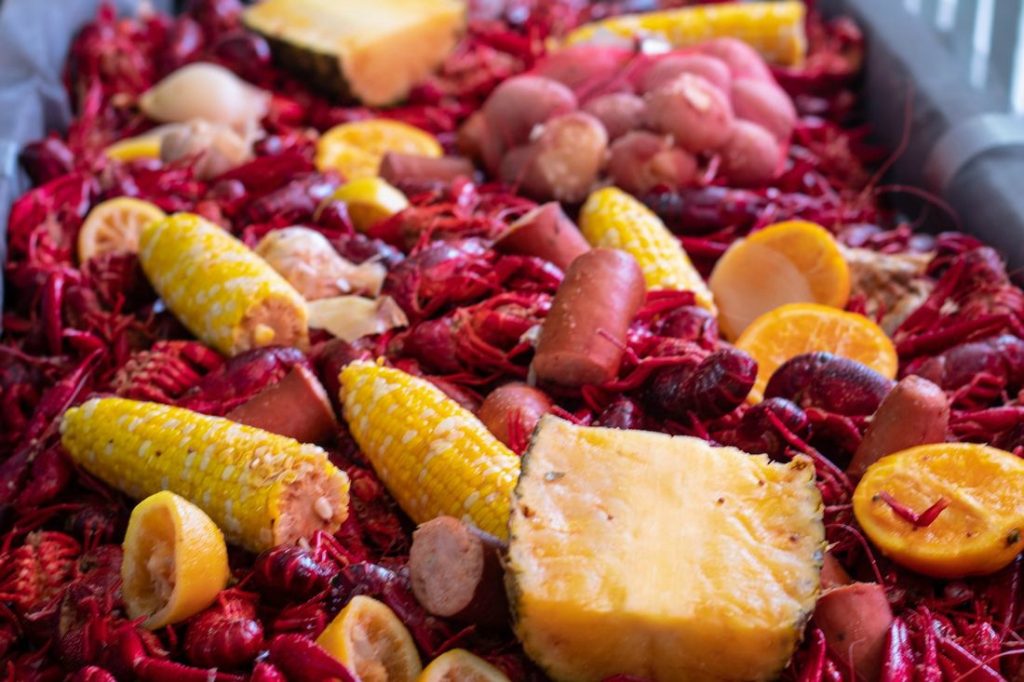 Last, remove the crawfish from the boiling pot, and enjoy!
Now you have juicy and delicious crawfish made easy by the BOIL BOSS. You can officially say goodbye to ICE!!
Remember a crawfish boil shouldn't be complicated. It should be fun and easy.
And, you should never have to worry about having over cooked crawfish or dragging a gazillion bags of ice to the boiling pot.
Which seafood can you boil with the Boil Boss?
Boil Boss can be used to boil crawfish, crabs, and shrimp.
Where to buy the Boil Boss?
You can buy the Boil Boss online at The Boil Boss website or use the Store Locator to find the store nearest you that carries the Boil Boss.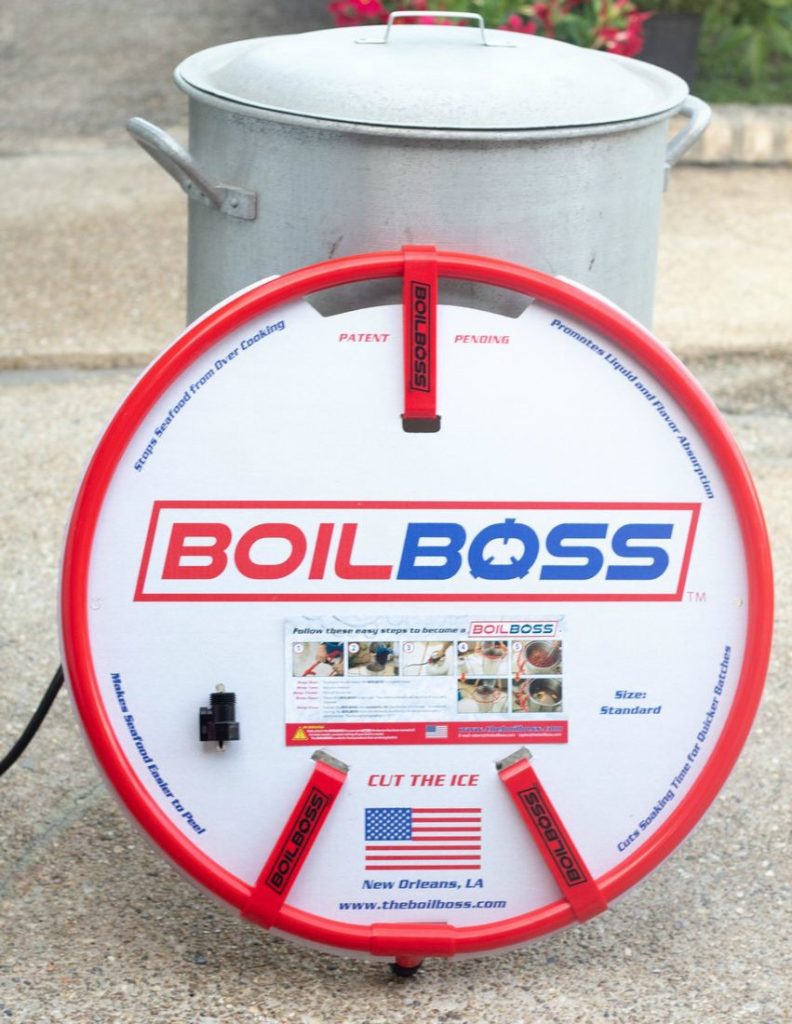 Why use the Boil Boss?
It stops seafood from overcooking
Promotes liquid and flavor absorption
Makes seafood easier to peel
Cuts soaking time for quicker batches
Doesn't dilute you recipe
The Boil Boss saves cost
Helps with the hassle
Saves from wasting
What do you think about the Boil Boss? Don't forget to check out my Easy Crawfish Boil recipe below using the Boil Boss.
Print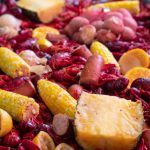 Easy Crawfish Boil
---
Author:

Kim Seghers

Prep Time:

10 minutes

Cook Time:

15 minutes

Total Time:

45 minutes

Yield:

6

servings

1

x
Description
This Easy Crawfish Boil recipe turns out juicy, spicy, and amazing with the BOIL BOSS!
---
Scale
Ingredients
6 gallons

of water

1

–

12

oz bottle of liquid crab boil

1

large bag of powdered Crawfish, Shrimp & Crab Boil plus 1- 16 oz. bag

2

Louisiana Shrimp & Crab boiling bags

35

lbs of live Crawfish

5

lemons, cut in half

6

onions, cut in half

6

Garlic, whole 

1

container of mushrooms

2

pounds of sausage, cut into thirds

1

bag small red potatoes with netting

5

fresh ears of corn

1

–

16

oz. bottle lemon juice

1

–

10.5

oz container garlic powder

1

–

10.5

oz container onion powder

1

– pineapple cut in half

6

oranges cut in half 
Boil Boss 
Water hose
Food thermometer 
---
Instructions
In a large ice chest rinse crawfish and soak them for 2 or 3 minutes, drain and repeat until the water runs clear.
Using a water hose put 6 gallons of water into a boiling pot with a strainer basket.
Add 1- 12 oz bottle of liquid crab boil, 1 large bag plus 1- 16 oz bag of powdered Shrimp & Crab Boil,  2 crab and shrimp boiling bags, garlic powder, onion powder, and lemon juice to the pot. Bring pot to a boil for 7 minutes. 
Next add sausage, potatoes, lemons, onions, garlic, and mushrooms. Stir.
Add pineapples and corn on the cob (fresh or if frozen make sure corn is defrosted). Return pot to a boil and add the crawfish.
When pot comes to a boil check the temperature it should be 212 degrees. 
Turn burner off when boil reaches 212 degrees. Attach the boil boss and turn water on.
Add your oranges and juice from the oranges. Stir the pot and crawfish continuously for 3-5 minutes until temp reaches 150 degrees. Make sure to check temp periodically.
Remove Boil Boss and let crawfish soak 15-20 minutes. Taste crawfish several times to see if spice is to your liking.
Take crawfish out of boiling pot and enjoy some juicy delicious crawfish!
Notes
We used Louisiana Fish Fry Products but, you can use your favorite crawfish boil seasoning like Zatarain's or Frog Bone. 
Category:

Crawfish Boil

Method:

Boil

Cuisine:

Cajun
Keywords: Boil Boss, Crawfish, Seafood, Seafood Boil, Cajun Crawfish Boil, Louisiana Crawfish Boil, Easy Crawfish Boil, Crawfish Boil, Crawfish Boil Party, Crawfish Boil with Boil Boss, How to Boil Crawfish, How to Boil Crawfish with Boil Boss
PIN ME
OR
PIN ME