These DIY Painted Father's Day Mugs are cute and simple Father's' Day crafts to make that will put a smile on your dad or grandpa's face this Father's Day.
This simple and adorable project makes a great keepsake.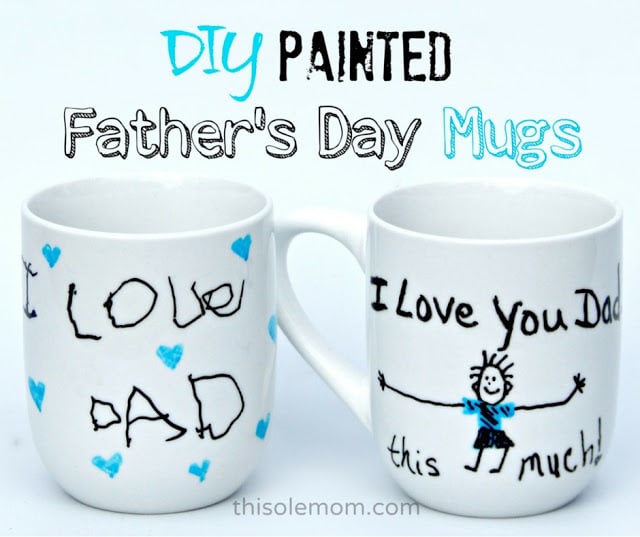 I found myself in panic mode today when I realized Father's Day is quickly approaching.
So, I knew I needed to come up with a gift idea that my son could make for his daddy.
Also, I wanted something cute and personal. I remembered seeing painted coffee mugs on the internet recently so I headed to Walmart to purchase a few mugs.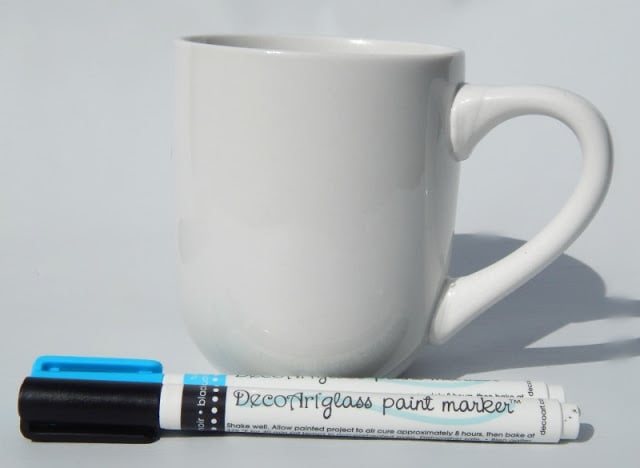 Furthermore, I bought two stoneware coffee mugs at Walmart then went to my local craft supply store to look for something that I could use to draw on the mugs.
I wanted something that would last a long time and be able to go in the dishwasher.
After reading almost every paint marker label in the craft store, I finally decided to buy glass paint markers by DecoArt.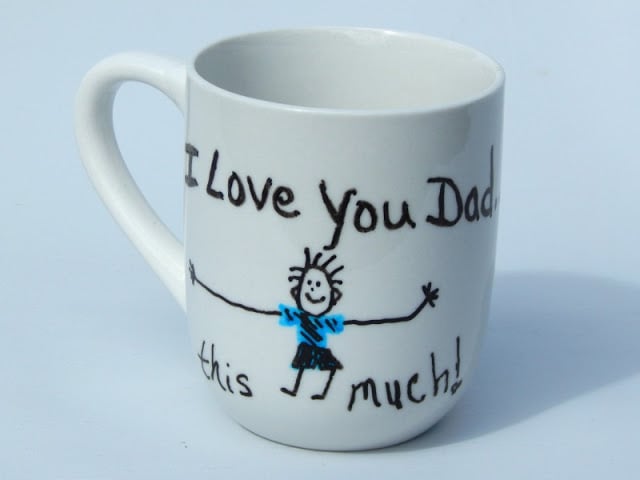 This project is super easy! All you need is DecoArt glass paint markers, some coffee mugs, and a little bit of imagination.
Don't worry you don't need an Arts Degree to pull this project off.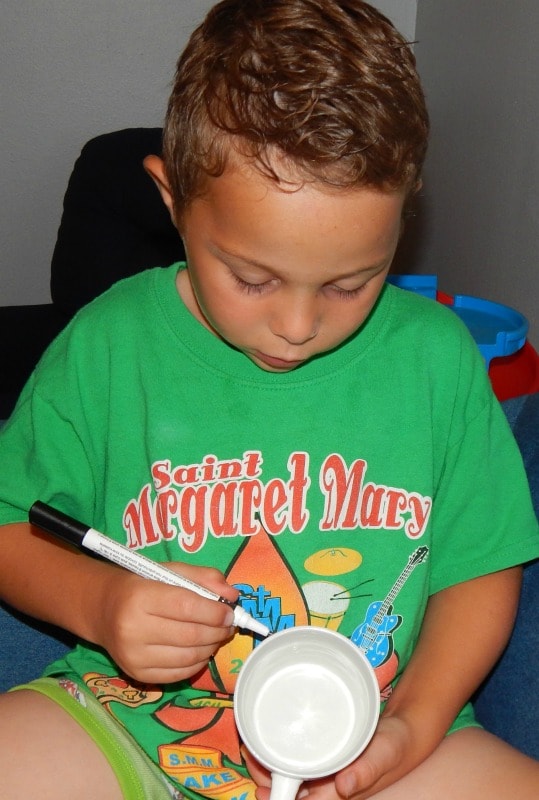 You can even have the kids make their own mug for their Dad or Grandpa.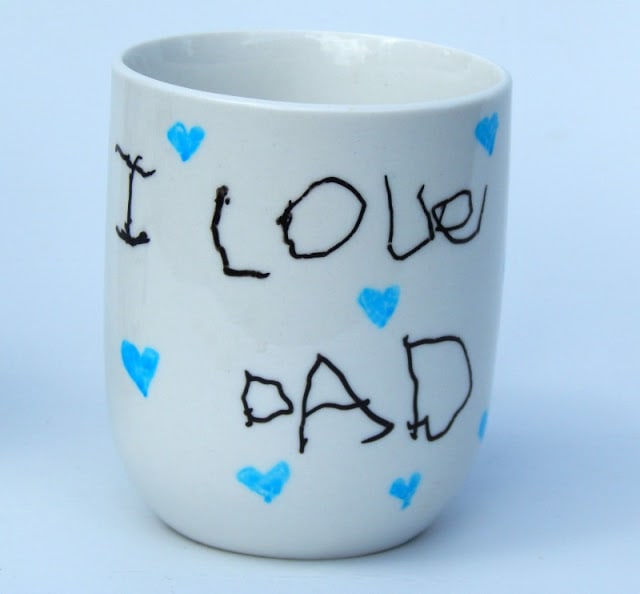 How to Make DIY Painted Father's Day Mugs
You will need a coffee mug, DecoArt glass markers (I purchased my markers from Hobby Lobby) and a stove that's in a well vented area.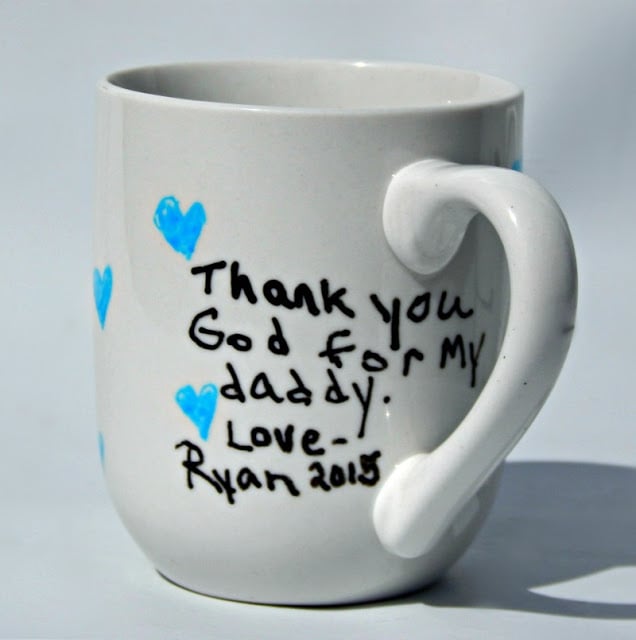 How to Design DIY Painted Father's Day Mugs and make the paint permanent
First grab some rubbing alcohol, Q-tips, and a few cotton balls. You can use the rubbing alcohol if you make a mistake on your mug or if you don't like the design. Just rub the alcohol on the mug and wipe clean.
Make sure there are no streaks and the mug is dry before starting your project over.
Now grab your mug and write or draw on it. You will need to let the mug cure for 8 hours.
I know that's a long time, but this is important. Go clean the house, take the kids to the park, get your nails done.
Just make sure to let the mug cure for 8 hours. After 8 hours has passed place the mug in a not-preheated oven on 375 degrees set your timer for 40 minutes.
Just follow the directions on the DecoArt glass paint markers.Once the mugs are done turn off the oven and let the mugs cool down with the oven.
I opened my oven door a bit once I turned it off to help the cooling process.Now you can take your mug out of the oven and admire!
*Hint- Write your child's name and the date on the bottom of the mug.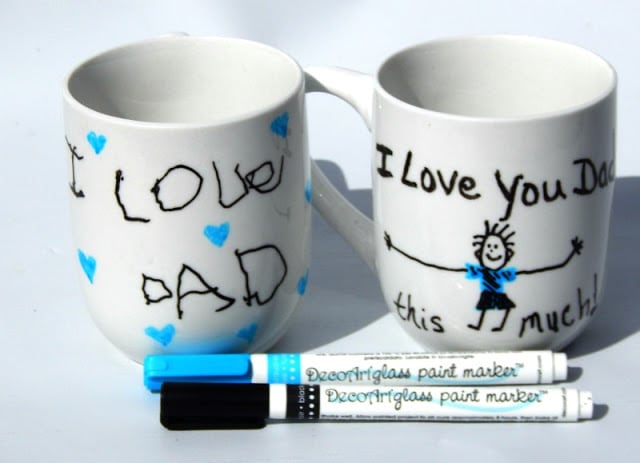 What do you think? Pretty cool huh? So easy and fun to make!
I need to be honest and tell you that I haven't washed the mugs in the dishwasher yet, but I have hand washed them and the glass paint hasn't washed off.
I probably will not put these mugs in the dishwasher.If you decide to clean your mugs in the dishwasher I would love to know how the glass paint marker holds up.
You can find out more about DecoArt Glass Paint Markers and DecoArt products
here.
PIN ME: