This Captain America Fruit Tray is the perfect party tray for your next Avengers theme party.
Also, it makes a great snack to nibble on while binge-watching all the Avengers movies before you see Avengers: Endgame.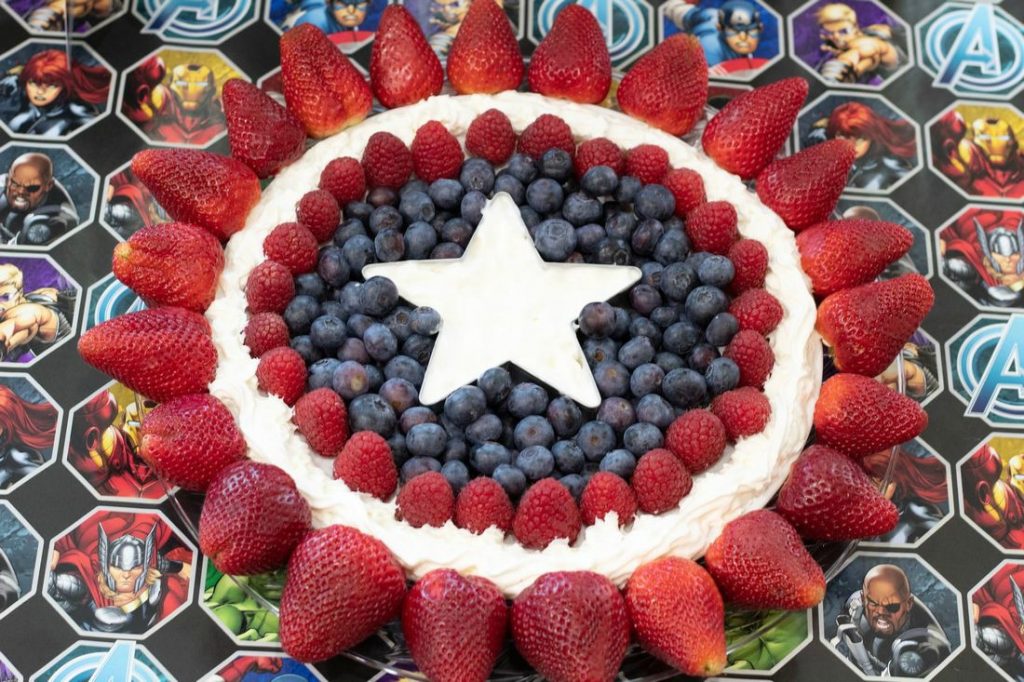 I got the idea for making a Captain America shield with fruit from Pinterest but, my fruit tray is healthy, vegan-friendly, non-dairy, and gluten-free.
We used Reddi Wip Almond Milk non-dairy whipped topping for the white part around the flying disk and the star.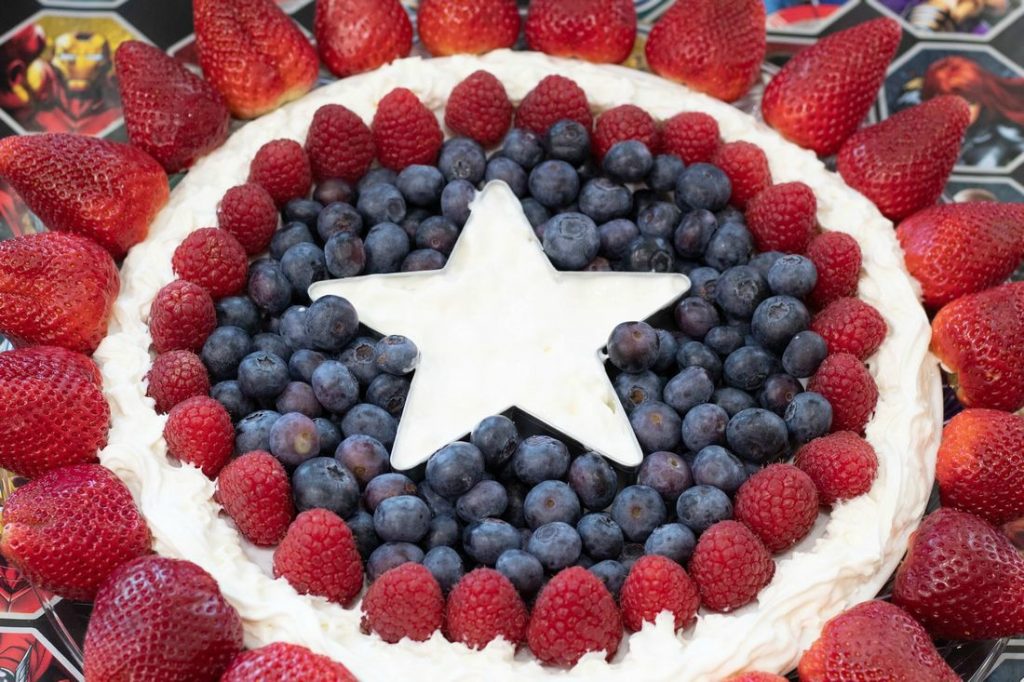 The Captain America Fruit Tray is perfect for all superhero and Marvel Studios Avengers fans of all ages.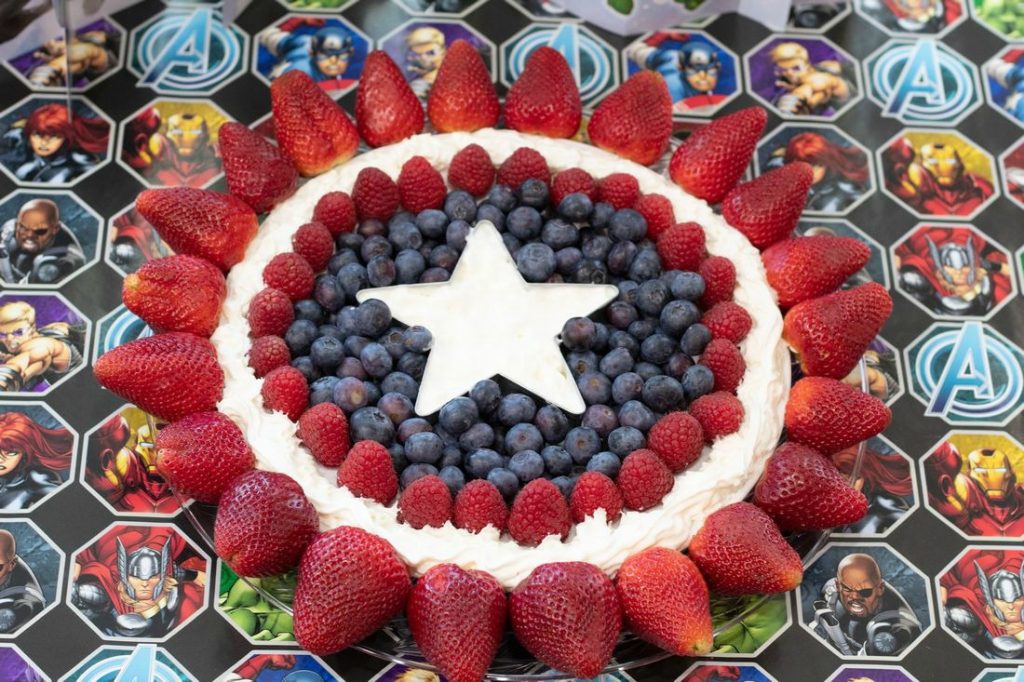 We chose to make a Captain America shield because I have a soft spot for Chris Evans that plays Captain America.
I find him to be very good looking; I mean a great actor! Alright! I find him to be incredibly good looking and a great actor!
Although I do love all the people that play in the Avengers.
How to Make A Captain America Fruit Tray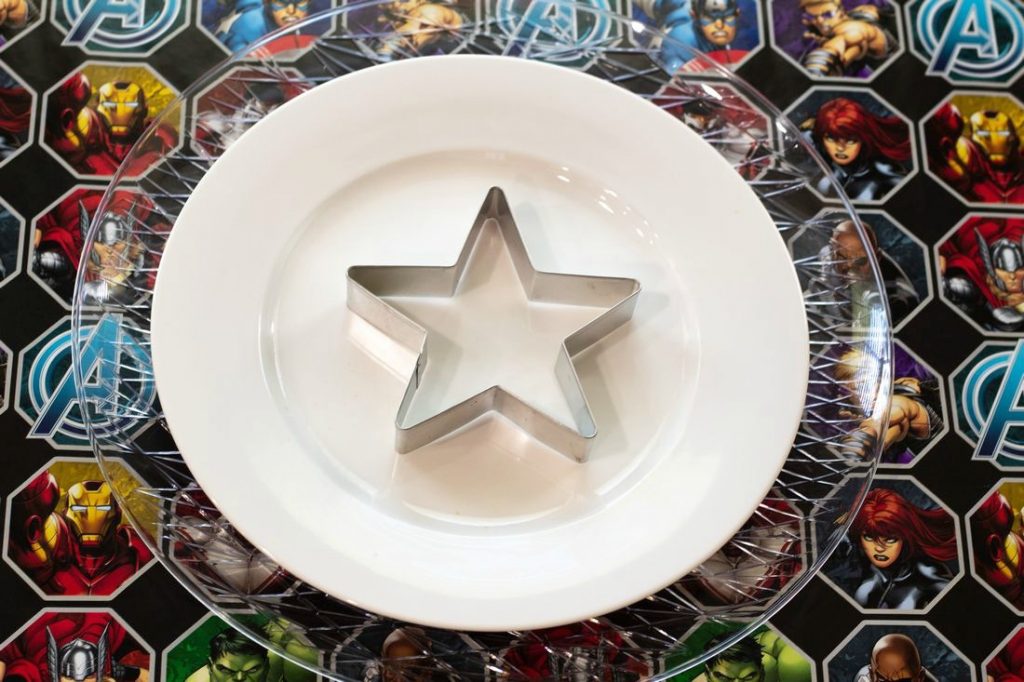 First, to make a Captain America fruit platter place a white round dinner plate on top of a clear round tray.
Then put a star cookie cutter in the middle of the dinner plate. Ta-da!
Just in case you're curious I bought the clear round tray, the Avengers wrapping paper, and Avengers decoration used in this post from Party City.
The wrapping paper is under my fruit tray.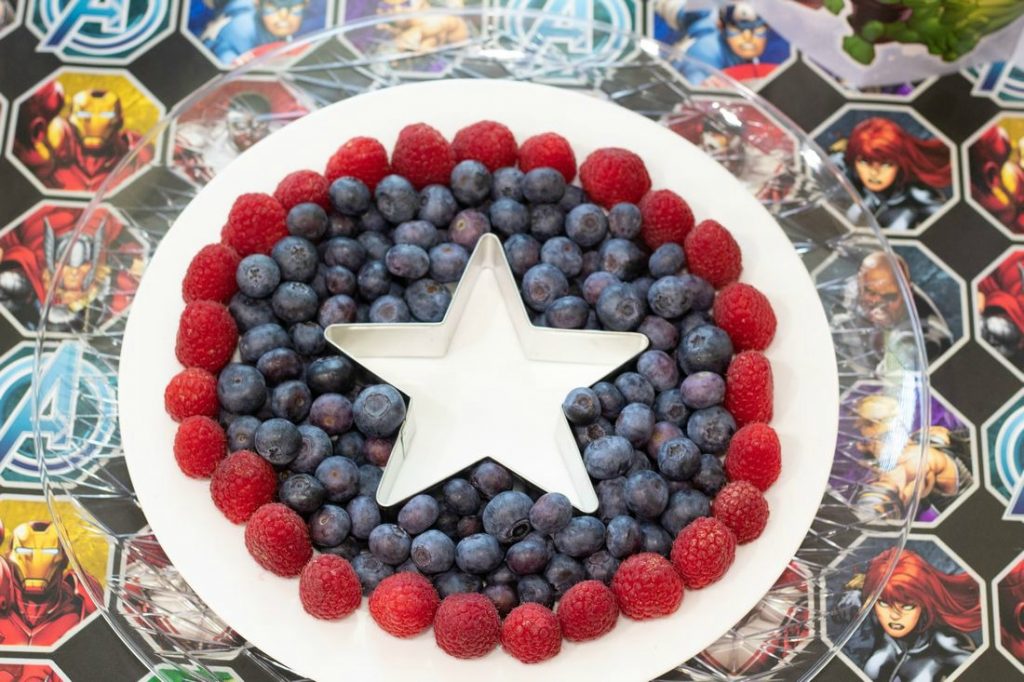 Second, put blueberries around the star and raspberries around the outside of the blueberries.
Yes, you can use strawberries instead of raspberries if you want.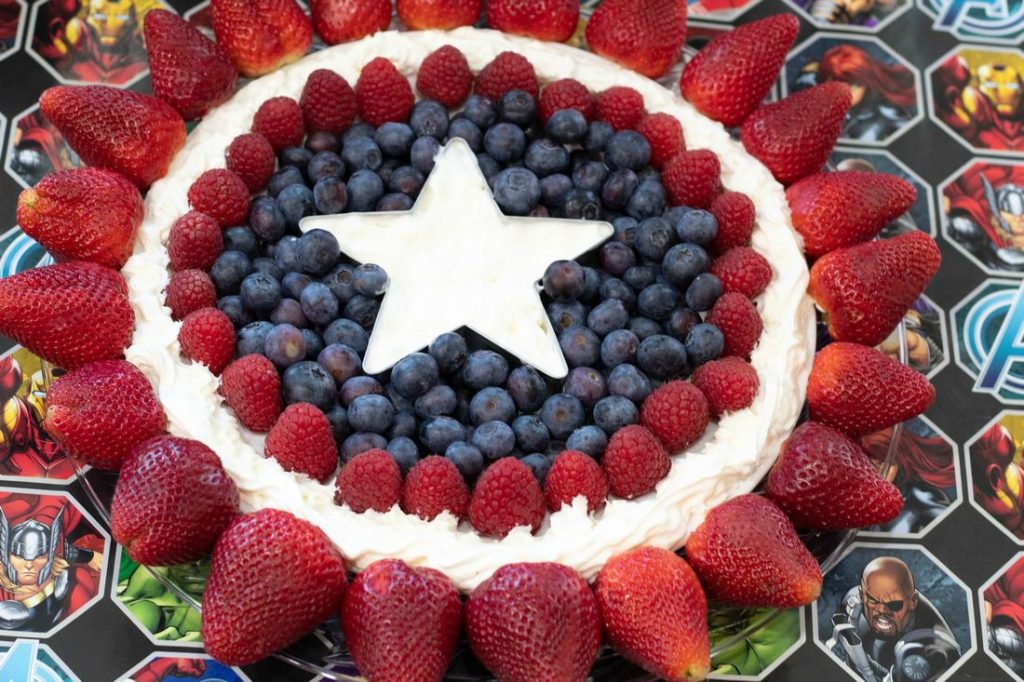 Third, fill in the star and around the edge of the dinner plate with Reddi wip whipped topping.
You can use original Reddi wip, Non-dairy Almond Milk, or Non-dairy coconut.
Next, take the leaves off the strawberries and place the strawberries around the edge of the clear round tray. Serve immediately.

Is Reddi Wip Vegan friendly?
Reddi wip Non-dairy Almond Milk and Non-dairy Coconut each have ten calories only and are vegan-friendly and gluten-free without artificial flavors and sweeteners.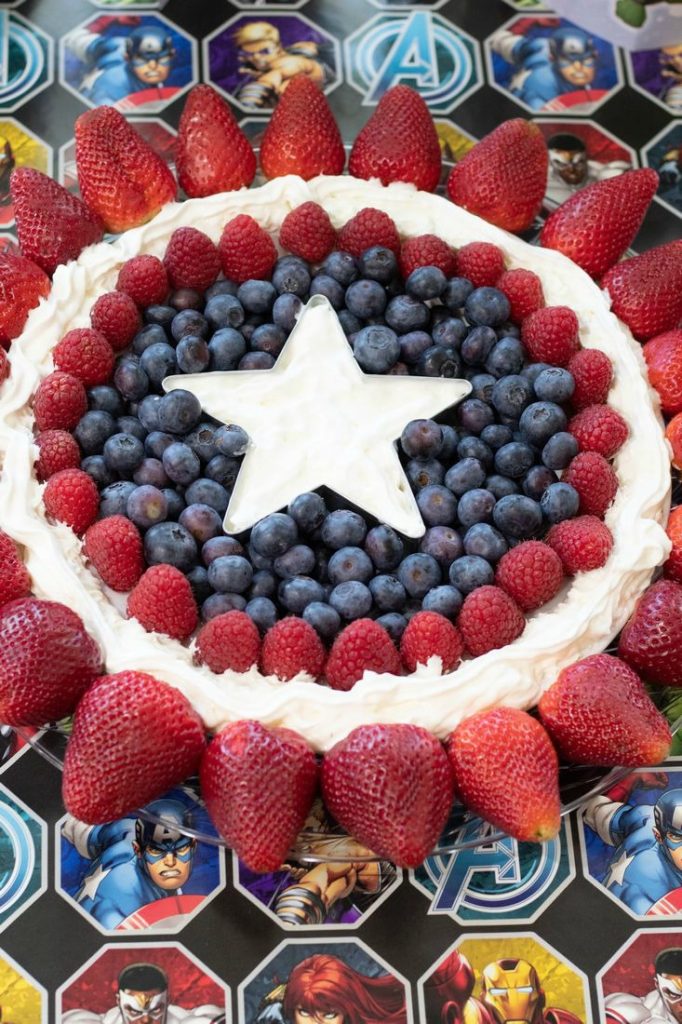 Can you use something besides Reddi wip?
Yes, you can use marshmallows, bananas, and even white chocolate pretzels for the white in the Captain America shield instead of Reddi wip whipped topping.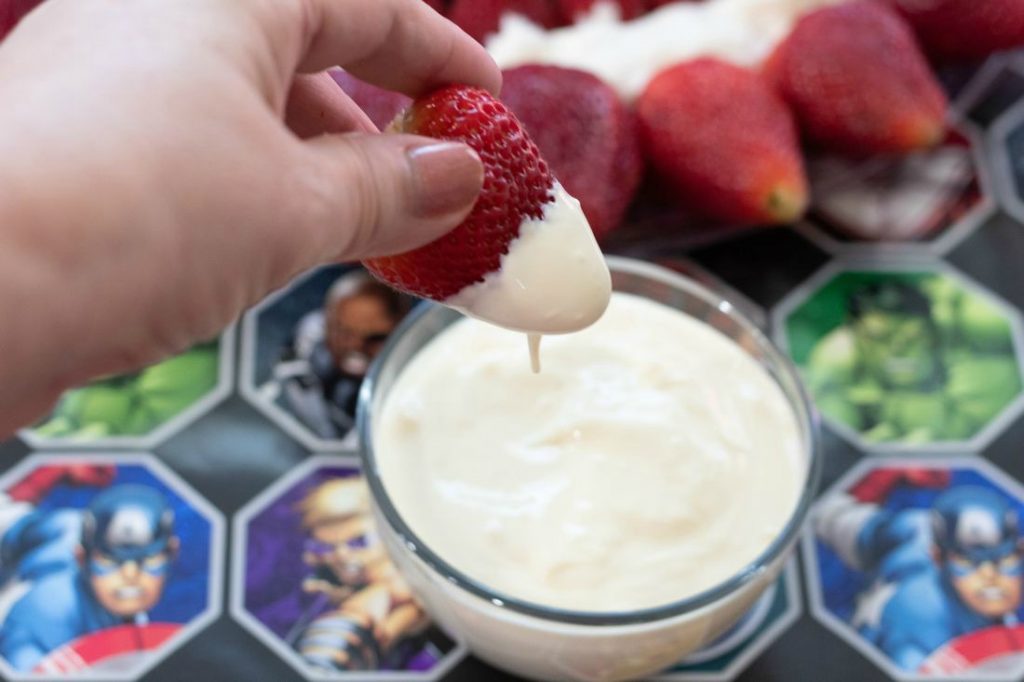 What can you use to dip the fruit?
Besides using the Reddi wip whipped topping around the fruit shield and star to dip the fruit into you can use a fruit dip. We made a low-calorie lemon fruit dip.
The recipe follows below in the recipe card. It is not vegan or gluten-free like the Reddi wip Almond Milk whipped topping we used.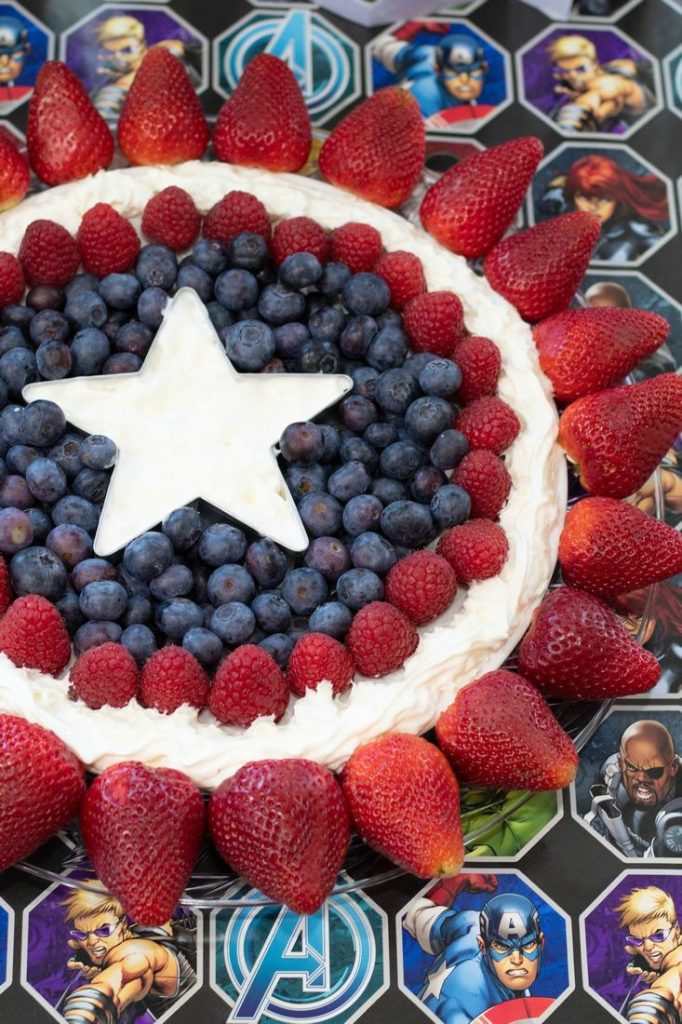 Doesn't the Avengers fruit tray look AMAZING??? Nope, I'm not screaming I'm just super excited how my Captain America Fruit Tray turned out.
It's not only perfect for an Avengers theme party but, for Fourth of July and any Red, White, and Blue theme gathering.
Also, you can serve the fruit tray with pizza. Try my easy Stand Mixer Pizza Dough.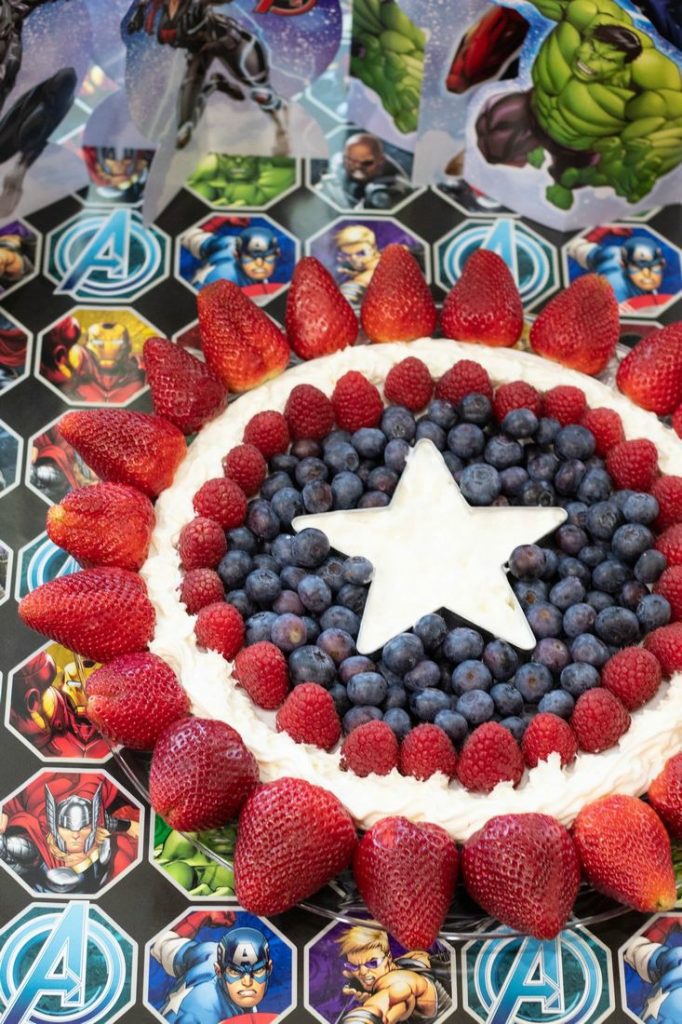 You might want to watch Avengers: Infinity War before you go see Avengers: Endgame. Who is your favorite Avengers?
PIN ME OR SHARE WITH A FRIEND :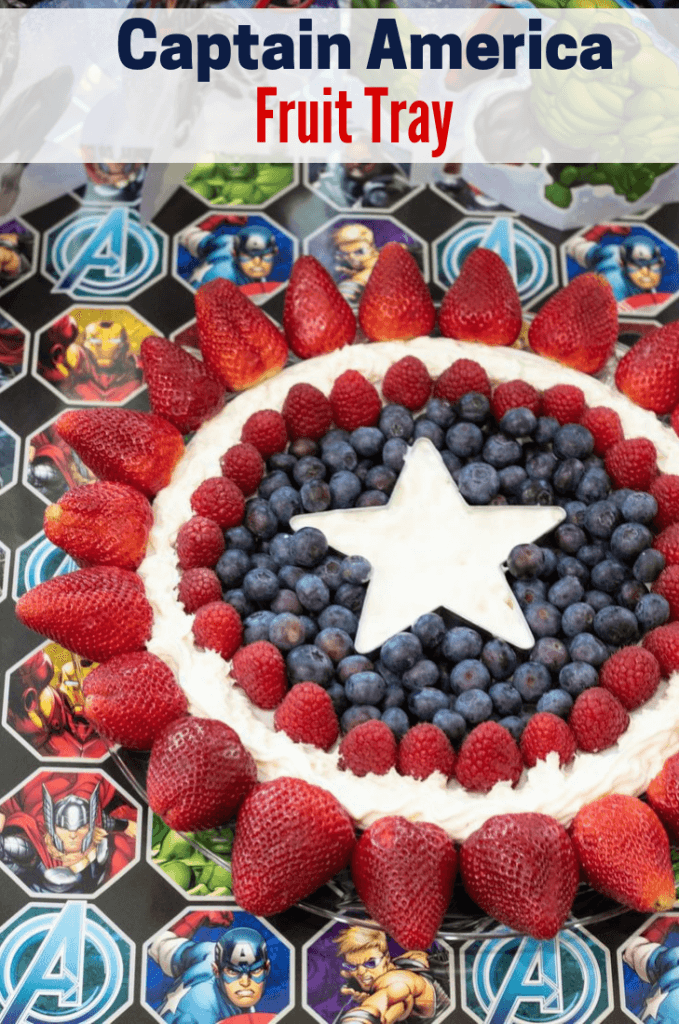 or
Pin Me