Disclaimer: I was sent a free shipment of Budweiser Brewmaster's Premium Sauces & Marinades to help me facilitate my recipe submission for the "Budweiser Sauces Ultimate Blogger Recipe Challenge". #BudweiserSauce #KingOfSauces #ThisBudsForYou
When Budweiser challenged me to come up with a burger recipe using one of their sauces I knew I had to deliver a BIG & BOLD mouth-watering burger instead of a dull, boring hunk of meat on a tiny bun. Knowing how much my family loves hamburgers I consulted with them to see if they had a particular topping they thought would be perfect for making the ultimate burger. That's how the Budweiser Grilled Jalapeno Bacon Cheeseburger came about for my bacon eating spicy food loving family.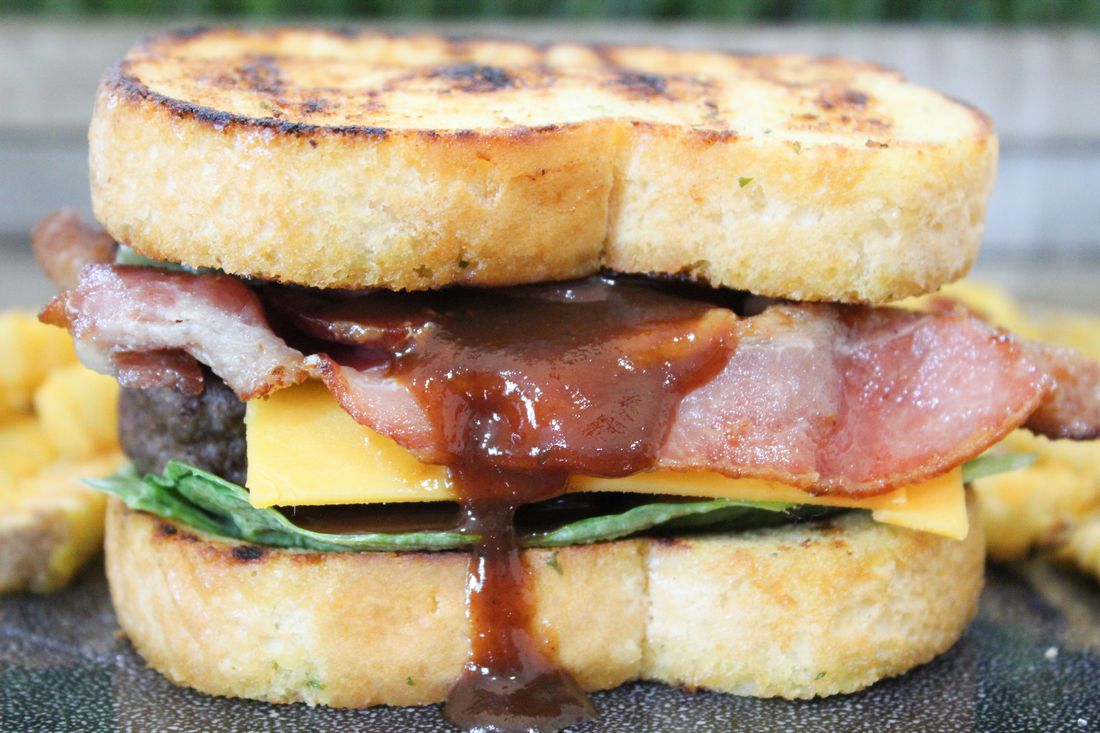 This big juicy bold burger isn't your ordinary burger made with hamburger buns with tasteless barbecue sauce. The Budweiser Grilled Jalapeno Bacon Cheeseburger is sandwiched between two thick slices of grilled garlic & herb Texas Toast loaded with lots of yummy goodness and topped with Budweiser Steak & Burger Sauce. Budweiser Sauces and Marinades made with Budweiser beer turns boring food into flavorful and delicious creations!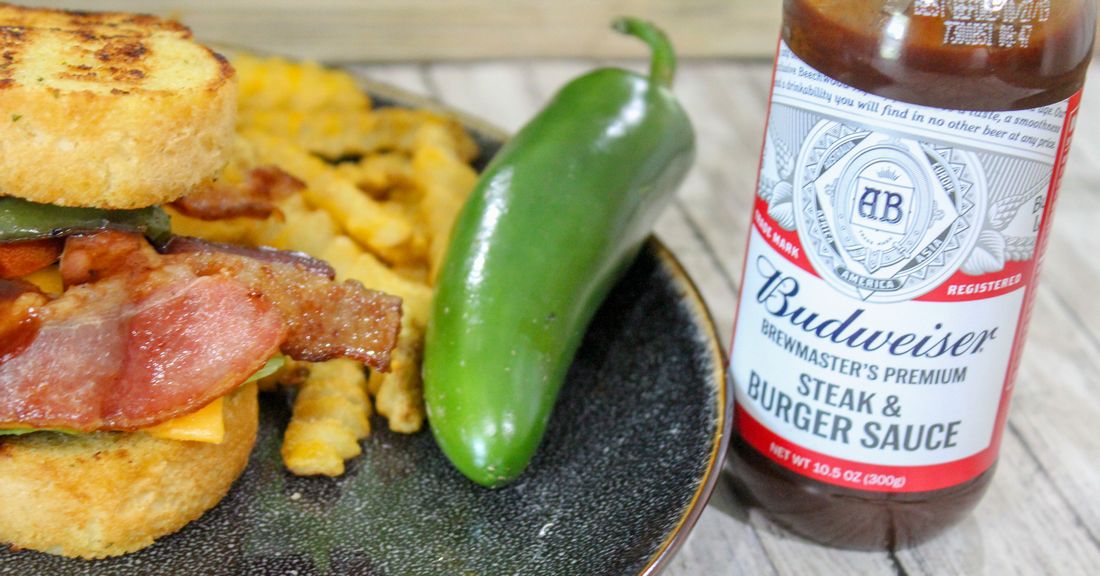 The Budweiser Brewmaster's Premium Sauces & Marinades use only the finest ingredients like Budweiser beer. Additionally, this fantastic line contains only the finest ingredients that make your food taste exceptional! Budweiser's Executive Chefs, along with Brewmasters of Anheuser-Busch have perfected the sauce recipes meaning your taste buds will notice the difference when you use this premium sauce and marinades. I was impressed by the taste of the Budweiser Steak & Burger sauce and I think you will be impressed too!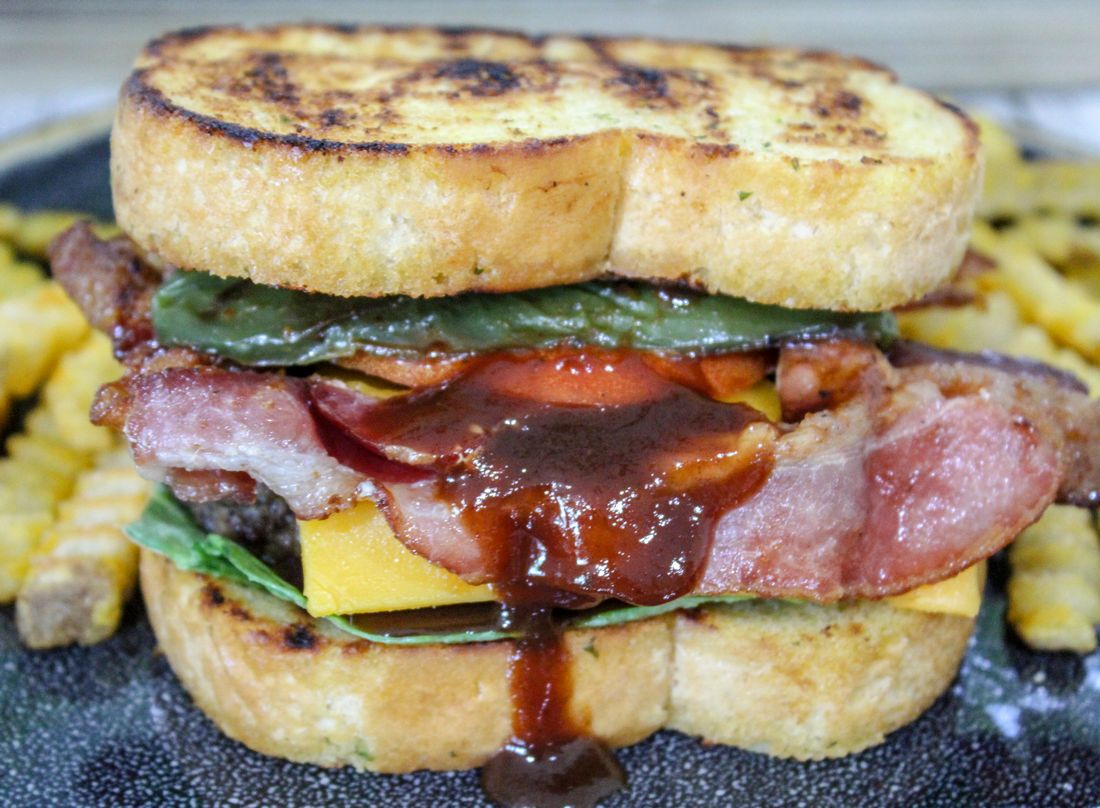 Budweiser Grilled Jalapeno Bacon Cheeseburger would be the perfect grilled burgers to make this summer the next time you throw a backyard barbecue at your home. Your guest will be impressed by the great flavors of the Budweiser Steak & Burger Sauce and by the juicy burgers made with ground chuck and ground sirloin and topped with grilled jalapeno peppers and bacon.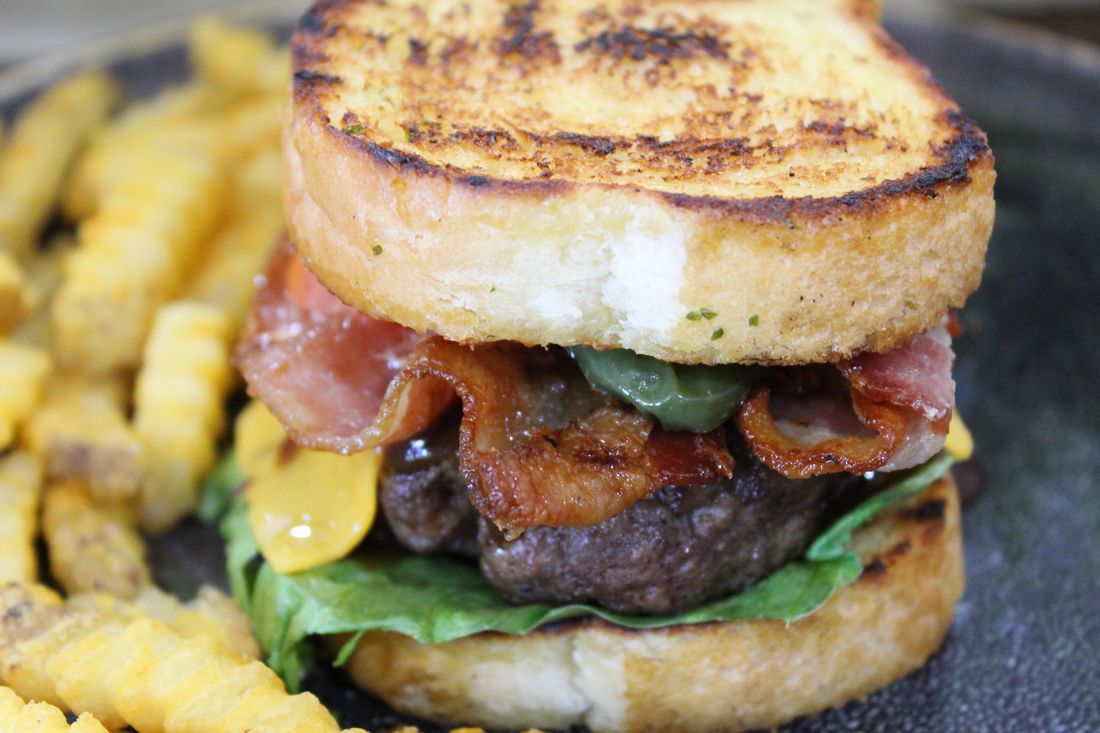 If you would like to make these AMAZING cheeseburgers you can find the Budweiser Steak & Burger Sauce and all the Budweiser Brewmaster's Sauces & Marinades at Walmart, HEB, Winn Dixie, Publix, Brookshire's just to name a few of the grocery stores where these products are available, to find a full list of stores and to learn more about Budweiser Sauces and Marinades go here.
What kind of meat or veggies does your family use to make hamburgers?
Print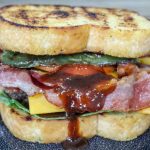 Budweiser Grilled Jalapeno Bacon Cheeseburger
---
Scale
Ingredients
1

lb ground chuck

1

lb ground sirloin

8

pieces garlic & herb texas toast

1/4

 cup Budweiser Steak & Burger Sauce

1

 tsp onion powder

2

 jalapeno peppers cut lengthwise (remove seeds)

1

 tsp garlic powder

4

pieces of sharp cheddar cheese

1 tbsp

olive oil

4

slices tomato

1 tsp

coarse kosher salt
iceberg lettuce ( 4 pieces washed and cut to fit the texas toast)

1 tsp

black pepper

12

pieces thick bacon
optional salt & pepper to sprinkle on each burger
---
Instructions
Mix the ground chuck and ground sirloin together in a bowl with a fork.
Add the Budweiser Steak & Burger sauce , onion powder, garlic powder, coarse kosher salt, and pepper together in a large bowl.
Take a piece of Texas Toast and look at it to see how big to make the patties. Using the hamburger mixture form four patties the shape and size of the texas toast, place on a large cookie sheet and sprinkle the tops with coarse salt & pepper. Cover the hamburger patties and set in the fridge until you finish cutting the jalapeno peppers.
Preheat the outdoor grill on low – medium heat.
Cut the jalapeno peppers lengthwise and brush each side with olive oil. Remove the cookie sheet with the patties from fridge and place the peppers on the tray.
 Once the grill is heated about 15 minutes lay down grilling mats. I used Yoshi Copper grilling & baking mats. 
Place the hamburger patties, jalapeno peppers, and the bacon on top of the grilling mats on the grill.
Grill the peppers for 15 minutes flipping each once.
After the peppers grill the bacon and turn once. Grill bacon until it's done.
Grill each hamburger until the internal temperature reaches 165 degrees. Make sure to flip each burger once.
Grill the texas toast 2-3 minutes on each side. Remove all the ingredients once done.
To make each burger : place a piece of texas toast on a plate and top with a slice of lettuce. Place a hamburger on top.
Pour some Budweiser Steak & Burger sauce over the burger, add the cheese, tomato slice, one slice of grilled jalapeno pepper, and 3 pieces of bacon. Top with the another piece of texas toast and serve.
Enjoy!
---
Notes
If you don't have a grilling mat spray the grill with non-stick cooking spray before you grill the food.
Category:

lunch or dinner

Cuisine:

American
PIN ME: