Here's 30 Tips and Hacks for your next beach trip with kids that will have people thinking you are a pro!
I learned these tips and hacks while spending time with my children at the beaches near our home.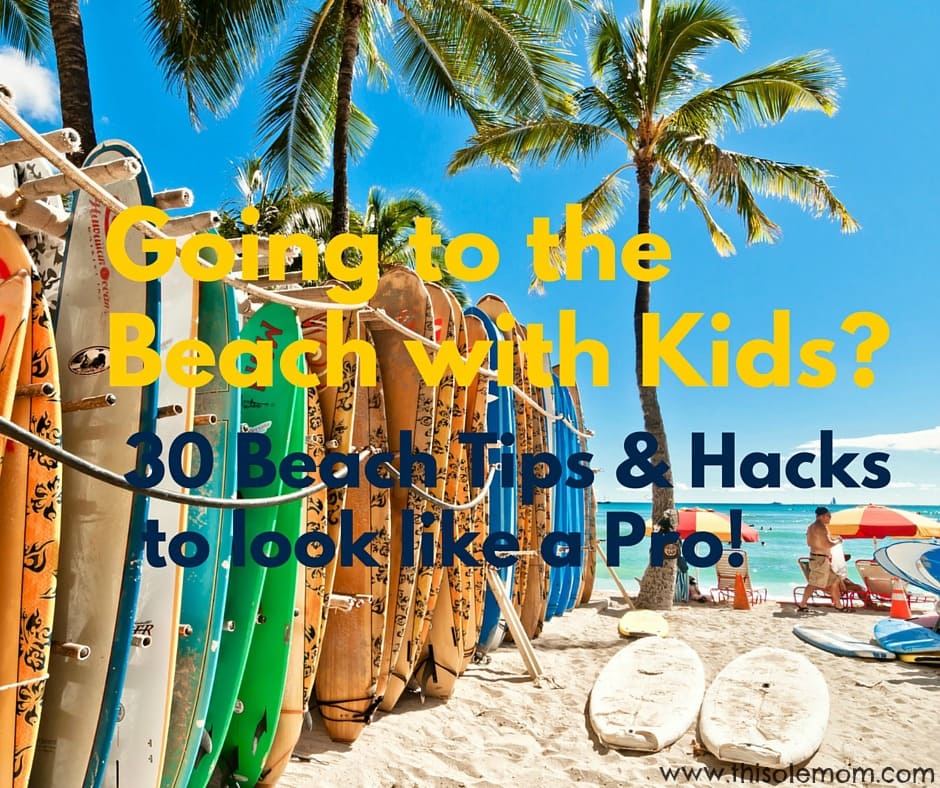 Most of the tips and hacks I figured out from mistakes I made and not being prepared when I brought my kids to the beach.
I am hoping my tips will make your family's beach day stress-free and enjoyable.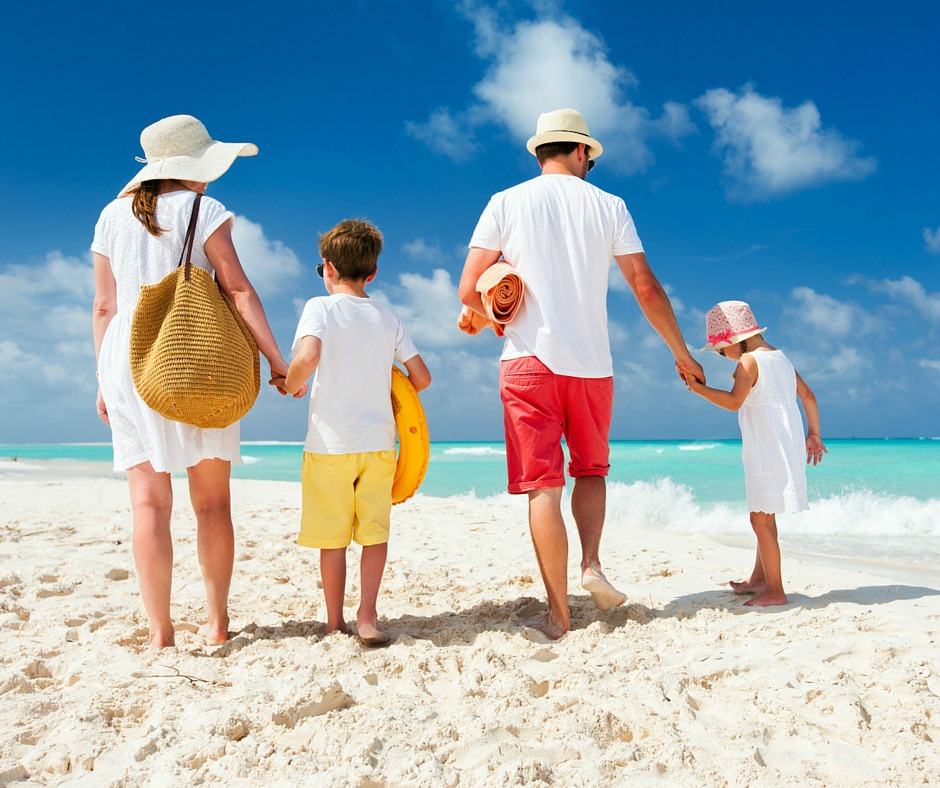 1. Sunscreen – You will want to bring a few bottles of sunscreen and lip balm that include SPF.
I recommend doing research to find the best sunscreen suitable for your family.
I like a sweat and waterproof sunscreen with 35-50 SPF. It's also important to remember to reapply sunscreen several times throughout the day, or after sweating or swimming.
I am very cautious due to the fact my mother had skin cancer. I reapply my sunscreen every 30 minutes. Don't forget lip balm with at least 30 SPF; skin cancer can form on the lips.
2. Cooler – Bring a cooler for snacks, water bottles, and drinks. I use either an ice chest on wheels or my collapsible cooler.
3. Snacks and Scissors – It's a splendid idea to bring snacks to the beach when you have children.
It never fails every time I plop my tush down on my beach blanket my son starts screaming he's hungry.
My family enjoys fresh fruit, pasta salads, yogurt, and nuts at the beach. I also carry scissors with me to the beach to make opening snacks a breeze.
4. Beach Towels – I usually pack two towels per person. Each person brings a towel to use on the beach, and another beach towel is left behind in the car to use when we change out of our bathing suits.
5. Water- Resistant Outdoor Blanket – I prefer to use an outdoor blanket that folds up into a carrying bag, which makes it easier to carry.
Also, using a water-resistant blanket protects my bottom from wet sand if I decide not to go in the water. I have seen people use large blankets and fitted sheets, too.
6. Beach Folding Chairs – Chairs are perfect for people with bad backs or prefer not sitting on the ground.
7. Sunglasses– Don't forget to protect your eyes and your kid's eyes from ultraviolet rays.
Look for sunglasses that block 99 to 100 percent UB and UVB rays. I use a sunglass strap to help prevent my son from losing his sunglasses while he runs and plays on the beach.
8. Sun Hats – I recommend looking for a sun hat that offers ultraviolet protection.
Look for a hat with a wide brim that protects ears and necks. A sun hat protects little one's scalps from getting a sunburn, too.
I always applied sunscreen to my son's scalp when he was a baby then placed a hat on his head.
I always made sure my son's hats had a chin strap to make it harder for him to pull it off his head.
9. Beach Shoes – It's important to protect your feet and your kid's feet from the hot sand and sun.
Beach shoes or water socks not only protect feet from hot surfaces but broken glass and other sharp items laying on the sand or in the water.
10. Beach Umbrella or Canopy– It's important to have a beach umbrella or canopy at the beach to take cover from the heat.
My family brings a heavy duty beach umbrella that protects from the sun's ultraviolet rays.
I have my kids take breaks and cool down from the heat. Protection from the sun is of particular importance for the elderly, young children, and pets.
11. Spray Bottle with Water– I bring a spray bottle filled with water that I use with antibacterial soap.
It's perfect for washing off sand and germs from my family's hands before we eat snacks.
12. First Aid Kit and Antibacterial Soap – I always bring a small First Aid Kit and a bottle of Antibacterial soap to the beach.
13. Change of Clothes – It's a good idea to pack an extra change of clothes for everyone in your family, especially if they plan on getting wet.
I hate the way I feel after spending a day on the beach. The sand is sticky, and my wet bathing suit gets uncomfortable.
I pack a bag of clothes that I leave in the car until we are ready to change out of our bathing suits.
14. Beach Toys – I always bring toys to the beach for my son to keep occupied.
We bring beach buckets, shovels, small cars, dump trucks, a beach ball, a frisbee, small figures, and a kite.
15. Baby Pool – Before my son started walking, I would bring a blow-up pool to the beach.
My son would sit in the pool while playing with his toys. You could also use a Summer Infant Pop n' Playard with Canopy.
16. Camera and Phone with Waterproof Cases – I learned the hard way about the importance of using a waterproof case for my camera and phone.
When using a camera or phone at the beach if they are not waterproof use a waterproof case.
Also, bring extra batteries and Sim cards. If you do not have a waterproof case, use Ziploc bags.
17. Hair Ties – Great for people with long hair. I always carry hair ties with me to the beach to keep the wind from blowing my hair.
18. Beach Cover-Ups or Shirts– I like to give my skin a break from the sun by using a cover -up or shirt. I found that a loose white top that offered UPF protection was best.
My kids also use a beach cover-up or loose white shirt with UPF protection.
19. Mesh Beach Bags – Great for wet clothes and collecting sea shells.
20. USCG Approved Floatation Device – If your kids can't swim and will be playing near or in the water I recommend you using a USCG approved flotation device.
Make sure all devices are free of rips and tears, and work properly. All flotation devices should fit your child correctly.
No matter if your child is a good swimmer or wearing a flotation device you should always keep your eyes on your kids at all times.
When looking for a floatation device for your children do your research.
21. Radio – If you choose to bring a radio to the beach be considerate to others by keeping the music turned low.
22. Extra Bag– I always bring an empty grocery bag for our trash.
23. Wagon – You're probably wondering how you will bring everything to the beach that's on this list.
May I suggest you bring a wagon. I throw everything into my foldable wagon. It folds flat for storage and has large wheels that seamlessly tread sand.
When I am ready to unpack the wagon to place back in my vehicle, I just fold it flat and detach the wheels.
24. Plastic Bottles – You can buy small plastic bottles with corks at craft stores, then fill them up with sand from the beach to take back home as a memento of your beach trip.
Also, bring a fine tip permanent marker to write the date on the bottom of your bottle.
25. Sand Mitt  – Sand Mitts are great for wiping sand off of little hands and faces. You could also use a Norwex Dusting Mitt, it takes the sand right off.
26. Hair Brush or Comb– When I leave the beach, my hair looks like I have been through a windstorm.
Even though I use a hair tie, my hair is a mess. I bring a brush to remove knots from my hair.
You may want to brush your hair or your children's hair after spending a day on the beach.
27. Shampoo and Conditioner – If you are lucky to visit a beach with showers you may want to wash and condition your hair and your children's hair.
28. Aloe Vera – After spending a day on the beach, you may want to use Aloe Vera on your skin.
It helps soothe and moisturize dry skin. I always bring Aloe Vera with me to the beach to use after I change out of my wet bathing suit. I also, use Aloe Vera on my son's skin.
29. Money– Yes, money! I never have cash in my purse. I usually use my debit card for everything.
But, I always make sure to bring cash with me to the beach. I stick a $20 in a small container and place it at the bottom of my cooler. I do this in case I need cash for something.
30. 1-2 Gallons of Water– My #1 Beach Hack! Most of the beaches where I live do not have showers.
I bring 1-2 gallons of water and a small garden watering can with me to the beach.
I leave the water and container in my car until I need them. When I am ready to wash my son off I have him stand by my car on a small rubber shower mat.
I rinse him off using the gardening can that's filled with water.
Now that you know my "30 Tips and Hacks for Your Next Beach Trip with Kids," you can use them to look like a pro!
If you have beach tips share them below in the comments.
This Post contains affiliate links.