I'm sharing How to Make Rice Krispies Fun Fishing Treats perfect sweet for the fishing fanatic. You could help your kids make a few of these fun fishing desserts, for the special men in their lives for Father's Day!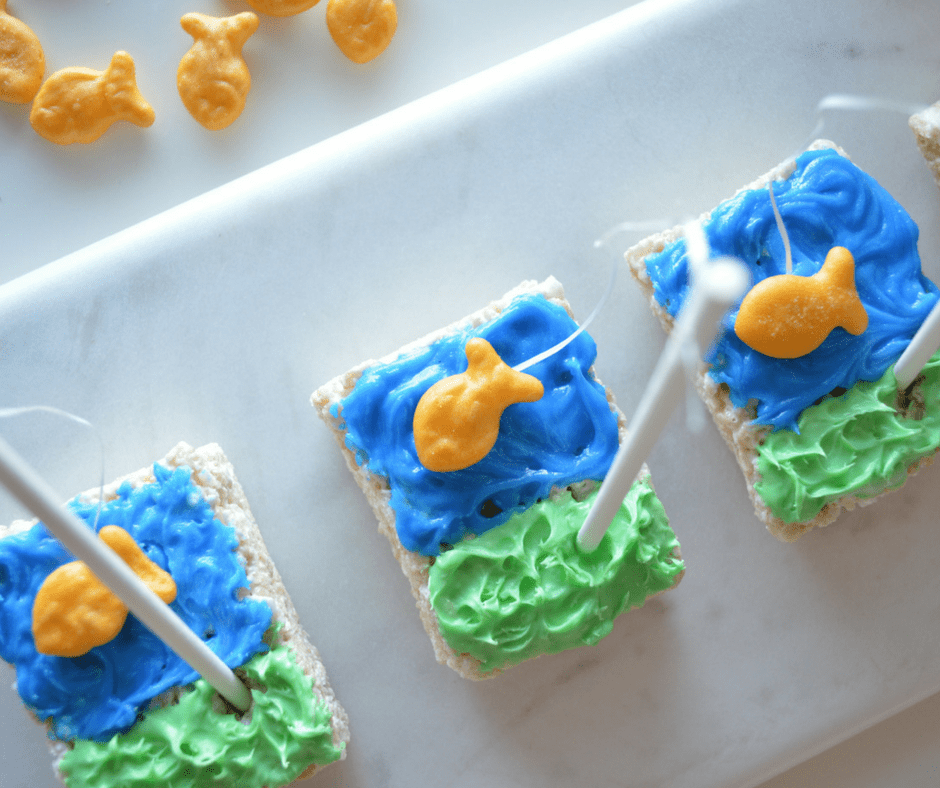 These delightful Rice Krispies cereal treats would put a smile on anyone's face that enjoys fishing.
The treats make a great gift and would be fun to serve at parties.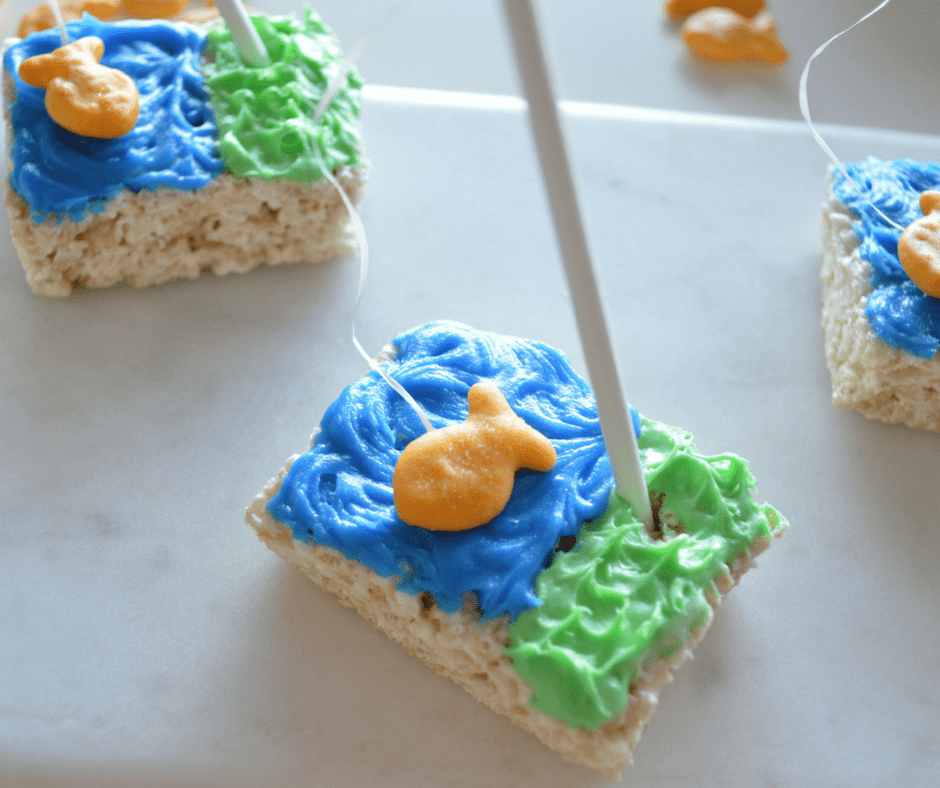 Supplies for Rice Krispies Fun Fishing Treats
        For Cereal Bars
20 large marshmallows
2 tablespoons butter
3 cups Rice Krispies cereal
1 tsp vanilla extract
  Decoration for Cereal Bars
Green buttercream icing (use homemade or store bought icing)
Blue buttercream icing  (use homemade or store bought icing)
Goldfish shaped cracker
Lollipop sticks
Dental floss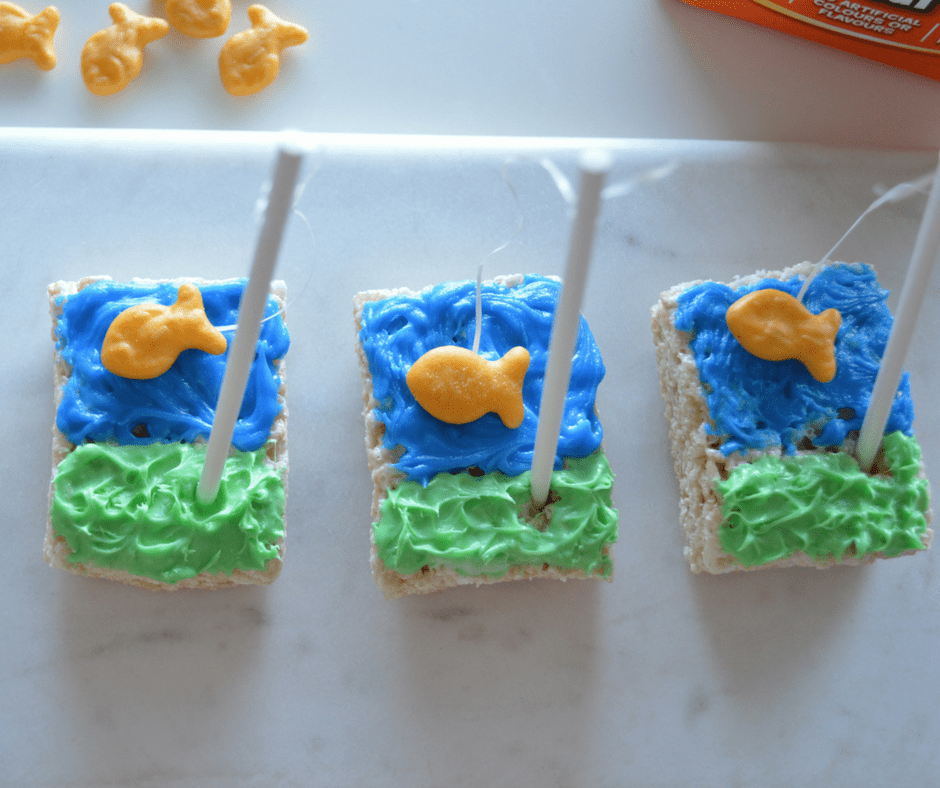 How to Make Rice Krispies Fun Fishing Treats
First, line a baking sheet with parchment paper and set aside.
Second, microwave marshmallows and butter in 30-second intervals in a medium size glass bowl until completely melted.
Third, add cereal and vanilla extract and fold. Once combined, pour into a buttered-coated pan and flatten evenly with a spatula.
Next, allow the treats to set for at least 1 hour.
Fourth, cut treats into rectangles, about 3 inches wide. Place the cereal treats onto the baking sheet lined with parchment paper.
Make sure to decorate each of your Rice Krispies Fishing treats vertically.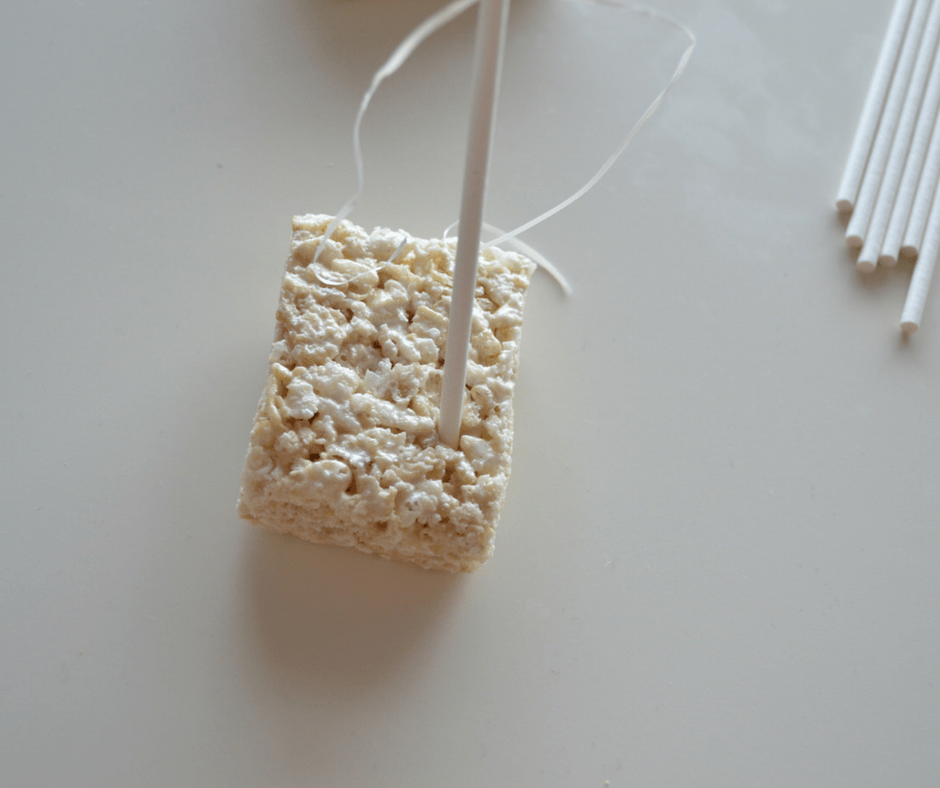 Fifth, to start, insert a lollipop stick at the bottom right of your cereal treat this way, you can mark exactly where the "fishing rod" will be placed.
Sixth, remove lollipop stick and make a knot in an 8-inch piece of dental floss around the top.
Seventh, wrap the dental floss twice and make another knot. Trim excess, as necessary.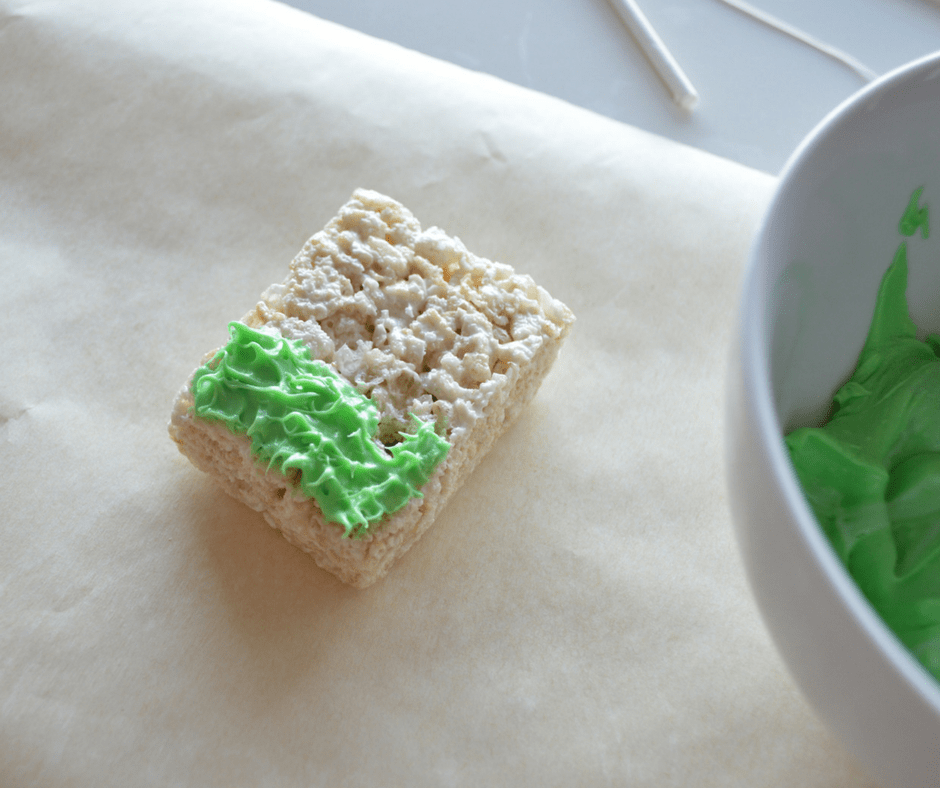 Eighth, cover 1/3 of the cereal treat with green icing: this will represent your grass.
Use a spare lollipop stick to create little icing peaks – this will be your grass blades. Be sure not to cover the spot you made with your lollipop stick.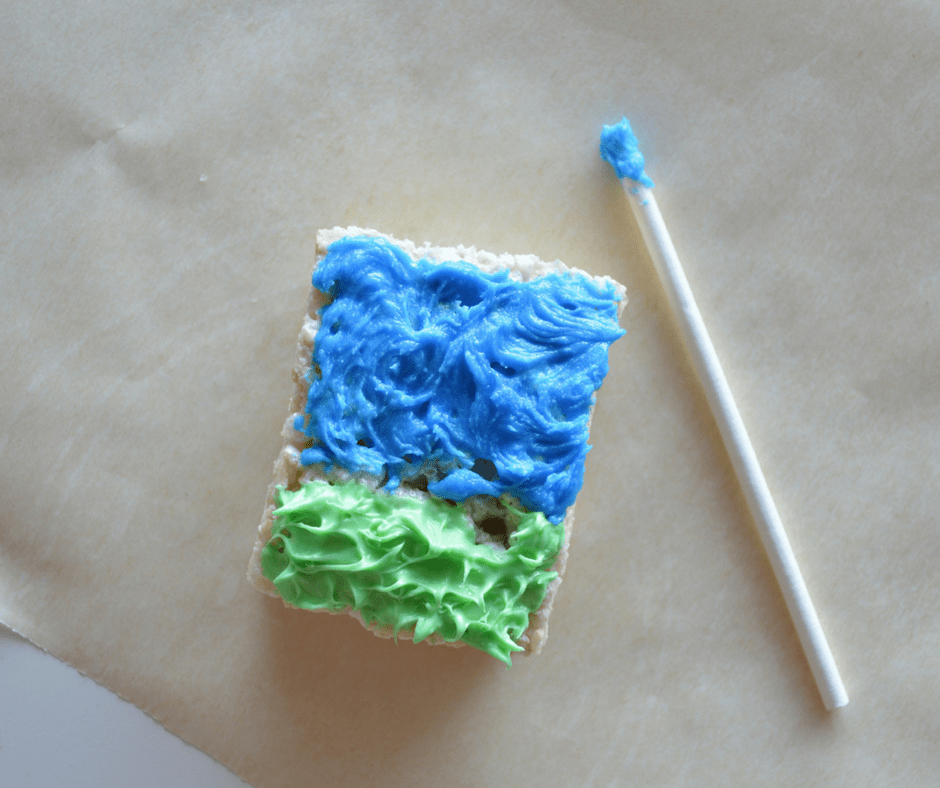 Ninth, cover the rest of the cereal treats with blue icing and spread it with a swirling motion with another lollipop stick. Insert your lollipop stick "fishing rod" and gently place the end of the dental floss in the middle of your "water."
Last, place the fish-shaped cracker on top. Makes 10 treats.
Kim's Note- Please remove dental floss and lollipop sticks before giving this treat to young children. This treat does contain non-edible items.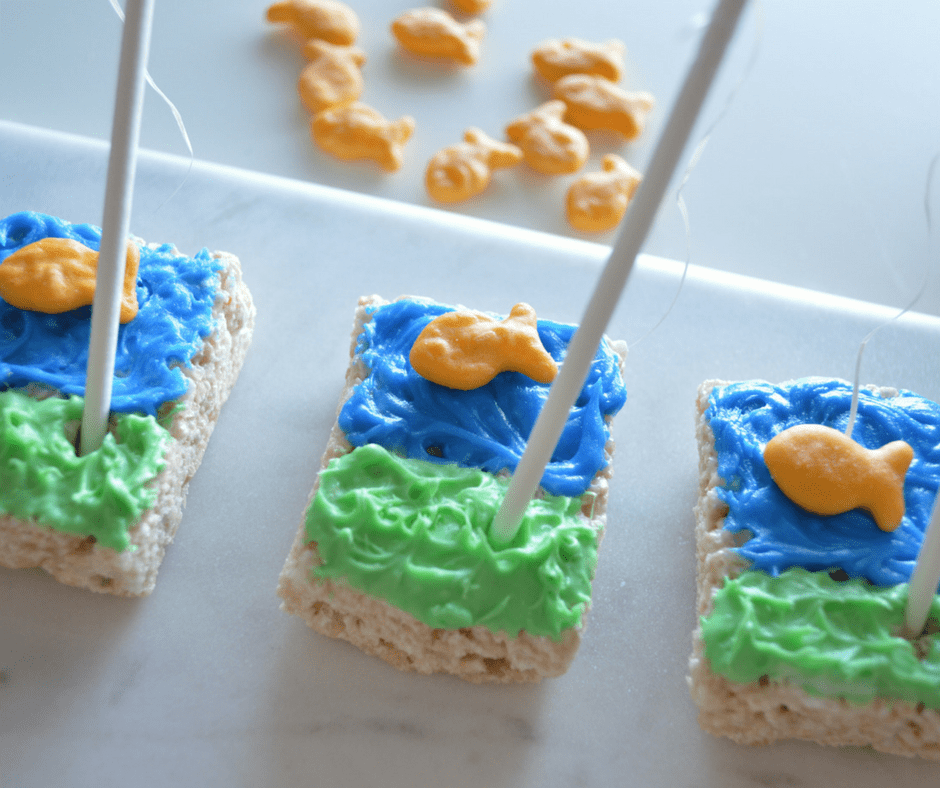 That's How to Make Rice Krispies Fun Fishing Treats! Aren't they adorable?
Do you know a someone that would enjoy receiving a few of these fun sweets?
Check out these DIY Painted Father's Day Mugs  a cute gift idea for kids to make.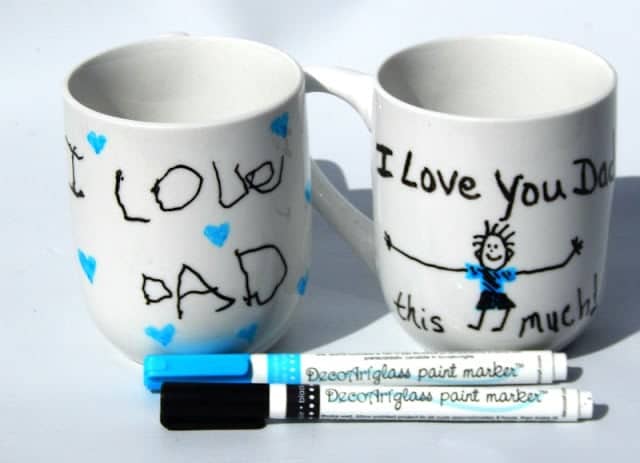 PIN ME: