This Lemoncello Almond Cupcakes recipe is a sponsored post from Sconza Lemoncello Almonds. Thank you for supporting the brands that help support and make This Ole Mom possible.
Learn how to make these Lemoncello Almond Cupcakes with Sconza Lemoncello Almonds.
These delicious and easy to make cupcakes are perfect for any occasion and bursting with lemon flavor!
Each cupcake center has a thin layer of crushed Sconza Lemoncello Almonds, and generously frosted with homemade lemon buttercream frosting.
Of course, these lemony cupcakes wouldn't be complete without a few Sconza Lemoncello Chocolate Almonds sitting on top of them as the stars of the show.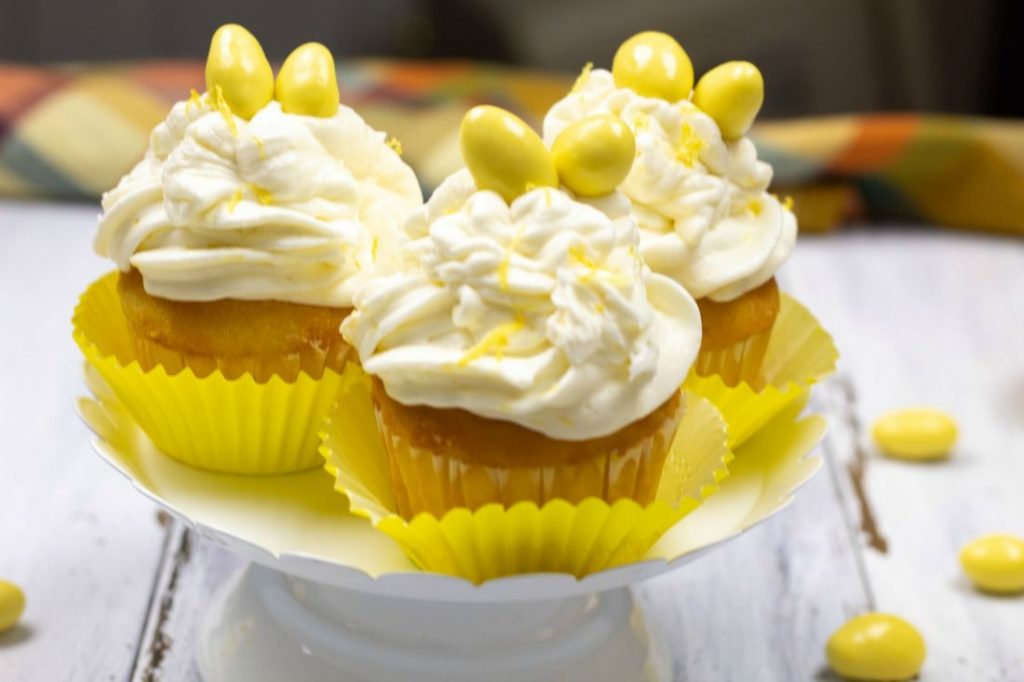 When I was baking the cupcakes, my entire kitchen smelled of lemons. Lemons remind me of spring and everything that comes with it: warm sunny days, celebrations, and outdoor birthday parties.
I was getting caught up in the moment, so I swung open my kitchen door and listened to the birds chirp while I baked. Luckily it was a beautiful day outside.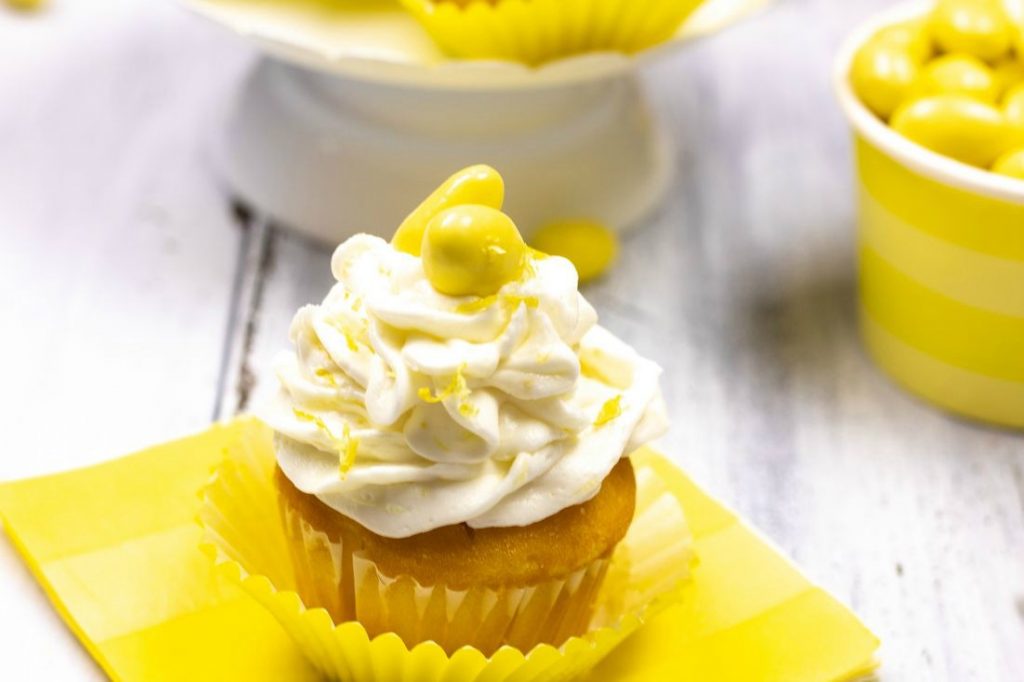 After I popped my cupcakes in the oven, I grabbed my laptop and a handful of Lemoncello Chocolate Almonds to sit on my back porch and read about the Sconza family and their family run and owned company while I waited for my cupcakes to bake.
Their Story is truly amazing and really cool. You can read more about the Sconza family here.
While I was reading, I ate the almonds, and I couldn't help notice the sweet citrus flavor from the roasted almonds covered in white chocolate and lemon cream.
Additionally, I read the Lemoncello Chocolate Almonds was created to celebrate Vincenzo Sconza's Italian roots and Jim and Carolyn's 50th Anniversary.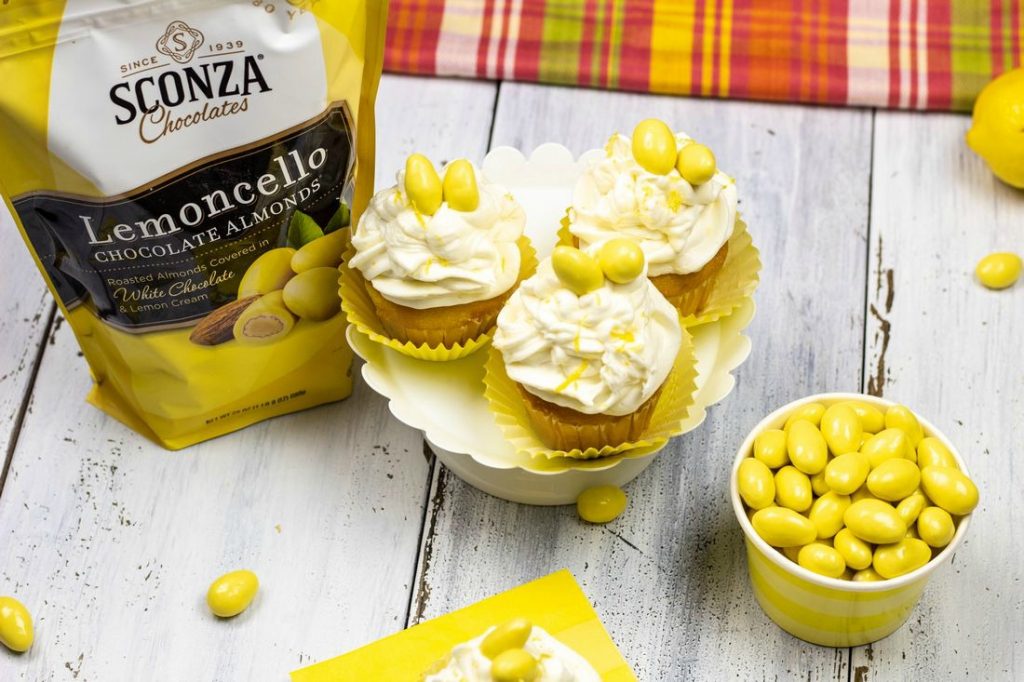 Once the cupcakes finished baking, I went back inside to remove them from the oven and gather my decorating supplies .

Did you know this year Sconza is celebrating their 80th birthday? I think my cupcakes would be perfect for a birthday celebration.
Where to Buy Sconza Lemoncello Chocolate Almonds?
During the months of April and May you can find Sconza Lemoncello Chocolate Almonds at Costco or order online here. This Ole Mom readers get 10% off using my code kimgives10 valid only online.
How to Make Lemoncello Almond Cupcakes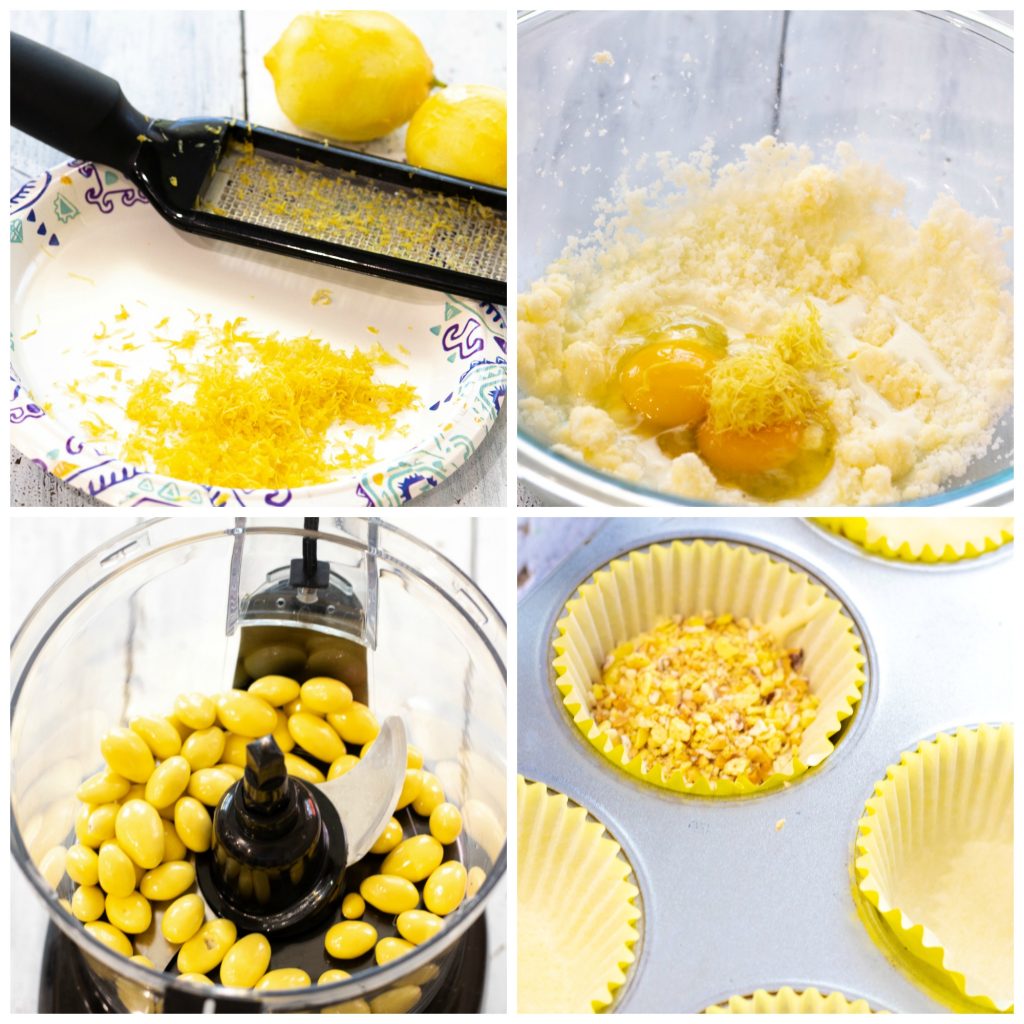 First of all, to make the Lemoncello Almond Cupcakes you'll need to cream together some butter and sugar in a large mixing bowl.
Next, add the flour, baking powder, salt, eggs, milk, lemon extract, freshly squeezed lemon juice, and lemon zest into the bowl and mix with an electric mixer. Make the batter and set aside.
Second, finely chop about 20 Lemoncello Chocolate Almonds in a food processor.
Third, pour a teaspoon of batter into the cupcake liners. Next, place some of the grounded almonds on top of the mixture. Then add batter on top of the almonds. Cupcakes should be two-thirds full. Bake cupcakes in a preheated oven, remove when done.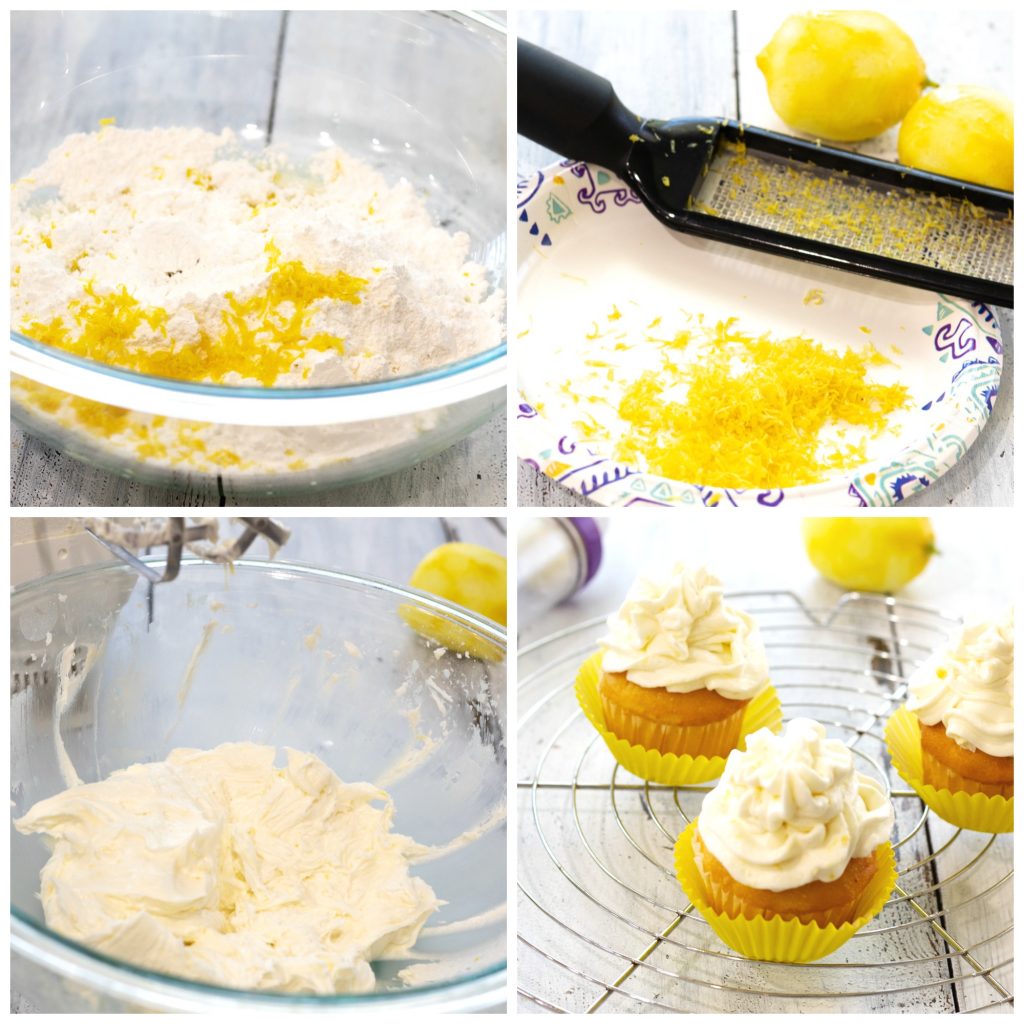 Fourth, make the lemon buttercream frosting by adding butter, salt, freshly squeezed lemon juice, lemon zest, confectioners sugar, and milk into a mixing bowl and mix with an electric mixer.
Fifth, once all the ingredients are combined top each cupcake with the tangy lemon flavored frosting and lemon zest. Last, add Lemoncello Chocolate Almonds to the top of each frosted cupcake.
Note– I used a Wilton Dessert Decorator Plus to frost my cupcakes.
Can You Store Lemon Buttercream Frosting?
Yes, you can store the lemon buttercream frosting in an airtight container in the refrigerator for up to one week.
Make sure when you're ready to use the buttercream frosting to let it return to room temperature and stir it a few times. You can also freeze the frosting for up to 3 months.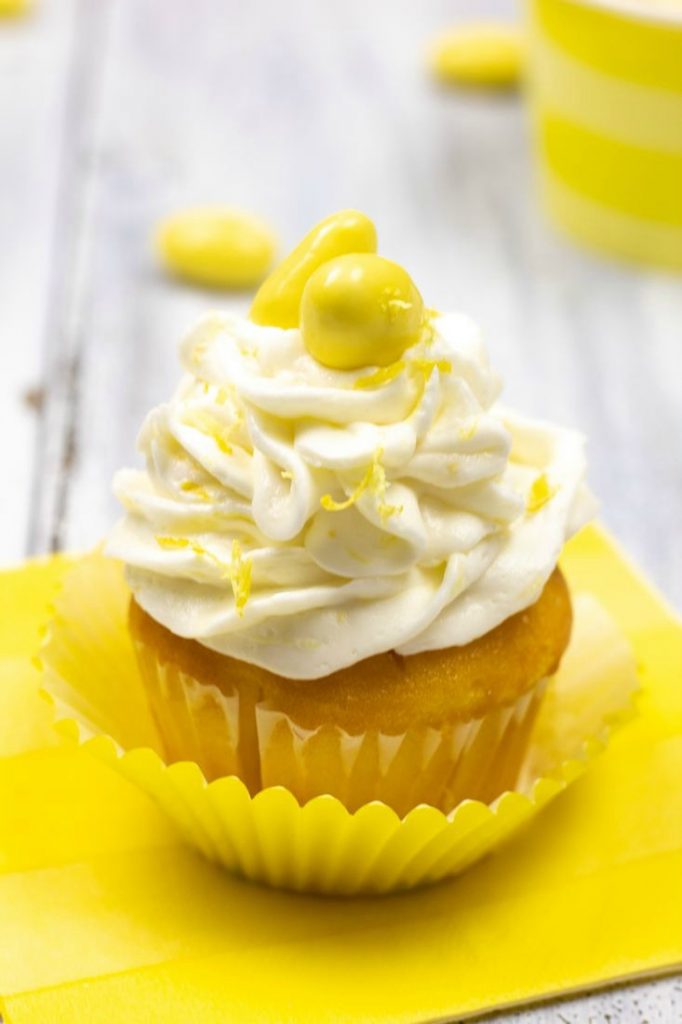 Don't the cupcakes look delicious? They're the perfect dessert to serve at any gathering with Lemoncello Chocolate Almonds.
The lip-smacking tasty little almond lemon cakes scream HAPPINESS!! And, they make my mouth SING with each bite from all the different lemon flavors.
Additionally, the almond center in the cupcakes adds a little crunchiness and surprise to your taste buds.
If you're looking for a fun and delicious dessert grab a few bags of Sconza Lemoncello Chocolate Almonds and whip up a batch of these AMAZING cupcakes!
Be worn that you won't be able to stop snacking on the Lemoncello Almonds.
Print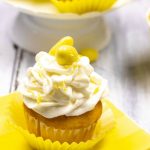 Lemoncello Almond Cupcakes
---
Author:

Kim Seghers

Prep Time:

25 minutes

Cook Time:

20 minutes

Total Time:

45 minutes

Yield:

12

cupcakes

1

x
Description
These Lemoncello Almond Cupcakes are the perfect lip smacking good lemony dessert for any gathering or celebration.  
---
Scale
Ingredients
Lemoncello Almond Cupcakes
1

  1/4 cups all purpose flour 

1

  1/4 teaspoon baking powder 

1/4 teaspoon

salt

1/4

stick butter, softened 

2

eggs

3/4 cup

granulated sugar

2 teaspoons

lemon extract

1/4 cup

whole milk

2 tablespoon

lemon zest 

2 teaspoon

lemon juice

20

Lemoncello Chocolate Almonds, crushed

24

Lemoncello Chocolate Almonds for topping  
Lemon Buttercream Frosting 
4 cups

confectioners powdered sugar

1 cup

butter, softened 

1/4 teaspoon

salt  

2 tablespoon

lemon juice from lemons

2 tablespoon

lemon zest
extra, 1 tablespoon lemon zest for garnishing 
---
Instructions
For Lemoncello Almond Cupcakes
Preheat oven to 350 degrees. Line a 12 cup muffin tin with cupcake liners.
Mix the baking powder, salt, and flour in a mixing bowl and set aside.
In a large mixing bowl add the softened butter and the sugar and cream together with an electric mixer.
Add the eggs, whole milk, lemon extract, lemon juice, and lemon zest. 
Slowly add in the flour mixture and mixed together. Scrape down sides as needed. Set batter aside. 
Using a food processor grind 20 Lemoncello Almonds. 
Fill each cupcake with a tablespoon of batter, then top with a thin layer of crushed almonds.
Layer batter on top of the almonds until each cupcake is filled 2/3 full. 
Bake the cupcakes until a toothpick inserted comes out clean, 20-25 minutes. Cool cupcakes in tin then remove to a wire rack. 
For Lemon Buttercream Frosting
Combine all ingredients for the buttercream in a large mixing bowl with an electric mixer. Scrape down sides as needed.
Top each cupcake with frosting, Lemoncello Chocolate Almonds, and garnish with lemon zest. 
Notes
Store frosted cupcakes in an airtight container in the fridge for up to six days. 
Depending on how much frosting you use for your cupcakes, you might have to double the buttercream recipe. 
Category:

dessert

Method:

bake

Cuisine:

American
Keywords: Lemoncello Chocolate Almonds, Almonds, Lemon Almond cupcakes, dessert, summer, spring, lemon buttercream frosting, lemon cupcakes
PIN ME: