Learn how to make this simple and adorable Hula Hoop Pumpkin for Halloween. This big bright orange pumpkin is made by using a hula hoop and felt.
Also, the pumpkin can be hung up indoors or outdoors on a porch. It's the perfect pumpkin project for kids to help make.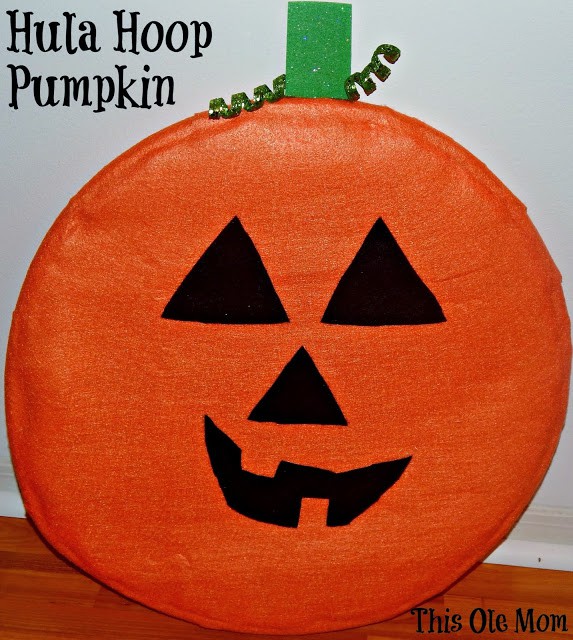 Today, I'm going to share with all of you how I made this cute pumpkin wall hanger. 
I actually purchased the hula hoop from the Dollar Tree and had it in my hall closet for some time collecting dust.
Every time I went into the coat closet I would trip over the hula hoop. Finally, last night I had enough!  
After, staring at the hula hoop for awhile I decided I would make a pumpkin with it, because I love making Halloween crafts with my son.
I was pleasantly surprised how cute the pumpkin turned out. Now, I have to decide if I want to leave it inside on the floor leaning against the wall or hang it outside on my front porch.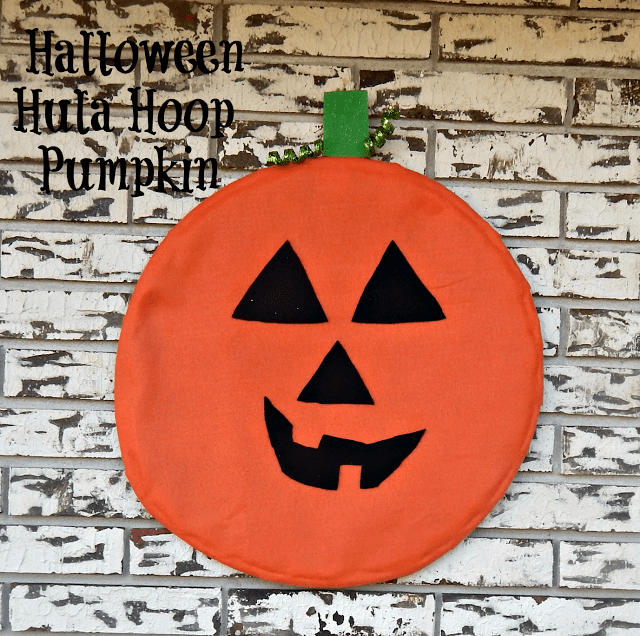 Also, if you would like your pumpkin hanger to light up you can purchase plug-in or battery operated string lights and tape them to the back of the pumpkin.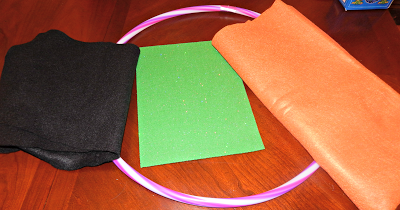 What do you need to make a Hula Hoop Pumpkin 
Small Hula Hoop
Orange Felt
Black Felt
Green Sparkly Felt
Ribbon or Floral Pick 
Craft Glue or Glue Gun
How to make a Hula Hoop Pumpkin Hanger
First, spread out the orange felt on a flat surface. Next glue the hula hoop down on top of it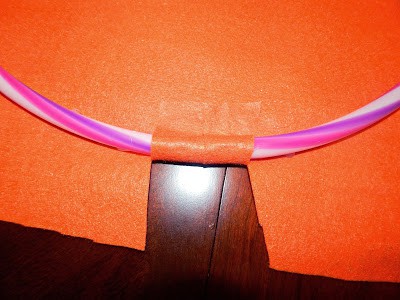 Second, cut 1/2 -1-inch square making sure to do this step as you go around the hula hoop. Some of the squares need to be cut at an angle. Glue down the square you cut as you go.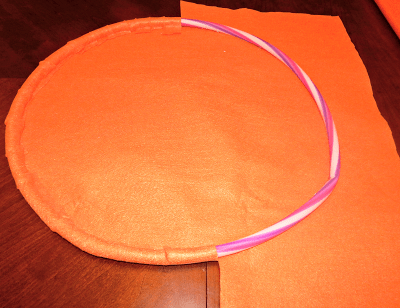 Third, the pumpkin will start taking form as you cut the squares and glue them down. Make sure you pull each square tight as you glue them down.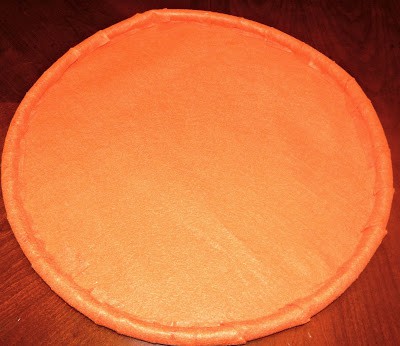 Last, see the photo below. That's how the pumpkin will look after all the hula hoop has been covered in the orange felt.
Now, turn it over and use the black felt to make the pumpkin face. Glue the face features on and used the green felt to make the stem.
Also, don't forget to add some curly ribbon or a floral pick for the stem.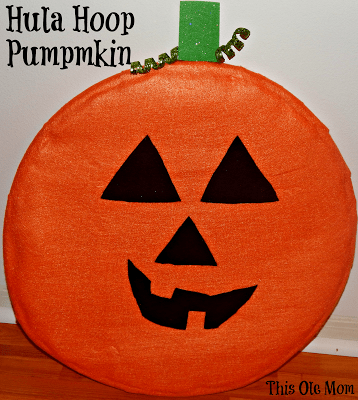 Isn't the big round pumpkin cute? This DIY pumpkin hanger is such a cute and festive craft for Halloween. The whole family will have fun making this little guy. 
Pin Me: